The John Report: The WWE Raw Deal 06/13/22 Review
This week's WWE Raw featured The Judgment Day talking again, Seth Rollins vs. AJ Styles in a Money in the Bank qualifying match, a women's tag team Money in the Bank qualifying match, Kevin Owens faced Ezekiel and a Lashley/Theory "Posedown" main event.
There was tough competition for WWE on Monday going up against Game 5 of the NBA Finals between the Golden State Warriors and Boston Celtics, who were tied 2-2 going into the game. Golden State won, so it's 3-2 Warriors now (good because I picked them). I watched the first half of Raw, then focused on the game and tried to finish Raw, but I was sleepy. I ended up writing two hours of Raw, then woke up at 6:30am on Tuesday to finish the third hour. The game started at 9pm ET, which meant that the game wasn't against the first hour of Raw.
This is the Raw Deal for episode #1516 of Monday Night Raw. It's taking place at the Intrust Bank Arena in Wichita, Kansas. Follow me on Twitter @johnreport. Let's get to it.
Raw started with a shot of the crowd in Kansas. The commentary team was Jimmy Smith, Corey Graves and Byron Saxton as usual. The white and green Money in the Bank briefcases were hanging above the ring.
Miz TV with Paul Heyman
The Miz was already in the ring with his guest Paul Heyman to welcome us to Raw. Heyman reminded us that he's the Special Counsel to the Undisputed WWE Universal Champion Roman Reigns. Miz called Kansas a "wasteland" leading to "you suck" chants, so Miz said he can't possibly suck because he's not from Kansas. Well played. Miz talked about how the Money in the Bank contract winner has had an 85% chance to cash in successfully to leave as the WWE Champion. Miz talked about how he had a 100% chance while noting that he cashed in Money in the Bank twice to become the champion. Miz spoke about how you have to cash in at the right time. Miz said that he or she can catapult their career into superstardom while bragging about things like he usually does. Miz noted that the person that wins that Money in the Bank contract will cash in on the Undisputed WWE Universal Champion Roman Reigns. Heyman said that they will fail in their attempt against Roman Reigns. Heyman said that no matter what the percentage rate was in the past, because when the champion is Roman Reigns, that percentage rate goes down to zero.
Heyman mentioned that this Friday night on Smackdown, your "Tribal Chief" Roman Reigns will defend the Undisputed WWE Universal Championship against of all people, Riddle. Heyman said he had a stipulation in mind and here comes Riddle.
Heyman said Riddle has "some set of balls" for interrupting Heyman and Miz like this. Riddle asked how Miz's balls are. Riddle said Heyman talked a lot without saying anything and Heyman-Reigns don't know what Riddle is capable of, but they will find out. Riddle said he didn't care about a stipulation because Reigns will have to kill Riddle to stop him from taking that Undisputed WWE Universal Championship. Heyman told Riddle that his momentum will be stopped dead in its track by Reigns. Heyman told Riddle that he can't beat Reigns. The fans booed. Heyman said that he didn't think Riddle can beat his opponent tonight. Heyman told Riddle if he beats Reigns on Smackdown then Riddle will be the new Undisputed WWE Universal Champion. Heyman said that when Riddle loses, he'll never get a title shot at Reigns again as long as Reigns is the champion. Heyman said it's "do or die" on the Island of Relevancy. Heyman introduced his friends The Usos, who walked out with their two sets of Tag Team Titles in their hands. The Steet Profits ran out to the ring to support their buddy Riddle because Ford faces Jimmy up next.
Analysis: Great promo work from Heyman as usual. Miz did fine in his role as the host as well, but I like it more when Maryse is on the show. I liked the fire shown by Riddle as well. The stipulation for the Smackdown match between Reigns-Riddle is fine because I doubt many people think that Riddle is going to beat Reigns on Friday or in the future. It's a way to give Reigns something to brag about as a heel champion.
(Commercial)
A video aired about John Cena returning to Raw on Monday, June 27. It's a 20 Years of Cena celebration. It's two weeks away.
Jimmy Uso (w/Jey Uso) vs. Montez Ford (w/Angelo Dawkins)
The Street Profits have earned a title shot after winning non-title by countout last week, but nothing has been announced yet. Jimmy grounded Ford with aside headlock, then Ford broke free and hit a dropkick that sent Jimmy out of the ring. Jimmy slowed it down with a hard whip into the turnbuckle two times in a row. Ford with a clothesline along with a dropkick for two. Ford sent Jimmy into the turnbuckle, but when he tried an attack off the apron, Jimmy rocked him with a punch. Jimmy hit a vertical suplex on Ford on the ring apron leading to a break.
(Commercial)
Jimmy was still in control with a belly to back suplex for two. Jimmy grounded Ford with a submission and Ford came back with his own belly to back suplex. Ford ran the ropes with a clothesline, a kick to the gut, Jimmy with a kick and Ford hit a step-up enziguri kick for a two count. Ford hit a spinebuster while continuing to do a nice job of selling a back injury. Jimmy came back with a popup Samoan Drop that always looks great for a two count. They were on the apron again, Ford with a kick to the head and Jimmy shoved Ford back first into the turnbuckle. Jimmy charged, Ford moved and Jimmy splashed into the ring post. Jimmy headbutted Ford off the turnbuckle, but Ford came back with a leaping hurricanrana while Jimmy was on the top rope. Ford went up top, he jumped off with the Frog Splash, Jimmy got the knees up and covered Ford with a cradle for the pinfall win after 13 minutes.
Winner by pinfall: Jimmy Uso
Analysis: ***1/2 A great match by two guys that are usually tag team wrestlers, but they are so talented even in singles matches as well. Jimmy did a good on offense by focusing on Ford's back with big moves like that suplex on the apron and Ford sold it well. Ford made the comeback, it looked like he was going to win with the Frog Splash, but Jimmy was ready with the knees up and the cradle pin. I enjoyed that match. The result is typical WWE 50-50 booking since The Street Profits won last week, so Jimmy beat Ford this week. I assume we see Dawkins vs. Jey next week.
A video aired about Seth "Freakin" Rollins attacking Cody Rhodes on Raw last week after Cody beat Seth inside Hell in a Cell one day earlier. Cody went into that match at Hell in a Cell with Seth with a torn pectoral muscle and beat Seth in a classic match. Seth shook Cody's hand in the ring, but when Cody left, Rollins did a cheap attack from behind with a sledgehammer in hand. It got Rollins a lot of heat.
An interview with Rollins was up next.
(Commercial)
A commercial aired about NXT now featuring Apollo Crews, who is on NXT again.
Seth "Freakin" Rollins Interview
Seth Rollins was seated on a leather chair along with Kevin Patrick, who wondered if Rollins had any remorse for his actions. Rollins said that what he said to Cody is what he meant because it was honest and from the heart. Rollins claimed that Cody is a virus that has plaguing WWE since WrestleMania and sometimes in life you have hard, unpopular decisions. Rollins said you have to take matters in your own hands while holding a sledgehammer. Rollins talked about how Cody wanted to compete in Money in the Bank with a torn pec, but he can't do that. Rollins said he took pride in what he did last week. Rollins said that the American Nightmare is over, Monday Night Rollins is back and better than ever. Rollins talked about how one of his fondest moments is the greatest Money in the Bank cash-in of all time, so maybe he'll try to top it. Patrick mentioned Seth has to face AJ Styles to qualify. Rollins claimed that Styles was not on his level and he lacks a killer instinct. Rollins said he might not have to just beat Styles, he might have to do what he did to Cody Rhodes and he laughed. That led to AJ Styles running into the room and hitting Rollins with a forearm to the head. Styles: "That's for Cody." AJ left while Rollins was down.
Analysis: Rollins continues to be the best heel on Raw (along with Kevin Owens) and the reason I like him a lot is because he shows no remorse for his heelish actions. Rollins was basically celebrating the fact that he did a cheap shot to a guy that was already hurt. That makes Rollins easy to hate. I liked Styles going in there at the end and saying that shot he gave Rollins was for Cody. That was cool.
The announcers talked about what happened with Graves saying Rollins deserved what he just got. Graves is the heel announcer, but he has been critical of Rollins like when Seth attacked Cody last week.
They showed Dana Brooke beating Becky Lynch last week on Raw thanks to an assist from Asuka.
Dana Brooke, the 24/7 Champion, made her entrance for a rematch against Lynch. They showed Becky backstage with an angry look on her face.
(Commercial)
Becky Lynch attacked Brooke before the match even started and Lynch sent Brooke out of the ring. Lynch whipped Brooke into the barricade and onto the commentary table with Lynch kicking the hood of the table on Brooke's head. Lynch did a promo saying that this was never about this 24/7 Title and said that Dana can keep that. Lynch said that she keeps climbing to the top and speaking of climbing…she looked at the Money in the Bank contract hanging above the ring. Lynch said that the last time she was in a Money in the Bank match she was cheated, but not this time. Lynch went after Brooke, but here comes Asuka.
Asuka ran out to the ring and slammed Asuka's head into the ring apron repeatedly. Lynch with a kick, then an uppercut and a shoulder tackle. Asuka with spinning back fists a few times along with a German Suplex. Lynch bailed to the floor and left as Asuka's music played to end it.
Analysis: The story continues with Lynch being frustrated about everything going on in the last couple of months. This didn't make the 24/7 Title look important or Brooke look like a tough champion, but I doubt WWE cares about that. This was more about putting over Lynch's bad attitude.
Alexa Bliss made her entrance and walked by Lynch for a match.
(Commercial)
A video was shown of Alexa Bliss winning a Money in the Bank contract in 2018. Bliss cashed in the contract to win the Raw Women's Title later that night.
Women's Money in the Bank Qualifying Match: Alexa Bliss & Liv Morgan vs. Doudrop & Nikki A.S.H.
This is for two spots in the Women's Money in the Bank Match. Nikki won MITB last year. Bliss with punches along with a dropkick on Nikki. Doudrop tagged in, Bliss sent her into the turnbuckle and Doudrop came back with a powerslam. Doudrop with a senton splash on Bliss for two. When Nikki went for a bulldog, Bliss shoved her away and Morgan got the tag. Morgan with kicks, then a jumping kick to the head and Morgan hit a double knee attack to the face. Morgan kicked Doudrop down, then Morgan to the middle rope and Morgan hit a missile dropkick for two on Doudrop. Bliss tagged back in with a neckbreaker on Doudrop, but Nikki broke up the pin. Doudrop with a headbutt on Bliss, then she knocked Morgan off the apron and Nikki tagged in for a double team neckbreaker on Bliss, but Morgan made the save. Doudrop with a body slam on Morgan on the floor. Doudrop missed a splash when Morgan moved and Nikki kicked Morgan down. Back in the ring, Bliss punched Nikki followed by Bliss hitting a DDT for the pinfall win after five minutes.
Winners by pinfall: Alexa Bliss & Liv Morgan
Analysis: **1/4 A solid tag team match with the babyfaces getting the win because they are a likable team that's pushed while the heels are not being used that much. Morgan continues to improve on offense while Bliss continues to impress since she's come back. I like that Bliss DDT as a finisher.
The win meant that Bliss & Morgan qualified for the Women's Money in the Bank Ladder Match along with Lacey Evans, who already qualified for it. Both women stared up at the MITB briefcases above the ring like the good independent contractors they are.
Analysis: I think Evans or Morgan would be a good pick for Money in the Bank since they haven't been a champion before. Bliss would be fine too since she has had the career reboot. Evans is probably my pick at this point.
A video package aired about what happened with The Judgment Day last week. Finn Balor joined the group, which led to Damian Priest telling Edge that he was holding them back. Priest clotheslined Edge, then the group gave Edge a Powerbomb through the commentary table, Balor choked Edge with a steel bar and it ended with a Conchairto (double chair attack) in the ring.
Kevin Owens made his entrance for a Hell in a Cell rematch with Ezekiel.
This Friday on Smackdown: Roman Reigns defends the Undisputed WWE Universal Title against Riddle and Madcap Moss vs. Happy Corbin again.
(Commercial)
Ezekiel made his entrance. They showed Ezekiel lying last week in order to get a match with Owens this week.
Kevin Owens vs. Ezekiel
Ezekiel went for a running knee, Owens moved and hit a superkick into the corner. Owens hit a cannonball splash in the corner. Owens jumped off the top with a Senton Bomb for a two count. They left the ring with Ezekiel sending Owens into the ring post. Owens with a necksnap against the top rope, but Ezekiel came back with a spinebuster for two. Ezekiel with a knee drop. Ezekiel went up top, but Owens rolled out to the apron. They each went for moves on the apron, Owens with a knee to the jaw, but Ezekiel got a hold of Owens on his shoulders and gave Owens a fireman's carry (like John Cena's AA) onto the steel steps. A big bump to KO's back led to a break.
(Commercial)
Owens was in control with a chinlock, then he slammed Ezekiel and Owens went for a splash, but Ezekiel got the knees up to block. Ezekiel kicked Owens down followed by a fallaway slam across the ring. Ezekiel hit a corner splash on Owens. KO wanted a Stunner, but Ezekiel got out of it and Ezekiel hit a jumping knee with Owens bumping to the floor. Ezekiel went after Owens on the floor, Owens moved and Ezekiel hit the ring post. Owens yelled at the announcers that it was Elias, so the referee counted Owens out of the ring and Ezekiel won by countout after eight minutes.
Winner by countout: Ezekiel
Analysis: **3/4 A lame finish to a decent match. WWE books countout finishes way too often and it makes the talent look stupid like Owens losing by countout because he was yelling that it was Elias. I guess it defends Owens since he didn't lose by pinfall or submission, but it's a poor way to have Ezekiel get a win.
Post match, Ezekiel said he had to speak with all of the Zeke Freaks. Ezekiel said he's not done with Owens while adding that he wants in the Money in the Bank match. Ezekiel claimed he got a hold of his brother Elias and said he's coming to Monday Night Raw next week. Ezekiel said that Elias is looking good. Ezekiel talked about how Elias cannot wait to remind WWE that WWE stands for "Walk With Elias." Owens called him a liar while freaking out about it.
Analysis: A return for Elias…I guess. Ezekiel winning Money in the Bank is possible, but he would not be my pick. It depends on who is in the field.
Omos and MVP made their entrance with MVP in singles action against Cedric Alexander.
They showed the video of John Cena meeting a fan in Amsterdam earlier this month. The fan's name was Misha, who is nonverbal and has Down syndrome. Misha's family left Ukraine for Holland due to the war going on. Cena spent the afternoon with Misha's family and talked about how inspired he was by them. The story even got mainstream attention after WWE posted about it last week.
What a wonderful way to spend a Saturday. Misha and his mother, Liana define #NeverGiveUp.

Thank you to the @WSJ and @WWE who helped make this special visit possible. https://t.co/RpriCvjN3K

— John Cena (@JohnCena) June 7, 2022
(Commercial)
MVP stood in the ring with Omos. MVP talked about how Cedric Alexander didn't handle rejection very well and got involved in their handicap match at Hell in a Cell. MVP said that he and Omos belong up there as Money in the Bank. MVP said that when he beats Cedric once and for all, we can focus on Omos becoming the "Giant in the Bank."
MVP (w/Omos) vs. Cedric Alexander
Alexander with punches, then a dropkick to the left knee and MVP sent Alexander to the apron. Alexander with a kick while on the apron followed by a flatliner for a two count. Omos held the rope while Alexander tried a move, so MVP hit Alexander with a clothesline. MVP slammed the head into the knee followed by the Ballin' elbow. MVP hit the Playmaker neckbreaker for the pinfall win after about two minutes.
Winner by pinfall: MVP
Analysis: * A quick match to put over MVP even though he's the older guy in this scenario. Omos played a factor by preventing Alexander from doing a move.
Post match, Omos tossed Alexander over the top to the floor. The fans booed.
AJ Styles did a promo talking about how the Money in the Bank contract has eluded it in his career. Styles said that what Seth Rollins did to Cody Rhodes was disgusting and made him sick. Styles said that Rollins is beneath him and ripped on Rollins for questioning AJ's killer instinct.
Seth "Freakin" Rollins did a promo saying that he's in AJ's head and he knows it. Seth said that since they're making dedications, he will dedicate his victory tonight as well as his victory at Money in the Bank to the American Nightmare. Seth said, "this one is for you, Cody." The fans booed.
AJ Styles made his entrance for the Money in the Bank qualifying match.
(Commercial)
Seth "Freakin" Rollins was up next to boos although lots of people humming along with the song.
Men's Money in the Bank Qualifying Match: AJ Styles vs. Seth "Freakin" Rollins
Styles was aggressive early with a couple of quick pin attempts shortly after the bell rang. Rollins slowed it down with punches, but Styles came back with a dropkick. They fought on the floor with Style sending Rollins into the barricade. Styles jumped over the top with a forearm to the face. Rollins came back with a chop to the throat, then a suplex onto the top rope and a forearm that knocked Styles off the apron to the floor. Styles with a suicide dive leading to Styles bumping over the commentary table. That led to a break.
(Commercial)
Rollins was in control with a knee to the ribs for a two count. They turned it into a slugfest, but then Styles hit more strikes and a clothesline. Styles hit a running forearm to the head. Styles picked up Rollins and hit a sitout facebuster slam for a two count. Styles hit a corner splash, then Rollins got a rollup for two and Rollins hit a superkick for two. Rollins charged, Styles countered him and applied the Calf Crusher submission, but Rollins got to the bottom rope to break the hold. Rollins with a kick to the head, it staggered Styles a bit, but Styles managed to hit a Pele Kick to the head. That was a great sequence that led to both guys being knocked down in the ring selling. The crowd should be chanting "this is awesome" at that point. Rollins hit a rolling elbow to the head, Styles avoided a Buckle Bomb and Styles hit a suplex into the turnbuckle for a two count. Styles jumped off the top with a forearm attempt, then he tweaked his knee on the landing and Rollins did a chop block to the left knee. Styles countered a Rollins move attempt leading to the Ushigoroshi slam onto the knee for two. Styles did a slow climb up the turnbuckle with the sore left knee, but Rollins met him up top. Styles slipped out of that, Rollins picked him up and hit a Buckle Bomb into the turnbuckle. Rollins went up top, jumped off with a Frog Splash and Styles moved, so Rollins hit the mat. Finally, some fans chanted "this is awesome" for them. Styles wanted a Styles Clash, Rollins avoided it, Styles tried a sunset flip, Rollins sat on top and hooked the leg for the pinfall win after 15 minutes.
Winner by pinfall: Seth "Freakin" Rollins
Analysis: **** This was excellent. No surprise there. A terrific match between two of the best wrestlers in WWE. They had a very even matchup with a finish that was close. It wasn't a finisher that won the match. It was a leverage situation with Rollins finding a way to beat Styles. The knee injury by Styles late also played a factor in the finish. The crowd was a letdown because in some cities they would have been so loud during this match, but this crowd just wasn't that loud. I thought both guys needed the win because Seth lost the Cody feud while Styles lost to Edge repeatedly, so I was going to be okay with the result either way. It also makes me sad that Styles isn't in Money in the Bank although it's possible that he gets another chance to qualify for the match.
The win meant that Seth "Freakin" Rollins qualified for the Men's Money in the Bank Ladder Match.
Riddle made his entrance for singles action…bro.
(Commercial)
Riddle vs. Ciampa
I remember when both guys had first names. The Miz was on commentary to talk about his Miz & Mrs. show after Raw. Riddle went for a triangle submission quickly, but Ciampa got out of the hold. Ciampa stomped on Riddle's bare foot and hit a DDT for a two count. Ciampa hit a reverse DDT for two. Riddle made the comeback with an up-kick, then a corner forearm smash and a powerslam. Riddle hit the draping DDT like his buddy Randy Orton. Ciampa got a rollup for two. Ciampa rammed Riddle's left foot into the mat. Ciampa hit a running knee for a two count. Riddle came back with a ripcord knee, then to the ropes and he jumped off with a Floating Bro splash. Riddle hit the RKO on Ciampa for the pinfall win after about five minutes.
Winner by pinfall: Riddle
Analysis: **1/4 A simple win for Riddle to give him momentum going up against Roman Reigns on Smackdown. It would have been an odd booking decision to have Riddle lose here. There was a good nearfall for Ciampa with that running knee to the face. Riddle hitting Orton's moves continues, which is cool to see although if Riddle won with a Bro Derek instead of RKO that would have been okay too.
They showed last week's Raw when Rhea Ripley won a Fatal 4-Way match to earn a shot at the Raw Women's Title at Money in the Bank.
Bianca Belair, the Raw Women's Champion, made her entrance for an in-ring interview with Kevin Patrick. They went to break.
(Commercial)
Let's Hear from Bianca Belair
Belair was asked how prepared is she for this version of Ripley? Belair said she's looking forward to facing Ripley since they are at the forefront of a new generation of women in WWE. Belair said that at Royal Rumble's and WrestleManias, Ripley was doing her thing too. Belair talked about how Ripley is soulless now that she's part of Judgment Day. Belair said she's not scared of Rhea, then did her "EST" routine and said she walks the walk and will walk out as the Raw Women's Champion.
Rhea Ripley appeared on the video screen with Finn Balor and Damian Priest by their side. Ripley said that they speak through their actions. Balor said that they do what they want, when they want and are tired of taking orders, which is why they knocked Edge from his pedestal and removed him from The Judgment Day. Priest said that Edge's actions contradicted his own mission statement. Priest claimed that Edge painted himself as their leader and told them to not do as their told. Priest said Edge sealed his own fate and now Judgment Day are all equals. Ripley ripped on Belair saying that Ripley doesn't tell people she's intimidating, she just is that way. Ripley said she took what she wanted in that Fatal 4-Way last week. Ripley said at Money in the Bank she'll eradicate Belair from existence and walk away as a two-time Raw Women's Champion. That was it.
Analysis: It was just some basic trash talk between Belair and Ripley. Belair was confident as usual. I thought we'd see more of The Judgment Day on this week's Raw, but it was only a few minutes. Balor talked about taking out Edge while Priest tried to explain why they turned. The line from Ripley about how she's going to "eradicate Bianca from existence" comes off as really cheesy and not a natural thing to say, but that's WWE writing. We're used to it no matter how weird it is. I'd prefer better, more realistic verbiage.
Theory, the United States Champion, was interviewed by Sarah Schreiber about competing in the Posedown with Bobby Lashley later on Raw. Theory said that last week Bobby tried to embarrass him, so he'll prove to Bobby that he is not on Theory's level. Theory said he'll prove that he's the best investment that Vince McMahon ever made. Theory said in 20 years when they celebrate his career, it will make the Cena celebration look like nothing. Theory went back to working out.
Analysis: The most interesting part of that was taking a shot at Cena, which should lead to a Theory-Cena confrontation in two weeks. The rumor is Theory vs. Cena at SummerSlam, so it will be interesting to see if it's official.
Chad Gable entered with Otis for a singles match. Shoosh, please.
(Commercial)
Chad Gable (w/Otis) vs. Mustafa Ali
Gable with a waistlock takedown. Ali with a hurricanrana and a couple of arm drags. Ali told Gable to "SHOOSH" so that was funny. Ali went for a running kick, but Gable moved and Ali went sliding into the turnbuckle. Gable hit a running back elbow for two. Gable with a surfboard style submission wrenching on the back, but Ali countered it into a pin attempt. Gable came back with a Tiger Suplex for two. Gable went up top, he jumped off with a moonsault and Ali ran the ropes with a clothesline. Ali with forearms to the body along with a Tornado DDT off the ropes. Otis tried to help Gable to avoid a move, so Gable was able to get back up and Gable hit a rolling move leading to a bridging German Suplex for the pinfall win after three minutes.
Winner by pinfall: Mustafa Ali
Analysis: *1/2 Two talented guys in a quick match. I thought Ali might actually get a win here, but that's silly of me to think that they might push Ali a bit. Gable's a great performer too. He's a tag team wrestler right now, though, so Ali should have been the winner here. Anyway, it's Raw so they'll probably do a rematch and 50/50 booking will strike with Ali getting the win.
Rey Mysterio made his entrance with his son Dominik. They continue their rivalry with Veer Mahaan.
(Commercial)
Veer Mahaan vs. Rey Mysterio (w/Dominik Mysterio)
Rey tried to get some offense with kicks, but Veer came back with a shoulder tackle to knock him down. Veer hit a running corner splash. Veer tossed Rey out of the ring by going under the bottom rope to the floor. Back in the ring, Veer went for an elbow drop, Rey moved and then Veer whipped Rey into the turnbuckle with Rey taking a sternum bump. Veer charged, Rey moved, Rey with a headscissors into the corner and Veer hit a knee to the ribs. Veer went for a running shoulder attack, Rey moved and Veer hit the ring post. Veer kicked Dominik on the floor followed by a clothesline over the barricade. Back in the ring. Rey ran the ropes, Veer caught him and Veer slammed Rey across the knee. Veer applied the Cervical Clutch submission for the tapout win after four minutes.
Winner by submission: Veer Mahaan
Analysis: * A dominant win by Veer with Rey getting his ass kicked by the bigger man. Rey is great bumping, so that was his job in the match to make Veer look strong. Simple match, but not that interesting overall.
This Friday on Smackdown. Riddle will challenge Roman Reigns for the Unified WWE Undisputed Championship. If Riddle loses then he'll never get to challenge Reigns for the title ever again.
Next week on Raw: Asuka vs. Becky Lynch in a Money in the Bank Qualifying Match. Also, Elias is back on Raw for a concert.
The ring was being set up for the Posedown Challenge, which is the main event.
Theory made his entrance as the United States Champion telling us that's what a champion looks like.
(Commercial)
Posedown Challenge: Bobby Lashley vs. Theory
Adam Pearce, the WWE Official, was in the ring to moderate/host this posedown segment. Pearce introduced Theory and then he introduced Bobby Lashley, who made his entrance. Big age difference here since Lashley is 45 years old while Theory is 24 years old. It's not like it matters in a posedown, but I'm just saying there's that big age gap. Pearce said there will be three poses and the winner is decided by the WWE Universe. Theory had a microphone attached to him so he can talk.
The first pose was the double bicep with Graves putting over his buddy Theory. The side chest pose was next. The last pose was called most muscular with Graves talking about how strong Theory is.
Bobby Lashley told Theory he was going to beat him and take the US Title from him as well. Lashley started his portion of the posedown with the double bicep, then the side chest and the fans were cheering. Lashley did the "most muscular" power pose to more cheers from the crowd.
When Pearce asked the fans who did better, Theory told Pearce to shut his mouth. Theory asked the fans, who booed him and cheered Lashley. Pearce announced that Lashley was the winner.
Winner: Bobby Lashley
Theory said that if you really think you can beat Theory and you want this US Title, there's one more pose. Theory sprayed baby oil all over Lashley's face and then dropkicked him out of the ring. Theory posed in the ring while Lashley was trying to clean out his eyes with a towel. Theory celebrated to end the show.
Analysis: This was so lame. Just book a match instead. I feel bad for the fans that paid money to watch this show and got a posedown for a main event. I understand wanting to put Theory in a main event position and try to feature him more. I just don't think a posedown is that interesting at all. Obviously, Lashley has a big physique and we know that while Theory is in shape as well. I just didn't think this was very interesting at all.
Three Stars of the Show
Seth "Freakin" Rollins
AJ Styles
Riddle, Jimmy Uso & Montez Ford
The Scoreboard
6.5 out of 10
Last week: 6.75
Final Thoughts
It was one of those typical Raw episodes where they did things I liked, but then also several things that dragged a lot and felt like filler. I think the third hour was weak because it was just a bunch of short matches and then the Posedown segment with Lashley-Theory is one of the worst "main event" segments that WWE has done in a while. Put it on earlier maybe, but it's not a main event. I get that the basketball game was on that drew a lot of fans, so maybe WWE cared less about what went on last. I just feel bad for the fans that paid to be at Raw to see that as a main event. It's weak.
There were two matches that I really liked with Seth Rollins-AJ Styles having the match of the night. Both guys could have used a win, but it was Rollins who won to qualify for Money in the Bank. The Jimmy Uso match with Montez Ford to open the show was very good as well because they got plenty of time and I liked the creative finish. The finish to the Owens/Ezekiel match was silly. Some other matches were kept short. I liked seeing Morgan/Bliss getting into Money in the Bank.
They did a nice job of building up Riddle for the match against Reigns on Smackdown. Paul Heyman was terrific as usual. Does anybody really think Riddle will win? Probably not, but he was booked like a big deal on this Raw and that's a good thing.
The next WWE Premium Live Event is Money in the Bank from Las Vegas on Saturday, July 2nd. Here's what we know so far.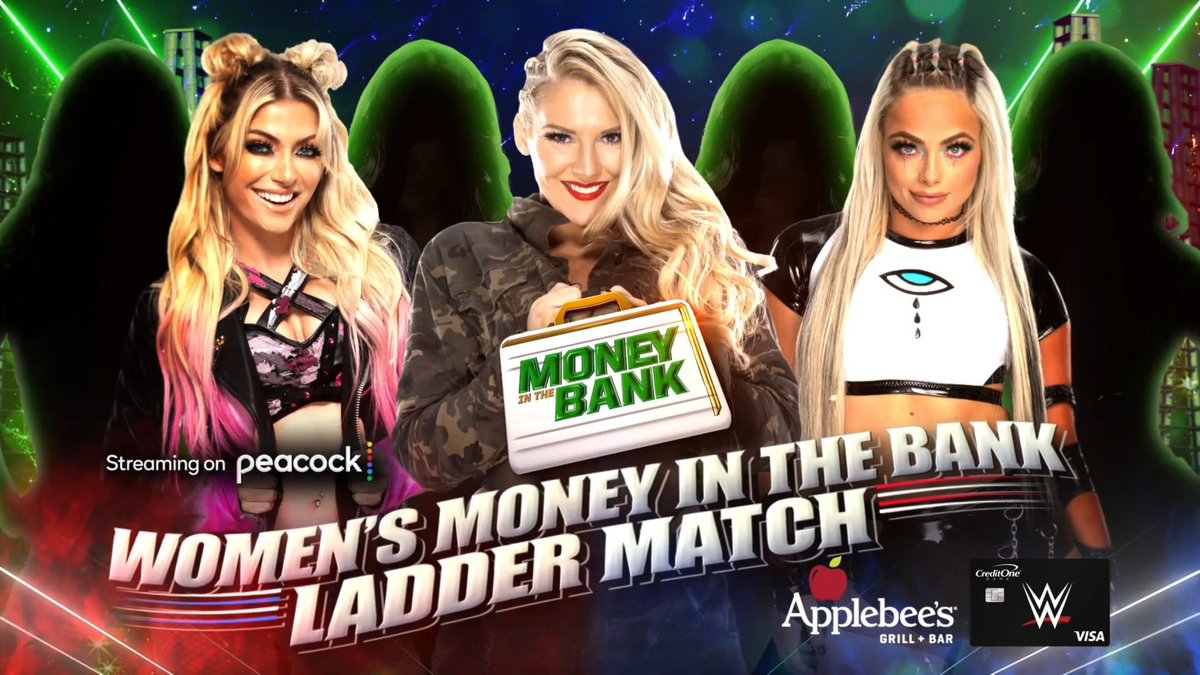 * Men's Money in the Bank Contract Ladder Match: Seth "Freakin" Rollins and others to be announced.
* Women's Money in the Bank Contract Ladder Match: Lacey Evans, Alexa Bliss, Liv Morgan and others to be announced.
* Raw Women's Championship: Bianca Belair (c) vs. Rhea Ripley
* Smackdown Women's Championship: Ronda Rousey (c) vs. Natalya
You can watch WWE Money in the Bank, streaming live Saturday, July 2, at 8 ET/5 PT on Peacock in the United States and on WWE Network everywhere else.
===
Check out the WWE PPV Review archive right here. You can contact me using any of the methods below. Go Toronto Blue Jays. Be safe and smart out there.
Thanks for reading.
John Canton
Email: mrjohncanton@gmail.com
Twitter: @johnreport