The John Report: WWE Hell in a Cell 2022 Review
The WWE Hell in a Cell event featured a Cody Rhodes-Seth Rollins Hell in a Cell match, the Raw Women's Title was on the line with Bianca Belair defending against Becky Lynch and Asuka, plus a whole lot more.
It's a card that was heavy in WWE Raw matches and light on Smackdown matches. Let's get to it.
WWE Hell in a Cell
From Allstate Arena in Chicago, Illinois
June 5, 2022
The opening video package put over the history of the Hell in a Cell match and the Cody Rhodes-Seth Rollins main event inside the cell. Great video.
It was a packed house at the Allstate Arena in Chicago, which is one of WWE's favorite buildings. It feels like they get a PPV every year because WWE knows the fans in Chicago are great. The Raw commentary team of Jimmy Smith, Corey Graves and Byron Saxton welcomed us to the show.
The video package aired about the Raw Women's Championship match that opened the show.
Becky Lynch was up first to boos although it was definitely a superstar reaction. Asuka was cheered by the Chicago crowd a lot as well. Bianca Belair was up last as the Raw Women's Champion and she got a big pop as usual. They stood in the ring for the championship introductions from ring announcer Mike Rome. The crowd was really loud for Belair along with "EST" chants.
Analysis: It took about 14 minutes after the start of the show for the bell to ring for the first match. I think they need to get to it quicker.
Raw Women's Championship: Bianca Belair vs. Becky Lynch vs. Asuka
Lynch tried an attack, but Asuka blocked a kick and Belair ran over Lynch with a shoulder tackle. The fans chanted for Belair and Asuka as Asuka hit a running clothesline. Lynch tripped up Asuka, then pulled Asuka out of the ring and Lynch kicked Belair a few times. Belair slammed Lynch off the top. Belair with a dropkick, Lynch with a couple of kicks and Asuka hit a dropkick on Lynch. Asuka hit a bulldog/clothesline combo. Asuka with kicks, a hip attack on Lynch and then Belair went for a KOD on Asuka, but Asuka got out of it. Asuka with a flying armbar on Belair, but Belair slammed Asuka into the turnbuckle. Lynch punched Asuka on the top rope, then Lynch slammed Asuka onto Belair and Lynch got a couple of nearfalls out of that. Lynch sent Asuka shoulder-first into the ring post. Lynch with a rolling necksnap on Belair for two. Lynch hit Belair with a running forearm against the turnbuckle. Lynch sent Belair into the turnbuckle, then Lynch put a boot to the throat and Belair hit a couple of kicks. Belair with a shoulder tackle that knocked Asuka off the apron. Lynch with kicks to the body and a leg drop to the back of Belair for a two count. Belair with a jawbreaker, Lynch ran the ropes, then she wanted an armbar and Belair went running into the turnbuckle. Lynch with a Bexploder Suplex on Belair. Lynch kicked Asuka to knock her down on the floor. Lynch sent Belair in the ring and hit a leg drop off the top for two because Asuka made the save. Asuka got a backslide pin on Lynch for two. Asuka delivered several strikes to the head followed by a German Suplex and a running hip attack for two. Graves put over Asuka's striking display with good reason. It was impressive! Belair got back into the match, she kicked Asuka down, Belair went for the KOD on Lynch, but Lynch landed on her feet, so Belair hit a suplex. Belair with a dropkick on Asuka. Belair worked over Asuka with punches in the corner, then she set Lynch there and Belair punched both women a bit. Lynch pulled on Belair's hair, then Belair hit a spinebuster on Lynch and Belair slammed Asuka onto Lynch. Blair hit a handspring moonsault off the ropes for a two count. The fans chanted "this is awesome" for them. I agree.
Belair threw Asuka out of the ring and Belair went after Lynch on the turnbuckle. Asuka got involved, Belair kicked Asuka down and Belair jumped over Asuka, but Asuka was ready with double knees to Belair. Asuka with double knees to Lynch, who jumped off the ropes. Asuka hit a running hip attack on both women for multiple two counts. Asuka went for an Ankle Lock submission on Lynch, then Asuka caught Belair and did a double Ankle Lock, so the women did a double roll out to break free. Belair and Lynch exchanged strikes, Belair got a rollup and Lynch applied the Disarm-her armbar on the right arm, but Belair fought it off. Belair lifted up Lynch, who got a hold of the ropes to break free and Lynch hit a cross body block on Belair. Asuka got back into it with a missile dropkick on Belair. Lynch dumped Asuka out of the ring, Belair with a rollup on Lynch and Lynch hit a Manhandle Slam on Belair for two because Asuka was there to break it up! Nice sequence of moves there. All three women were down selling. Asuka with more strikes to the face along with a rising knee by Asuka. Belair held Lynch for a move, so Asuka kicked Belair with a roundhouse kick. Lynch tossed Asuka from the ring and Lynch covered for two. They took a while to sell and get going again. Asuka with a German Suplex on Lynch, then they battled on the apron and Asuka knocked Belair off the apron to the floor. Asuka slapped on the Asuka Lock submission on Lynch and Lynch kicked off the ropes to counter into a two count. Asuka had Lynch trapped in the Asuka Lock submission, Belair jumped off the top to cause Asuka to break free and Asuka hit a kick to the head. Belair caught Asuka going for the hip attack and Belair sent Asuka into the turnbuckle. Lynch sent Belair out of the ring, Lynch hit a Manhandle Slam and Belair threw Lynch out of the ring so that Belair stole the pin to Asuka for the win at 18:55.
Winner by pinfall: Bianca Belair
Analysis: ****1/4 Excellent match. There were so many close nearfalls and submissions in this match. I think Asuka taking the pin was the most obvious result since Belair only won the title two months ago and I think that finish with Belair stealing the pin will lead to Lynch getting yet another title shot in a singles match. I liked how the fans were really into the match the whole way with the most support going to Belair. Asuka was probably the best woman in the match and Lynch does well all the time. The interesting thing about a triple threat is there are no disqualifications in a match like that, yet none of them even tried to use any weapons.
Belair celebrated the win while Lynch was shocked that Belair would do a Lynch move like that.
There was a long video package about Roman Reigns.
Omos and MVP were shown talking backstage. Cedric Alexander showed up to offer some help. MVP said that they didn't want Cedric to come back and added that the Hurt Business was not coming back. Omos told Cedric to leave.
A video package aired for Bobby Lashley vs. Omos/MVP featuring a rap by MVP.
Omos and MVP made their entrance. Good ovation for the "All Mighty" Bobby Lashley as usual.
Handicap Match: Bobby Lashley vs. Omos & MVP
It looked like MVP was going to start the match, but then he switched to Omos. Lashley with a clothesline that Omos no sold. Omos shrugged off Lashley's attempt at a waistlock. After Omos hit a splash in the corner, he tossed Lashley across the ring and MVP tagged in because Lashley was down. MVP with punches, Lashley no-sold them and MVP raked the eyes going into the turnbuckle. Lashley hit a dropkick to Omos' knee. Lashley set up for a suplex, but Omos hit a front suplex of his own. Omos hit that Snake Eyes (face into the top turnbuckle) and a running splash. Omos hit another corner attack. MVP tagged in with a running boot to the face that knocked Lashley out of the ring. Omos tagged in and hit a running shoulder tackle to take out Lashley through the barricade. Lashley got back in before the ten count. MVP worked over Lashley with strikes along with a knee drop. Lashley made the comeback by knocking Omos off the apron and Lashley hit a Spear on MVP. Omos broke up the pin attack Lashley, then Cedric Alexander showed up at ringside and jumped off with nothing as Omos threw him out of ringside. Lashley hit a Spear on Omos, who bailed to the floor. Lashley avoided a kick by MVP and Lashley applied the Hurt Lock submission on MVP, who tapped out and that was enough to give Lashley the win at 8:25.
Winner by pinfall: Bobby Lashley
Analysis: **1/2 This put over Lashley in a huge way. Yes, the presence of Cedric Alexander helped, so you can say that Lashley had a bit of an assist, but I think it's fair to say that Lashley had an impressive performance. The story of the match saw Lashley sell for several minutes until he made the comeback and got the easy win.
After Lashley won, he grabbed a WWE Title from a fan and walked around with it to tell us that he is coming for the WWE Title some day soon.
Analysis: That's fine with me. Lashley vs. Reigns at one of the upcoming PPVs makes a lot of sense.
A commercial aired for Money in the Bank on Saturday, July 2.
The Raw commentary team of Jimmy Smith, Corey Graves and Byron Saxton talked about how Cody Rhodes tore his pectoral muscle training for his match against Seth "Freakin" Rollins, but Cody is still going to compete in the Hell in a Cell match tonight.
Kevin Owens made his entrance for his match. They showed some clips of his history with Ezekiel with Owens claiming he was Elias. Ezekiel made his entrance to a decent reaction.
Kevin Owens vs. Ezekiel
Ezekiel hit Owens with a jumping knee to the face. Ezekiel went up top and hit an elbow drop for a two count. They left the ring with Ezekiel sending Owens into the ring apron and the commentary table. Owens came back with a hard whip into the ring post. Back in the ring, Owens hit an impressive moonsault off the middle rope for a two count. Ezekiel had a cut on the left side of his head. Owens stomped on Elias while shouting out to the crowd: "That's Elias!" Owens with a chinlock, Ezekiel broke free and Owens hit him with a clothesline. Owens tried a whip into the corner, but Ezekiel reversed it leading to Owens doing an upside bump in the turnbuckle. It looked like Ezekiel's blood had stopped, so it wasn't a bad cut. Ezekiel with punches, a back elbow and Owens hit a Tornado DDT for a two count. Owens went up top, jumped off with a Senton Bomb and Ezekiel got the knees up to block. Ezekiel with a knee to the jaw, then Ezekiel unleashed with punches/kicks in the corner. Ezekiel kicked Owens down, then Ezekiel charged and hit a corner splash. Ezekiel did two corner splashes, Owens avoided a third one and Ezekiel came back with a spinebuster for two. Owens wanted a Stunner, Ezekiel got out of that and Owens hit a Popup Powerbomb for a two count. Owens shouted that he was Elias, Ezekiel with a slap and a rollup for two. Ezekiel with another jumping knee to the face. Ezekiel went up top, Owens hit the ropes to trip him up and Owens hit two superkicks. Owens hit a cannonball splash in the corner. Owens shouted "Elias" then a kick to the gut and a Stone Cold Stunner for the pinfall win at 9:20.
Winner by pinfall: Kevin Owens
Analysis: *** It was a solid match with the right guy getting the win. Ezekiel came close to winning a few times with a few nearfalls that looked good, but Owens took all that punishment and kept on fighting. I really liked the sequence of moves that Owens did to finish him off because it looked believable that he wore Ezekiel out. I don't know if this means the feud is over or what, but I think Owens winning was the right move because he needed a win after the WrestleMania loss and not doing much since then.
A video aired about Seth "Freakin" Rollins showing his journey in wrestling and becoming a huge success in WWE.
There was a video package about Judgment Day's feud with AJ Styles, Finn Balor and Liv Morgan leading to this mixed tag team match.
The Judgment Day trio of Edge, Damian Priest and Rhea Ripley made their entrance with Edge standing high on the mountain of omnipotence…in some ways. Liv Morgan was up first for the babyface team followed by Finn Balor and then AJ Styles was last.
The Judgment Day – Edge, Damian Priest & Rhea Ripley vs. AJ Styles, Finn Balor & Liv Morgan
In a six-person mixed tag team match, the men must wrestle the men and the women must wrestle the women.
It started out with a 3-on-3 brawl with the babyfaces clearing the ring of the heels. Styles launched Morgan in the air leading to Liv hitting a hurricanrana on Ripley. Morgan with a running knee, but then Ripley hit Liv with a headbutt. Ripley with a suplex, then a kick to the ribs and Ripley hit a delayed vertical suplex. Ripley with two shoulder tackles, but then Morgan came back with a dropkick. Ripley was in her corner, so Morgan tagged in Styles and Priest stepped in for his team. Styles hit a dropkick, then a Pele Kick and Balor tagged in with an armbar. Balor with a running dropkick to the knee, then a kick to the leg and Balor wrenched the leg against the ropes. Balor kicked Priest in the chest, Edge with a distraction and Priest took over with some punches. Priest tossed Balor out of the ring, Edge tagged in and Edge hit Balor with a running forearm to the face. Edge sent Balor into the ring apron. Priest back in with kicks to the ribs, then punches and Edge choked Balor without the referee seeing it. Priest with a corner elbow splash along with a shoulder tackle. Edge back in with a double axhandle to keep Balor down. Edge with a hard whip that sent Balor into the turnbuckle. Balor tried to fight out of the enemy corner, but Edge caught him with a flatliner into the mat for a two count. Priest was back in with a clothesline on Balor. They teased Balor tagging out only for Priest to hit Balor with a backbreaker. Priest worked over Balor with kicks to the body, Balor with a hard chop, Priest with a bell clap, and Balor came back with an overhead kick. The fans came alive as Styles got the hot tag against Edge. Styles unleashed with strikes, then a running forearm and a sitout slam on Priest. Styles with a corner clothesline on Edge followed by a slam off the shoulders onto his knee. Ripley tried to get into the ring, so Morgan kicked Ripley to the floor. Styles with a sliding knee that knocked Priest down. Styles with a forearm to Edge, then Styles up top and he hit a Phenomenal Forearm on Edge for one…two…but Priest pulled Styles out of the ring to break up the pin. Good drama there. They were near the ropes, so it's no surprise that Priest was there to pull Styles out of the ring.
Ripley tagged in against Morgan with Liv getting a headscissors into a pin attempt for two. Morgan hit a crucifix bomb for a two count. Liv went for a move against the ropes, but Ripley moved and Ripley hit a half n half suplex. Ripley hit an impressive suplex for a two count. Morgan broke free, tagged in Balor and Morgan hit a DDT on Ripley. Balor and Styles knocked Priest and Edge out of the ring while Ripley was on the floor as well. Balor and Styles each hit dives onto Priest and Edge. Morgan hit a dive on Ripley. That was a cool spot. Balor with a jumping kick on Priest, but then when Balor went up top, Ripley shook the ropes and Balor went down. Balor with a kick to Edge, then Priest wit ha Chokeslam and Styles hit a Phenomenal Forearm on Priest. Edge sent Styles into the ring post. Edge charged with a Spear, but Balor caught him with an inside cradle for two. Balor with a Slingblade, then a dropkick into the turnbuckle and Balor went up top, but Ripley stood in front of Balor. Morgan jumped on Ripley to get her out of there, Balor jumped off the top with nothing because Edge moved and Edge hit a Spear on Balor for the pinfall win at 15:55.
Winner by pinfall: The Judgment Day – Edge, Damian Priest & Rhea Ripley
Analysis: ***3/4 This was a great tag team match. Lots of drama, big moves, babyfaces that fought back from everything and in the end, the heels found a way to win. It's not an easy match to do since the girls had to face eachother and that means you can't do hot tags in the same way as a regular match, but they structured the match perfectly. Morgan impressed me with the way she fought back against the bigger Ripley and they worked well together. Edge's team getting the win made sense since they are going to be a long-term heel group that needs wins to stay strong. I thought that maybe AJ's team was going to win since AJ lost at the last two PPVs, but it was yet another loss for AJ. Anyway, this was a very entertaining match. Great job by everybody involved.
There was a replay of what happened and while they showed that, it was clear that Styles had a big cut on his forehead. He was being looked at by a doctor towards the end of the match. They didn't show Styles being checked on
The Judgment Day trio of Edge, Priest and Ripley stood over a fallen Balor, who was selling a rib injury from the Spear that he took from Edge.
Analysis: It's possible that Balor could turn heel to join Edge's group. I think a guy like Ciampa is more likely to join the group soon.
They showed a replay of Bobby Lashley beating Omos & MVP in a Handicap Match with Lashley getting the win by putting the Hurt Lock on MVP for the submission win.
Bobby Lashley was shown walking backstage where he walked up to Cedric Alexander. Cedric said that was for himself, not for Bobby. Cedric said he needed to find a way to stand out on his own. Lashley told Cedric don't ever mess with one of his matches ever again. They touched knuckles.
A video aired for Madcap Moss vs. Happy Corbin a No Holds Barred Match. They were allies, Corbin turned on him, Moss did a stretcher job a few weeks ago and this past week on Smackdown, Moss came back with a new look. It's the only Smackdown match on the card.
Michael Cole was on commentary with Corey Graves. They likely didn't bring Pat McAfee to the show since there was only one Smackdown match. Happy Corbin was up first followed by Madcap Moss.
No Holds Barred Match: Madcap Moss vs. Happy Corbin
Corbin was wrestling in a pink shirt. Moss hit a clothesline that sent Corbin over the top to the floor. They fought in the aisle a bit with Corbin sending Moss into the LED boards by the entrance. Moss sent Corbin into the barricade near the ring. They were back in the ring with Moss hitting another clothesline that sent Corbin out of the ring. Corbin got a hold of Corbin and sent Moss over the table onto the chairs. Moss threw a leather chair at Corbin. Moss whipped Corbin shoulder-first into the steel steps. Moss sent Corbin into the steps again. Corbin went over the barricade into the crowd, Moss followed and Corbin hit a clothesline over the barricade. Corbin suplexed Moss so that his ribs were on the top rope and then Corbin hit a knee to the back. The fans chanted for tables, Corbin grabbed a table and then put it under the ring, which drew boos. Good way to get some heat. Corbin was on the apron, Moss with punches and Corbin hit an impressive Chokeslam. Corbin brought a chair into the ring. Corbin hit Moss with a chair shot to the ribs and a chair shot to the back. I missed about a minute due to a man needing a bathroom break and came back to Moss working over Corbin with a chair shots to the back. Moss with a DDT on the chair for a two count. Moss went shoulder first into the corner on Corbin followed by a clothesline sending Corbin over the top to the floor. Moss charged at Corbin on the floor, Corbin did a chop block to the leg and Corbin sent Moss over the barricade. Corbin worked over Moss with punches. Corbin put a chair around the neck and rammed Moss into the commentary table. Back in the ring, Corbin set up the steel steps against the ropes. Moss took control with a fallaway slam into the steel steps. Moss hit the Punchline neckbreaker. Moss put the steel chair around Corbin's throat, Moss grabbed the steps and slammed them onto the chair on Corbin's neck. Moss pinned Corbin for the pinfall win at 12:05.
Winner by pinfall: Madcap Moss
Analysis: **3/4 It was a decent match where they worked hard and had a very physical match. The crowd was chanting for tables throughout the match, so the wrestlers should have improvised a bit and had Moss put Corbin through a table to make the fans happy. I get that they wanted to use a chair based on the history of the feud, but sometimes you do what the fans want and if they want a table spot then find a way to get a table spot in the match. Anyway, Moss getting the win made sense based on the feud with Corbin doing the cheap attack a few weeks ago. This was the biggest singles win of Madcap's career at this point. I hope both guys can move on from this feud.
Post match, Corbin was put in a neckbreaker and he was stretchered out of the arena just like Moss was a few weeks earlier.
There were commercials for Steve Austin's Broken Skull Sessions show with Jeff Jarrett as a guest and Money in the Bank taking place on July 2nd.
A video aired about Bianca Belair.
Theory was up first as the heel United States Champion. That looked like some new gear for him. Mustafa Ali got a hometown pop because he's from Chicago with Ali wearing some Chicago-themed gear as well.
United States Championship: Theory vs. Mustafa Ali
Theory ran over Ali with a shoulder tackle, Ali hit two arm drags and Theory left the ring to regroup. Theory went into the ring, then he bailed again and Ali hit a baseball slide dropkick on Theory on the floor. Ali jumped off the top with a cross body block on Theory on the floor. Ali charged, Theory lifted him and sent Ali into the ring post. There were "Theory sucks" chants as Ali moved to avoid a charging Theory, who hit the turnbuckle. Theory grabbed Ali by the legs and sent him over the top to the floor. That was a big bump. Theory with a fallaway slam for a two count. Theory with a chinlock, then a snapmare and a stomp on the chest. Ali came back with a spin kick to the head. Ali hit a running forearm. Ali with a kick to the head followed by a leaping attack into a neckbreaker. Theory went to the turnbuckle, Ali was sent off there and Theory jumped off the ropes right into a superkick by Ali for a two count. Theory sent Ali neck-first into the ropes. Ali went up top and Theory hit a springboard Spanish Fly slam on Ali for two. Ali fought back with a clothesline as some fans chanted "Ali" for the challenger. Theory set up for a move, but Ali held onto the ropes and hit a DDT off the ropes. Ali up top, Theory tripped him up and Theory was going for his finisher, but Ali trapped him with an STF submission hold in the middle of the ring. Theory looked like he might tap, but instead, he managed to get his hand on the bottom rope to break the hold. Theory with a necksnap against the top rope, Ali came back with a kick and a tilt-a-whirl into a DDT. That was great. Ali went up top, the fans were cheering and Ali went for a 450 Splash, but Theory moved. Ali was selling a left knee injury, so Theory did a chop block to the left knee. Theory hit the A-Town Down slam onto the right knee for the pinfall win. It went 10:25.
Winner by pinfall: Theory
Analysis: ***1/4 It was a competitive match that was very even throughout the match. It seemed like every time Theory would get some momentum, Ali kept coming back for more and the fans really wanted him to win, but I think we all knew Theory winning was a lock since he only won the title less than two months ago and this is probably going to be a long title run. They worked hard, made the most of their time and it was another solid wrestling match.
Post match, Theory took a selfie of himself with a defeated Ali.
There were a bunch of commercials for things that I didn't pay attention to. The Money in the Bank commercial has aired a lot during this show. I assume they were setting up for Hell in a Cell.
The commentary team talked about Money in the Bank on Saturday, July 2. Maybe they will remember to book more than two Smackdown wrestlers on that show.
The video package aired for Cody Rhodes vs. Seth Rollins III. Cody beat Seth at WrestleMania 38 and WrestleMania Backlash (Cody held onto the tights to win because Seth tried winning that way), so now they will have a third match inside Hell in a Cell. They had a great brawling segment on the last Raw before Hell in a Cell.
The red Hell in a Cell structure surrounded the ring. Seth "Freakin" Rollins made his entrance first. Seth was wearing black gear with yellow polka dots that Cody's dad Dusty Rhodes used to wear in his WWE career. It's a unique look, that's for sure.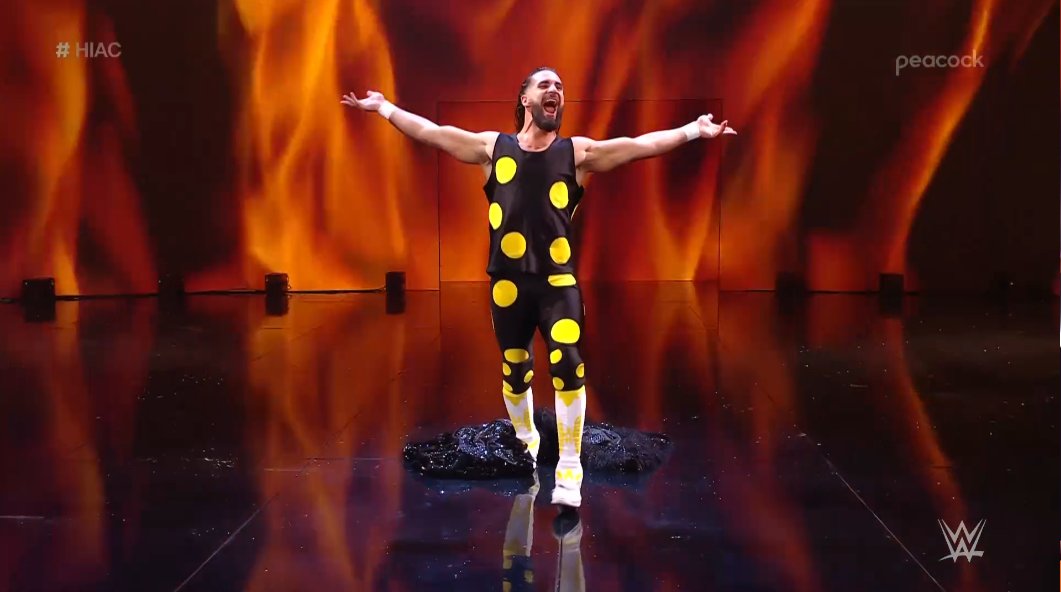 Cody Rhodes made his entrance to a big pop along with some big fireworks. The fans love the theme song and I do too. Cody gave his white leather belt to a young fan at ringside like he usually does. Seth took off the polka dot shirt, but wrestled in the polka dot tights. Big pop for Cody's introduction. Chicago was fully behind the American Nightmare with loud "Cody" chants. Cody's right arm was bruised with purple and pink scarring from a torn pectoral muscle. There was tape on Cody's chest/arm. That visible red/purple scarring was brutal.
Hell in a Cell Match: Cody Rhodes vs. Seth "Freakin" Rollins
Rollins had a smirk on his face when he saw the scarring on Cody's right arm. Cody got some left-handed punches, then a Disaster Kick and Cody hit a Cody Cutter, but he was in pain on his right arm just from doing the move. Cody wanted Cross Rhodes, Seth did an eye gouge and Cody did a trip into a Figure Four Leglock, Rollins got to the ropes, but there was no rope break. Rollins grabbed a kendo stick from under the ring and hit Cody in the right arm with it. Graves pointed out that everybody was shocked when they saw the right arm. Rollins used the kendo stick to knock Cody down and then Rollins jammed kendo stick on the torn pectoral muscle that Cody was dealing with. Cody used his left hand to throw some punches, then Cody to the apron and Seth sent Cody right arm-first into the cell. Rollins whipped Cody into the cell. Rollins jammed the kendo stick into the right arm again. Rollins sent Cody into the cage along with some face gouging. Cody managed to send Rollins into the cage. Back in the ring, Cody with a kick and then a lefty clothesline that sent Rollins over the top to the floor. Rollins got his hands on the steel steps, Cody left the ring and Rollins hit Cody on the right arm with the steel steps. Rollins grabbed a polka dot weight belt emblazoned with the word "Visionary" for himself. Rollins used the leather weight belt to hit Cody in the back two times in the back along with a leather belt shot to the pectoral muscle for a two count. Rollins grabbed a table from under the ring and brought it into the ring. The fans cheered for that. The fans chanted "thank you Rollins" due to a table finally being used on this show. Rollins did an eye rake/gouge after setting up the table in the ring. Rollins looked like he was setting up for a superplex through the table, but Cody fought out of that and Rollins came back with a forearm shot to the back of the head. Rollins went up top while Cody was on the table, Rollins jumped off with a Frog Splash and Rollins went crashing through the table. Cody threw the black leather belt away and Cody grabbed a bullrope with a bell at the end of it. That Bullrope Match is a match that Cody's father Dusty competed in many times. Cody wanted Rollins to hook his left arm to the bullrope, so Rollins did it.
Cody with a kick to the leg, then he tripped up Rollins with the bullrope and Cody hit a superkick. Cody hit Rollins with the cowbell in the head for a two count. They left the ring with Rollins sending Cody into the apron. Rollins pulled on the bullrope to send Cody's shoulder into the ring post. Rollins removed the bullrope from his hand and Cody did as well. Rollins brought another table into the ring. Rollins set up the ladder in the corner of the ring, Cody blocked a Powerbomb attempt and Cody hit the Cross Rhodes for a two count. Cody tried a for a Powerbomb through the table, so then he tried a whip into the table, but Rollins stopped that. Rollins with a superkick. Rollins gave Cody a Powerbomb through the table in the corner of the ring, but Cody kicked out at two. The fans chanted "this is awesome" for them. Rollins left the ring where he grabbed a sledgehammer from under the ring. Cody kicked Rollins to avoid the sledgehammer attack, Rollins tried a Pedigree and then Cody came back with his own Pedigree for another very good nearfall. Cody got his hands on the sledgehammer, Rollins avoided Cody and back into the ring with Rollins hitting The Stomp for a two count. Great drama there. Rollins hit his own version of Cross Rhodes, but then Cody came back and hit his own Cross Rhodes. Cody went for the sledgehammer, then he dropped it because he was hurting and Cody hit Seth with two Cross Rhodes' neckbreakers. Cody got a hold of the sledgehammer and hit Cody in the head with it! Cody covered for the one…two…and three. It went 24:20.
Winner by pinfall: Cody Rhodes
Analysis: ***** It was another awesome match between these two although it was different than those first two matches because of the Cell being involved along with Cody dealing with a torn right pectoral muscle. Cody deserves a lot of credit for still wrestling over 20 minutes while dealing with a major injury. It's hard not to be impressed by Cody's impressive performance. The guy had a legitimate injury that would stop nearly every wrestler alive, but Cody kept on going and got the win over Rollins for the third time in a row. My thinking going in was that Rollins was going to get the win because Cody won the last two matches they had and Cody was banged up, so I figured they would want Rollins to win. (My pick in the preview was Cody winning but at that point we didn't know Cody was going into the match with an injury.) Instead, WWE continues to book Cody in an exceptional way with all the wins that he gets and he's presented as one of the top stars in the company. Rollins continues to be amazing in his performances and deserves a lot of credit for Cody getting through this match as well. It takes two put on a classic. These guys did it three times. Cody is now 3-0 against Rollins so that's the end of the feud. I think I rated the three Cody-Seth matches the same, but I like the WrestleMania match the most. With that said, Cody's performance with an injury is very impressive. He sold it so well probably because it hurt so much. What a gutsy, incredible performance.
(UPDATE: I rated this 4.5* live and then when I watched it again about a week later, I bumped up the rating to 5* because it really was an incredible match. A gutsy performance from Cody while Rollins did a tremendous job of being a vicious heel throughout the match.)
Post match, Cody Rhodes continued to favor his right arm as he celebrated the win. Cody had a tough time walking to the steps and then he posed on the ropes with the fans cheering Cody again Cody was shown mouthing: "Three times" Cody continued to celebrate in the middle of the ring. Cody kissed the mat as well. Cody lifted his arm to cheers. That was the end of the show.
Analysis: It was an incredible night for Cody Rhodes. On the one hand, I'm sure the news of being injured was something that was tough to deal with. On the other hand, he still busted his ass and they had a great main event match. I was very impressed by that performance.
This event had a runtime of 3:03:04 on WWE Network/Peacock.
Five Stars of the Show
1. Cody Rhodes
2. Seth Rollins
3. Bianca Belair
4. Asuka
5. Becky Lynch
Final Thoughts
I'm going with an 8 out of 10 for this show.
Awesome show with some great matches. There were two matches that I rated over four stars (the opener and the main event), plus the six-person tag team match was right at that level too and that means it's a terrific PPV overall. There was a lot to like at Hell in a Cell. Cody Rhodes was clearly the guy that stood out the most dealing with the arm injury and putting on a masterful performance. Kudos to Seth Rollins as well for working so well with Cody. These guys are awesome together and it's the WWE feud of the year in the first half of 2022.
I liked the women's match a lot as a hot opener full of action. They worked so well together. It was not the most creative finish, but I thought the three women deserve a lot of praise. The six-person tag was not easy to do, but it was put together well and was enjoyable to watch. Everything else was pretty solid. I don't think there was anything that bad on the card, so that helps a lot too.
This show didn't have a lot of major hype going into it, but the matches were given time and the wrestlers worked hard to make it a fun show overall. I enjoyed Hell in a Cell.
Here are my WWE Premium Live Event (PPV) rankings for 2022 so far.
WrestleMania 38 – 8 (April 2 & 3)
Hell in a Cell – 8 (June 5)
WrestleMania Backlash – 7.75 (May 8)
Day 1 – 7.5 (January 1)
Elimination Chamber – 6.75 (February 19)
Royal Rumble – 6 (January 29)
As a reminder, I have a listing of every WWE PPV that I reviewed in order by year. Thank you for supporting us at TJRWrestling. We appreciate you.
===
Thanks for reading this review. My contact info is below.
Email: mrjohncanton@gmail.com
Twitter: @johnreport