The John Report: The WWE Raw Deal 05/08/17 Review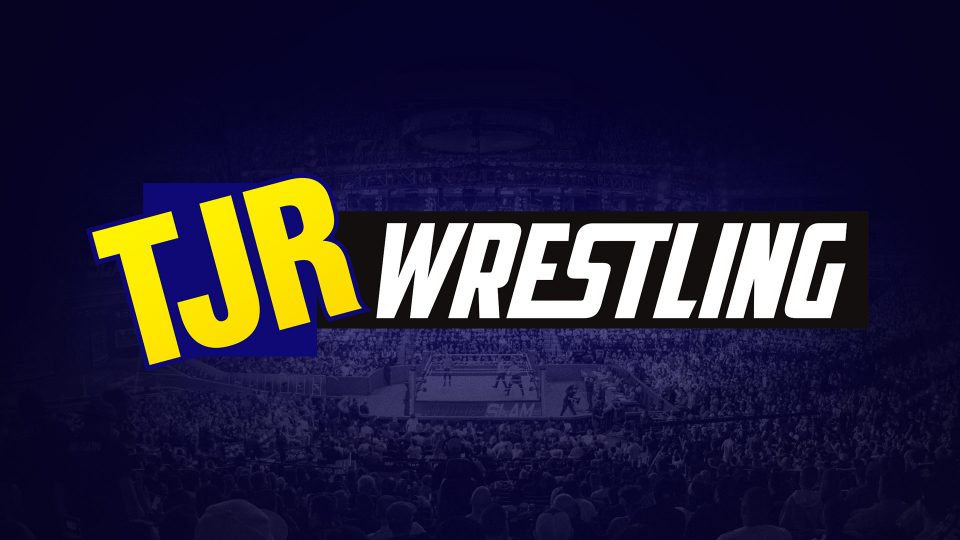 This week's Raw was taped in London, England a few hours before it aired. There's some unfortunate injury news for Braun Strowman this week because it was reported he'll be out of action for 4-8 weeks due to an elbow injury. He is on this week's show, though, so let's get to it.
Live (on tape delay) from London, England this is the Raw Deal for episode #1248. Follow me on Twitter @johnreport. Thanks Melo Man for the banner up top.
Raw began with Dean Ambrose walking backstage on a phone talking to Kurt Angle. He told somebody backstage he has big news and to hit his music as Ambrose made his way towards the ring.
The announce team of Michael Cole, Corey Graves and Booker T (still subbing in for David Otunga) welcomed us to the show.
Ambrose, the Intercontinental Champion, said he just got off the phone with Raw's General Manager Kurt Angle and said that Angle won't be there (the crowd booed) with Ambrose saying that maybe Angle has a sick dog. Ambrose informed us he's the acting GM of Raw. Ambrose said on his show it's not about talking, it's about action. The music of The Miz hit.
The Miz walked out with his lovely wife Maryse. Miz was in his ring gear, so he's obviously in a match. Miz noted that Raw will be absolute, total chaos with Ambrose in charge. Crowd cheered. Ambrose said he had a detailed plan for an action filled edition of Raw. Miz said that he received a phone call from Stephanie McMahon, the Commissioner of Raw. A weak "delete" chant started. Miz said that Stephanie named a co-acting GM as well and his name is The Miz. That drew boos.
Ambrose and Miz engaged in some trash talk with Miz noting that last week he beat Seth Rollins and Finn Balor in the same match last week. Ambrose asked Miz to shake his hand in the good name of sportsmanship. Braun Strowman's music hit.
Braun Strowman joined the festivities with his left arm in a sling. A mild "thank you Strowman" chant started. Strowman said he didn't care who was in charge because he's going to get what he wants. Strowman said he took out the big dog at Payback, but as long as Roman Reigns walks he's not finished with him. Strowman told them to call Kurt and Stephanie to tell them that when Braun's arm heals he wants Roman Reigns. Strowman said when he's finished with Reigns he wants Brock Lesnar. The crowd cheered that idea.
Kalisto made his entrance. He appeared on the ramp while the others were in the ring. Kalisto said that he's not done with Strowman. Kalisto pointed out that he beat Strowman in a Dumpster Match and said Strowman couldn't take it like a man. Kalisto told Strowman that nobody treats him like garbage. Kalisto asked for a match with Strowman tonight.
Strowman told Kalisto that Kalisto beat him on a technicality and said he crushed Kalisto like a beer can. Strowman said he can beat Kalisto with one arm. Ambrose announced Strowman vs. Kalisto for later while calling Kalisto "the world's bravest tiny little man." At first Strowman complained, but noted that Strowman said he can beat Kalisto with one arm. Strowman stared at Ambrose and left.
Miz congratulated Ambrose for ending Kalisto's career. Miz suggested some other crazy ideas for matches such as "Jack and Coke on a pole." Ambrose said Miz is in the first match of the night against Finn Balor up next. Ambrose left to end the opening promo.
Analysis: It was a standard 15 minute promo to start Raw with some news that Ambrose and Miz are co-GMs of the night. Do we really need to have two people in the charge of the show? The shows would be better with less people in charge. Anyway, they did a decent job trying to explain things and set up some matches, so at least they accomplished that. The promos were pretty standard in terms of how Raw begins most weeks.
(Commercial)
Finn Balor made his entrance as the show returned from break. It seemed like a bigger reaction than usual. He has one of the coolest entrances in WWE. He's even more popular in England since he's from nearby Ireland.
Finn Balor vs. The Miz (w/Maryse)
The Miz hit an elbow early on. Balor came with a dropkick for a two count. Leaping kick to the face by Balor on Miz followed by a clothesline that sent Miz over the top to the floor. Balor hit a running dropkick on Miz on the floor. Balor put Miz back in the ring, but Maryse pulled Miz out of the ring to safety as they went to break two minutes into it.
(Commercial)
Back from break, Miz was in control. Miz hit his backbreaker into a neckbreaker combo for two. Balor came back with a rollup where he sat on top for a two count. Miz hit a DDT for two. Balor got back up, but Miz slowed him down with a knee to the gut followed by a chinlock. When Balor broke free, he came back with a Pele Kick and both guys were down for a bit. Balor struck with forearms, a dropkick, chops and a jumping kick while Miz was on the turnbuckle. A Balor dropkick sent Miz into the barricade. Running kick by Balor on the apron. Maryse stood on the apron, so Miz shoved Balor into the referee.
Miz left the ring to say that as co-acting GM he can't allow a superstar to hit a referee like Balor did to the ref. It led to the ref ringing the bell. Miz called himself the winner of the match.
Dean Ambrose appeared on the ramp. He said no way this match will end like that and said that it will re-start right now. Ambrose told Maryse she was banned from ringside.
The bell rang to re-start the match and Balor attacked in the aisle. Back in the ring, Balor hit the Slingblade, dropkick in the corner and Coup de Grace by Balor (double foot stomp off the top) was good enough for the win after 12 minutes.
Winner by pinfall: Finn Balor
Analysis: **1/2 It was an okay match that was hurt by the ending and the cheesy DQ leading to the restart. It's 50/50 booking once again with Balor getting the win back after losing last week due to Bray Wyatt attacking him. The crowd liked the result with Balor winning and Ambrose preventing the cheap finish by Miz. I think they could have had a great match, but it was just an average match with a cheap finish to show that Miz didn't have as much power as he thought.
Coming up: Kalisto vs. Strowman.
The Raw Women's Champion Alexa Bliss was in the locker room. Nia Jax showed up to ask why Bliss didn't mention her last week. Jax asked Bliss if she meant what she said that Jax is great. Jax said that if Bliss meant it then when Bliss is finished with Bayley, Jax gets the next title match. Bliss said that she doesn't make matches – Kurt Angle does and he's not there, but Bliss can ask him another time. Jax told Bliss that until that happens it looks like she got herself a new best friend and Bliss said "looks like I did."
Analysis: Pairing up Bliss with Jax makes sense, at least for the short term. I like that idea.
(Commercial)
This week's Smackdown will see Dolph Ziggler confronting Shinsuke Nakamura.
Alexa Bliss, the Raw Women's Champion, made her entrance with her buddy Nia Jax by her side. Mickie James entered to a nice ovation and she had Bayley with her.
Alexa Bliss (w/Nia Jax) vs. Mickie James (w/Bayley)
This is not for Bliss' Raw Women's Title.
The women locked up as the crowd sang the "Hey Bayley" song they like to sing for her. Bliss did a hair whip on James, so James came back with a Thesz Press followed by punches. Running kick to the face by James for a two count. Neckbreaker by Mickie gets two as the fans sang the "Hey Mickey" song even though it was about a guy rather than a girl. Seated dropkick by James knocked down Bliss on the floor as they went to break.
(Commercial)
Bliss was in control after the break because the heels are usually in control after commercials on WWE TV. Bliss worked on Mickie's left arm by stretching it against the ropes. Bliss applied an armbar. James came back with a hurricanrana, but Bliss twisted her arm and took her down again. Bliss missed a jumping knee attack on the left arm. The crowd went back with the Bayley song as James hit a forearm, kick to the ribs, kick to the face and a forearm smash by James for two. James went for the DDT, Bliss fought out and James hit a flapjack. When James was on the apron, Jax grabbed her leg and the ref saw it. Bayley went after Jax on the floor. James was on the top rope, so Bliss (who was able to recover thanks to Jax) punched her in the face and pinned her when Mickie collapsed to the mat. It went about nine minutes.
Winner by pinfall: Alexa Bliss
Analysis: **1/4 It was a decent match that was competitive from start to finish. Bliss did a good job working on the arm for most of it, but then they seemed to forget about it. James looked great with the comeback. The finish was weak with Bliss just winning with a punch or forearm. I like Bliss a lot although her offense still leaves a lot to be desired. She's very basic in what she does in the ring. On a positive note, it's rare for a champion to win non-title the way Bliss did, so at least that felt different.
Post match, Bliss attacked James with punches. Bayley made the save and chased Bliss up the ramp. Jax went into the ring, James slowly got to her feet and Jax splashed James in the corner. Elbow drop by Jax ended it and she left.
Analysis: Poor Mickie. She got beat up and attacked after the match. Also, Bayley's a terrible friend that ran away and never thought about her friend injured in the ring.This should lead to Mickie facing Jax either next week or maybe they save it for Extreme Rules.
There was a shot of Dean Ambrose, The Miz and Maryse backstage talking to a guy that had a clipboard about what's going to happen on the show. Miz said he had scheduled Miz TV saying he had some guy from One Direction and Ambrose told him to cancel it. Ambrose said he'll take on anybody anywhere. Miz put Ambrose in a match against Bray Wyatt.
Analysis: Ambrose vs. Wyatt is not a new match because they wrestled many times over the years, but it's been a while.
There was a tale of the tape to hype up Braun Strowman vs. Kalisto up next.
(Commercial)
Samoa Joe was interviewed by Charly Caruso in the interview area backstage. Joe talked about how at Payback, Seth Rollins slayed nothing and that Rollins lives his life on Joe's terms. Joe said he's not through with Rollins and said that Rollins will hear every ligament pop and every bone creak because his life will be very loud…here comes Rollins. It led to a brawl between Joe and Rollins backstage. They fought on some boxes backstage. They were broken up by agents and referees.
Analysis: A quick promo and a fight to show that the story isn't over between them. Easy story to book.
A replay aired of Kalisto beating Strowman in a Dumpster Match two weeks ago followed by Strowman destroying him after the match was over.
Braun Strowman made his entrance with his left arm in a sling. As I noted earlier, Strowman is dealing with a legit elbow injury that will put him on the shelf for the next month or two.
Kalisto has new theme music. I could have mentioned that earlier, but forgot. I don't think it was a smart idea to get rid of the old song that led to the "Lucha" chants.
Strowman told Ambrose he can "shove it" and said that he's not going to accept this match. Strowman said that Reigns is a pathetic coward that won't face him like a man.
Braun Strowman vs. Kalisto
The bell rang and Strowman kicked Kalisto in the face. Strowman stomped on Kalisto in the corner. Roman Reigns' music hit as the crowd booed.
Reigns slowly made his way down to the ring. Kalisto left the ring, so I guess the match is over? Sure.
Match Result: No Contest
Reigns walked down to the ring. Cole was freaking out as if seeing Reigns was a major surprise while the crowd was booing because they weren't excited to see him. You could tell Cole was told to get really excited about Reigns because he was really over the top reacting to Reigns. That's a call from Vince McMahon wanting Reigns to really stand out. Reigns was all taped up on his upper body.
Reigns slowly entered the ring and stared at Strowman. Reigns kicked Strowman in the injured arm and Reigns hit the Superman Punch three times in a row. When Strowman was on the floor, Reigns attacked again, but Strowman hit him with a boot to the shoulder to knock him down. Strowman missed on a charge as he hit the ring post. Reigns sent Strowman's left arm into the ring post a few times. Reigns rammed Strowman's left arm against the apron. The crowd did their "Let's go Roman/Roman Sucks" chant leading to Cole busting out his favorite term "electric" to describe the crowd. Reigns grabbed a chair and hit Strowman three times in the left arm. Strowman limped away and left through the crowd while holding his arm. Roman's music played to end it as Reigns posed in the ring.
Analysis: Good segment to give Reigns the upper hand for the first time in a long time. The crowd still hates him, but that brawl was well done. As for Strowman, this was a way to write him out of action for the next month at least. I assume WWE will mention the legit elbow injury while saying that Reigns injured him even more in this segment.
Coming up: Seth Rollins vs. Samoa Joe has just been announced.
R-Truth and Goldust were in the locker room. Goldust told him he's enjoyed teaming with Truth for the past year and wouldn't change anything. Goldust said that it hurt him when Kurt Angle said their win-loss record hasn't been good enough. Goldust pointed out that they've had championships in WWE, but not together. Goldust told Truth they need to go out there to prove what they can do and prove that the Hardy Boyz aren't the only ones that can turn the clock back. Truth said they're going to shock the world. They hugged to end it.
Analysis: It's nice to see them portrayed as something more than a joke team. It doesn't mean they are going to catch fire as a team, but it's better than what they've been.
Tag Team Turmoil is up next.
(Commercial)
There was a replay of the Reigns/Strowman brawling segment.
Tag Team Turmoil features a regular tag match, then one team gets eliminated and another team joins. Win and move on. The winners get a shot at the Raw Tag Team Titles.
Enzo & Cass were up first and did their usual promo to fire up the crowd ending in the "SAWFT" bit.
Sheamus and Cesaro made their entrance. They're heels now, but it's not like they were booed that heavily. England fans like European wrestlers.
Tag Team Turmoil (#1): Enzo Amore & Big Cass vs. Cesaro & Sheamus
It's weird that Enzo & Cass are in the corner where the heel team usually is to start the match. Normally the face team is facing the hard cam. Cass hit Sheamus with a big splash in the corner followed by a body slam and elbow drop as the Hardys were shown looking on. Enzo tagged in, Cass tossed him into both opponents and Enzo hit a cross body block on Sheamus. After Cesaro took a swipe at Enzo, Sheamus hit the Irish Curse backbreaker on Enzo leading to Enzo rolling to the floor for the break with Enzo saying "ow ow ow" going into commercial.
(Commercial)
Back from break, Cesaro was stomping away on Enzo. Cesaro went for a corner charge, Enzo moved and Cesaro hit the steel post. Sheamus charged for an attack and Enzo moved out of the way. Enzo hit an enziguri kick on Cesaro, but Sheamus pulled Cass off the apron to prevent a tag. Sheamus shoved Cass into the post. Uppercut by Cesaro to the back of Enzo. Cesaro put Enzo in a Sharpshooter and Enzo tapped out. It went about seven minutes.
Winners by pinfall: Cesaro & Sheamus
Analysis: ** Basic match without a hot tag since the heels took out Cass on the floor. If you're Big Cass, at some point you should realize you should never tag in Enzo since he tends to get beat often. Sorry for using logic.
Heath Slater and Rhyno were next. Sheamus and Cesaro attacked them in the aisle before they could get into the ring. Sheamus and Cesaro shoved Rhyno into the steel steps. Huge uppercut by Cesaro on Slater while they were outside the ring.
Tag Team Turmoil (#2): Sheamus & Cesaro vs. Heath Slater & Rhyno
They rolled Slater into the ring as the fans chanted "he's got kids" for Slater. The heels worked on Slater, who managed to get a leaping kick on Cesaro, but that was it as Sheamus tagged in with a top rope clothesline. Sheamus hit a dropkick on Rhyno while he was on the apron. Chinlock by Sheamus. Slater shoved Sheamus away, but Rhyno wasn't on the apron to make the tag because he was beat up. Cesaro tagged in with an uppercut in the corner on Slater. Sheamus hit Slater with a Brogue Kick to pin Slater. It went about four minutes.
Winners by pinfall: Sheamus & Cesaro
Analysis: *1/2 That was similar to the previous match with Cesaro & Sheamus isolating one partner in order to get an easier win. Rhyno never got into the match since he was attacked on the floor repeatedly. Smart booking to put over Cesaro/Sheamus.
Luke Gallows & Karl Anderson were up next as the show went to break.
(Commercial)
Tag Team Turmoil (#3): Sheamus & Cesaro vs. Luke Gallows & Karl Anderson
Cesaro nailed Gallows with a delayed vertical suplex that was impressive. Gallows battled with Sheamus for a bit. When Sheamus jumped off the top rope to attack, Gallows nailed him with a superkick. Anderson tagged in, Sheamus slammed him and Gallows hit a kick to knock Sheamus down. Cesaro tagged in with a springboard forearm on Gallows. Anderson hit a spinebuster on Cesaro. All four guys were down. Sheamus got back to his feet and hit White Noise for on Gallows for a two count as they went to break.
(Commercial)
Back from break, Gallows & Anderson were working on Sheamus. Cesaro saved his partner from a double team move. Cesaro sent Anderson out of the ring with a clothesline. Sheamus hit a Brogue Kick on Gallows leading to the pinfall win in about seven minutes.
Winners by pinfall: Sheamus & Cesaro
Analysis: ** Another solid match. It was as if Sheamus and Cesaro were back in face mode for this one since G&A are pure heels. The crowd wasn't into it much, which is never a good thing. I thought the finish was done well although it was pretty quick after the break, so hard to get into it.
Goldust and R-Truth entered last as the final team in Tag Team Turmoil.
Tag Team Turmoil (#4) Sheamus & Cesaro vs. Goldust & R-Truth
Goldust was on fire against Sheamus early on with a power slam for a two count. Cesaro went into the ring, Goldust punched him and Sheamus knocked Goldust out of the ring. Cesaro got the tag and sent Goldust left knee first into the barricade. Cesaro worked over Goldust's left knee. Sheamus tagged in and applied a half crab on Goldust's leg. Goldust kicked away, but Cesaro tagged back in for his team. When Cesaro tried to whip Goldust into the turnbuckle, Goldust collapsed to the mat. Goldust went for a slam and Cesaro fell on top because Goldust had no power. Cesaro applied a Sharpshooter and Truth made the save with a clothesline to the back of Cesaro. Truth got the hot tag with a clothesline on Cesaro and a jumping heel kick for two. Front suplex by Truth followed by an axe kick on Cesaro for a two count. Truth missed a corner splash, Cesaro did the ROLLUP OF DEATH~! on Truth and that was enough for the win. It went about five minutes.
Winners by pinfall: Sheamus & Cesaro
Analysis: **1/4 Good job of building up the story that Truth and Goldust might win. Hated the finish with the ROLLUP OF DEATH~! finish that WWE does too often. I admit I bought into the idea of Golden Truth winning a bit, but I think they made the right call in having Cesaro and Sheamus win since they've got the story going with the Hardys. Sheamus and Cesaro wrestled four matches over 29 minutes.
Sheamus & Cesaro won Tag Team Turmoil to earn another Raw Tag Team Title match against the Hardy Boyz.
Analysis: I thought it was well booked. Seeing Sheamus & Cesaro earn the tag title shot by winning Tag Team Turmoil is a lot better than simply naming a team the title contenders. We want to see people earn title shots, so I like that it was given a lot of time.
Post match, Sheamus hit Goldust with a Brogue Kick. The heels stomped on Truth after the match and kicked him out of the ring.
The Hardy Boyz music hit as the crowd went wild for Raw's Tag Team Champions. The Hardys went down to the ring, which led to Sheamus & Cesaro bailing to the floor. Matt Hardy did the "DELETE" hand gesture a few times with the crowd chanting along. The Hardys music kept playing as the segment came to a close.
Analysis: That's what happened last week as well. It would have been nice if the Hardys did a promo or something like that because they haven't talked enough in front of a live crowd since their return. I guess it's WWE wanting to hold off on that until the Hardys can legally do their "broken" stuff.
The announcers mentioned what happened earlier in the night when Seth Rollins and Samoa Joe brawled in the backstage area leading to a match between them coming up next.
(Commercial)
Seth Rollins made his entrance at the top of the hour. Samoa Joe made his entrance looking all serious as usual.
Seth Rollins vs. Samoa Joe
The action spilled to the floor right away as they exchanged chops and punches. They went back into the ring with Rollins sending Joe face first into the middle turnbuckle. Back to the floor again, Rollins took control with a clothesline. Joe overpowered Rollins on the floor leading to a hard whip into the barricade. Back in the ring, Rollins came back with a Slingblade neckbreaker to take him down. Joe hit a back elbow on Rollins. They battled for a suplex with Joe overpowering him to connect with the suplex. Rollins came back with a back elbow to the face and a Blockbuster off the middle rope. With Rollins on the apron, Joe tripped up Rollins using his legs and Rollins went down to the floor while favoring his right knee, which is the one that has been injured in the past.
(Commercial)
Back from break, Joe was in control with a headbutt. Joe hit Rollins with knee strikes, chop to the back, kick to the chest and elbow drop for a two count. The crowd chanted "Let's Go Rollins" with some of them chanting for Joe, but it was mostly for Rollins. When Joe went for the Coquina Clutch, Rollins hit a jawbreaker. Joe was on the floor, so Rollins hit a suicide dive twice in a row. Back in the ring, Rollins hit a springboard clothesline for two. Joe came back with a snap powerslam for a two count. Joe hit a senton splash for a two count. Rollins countered a Joe move and Rollins hit a Falcon Arrow for a two count of his own. That was impressive. When Joe went for the clutch again, Rollins broke free and hit a kick to the head. They battled by the turnbuckle. Rollins ripped off the turnbuckle pad to break free of an attack where Joe had him on his shoulders. Rollins hit a standing side kick for two. They locked up again with Joe whipping Rollins into the exposed turnbuckle pad, so Rollins hit it with his shoulder. The ref went to put the pad on the turnbuckle, but Joe tossed the pad out of the ring. Joe sent Rollins face first into the steel turnbuckle and the referee disqualified Joe for it. The match went 15 minutes.
Winner by disqualification: Seth Rollins
Analysis: ***1/4 That was a physical, hard hitting match with good psychology as Joe worked on the knee and Rollins kept coming back. The crowd had a tough time getting into the match partly because the pace was so slow. Sometimes it's tough to get a crowd emotionally invested in a long match and this was an example of that. Neither guy was able to get to their finishing move, so it was more about building up to something more for the future for them. The DQ finish sets up another match between them likely at Extreme Rules next month.
After the match, Joe sent Rollins face first into the exposed turnbuckle again. Joe applied the Coquina Clutch on Rollins. The ref yelled at Joe to let go. After about 10 seconds, Joe let go. Joe to Rollins: "It's over when I say it's over." Joe's music played even though he lost the match.
Analysis: Cheap attack by Joe to put the heat on him leading to their next match. Rollins won both of their matches, but Rollins didn't look like a winner after this one. That's the point of a post match beating like that.
It was announced that Kurt Angle made a big match for Raw next week in Newark, New Jersey: Dean Ambrose vs. The Miz for the Intercontinental Title.
Analysis: I think a title change is possible. Miz is better when he's carrying that title, so put it on him.
Still to come is Ambrose vs. Wyatt in the main event.
(Commercial)
Neville made his entrance. An earlier today clip aired of Neville telling TJP if he wants a title shot then he should beat Jack Gallagher and Neville will take care of the rest.
Neville joined commentary for the next match. Jack Gallagher received a nice ovation from the English fans since he's from England. TJP was out next and he's using that name now instead of TJ Perkins.
Jack Gallagher vs. TJP
Gallagher hit a headbutt for a two count early on. They went outside the ring with TJP hitting a drop toe hold that sent Gallagher into the steel steps. TJP locked the arms in a submission, but Gallagher came back with a cradle for two. Two dropkicks by Gallagher and an overhead suplex followed by a corner handstand. Gallagher rolled up TJP, but TJP rolled through and sat on top while holding the tights for the win after three minutes.
Winner by pinfall: TJP
Analysis: * A quick match to put over the heel TJP as he got the pin by holding the tights. I like his new attitude and he's done well as a heel. Crowd was behind Gallagher, but he didn't get to show that much. It's also tough to get people to care about the cruiserweights when they only get three minutes.
Post match, TJP attacked Gallagher by doing a chop block to the back of the leg. TJP applied a knee bar to Gallagher's leg. Austin Aries showed up at ringside to go after TJP and hit a neckbreaker using the ropes for an assist. Aries had a brace on his left knee after last week's attack by TJP. That led to TJP bailing out of the ring and he left with Neville while Aries was in the ring with Gallagher as Aries' music played.
Analysis: Nice to see Aries selling the knee injury after the angle from last week. This will probably lead to a tag match between them soon.
Sasha Banks was shown walking backstage for a match.
(Commercial)
A commercial aired for Backlash, presented by Smackdown, on May 21.
Sasha Banks made her way to the ring while Alicia Fox was already in the ring.
Sasha Banks vs. Alicia Fox
Banks and Fox started brawling right away. Fox hit the Northern Lights Suplex she does in every match for a two count. Chinlock by Fox. The crowd lost interest in the match and started paying attention to something in the crowd (I was told it was some ball – possibly a beach ball – that the crowd was hitting in the air). Banks got a two count after countering a move. Headscissors by Banks and she avoided a Fox attack. They battled on the turnbuckle and Banks jumped off the ropes with a double knee attack for the pinfall win after two minutes.
Winner by pinfall: Sasha Banks
The replay showed that Fox's right shoulder wasn't down during the pin as Graves pointed out.
Analysis: * Quick match that the crowd didn't care about. No surprise that Banks got the win. Finish was either a sloppy pin or part of an angle. I'm going with sloppy pin.
(Commercial)
They keep airing commercials for Total Divas. Apparently, this Wednesday is the season finale, which means I won't have to see these awful commercials for a few more months. Serenity now!
Next week: Dean Ambrose for The Miz for the IC Title.
The Miz and Maryse joined the commentary team for the main event.
Bray Wyatt made his entrance for the main event. Dean Ambrose entered last with the IC Title to a nice ovation.
Bray Wyatt vs. Dean Ambrose
This is not for the IC Title held by Ambrose.
Wyatt was the aggressor earlier. Ambrose followed up with a suicide dive on Wyatt on the floor. Miz was ranting on commentary about how Ambrose has barely defended the IC Title. Way to take a shot at the lazy creative team. Wyatt hit a suplex on Ambrose on the floor in a cool looking spot. They went to break shortly after.
(Commercial)
Back from break, Wyatt was in control with a DDT. Wyatt did a chinlock as Miz ranted about Ambrose not defending the title a lot while Miz claimed he defended the title on Smackdown every week, which is not true, but it's fine for a heel to lie. He did defend it more often at least. Ambrose tried his bounce back clothesline, but Wyatt came back with a hard clothesline of his own. Wyatt took way too long to do a move off the middle ropes, so Ambrose moved and Wyatt's senton hit nothing but the mat. Ambrose hit a running clothesline, forearm in the corner and Wyatt hit a headbutt to the chest. Ambrose kick to the face, to the top, Wyatt to the floor and Ambrose jumped off the top with a flying elbow smash. Wyatt hit a running body attack to knock Ambrose down as Miz said he wanted to get a closer look. Miz walked down to the ring with Maryse.
Wyatt with a uranage slam for a two count. He should use that as a finisher. They battled on the top rope with Ambrose using a headbutt to knock down Wyatt. Ambrose jumped off the top, Wyatt punched him and Ambrose hit a bounce off the ropes clothesline for two. Ambrose hit a suicide dive on Miz on the floor because Miz grabbed the IC Title. Wyatt went after Ambrose and Ambrose sent Wyatt into the barricade. Ambrose sent Wyatt into the ring, the ref checked on Wyatt and Miz hit Ambrose in the back with the title while the blind ref didn't see it. Wyatt rolled Ambrose into the ring for a two count. Wyatt hit Sister Abigail on Ambrose for the pinfall win after 16 minutes.
Winner by pinfall: Bray Wyatt
Analysis: **3/4 It felt like their standard match that we have seen several times before with an old school ending to the match since Miz helped Bray win without the ref seeing it. The champion losing non-title is something that happens all the time in WWE, so no surprise that Ambrose got beat.
Post match, Miz announced Bray Wyatt as the winner.
Miz went into the ring to pound on Ambrose with punches. Miz said next week he's going to beat up Ambrose and everybody will look at Miz as the Intercontinental Champion. Miz said everybody will simply say "AWESOME" as Miz dropped the microphone to end it. The Miz and Maryse left up the ramp. Replays aired of the finish.
The show ended with Miz and Maryse on the ramp while Ambrose was selling pain in the ring. That ended the show at 11:08pmET.
Analysis: It didn't feel like a main event ending to a show, but it set up a match for next week. At least that's a positive.
Another thing that came to mind watching this is that there was no sign of Finn Balor. Last week on Raw, Wyatt attacked him from behind and cost him a match. Where was Balor? He should be there to try to get revenge on Wyatt. We need faces to cheer for and we want them to fight back against the heels that try to cause problems, but Balor was nowhere to be seen. That's lame.
Three Stars of the Show
1. Cesaro/Sheamus – They wrestled for 30 minutes, so have to give credit to them.
2. The Miz
3. Seth Rollins
The Scoreboard
5 out of 10
Last week: 7.5
2017 Average: 5.74
Average since brand split starting July 25/16: 5.82 (Smackdown is 6.74)
Last 5 Weeks: 7.5, 4.5, 7.5, 7, 8
2017 High: 8 (April 3)
2017 Low: 4 (Jan. 9 & Feb. 27)
Final Thoughts
I give it a 5 out of 10.
It was a wrestling heavy show with nothing really standing out in terms of delivering a memorable match. Joe's match with Rollins was my favorite singles match. It ended up being an angle more than a match to set up another matchup between them.
I'm glad that the Tag Team Turmoil match was given about 30 minutes of time to tell a story of Cesaro & Sheamus outlasting the other teams to earn a title shot.
They set up Miz vs. Ambrose by having Ambrose lose non-title. Can we set up title matches by having somebody actually win going into a title defense? It would be nice to see that more often instead of the non-title losses by champions. At least Bliss won non-title in her match.
The crowd was not as vocal as a typical England crowd perhaps because the Raw product isn't that exciting right now. Maybe they will be more vocal on Smackdown.
—
That's all for now. See ya next time for the Smackdown review.
Thanks for reading.
John Canton – mrjohncanton@gmail.com
Twitter @johnreport
Personal Facebook and TJRWrestling on Facebook