The John Report: The WWE Raw Deal 04/17/17 Review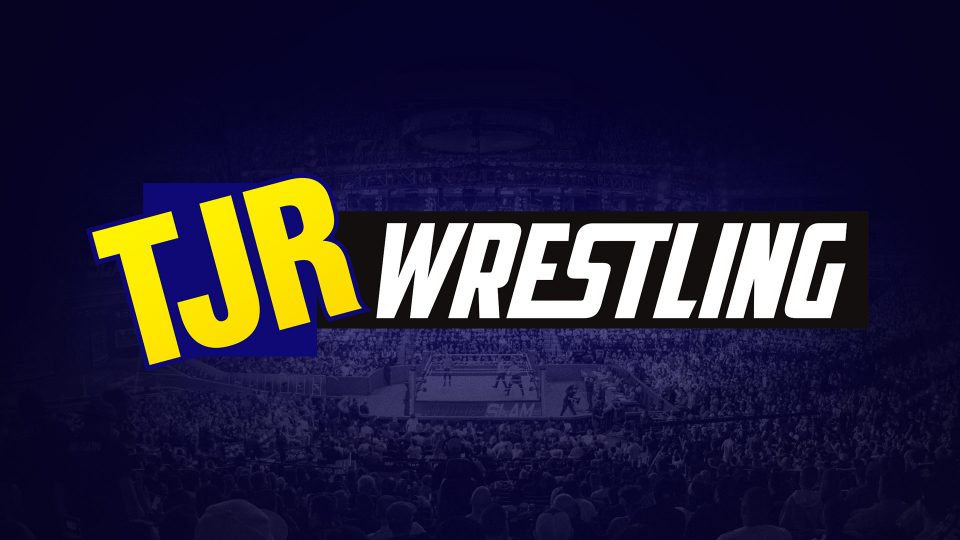 This week's Raw is the first full episode since last week's "Superstar Shake-up" that changed the landscape of WWE. The next Raw pay-per-view event is Payback on April 30, so look for the focus of this week's show to be about building to the matches at that event.
Live from Columbus this is the Raw Deal for episode #1245. Follow me on Twitter @johnreport. Thanks Melo Man for the banner up top.
A video package aired showing highlights of Braun Strowman's very aggressive attack on Roman Reigns, which led to Reigns leaving Raw in an ambulance.
Braun Strowman Is Angry
Braun Strowman made his entrance to start the show. No pyro or Raw opening video airing this week.
The announce team of Michael Cole, Corey Graves and Booker T welcomed us to the show. Booker is filling in for David Otunga, who is out for six weeks filming a movie. Otunga will not be missed.
Strowman said he is proud to say he broke Roman Reigns in half. The crowd cheered. He said he's proud that Reigns left in an ambulance while noting that Reigns has a separated shoulder and cracked ribs. Strowman said he's proud to announce that Reigns will not be there tonight. Fans chanted "yes" for that. Strowman said he's there to show that he's a monster among men.
Analysis: The fans reacting positively to Reigns' injuries should tell WWE that Reigns should be a heel, but they keep fighting it.
Kurt Angle, Raw's GM, made his entrance to a big ovation as well as the familiar "you suck" chants out of love. Angle made his way into the ring.
Angle asked Strowman what more he has to prove. Strowman said there's more to come. Angle said that he's going to put Reigns in a match that he wants against Braun Strowman in two weeks at Payback. Strowman was mad about it.
Analysis: No surprise that they are doing that match at Payback. People may want Reigns to be out for several weeks selling the attack, but that's not realistic. Last week was a major angle to build to that match.
Strowman asked Angle what he's doing tonight. Angle said he should be suspended and told him he had the night off. Strowman said he wanted more competition or else. Angle: "Or else what?" Strowman just dropped the microphone and left the ring while Angle looked on from inside the ring.
Analysis: More Strowman destruction coming this week. It's similar to what Strowman did with Mick Foley when he was the GM where he kept asking for more competition. They are pushing the story that Strowman is tough to control and new GM Angle will have to deal with it.
Still to come: Sasha Banks, Alexa Bliss, Mickie James & Nia Jax in a four way match to determine who gets a title shot at Bayley's Women's Title. Also, Miz TV with Dean Ambrose and Chris Jericho vs. Samoa Joe is up next.
Seth Rollins made his entrance. He joined the commentary team for the next match.
(Commercial)
Rollins was at the commentary table as it was mentioned that Rollins will face Samoa Joe at Payback. It was announced earlier on Monday.
Analysis: It makes sense to do that match since they have a story going back a few months with Joe injuring Rollins in late January. It should be an excellent match too.
Samoa Joe entered first. Jericho entered to a nice ovation. If Jericho wins the US Title at Payback against Kevin Owens then Jericho moves to Smackdown with the US Title.
Analysis: Owens, who is already on Smackdown Live, should win that match since Jericho is leaving for Fozzy music commitments.
Samoa Joe vs. Chris Jericho
Joe attacked early, but Jericho came back with a dropkick followed by a cross body block off the top for two. Joe charged in, Jericho lowered the rope and Joe was knocked out of the ring. Jericho with a dropkick while Joe was on the apron sent Joe to the floor and the show went to a break there.
(Commercial)
Back from break, Joe was in control with chops, kicks and an elbow drop as the fans chanted "Y2J" for Jericho. Joe applied a vice grip and Jericho came back with a double axe to the head. Joe slowed his momentum with a powerslam for a two count. Jericho avoided an elbow drop and hit a Lionsault for a two count. Jericho charged in the corner, but Joe caught him with a uranage slam. Joe went for a back splash off the middle rope and Jericho moved leading to a Walls of Jericho attempt. Jericho locked in the Walls as Joe fought out of it using his legs to power out. Joe applied a sleeper (Coquina Clutch) to wear down Jericho. That led to Jericho fighting out of it by kicking the turnbuckle and landed on top for a two count. Joe held onto the hold and wrapped up the legs around the waist for the Coquina Clutch. Jericho tapped out to give Joe the win after 9 minutes.
Winner by submission: Samoa Joe
Analysis: **1/2 The match was okay. They didn't really crank it up a lot in terms of nearfalls or believable finishes. Jericho got a tease with the Walls, but I don't think anybody believed Joe was going to lose to that. Jericho doing the job makes sense since he's going to be off TV next month, so it's all about putting people over as he heads off to his music commitments. Clean win for Joe is how it should be.
After the match, Samoa Joe grabbed the microphone and asked Rollins if he remembered what it was like when Joe arrived there. Joe talked about the sound of Rollins' ligaments and joints popping while Rollins pleaded for mercy. Joe said that it was just business because he was a designated target by Joe's benefactor Triple H. Joe said he cares about his clientele, so for what Rollins did to Triple H and Stephanie McMahon, Joe said at Payback it will not be business – it will be very, very personal.
Rollins had a microphone as he stood on the announce table. Rollins said that Joe almost cost him his career and that Joe is right that it's personal. Rollins ended it with the "payback is a bitch" line. Rollins' music played to end.
Analysis: Congrats to Rollins for getting in the "payback is a bitch" line in before anybody else. Simple promos from both guys that got the message across that it's a personal feud.
Karl Anderson and Luke Gallows were shown backstage. The Drifter showed up with Graves complaining about it. Goldust and R-Truth were walking backstage. Strowman attacked them both while telling Truth he was going to attack everyone. Backstage agents in suits like Finlay, Jamie Noble and Adam Pearce showed up to get Strowman out of there as the show went to break.
Analysis: The Strowman destruction looks like it will continue all night long. I doubt many people are going to be mad about Goldust and Truth being taken out.
(Commercial)
A replay aired of Strowman's destruction.
Strowman was shown in the locker room as ref John Cone stood beside him to say the GM said that Strowman has the night off. Strowman said he would leave when he wants to, so Cone left.
Gallows and Anderson were in the ring with Anderson saying that Strowman gave Goldust & R-Truth the United Airlines treatment, which drew some laughs. Timely joke. Gallows and Anderson talked about wanting some competition with Gallows saying "nerds," which I love.
Enzo and Cass made their entrance to a big reaction. Enzo said that Monday night is still the realest night of the week. Cass ended the promo with the "SAWFT" bit.
Analysis: I'm not sure how many times I have reviewed their matches, but here's another one for us.
It was mentioned by Cole that Dash Wilder of The Revival suffered a jaw injury and is out about eight weeks, which we covered here.
Analysis: Awful news. I'm going to miss The Revival, but at least two months isn't that bad. It's a speed bump as Wilder commented on WWE.com earlier today. Looking forward to Hardys vs. Revival in a few months.
Luke Gallows & Karl Anderson vs. Enzo Amore & Big Cass
The faces were dominant in the first couple of minutes. Cass launched Enzo onto both heels on the floor as the show went to break two minutes into it.
(Commercial)
Back from break, the heels isolated Enzo in their corner with Anderson hitting a running boot to the head for a two count. It's a typical E&C match with Enzo getting worked over by the heels. Anderson whipped Enzo into the turnbuckle. Gallows worked over the left arm of Enzo. Anderson tagged in to work on the arm of Enzo. When Enzo tried to fight back, Anderson hit a spinebuster for a two count. Enzo made a comeback with DDT after he jumped off the middle rope. Anderson prevented a tag and then he missed running kick in the corner. Cass got the hot tag with a running splash in the corner followed by a sidewalk slam and an elbow drop. Running boot to the face from Cass to Anderson. Gallows in, so Cass sent Enzo into him to knock Gallows down. Cass big boot sent Gallows and himself over the top. Enzo went for a DDT again, but Anderson countered by sending him groin/legs first into the top turnbuckle for the pinfall (Anderson grabbed tights too) after 10 minutes.
Winners by pinfall: Karl Anderson & Luke Gallows
Analysis: **1/4 It was fine for the time given and had a unique ending with Anderson doing a counter using the turnbuckle to win. It also felt like something we have seen before since these teams have wrestled so many times. I thought Enzo & Cass should have been moved to Smackdown last week. The will still get a strong reaction from the crowd because of the intro. I'm just tired of their formulaic matches. Good win for Anderson & Gallows, who don't really have a direction other than possibly being future opponents for the Hardys, who already beat them two weeks ago.
A brief video package aired about Mickie James noting she's a six time Women's Champion and for the first time in seven years she's in action on Raw in the four-way match.
It's Miz TV with Dean Ambrose as a guest up next.
(Commercial)
PLUG TIME: I wrote an exclusive column for The Comeback looking at ten matches/feuds worth getting excited about this year and even one looking way ahead to next year's WrestleMania. A few of them are obvious while the idea I have for John Cena is original (I think) and would help the guy that he would be against. I'm not giving it away here. Check it out, comment and share if you want too. I appreciate all of it. Thanks.
A brief video package aired about Nia Jax since she's in the women's four-way match coming up later.
Miz TV with Dean Ambrose as the guest
The Miz and his lovely wife Maryse made their entrance as the ring was filled with their "Miz TV" set. He was in a suit while she was in a black dress. A clip aired from last week when Miz and Maryse were dressed as John and Nikki with newly married Dean Ambrose (congrats to him and Renee Young) there to welcome to the show with a Dirty Deeds DDT.
The Miz said they shocked the world when they moved to Raw during the Superstar Shake-up. As he tried talking, Dean Ambrose's music hit.
Ambrose, the Intercontinental Champion, made his entrance to a nice ovation from the crowd.
Ambrose said he was a big fan of Miz TV, he loves the show and he was looking forward to this all week. Miz said that Ambrose interrupted the introduction. Ambrose apologized about last week while noting that Miz is from Cleveland, Dean is from Cincinnati and they're in the great state of Ohio (in Columbus). Dean did the "O-H" thing with the fans saying "I-O" repeatedly. Good way to play with the crowd.
Ambrose mocked the look of The Miz and Miz explained he dresses that way because that's how a WWE superstar should be. Miz mocked Ambrose for being a disgrace to what a WWE superstar should be. Miz said that everything he's done makes them look like superstar while Ambrose makes them look like "wrasslers." Miz said that the WWE Universe loves Ambrose, which led to cheers from the crowd.
Miz noted that at the draft last summer it was Dean Ambrose that was number one pick at last year's draft. Miz noted that Ambrose was in a featured match at SummerSlam, yet at WrestleMania, Ambrose was barely on the card. Miz told Ambrose that he is talented, but he's also lazy and complacent.
Ambrose said it doesn't matter what he's wearing, it's about what's in here (his heart). He noted that a lot of guys are like Miz in WWE that care about what people think and Ambrose doesn't even know what "branding" means. Ambrose told Miz he does this because he loves it and he would do in front of 20 people or 100,000 people. Ambrose said that there ain't nobody that does it like he does, which is why he's the IC Champion. Ambrose pointed out that he beat Miz for the title.
Maryse called Ambrose a "dirty little street rat." Maryse said that walking around with a title doesn't make you a real champion. Maryse said that the man doesn't make the championship, the championship makes the man…boy. Miz ranted about how when he was the IC Champ he made it relevant and honorable. Ambrose took off his jacket. Miz claimed that now that Ambrose is the champ the championship is a joke like Ambrose.
Ambrose tossed his jacket to Maryse and tackled Miz. Maryse hit Ambrose in the back with the microphone. Ambrose went for Dirty Deeds, Miz slipped out of it and left the ring with Maryse. Ambrose tossed chairs from inside the ring to end the segment with Ambrose's music playing.
Analysis: Miz was excellent here, which is the norm for him since he is arguably the best talker in all of WWE. He made great points like usual. Ambrose fired back by getting the crowd behind him with the "Ohio" chant and also talking about how he has heart. It's what makes the crowd love him, so it's smart for him to mention that. My complaint is that we already saw them feud quite a bit on Smackdown. Do we need to see it again? I don't think so. Apparently we do because it was the second straight week where they had an in-ring altercation.
Strowman was backstage. He knocked down Kalisto and said he was garbage, so Strowman dumped Kalisto into a garbage bin. Big Show showed up, ran at Strowman and shoved him into a door. Show: "Why don't you pick on somebody your own size, brah?" Strowman looked angry about it as they went to break.
Analysis: It would make sense to do Strowman vs. Show again since they had a surprisingly good match the last time.
(Commercial)
A replay aired of Big Show standing up to Strowman before the break.
It was announced that Strowman will face Show later in the likely main event of the show.
TJ Perkins made his entrance. Highlights aired of his heel turn from last week. Jack Gallagher made his entrance.
Neville, the Cruiserweight Champion, made a "special appearance" at ringside because he's an ally of Perkins.
Austin Aries' made his entrance saying he's making an even more special appearance. He actually said a "specialer" appearance in a comedic way. Aries sat beside Neville at ringside while Aries ate a banana, so Neville moved away from him
TJ Perkins vs. Jack Gallagher
Perkins applied an armbar, so Gallagher did a unique counter to apply one of his unique submissions on the arms of Perkins. After Perkins took him down with his feet, he did a dab to some boos. Gallagher used his legs to take Perkins down followed by a dab of his own that drew some laughs. Perkins dumped the Gallagher umbrella to the floor. Gallagher missed an attack on Perkins against the ropes due to Perkins moving, which caused Gallagher to crash on the floor as the show went to break three minutes into it.
(Commercial)
The match returned with Perkins grounding Gallagher in the ring with a headlock. Gallagher came back with uppercuts and an overhead suplex followed by a powerslam for two. Perkins came back with a springboard forearm to the face. Gallagher sent Perkins to the floor. Gallagher opened up the umbrella, went to the top rope and hit a Mary Poppins-like senton splash onto Perkins on the floor. It looks unique, that's for sure. Perkins rolled to the floor in front of Neville and Aries. Perkins shoved Gallagher onto Aries. That led to Aries going on the apron, so Neville tripped him up to knock him down. The ref yelled at the guys on the floor, so Perkins kicked the middle rope into the face of Gallagher followed by a Detonation Kick for the win after ten minutes.
Winner by pinfall: TJ Perkins
Analysis: **1/2 Solid match that was hurt a bit due to the outside the ring stuff, but it pushed the story of Perkins using the distraction to get the win. There were some fun moments there with the umbrella spot by Gallagher to get a laugh out of the crowd. I like that Perkins is using the Detonation Kick as a finisher as well because it looks great.
After the match, Neville yelled at Aries about what happened while Perkins celebrated the win.
A brief video aired about Alexa Bliss as a preview of the women's match still to come.
Jeff Hardy vs. Cesaro is coming up later.
(Commercial)
Apollo Crews was in the locker room with Akira Tozawa with Tozawa saying he's excite that Crews is there. Titus O'Neil showed up as Tozawa left. O'Neil congratulated Crews on the news that Crews is going to be a father for the first prize. O'Neil started shilling his "Titus Brand" stuff, which Crews didn't seem thrilled about it. O'Neil gave him his card and told him to think about it.
Analysis: They are still doing the Titus Brand thing? Just move on from it when it's clearly not working.
The Hardy Boyz duo of Matt and Jeff were interviewed by Mike Rome with the tag titles on their shoulders. Matt said it was tremendous to be back there. Jeff said words can't describe what it was like to be back in WWE. Cesaro and Sheamus showed up with Cesaro welcoming them back to Raw. Sheamus talked about how the Hardys stole the show at WrestleMania 17. Cesaro said his match with Jeff later is like a dream match. Sheamus talked about how it's going to be an honor for him and Cesaro to beat the Hardys at Payback to win back the Raw tag titles. Cesaro said please excuse his partner and they'll see the Hardys out there. Jeff added that it's good to be back.
Analysis: If you're wondering, no sign of the "Broken" Hardys gimmick in WWE. Maybe it will happen again down the road, but not yet.
Sasha Banks was featured in a brief video talking about her accomplishments. She's in the four way match up next.
Sasha Banks made her entrance to a nice ovation from the crowd.
(Commercial)
Alexa Bliss received a nice ovation from the crowd even though she's a heel. She's from Columbus, so she got the hometown pop.
Mickie James was up next as she got a nice reaction as well. It's been a bit hard for her since they started her as a heel and had a small angle to turn her face, which could have been booked better. She's better in the face role as a veteran with six titles in her past.
Nia Jax was the last woman out. She's not like most girls.
Sasha Banks vs. Alexa Bliss vs. Mickie James vs. Nia Jax
The winner of this match gets a title match against Bayley for the Raw Women's Title. First pinfall or submission wins.
Jax started off the match looking dominant as she knocked down all three women easily. Jax hit a running splash on James in the corner. Bliss slapped Jax in the face, which led to Bliss running away. James and Banks hit dropkicks on the back of Jax to send her out of the ring. Bayley was shown backstage watching on a monitor. James with a shoulder tackle followed by a dropkick. James hit a back elbow to the face followed by a hurricanrana and a neckbreaker. Jax pulled James out of the ring, so Banks ran the ropes and hit a suicide dive to knock down Jax and James on the floor as the show went to break three minutes into it.
(Commercial)
As the show returned from break, Jax hit a body slam on Bliss and she slammed Banks onto Bliss. James went for an attack, so Jax sent James stomach first onto the two other women. Jax applied a head/arm submission on James while Bayley watched backstage. When James fought back, Jax tossed her across the ring followed by a corner splash. Jax grabbed Bliss by the hair and tossed Bliss across the ring. Banks tried to fight Jax, but Jax applied a bearhug as she continued her domination. When Banks tried to fight out of it, Jax hit a suplex for a two count as James broke up the pin. Jax picked up James by the hair, but James countered it into an armbar on the left arm of Jax. It led to Jax powering out of it and tossing James onto Banks in the corner. Bliss went up top, saw Jax and bailed to the floor. That was funny. Jax missed a corner charge, which sent Jax shoulder first into the ring post. Bliss sent Banks out of the ring. James hit kicks followed by a forearm on Bliss. Banks went back in with a clothesline on James, she took down Bliss and hit a dropkick on James. Banks hit a double knee attack on Bliss against the turnbuckle as Jax broke up the pin and pulled Banks out of the ring.
There was a face off between Banks and Bliss in the ring. Banks applied the Bank Statement on Bliss with James breaking it up before Bliss tapped out. James took control and knocked down Banks followed by a kip up. Banks tripped James up on the top rope. Jax put Banks on her shoulder, knocked James out of the ring and Jax hit a Samoan Drop on Banks. Bliss kicked Jax out of the ring, which led to Bliss covering Banks for the win after 13 minutes. It drew cheers from the crowd for the hometown girl.
Winner by pinfall: Alexa Bliss
Analysis: ***1/4 That was a very good match. I thought the booking of Bliss was the most interesting part of the match because she didn't take many bumps and avoided confrontations as much as possible. The match was mostly about James and Banks carrying a lot of the action while Jax got her power spots in there. When they went for the finish, the story became about Bliss outsmarting them. Having a heel "steal" the finish is a common ending in triple threat or four way matches. The crowd reacted to it in a big way while it put over the craftiness of Bliss well. I thought Banks would get the win to set up her heel turn leading to a match with Bayley. Looks like they are saving that later down the road.
There were replays of the finish of the match with Bliss smiling in the aisle after it was over.
Big Show was interviewed by Charly Caruso. It was quick as Show said he'll send Strowman a message.
The announcers plugged WWE Network content as a video aired about "network exclusives" coming soon. There were things like WWE 24 specials on Finn Balor and Kurt Angle plus Edge and Christian's show getting a second season.
(Commercial)
Curt Hawkins did a quick promo inviting somebody to face him.
Finn Balor made his entrance to a big ovation.
Analysis: That's a good sign because Balor had a concussion after last week's match with Jinder Mahal thanks to a forearm from Mahal. He was off weekend live events, but now he's cleared, so I guess it was just a mild concussion.
Finn Balor vs. Curt Hawkins
Balor hit a running dropkick on Hawkins followed by the Sling Blade neckbreaker. Dropkick by Balor sent Hawkins into the corner. Balor up top and he hit the Coup de Grace for the pinfall win. It went less than one minute.
Winner by pinfall: Finn Balor
Analysis: 1/2* It was just a squash win to put over Balor. Simple as that. No offense from Hawkins either.
Bray Wyatt has a message for Randy Orton up next.
There was a shot of actor Dule Hill at ringside and he's in the star of a WWE Films movie called Sleight. They aired a clip of it.
(Commercial)
Chris Jericho was interviewed backstage by Mike Rome. Jericho talked about how he lost to Samoa Joe earlier and there's nothing wrong with that because Joe is a great competitor. Jericho talked about how America deserves the "Face of Jericho" and said "frame it in, man." Jericho said that at Payback, if he wins the US Title then he goes to Smackdown Live. He said it doesn't matter if it's Raw, SD Live, NXT, Velocity or Nitro because the "friends of Jericho" are always with him. It led to the "Y2J" chants with Jericho calling him Tom, which led to Mike saying it's Mike. Jericho asked him his name, so Jericho called him "Mike Tom" after they argued about it. Jericho was about to put him on the List of Jericho, but The Drifter showed up with his guitar. Jericho told "Mike Tom" he gets a pass and put "Daffy Drifter Dandy" on the List of Jericho.
Analysis: Fun promo from Jericho as usual, which drew some laughs from the crowd. That's what he does. No Owens on Raw anymore, so it's harder to build up the rivalry.
Bray Wyatt appeared on the video screen talking about his WWE Title match against Randy Orton at Payback. He spoke about how fear is what brings people together. Wyatt said he doesn't bow down to the feet of fear because he controls it, harnesses it and it lives within his house of horrors. Wyatt said he could smell that Randy was scared. Wyatt claimed that in his House of Horrors, all of Randy's fears will come to light. Wyatt said he'll drag Randy down to hell. He said that Orton will feel like a guy forced to gnaw on his own arm to escape. Images were shown of various horrible things. Wyatt said that Orton's pain will fuel him and his pain will play like sympathy to Wyatt's ears. Wyatt said that his House of Horrors will forever the be nightmare at the end of Randy's dreams. Wyatt said he's going to burn down the House of Horrors with Orton inside. Wyatt invited Orton to join him in the fire where it all began and in the fire where it shall end. Wyatt said: "It all burns down here." Wyatt laughed and said "run" to end it. The video lasted a few minutes.
Analysis: It was Wyatt doing his usual promo rambling about hell and fire like always. It's fine, but I think at some point they have to put him in the ring and beat somebody in order to remind people that he's actually a wrestler capable of winning matches. Enough with the vignettes. We get it. I'm not sure what the House of Horrors match is at this point. WWE hasn't made that clear at all, but we'll find out at Payback.
Jeff Hardy vs. Cesaro up next.
(Commercial)
Alicia Fox was shown watching a clip on an iPad with Dana Brooke there as well. Emma showed up as well. Emma told Fox that Brooke was laughing about what happened to Fox on 205 Live, which I didn't watch. Fox got mad at Brooke and said she didn't think it was funny. Fox said she didn't want to be Brooke's friend, so Fox left. Brooke told Emma that was such a lie and Emma said that Dana said she wanted to stand on her own two feet, so let's see how her balance is.
Analysis: Bad acting there. It's hard for me to care about those characters even though they are trying to tell some story between Emma and Dana. I don't think Dana works as a face. As for Alicia, she always acts too over the top. It's cheesy.
Jeff Hardy made his entrance with brother Matt. They are the current Raw tag champions. It is Jeff's first singles match on Raw in eight years.
Cesaro made his entrance with his buddy Sheamus. They challenge for the tag titles against the Hardys at Payback in two weeks.
Jeff Hardy (w/Matt) vs. Cesaro (w/Sheamus)
They went to the floor early with Hardy hitting a running cross body block on Cesaro outside the ring. Back in the ring, Cesaro caught Jeff and hit a powerslam. Hardy left the ring, so Cesaro crushed him with a running uppercut against the barricade. Cesaro brought him back in the ring with a two count. Hardy with a unique jawbreaker. Jeff went up top, so Cesaro bailed to the floor as the show went to break.
(Commercial)
Back from break, Jeff ran the ropes and Cesaro sent him out of the ring under the bottom rope. They went back into the ring with Jeff kicking out at two. Jeff came back with a clothesline. Jeff missed a corner attack and Cesaro nailed a running uppercut against the turnbuckle for a two count. Jeff came back with a clothesline, atomic drop, boots to the chest and a dropkick for a two count. Cesaro fought out of a Twist of Fate attempt and hit an uppercut for a two count. Jeff fought out of a swing attempt, so Cesaro came back with a springboard corkscrew uppercut for a two count. Jeff hit a back kick to break free. With Jeff on the top, Cesaro hit an uppercut to slow him down again. Cesaro went for a superplex, but Jeff punched out of it and crotched him on the top rope. Jeff with a missile dropkick that sent Cesaro to the floor. Cesaro avoided a corner charge, but Jeff came back with a corkscrew attack off the top. Jeff with a dropkick in the corner and he missed another attack leading to Cesaro getting a two count. Jeff countered a move and hit a Twist of Fate. Jeff went up top and connected with a Swanton Bomb for the victory after 12 minutes.
Winner by pinfall: Jeff Hardy
Analysis: ***1/2 That was a damn good match. I enjoyed it from start to finish. There was a slow pace early on, but I liked it a lot. Great counter wrestling all match long as Cesaro kept hitting Hardy with uppercuts while Jeff kept on fighting back as the underdog face. Competitive matches like that the quality of a show. We want to see good in-ring performers like these two battling it out for over ten minutes. It's not that hard to give good wrestlers time to have an entertaining. Nice job by both guys. I thought Cesaro might get the win since the Hardys have had a lot of success since their return. Maybe Sheamus will beat Matt next week.
After the match was over, the teams had a staredown. Sheamus extended his hand to Matt and Cesaro extended his hand to Jeff. They all shook hands.
Replays aired of Strowman's destruction from earlier. It led to Big Show standing up to him.
The team of Heath Slater and Rhyno showed up as Mike Rome was standing by the trainer's room offering up a report on injured people. Rhyno was eating the crackers with the Cheese Whiz. They talked about how they were the first ever Smackdown Live Tag Team Champions. Slater mentioned his above ground pool and Braun Strowman was shown walking by on his way to the ring.
Big Show was shown walking to the ring for the main event up next.
Analysis: Slater and Rhyno were barely visible on Smackdown in the last few months after an initial push as the first SD Live Tag Champs. Moving them to Raw doesn't matter that much.
There's a six man match on Smackdown Live with the winner getting a WWE Title match: Ziggler, Mahal, Rowan, Harper, Rawley and Zayn.
Analysis: What an odd group of six. Guys like Mahal and Rowan never win, yet here they are one match away from a title shot. I figure it has to be Zayn or Harper getting the win. I'm not sure if the title match will be at Extreme Rules in May or if they do it on television.
(Commercial)
This week on 205 Live it's Aries vs. Perkins.
I should point out that the LED lights are not on the ring posts this week. It led to a lot of speculation on Twitter from people thinking they might do a ring collapse spot. I think it's a strong possibility.
Braun Strowman entered for the main event. Big Show made his way out quickly. They brawled on the floor outside the ring with Show sending Strowman in the steel steps. Show sent Strowman into the barricade at ringside. Show sent Strowman into the ring as the bell rang at 10:59pmET to start the match.
Braun Strowman vs. Big Show
They teased a hip toss spot and then Show sent Strowman over the top to the floor with a hip toss. Show with a baseball slide dropkick followed by another whip of Strowman into the steps. Back in the ring, Strowman stunned Show and hit a running dropkick to knock down Show. Strowman applied an armbar. Show turned it into an armbar of his own to set up Strowman doing a kip up that was very impressive. Strowman took down Show with an armdrag. When Strowman did it a second time, it looked like Show landed badly on his head/neck area. They each went for a body slam, but couldn't do it. Show eventually picked him up and connected with a body slam. Strowman blocked a Chokeslam attempt and hit a suplex. Strowman hit a headbutt to knock down Show. The crowd chanted for Show while some of them chanted for Strowman. Show avoided a Powerslam attempt, shoved Strowman into the corner and hit a splash in the corner. They both looked exhausted. Show set up Strowman on the top rope. The fans chanted "YES" as Show teased a suplex. Strowman fought him off, jumped off the middle rope and Show hit a Chokeslam for a two count. When Show wanted a KO Punch, Strowman avoided it and hit a Powerslam for a two count. Strowman was shocked that he didn't get the win.
Strowman went up top. Show stopped him there with a headbutt. Show went to the top rope with him, but Strowman punched him in the ribs to knock him down. Both guys looked exhausted. Strowman jumped off the middle rope, so Show hit him with a KO Punch for a two count. Great nearfall. The announcers put it over as a huge kickout for Strowman. Show climbed the top rope, Strowman met him up there and Strowman hit a superplex off the middle ropes and the ring collapsed. The ref John Cone fell out of the ring as the crowd cheered wildly. That happened at the 13 minute mark to end the match as other referees went into the ring. The crowd was doing the "YES" chant.
Match Result: No Contest due to ring collapse
Analysis: ***1/2 That was fun. The ring collapse was obvious, but that's okay. The people loved it. When you can get a reaction out of the fans like that then it's a good thing whether a spot is obvious or not. It was another very good match from Strowman and Show as they hit a lot of big moves, treated basic moves as a big thing and had a memorable ending that will get people talking. We've seen the ring collapse spot a few times before. It's still impressive to me. I thought they teased it very well a few times earlier in the match as well, which helped sell the big moment at the end. If you just do it without teasing it then it has less of an impact. Saving it for the end really made it feel special. Plus, it can't be easy for mid-40s Big Show to do a spot like that, so kudos to him for really putting over by Strowman by doing it. It was the second very good match they had together. I enjoyed it a lot.
THIS. JUST. HAPPENED! #Raw @BraunStrowman @WWETheBigShow pic.twitter.com/d778FsBeXR

— WWE (@WWE) April 18, 2017
Replays aired of the collapsed ring with the announcers talking about how incredible it was.
There were referees and doctors at ringside to check on everybody. Strowman got back to his feet to let out a yell while Show was still down.
Strowman went up the ramp to do some more yelling about how "everyone will fall" and that's how Raw went off the air at 11:14pmET.
Analysis: That was done to put over Strowman as the guy that "won" the match even though there was no official winner. It made Strowman look really strong by having him get back to his feet while Show was still down in the ring.
I am impressed by Strowman for another week. How could they leave him off the WrestleMania main card? That was such a big mistake. He should have been featured heavily. I keep saying it because he's earned that respect.
That's the third major ring collapse angle in WWE. Brock Lesnar and Big Show did it on Smackdown in 2003 and Mark Henry did it with Big Show at Vengeance 2011. It's been six years since the last time and drew as big of a reaction as ever. If Big Show ever retires, they'll need somebody else to do the spot in six or seven years.
Three Stars of the Show
1. Braun Strowman
2. Big Show
3. (tie) Jeff Hardy
3. (tie) Cesaro
Honorable mention to ref John Cone for that bump during the ring collapse. That was amazing.
The Scoreboard
7.5 out of 10
Last week: 7
2017 Average: 5.75
Average since brand split starting July 25/16: 5.86 (Smackdown is 6.76)
Last 5 Weeks: 7, 8, 5.5, 5, 7
2017 High: 8 (April 3)
2017 Low: 4 (Jan. 9 & Feb. 27)
Final Thoughts
I give it a 7.5 out of 10.
That's the third straight above average Raw in a row.
The first two hours were below average, but the last hour was much better thanks to the women's match, Hardy/Cesaro and a memorable moment in the main event. When you can end the show with a lot of entertaining content in the last hour and 15 minutes it's going to reflect positively on the score.
Here's what we know for Payback on April 30 in San Jose.
Roman Reigns vs. Braun Strowman
WWE Championship "House of Horrors" Match: Randy Orton vs. Bray Wyatt
United States Championship: Kevin Owens vs. Chris Jericho (Whoever wins that match will take the US Title with them to Smackdown Live.)
Seth Rollins vs. Samoa Joe
Raw Tag Team Championships: The Hardy Boyz vs. Cesaro & Sheamus
Raw Women's Championship: Bayley vs. Alexa Bliss
Cruiserweight Championship: Neville vs. Austin Aries
More matches could be added next week such as Ambrose vs. Miz for the IC Title.
—
That's all for now. See ya next time for the Smackdown review.
Thanks for reading. Go Toronto Raptors, Toronto Maple Leafs and Toronto Blue Jays.
John Canton – mrjohncanton@gmail.com
Twitter @johnreport