The John Report: The WWE Raw Deal 01/15/18 Review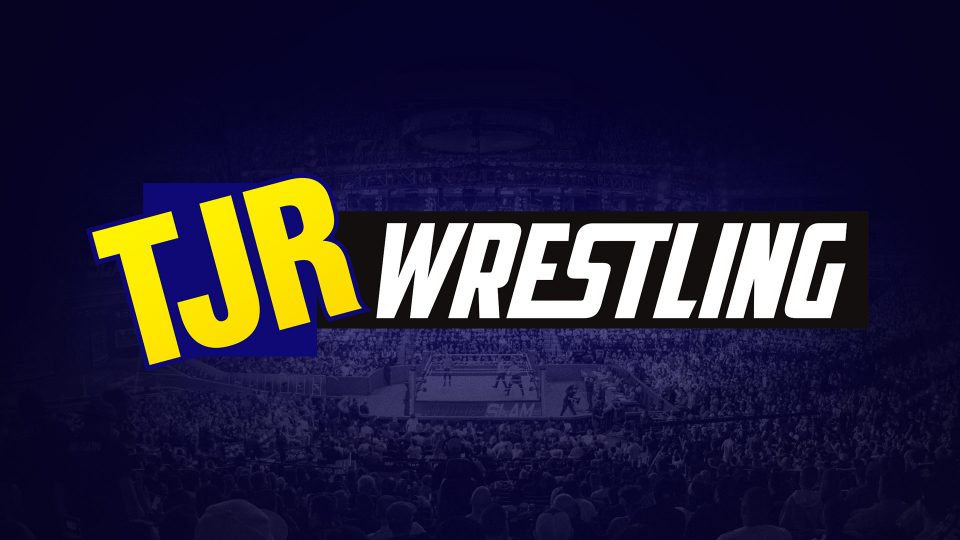 Live from San Antonio, Texas, this is the Raw Deal for episode #1286 of Monday Night Raw. Follow me on Twitter @johnreport. Please check out my WWE News updates Monday to Friday exclusively on TJRWrestling for all the relevant WWE news and my thoughts on everything going on. Thanks to Melo Man for the banner up top.
The opening video package focused on last week's Raw with Braun Strowman using a grappling hook to pull down a structure onto Kane and Universal Champion Brock Lesnar. It led to Lesnar getting taken on a stretcher while Kane limped away. They showed several different camera angles of the incident.
Braun Strowman made his entrance to start the show. Good ovation for him. Strowman faces Lesnar and Kane at the Royal Rumble for the Universal Title.
Strowman said he wanted to tell us a short story about a beast and a machine meeting a monster at the Royal Rumble and the last one standing was the Monster Among Men and he became the Universal Champion. I think that was the whole story because here comes Raw's General Manager Kurt Angle.
Angle walked out with a bunch of indy wrestlers dressed in security shirts.
Angle entered the ring and Strowman let him know that he was telling us a story. Angle said his story doesn't have a happy ending. Angle told Strowman that he put lives in danger and that's not acceptable. Angle talked about how it costs thousands in damage because of what Strowman did. Angle mentioned it was an unsafe working environment. Angle talked about how he had to look after everyone back there. Strowman told Angle to do his job and that Strowman did his. Angle said they settle things in the ring. Strowman said he does things when he wants and how he wants. Strowman said if he wants to walk into Suplex City or kick down the door in hell, that's what he'll do. Angle told Strowman that he's lucky that Lesnar and Kane are still able to compete in the match. Angle told Strowman he won't be in the match.
Angle: "Braun Strowman, you're fired." Strowman looked angry about it, the crowd booed and Angle left the ring.
Analysis: I have jokingly called Strowman "Stone Cold" because they are using the Stone Cold formula with him. Using weapons to destroy things and then the firing angle is stuff they used to do with Stone Cold. It's just how WWE books these kinds of angles. Obviously, Strowman is a different kind of guy in that he's a bigger guy, but it's the same principles in how they are booking him. The firing won't last very long, of course. It's hard to make Strowman look sympathetic due to his size, so that's why they went with the firing angle.
Coming up: Asuka vs. Nia Jax and Roman Reigns vs. Curtis Axel & Bo Dallas because WWE has a handicap match fetish of late.
Strowman was shown angrily walking backstage with the security guys behind him. Strowman told the security guys to make him leave and the show went to break.
(Commercial)
A commercial aired for the Royal Rumble on January 28.
Back from break, Strowman walked towards the EXIT with security behind him. One of the guys put his hands on Strowman telling him to leave, so Strowman beat up all the security guys. Strowman launched the smallest guy over a barricade and put him through a table. Strowman: "I'm not finished yet. I'm not leaving until everybody gets these hands!" The crowd cheered.
Analysis: Strowman wrecking people is fun to watch. There were some nasty bumps in there by those wrestlers too.
The announce team of Michael Cole, Corey Graves and Booker T were on camera talking about what happened. Booker suggested calling the police.
The Bar duo of Sheamus & Cesaro made their entrance. They get a Raw Tag Team Title match against Seth Rollins and Jason Jordan at the Royal Rumble.
Titus O'Neil and Apollo Crews with Dana Brooke of Titus Worldwide entered for a match. This is a rematch from last week where O'Neil and Crews got the upset win.
The Bar – Sheamus & Cesaro vs. Titus Worldwide – Titus O'Neil & Apollo Crews (w/Dana Brooke)
Crews nailed a nice dropkick on Sheamus early on. O'Neil tagged in with a shoulder tackle. Sheamus took over with a knee to the ribs and Cesaro tagged in with an uppercut followed by chops. O'Neil came back with chops to the chest of Cesaro. When Cesaro got in some chops, O'Neil hit another chop followed by a body slam. Crews tagged in with a body slam followed by an elbow drop. Sheamus tagged in with a knee to the back of Crews and a clothesline off the top. The show went to break three minutes into it.
(Commercial)
Back from break, Crews was still isolated by the heels. Cole mentioned Titus and Apollo are both in the Royal Rumble match. Crews nailed a leaping kick to Sheamus' head leading to the hot tag to O'Neil against Cesaro. O'Neil with clotheslines and he tossed Cesaro across the ring. O'Neil with a running splash in the corner followed by a powerslam for a two count. Sheamus tagged back in, double kick to the gut by the heels, Crews back body drop sent Cesaro out of the ring. Cesaro avoided an attack on the floor and nailed a punch. Cesaro with an uppercut on O'Neil and a Sheamus rollup got two. Sheamus clothesline on O'Neil. Cesaro tagged back in, O'Neil back body drop out of it and Crews tagged in with a cross body block off the top for two. Standing moonsault by Crews got a two count with Sheamus breaking up the pin. O'Neil dumped to the floor. Double shoulder tackle to Crews. Sheamus went for White Noise on Crews, but Jason Jordan's music hit and Jordan had the Tag Team Title around his waist. That led to everybody in the ring stopping like idiots instead of experienced vets that can work through a distraction. Crews rolled up Sheamus for the ROLLUP OF THE DEATH~! that was good enough to win again. Crews pinned Sheamus. It went 11 minutes.
Winners by pinfall: Titus O'Neil & Apollo Crews
Analysis: **1/4 The match was going fine until they decided to do the worst finish that they book far too often. It was the dreaded combination of somebody's music playing leading to the ROLLUP OF DEATH~! I get why they did it because the goal is to try to build up O'Neil and Crews as a credible team. It's just bothersome that WWE likes going to that finish so often since they just did it last week. Don't they realize it is done too much? Anyway, the crowd reaction to the win was good, so that's a positive sign. You can tell the crowd is starting to believe in O'Neil and Crews more, which is the goal of the last two weeks.
Post match, Sheamus and Cesaro were furious. Seth Rollins went on the stage to ask Jordan what he was doing.
Braun Strowman was shown walking backstage looking angry about getting fired. He's getting a lot of camera time for a fired guy. Anyway, he was looking for Kurt Angle and the search continues.
There was a commercial for Raw 25 next week advertising some of the women that are going to be there. The women in the commercial were: The Bella Twins, Jacqueline, Terri Runnels, Torrie Wilson, Maria Kanellis (who is pregnant), Michelle McCool-McTaker (I added that last name) and Kelly Kelly. My favorite in that group is Torrie Wilson. Interesting that there was no mention of Trish Stratus and Lita, but they may still be there.
(Commercial)
PLUG TIME: The WWE Mixed Match Challenge begins this Tuesday on Facebook after Smackdown concludes. I wrote a preview of the 12-team tournament for The Comeback where I picked a winning team while also commenting on why it's a smart business move for WWE and Facebook to team up for this venture.
There were promos from Natalya and Shinsuke Nakamura from Smackdown and Finn Balor and Sasha Banks since they meet in the first Mixed Match Challenge match on Tuesday night.
There was a shot of guys in the catering area with some random suit saying Braun Strowman is coming that way. Curt Hawkins was there. Strowman picked him up and slammed him through a table. A guy was holding chocolate cake. Strowman didn't touch him and grabbed a piece of cake. Strowman left.
Analysis: The cake bit was pretty funny. Even in a fit of rage, nobody can resist some chocolate cake.
Enzo Amore had his right ankle taped up and limped down to the ring. He had Tony Nese with him. Enzo did a promo about facing Cedric Alexander at the Royal Rumble.
Cedric Alexander made his entrance with Goldust. Good reaction for Goldust, who said if Enzo was a film he'd go straight to DVD. Goldust said that Alexander is a box office smash and a blockbuster. Goldust said Alexander will be a champion. Alexander said from Enzo's eye to his ankle, there's only one word to describe him….SAWFT.
Analysis: The babyface stealing the "SAWFT" bit is a way to get some crowd support for the chant. Using Goldust to help Cedric get over is a smart idea.
(Commercial)
There was a commercial for Total Divas with the Bella Twins arguing about something. It feels like every commercial for this show features people yelling. I'm sure it's a riveting television show.
Strowman was shown walking backstage where he pushed a dumpster into some tables.
Cedric Alexander (w/Goldust) vs. Tony Nese (w/Enzo Amore)
Nese nailed Alexander with a running back elbow. Booker T was yelling about how they must get Strowman out of there. Alexander nailed a hurricanrana followed by a dropkick. Alexander up top, but Nese tripped him up. Nese with a gutbuster for two. Nese kicked Alexander in while Alexander was against the turnbuckle followed by a knee drop. Goldust went up to Enzo outside the ring and Enzo did a comedic fall while Goldust mocked Enzo's mannerisms. Nese whipped Alexander across the ring, but Alexander moved. Alexander sent Nese into the middle turnbuckle followed by a running kick to Nese. Alexander jumped off the ropes into a reverse neckbreaker. Alexander nailed a top rope clothesline for two. The crowd was dead as Nese hit a few kicks. Alexander avoided a pumphandle slam and Alexander hit the Lumbar Check for the pinfall win after five minutes.
Winner by pinfall: Cedric Alexander
Analysis: ** It was a decent match that the crowd wasn't into very much because it's the cruiserweight division. The people just don't care much at all. There was a nice pop for Alexander's finisher because the Lumbar Check is a cool move. Using Goldust as a manager for Alexander does help Alexander a bit in terms of Goldust trying to make the crowd make some noise, so I don't mind that pairing.
Angle was in the office with a ref telling him that he needs to call the cops. Another ref, John Cone, showed up to say that Strowman is going for the production trucks. Angle said they are worth $12 million and off they went running as the show went to break.
The Smackdown commercial this week advertised two US Title tournament matches: Mahal vs. Woods and Roode vs. Rawley.
(Commercial)
Strowman was shown walking towards the production truck. Strowman walked into a truck where a bunch of dudes were working. He asked if he smashed everything would it shut everything down? Strowman threw papers around. Strowman asked them what things do what and then told them to get out. Strowman left the truck or at least that's what they thought, but then the room was shaking. Strowman separated the front of the trailer that was connected to the production truck. Strowman tried to tip over a truck. Angle showed up and told Strowman he called the cops. Angle's phone rang and he didn't look happy. Strowman tipped over the tractor trailer and they shot it with a bunch of cheesy camera angles. Multiple camera angles. After the truck tipped, Strowman yelled in Angle's face.
Analysis: The multiple camera angles make it look so campy. I'm sure some people watching think that was legit, but obviously it's a planned stunt to put over Strowman.
Strowman was shown walking towards the arena, which is convenient at the top of the second hour of the show. The crowd cheered. Two security guys were behind him, so Strowman walked over to the announce table. The announcers ran away and it looked like Booker shoved Cole towards Strowman, so Strowman grabbed Cole by the pants. Angle showed up with a microphone. Angle said that Stephanie McMahon called and she has re-hired Strowman. Angle told Strowman he has his job back and he's still in the title match.
Strowman tossed Cole onto the security guys by the stage, so it was a safe bump by Cole. Strowman left.
Analysis: To summarize all of that, they spent an hour talking about how he was fired only to have him be re-hired by somebody (Stephanie) on the phone. Just another reminder that this is a three hour show where they have time to fill. Stone Cold Braun Strowman had an interesting hour. I thought it was pretty entertaining even though firing angles are silly.
The commercial aired advertising names for next Monday's Raw. Eric Bischoff and Chris Jericho were new additions to the guys that were already announced last week.
Analysis: That means Jericho is appearing for NJPW and WWE within the same month. That's pretty rare (AJ Styles did it in 2016 too), but he is a free agent, so he's able to do what he wants.
(Commercial)
The announce team of Corey Graves and Booker T were joined by Tom Phillips, who replaced Cole.
Analysis: Phillips is a robot announcer like Cole in that they don't call moves and just react by saying "ooohhh" to the moves. That's why I say robot announcers because they are trained the same way.
They replayed Strowman's actions with Booker saying Strowman was out of control.
Nia Jax was shown making her entrance. They showed replays of last week when Jax attacked her, but they were just images instead of video.
Analysis: Why images and no video? I don't get it. That's how they do it for PPVs, but doing it for TV is lame. It must be some new directive because they did it earlier for the tag teams. Go back to video, WWE. It's 2018.
Asuka got a good reaction for her entrance.
Asuka vs. Nia Jax
Asuka went for an armbar early on, but Jax overpowered out of it. Jax with a backbreaker to take control. Jax tossed Asuka across the ring. Asuka ran the ropes and Jax decked her with a clothesline. Asuka slapped on an armbar. Jax powered out of it by tossing Asuka into the turnbuckle and the show went to break two minutes into the match.
(Commercial)
Back from break, Jax applied a bearhug. Asuka broke free, Jax missed a move and Asuka nailed a kick. Asuka with a spinning back fist and a spin kick. Jax tried a slam, but Asuka rolled her up for two. Asuka worked over Jax with kicks to the chest and Jax caught her with a Powerbomb. Jax covered for two and Jax was upset about it. Asuka slapped on a knee bar submission, but Jax managed to crawl to get her hand on the bottom rope. Jax sent Asuka out of the ring. Jax shoved Asuka back first into the side of the ring apron. With Jax walking the steps, Asuka kicked the back of her leg and Jax's leg was trapped against the ring post. Jax crawled back in before the ten count. When Jax tried to stand, Jax collapsed to the mat two times while selling the injured left knee. The ref called for the bell.
The official ruling is that Jax was too injured to continue, so Asuka won the match.
Winner: Asuka
Analysis: **3/4 They were on their way to something pretty good and then it just ended suddenly after the Jax injury angle spot. I didn't expect a clean finish, so going with Jax selling an injury accomplished that goal. Jax is protected even in defeat while Asuka's undefeated streak continues. Asuka is the favorite in the Royal Rumble unless there's a surprise like Ronda Rousey being in the match.
Post match, referees went into the ring as well as a doctor that was probably not really a doctor. It was funny how the doctor had to be told to move to the other side so he wasn't blocking the camera shot. Alexa Bliss went down to the ring to check on her friend Jax. Asuka just left as the winner.
There was a shot of Kurt Angle in his office picking up pieces of a table. Jason Jordan walked into the room to thank his "dad" for believing in him. Angle was frustrated about everything. Jordan said thank you and Angle told him he's welcome. Jordan said if Strowman was anywhere near him, Jordan would have got him. Angle pointed out he didn't see Jordan around. Jordan said he and Seth Rollins are ready to defend the Tag Team Titles at the Royal Rumble. Jordan said that Rollins can use some singles competition. Jordan suggested Finn Balor. Angle said Rollins vs. Balor is on.
Analysis: That's a great match for later in the show. This show could use a great match at this point. Jordan continues to be an obnoxious guy that isn't fully a heel, but is certainly on his way to being a heel.
The announcers talked about what happened to Michael Cole earlier. Phillips said Cole was really shaken about what happened.
A video tribute aired about Martin Luther King Jr., who Vince McMahon has called a hero on many occasions. The video lasted about three minutes. The fans in the arena cheered at the end of it as they should.
(Commercial)
There was a shot of Alexa Bliss in the locker room talking to her buddy Nia Jax. Jax had an ice pack on her left knee. Enzo Amore showed up, he asked how she's doing and Jax asked about his ankle. Bliss didn't think Enzo needed to be there, but he said he was there for Nia. Jax told Bliss that he's got this. Bliss left looking sad. Enzo stayed with Jax.
Analysis: I don't have any predictions for this other than possibly Bliss ends up hooking up with Enzo before Jax does. That's not an angle WWE does that often anymore, though, so I'm not sure if they will do it. The acting is pretty bad.
The Revival (Scott Dawson & Dash Wilder) vs. Two Guys With No Chance (Aaron Solow & Ricky Starks)
The guys were in the ring already as the bell rang. Dawson and Wilder destroyed the guys with Wilder hitting a backbreaker. The announcers didn't provide the names of the unknown wrestlers. Front suplex by Dawson. Hard slap by Dawson on one of the opponents. Wilder tagged in and they hit the Shatter Machine double team move to win after two minutes.
Winners by pinfall: The Revival
Analysis: 1/2* It's rare to see WWE not even attempt to try to give names to the opponents. They said nothing, so I gave them names and also included their wrestling names. Solow is the fiance of Bayley. The Shatter Machine is one of my favorite finishers in WWE.
Post match, The Revival were interviewed by Charly Caruso in the ring. Dawson said that was a clinic in tag team wrestling. Dawson said you don't see that too often because guys are playing video games or checking how many likes they have on Instagram. Dawson said they are about punishing their opponents and winning matches. Caruso asked who they are excited to see next week at Raw 25 when she mentioned New Age Outlaws, Shawn Michaels and Steve Austin. Wilder said that guys that do beer baths and crotch chops are a mockery of the business. Wilder said they are professional wrestlers. Dawson said that "they" don't want them (The Revival) to succeed. Dawson said next week at Raw 25 there will be a ton of superstars, but this is their universe. Dawson said there's only one team that will set the tone for Raw for the next 25 years and you're looking at them.
Analysis: That was good. I'm all for these guys getting a chance to talk because they are awesome. The fact that they got to say "professional wrestling" makes them different too because everybody has to say sports entertainment. I hope they get more chances to talk.
Elias was shown walking backstage because he's up next.
(Commercial)
There was a 25 Years of Raw video featuring Danie Bryan and the fans doing the "Occupy Raw" in the ring in March 2014. It was a great moment.
Elias was in the ring doing one of his songs. Elias said he hopes Michael Cole is okay, which didn't lead to boos, so that was a surprise. Elias wanted to teach us a lesson that WWE stands for…and the fans said…Walk With Elias. Elias talked about other men in the Royal Rumble and said he's concerned with only one superstar. Elias sang a song about going after John Cena. He had a line at the end about how he's going to prevail unlike the Spurs, who are destined to fail. The fans hated him for that. They got loud yelling at him. San Antonio loves their Spurs. Elias sang a song introducing The Miz and the Miztourage.
Analysis: The Spurs line was great for getting cheap heat. He has a point, though. I doubt the Warriors are losing the NBA Title this year. Go Raptors.
The Miz walked out in a suit leading his Miztourage duo, who are dressed in ring gear for their match.
(Commercial)
The Miz spoke about how he returned to Raw after a six-week absence with the fans greeting him with "welcome back" chants, but it was only six weeks. The Miz said that the WWE Universe was overjoyed to see him because something was missing from Monday Night Raw. Miz said that the spark that was missing was not John Cena, not Brock Lesnar – it was The Miz. Miz said whether Kurt Angle likes him or not, Angle granted Miz his IC Title rematch for next week. Miz bragged about when they laid to waste Roman Reigns. Miz talked about being in an unscripted series on USA Network with his wife Maryse called "Miz & Mrs." That title is bad. Miz said the IC Title is his. Miz said he made the title prestigious and made it relevant. Miz said next week he'll walk into Barclays Center and reclaim his Intercontinental Championship and that's going to feel awesome.
Analysis: Great promo from Miz like usual. Best talker on this show.
Roman Reigns entered with the Intercontinental Title in his hands. It was a mixed reaction for him like usual.
Reigns vs. Miz for the IC Title is already set up for next week's Raw.
Roman Reigns vs. Curtis Axel & Bo Dallas (w/The Miz)
The Miz provided a distraction early on, so Axel got in a cheap shot from behind. Axel and Dallas sent Reigns into the steel steps. Back in the ring, Axel got a two count. The heels stomped away on Reigns in the corner. Dallas with a clothesline for a two count. Dallas slapped on a headlock with Booker questioning the move even though nearly every match has that spot. Axel saved Dallas from a suplex attempt and Dallas hit a DDT on Reigns for a two count. Axel tagged in and Reigns dropped him easily with a Samoan Drop. Reigns drove Axel into the turnbuckle. Reigns punched Dallas off the apron to prevent Axel from tagging out. Reigns nailed Axel with several clotheslines including the ten clotheslines in the corner. Dallas got in there and then they did a spot where Dallas spiked Axel with a DDT as Reigns kicked Dallas. That was unique. Miz on the apron, Reigns clothesline sent Dallas out of the ring and a Reigns Superman Punch on Axel. Reigns nailed a Superman Punch on Dallas outside the ring. Miz tried to run away, but Reigns tossed him in the ring. Miz left the ring. Axel rollup got a two count. Reigns ran the ropes and hit the Spear for the win after eight minutes.
Winner by pinfall: Roman Reigns
Analysis: **1/4 It was a predictable win for Reigns one week after Miz and friends left him laying. The only surprising thing was that it took that long because I would have figured four minutes would have been enough.
Still to come: Rollins vs. Balor.
(Commercial)
A video aired for Raw 25 next Monday.
The announcers were all excited after seeing that video. Booker yelled: "The Boogeyman?" And he laughed. They had a not so classic match at WrestleMania that we should all forget.
Sasha Banks entered with Bayley and the lovely Mickie James with her for support.
Paige's music hit and she entered with Sonya Deville as well as Mandy Rose. Tom Phillips noted that due to a neck injury, Paige won't be in the Royal Rumble match.
Analysis: There was some unfortunate Paige news on the weekend about how her neck is so bad that she will not be cleared to wrestle again. WWE isn't going to announce that yet, but Phillips mentioning that Paige is out of the Rumble is newsworthy.
Sasha Banks (w/Bayley & Mickie James) vs. Sonya Deville (w/Mandy Rose & Paige)
Deville took control early with knee strikes. Banks fought back with punches, plus a headscissors and a dropkick. Corner knee attack from Banks. When Banks jumped off the middle ropes, Deville kicked her in the ribs and pinned her for the clean win after three minutes.
Winner by pinfall: Sonya Deville
Analysis: * Short match with a surprising finish because Banks losing clean in three minutes is not what I expected. Deville winning is fine because she's new and WWE wants to put her over as a credible wrestler, but that was an odd way to end the match. One kick to the ribs? It seemed a bit flat to me. I don't think Banks was being punished for Paige's injury. I don't think so. It's just WWE wanting to put over Deville strong.
There was a video showing WWE superstars in Memphis last week learning more about the civil rights movement.
Seth Rollins was in the locker room getting ready. Jason Jordan walked up to him. Rollins told Jordan not to try to make matches for him. Rollins told Jordan that they are teammates and Jordan is not his spokesperson. Rollins said he didn't have a problem with what he did – he had a problem with the way he did it. Jordan left.
Analysis: That's a necessary segment to show Rollins is fine with what Jordan did, but not the way he did it.
Matt Hardy made his entrance. I'm still getting used to his crazy entrance music, but I think it's catching on. He's in a match up next.
(Commercial)
Matt Hardy vs. Heath Slater (w/Rhyno)
Hardy worked over Slater with punches. Hardy did his laughing routine leading to a punch that sent Slater out of the ring. Rhyno encouraged Slater to go back in the ring. Slater slapped on an armbar. Hardy bit Slater's fingers to break free. Hardy sent Slater back first into the turnbuckle. Corner clothesline by Hardy and a Side Effect got a two count. Hardy with the corner Delete headbutts followed by a neckbreaker. Hardy led the crowd in "delete" chants. Hardy hit the Twist of Fate for the pinfall after four minutes.
Winner by pinfall: Matt Hardy
Analysis: * Easy win for Hardy as WWE tries to put over his new character by giving him wins over the losers of Raw.
A video aired to introduce us to the first member of WWE's Hall of Fame class in 2018…Bill Goldberg. It showed his WCW run in the late 1990s, his one year in WWE from 2003-04 and then fast forward to late 2016 into early 2017. It was announced earlier on Monday.
Analysis: I'm not a huge Goldberg fan, but he's a big name that is worthy of being the headliner. The thing with his career is it was so short compared to most guys in WWE's Hall of Fame. I wrote about it here if you want more of my thoughts.
The Raw crowd cheered as Goldberg's music played and graphics were shown of different media outlets reporting the Hall of Fame news. None of them are TJRWrestling, so I'm not putting them over!
Booker T welcomed Goldberg to the Hall of Fame club. The announcers shilled Hall of Fame tickets being on sale this Friday. That's why they announced it this week.
Rollins vs. Balor is up next.
(Commercial)
There were replays of Braun Strowman's hour of being fired leading to Strowman destroying things and then Strowman was re-hired an hour later.
The announcers went over the Royal Rumble lineup. I have it at the bottom of this review in case you don't know the matches.
Luke Gallows and Karl Anderson made their entrance to support their buddy Finn Balor.
Finn Balor made his entrance to a good ovation like usual. Balor did a pre-match promo that aired with him talking about beating Rollins before. It was at SummerSlam 2016 when he won the Universal Title and hurt his shoulder at the same time.
A commercial aired for a show after Raw focusing on the 25 Greatest Moments in Raw history. It's on WWE Network. I'm writing a similar column this week.
(Commercial)
Next Monday on Raw: Roman Reigns vs. The Miz for the Intercontinental Title. That was announced last week.
Seth Rollins was in the ring with his Tag Team Champion partner Jason Jordan at ringside.
Analysis: When they went to commercial saying this match was next it was 10:38pm and it started at 10:54pm. So much time wasting.
Seth Rollins (w/Jason Jordan) vs. Finn Balor (w/Luke Gallows & Karl Anderson)
Balor took control with an arm drag. Balor nailed a running dropkick followed by a clothesline that sent Rollins over the top to the floor. The announcers were bickering about something. Balor nailed a running kick to the face as the show went to break two minutes into this match.
(Commercial)
Back from break, Rollins kicked away at Balor and nailed a Blockbuster neckbreaker off the ropes. Rollins was selling a knee injury. Knee to the back by Rollins sent Balor to the floor. Rollins hit a suicide dive that sent Balor into the barricade. Rollins with a neckbreaker. Rollins slapped on a headlock. Rollins with an elbow to the back. Balor came back with a kick to the head followed by two forearms and a double foot stomp to the ribs stomach of Rollins. Boot to the face by Rollins, but Balor nailed a jumping kick while Rollins was on the turnbuckle. Balor got a two count. Rollins blocked the Slingblade attempt from Balor and Rollins connected with his own Slingblade. Both guys were pulling themselves up using the ropes. Rollins nailed two running forearms, but Balor nailed a Slingblade of his own. Rollins came back with a superkick to a huge pop for a two count. They did a nice exchange of moves and Rollins nailed an enziguri kick. Rollins sold the leg injury as he went up top for a Phoenix Splash, but Balor moved. Balor dropkick sent Rollins into the turnbuckle. Balor up top, Rollins met him there with a superplex followed by a Falcon Arrow for a two count. I love that sequence and Rollins was selling really well while he was doing the moves. Rollins up top and he jumped off with a Frog Splash. Balor got the knees up and cradled Rollins for a pin. It looked like that was it. It really did look like the ref counted to three, but it was not the finish.
Sheamus and Cesaro entered to their music. Do they really need music to enter? Just have them walk out. Sheamus and Cesaro went to ringside. Gallows and Anderson brawled with Sheamus and Cesaro. Balor hit a somersault dive over the to top to take out the guys fighting on the floor. Balor with a kick to the head. Rollins avoided the Coup de Gras. When Balor ran the ropes, Jordan tripped him up and Rollins hit a Curb Stomp for the win! Curb Stomp is back! Graves called it a Blackout or perhaps was just using an expression. I think Blackout is a better name. It went about 14 minutes.
Winner by pinfall: Seth Rollins
Analysis: ***1/2 Very good match that was needed on this show because the match quality was poor for most of the night. The big story is Rollins using the Curb Stomp for the first time in nearly three years (banned shortly after WrestleMania 31 in 2015). They banned the move because of concussion fears, so obviously Rollins was able to convince them that doing the move was okay if the guy sold it properly. The part where it looked like the ref counted to three and kept going was interesting. I don't think the first hit of the mat was part of the actual pin, so that's why it looked so awkward. Anyway, fun match with a lot of cool nearfalls for both guys, the crowd got really into it and Rollins taking advantage of Jordan's cheating was an interesting twist to the finish. Once again that's Jordan acting like a heel although not fully embracing the role yet.
https://twitter.com/totaldivaseps/status/953117310117703681
There was a replay of the nearfall for Balor. The announcers thought that was it, but it was not. I'm not sure if that was a planned spot or WWE mocking the ref for it.
A replay of Rollins hitting the Curb Stomp was shown again.
Post match, Gallows and Anderson held up Balor. The camera was on them for a long time with no music playing. Balor went down on his knees. Balor sold it like he was knocked out from the move. That's how Raw ended at 11:12pmET.
Analysis: The way the camera was on Balor at the end there I thought maybe Gallows & Anderson would turn on him, but they didn't do that. Maybe it's going to be some concussion angle for Balor or perhaps some losing streak style storyline. I'm not sure exactly where it's headed, but that's okay. Let's see how it plays out.
Three Stars of the Show
Braun Strowman – Easy choice because he threw Cole around the way he did. That's an automatic star.
Finn Balor
Seth Rollins
The Scoreboard
5.5 out of 10
Last week: 5
2018 Average: 5.5
Last 5 Weeks: 5, 6, 6.5, 5.5, 7
Final Thoughts
I give it a 5.5 out of 10.
It was a slightly above average show with a pretty good main event that had no build and very little story. Match quality was poor other than Balor vs. Rollins.
I liked the Strowman stuff and I think the fans did too, so that helped the first hour in terms of being entertaining. It's different to see a guy wreaking havoc throughout the arena. It certainly makes Strowman stand out.
All roads lead to THIS for the women of @WWE in just TWO WEEKS at @WWE#RoyalRumble! #RAWpic.twitter.com/wduFPq3U4z

— WWE (@WWE) January 16, 2018
The next WWE PPV is Royal Rumble on January 28. Here's what we know so far.
Men's Royal Rumble match with 30 competitors – The names announced so far are John Cena, Finn Balor, Randy Orton, Elias, Shinsuke Nakamura, Baron Corbin, Matt Hardy, Bray Wyatt, Rusev, Aiden English, Apollo Crews, Titus O'Neil.
Universal Championship: Brock Lesnar vs. Kane vs. Braun Strowman
WWE Championship: AJ Styles vs. Kevin Owens & Sami Zayn
Women's Royal Rumble match with 30 competitors – The names announced so far are Asuka, Natalya, Ruby Riott, Naomi, Sonya Deville, Mandy Rose, Sasha Banks, Bayley, Lana, Tamina, Mickie James, Nia Jax, Sarah Logan, Liv Morgan, Becky Lynch and Carmella.
Raw Tag Team Championships: Seth Rollins & Jason Jordan vs. Sheamus & Cesaro
Smackdown Tag Team Championships 2/3 Falls: The Usos vs. Shelton Benjamin & Chad Gable
Cruiserweight Championship: Enzo Amore vs. Cedric Alexander
The US Title tournament finals was originally set for this show, but got moved to a Smackdown show. I assume that's because WWE wants to have the guys in the finals (likely Roode and Mahal) in the Rumble match.
—
That's all for this week. See ya next time for the Smackdown review.
Go Toronto Raptors and Toronto Maple Leafs.
You can contact me using any of the methods below. Thanks for reading.
John Canton
Email: mrjohncanton@gmail.com
Twitter: @johnreport