The John Report: WWE Tribute to the Troops 12/20/18 Review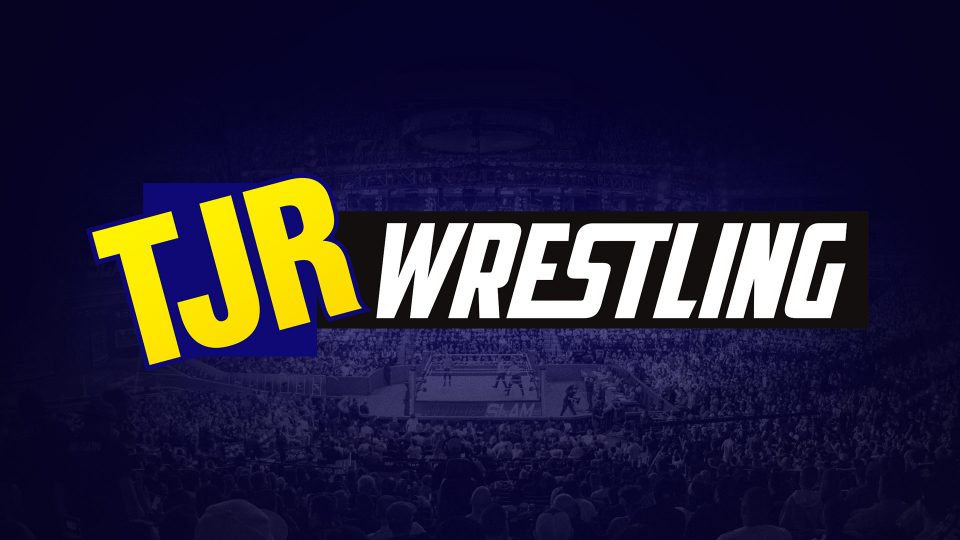 This is the annual WWE Tribute to the Troops show. It was taped on December 4th in Fort Hood, Texas on a Tuesday morning. It featured Raw and Smackdown wrestlers. As you can see on the banner above, it is the 16th year WWE has been doing it. The event was held at a hanger on a military base.
The American national anthem was performed by Staff Sgt. Traci Gregg and she did a great job. The WWE superstars, along with the likes of Triple H, surrounded the ring as she sang. When it ended, there was a "USA" chant.
A video package aired with WWE thanking the five branches of the United States military. Clips aired of past Tribute to the Troops events with the wrestlers interacting with the superstars.
The troops were enthusiastic in the base. There may have been about 1,000 people there if I had a guess. It's not a big crowd, but that's okay.
The New Day trio of Big E, Xavier Woods and Kofi Kingston made their entrance with Big E dressed as Santa Claus, Woods as a reindeer, Kingston as an elf and they had R-Truth and Carmella with them. They tossed merch to the troops.
The announcers at ringside are Michael Cole, Byron Saxton and John Bradshaw Layfield, who came up for the idea of Tribute to the Troops in 2003, so he wanted to be a part of it again. They called it WWE's most important show of the year.
Big E, Kofi and Xavier were in the ring doing a promo thanking the troops for being the real heroes. They talked about some of their favorite holiday traditions like watching you favorite New Day match on WWE Network. Woods said it was cool when mommy was kissing Santa Claus, but it's cool because it was Santa. Big E seemed excited about milk and cookies. They led the crowd in chanting "U-S-A" to the New Day theme.
Analysis: It was a fine way to warm up the crowd.
Ronda Rousey entered for a tag team match.
(Commercial)
The other women entered for this tag team match. The commentary was likely done earlier in the week because they are talking about current things like Natalya beating Ruby Riott at TLC and Natalya earning a title shot against Ronda Rousey.
Ronda Rousey and Natalya vs. The Riott Squad's Sara Logan and Liv Morgan (w/Ruby Riott) vs. Nia Jax and Tamina
Rousey tripped up Logan and shoved her down. Morgan tagged in, Rousey took her down with an arm wringer and Natalya tagged in for a double team suplex on Morgan. Natalya slammed Morgan down, dropkick and a discus clothesline. Morgan managed to tag Tamina in, which led to Tamina doing a hair whip on Natalya. Jax tagged in leading to a double team shoulder tackle on Natalya. Jax with a running splash on Natalya against the turnbuckle followed by an elbow drop. Tamina with a splash on Natalya against the turnbuckle, she charged again, but Natalya moved and Logan tagged in with a kick that led to a two count on Natalya. Rousey got the hot tag with a clothesline on Logan, two judo throws by the arm, a kick into the turnbuckle and Rousey hit punches. Tamina missed a splash on Rousey and she hit Logan. Natalya with a spinning clothesline on Tamina. Jax missed a shoulder tackle on Natalya and hit the steel ring post. Riott distraction and Morgan hit Rousey in the back. The fans were chanting Ronda, who took down Logan and Morgan at the same time. Rousey slapped on her armbar submission on Logan and Morgan at the same time for the tapout win at 6:35.
Winners by submission: Ronda Rousey and Natalya
Analysis: **1/4 It was a formula tag team match designed to get Rousey the win. A show like this is always going to be about putting over the faces. The double armbar finish is something Rousey has done before and it always gets a big pop. She knows what works.
Post match, Rousey said it's an incredible honor to be there performing in front of them. Rousey told the crowd that they are the true champions. She thanked them for the sacrifices, courage and perseverance and everything they do for us including the biggest gift of all, which is our freedom.
Up next is comedian Jon Stewart.
(Commercial)
A video aired showing former Daily Show host, actor and comedian Jon Stewart interacting the troops.
A singer named Morgan Wallen and his band sang a song. I have no idea who he is. I hit fast forward.
Elias entered to ask who wants to walk with Elias and that drew some cheers. He's in a tag team match up next.
(Commercial)
Finn Balor made his entrance for the tag team match. They're up against Bobby Lashley with Elias and Drew McIntyre. Lashley was in the military.
Drew McIntyre and Bobby Lashley (w/Elias) vs. Finn Balor and Elias
The heels isolated Elias early on as they pounded on him with punches against the turnbuckle. It was noted by Cole that it was cold there. Balor got the tag and hit McIntyre with a forearm to the back. Balor went after Lashley on the apron, so McIntyre hit a forearm to put Balor down leading to a break.
(Commercial)
The match returned with McIntyre hitting Balor with a suplex. Balor tried to fight his way out of the heel corner, Lashley caught him and slammed Balor into the turnbuckle. Lashley missed a corner splash and McIntyre pulled Elias off the apron to prevent a tag. Lashley with a shoulder tackle to Balor. McIntyre hit a tilt-a-whirl backbreaker to keep Balor. McIntyre whipped Balor into the ropes leading to Balor hitting an incredible Tornado DDT for a two count. Elias with a mule kick on Lashley, then a clothesline and Elias kicked away on Lashley against the turnbuckle. Elias with a jumping knee to the face. Rush caused a distraction, ran into the ring, Elias chased him and Lashley hit a spinebuster on Elias for two as Balor hit the Coup de Grace on Lashley. Balor sent McIntyre out of the ring and hit a somersault dive over the top to take out McIntyre on the floor. Elias with a sunset flip, Rush tried to help, Balor knocked Rush down and Balor kicked Lashley leading to the sunset flip pin by Elias for the win at 6:55.
Winners by pinfall: Finn Balor and Elias
Analysis: **1/2 It was a good tag team match with an exciting final few minutes. I think Elias pinning Lashley on a sunset flip after a kick to the face makes Lashley look weak a bit, but on a show like this it's okay. Balor was the star of the match as the face in peril, then his offense really picked up the pace and Elias got the win.
Miz TV is up next with Charlotte Flair and Becky Lynch as the guests.
(Commercial)
Miz TV with Charlotte Flair and Becky Lynch
The Miz was in the ring in a suit with the fans chanting that he's awesome, so he said the troops are awesome. Miz said joining him today is the co-star of his film Marine 6: Close Quarters, it's "The Man" Becky Lynch.
Lynch walked out to a big ovation. At the time of this taping, she was still the Smackdown Women's Champion, but she is not the champ anymore and WWE didn't want to tell people this was taped weeks ago. Miz thanked the troops for all that they do.
The Miz also introduced his second guest, Charlotte Flair. She was in her ring gear with a robe. Images were shown of Asuka's SD Women's Title win at TLC. Lynch said that if this blows up, somebody will get hurt and it will likely be Miz. The women sat down in chairs in the ring.
Miz said he wanted to get to the root of their problems while noting that Charlotte hasn't had to stand in somebody's shadow like Becky has had to do. Flair said that queens don't stand in shadows, they cast shadows. Miz noted that on the Marine 6, he overshadowed Lynch and he said he was sorry for that. Lynch said "that's mighty big of you Miz and that's probably the first time that's ever been said of you." Great line lol.
Lynch said that they are sitting out there like delusional Ken and Barbie with Miz thinking like he's a Marine in front of these people while Flair thinks she is Lynch. Lynch said she's just out there being The Man.
Mandy Rose and Sonya Deville showed up for the interruption with microphones in hand. Rose said that they are tired of the Smackdown women's division revolving around Charlotte and Becky. Rose: "Look at me! This is what the face of the Smackdown women's division should look like." Deville said that Mandy has so much more class than the so-called Queen and Deville noted she hits a lot harder than Nia Jax, who broke Becky's face. Rose told them that they should show them up close who really deserves the spotlight. Flair said "let's go" to the idea of a match.
Analysis: Lynch had some good lines in there, as usual. She's very entertaining with the promos of late. The tag team match was set up well.
(Commercial)
Charlotte Flair and Becky Lynch vs. Sonya Deville and Mandy Rose
Flair was aggressive early on as she sent the heels out of the ring and she did a slingshot dive over the top to take out Mandy and Sonya on the floor. Rose got the tag leading to a knee to the face for two. Rose and Deville did a double team hair whip on Flair for a two count. Deville slapped on a leg scissors submission around the waist of Flair. When Flair tried to fight out of the heel side of the ring, Deville kicked her down. Rose tagged in and whipped Flair face first into the turnbuckle. Rose put her knee on the back of Flair while against the ropes. Deville tagged back in with a forearm to the back of Flair, who had tossed Flair out of the ring. Flair got a rollup on Deville and she tried to tag out, but Rose distracted the referee to prevent him from seeing the tag. Flair punched Rose, connected on chops on Deville and Flair hit an overhead suplex into the corner. Flair hit a backbreaker. Lynch tagged herself in as Flair hit the Natural Selection. Lynch went into the ring as the legal person for her team and slapped on the Dis-Arm-Her armbar submission at 6:10.
Winners by submission: Charlotte Flair and Becky Lynch
Lynch didn't hang around for the celebration because she left up the aisle alone while Flair's hand was raised in the ring.
Analysis: ** It was okay. The match was all about Flair working most of the match for her team and Lynch picking up the scraps. The reason for that is because Lynch wasn't back in action in early December when this was taped due to her concussion and broken nose, so she didn't take a bump here.
There was a clip of The New Day hanging out with soldiers at a local Denny's.
Jon Stewart is up next.
(Commercial)
Jon Stewart was introduced to the crowd and he entered the ring with a plug for USO.org because he has done many USO tours and continues to do them.
Stewart talked to the troops about his experiences on USO tours. He told some jokes about his experiences. Stewart said they loved them, respected them, they honor them and he thanked them. Stewart's speech lasted about seven minutes and then he took selfies with some troops at ringside.
There was a video showing various WWE superstars meeting the troops during their Fort Hood experience.
Up next is the main event: AJ Styles and Seth Rollins vs. Daniel Bryan and Dean Ambrose.
(Commercial)
There was another song from Morgan Wallen. I hit fast forward. Just being honest.
Dean Ambrose was up first for the main event. He did not have the Intercontinental Championship with him because as I mentioned earlier, it was taped several weeks ago.
(Commercial)
Daniel Bryan walked out without the WWE Championship. He teased doing "yes" chants and then he stopped. Some fans still did the "yes" at him, but not a lot of them.
The babyface main event team was up next with AJ Styles first to a nice ovation from the crowd. JBL put over Bryan for taking off three years and becoming the WWE Champion again while Saxton said the problem is the attitude that Bryan has. It's a good point that JBL made. Seth Rollins was last to a big pop.
Seth Rollins and AJ Styles vs. Dean Ambrose and Daniel Bryan
Ambrose and Bryan jumped Rollins from behind with punches. Styles saved his partner as the four guys paired off in opposite corners. The heels left the ring, so Styles hit a knee to take out Bryan and Rollins with a dive over the top to take out Ambrose. The bell rang to officially start the match.
Rollins with a Slingblade neckbreaker on Ambrose to take control. Rollins with a kick to the gut, he ran the ropes, Bryan tripped him up and Ambrose capitalized with a head whip into the mat as the heels took control.
(Commercial)
The match continued with Ambrose grounding Rollins with an armbar. When Rollins broke free, Ambrose hit him with a stiff clothesline. JBL made a funny remark about how he liked the new Ambrose, but not the haircut because it looked like he lost a bet. Rollins with a headbutt and a Buckle Bomb that sent Ambrose into the turnbuckle. Styles got the hot tag against Bryan with a dropkick, forearm smash and an Ushigoroshi neckbreaker with the knee hitting Bryan's back. Bryan with a step up enziguri. Fans chanted "yes" to infuriate Bryan and Styles came back with a Calf Crusher submission. Ambrose broke that up, so Rollins hit a clothesline on Ambrose to take care of him. Bryan saved Ambrose, Rollins managed to break free and Bryan hit a running dropkick that hit Ambrose because Rollins moved. Rollins rolled up Bryan leading to a kick while Styles hit a clothesline that sent Ambrose out of the ring. Rollins hit a very safe suicide dive on Ambrose on the floor because there wasn't much room out there. Styles stunned Bryan with a punch to the head and a springboard into the Phenomenal Forearm for the pinfall win at 10:21.
Winners by pinfall: Seth Rollins and Dean Ambrose
Analysis: *** It was a pretty good tag match between four of the best workers in the company. I think Rollins, Styles and Bryan are top three on the main roster in some order and Ambrose is probably a level below them, but still good. This was what you would see if you were at a house show main event. If this was a PPV match, it would be more intense with more nearfalls, but for this show it was certainly fine.
DREAM TEAM. #Troops@WWERollins@AJStylesOrgpic.twitter.com/gl4WBbid40

— WWE (@WWE) December 21, 2018
After the match, Rollins did a promo saying that he and Styles are known for being two of the toughest and most resilient fighters in WWE. Rollins said that toughness and resilience is defined by the men and women in that room as well as around the world fighting for our freedom and liberty. Rollins thanked them for being our true heroes.
Styles said that coming from a military family like him, he knows of their sacrifices towards their families and this country. Styles said that they are internally grateful for that. Styles thanked them, said "God bless" and AJ's music played to end it.
The other WWE superstars made their entrance from the backstage area and saluted the troops around the ring.
A video recap aired showing the highlights from WWE's experience with the troops at Fort Hood. That was all for the broadcast with a two hour run time.
Final Thoughts
I'm not going to rate it out of ten or list three stars. It's not like a regular show that I review.
It was an easy show to watch. Four tag team matches with the babyfaces winning all of them as expected. I think when all you see are tag team matches it gets repetitive, but it's safer and easier for the wrestlers.
There's nothing must see on here and that's okay. It is Tribute to the Troops and it's nice that WWE does it every year.
—
Thanks for reading. My contact info is below. Go Los Angeles Rams, Toronto Raptors and Toronto Maple Leafs. They're all good!
John Canton
Email mrjohncanton@gmail.com
Twitter @johnreport
Personal Facebook and TJRWrestling on Facebook