The John Report: WWE Mixed Match Challenge Review 11/06/18 for Season 2, Episode 8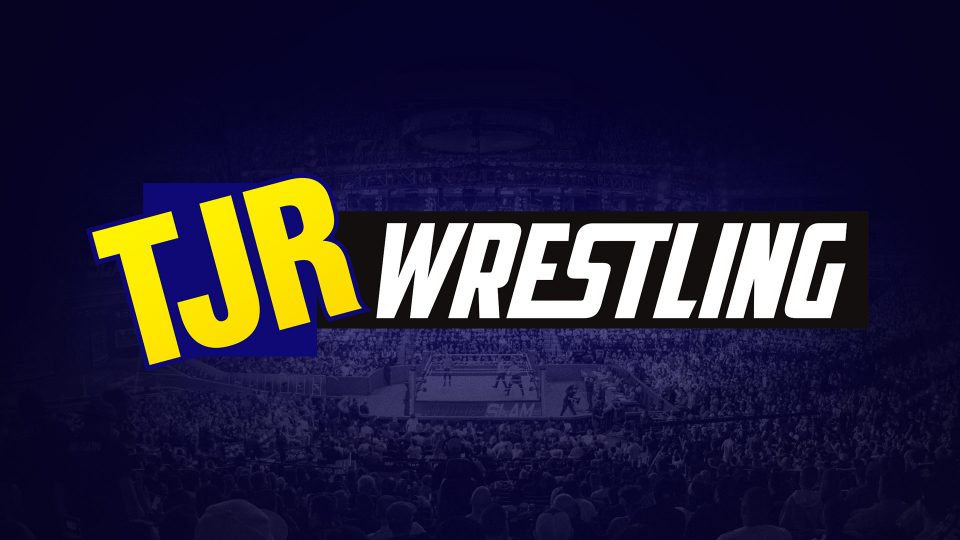 Welcome to my review of week eight of season two of the WWE Mixed Match Challenge. The show took place on Tuesday, November 6 after Smackdown in Manchester, England.
As a reminder, the show airs on Facebook Watch in the US on the Mixed Match Challenge page and some other countries, but not in my country of Canada. It is added to WWE Network on Thursdays, and most weeks I use WatchWrestling for it.
The announce team for the show is Vic Joseph and Renee Young. No Michael Cole this week, but Vic said that Cole is back next week.
As a reminder, the top Raw team will face the top Smackdown team at the December PPV called TLC. All Raw and Smackdown teams face eachother once, so there are at least four matches for every team.
Mickie James was up first for her team looking great in her Wonder Woman style gear. Bobby Lashley was up next with his manager Lio Rush. They were all heels, so there were some boos for them on their way to the ring.
Bayley and Finn Balor entered together to Balor's theme song. The Bayley buddies joined them during the entrance. They are called Team B'N'B and they are a popular team with the crowd.
Country Dominance (Bobby Lashley and Mickie James) w/Lio Rush vs. Team B'N'B (Finn Balor and Bayley)
Country Dominance are 2-0 and Team B'N'B are 1-2.
The fans greeted Bayley with the "Hey Bayley, I wanna know if you'll be my girl" song. They did a good job singing it. Balor enjoyed the song too. James started with Bayley with James hitting a hurricanrana, Bayley avoided a dropkick and Bayley got a rollup for two. Lashley tagged in against Balor. The fans chanted for Balor, so Lashley flexed his muscles at him. Lashley annoyed the crowd with it. The fans cheered for Balor, so he did some flexing and Lashley powered down Balor with punches. Lashley ran the ropes, Balor with a dropkick and Balor dumped Lashley out of the ring. Balor dumped Rush out of the ring too. James grabbed Balor's leg when he ran the ropes, so Lashley hit Balor in the back with a forearm. Balor slapped on a vice grip on the neck of Balor. Lashley whipped Balor into the turnbuckle, Balor with his boots up and Lashley sent Balor into the turnbuckle again. Balor avoided a Lashley charge against the ropes and Bayley tagged in against James. Bayley with two clothesline, she sent James face first into the turnbuckle, a shoulder tackle to the gut and a running knee to the face by Bayley. Neckbreaker using the ropes by Bayley. James got back in the ring and stopped a Bayley charge with a superkick. Balor broke up a pin attempt. Lashley back in, Balor with a Slingblade takedown and he whipped Lashley into the steel ring post. Lio Rush into the ring, Balor chased Rush around the ring twice, Rush missed a corner attack and Balor went up top, but Lashley shoved Balor down. Bayley went up to Rush and hit him with a Bayley to Belly suplex. James capitalized on that with a Mick-DT jumping DDT on Bayley for the pinfall win at around eight minutes.
Winners by pinfall: Country Dominance (Bobby Lashley and Mickie James)
Analysis: **1/4 It was an okay match with the Country Dominance team continuing their winning ways. They had some fun, but it was also a bit more serious than some other MMC matches in the previous weeks. I thought they utilized Rush well to take a beating form Balor, then Lashley saved Rush, then Bayley attacked Rush and James did the veteran move of hitting that jumping DDT to win. It was well booked.
Here are the standings on the Raw side: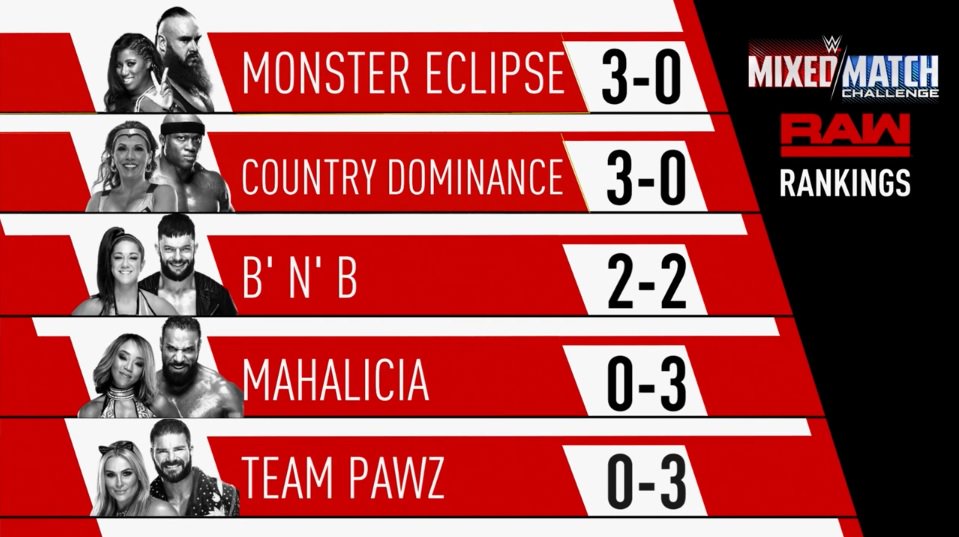 Analysis: The two teams sitting at 3-0 are obviously the dominant teams on the Raw side. Those two unbeaten teams face off next week. Vic Joseph mentioned that there is some playoff series in this tournament although there's no specifics given for it.
The Country Dominance team were interviewed backstage by Kayla Braxton. James said that Monster Eclipse aren't as good as them. Lashley said it's exactly what she said. Rush said that they come to Mixed Match Challenge to dominate, win and collect – that's the secret and formula of success. They left as Jimmy Usos showed up.
Here are post match comments:
Next week from Raw: Country Dominance (Bobby Lashley and Mickie James) vs. Monster Eclipse (Braun Strowman and Ember Moon)
Jimmy Uso was up first for the Day One Glow husband and wife team with his wife Naomi joining him. The crowd loves them as well as their dance moves.
Carmella was up first for the Fabulous Truth. R-Truth was up next as he did the "What's Up" song on the way to the ring with the fans joining in with them.
Day One Glow (Jimmy Uso and Naomi) vs. Fabulous Truth(R-Truth and Carmella)
Day One Glow are 2-1 and Fabulous Truth are 0-2.
There was some talk that there would be some rap battle here, but they started having a match with Jimmy starting against Truth. Carmella tagged herself in quickly to face Naomi. Jimmy grabbed the microphone to say that Truth said he wanted to do the rap battle, so Truth had the microphone.
Truth did a rap where he mentioned Manchester in it to get a cheap pop. Carmella did a rap with her accent saying that she's moon walking, trash talking and sweet as honey. Naomi did a rap about how Jimmy "wifed her up" and that they are liked Bonnie and Clyde. Jimmy was up last saying that maybe he should wow the crowd like he did in the rap battle against New Day, but he liked R-Truth and said that there's only one thing left to say, which led to a dance break with all four of them dancing. Carmella kicked Naomi in the gut to end that since they were legal. Carmella with a superkick for two as Jimmy broke up the pin. Truth dumped Jimmy out of the ring. Carmella with a headscissors after spinning around several times. Naomi came back with a springboard kick to the head and pinner her to win.
Winners by pinfall: Day One Glow (Jimmy Uso and Naomi)
Analysis: 1/4* It wasn't much of a match. Naomi hit one kick to win the match. There wasn't much to it. The rap was weak too.
Here are the standings from the Smackdown side: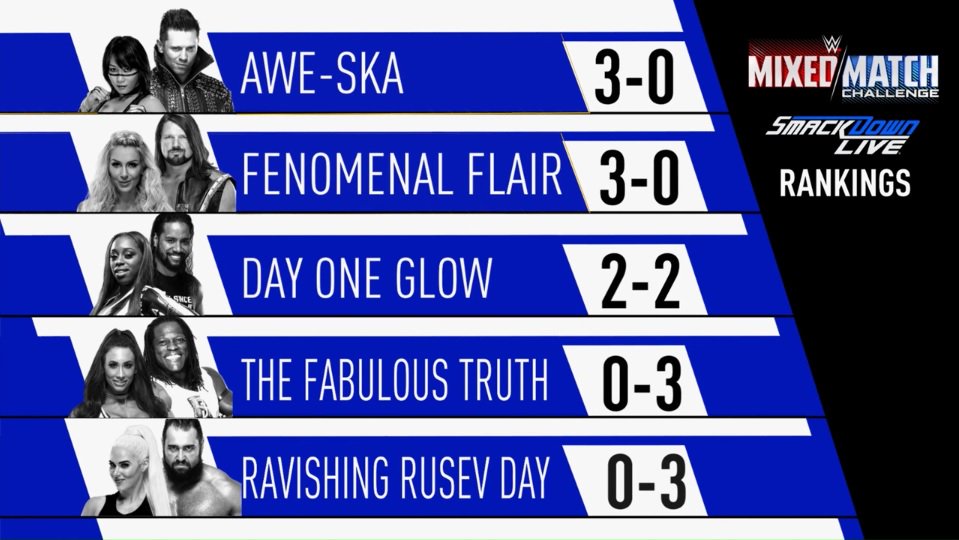 Analysis: Just like on Raw, the standings are the same. The two undefeated teams meet next week. Miz and Asuka will probably win.
Next week from Smackdown: Fenomenal Flair (AJ Styles and Charlotte Flair) vs. Awe-Ska (The Miz and Asuka)
The duo of Jimmy Uso and Naomi celebrated the win on the stage with R-Truth and Carmella joining them on the stage with some dancing.
That's all for Mixed Match Challenge for this week after 29 minutes.
As a reminder of the matches for next week, here you go:
NEXT WEEK: #RAW's two UNBEATEN teams square off on #WWEMMC when @BraunStrowman & @WWEEmberMoon take on @fightbobby & @MickieJames! pic.twitter.com/GZxkaab9Yx

— WWE (@WWE) November 6, 2018
NEXT WEEK: #SDLive's undefeated teams do battle as @AJStylesOrg & @MsCharlotteWWE take on @mikethemiz & @WWEAsuka! #WWEMMCpic.twitter.com/pmD3Kh5vfd

— WWE (@WWE) November 6, 2018
Final Thoughts
The first match was pretty good and then the second match was nothing more than a joke. Next week should be more interesting with two 3-0 teams matching up.
Thanks for reading. My contact info is below. Go Los Angeles Rams.
John Canton
Email mrjohncanton@gmail.com
Twitter @johnreport
Personal Facebook and TJRWrestling on Facebook