The John Report: The WWE Raw Deal 04/30/18 Review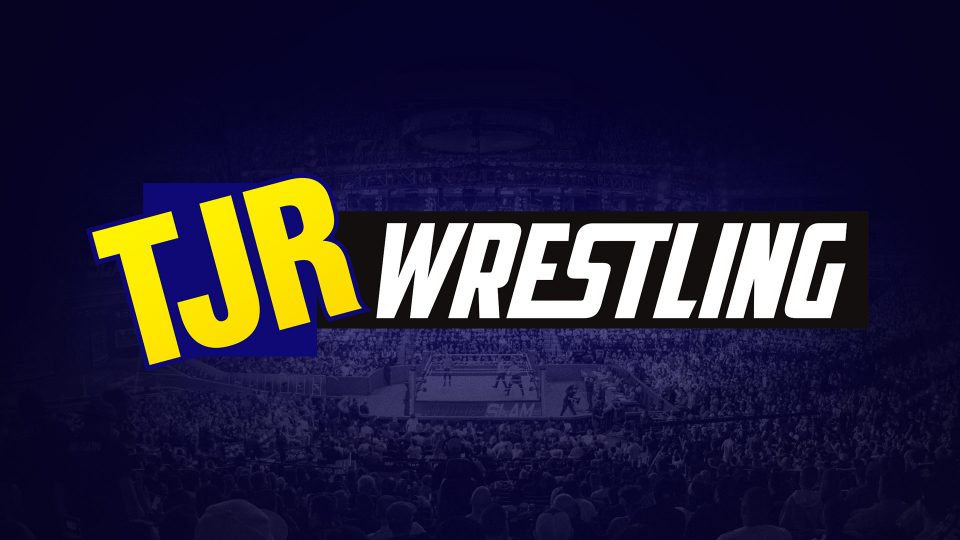 This week's Raw is the last edition before Sunday's Backlash event, which is a PPV featuring Raw and Smackdown matches. It's also the first Raw since last Friday's Greatest Royal Rumble event that saw Braun Strowman win a 50-man Royal Rumble (Hornswoggle was never really eliminated!) and there was a controversial finish in the Universal Championship match as Brock Lesnar defeated Roman Reigns to retain his title inside the steel cage.
The GRR event also gave us this hilarious moment. Titus O'Neil doing his "Titus Worldslide" moment will always make me laugh.
Live from Montreal, Quebec, this is the Raw Deal for episode #1301 of Monday Night Raw. Follow me on Twitter @johnreport. Thanks to Melo Man for the banner up top. Thank you for reading and remember you can always pick up a TJRWrestling t-shirt to support the site as well.
The show began with a video recap of the Greatest Royal Rumble event from last Friday. It lasted about two minutes.
The crowd was loud in Montreal as Roman Reigns started the show with the fans booing him. The boos were very loud as Reigns walked out there wearing one of his shirts.
The announce team of Michael Cole, Corey Graves and Jonathon Coachman were shown on camera to welcome us to the show. Coach is back after missing last week for his golf assignment. Images were shown from the Reigns/Lesnar cage match finish with the cage breaking with the announcers pointing out that Reigns' feet touched first and Lesnar's back was on the cage. They showed the tweet from referee Chad Patton who apologized for the bad call.
Let's Hear From Roman Reigns
Reigns started off saying he's not going to make any excuses because there's no reason to. Reigns said you saw the tweet from the referee, so that means you are looking at the real Universal Champion. The fans chanted "Roman Sucks" at him. Reigns said he should be Universal Champion but he's not…yet. Reigns talked about how he's a man of his word and he kept his word because he beat Brock Lesnar in that steel cage and that is why he will never lose faith in himself. Reigns said he'd tell that to Lesnar, but we all know that Lesnar is not there.
Reigns turned his attention to another man that he's going to face this Sunday…and Samoa Joe appeared on the screen with a cell phone promo. Joe said that he told Reigns he was going to lose to Lesnar and he did. Joe told Reigns that at Backlash he'll put his spiraling career down to sleep.
Jinder Mahal interrupted with Sunil Singh. Mahal said he can't stand people that make excuses. Mahal said that he's not complaining about his loss to Jeff Hardy. Mahal told Reigns he lost fair and square to Lesnar and at Backlash, Reigns will lose to Samoa Joe. Mahal went into the ring and told Reigns that he will lose to him. Mahal said that Joe was right about Reigns. Mahal said now that he's on Raw he'll be Universal Champion one day.
Sami Zayn's music hit for the interruption with the crowd going crazy for one of their two hometown heroes. Cole noted that Zayn grew up close to the arena. Wow. What a huge reaction for Sami. Zayn spoke in French to the crowd and they cheered him even louder. Zayn claimed that due to a very serious case of vertigo, he wasn't able to go to the Greatest Royal Rumble. Zayn said he feels a lot better tonight and what better way to make things right in his hometown. Zayn said tonight he's going to be the one to take on Roman Reigns. Fans chanted "yes" for that.
Kevin Owens was up next and he got a huge ovation with Cole noting that Owens grew up about 30 minutes away, so this was his hometown crowd. The reaction for Owens was awesome. Owens had a Quebec flag symbol on his KO shirt and he took a second to soak up the applause. Owens spoke in French leading to cheers. I used to speak French well, but I have forgotten it aside from the basic stuff. Sorry. High school French was a long time ago for me.
Owens joined the others in the ring saying that he knows Sami can beat Roman Reigns, but he thinks what people want to see is Roman Reigns vs. Kevin Owens. Fans chanted "oui" so Owens said that means yes because they like that idea. Owens said all three of them want a piece of Reigns, so Owens suggested a popularity contest to decide Roman's opponent. There was a loud response for Zayn with the fans cheering, a lot of boos for Mahal and even more cheering for Owens than there was for Zayn. Owens said sorry to the others.
Reigns punched Owens, so Zayn, Mahal and Singh teamed up on Reigns with stomps. The fans cheered that. Bobby Lashley ran out for the save. Owens, Zayn and Mahal worked together on Lashley to make him a non-factor. Braun Strowman was the last man out to make the save. The fans cheered for Braun. Strowman shoved down Zayn and Owens. Strowman's presence allowed Lashley to throw Owens out of the ring. Reigns punched Mahal out of the ring and Lashley threw Zayn out of the ring. Strowman picked up Sunil and tossed him over the top onto the three heels. Strowman raised his arms in the air as his music played to end it. The whole thing went about 17 minutes.
Analysis: It was an opening segment done to set up a six man tag for later in the show. The ovations for Zayn and Owens were so great to hear because they are favorites of mine. Zayn lied about the vertigo thing because he's Syrian Canadian and there were concerns about him going to Saudi Arabia due to issues with that country in Syria. I don't really like it, but not much we can do about it. Anyway, it was smart of WWE to have Zayn and Owens in that opening segment with the crowd supporting them so much. Strowman got cheered a lot as expected. The boos for Reigns were so loud. I wonder if WWE will ever turn him heel because it's as good of a time as any to do it.
Still to come: Mickie James with Alexa Bliss vs. Natalya with Ronda Rousey. Elias was shown drinking some tea because he is up next against Bobby Roode.
(Commercial)
The men's six man tag team match was made official after the break. It's the Teddy Long tag team match special. Holla holla holla.
Elias did his pre-match song in the ring with the crowd chanting along for the things they are supposed to and then he ripped on them. Elias did a song about Bobby Roode being sad and pathetic like the people of Montreal, which drew boos.
Bobby Roode's music interrupted that as Roode made his entrance. The show went to break as Roode made his entrance.
(Commercial)
This is a rematch from last week with Elias winning.
Elias vs. Bobby Roode
Roode with an atomic drop followed by a dropkick. Roode hit the Blockbuster neckbreaker off the middle ropes. Elias bailed to the floor, Roode sent him back in and Elias used the top rope to stun Roode by the neck. Elias with a clothesline followed by a headlock. A split screen commercial for Backlash aired while the headlock was applied. Elias remained in control with a boot to the face followed by a body slam across the ring. Elias worked over Roode with chops to the chest followed by a mule kick that got a two count. They went to break about five minutes into this match.
(Commercial)
The match returned with Elias still in control with a chinlock. Roode broke free, but Elias nailed a back elbow. Roode came back with two clotheslines, boots to the face, Elias avoided an attack off the ropes and Roode hit a spinebuster for a two count. They battled by the turnbuckle with Roode hitting a headbutt followed by a clothesline off the top rope. Fans chanted "Glorious" for Roode, but Elias avoided the DDT and hit a back elbow. Inside cradle got a two count for each man. Roode with a shoulder tackle to Elias' ribs. Elias came back with a punch and Elias sent Roode throat first into the steel turnbuckle. Elias took the cover off it earlier in the match. Roode was selling a throat injury. The referee called for help for Roode, who had trouble breathing. The match went about 12 minutes.
Match Result: Elias wins due to injury to Roode
Analysis: **1/2 It was a decent match that was building with Roode selling the throat injury for most of the match and the announcers were talking about it early on. That's a match finish you don't see very often, which is fine because it's better than seeing a rollup finish or something we see too much. The result puts over Elias as a vicious heel that's willing to do anything to win a match, which includes potentially hurting a guy. I liked the angle because it puts over the younger guy in Elias.
After the match was over, Roode was in pain on the floor. Elias said: "Ladies and gentlemen, your winner…Elias."
The EMTs (most likely indy wrestlers from the area) and referees checked on Roode. They replayed the spot in the corner. It looked nasty and Roode sold it very well.
Analysis: The bump by Roode was the sternum bump into the turnbuckle that we see all the time in wrestling, but it's rare to see somebody do it going into the steel that connects the turnbuckle to the post. That's why it looked violent.
(Commercial)
There was a clip of Roode being helped to the back during the commercial.
The Authors of Pain were up next.
There was an interview with Jean Paul and Francois as the opponents of the Authors of Pain with Charly Caruso asking them why they wanted this match. They talked about how they were French Canadians and didn't want to back down from a fight. Jean Paul and Francois got an entrance with generic music. They are local indy guys.
Authors of Pain (Akam and Rezar) vs. Jean Paul and Francois
Rezar kicked Francois and tossed him across the ring. Rezar decked Jean Paul with a clothesline. Akam tagged in, each guy grabbed a guy and they did the Super Collider leading to a Powerbomb by each AOP guy. The Last Chapter double team move ended it for the Authors of Pain. It went about one minute.
Winners by pinfall: Authors of Pain
Analysis: 1/4* A dominant win for AOP like usual. Sorry local Quebec talent.
The AOP guys did a quick post match promo where they said the book of pain was open and there will be a chapter for every team on Raw.
Up next at the top of hour two is Monday Night Rollins because Seth Rollins is coming up.
The Smackdown Live commercial hyped a showdown with AJ Styles and Shinsuke Nakamura.
(Commercial)
PLUG TIME: Here's my review of the WWE Greatest Royal Rumble event from Saudi Arabia last Friday…I also try to get a retro WWE pay-per-view review done every week and in the past week I got two posted because the first one was WrestleMania 21 from 2005, which was an outstanding show carried by Kurt Angle vs. Shawn Michaels and the first Money in the Bank Ladder Match…The next PPV after that was Backlash 2005, which featured an exciting IC Title match to open the show, plus Edge winning a Last Man Standing Match and Batista facing Triple H in the main event. It's not a great show, but there's some good stuff on there along with a lot of filler.
There were graphics shown of various forms of press covering the Greatest Royal Rumble event with Cole narrating by talking about how great it was for Saudi Arabia for women and families at the event. Cole made no mention of WWE women being left home from the show, of course. I understand why WWE did the show (for the money), but I sure wish things were better about it.
Let's Hear From Seth Rollins
Seth Rollins made his entrance. He retained the IC Title in the Ladder Match at the Greatest Royal Rumble event. Rollins defends the IC Title against The Miz on Sunday at Backlash.
The crowd loved Rollins as he smiled in the ring. Rollins said the crowd was wild, so they cheered. Rollins talked about the last month of his career when he won the Intercontinental Championship at WrestleMania. Rollins talked about how they flew to South Africa, then he had Raw in St. Louis last week, then they went all the way to Saudi Arabia and he defended the title there leading to him being there on Raw in front of these maniacs in Montreal. The maniacs in Montreal cheered him. They just kept cheering loudly, so Rollins paused from talking and smiled as he looked at them. It took about a minute or two for the crowd to quiet down. Rollins said "merci beaucoup" to them, which means "thank you very much" for the crowd.
Rollins said he has done a lot of thinking during his travels and said he didn't want to be a champion like Brock Lesnar. Rollins said his buddy Reigns is the uncrowned Universal Champions. Rollins talked about how he wants to be a fighting champion and be out there every Monday night, but here comes Finn Balor for the interruption.
Balor got a nasty cut on his right eye at the GRR event and you could see he was a little banged up from it. Balor: "Je m'apelle Finn Balor." That means "I am Finn Balor" and the crowd cheered that.
Balor got in the ring with Rollins to point out how close he came to winning the IC Title. Balor said that he gives Rollins credit for the win. Balor pointed out that they have had four matches together, Rollins has won two and Balor has won two. Balor said if Rollins is a fighting champion then he should put the title on the line right here tonight.
Rollins said that he had The Miz for the IC Title this Sunday at Backlash…but…(long pause)…"I am a fighting champion" and he asked the fans. The fans cheered loudly at the idea of this match. Fans chanted "oui" for that and Rollins told Balor he is on.
The Miz's music hit as Curtis Axel and Bo Dallas aka The Miztourage made their entrance in suits. Each guy was holding their jackets.
Axel told the guys not to worry about what these people want because they have to worry about what is best for themselves. Dallas said they shouldn't be fighting eachother, they should be fighting together. They got into the ring. Axel said they should have had a group conversation and revealed t-shirts that had the faces of Rollins, Balor, Axel and Dallas on them. Dallas told Balor to forget about the Balor Club and told Rollins to forget about The Shield. Dallas pointed out the four faces on the shirt saying that they could be "The Four Horsemen of the WWE." Rollins said he would talk it over with Balor, but Balor said absolutely not. Rollins said that's going to be a hard no.
Dallas and Axel teased leaving, but then they went after Rollins and Balor for a fight. Rollins kicked Dallas out of the ring. Balor with a Slingblade on Axel. Rollins sent Axel out of the ring with a clothesline. Balor attacked Rollins from behind with an elbow drop to the chest. Balor stood over Rollins saying you need to keep your eyes on me. Balor left while Rollins was down.
Analysis: It was really cool to see Rollins get that major superstar reaction from the crowd. He deserves it and it shows that fans in Canada do not boo the faces as much as WWE thinks. They want to cheer the best guys even if they are faces like Rollins. I'm all for another Rollins vs. Balor match because they always have great matches. Axel and Dallas were pretty funny pitching a Four Horsemen stable to Rollins and Balor because you knew it wasn't going to happen. Balor's attack after the segment was done to send the message to Rollins that he's the guy that Rollins needs to focus on.
Still to come: The six-man tag and "Tripping Worldwide" with Titus O'Neil is going to happen. Sasha Banks vs. Ruby Riott is up next.
(Commercial)
Ruby Riott entered along with her Riott Squad buddies Sarah Logan and Liv Morgan.
Sasha Banks was interviewed by Charly Caruso. They were backstage right behind the curtain. Banks said she won't have Bayley in her corner. Banks said that Bayley hasn't returned her call or texts. Banks said if Ruby wants a riot then she can bank on one.
Sasha Banks vs. Ruby Riott (w/Sarah Logan and Liv Morgan)
Banks worked over Riott early with an armbar. There was a shot of Bayley watching on a TV backstage. There was a bit of a distraction by the girls outside the ring, so Riott took advantage with a kick to the face. Riott sent Banks face first into the turnbuckle. Banks took down Riott with a Thesz Press followed by punches and a foot to the throat. Banks pulled back on Riott's arms for a submission. Banks with a hip toss followed by the running double knee attack for a two count. Riott nailed Banks with a forearm that knocked her to the floor. Logan tried an attack, but Banks decked Logan with a punch. Riott left the ring, Banks hit a baseball slide dropkick to knock Riott down outside the ring and the show went to break.
(Commercial)
Back from break, Riott was in control with an abdominal stretch on the mat. When Banks got up, Riott kicked her into the turnbuckle and Riott hit a STO for a two count. Riott slapped on a chinlock. Banks fought back with a rollup and a cross body block that got a two count. Banks with two clotheslines, a dropkick, a knee to the face, double knees in the corner and Riott avoided the knees. Riott with a kick to the face. Riott jumped off the middle ropes with a back splash that got a two count. The crowd reacted to that in a big way. That was a cool move. Banks came back with the Bank Statement submission. Logan went into the ring, the ref was distracted and Morgan pulled Riott away to break up the hold. The ref was too dumb to know what happened. Banks with a double knee attack on Riott against the ring post. Banks hit a double knee attack on Morgan on the floor. Logan on the apron when Banks was on the top, so Riott was able to slow down Banks. Riott hit a leaping Riott Kick on Banks when Banks was on the top rope and Riott pinned Banks to win. It went about 13 minutes.
Winner by pinfall: Ruby Riott
Analysis: **3/4 The match was okay. It ran a bit too long because you could tell the crowd was losing interest. Riott won due to the dreaded "numbers game" storyline that WWE always does in the women's division. This happened with Mandy and Sonya, but they got moved to Smackdown while the Riott Squad moved over to Smackdown, so it's the same thing except with different people. Banks just isn't getting the reactions she used to get. The issues she had with Bayley started in January. We are heading into May and there still hasn't been much progress with them, so that's why the reactions to Banks are less than what they should be.
Up next is the Titus Worldwide "tripping worldwide" moment.
There was a "Moment of Bliss" promo from Alexa Bliss. It featured Bliss talking about how you never know when a bully will strike because it happened to her with Nia Jax at Disneyworld. Bliss claims that Jax made jokes about being too small for the rides, even the teacup ride and Jax asked the guy at a restaurant if they could give Bliss a kids menu. Bliss had fake tears about how Nia turned the happiest place on Earth into the saddest place ever. Bliss said she'll win back her Women's Title from Jax at Backlash and she'll do it for people that have been bullied by somebody like Nia.
Analysis: It's over the top and perfect for a heel like Bliss. I thought this one was better than the first one they did last week.
(Commercial)
The match is official for the main event of Raw: Seth Rollins vs. Finn Balor for the Intercontinental Title.
Titus O'Neil was interviewed by Renee Young backstage. They showed a clip of the Titus stumble at the Greatest Royal Rumble. They replayed it three different times. O'Neil was in a suit for the interview. O'Neil laughed about it saying that it was exactly like he planned it and he laughed saying that he fell. O'Neil said that not a lot of people get a chance to fall on their face in front of the world while noting that Jennifer Lawrence did it at the Oscars. O'Neil said what's important is that you get back up. Baron Corbin showed up to mock O'Neil saying it would be better if he didn't fall and he said she didn't know why they were wasting time with O'Neil. Corbin left and O'Neil just stared at him.
Analysis: It was nice to see O'Neil having a laugh about his fall. It was pretty funny live and it was not a work, so that's what made it that much more enjoyable. I'm not thrilled about a Corbin vs. O'Neil feud because I think both guys are better working with smaller guys, but there needed to be some heel there to insult O'Neil for falling.
There was an image showing that Matt Hardy and Bray Wyatt are the new Raw Tag Team Champions after winning the titles at the Greatest Royal Rumble event.
Matt Hardy did a promo as images were shown with Hardy and Bray Wyatt in the background of famous moments in history. Hardy was in a room with light. The lights shut off with Wyatt talking about the darkness and the light. Wyatt told us to behold the "Deleters of Worlds."
Analysis: That was funny to see the photos edited with Hardy and Wyatt in them.
The announcers were back on with Cole telling Graves to shut up about the Wyatt stuff.
A replay aired of last Monday's Raw when Mickie James attacked Natalya and attacked Ronda Rousey with a dropkick. Rousey went into the ring and slapped on the armbar on James. It's Natalya vs. James later on Raw.
The six man tag team match is up next: Reigns, Strowman and Lashley vs. Owens, Zayn and Mahal.
(Commercial)
Jinder Mahal made his entrance for the six man tag with Sunil Singh doing the introduction for him.
Sami Zayn and Kevin Owens entered to Zayn's music to a loud ovation for them. They hummed along with Zayn's theme song like most crowds when Zayn was a face. Zayn and Owens grew up near Montreal. Mahal is Canadian too because he's from Calgary, but WWE doesn't like to mention that.
Braun Strowman was cheered loudly with Cole putting over Strowman's record 13 eliminations at the Greatest Royal Rumble event. It's 50 men instead of 30 men in that Rumble, but I guess the record counts for Strowman. I think there should be an asterisk on it.
Bobby Lashley entered to not much of a reaction. His theme music is so generic and Lashley doesn't have a big personality either, so he just feels bland when he gets out there.
Roman Reigns was up last with the crowd booing him like they did earlier in the show.
Sami Zayn, Kevin Owens and Jinder Mahal (w/Sunil Singh) vs. Roman Reigns, Braun Strowman and Bobby Lashley
It looked like Mahal would begin and then Zayn started the match with Reigns with the crowd cheering Zayn. Owens tagged in to a nice ovation as well. There's a "Please Screw Roman" sign in the crowd. They mean the Montreal Screwjob kind of screw, my friends. Zayn tagged back in, so Reigns tossed him out of the ring. Owens sent Zayn into the barricade. Owens got involved, Reigns neutralized him and Reigns hit a Drive By dropkick on Zayn and Owens at the same time as the show went to break about one minute into it.
(Commercial)
Back from break, Lashley worked over Mahal with two clotheslines followed by a body slam. Lashley with a leapfrog on Mahal followed by a clothesline. Zayn tagged in with stomps on Lashley in the corner. Lashley fought back with a neckbreaker. Lashley with a running clothesline followed by a running shoulder tackle. Mahal distracted the referee, so Owens snuck in with a kick on Lashley. Owens tagged in with stomps on Lashley leading to loud cheers for Owens. Mahal tagged in briefly and then Owens was back in with a chinlock on Lashley leading to a commercial for Backlash in the split screen. Owens with another chinlock on Lashley while Strowman urged Lashley hoping for a tag. Lashley broke free with a flatliner. Reigns got the tag against Zayn with Reigns hitting three clotheslines in a row. Reigns worked over Zayn with clotheslines in the corner followed by a boot to the face. Singh was on the apron, so Reigns brought him in the ring and then tossed him back out. Owens made the tag and hit a DDT for a two count on Reigns.
(Commercial)
They returned from break with Zayn getting his turn to slap on a chinlock on Reigns. Owens tagged in with an elbow drop off the middle rope for a two count. Zayn slapped another chinlock. Graves said that Canadian Prime Minister Justin Trudeau was there to greet Zayn and Owens, Cole said that was a lie and Graves had a funny line about his hair being big because he's full of secrets. Owens was the legal man. Reigns fought out of the corner and hit a Superman Punch on Owens. Mahal tagged back in and Reigns dropped him with a Samoan Drop. After 20 minutes, Strowman finally got the hot tag.
Strowman decked Mahal with a clothesline. Strowman ran out of the ring and hit Owens and Zayn with a shoulder tackle. The camera missed the attack on Zayn. Strowman went back outside the ring to run over Zayn and he tossed Owens into the barricade. Strowman back into the ring, he charged, Mahal moved and Strowman hit the turnbuckle like he always does. Lashley hit a suplex on Zayn. Mahal kicked Lashley. Owens tagged in, Reigns with a Spear on Mahal, Owens kicked Reigns out of the ring and Owens kicked Strowman to stagger him. When Owens went for a running charge, Strowman hit a Running Powerslam on Owens and pinned him. The match went 23 minutes.
Winners by pinfall: Roman Reigns, Braun Strowman and Bobby Lashley
Analysis: ***1/4 It was a good tag team match with the heels working over Lashley and Reigns leading to the Strowman hot tag with the crowd erupting when Strowman got in there. It took 20 minutes to get to that point. That's a long time to run a match building up to the final hot tag, but when Raw is three hours long they have plenty of time to kill. The problem with the match is there wasn't really a time where you thought that the heels might win. It was all about Strowman getting in there and kicking ass. It would have been nice if it took more to beat Owens as well because he's a main eventer that should put up more of a fight than what we saw. That's one of the longer Raw matches of the year and it's a match where I think it would have been better if they shaved off about eight minutes of it.
The face team of Strowman, Lashley and Reigns celebrated the win.
Later on Raw is Seth Rollins vs. Finn Balor. Baron Corbin vs. No Way Jose is up next.
(Commercial)
There was a video that aired about the Greatest Royal Rumble event from last Friday. It featured some comments from fans that attended the event talking about how much fun they had being there.
Baron Corbin walked out with a microphone saying a wise man once said you can't make money if you want to be funny. The fans tried to chant things at Corbin and Corbin encouraged them to do it, but there was not much of a reaction. Corbin ripped on Titus O'Neil for being a fool and mocked No Way Jose for his stupid conga line. Corbin said he makes money by cracking people in the teeth and tonight he's going to put an end to the nonsense. Corbin said when it's all said and done, no one will be laughing.
No Way Jose entered with his conga line full of people that danced around the ring with Jose. They replayed what happened last week as I remarked on Twitter: "This show is too long." It is.
Baron Corbin vs. No Way Jose
Corbin did his slide out of the ring and go back in with a clothesline spot about ten seconds into the match. Corbin charged in, Jose pulled down the ropes and Jose went crashing to the floor. Jose went up top for a cross body block, Corbin avoided it and Corbin sent Jose shoulder first into the ring post. Titus O'Neil's music hit as Titus entered along with Apollo Crews and Dana Brooke. Titus ran down to the ring, but Apollo and Dana stopped him to make sure it's not slippery. O'Neil celebrated not falling. O'Neil went on the apron, fell down, Corbin was distracted and Jose won with a ROLLUP OF DEATH~! for the pinfall win. It went about four minutes.
Winner by pinfall: No Way Jose
Analysis: 1/2* I am not a fan of matches where half the match features the theme song of somebody not in the match leading to the predictable ROLLUP OF DEATH~! finish. Boring match, but the O'Neil bump was mildly funny. I don't think feuding with Jose and Titus is good for Corbin if they have high hopes for him.
After the match, the Titus Worldwide trio danced with Jose and his conga line.
There was a video about World Wish Day and you can contribute by going to Wish.org/WWE now.
Natalya vs. Mickie James is up next.
(Commercial)
Mickie James made her entrance with her buddy Alexa Bliss at her side. They showed images of what happened last week with the women even though earlier in the show they showed video. What a weird company.
Natalya made her entrance and got a big ovation with her buddy Ronda Rousey. The Hart Family is loved in Canada, of course.
Mickie James (w/Alexa Bliss) vs. Natalya (w/Ronda Rousey)
Natalya went for the armbar, but James winced in pain and bailed to the floor. Natalya hit a running dropkick on James for a two count. James came back by sending Natalya face first into the middle turnbuckle. Kick to the chest by James got a two count. Leg scissors by James. Natalya got back up, but James fell on top for a nearfall. Back elbow by Natalya followed by the spinning clothesline. Natalya teased a Sharpshooter, Bliss on the apron to distract and James kicked the right knee of Natalya. Rousey stalked Bliss outside the ring. Bliss ran around the ring, Rousey chased her and Natalya got an inside cradle for the pinfall win after about three minutes.
Winner by pinfall: Natalya
Analysis: * That's it? Too short. I was excited to see this match and it was over before it could really get going. The finish was sudden without much attention on it because the camera was focused on Rousey chasing Bliss. It was as if they only booked the match to find a way to get Rousey on the show. I was hoping for more time for Mickie and Natalya here.
When Bliss was at the top of the ramp, Nia Jax's music hit and Bliss ran away through the crowd.
Jax went into the ring to stare at Rousey and Natalya. Jax raised their hands in the air as triumphant faces. Jax isn't like most girls. That's what the song says, after all.
Analysis: The build to the Jax vs. Bliss match has been awful. I have no interest in it.
The announcers went over the Backlash card for this Sunday. I have it at the bottom of this post. The only new match added was Strowman and Lashley vs. Owens and Zayn, which they did last week on Raw as well. Another loss for Kevin and Sami.
(Commercial)
Drew McIntyre and Dolph Ziggler did a cell phone promo backstage. Drew said that they deserve to be there and they will show us exactly why. Ziggler said if he was anybody else other than them they would be scared because it's about to get dangerous. Ziggler said they didn't come to steal the show, they're just going to take it.
Analysis: My favorite part of that is there weren't any WORDS ON THE SCREEN when they spoke. It's also funny when guys talk about how tough they are, yet they are only on a three-hour show for about 30 seconds doing a promo.
Finn Balor made his entrance. The crowd cheered him as usual. The announcers wondered what it would mean if Balor won the IC Title and if he would defend the title in a three-way against Rollins and Miz at Backlash.
Seth Rollins made his entrance with the Intercontinental Title around his waist. They replayed what happened earlier with Balor hitting a cheap shot on Rollins.
Intercontinental Championship: Seth Rollins vs. Finn Balor
The match started at 10:54pmET, so they should get some time thanks to the Raw overrun. Rollins took control early by dumping Balor to the floor and jumping over the top with a cross body block. They went to break one minute into it.
(Commercial)
There was a commercial for a new episode of Ride Along after Raw with Braun Strowman and Alexa Bliss in a car while Titus O'Neil, Apollo Crews and Dana Brooke are in another car.
Back to the match, Balor nailed two boots to the face, forearms to the head and another running forearm by Balor, who checked on the scar above his right eye. Rollins got his boot up, he blocked a Balor kick and Rollins hit a Blockbuster off the ropes. Rollins sent Balor face first into the middle turnbuckle. Rollins with a springboard clothesline off the top leading to Balor rolling to the floor. Rollins ran the ropes and hit a suicide dive that sent Balor into the barricade. Rollins went for the dive again, but Balor nailed a jumping kick to stop Rollins. Fans chanted "this is awesome" for them. Balor hit a DDT on Rollins for two. Balor picked up Rollins and hit an elbow drop to the chest for a two count. Balor worked over Rollins with chops. Rollins came back with a Slingblade followed by the knee to the face by Rollins for a two count. Rollins nailed a kick to the gut, Balor came back with a forearm and a back body drop sent Rollins onto the apron. Balor with a double foot stomp to the chest of Rollins. Balor with a kick to the face from the apron. Balor went up top, but Balor stopped him by crotching him on the top rope. Rollins climbed up top with Balor and Rollins hit a superplex. Rollins went for the Falcon Arrow, but Balor countered into a Falcon Arrow slam of his own for two. That was great. The crowd clapped for them. Fans chanted "this is awesome" for them.
The two men exchanged chops and punches. Balor went for the 1916 slam, but Rollins kicked him, Balor with an overhead kick and Rollins nailed an enziguri kick. Balor came back with a clothesline that sent Rollins out of the ring. Balor ran the ropes and hit a somersault dive over the top on Rollins. Balor with a dropkick that sent Rollins into the turnbuckle. Balor went up top, he went for the Coup de Gras, but Rollins moved and Rollins went for The Stomp and Balor avoided it. Rollins got another rollup for two followed by the Slingblade. Balor charged in and ran right into a superkick from Rollins. Rollins followed up with The Stomp for the pinfall win after 15 minutes of action.
Winner by pinfall: Seth Rollins
Analysis: **** Excellent match worthy of the main event. They really cranked up the intensity in the last seven minutes or so. That spot they did with the superplex and Balor countering it into the Falcon Arrow was so good. The crowd loved it too. I like how Rollins kept going for his finish, but Balor found ways of avoiding it. When Balor went for his finish off the top, Rollins managed to escape. It shows you can have that great match without hitting a finish and having a guy kick out. It feels like we've been here before because I can remember them having another match on Raw that went around the same time and was at the same star rating. We want to see matches like this on a consistent basis and I know that not every wrestler is as good as Rollins and Balor, but having guys competing at a high level like this makes the show better.
Rollins celebrated with the Intercontinental Title. Balor was holding his head and jaw to sell what happened in the match. Cole plugged the matches at Backlash. Rollins held up the title in the air as Raw ended at 11:11pmET.
Analysis: I hope there's a plan for Balor because he needs a good storyline. Maybe they are going to turn him heel. I thought he should have been moved to Smackdown to give him a fresh start. He needs an interesting storyline on Raw.
Three Stars of the Show
1. Seth Rollins
2. Finn Balor
3. (tie) Kevin Owens
3. (tie) Sami Zayn
The Scoreboard
6.5 out of 10
Last week: 5.5
2018 Average: 6.03
Last 5 Weeks: 5.5, 7, 7, 5.5, 4.5
2018 High: 8 (February 19)
2018 Low: 4.5 (March 26)
Final Thoughts
I give it a 6.5 out of 10.
It was a slightly better than average show based on my average for the year.
The main event really stood out as an excellent match. The rest of the show was a typical Raw with average stuff. None of the other matches really did much for me and I thought the six-man tag team match went on for too long. I did enjoy the reactions to Owens and Zayn, though. That was fun.
I thought the follow up to the Reigns/Lesnar Universal Title match controversy was weak. All they did was have the ref say he messed it up and they announced nothing about another match or any other plans for the Universal Title. It could have been handled a lot better. The creative team is very lazy when it comes to explaining things.
The crowd was great. It was one of the best crowds of the year, which is no surprise because Canadian crowds are always great. I know I may be biased as a Canadian, but it's true.
#WWEBacklash is shaping up to be 🔥🔥🔥🔥 pic.twitter.com/RBMbypBMin

— WWE (@WWE) May 1, 2018
Here's the lineup for Backlash, which takes place this Sunday, May 6. I'll have a preview up on Friday and then the live review on TJRWrestling.net on Sunday night.
WWE Championship: AJ Styles vs. Shinsuke Nakamura
Samoa Joe vs. Roman Reigns
Intercontinental Championship: Seth Rollins vs. The Miz
Daniel Bryan vs. Big Cass
Braun Strowman and Bobby Lashley vs. Kevin Owens and Sami Zayn
Raw Women's Championship: Nia Jax vs. Alexa Bliss
Smackdown Women's Championship: Carmella vs. Charlotte Flair
Expected match, but not official yet: US Championship: Jeff Hardy vs. Randy Orton.
There's a lot of good talent not in matches.
—
That's all for this week. See ya next time for the Smackdown review.
Go Toronto Raptors and Toronto Blue Jays.
You can contact me using any of the methods below. Thanks for reading.
John Canton
Email: mrjohncanton@gmail.com
Twitter: @johnreport
Personal Facebook and TJRWrestling on Facebook