The John Report: The WWE Raw Deal 02/11/19 Review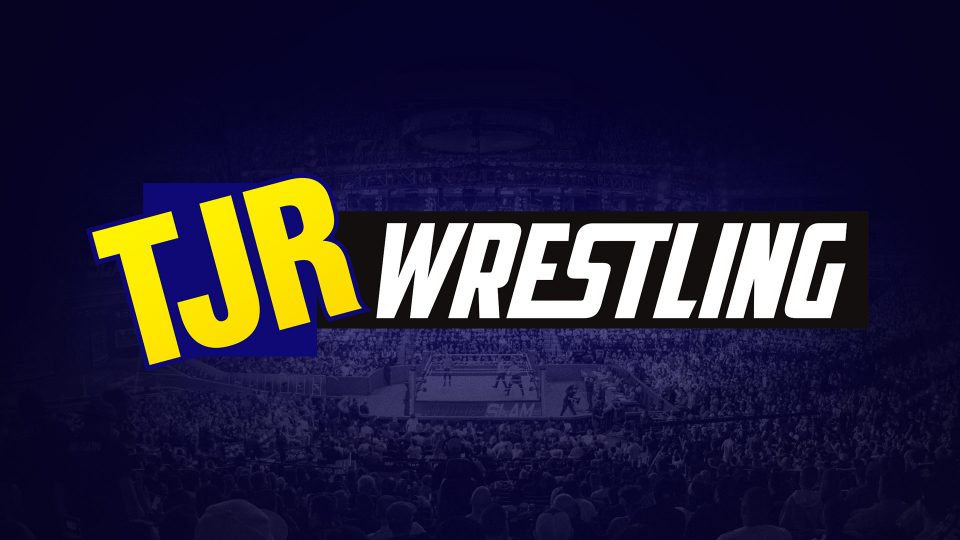 Welcome to the TJRWrestling WWE Raw Deal Review for February 11, 2019. It's the last edition of WWE Monday Night Raw before Sunday's Elimination Chamber pay-per-view. This is one of those weeks where WWE didn't advertise much going into Raw. The only things they told us is that Becky Lynch was invited to the show and Seth Rollins will be there too. A few hours before Raw, they also announced two new matches for Elimination Chamber with Bobby Lashley and Lio Rush defending the Intercontinental Title against Finn Balor in a handicap match. The other match they announced was Braun Strowman vs. Baron Corbin. I'll have the full card at the bottom of this post and we will have a preview of Elimination Chamber posted on Friday.
Live from Grand Rapids, Michigan, this is the Raw Deal for episode #1341 of Monday Night Raw. Follow me on Twitter @johnreport. If you want to support us at TJRWrestling, here's a Donate Link for our Paypal to contribute in some way to help us grow the site.
Let's Hear from Triple H and Stephanie McMahon
The show began with Triple H and Stephanie McMahon-Levesque-Game-Haitch in the ring welcoming us to the show. Stephanie mentioned the Women's Tag Team Title match inside the Elimination Chamber on Sunday. I think she said "Elimination Chamberview" at one point, so she started again. Hunter said in addition to that, Daniel Bryan has to put in an unbelievable performance if he wants to retain the WWE Title against five other men: Randy Orton, Mustafa Ali, Jeff Hardy, Samoa Joe and AJ Styles. Stephanie mentioned Ronda Rousey having to defend the Raw Women's Championship against Ruby Riott. Hunter said that if Rousey is successful against Riott she will go on to WrestleMania to defend that championship against "The Man" Becky Lynch…or at least that was the plan until this happened.
A replay aired from last week showing when Stephanie suspended Becky because Becky refused to get her knee checked by a doctor. Becky attacked Stephanie and was taken out of the arena. On Smackdown, the suspended Becky got into a verbal altercation with Triple H, who said Becky fears Rousey. Becky slapped Hunter just like she slapped Stephanie. The fans chanted "Becky" after the video package.
Stephanie said that in spite of what happened last week, they'll still do what's best for business. Stephanie noted that Becky did see her doctors this past weekend and Becky's music hit before Stephanie could officially introduce her.
Becky Lynch made her entrance to a big ovation with a knee brace on the worked left knee injury. Lynch limped down to the ring as the fans cheered her.
Lynch said it's nice to be there while adding it's nice to see them looking so well. Lynch said the swelling went down on Steph's face, so maybe Becky will hit her harder next time. Hunter said what he said on Smackdown crossed a line. Hunter apologized for what he said. Hunter said that WWE doctors agreed with Becky's doctors that there is no structural damage on the knee and in a few weeks, they will likely clear her. Hunter said that the suspension is lifted and the match at WrestleMania is on. Stephanie said that Becky vs. Ronda will happen at WrestleMania if Becky can do one more thing. Lynch said that she knew there would be a twist. Hunter said the match at WrestleMania is on and the suspension is lifted if Lynch apologizes. The fans chanted "no" to that. Stephanie said they just want her to say she's sorry.
Lynch asked what she has to apologize for because they told her to see a doctor and she saw a doctor. Stephanie told her not to be stubborn and Lynch told her to shut her face. Lynch said that she didn't trust them or her old man. Lynch said she'll fight anybody, but she's not going to apologize. Lynch told Hunter to take the apology and shove it up his arse. That drew a lot of cheers! Stephanie and Becky argued. Hunter told them to calm down.
Hunter told Becky this is not the hill you want to die on. He said she has to think clearly, put her stubbornness behind her and does she want to fight here or fight at WrestleMania. Hunter asked if she wants to fight her dreams for all of it or does she want to throw that away? Triple H said that he's not telling her anything…he's giving her a choice. Triple H said that Becky has until the end of the night if she's going to fight for her dream, fight Ronda Rousey or will she choose to throw it all away. Triple H: "The choice is yours."
Analysis: It was solid promo work from everybody involved, but I think it's a weak storyline. They are building up to something for later with Lynch needing to apologize, which isn't that interesting in terms of giving the viewers at home something to look forward to. The apology thing is lame. The plan is still Rousey vs. Lynch vs. Flair at WrestleMania as far as I know, so they are slowly getting there.
Hunter and Stephanie McMahon left. Sasha Banks and Bayley made their entrance. They did a pre-tape promo about achieving their dreams of becoming the first ever (not really first ever) Women's Tag Team Champions. Becky Lynch was still in the ring, but there was not any sort of acknowledgment between her, Banks and Bayley, who are part of WWE's Four Horsewomen group that isn't much of a group.
(Commercial)
The three Raw teams are having a triple threat tag team match. Nia Jax and Tamina did a promo saying that on Sunday, they'll rename the Elimination Chamber the Samoan Slaughterhouse.
Nia Jax and Tamina vs. Sasha Banks and Bayley vs. Liv Morgan and Sarah Logan (w/Ruby Riott)
The team that loses this match will enter the Elimination Chamber match first. Two people in the ring and the others on the apron.
Jax knocked down Morgan, who was afraid and then Morgan hit a jumping kick. Logan with a headbutt. Jax with a headbutt of her own. Tamina tagged in with kicks to Logan and a body slam. They replayed the body slam. Really? It's just a body slam. Not a big deal, but Tamina doesn't do much in terms of interesting things. Morgan got in some kicks on Jax. Bayley tagged herself and Jax ran her over with a running body attack. Logan and Riott attacked Banks on the floor as the show went to break there.
(Commercial)
Morgan had Bayley in a headlock in the ring. Banks was on the floor being told by referees and doctors (indy guys dressed in WWE Medical shirts) to stay there. Banks was selling an injury. Bayley got a rollup on Tamina for a two count. Graves criticized Banks for not helping her partner. Bayley sent Tamina throat first into the top rope. Bayley tagged out, Logan and Morgan hit a double team dropkick on Tamina and Logan hit a running knee on Tamina for a two count. Logan slammed Morgan onto Tamina for a two count. Tamina got back into it with a back elbow to the face. Jax tagged in, tossed Logan across the ring and hit a splash against the turnbuckle. Jax with an elbow drop on Logan. Jax slapped on a chinlock on Logan. Jax missed a corner attack, Tamina tagged in and hit a Samoan Drop on Logan. Tamina went to the top rope and missed her shitty top rope splash with Logan getting her knees up. Bayley tagged herself in against Logan. Bayley tackled Logan, corner attack by Bayley and Bayley hit a neckbreaker on Morgan and Tamina at the same time. Bayley with kicks that knocked down the heels on the floor. Bayley with a clothesline on Riott. Back in the ring, Bayley with a knee to the face on Morgan. Bayley up top and she hit an elbow drop for two as Logan made the save. Bayley with a suplex on Logan. Morgan rollup on Bayley for two. Bayley hit the Bayley to Belly on Morgan, but no cover because Tamina kicked Bayley. Tamina brought Morgan to the corner, Jax tagged in and Jax hit a Samoan Drop on Bayley for the pinfall win after 13 minutes.
Winners by pinfall: Nia Jax and Tamina
The loss means that Bayley and Banks are the first team in the Elimination Chamber match.
Analysis: *3/4 It was a below average match that went too long. At least Bayley's energy saved it in terms of the crowd coming alive when she was in there. Banks was selling an injury again like she has done in the past because she has been out of the ring for a few weeks. It's like Banks is partially cleared to take bumps, but not healthy enough to work a full match. The match was boring when the heels were in there, especially Jax/Tamina, who seem to get worse every week. I just don't have any interest in watching them ever.
The Raw announce team of Michael Cole, Renee Young and Corey Graves were shown on camera. They hyped up some stuff still to come.
Becky Lynch was shown limping backstage. Elias was playing his guitar nearby because he's up next.
(Commercial)
Elias was in the ring for one of his songs.
Becky Lynch was shown backstage. Finn Balor walked up to her to tell her to wait to bide her time. Balor talked about how he'll win the IC Title from Lashley. Balor told his friend Becky that he's seen pride get in the way of many a man, but don't let it get in the way of "The Man" referring to her. She thanked Finn (they are Irish buddies) and said that his abs look great.
Elias was introduced again, but he was interrupted.
A video aired from the Gauntlet Match on Raw last February when Seth Rollins defeated Roman Reigns and John Cena in the match and he was in the ring for over an hour. They showed clips of Rollins winning the IC Title at WrestleMania and having a successful year including the Tag Team Titles as well.
Elias was introduced one more time and this time he was interrupted by the Lucha House Party, so the story was that Elias was repeatedly interrupted.
(Commercial)
Elias was still in the ring yelling at Lucha House Party telling them to stop. Elias said that he is the biggest musical act on the face of the planet (heels lie) and he has been interrupted every single time. Elias said what's worse is his album wasn't nominated at the Grammys. Elias said he wrote a song for himself. Kalisto spoke up saying they love entertaining the WWE Universe, but they decided they want to walk with Elias.
Elias sang about how he used to write songs for you, but he has nothing left to give and said when he's in Grand Rapids, he loses his will to live. He said some moron told him this is beer city, so he said he needed beer goggles to think anybody there is pretty. Elias told the kids it's their stupid parents to blame for living in Grand Rapids. Most of the crowd booed, but some fans cheered that.
Analysis: That song was all about the cheap heat. It worked in terms of getting the crowd to boo.
The Lucha House Party collectively gave Elias a thumbs down. Elias said that it's hard to be Elias and said there is nobody in the world like him. Lince Dorado and Gran Metalik did some dancing. Gran Metalik said something poorly. Kalisto said he's got this. Kalisto sat on the stool and Elias gave him the guitar. Kalisto played a few strokes on the guitar and Elias said it was pretty good. Elias asked if he wanted to do a duet, Kalisto seemed okay with it and Elias crushed Kalisto with a guitar to the back.
Analysis: Bad segment. It took way too long to set up that obvious ending. I was extremely bored by this. Lucha House Party are talented wrestlers that are not going anywhere on this show. Elias badly needs a feud because he has yet to have a good rivalry after being on Raw for well over a year.
Bobby Lashley and Lio Rush entered to watch Finn Balor face Drew McIntyre up next.
Analysis: I thought it was a weak first hour. Please improve. I said please.
(Commercial)
There was a pre-tape promo from Mandy Rose and Sonya Deville talking about how they are going to be the first Women's Tag Team Champions at Elimination Chamber. Rose talked about how they have been through a lot together. Deville said that they know what it feels like in the Chamber because they were in it last year.
Bobby Lashley and Lio Rush were at ringside to watch this match. Finn Balor was up next. He's against Lashley and Rush in an IC Title match at Elimination Chamber. Drew McIntyre is next.
Drew McIntyre vs. Finn Balor
Balor was distracted by Lashley, so McIntyre hit him with a forearm to the back followed by a hard whip into the turnbuckle. Balor sent McIntyre to the apron, Balor was brought out to the apron, McIntyre charged, Balor moved and McIntyre went right shoulder first into the turnbuckle. Balor ran the ropes, Rush grabbed his foot and Balor dropkicked Rush down. Back in the ring, Balor with a Slingblade and a dropkick to the back that sent McIntyre into the turnbuckle. Balor went up top, but Lashley shoved Balor to send Balor crashing into the ropes. That's the DQ after three minutes.
Winner by disqualification: Finn Balor
Analysis: * It was a quick match to set up the post match shenanigans rather than make us care about the match.
Post match, Kurt Angle ran down to the ring and hit a German Suplex on Lashley. Angle with a German Suplex on McIntyre. Angle slapped on the Ankle Lock on Rush. Baron Corbin ran out to attack Angle. Braun Strowman went out to the ring to clean house by beating up McIntyre and Lashley as he sent them into the barricade. Strowman with a headbutt to Corbin and Strowman wanted a Powerslam, but McIntyre saved Corbin. Balor, Strowman and Angle stood tall.
Analysis: It's an obvious six-man tag team match. Holla holla holla playa it's a Teddy Long special.
(Commercial)
The match started during the break.
Baron Corbin, Drew McIntyre and Bobby Lashley (w/Lio Rush) vs. Braun Strowman, Kurt Angle and Finn Balor
The heels were in control as they isolated Balor as the face in peril. There were quick tags from the heel side. Balor managed to get a Tornado DDT on McIntyre. Angle tagged in with three German Suplexes on McIntyre. Angle wanted the Angle Slam, McIntyre slipped away and Angle hit a dropkick off the middle ropes. Angle hit an Angle Slam on McIntyre, but Corbin broke up the pin. Lashley back in and he hit a flatliner on Angle for a two count. Corbin slapped on a chinlock on Angle. Lashley tagged in so he could slap on a chinlock. Lashley sent Angle into the turnbuckle, he charged, Angle got a boot up and knocked him down. McIntyre tagged in to prevent Angle from tagging out and McIntyre dumped Angle out of the ring leading to a commercial.
(Commercial)
The match returned with McIntyre trash talking Angle, who slapped him and tagged out. Balor tagged in against Corbin with a step up kick to the head. Corbin came back with a Chokeslam backbreaker for a two count. Lashley tagged in and jumped on the back of Balor. Balor managed to roll through out of a slam attempt with a basement dropkick. Corbin and McIntyre went after the guys on the apron with Strowman grabbing Corbin and McIntyre hit Strowman with a Claymore Kick. Balor avoided a Lashley attack and Balor hit a somersault dive onto the heels on the floor. Balor with a kick to the face to knock Lashley down. Rush went after Balor, so Lashley got back up, put Balor on his shoulder and slammed him down off the shoulder. The ref John Cone counted the pin, Balor had his foot on the bottom rope and the referee clearly missed it. The announcers caught it, but the referee had no idea.
After the controversial fall, referee Chad Patton went into the ring to tell John Cone that the foot was on the bottom rope. Cone told announcer Mike Rome that the match will continue. The heels complained, but it's continuing after the break.
(Commercial)
The match returned with Balor continuing as the face in peril. Balor managed to hit an elbow drop to Corbin's chest to put him down. Lashley back into the ring with an elbow to Balor. Lashley with a running shoulder tackle to the ribs of Balor, but Balor came back with a double foot stomp to the chest. Balor crawled towards his corner where neither of his partners were standing there. Balor kicked Lashley in the head. Strowman crawled back to his feet and got back on the apron. Strowman hulked up and got the hot tag after 20 minutes. Strowman cleaned house with shoulder tackles for the three heels, splash on Lashley against the turnbuckle and Strowman with punches to the chest of the three guys. Strowman left the ring, he hit running shoulder tackles on McIntyre, Corbin and Lashley/Rush at the same time. The crowd was into this now. Angle went over to Corbin and hit a German Suplex on the floor. Strowman with a clothesline on McIntyre to send him over the top to the floor. Lashley charged at Strowman, right into his arms and Strowman hit a running Powerslam on Lashley. Balor tagged in and hit a Coup de Grace double foot stomp on Lashley for the pinfall win after 22 minutes.
Winners by pinfall: Braun Strowman, Kurt Angle and Finn Balor
Analysis: **3/4 It was a long match that followed the typical formula whenever Strowman is a tag team match where he doesn't go in the ring until he gets the hot tag. That's how they always book Strowman to keep him from selling during the match. Balor was the face in peril for way too long. I get that Raw is three hours, so they have time to fill, but going 20+ minutes does not guarantee us that a match is going to be great. It was just a slightly above average tag team match. Angle is one of my favorite wrestlers ever, but I hope there's some storyline going into WrestleMania so he can call it a career. Balor pinning Lashley is fine because it sets up their title match on Sunday. I don't expect Lashley to lose the title at Elimination Chamber. Maybe Balor will get the title at WrestleMania in two months.
A video aired showing Kevin Owens at a bowling alley. It was a cell phone promo with his son Owen in the background along with some other kids. Owens said he's spending as much time as he can with his family and enjoying the time he's had with his wife and kids. Owens said Raw has been rough to watch because he's watching other people do what he does best. Owens said that he doesn't know where he is coming back because it could be Raw or Smackdown. Owens said one more month or so before the Kevin Owens show returns. Owens picked up a bowling ball and threw a gutter ball, so that was a fail.
Analysis: I'm glad Owens is back soon. He had surgery on both knees. One month away from a return is cool with me. I think they'll put him back on Raw because he is sorely needed on there. We know there's a Superstar Shakeup in mid-April too, so it could change again for him.
Nikki Cross made her entrance.
Becky Lynch was backstage and Charly Caruso asked Becky about what she would tell the fans. Lynch said it's not her business, then she left.
Ruby Riott entered to face Cross.
A clip aired for Black History Month with images from the Civil Rights Museum in Memphis when some WWE superstars visited the museum recently.
(Commercial)
There was an Instagram post showing Titus O'Neil at the Grammy Awards to support his girlfriend Yolanda Adams (Renee said it was his girlfriend). Titus hasn't had anything meaningful to do on this show for months.
Ruby Riott vs. Nikki Cross
Cross was the aggressor early on. Riott grabbed a chinlock and they showed a clip of Ronda Rousey talking to Becky Lynch with Rousey telling Lynch to just apologize even if she doesn't mean it because they can have a big match at WrestleMania. Riott was in control of the match as the announcers tried to put Riott over as being a credible threat to Rousey. Riott with a running kick to the ribs of Cross. Riott told Cross she is the next champion. Cross hit a reverse DDT onto the side of the ring apron. Cross hit a running cross body off the apron onto Riott on the floor. Cross trapped Riott against the apron followed by some punches. Back in the ring, Cross went up top and Riott kicked her down. Riott hit a Riott Kick for the pinfall win after six minutes.
Winner by pinfall: Ruby Riott
Analysis: *1/2 They worked hard, but the crowd was dead for this match. Riott winning was obvious since she's against Rousey at Elimination Chamber on Sunday, so this was just a way to put over Riott. It's basic booking. Airing Ronda talking to Becky during the match is lame. Just don't do that kind of thing.
Seth Rollins is up next. Paul Heyman was shown backstage talking to some dude on a headset because he is probably up next.
This week on Smackdown is a Gauntlet Match featuring Elimination Chamber competitors and McMiz TV with The Usos as guests.
(Commercial)
Seth Rollins made his entrance to a good ovation.
Let's Hear from Seth Rollins
Rollins talked about the last year that he has had while talking about winning the IC Title, defending it on six continents and he claimed that this was the year where he felt like Seth Freakin' Rollins. He said he used that all the way to the Royal Rumble where he won the Rumble to punch his ticket to WrestleMania.
Rollins said that the night after the Rumble, he was on top of the world and then he was put down because Brock Lesnar hit him with six F5s. Rollins said he's hurt, he's in pain, he said maybe it's wear and tear from the six F5s and the last 15 years in his career. Rollins said that the good news is he took six F5s and he is still here. Rollins said that he took six F5s and he is still standing. Rollins said that if he can stand, he can fight, then he can stomp and he can beat Brock Lesnar. Rollins said that he had a lot of family and friends ask him what is it worth to him, what is the cost? Rollins said he didn't care. Rollins said that if WrestleMania is the last match of his career…long pause…and here comes Paul Heyman.
Paul Heyman did his "ladies and gentlemen" introduction to let us know who he is. Heyman said that he has a WrestleMania level surprise for Rollins, then he introduced Brock Lesnar and there was no sign of Lesnar. Heyman stayed on the stage.
Heyman did the usual promo where he put over Lesnar. Heyman said that Rollins is one of, if not the best he has ever seen in his entire life, but Lesnar is a beast. Heyman said that Lesnar is a beast, a predator and a career killer. Heyman delivered a fair warning to Rollins saying that if he walks into WrestleMania trying to take the Universal Title from Lesnar, he is the architect of his own demise. Heyman said that's not a prediction, that is a spoiler.
Rollins said that what Heyman doesn't seem to understand is that Seth doesn't care. Rollins said that Lesnar has held this industry hostage for two long years and he will not stand for it anymore. Rollins said he didn't care if WrestleMania is a suicide mission because Seth will be that martyr that sacrifices everything. Rollins said that he will burn in hell if it means that Lesnar doesn't leave WrestleMania as the Universal Champion. Rollins used the Heyman line to say that is not a prediction, that is a spoiler.
Analysis: It was a solid promo exchange. Heyman's promo was similar to what he usually says whether it's Rollins, Bryan, Balor, Reigns or whoever where he puts them over as a great athlete, but they aren't on Lesnar's level. It does get repetitive even though Heyman is a great talker. Rollins ending with the last word is a good booking strategy to show that he's as focused as ever.
Dean Ambrose made his entrance while Rollins was still in the ring. Rollins stood in the ring.
Ambrose said he's got one thing to say to Rollins: "Slay the beast." Ambrose nodded his head and Ambrose went to sit on a chair at ringside. Rollins left. Ambrose has a match up next.
Analysis: Ambrose is still a heel, but telling Rollins to beat Lesnar shows there is still some respect there.
UPDATE: In an update on this segment, Ambrose apparently went off script and did not deliver some of the lines that were scripted for him. Dean decided to make it shorter. I guess he's full "I don't give a shit" mode since he's leaving in a few months.
(Commercial)
There was a pre-taped promo from The Iiconics duo of Peyton Royce and Billie Kay talking about the Women's Tag Team Titles. They spoke about working together for 14 years and now they will have their moment.
EC3 made his entrance. There wasn't much of a reaction for him.
Dean Ambrose vs. EC3
Ambrose hit a jumping back elbow. EC3 with a running clothesline. EC3 with a corner clothesline and a missile dropkick off the middle ropes. EC3 held up Ambrose for a delayed vertical suplex for a two count. EC3 with a body slam. What, no replay of a body slam in this match? EC3 hit an elbow drop. EC3 charged at Ambrose, who moved and Ambrose sent EC3 into the ring post. Back in the ring, Ambrose with two clotheslines. EC3 charged in and Ambrose hit a sidewalk slam for a two count. Ambrose was slow going to the top rope, EC3 tripped him up and Ambrose was crotched. EC3 stood over Ambrose and Ambrose grabbed an inside cradle for the pinfall win after four minutes.
Winner by pinfall: Dean Ambrose
Analysis: *1/2 Ambrose got the win back after EC3 won last week with a rollup type finisher. Ambrose is still leaving WWE as far as I know, but it looks like WWE wanted to give him a win just to show that he's not going to lose every match on his way out. It was booked like a close match, so EC3 isn't hurt by the loss. I think WWE needs to work on EC3's character because he has yet to deliver a promo telling people what he's about and that's something that is missing. Give the fans a reason to cheer or boo him.
Becky Lynch was sitting on a container backstage. Alexa Bliss told her not to apologize and said that a lot of people look up to her. Lynch said that if she doesn't apologize then that might free up her spot at WrestleMania. Lynch asked Bliss if she would love her place at WrestleMania. Bliss said no. Bliss told her to be true to herself and Lynch said there's not a genuine bone in her body. Bliss said that if Lynch apologizes then she would be selling out. Lynch said if she does apologize then the only thing she'll be selling out is WrestleMania.
Analysis: Lots of Becky on this show. I think it's a smart move to have others talk to her to give their opinion because it makes the apology or no apology segment feel like a big deal even though it's really just a minor thing in the storyline.
Bobby Roode and Chad Gable are up next to defend the Raw Tag Team Titles against The Revival.
(Commercial)
The Revival finished their entrance as the show returned.
Raw Tag Team Titles: Chad Gable and Bobby Roode vs. The Revival (Scott Dawson and Dash Wilder)
Gable with a drop toe hold to take down Dawson and then Dawson came back with an uppercut to the chest. Roode went after both Revival guys and Gable hit a clothesline off the top onto both Revival guys. Roode/Gable hit overhead suplexes on each Revival guy. Roode kicked down both heels. Gable went up top and hit a moonsault to take out both Revival guys on the floor.
(Commercial)
The match returned with the heels in control. Roode managed to avoid a double team move and Gable got the tag. Gable hit a suplex on Wilder to send him out of the ring. Gable with a delayed German suplex on Dawson for a two count. Dawson lifted Gable into the air with Wilder sending Gable into the top rope for a double team stun gun like move that got a two count. Dawson with a belly to back suplex. Wilder tagged in with Dawson slamming him onto Gable with a leg drop. Dawson sent Gable into Wilder on the apron and then Gable came back with a belly to back suplex on Dawson. Wilder pulled Roode off the apron, so Gable was unable to tag out, Dawson knocked Roode down and Wilder tagged in with an elbow drop off the middle ropes for a two count. Gable hit a rolling German Suplex on Wilder. Dawson tagged in and Gable hit a German Suplex on Dawson too. Roode was still down as the show went to break.
(Commercial)
The match returned with Roode getting the hot tag. The crowd should be louder 15 minutes into this match, but they are tired. Roode was on fire with a suplex and a running shoulder tackle that took out both Revival guys in the corner. Roode knocked Dawson out of the ring and hit a spinebuster on Wilder, who was the legal man. Wilder with a rollup for two, Dawson tagged back in and hit a bulldog while Wilder held Roode, which led to a two count. Roode managed to get out of the heel corner, Gable tagged in and Roode hit a Blockbuster into a German Suplex by Gable for a two count as Dawson made the save. Great nearfall. Gable got a rollup for two. Dawson tagged in and they did a great Doomsday Device clothesline off the top on Gable. Roode pushed Wilder into Dawson to break up the pin. Awesome nearfall. The fans chanted "this is awesome" for them. Roode sent the Revival guys into eachother. Gable was on the top rope, he hit a sunset flip on Dawson into a bridge. Wilder tagged in, the Revival worked together and hit the Shatter Machine double team move on Gable for the pinfall win after 20 minutes. It was a counter when Gable went for a dive off the middle ropes right into the Shatter Machine.
Winners by pinfall and New Tag Team Champions: The Revival (Scott Dawson and Dash Wilder)
Analysis: ***3/4 That was an excellent tag team match that was one of the best Raw matches in a long time. If this happened earlier in the night, I imagine the crowd would have been more interested. They didn't seem to care until the final five minutes with a mild "this is awesome" chant that was deserved a few minutes before that. These teams wrestled eachother many times at live events in long matches, so they got to show what they could do here. I just wish it was treated as a bigger deal with The Revival's first title win coming at a PPV or at least earlier in the night when the crowd is more alert. The last few minutes were great with some quality nearfalls on both sides and I liked the finish a lot. Roode/Gable didn't defend the titles against many teams on Raw because the division is so thin, but they worked well together. The Revival were unhappy with WWE a few weeks ago and now they are the champs, so WWE needs to keep doing things to make them happy.
The Revival were shown backstage behind the curtain and Charly Caruso interviewed them. They were happy about the win while noting that they were the best team there.
Becky Lynch made her entrance for her main event apology decision.
(Commercial)
The announcers plugged Ric Flair's 70th birthday celebration on Raw in two weeks in Atlanta where he lives.
Let's Hear From Becky Lynch Again
Becky Lynch was in the ring for the main event segment. Triple H and Stephanie McMahon made their entrance to join her.
Stephanie wondered if Lynch was going to apologize by saying those two little words or is she going to throw away her moment in history? Lynch paused without saying anything. Hunter told Lynch to shut them (the fans) out. Hunter told her to not let strangers affect her and said that they don't matter. Hunter asked what she wanted.
Lynch said that she thinks the two of them want her nowhere near that WrestleMania match. Lynch said that she didn't trust them and she got angry when she thought the opportunity was being taken away from them. Lynch said that if all that is keeping her away from her dreams is two little words then…long pause…and some fans were chanting "suck it" as encouragement for her. Lynch: "Stephanie…Triple H…I'm sorry." Hunter wanted a handshake, but Becky turned away.
Becky said that nobody is taking her dream away from her. Hunter congratulated Lynch, said they wouldn't have it any other way and said she is going to WrestleMania. Hunter shook her hand. Stephanie shook her hand. Lynch: "That's it?" Hunter said that's it as he left the ring with Stephanie.
Lynch said "Ron Ron" it's her versus Rousey in front of 70,000 people at Met Life Stadium in front of people from all around the world.
Ronda Rousey made her entrance with the Raw Women's Championship on her shoulder. She got into the ring.
Vince McMahon showed up on the stage with a microphone. Vince said that this could be one of the greatest main events of all time. Vince said that Becky thinks she's better than WWE and he doesn't like her bad attitude. Vince said that Becky isn't the man, he is the man. Vince told Becky she is suspended for 60 days, which means that suspension ends five days after WrestleMania. The fans booed that. Vince said they need somebody to take Becky's place, they need somebody to take the spot with class, they need somebody else…Charlotte Flair.
Charlotte Flair stood on the stage beside Vince McMahon. Vince told Rousey to get used to this because the conclusion of the match at WrestleMania will see this happen and Vince raised Charlotte's hand. Vince said: "The New Raw Women's Champion, Charlotte Flair." The crowd booed. Lynch was pissed off. That was the end of Raw right at 11pmET.
Analysis: There's the expected announcement of Charlotte Flair being in the Raw Women's Title match at WrestleMania. Remember, this was the plan from one month ago. It's likely going to be a triple threat, but with the way Vince set it up there, the match is Rousey vs. Flair at the moment since Lynch is suspended. I know the Becky fans will be riled up about it right now and think it's something that might be legit, but clearly, Lynch is the most featured superstar on either show right now, so the suspension will be ended. They did a suspension angle with Rousey last year on Raw because that's one of Vince's favorite things to do when he books a face against authority figures. The suspension story is something they'll be able to push on Smackdown, then Raw next week and however long it lasts. If it pisses some fans off, that's exactly what Vince wants because it will get Lynch bigger reactions.
I am fine with Rousey vs. Flair vs. Lynch because I think Flair is probably the best of the three women in terms of having great matches. I also think they should book it like an elimination style triple threat where Flair is eliminated first and then it comes down to Lynch vs. Rousey with Lynch getting the win in the main event of WrestleMania. That's the right finish. Whether it happens like that, I don't know, but that's what I would do.
Meanwhile, here's what Becky thinks…
Complete and utter bullshit.

— The Man (@BeckyLynchWWE) February 12, 2019
Remember, that's the character of Becky Lynch. If I had to guess, I think Becky is happy her best friend Charlotte is going to be in the WrestleMania main event with her.
Three Stars of the Show
The Revival
Roode/Gable
Becky Lynch
The Scoreboard
4 out of 10
Last week: 4.5
2019 Average: 5.5
Last 5 Weeks: 4.5, 6, 5.5, 7.5, 5.5
2019 High: 7.5 (January 14)
2019 Low: 4 (February 11)
Final Thoughts
I give this week's Raw gets a 4 out of 10.
This was a boring Raw for most of the night. The wrestlers worked hard to have entertaining matches, but the storylines are so weak right now. It was a bad show until the Raw Tag Team Title match with the title change. I wish the crowd cared more, but that's what happens when you put it in hour three. That saved this Raw from being something like a 2 out of 10, so at least it's a 4 because of that match.
The main event segment was interesting in terms of ending the night with something meaningful that will get people talking. I know people will whine about Charlotte being in the match, but I'm fine with it because she's a consistently good performer that has earned a spotlight at WrestleMania as much as anybody. Lynch will leave WrestleMania as the Raw Women's Champion and if she doesn't, I would be very surprised.
WWE Championship Elimination Chamber Match: Daniel Bryan (c) vs. Randy Orton vs. Samoa Joe vs. AJ Styles vs. Jeff Hardy vs. Mustafa Ali (It is believed that Ali will be removed from the match due to injury, but it's not official yet.)
Braun Strowman vs. Baron Corbin
Smackdown Tag Team Championships: The Miz and Shane McMahon (c) vs. The Usos
Women's Tag Team Titles Elimination Chamber Match: Nia Jax and Tamina vs. Sarah Logan and Liv Morgan vs. Sasha Banks and Bayley vs. Mandy Rose and Sonya Deville vs. Peyton Royce and Billie Kay vs. Carmella and Naomi
Raw Women's Championship: Ronda Rousey (c) vs. Ruby Riott
Intercontinental Championship: Bobby Lashley (c) and Lio Rush vs. Finn Balor
Cruiserweight Championship: Buddy Murphy (c) vs. Akira Tozawa
I think they'll add Rey Mysterio vs. Andrade on Smackdown unless one of them has to replace Ali due to injury.
—
You can contact me using any of the methods below. See ya next time for the Smackdown review. Go Toronto Raptors and Toronto Maple Leafs. Thanks for reading.
John Canton
Email: mrjohncanton@gmail.com
Twitter: @johnreport