AEW Full Gear 2021 Reaction: 5 Thoughts
Another pay-per-view has come to pass for All Elite Wrestling and Full Gear was a memorable show, to say the least. We had new champions, some champions retained, great matches, and of course, a debuting superstar.
It was a nine-match main card that ran around four hours in length. There's a lot to get to. Here are my five main takeaways from the third Full Gear in AEW history.
#5: MJF IS SOLIDIFIED AS THE NEXT "GUY"
MJF and Darby Allin opened the show in a great opening match. I didn't like the booking from the beginning because MJF has lost his previous three pay-per-view outings this year and Darby Allin is just coming off of a pay-per-view loss to CM Punk at All Out and his only two pay-per-view wins this year were tag matches with Sting. I felt neither one of them could really afford to lose. However, they had a great match. Of course, there was outside interference from Shawn Spears, Wardlow, and Sting, but I don't think it took away from the match.
I still cringe every time Darby takes one of those stupid bumps like the missed Coffin Drop on the apron. He's going to be done wrestling at 35 if he doesn't alter his style in the next few years. I know people say: "Well what about Jeff Hardy?" You're right, but look what Jeff put himself through to get there? And I'm talking outside of the ring. Everybody knows so I don't have to go into it here. I don't see Darby going that route. Therefore, I see him having a short career if he is not careful. MJF got the win with the side headlock takeover after hitting Darby with the Dynamite Diamond ring. It fit the story they were telling. It was probably MJF's best singles match in AEW if I had to guess. MJF probably needed the win more due to his string of pay-per-view defeats, but I'm glad he got it here. MJF should be the guy to take the AEW World Title off of Hangman Page. When could that be? Who knows, but I'm leaning towards MJF or Adam Cole. Both are hot enough to do it.
#4: BRYAN DANIELSON IS THE NEW NUMBER ONE CONTENDER TO THE AEW WORLD TITLE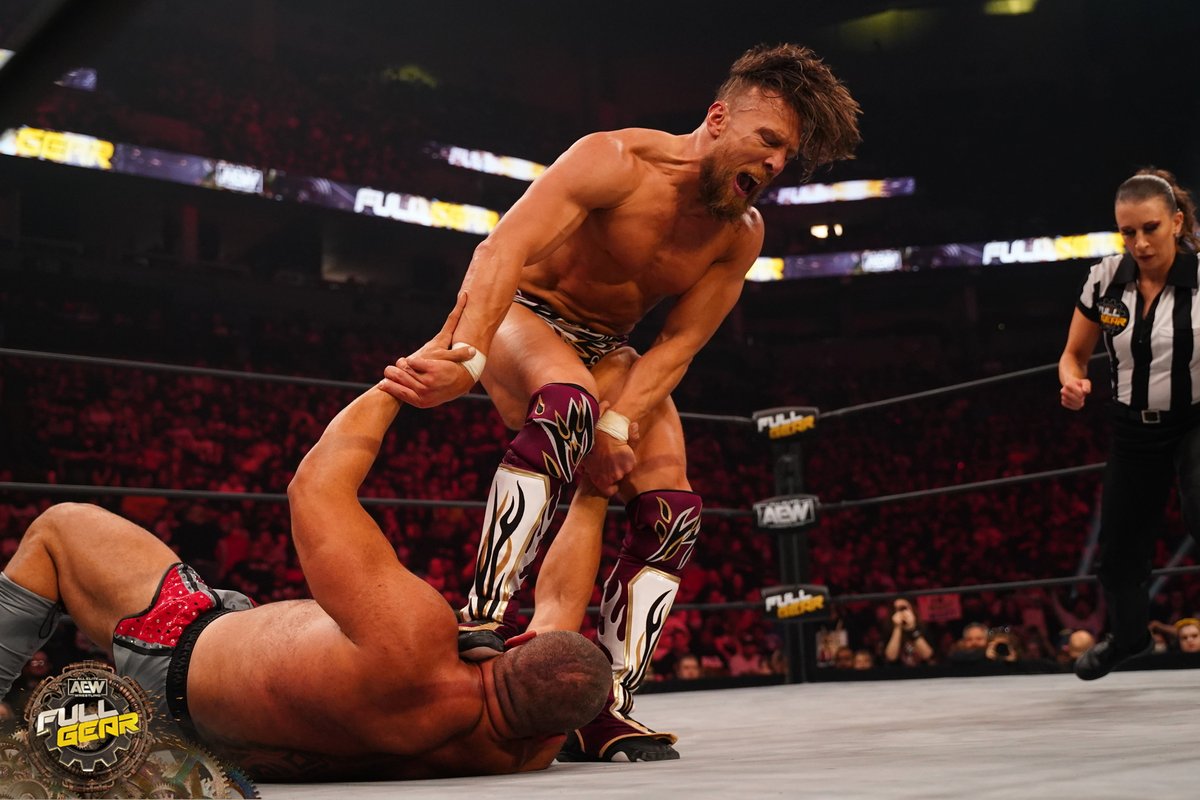 Bryan Danielson and Miro beat the crap out of each other, as expected. The finish was pretty much already decided once Miro replaced Jon Moxley, but I still thought they might give it to the heel. They went 20 minutes and involved Miro and Bryan trading shots to see if they could kill each other. Bryan Danielson got the win with a DDT and a headlock choke, which plays into the running theme of Miro's neck being his weakness.
Danielson winning the match poses an interesting situation. I think Adam Page vs, Bryan Danielson will headline Battle of the Belts on January 8th. I don't see this being the Revolution main event as Tony Khan usually goes with the traditional Heel vs Babyface PPV main events and I don't see either Bryan or Page turning heel. I don't see Bryan being the one to take the title off of Adam Page. I do, however, see Bryan Danielson winning the title before the end of 2022. There's money in a babyface Bryan Danielson vs, heel CM Punk World Title program in AEW. I think that happens before they're both done with their contracts. Bryan is on fire right now and it is obvious he has something to prove to himself.
#3: CM PUNK DEFEATS EDDIE KINGSTON
I never thought Eddie Kingston was going to win simply because I think Tony is saving Punk's first loss for a big occasion. Eddie did a great job talking the fans into the building a few weeks ago on Rampage. On the microphone, only MJF can really touch Eddie in AEW.
The match was about as vicious of a match you will ever get for under eleven minutes. Eddie was able to hang for the most part, but ran out of gas toward the end. The interesting thing was the crowd seemingly turning on CM Punk toward the end of the match. We haven't really seen that much in AEW. The fans cheer just about everything and everybody. The only time they've really turned on someone who was being portrayed as a babyface is Cody Rhodes. I don't think Punk will have the same hesitation in turning heel.
We all rejoiced when CM Punk returned to wrestling on the August 20th Rampage. However, since then his run has been average. The fans in the arenas love to see him, but the fans at home seem to be growing tired of the "happy to be here" CM Punk that cuts promos every week. We want to see the ruthless CM Punk that we saw in 2012-2013. The CM Punk who tore through everybody on the microphone. I thought we would get an unleashed CM Punk in AEW since his promos weren't being scripted anymore. Instead, what we've got is a tamed version of the CM Punk that left seven years ago. The telling sign was how much better Eddie Kingston was during their face-off a couple of weeks ago.
I hope CM Punk leans into these heel chants before the middle of 2022. A heel CM Punk versus babyface champion Adam Page is perfect for Double or Nothing. CM Punk being Straight Edge and Adam Page being known to drink a beer or three, is a built-in story. CM Punk needs a character change more than just about anyone heading into 2022. Let's hope he takes it.
#2: JAY LETHAL IS ALL ELITE
.@TheLethalJay has found the #ForbiddenDoor and lays and lays down the challenge to TNT Champion @sammyguevara for #AEWDynamite! #AEWFullGearpic.twitter.com/21DEnOGbQh

— All Elite Wrestling (@AEW) November 14, 2021
In what was a pretty big surprise, Jay Lethal is All Elite. Unfortunately, we know the news with Ring of Honor releasing all of their talent. Jay is the first domino to fall with a new company.
Several years ago, Lethal was a hot commodity for WWE, but with the recent age restrictions they have now, it's no surprise they didn't really go after him this time (Lethal is 36). Lethal was a popular act in TNA, but he really established himself as a top guy in ROH. AEW has a bloated roster right now. There are talented superstars who have barely wrestled on Dynamite at all in the last several months. I think his match with Sammy Guevara on Dynamite will be great. We will see where he goes after that. Lethal can be a top star in AEW, so I'm excited to see if it happens for him.
#1: THE TIME HAS COME FOR "HANGMAN" ADAM PAGE
The story has been paid off. After nearly three years since Adam Page first took that podium at the AEW introductory press conference, he has reached the top of the mountain as the AEW World Heavyweight Champion. I wrote a month ago that there was really no other option here. Adam Page had to dethrone Kenny Omega at Full Gear. The PPV name was Hangman's idea. Hangman originally lost to Kenny at last year's Full Gear. It was a full-circle moment and he deserves it.
The crowd is firmly behind Adam Page as the guy. He has really come a long way since All Out 2019 when he lost to Chris Jericho. I loved the storytelling aspects. Omega not being able to put Page in the One Winged Angel. The Young Bucks coming out and not getting involved really played into the story that they still have a soft spot for Adam Page. It will be interesting to see if they play off that and how Adam Cole would fit into it. With the possibility of Kyle O'Reilly joining AEW, the reformation of O'Reilly, Fish, and Cole could be a possibility. I don't think The Young Bucks need to turn face, but the potential is there.
The big thing is that Hangman is the guy. Can Adam Page prove to be a ratings draw for AEW? Ratings have declined recently. We will see if the freshness of Adam Page as AEW World Champion causes an uptick in viewership. I think there are way more possibilities with Adam Page as World Champion against the likes of MJF, Miro, a heel CM Punk, Adam Cole, Malakai Black, Andrade. The heel side is a little more stacked with potential title contenders. We will see how long they run with Hangman as the top guy. I still think MJF should be the one to defeat him.
Here are some quick takes on other AEW Full Gear happenings: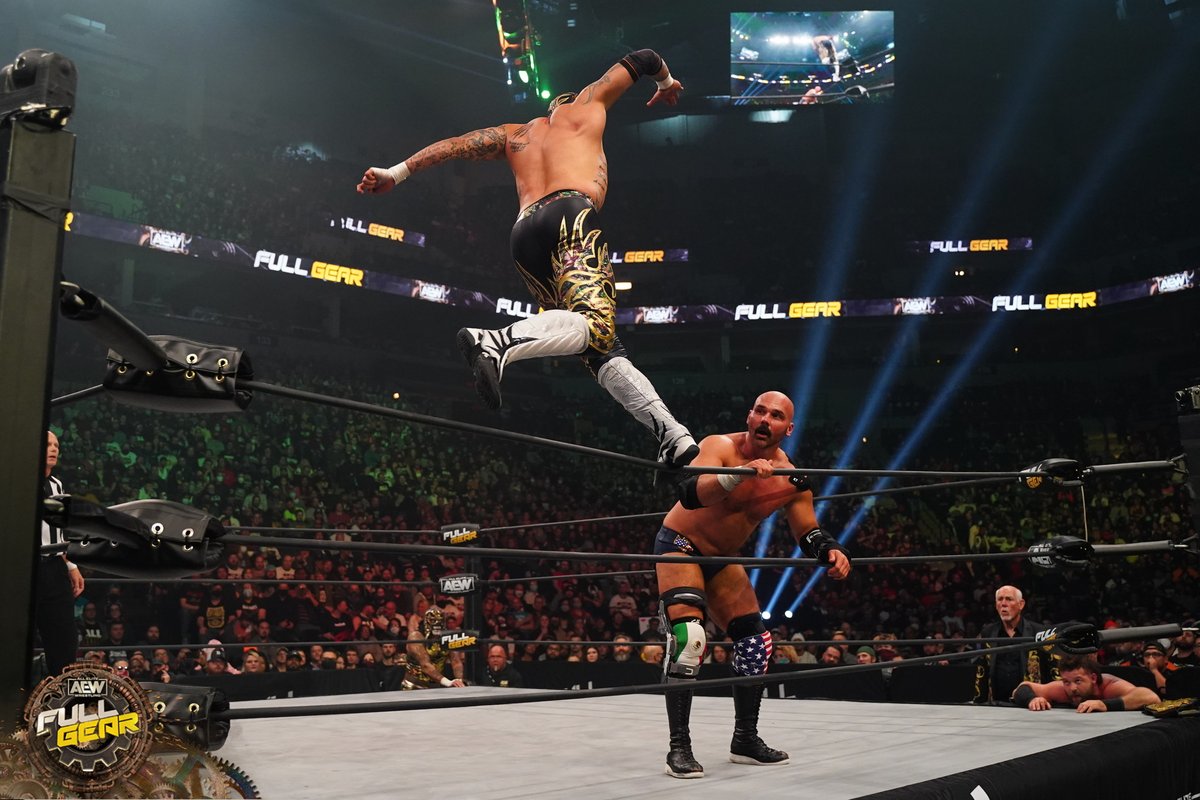 FTR vs Lucha Brothers was what I expected. A classic wrestling match. FTR is one team you can guarantee is not going to let tag matches break down and ignore the rules. Outside of The Usos, they're probably my favorite tag team in all of wrestling right now. I imagine there will be a third match with both titles on the line. I imagine Lucha Brothers winning that since I don't see FTR making any trips to Triple A. The Lucha Brothers pinned the wrong man in Cash Wheeler due to the mask being on his face, so I think that is how they set up that third match. Very good match by both teams.
Christian Cage and Jurassic Express defeated The Superkliq in a surprising fashion. I thought Adam Cole was going to win his first pay-per-view match, but I guess they felt like Jurassic Express needed it more. It was fine for what it was. It could've honestly main evented Dynamite and been just as good. Not sure we needed it as a pay-per-view match. Hopefully, all parties move on after this. It feels like The Young Bucks have been feuding with Jurassic Express since the summer. Get Adam Cole into a singles feud. He is probably the best AEW signing of 2021. Put Cole in a feud with Sammy for the TNT Title and let them go.
Britt Baker defeated Tay Conti to retain her Women's Title in an okay match. The crowd wasn't really into it until towards the finish. The problem seems to be what I've said all along. The star power after Britt Baker takes a dramatic drop-off. You can't build multiple stars in the women's division by only having one match per Dynamite. You're definitely not going to be able to establish two titles in the Women's division by only having one match per Dynamite and Rampage. More effort needs to be put into establishing women other than Britt Baker as legitimate threats in the women's division. Jade Cargill is a good start, but she barely competes on Dynamite so if you don't have time to watch their youtube shows or you're out or in bed by the time Rampage comes on, it's hard to get behind Jade. The division is improving, but you have to cut some time off these Dynamite matches to make time for at least one more women's match on the show.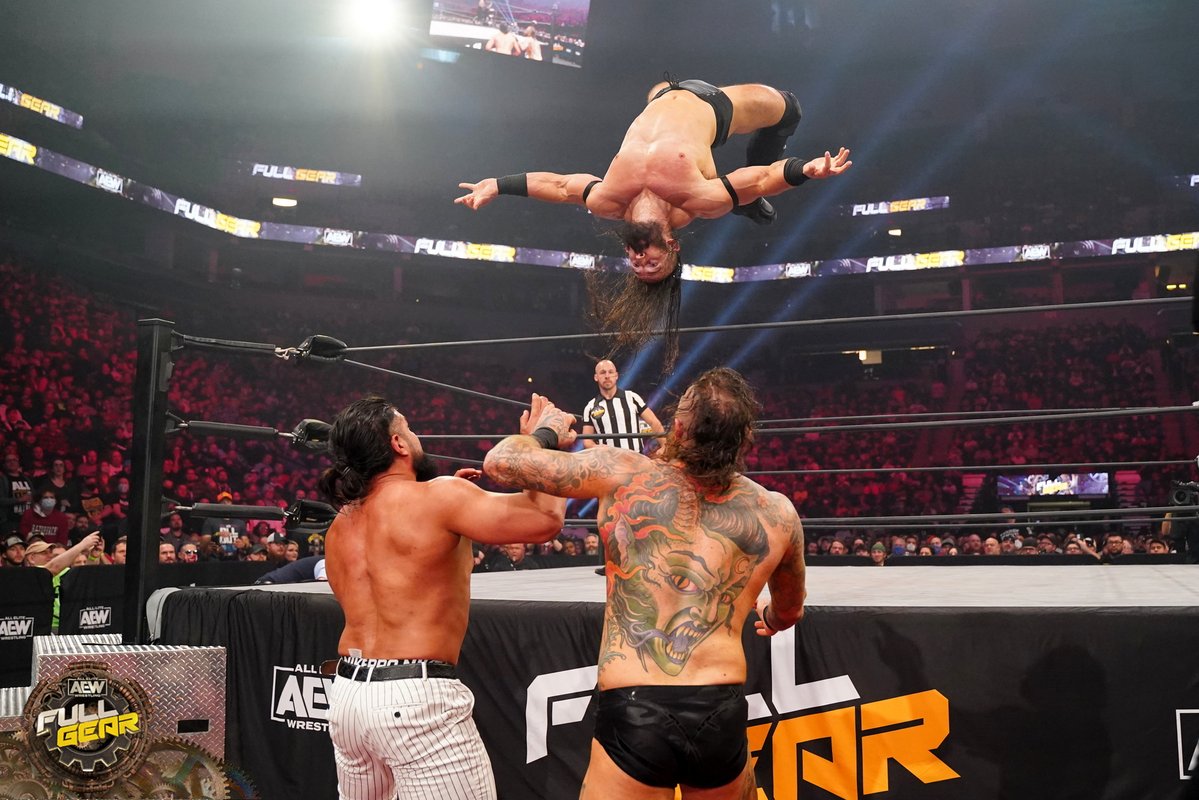 Cody Rhodes and Pac defeated Andrade and Malakai Black in what you would expect. The match was okay. I felt Black and Andrade needed this win way more. Cody doesn't get hurt by the loss and neither does Pac. It makes little sense to give them the win unless the purpose is to elevate Pac. Seeing the hot and cold booking of Pac since the debut of AEW, I have my doubts but I hope I'm wrong. Considering babyfaces won Seven out of the Nine main card matches, a heel victory here would've freshened things. Hopefully Andrade and Black are still featured talents after this. I would put both near the top of the heel roster, especially Malakai Black.
The Inner Circle defeated Men of the Year and American Top Team. The match was what it was. It was essentially a match better suited for Dynamite. I felt Ethan Page and Scorpio Sky needed this win more than anybody. They've already lost their previous feud to Darby Allin and Sting. I didn't think The Inner Circle would be hurt by the loss but it is what it is. Sammy Guevara is a star and his bump through the table off the ladder proved it. I enjoyed the little tribute to Eddie Guerrero, who died 16 years ago yesterday. Chris Jericho was really close to Eddie, so it was good to see that Frog Splash end it. Where do they go from here? I feel like the feud needs to end now as I don't think it helped anyone. I think the Inner Circle should take a break so we can focus on Sammy as a singles star since he is the TNT Champion.
Final Thoughts
I thought it was a hell of a show as usual. I thought it was a better wrestling show than All Out, but I feel it won't do as well in the buyrate category. It exceeded my expectations and that was mostly due to Page/Omega, MJF/Darby, and FTR/Lucha Brothers. Of course, there were some matches I didn't care for, but that is going to be the case with every card. No company is going to put on a perfect pay-per-view from top to bottom no matter how hot their momentum is. I've seen very few 10/10 Pay Per Views in my 30 years as a wrestling fan. They have the momentum right now. Their next PPV probably won't be until March so they have plenty of time to capitalize and build compelling stories leading into that show. They also have Battle of the Belts on January 8th, which will essentially be a PPV-type show. I wish them luck. The better their shows are, the better it is for professional wrestling as a whole.
Thanks for reading. I'm on Twitter @GiftedMoney talking about wrestling among other things, so feel free to message me on there with any thoughts or comments.