The John Report: WWE NXT 01/18/22 Review
This week's WWE NXT episode saw the beginning of the Dusty Rhodes Tag Team Classic tournament while Walter and Roderick Strong were in the main event.
This episode is taking place at the WWE Performance Center in Orlando, Florida. Follow me on Twitter @johnreport. My WWE NXT Review archive is here. Let's get to it.
LA Knight was shown driving up to the building. He talked to Andre Chase of Chase U and asked if they saw Grayson Waller. Knight went into the building, talked to Briggs & Jensen, told them to kick ass in their match and Knight made his entrance.
Let's Hear from LA Knight
Knight is in babyface mode, so he shouted "yeah" repeatedly so the crowd could chant along with it. Knight called out Grayson Waller so that Knight can finish what he started last week. No sign of Waller. Knight said week after week, he hears "Grayson sucks" and as much as that chaps your ass, there's one sound that scares you leading to him saying his name "LA Knight." That led to Knight going over their history over the last few months while saying that Waller couldn't get the job done.
Grayson Waller finally made his entrance with the fans booing him loudly as usual. Waller had an envelope saying it was a restraining order that said Knight can't touch him. Waller ripped on Knight for attacking him from behind for no reason at all. Waller claimed his lawyers advised him that this restraining order is what has to happen. Waller put the restraining order in the ring with Knight with Waller saying if Knight comes 50 feet within him then he'll get arrested. Knight said that this is impressive even for Waller. The fans chanted for Knight to rip it up. Knight said that Waller has a restraining order against Knight, but not against him…it's Dexter Lumis. Dexter emerged from under the ring and he went for The Silence submission move. Knight told Waller he can get his ass kicked by Lumis or lift the restraining order and face Knight. Waller's choice is up next.
Analysis: LA Knight is one of the best talkers in NXT. I have liked him more as a heel in his career, but in this story it made sense for him to be a face since Waller is a heel and the story is about the newer NXT talent trying to go after the veterans like Knight. Having Lumis work with Lumis there was a smart way to set up a match.
(Commercial)
The match was made with Waller picking Lumis as his opponent. The commentary team was Vic Joseph and Wade Barrett as usual.
Dexter Lumis vs. Grayson Waller
Lumis was in control as he sent Knight face first into the turnbuckle two times. Lumis with a clothesline. Waller got a single arm takedown followed by Waller wrenching on the left arm against the top rope. Waller went for a move off the shoulders, but Lumis got out of that and delivered a popup uppercut punch. Lumis with three neckbreakers in a row. Waller went back to working on the left arm, he sent Lumis out of the ring and Waller slid to the floor where he delivered a clothesline.
(Commercial)
Lumis was in control with some punches followed by a back body drop. Lumis with a lift off the mat into a belly to back suplex and then a unique legdrop with the fans cheering for Lumis. Dexter with a uranage slam leading to a Silence submission attempt, but Waller went to the floor. Waller distracted the referee, a random big guy threw Lumis into the ring post (the referee never saw it) and then Waller went back into the ring with a leaping Stunner for the pinfall win after ten minutes.
Winner by pinfall: Grayson Waller
Analysis: **1/2 It was just an average match. Putting Waller with a bigger guy as his insurance policy/enforcer at ringside will be a way for him to cheat to win matches. Lumis isn't being pushed much, so it's understandable that he was beaten here.
Grayson Waller celebrated the win and said to the camera that this was his insurance policy. They did not have a name for the new guy.
A clip was shown from this past weekend when Malcolm Bivens was talking trash about Imperium, so Walter went up to him leading to Walter grabbing his collar. Roderick Strong went up to Walter saying he's not scared of him while everybody else is. Walter said that he should be scared. That match is the main event.
The announcers Vic Joseph and Wade Barrett were standing at ringside because they were moved to a new commentary position. They mentioned Walter being full-time in NXT now. It's also the start of the Dusty Rhodes Tag Team Classic.
They showed a video featuring the eight teams in the Men's Dusty Rhodes Tag Team Classic: Grizzled Young Veterans (Zack Gibson & James Drake), The Creed Brothers (Julius & Brutus Creed), Briggs & Jensen, Jacket Time (Kushida & Ikemen Jiro), Andre Chase & Bodhi Hayward, Legado Del Fantasma (Raul Mendoza & Joaquin Wilde), Edris Enofe & Malik Blade, MSK (Wes Lee & Nash Carter). Here are the brackets.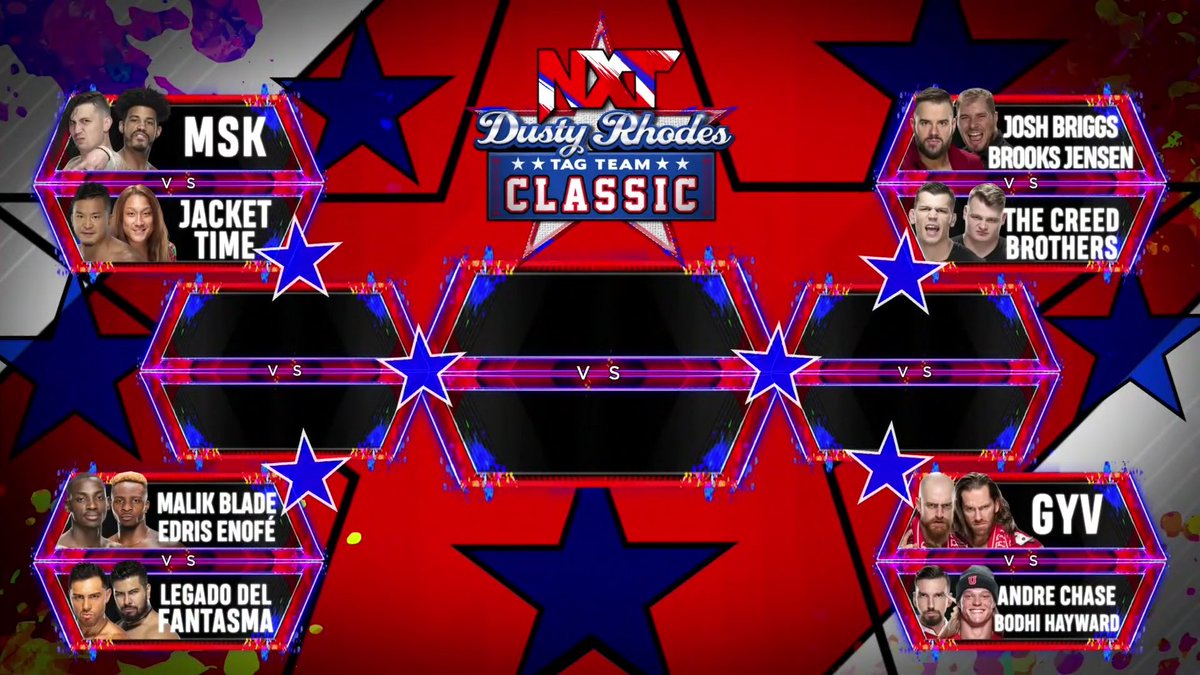 The Creed Brothers entered with Malcolm Bivens for the first match.
(Commercial)
MSK were shown talking backstage with Legado del Fantasma saying they might meet them in the semifinals. Joaquin said that they have light work tonight against Edris & Malik and that they'll see MSK in the semifinals.
Dusty Rhodes Tag Team Classic Quarterfinals: Josh Briggs & Brooks Jensen vs. The Creed Brothers (Brutus & Julius Creed)
Jensen rocked Brutus with a knee to the face followed by punches. Jensen with a dropkick. Briggs tagged in leading to a double team body slam. Briggs with a back elbow on Julius followed by Jensen tagging back in for a double shoulder tackle. Briggs & Jensen punched Julius at the same time. The fans were chanting for Creed. Brutus tagged in, got a hold of Jensen and suplexed him over the top to the floor. Julius was in control of Jensen with a knee followed by an armbar. Julius with a spinebuster, Brutus tagged in and Julius slammed his brother on Jensen. Julius with shoulder tackles, Jensen moved and Julius hit the ropes. Briggs tagged in against Brutus with a boot to the face, then a slam and a splash. Briggs elbowed Julius out of the ring. Briggs with a Chokeslam-like move on Brutus for two. Julius tackled Jensen into a barricade at ringside. Julius with a blind tag, he lifted up Briggs for a slam by Brutus off the shoulders and Julius with a stiff clothesline on Briggs for the pinfall win after about six minutes.
Winners by pinfall: The Creed Brothers (Brutus & Julius Creed)
Analysis: **1/2 A hard-hitting tag team match with some impressive power moves by both sides. I think the Creed Brothers have improved in the last few months because in the past they looked sloppy a bit and now they look a lot more polished. Briggs and Jensen work well as a team too. They come across as believable brawler-type wrestlers.
A video was shown featuring Dante Chen, who is from Singapore. Chen made his debut in September, then he said that he suffered a leg injury that put him out of action for a few months. Two months ago, he lost his father and his dad was his biggest supporter that watched his first NXT match when it happened. Chen said he has plenty of more matches ahead of him, he has a country to represent and a father to make proud. Chen is in action up next.
(Commercial)
They showed WALTER with his Imperium buddies Marche Barthel and Fabian Aichner, who are the NXT Tag Team Champions. Walter said that they start their mission today. Walter said they dominated in the UK here and they will represent here. They spoke in a foreign language with captions on the bottom of the screen.
Dante Chen vs. Guru Raaj
Guru with a dropkick leading to a chinlock. Chen tossed a charging Guru out of the ring leading to Chen hitting a dive over the top onto Guru on the floor. Duke Hudson showed up from out of the crowd and beat up both guys. The match was only given about one minute before the attack by Hudson.
Match Result: No Contest
Hudson sent Chen into the ring and hit a Powerbomb. Hudson punched Chen repeatedly before referees showed up to break it up.
Analysis: No match rating. It was all about the attack by Hudson, who has a short haircut now and felt humiliated after getting a haircut. It was just a case of Hudson getting heat for a cheap attack.
Joe Gacy and Harland were shown backstage with Gacy saying that he's disappointed they won't be in the Dusty Rhodes Classic. Odyssey Jones appeared with crutches and Jones said he had a sprained knee, so he'll be back in a couple of weeks. Gacy opened the door, so Jones could go into the WWE Medical room. Gacy said they can't let negativity spread and showing restraint is a true measure of progress.
Tony D'Angelo was shown watching backstage for his segment after a break.
(Commercial)
The NXT Champion Bron Breakker was interviewed by Mckenzie Mitchell. Breakker said he's ready for anything while saying that everybody is gunning for him now. Elektra Lopez of Legado del Fantasma showed up to try to talk to him, Breakker said he's not interested and Santos Escobar said that Breakker isn't ready to carry this brand. Escobar said that title would look better around his waist. Breakker told him to give him a reason to kick his ass right now. Escobar did nothing and said that things are done on his time.
Analysis: That's fine as a first rivalry for Breakker as champion because Escobar is a good midcard heel. They can have a solid match in the next few weeks and Breakker will likely keep his title.
Let's Hear from Tony D'Angelo
Tony D'Angelo was in the ring with a casket and a picture of Pete Dunne in the ring. Tony talked about how Petey Poppins needed to learn a lesson the hard way from Tony D. Tony said that when you're taking care of business, you have to handle it by any means necessary. Tony said nobody wants to see Pete after he broke that crowbar across his thick skull. Tony spoke about how they can't moan forever because he's onto more important things since he just ended the career of one of the most decorated champions in NXT history. Tony let us know that he's got his eyes on the NXT North American Championship.
Carmelo Hayes, the NXT North American Champion, appeared on the stage with Trick Williams. Hayes wondered what Tony was saying about his championship. Tony said they aren't boys while Tony made up some names of some mafia guys. Tony said it's nothing personal, it's just business. Williams said that Tony's boys are all skinny and they look like Vic Joseph. Melo warned Tony to keep his business out of his mouth.
Cameron Grimes was next up to interrupt this promo battle between the heels. Grimes told Tony to wait at the back of the line. Grimes said he walked up to Melo last week like a man and looked him in the eyes and he told Melo that he was coming from that North American Championship. Melo said that Grimes and Tony should go one on one and then the winner of that will get a shot at Melo's Championship. Grimes said he had no problem with that. Tony charged at him, Grimes moved and Grimes smashed the Dunne photo on Tony's head.
Analysis: It was a simple and easy way to set up Grimes vs. D'Angelo in a singles match for a North American Title shot. That matchup also makes sense since Grimes and D'Angelo have had some positive momentum of late. Grimes should get the win since he's the face going against a heel champion like Hayes.
They showed Josh Briggs and Brooks Jensen in the locker room talking about their loss, but they agreed they had to keep fighting. Kacy Catanzaro and Kayden Carter told them to stop worrying about it, then Kayden wanted them (specifically talking to Jensen) to come with them for drinks later. Wendy Choo was sitting on top of the lockers and said that Kayden liked Jensen. The girls left while Jensen was tongue tied about what to say. That was it.
(Commercial)
The women's tag team of Yulisa Leon and Valentina Feroz did a promo talking about their history in jiu-jitsu as well as weightlifting. They fight hard and play hard. They have the same goals in NXT to become the NXT Tag Team Champions.
Yulisa Leon and Valentina Feroz were interviewed by Mckenzie Mitchell talking about how excited they are about possibly being in the Dusty Cup. Dakota Kai appeared to say that "nothing divides friendship more than success." It led to Kai and Leon agreeing to a match.
Kay Lee Ray vs. Ivy Nile (w/Malcolm Bivens)
Nile went for an armbar early, Ray with some chops and a dropkick for two. Nile with an overhead suplex, a running kick and an enziguri kick to the head. Ray came back with two clotheslines followed by afront suplex for two. Nile came back with a move where she put her leg across Ray's neck leading to a DDT-like move into the mat for two. Ray fought out of a move by Nile and hit a superkick. When Ray lifted up Nile, Mandy Rose showed up with the NXT Women's Championship, she distracted Ray, who threw a punch and Rose went to the floor. Ray went for the KLR Bomb, but Nile countered it into a sunset flip pin for the win after about four minutes.
Winner by pinfall: Ivy Nile
Analysis: ** This was okay for the time given. KLR is really good while Nile got the biggest win of her career even though it came off the distraction. I was impressed by some of the moves of Nile, who is still really learning as a wrestler, but you can tell she's a tremendous athlete that keeps getting better.
After the match, Rose went after Ray with punches. Rose's buddies Gigi Dolin and Jacy Jayne went into the ring to help Rose. Double superkick by Dolin and Jayne. Rose went for more, but Indi Hartwell and Persia Pirotta attacked Dolin and Jayne. Hartwell and Pirotta cleared the ring with clotheslines and Ray hit a superkick on Jayne. The Toxic Attraction trio was on the floor while the three others were in the ring.
Analysis: The championship trio of Toxic Attraction are targets for the other three women. Simple booking. It set up a six-woman tag on next week's show.
They showed the WWE Medical room with Harland standing over a fallen Odyssey Jones with Harland holding a crutch. There were referees checking on Jones while Joe Gacy smiled at Harland. They left while Jones was down selling the knee injury.
Analysis: There's the start of a Harland/Jones feud.
(Commercial)
A video aired about Sarray talking about how she went home to Japan and found a necklace from her grandma, who was her hero. She said she feels like she can conquer the world. Sarray said that in the ring she's the Warrior of the Sun. She said she's going to return to NXT wit ha new passion and energy. Sarray had the look of a schoolgirl.
Analysis: When she debuted, it was in the original NXT where just being a wrestling was enough. Now they all need gimmicks, so she's a Japanese schoolgirl.
Dusty Rhodes Tag Team Classic Quarterfinals: Legado del Fantasma – Joaquin Wilde & Raul Mendoza vs. Malik Blade & Edris Enofe
Barrett was sure that there was no way that Legado would lose to a pair of rookies. Blade got an armdrag leading to a clothesline while Enofe hit a standing moonsault. Enofe hit an impressive bulldog for a two count. Mendoza tagged in leading to a double dropkick for two. Mendoza charged, Enofe moved and Mendoza hit the turnbuckle. Blade tagged back in with punches along with a dropkick. Blade with a back kick. Blade into the ropes, Santos Escobar tripped Blade and the referee tossed Escobar from ringside. While Escobar argued that, Mendoza ran the ropes, Enofe pulled the rope down (the referee never saw it) and Mendoza went over the top to the floor. Bron Breakker showed up at ringside, grabbed Escobar from the apron and carried him to the back on his shoulder. Blade capitalized on the chaos with a rollup sitting on top for the pinfall win after about four minutes. Upset win!
Winners by pinfall: Malik Blade & Edris Enofe
Analysis: *3/4 A fun match that had a shocking result since Blade and Enofe are not an established team, but they found a way to win over the more experienced Legado team. I like how it was booked because they used the referee tossing Escobar leading to Blade/Enofe capitalizing on the situation and that led to the chaos that followed leading to the win. They treated the win as a big deal too, so that's good.
Blade and Enofe celebrated in a big way while the fans cheered about it. Barrett complained about the bad referee performance in the match. Joseph said that the official saw Escobar interfere, but he didn't see what happened on the other side.
Roderick Strong was shown warming up with Malcolm Bivens talking about how Diamond Mine will be three for three since the Creed Brothers and Ivy Nile got earlier wins. Bivens said tonight, the mat belongs to Roderick Strong and Diamond Mine.
(Commercial)
Solo Sikoa did a promo saying that a fireball from Boa burned half his face. Solo took off the tape from his face to show scars. Solo said he didn't care where they fight next week because next week they go to war.
Dakota Kai vs. Yulisa Leon
Leon went for a pin attempt right away, but Kai got a two count. Leon charged, Kai avoided her and sent her into the middle turnbuckle. Kai with a snapmare into pain for two while Kai was talking to herself. Kai with a hard whip into the corner leading to a running kick for two. They exchanges strikes leading to Kai getting a pump kick to the face. They went to the floor, Leon got a shot in there and then back in the ring there was a gutwrench suplex. Leon hit a bridging fallaway slam for a two count. That was great. Leon charged into a Scorpion Kick from Kai, then Kai hit a running kick against the turnbuckle and that led to the pinfall win after about four minutes.
Winner by pinfall: Dakota Kai
Analysis: ** It was fine for a shorter match with Kai getting a much-needed win. Kai showed that she's capable of having good matches all the time while Leon is a newer wrestler that showed how athletic she is. I hope it leads to a push for Kai again.
Post match, Valentina Feroz checked on her friend Leon, Kai did a cheap shot to the back. Kai wanted to do more, but Leon pulled Feroz out of the ring.
Raquel Gonzalez was interviewed by Mckenzie Mitchell, who asked what is next for her. Raquel noted she wasn't pinned in the triple threat at New Year's Evil. Raquel said she doesn't make excuses while saying she's still coming after Mandy and her title. Cora Jade walked into the picture saying she wants to be the champion too. Cora suggested they team up in the Dusty Cup. Raquel said it was because of Cora that she's not the NXT Women's Champion, so she turned down Cora to be her partner. Raquel left, so Cora said she'll convince her.
Analysis: I thought Raquel was a lock for the Royal Rumble and she still might be, but the Dusty Cup for the women starts in February. That means she'll probably remain in NXT. I still think she'll be on the main roster. Maybe that will be after WrestleMania.
The "Ring General" WALTER made his entrance for the main event. In case you don't know, he is now in NXT 2.0 full time.
(Commercial)
The team of Malik Blade and Edris Enofe were shown backstage saying they shocked the world. Bron Breakker congratulated them on the win and wished them good luck the rest of the way. Blade said it didn't matter who was next because they'll be ready.
Next week on NXT:
* No Disqualification Falls Count Anywhere Match: Solo Sikoa vs. Boa.
* Cameron Grimes vs. Tony D'Angelo for a shot at the NXT North American Championship.
* Ollie Jayy will be there with a musical performance.
* Toxic Attraction – Mandy Rose, Jacy Jayne & Gigi Dolin vs. Indi Hartwell, Kay Lee Ray & Persia Pirotta.
Analysis: It's a solid lineup. There will be two men's Dusty Cup matches taking place as well.
Roderick Strong made his entrance with manager Malcolm Bivens by his side.
WALTER vs. Roderick Strong
Walter got a takedown early on leading to an armbar on the left arm, Strong got back up and got a side headlock. Strong ducked a chop, then Walter blocked a chop and Strong backed away to the turnbuckle. Strong with some punches and chops, but then Walter hit his first chop that decked Strong! The crowd chanted "holy shit" for that. Walter used his feet for a neck twist of Strong's head. Walter continued the attack with a boot to the head. Walter went after Bivens, but Strong hit a chop block to the knee followed by a kick that sent Walter to the floor. Walter got a hold of Strong and slammed him on the apron. That led to a picture in picture break.
(Commercial)
Walter sent Strong into the turnbuckle, Strong fought back with a kick and a missile dropkick sent Walter into the corner. Strong with some hard chops to the chest, Walter blocked a slam attempt and Walter applied a sleeper, so Strong did a jawbreaker to break free. Strong broke free with a kick to the jaw leading to the running forearms. Walter came back with a clothesline. Walter went up top, Strong tried to attack there, Walter with a chop and Strong hit a jumping kick. The fans chanted "this is awesome" for them. They went up top with Strong hitting a huge superplex on the big man and the fans chanted "holy shit" as Strong covered with one arm for a two count. There were "NXT" chants for them. They got into a slugfest, strong with punches, then shoulder tackles, forearms and a running kick to the face for a two count. Walter finally got some momentum back with a hard chop to the chest. Strong countered a Powerbomb attempt, then Walter drove Strong into the turnbuckle and did a backdrop. Walter hit a Powerbomb for the pinfall win after 12 minutes.
Winner by pinfall: Walter
Analysis: ***3/4 This was a great match between two talented veterans working a physical style. The first half was slow for sure, but they really picked up the pace with some big moves and the fans really got into it. Walter is truly one of my favorite wrestlers in any company because of the impressive moves that he has, the willingness to sell for smaller opponents (like taking that massive superplex for example) and the fans always get into it. Strong is awesome too. They worked really well together to present a physical, believable match. No surprise that Walter got the win.
They showed replays of the key spots in the match.
Walter grabbed the microphone to announce: "The winner of this match is Gunther." New name for Walter.
Imperium members Barthel and Aichner went into the ring for an attack on Strong. Walter hit Strong with a big chop. The Creed Brothers showed up to try to save their buddy Strong, so that led to a brawl between the six guys. Referees showed up to try to break it up. That was the end of the show.
Analysis: The big news here is that Walter is now Gunther. I saw that part on Tuesday night and wrestling Twitter was so angry about it. Me? I don't really mind it. If WWE wants to change a guy's name now that he's full-time in NXT and possibly Raw/Smackdown some day then so be it. Walter is from Austria and he lived in Germany. Gunther is a name that is common in that area. What did upset some people is that WWE recently trademarked the name "Gunther Stark," which is apparently the name of a U-Boat commander who served in World War II in Nazi Germany. That's not good. However, Walter said the name is Gunther. He didn't say the Stark part, but some wrestling fans just want to be outraged all the time for some reason. Most of the people outraged probably didn't watch Walter's last NXT UK match against Nathan Frazer last week. I did because I'm a fan of Walter, so I try to watch as much as I can. If they call him Gunther Stark, then fine, be mad. Calling him just Gunther? It's okay with me. I don't really care that much. It's still the same guy that I like to watch. Plenty of wrestlers have changed names in their careers and if you think it's a bad name, it really isn't since it's a common name from where he has lived for most of his life. It's just a different name. I don't really mind it that much. There are also lots of bad names in pro wrestling. It's not like Dolph Ziggler is a great name. Mr. Ass was an awful name. Speaking of that, Road Dogg tweeted about the outrage that existed when WWE renamed Prince Devitt to Finn Balor and guess what, we are used to Finn Balor now. The name "CM Punk" doesn't really fit a millionaire in his mid-40s, but people still cheer him. The same thing applies to Bron Breakker. I think they could have come up with a better name for him too, but apparently, he likes it so that's great. Anyway, what's funny is that I joked with friends that WWE would change his name to Wally instead of Walter. Nope, it's not Wally. I guess we'll just get used to Gunther.
Three Stars of the Show
Walter (Gunther)
Roderick Strong
Grayson Waller
The Scoreboard
This week: 6.75 out of 10
Last week: 5.75
Final Thoughts
The main event was the definite highlight of the show. That match was awesome and the fans really got into it as Walter and Strong had a great showing.
I think storyline wise, they advanced a lot of stories well. A regular NXT episode isn't going to necessarily deliver great matches week after week. However, I think they are doing a nice job of building stories on a weekly basis. Everything that is taking place next week was set up this week. As a fan, that's what we want to see.
===
Thanks for reading. Go Los Angeles Rams, Toronto Raptors and Toronto Maple Leafs. My contact info is below.
John Canton
Email mrjohncanton@gmail.com
Twitter @johnreport