The John Report: AEW Dynamite 06/03/20 Review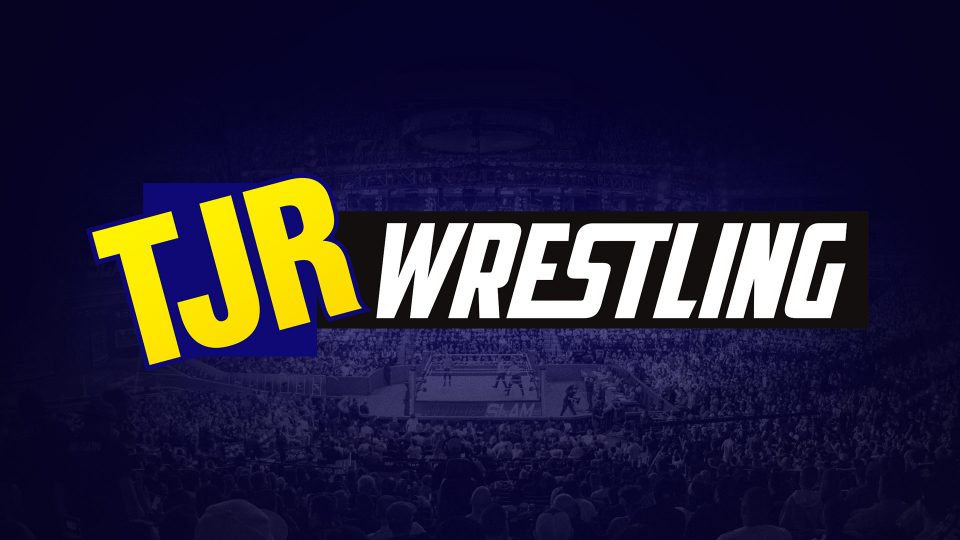 Welcome to the AEW Dynamite review on TJRWrestling. This is episode #36 of AEW Dynamite from Daily's Place in Jacksonville, FL. Follow me on Twitter @johnreport. Thanks to Melo Man for the banner up top. Here's my AEW Dynamite TV review archive.
The show began with a video with text on the screen saying that "We Stand With You" and "Black Lives Matter" to end it. Well done by AEW. I like that they did that.
There were video highlights showing some of the key moments from last week's show. The opening video package aired after that.
The show began with some pyro going off on the stage. I find that weird when there are no fans there, but that's AEW. There were wrestlers in the crowd standing at ringside as usual along with Vickie Guerrero there once again.
The announce team of Jim Ross, Tony Schiavone and Excalibur welcomed us to the show with a rundown of what's coming up this week.
The heel team of Kip Sabian and Jimmy Havoc entered as the challengers for the AEW Tag Team Title match. The AEW Tag Team Champions "Hangman" Adam Page and Kenny Omega were up next.
AEW Tag Team Championships: Kenny Omega and "Hangman" Adam Page vs. Jimmy Havoc and Kip Sabian (w/Penelope Ford)
Omega with a running attack on Havoc, then he ran the ropes, Ford grabbed Kenny's foot and Havoc hit a running forearm to Kenny's back. Omega tried a leapfrog, but Havoc countered it into a slam. Sabian tagged in with a back elbow to the head followed by a chinlock. Omega and Sabian wrenched on Omega's left arm, but Omega came back with a spinning suplex. They showed the FTR team sitting in the crowd watching the match. Page tagged in with a boot for Havoc and a clothesline. Omega and Page took turns chopping Havoc repeatedly, Sabian jumped into the ring and the champs did a double fallaway slam to send Sabian across the ring. Ford went up top, Page caught her asked the ref what to do, so Page dropped her. The referee Rick Knox ejected Ford from ringside. While the referee was talking to Sabian and Ford, Havoc hit Page and Omega with a wrench that he grabbed from under the ring. Havoc got a two count on Page. Havoc with a running forearm to the back of Page, Sabian with a kick to the head behind the referee's back and Sabian tagged in leading to more stomps to the body of Page. Sabian with a sliding dropkick that sent Page out of the ring for some choking from Havoc. Sabian and Havoc made some quick tags with Sabian hitting a dropkick on Omega to knock him off the apron and Sabian hit a kick to the chest. Page got back into it with punches and chops, then a back elbow, a boot to the face and Omega got the tag. Omega connected with two double axehandles across the chest, an elbow to Sabian, who came back with a pump kick and Omega hit two hurricanranas in a row. The referee lost control, which is typical in AEW tag team matches. Omega with a rolling senton on Havoc and a backstabber on Sabian for two. Page with a boot to the face, Omega with a Kitaro Crusher and Page hit a standing Shooting Star Press for a two count. Havoc had a saw in his hand apparently, but Page knocked him off the apron and Page hit a fallaway slam on Sabian. Page went over the top onto Havoc and a clothesline on Sabian for two as Havoc broke up the pin. Page dumped Havoc out of the ring, but then Havoc sent Page into the barricade and Sabian nailed a Tornado DDT on Omega. Havoc slammed Omega into Page against the turnbuckle. Sabian went up top and hit a diving double foot stomp on Omega leading to Havoc tagging in for a lifting DDT for a two count as Page broke up the pin. Sabian with kicks on Omega and Page followed by a Reverse Rana where he spiked Omega on his head. Omega shoved Havoc into Sabian, then Omega with a Snapdragon Suplex on Havoc and a V-Trigger knee by Omega on Sabian. Page got a tag with a clothesline, Omega with a splash, Page with a forearm and a German Suplex. Page with a Powerbomb on Sabian and Omega hit a knee to the back of Sabian. Page hit a Buckshot Lariat on Havoc at the same time as Omega hitting a knee to the back for the Last Call double team finisher. Page pinned Havoc to win after about 14 minutes.
Winners by pinfall: Kenny Omega and "Hangman" Adam Page
Analysis: ***1/2 It was a very good match with the heels getting in plenty of offense. Sabian was impressive with a lot of cool looking moves throughout the match while Havoc's unique offense works for him too. Omega is so great at everything so when he's the face in peril for a long time he makes it look like he was exhausted, but the team found a way to win with Page looking like a big star once again. There was no tease of problems with Page and Omega during the match as there has been in the past.
Post match, there were shots of other teams like Best Friends and FTR watching the match while Omega and Page celebrated the win.
Fyter Fest is on Wednesday, July 1 and Wednesday, July 8 so they are taking place on episodes of Dynamite instead of being its own separate event like last year.
(Commercial)
There was a clip from Tully Blanchard giving a fired up speech for his client Shawn Spears and he yelled at him to get better.
There was a clip from "Earlier Today" with Shawn Spears in a car and Tully Blanchard had a box for him saying the Search for Spears is over with and said that he had the missing piece right here. Spears put on a left-handed glove.
Analysis: So now Spears will be able to win matches because he wears a glove? Alrighty then.
There were highlights from last night's episode of Dynamite when Chris Jericho and Mike Tyson had a pull apart shoving match to end the show. Also, Brian Cage won his first match on Dynamite last week.
Brian Cage (w/Taz) vs. Shawn Dean
Cage went after Dean in the ring by tackling him into the turnbuckle. Cage hooked the arms into a fallaway slam. Cage hit a slam where he spun Dean around and slammed him stomach first into the mat. Cage hit a superplex off the middle ropes while Dean was standing on the apron. Cage hit a Buckle Bomb into the turnbuckle, which is a banned move in another wrestling company. Cage hit the Drillclaw slam for the pinfall win in about two minutes.
Winner by pinfall: Brian Cage
Analysis: 1/2* A dominant showing from Cage that showed off his ability in the ring. Cage definitely has the look of a star and a main event player in AEW.
Taz did a promo talking about Dynamite from last week when he was talking to AEW World Champion Jon Moxley about what will happen to Moxley when Cage faces him at Fyter Fest. Taz didn't like how Moxley was laughing about it while adding that Cage is going to kick the shit out of Moxley. Taz said that this is serious and Mox will have to get his head on straight when it comes to Cage. Taz ended it with this: "Beat him if you can, survive if he lets you."
Jon Moxley walked in from the crowd with the AEW World Title on his left shoulder. Taz warned Moxley that if he gets into the ring, he should think and be careful. Moxley has no fear, so he went into the ring with Cage and Taz.
Moxley said that the reason he's smiling right now is the thought of stepping in the ring with Brian Cage and going to absolute war makes him happy, which is why he's in this business. Moxley said that if you step in the ring with him then the farthest thing then he's the farthest thing from a game. Moxley said that Taz is right when he said that Cage is a different thing entirely compared to anybody in AEW and Mox said he was a different thing entirely. Moxley said that Cage will find it out at Fyter Fest and said that they are swimming with a shark. Moxley told them not to waste his time while telling them to remember who in the hell they are talking about. Moxley left while Cage and Taz remained in the ring.
Analysis: I liked the promo from Taz talking about how dangerous that Cage is. The reply from Moxley was fitting for him because it showed he wasn't going to back down from a fight no matter who is in front of him. That makes Moxley more likable.
(Commercial)
There was a commercial advertising AEW action figures called the Unrivaled Collection. They will be available in August 2020. I have no interest in action figures, but some of them look good. The figure for Rey Fenix looked awful. Cody's probably looked the best.
Lance Archer and Jake Roberts were outside somewhere with Alex Marvez there to interview him. Archer beat up some guy wearing a mask. Archer said he didn't care about one loss, he said he's not a spot monkey and he's there to be a monster. Archer said "everybody dies" to end it.
The Private Party duo of Marq Quen and Isaiah Kassidy were at the bar having a drink when Matt Hardy showed up to talk to them. Quen said that his knee was doing pretty good after Matt helped him last week. Hardy said that he enjoyed the hell out of their tag team match and they are the future of tag team wrestling in AEW. Matt said that the bond those guys share reminds him of Matt and his brother. Matt said if he can do anything to help them, they should hit him up. Kassidy suggested a Hardy Party name for them. Matt walked out of a room, Sammy Guevara was nearby with his walker and Matt told Sammy that they're cool. Matt left while Sammy wasn't sure of it.
Analysis: It's smart to have Matt become an ally of Private Party as a veteran that can work with Quen and Kassidy as two young guys in their early 20s. Perhaps it can lead to Private Party turning heel on Matt down the road. It's just common sense to have a veteran work with younger talent to help them get better.
A video aired showing Jungle Boy's battle royal win last week to set up his TNT Title shot against Cody this week.
(Commercial)
A video aired promoting Fyter Fest on Wednesday, July 1 and Wednesday July 8 as episodes of Dynamite. They said that every title will be on the line for both shows.
There was a video package about the Chris Jericho shoving match with Mike Tyson last week. They showed images from media outlets covering the Jericho/Tyson altercation.
After Jericho got involved with Tyson, he argued with Colt Cabana, who Jericho blamed for Jericho not being able to get his hands on Tyson. Heels like Jericho lie.
Colt Cabana made his entrance with JR noting that both guys have been in the wrestling business for over 20 years each, but they've never wrestled one on one. Chris Jericho entered with his baseball bat along with Sammy Guevara and Jake Hager by his side. Jericho is 13-4-1 in AEW so far. That means he wrestled 18 times in year one of AEW. That's a very favorable schedule for a 49-year old that has been AEW's MVP so far. Sammy did some bad singing of the "Judas" song and Jericho had a smirk on his face.
Colt Cabana vs. Chris Jericho (w/Jake Hager and Sammy Guevara)
Jericho worked over Cabana with punches, then Cabana with punches of his own and he dumped Jericho out of the ring. Hager stared at Cabana, Jericho missed an attack and Cabana hit a moonsault off the ropes onto Jericho and Hager. Cabana had some blood coming out of his teeth after that. When Cabana sent Jericho into the ring, Jericho distracted the referee Aubrey Edwards and Hager sent Cabana over the top turnbuckle with Colt taking a bump over the apron to the floor.
(Commercial)
The match returned with Jericho still in control as he worked Cabana with punches. I forgot to point out that Jericho is wearing a bandana around his neck as he hit a clothesline on Cabana. Jericho charged, but Cabana was able to counter by shoving Jericho into the turnbuckle. Cabana with a clothesline, Cabana with the jabs and the Dusty elbow to the head. Cabana with a corner back splash called the Flying Apple and Cabana hit a splash off the ropes for a two count. Cabana avoided a Lionsault, Cabana with an elbow to the head. Cabana went for the Superman pin, Jericho avoided it and Jericho slapped on the Walls of Jericho with Cabana getting to the bottom rope to break up the submission attempt. Cabana with a chop, headscissors and a clothesline. Cabana went up top with a frankensteiner off the top. Cabana with a cradle into a pin for two. Cabana went off the ropes for a move, but Jericho was able to stop the momentum with the Judas Effect spinning back elbow to the face for the pinfall win after 10 minutes.
Winner by pinfall: Chris Jericho
Analysis: **3/4 A solid TV match between two veterans that went back and forth with some nice physicality during the match. I liked the finish a lot since it came out nowhere with Jericho stopping Cabana while Colt was going for an offensive move. Jericho winning was the obvious result here as he continues to have a great record in singles matches in his AEW career.
Jericho did a post match promo telling the crowd to "shut your ass" and treat him with respect. Jericho said that what happened to Cabana will happen to Mike Tyson – that "piece of shit." Jericho said that last week with him and Tyson it was the most talked about sports event in history (heels lie). Jericho said that it's the fight that everybody wants to see. Jericho said he felt the blood of Cabana and he wants to make Tyson bleed and shove his head up his stupid ass. They bleeped "ass" but they didn't bleep "shit" earlier. Jericho said he didn't want to wait for another night or a pay-per-view, he wanted the "baddest man on the planet" to come out there right now. Jericho said he wanted the "baddest man on the planet" and that led to Orange Cassidy answering the challenge.
Orange Cassidy went into the ring by rolling under the bottom rope. Cassidy put Jericho's hands inside his belt on the outside of his tights. Jericho wanted Hager to go after Cassidy, but Cassidy avoided Hager and left the ring to avoid Hager and Jericho. Best Friends lifted Cassidy into the crowd. Santana and Ortiz went into the ring to join Jericho and Hager.
Analysis: Jericho calling out the "baddest man on the planet" leading to Orange Cassidy entering was pretty funny. That made me laugh. That was an obvious setup for a Jericho match with Cassidy and also a six-man tag team match down the road. Jericho's promo was fine other than the part talking about how it was the most talked about event in sports history. As I said, heels lie and that was an example of that. Jericho and Cassidy should have some funny moments together.
(Commercial)
There were highlights shown some of the things that happened in the first hour.
There were clips show of Dr. Britt Baker in a wheelchair recovering from her right knee injury with the lovely Reba aka Rebel there to help her and AEW's Dr. Sampson was there too. Baker's wheelchair said "Roll Model" on it. They showed more clips of Baker training with Tony Schiavone supporting her as well.
Analysis: It was just a one minute video to put over Britt's obnoxious personality as a heel.
Big Swole entered for a match with Britt Baker shown sitting on the Roll Model wheelchair in the crowd with Rebel standing by her. Nyla Rose entered as Swole's opponent.
Nyla Rose vs. Big Swole
Swole grabbed a headlock to take control for the first minute or so. They showed AEW Women's Champion Hikaru Shida watching in the crowd. Rose charged, Swole slapped on an abdominal stretch briefly and then Rose hit a hiptoss to send Swole across the ring. Rose charged, Swole pulled the top rope down, Rose went over the top to the floor and Rose tripped up Swole on the apron. Rose drove Swole into the side of the apron.
(Commercial)
Rose was in control with a backbreaker stretch across the knee and a splash that was blocked by Swole getting the knees up. Swole with a spin kick to the head, then a headbutt and a running forearm against the turnbuckle. Swole jumped off the bottom rope into a Cutter for a two count. Rose missed a corner charge, she hit the turnbuckle and Swole hit a pump kick. Swole went for a move, Rose caught her, Swole with a chop block to the knee and a kick to the back of the head. Swole charged right into a Spear from Rose. Swole countered a Powerbomb into a sunset flip for two and then Swole drove Rose face first into the mat. Rose hit a sitout spinebuster and that was enough for the pinfall win after about ten minutes.
Winner by pinfall: Nyla Rose
Analysis: **3/4 This was good with Swole impressing even in defeat. The announcers talked up Swole a lot, so you can tell the company is going to want to push her and that's fine with me because she's got a personality as well as a lot of talent in the ring. Swole got most of the offense, which is a way to show that she was a credible wrestler and then Rose found a way to put her away.
Post match, Big Swole was interviewed by Tony Schiavone at ringside. Swole said she had two months off and it's good to be back. Britt Baker complained about what Swole was saying, so Baker dared Swole to mess with her. Rebel drove Baker's cart up against the barricade, then she backed up and Swole got in her face. Baker ended up being driven away.
Darby Allin was interviewed backstage by Darby Allin earlier today. Tony said that the doctors won't let Darby in a match due to injuries. Allin said that life is one big joke, however he'll get the last laugh against Brian Cage and Taz.
(Commercial)
FTR Interview
The FTR team of Dax Harwood and Cash Wheeler (I'm still getting used to the new names) were seated with Tony Schiavone in what looked like a lobby of a building. Later we saw the Jacksonville Jaguars logo, so it was at the team facility that is owned by the Khan family. Harwood (the bald one) said that FTR is a way of life for them. Wheeler said that FTR can be Fear the Revolution, Follow the Rules and it's a lifestyle for them that takes on a life of its own. Harwood said that right now FTR is For The Revolution of AEW wrestling. Tony said that AEW has the greatest tag teams and the guys said "now" they do. Harwood said that Butcher and The Blade are a good tag team, they like Private Party, they want to work with Santana and Ortiz and Wheeler said that Lucha Bros are like the opposite of them, so they will teach them tag team wrestling with an emphasis on tag. Harwood said Omega and Page aren't even a real tag team, but they're champions. Tony mentioned the Young Bucks to them, Harwood said that it's not a dream match to them. Harwood said that they had to watch people say the Young Bucks are the best tag team of the decade and hear Dave Meltzer say the Young Bucks are the next Midnight Express. Harwood asked Tony if he thinks that makes them happy? Harwood said no. Wheeler wants to punch the Young Bucks in the mouth and beat them in three seconds. Tony wondered why they didn't attack the Young Bucks. Wheeler said that people mention both teams over the last five years. Wheeler said he didn't want any doubt about who the better team is when they face the Young Bucks and he wants them to be 110% healthy. Harwood said when they beat the Young Bucks he wants Tony and all his commentary friends to apologize to FTR for thinking that the Young Bucks were better. They thanked eachother for the interview. Tony got up and said all this time he thought FTR was "F**k The Revival" with "f**k" and "Revival" getting bleeped. Dax and Cash said of course you would think that, which led to Butcher and Blade showing up in the hotel to say that FTR had to go through them first. There were a bunch of AEW guys that showed up to separate the wrestlers. Wheeler said that it was just business last week and maybe they should settle this in the ring. Wheeler tossed a bottle at them, Butcher and Blade were mad, so it's a tag team match last week.
Analysis: This was a nice interview to introduce them to the AEW fanbase. The thing with AEW is they assume that everybody watches their shows also watches WWE shows. I think FTR saying they don't want to face Young Bucks is just a heelish thing to do. I did like that they tried to explain the FTR name. Also, it's pretty clear they are Wrestling Observer Newsletter readers with the Meltzer mention. There are wrestlers in the company (like Young Bucks and Daniels) with moves named after Dave too. I like Dave and I've subscribed to WON for most of the last 15 years, I get to vote in the Hall of Fame every year as a writer that covers this business and all that good stuff, but it's weird how much this company mentions him. Anyway, FTR should get their first win next week over Butcher and Blade, who are in AEW to put other teams over.
The announcers ran down what's coming up next week on Dynamite:
* Sammy Guevara vs. Colt Cabana
* Marq Quen of Privat Party challenges for the TNT Title
* FTR vs. The Butcher and The Blade. That should be FTR's first win.
* Inner Circle's Jake Hager, Santana and Ortiz vs. Best Friends – Trent, Chuck Taylor and Orange Cassidy
* Also, Jon Moxley will wrestle on AEW Dark. Poor guy.
Colt Cabana was interviewed backstage with Alex Marvez with Colt talking about how he has had some victories, but he can't seem to get it done against the bigger names like Lance Archer and Chris Jericho. Brodie Lee of the Dark Order walked up to him saying it's what you do after a loss, it's about how you respond and Brodie told Colt that he can help him with that. The Dark Order suit guy told Colt to think about it as he gave Colt some water and Dark Order left. Colt said it was nothing he wants to be a part of.
Analysis: Colt is normally a babyface wrestler, so I doubt he's going to join Dark Order. It will probably be just a feud or story for Brodie to be a part of to get him a victory over a solid midcard wrestler like Cabana.
Jungle Boy made his entrance with Luchasaurus and Marko Stunt supporting their friend, but they didn't go to ringside. They showed highlights of Jungle Boy winning the battle royal last week to earn this title shot.
(Commercial)
Cody entered with the TNT Championship with coach Arn Anderson joining him. AEW also announced on social media that Arn agreed to a multi-year deal to join AEW. There was pyro going off for Cody's entrance. This is the first TNT Championship defense since he won the title at Double or Nothing two weeks ago. The wrestlers stood in the ring as Dasha Gonzalez did the introductions. Cody is 10-1 in 2020 with the only loss coming against MJF at Revolution in February. JR noted that Jungle Boy is 22 years old and is 23 in 13 days while making jokes about Tony's socks being old. Cody is 34 years old with Tony saying Cody wanted to wrestle six more years. I predict he'll keep wrestling past 40 years old.
TNT Championship: Cody (w/Arn Anderson) vs. Jungle Boy
Cody grabbed a front facelock with Boy quickly getting to the ropes to break it. Boy got a hurricanrana and a rollup for two, but Cody came back wit ha forearm to the face. Boy charged, Cody avoided him and hit a powerslam for a two count. Cody slapped on a Figure Four Leglock submission near the ropes, so Boy managed to get to the bottom ropes to break the hold. Cody missed a kick off the ropes, so Boy jumped off the middle ropes and hit a Tornado DDT for a two count. Cody was on the floor, Boy hit a suicide dive onto the floor. When Boy tried it again, Cody caught him and Cody tossed Boy onto Billy and Austin Gunn aka the Gunn Club. That led to a break.
(Commercial)
The match returned with Boy on the floor, Cody went for a headbutt, Boy moved and Cody hit the wall that was connected to the stage. Boy got back up, he argued with MJF in the crowd and that allowed Cody to do his blade job. MJF called Boy a joke, then they teased fighting right now and Cody turned around to show that he was busted open and bleeding from the forehead. Boy sent Cody into the ring, Cody was selling it like he couldn't see well due to the blood and Boy punched Cody in the head repeatedly. Cody with a hiptoss across the ring, Boy with a dropkick and an inside cradle. Boy with a rollup into a pin sitting on top for two. Cody came back with a pump kick to the head. Boy was sent into the ropes and hit a clothesline with Cody doing a flip bump to sell it. Boy worked over Cody with punches to the head. Boy went to the turnbuckle, Cody hit him with a dropkick and Cody hit a delayed vertical superplex off the middle ropes leading to a two count for Cody. When Cody went up top for a very slow climb, Boy went after him with punches. They were standing on the top rope and they fell off the top through the conveniently placed table. The referee left the ring to check on both guys. They went back into the ring as if nothing just happened and Boy sat on top to block a sunset flip for a two count. Cody came back with a Cross Rhode that Boy sold by taking it on top of his head and it was a great bump. The match went about 13 minutes.
Winner by pinfall: Cody
Analysis: ***1/2 This was really well done with Jungle Boy looking like he was at Cody's level and then Cody found a way to put him away. They barely sold the table bump and I would have liked to see them treat that as a bigger deal. Jungle Boy continues to have these longer matches and he has impressed me every time. The best way to get over a new title is by having the champion defend it on television while having great matches. I don't think a blade job is needed in a match like this, but Cody is a Rhodes and he saw his dad Dusty blade a lot in his career. It's something to make AEW different since WWE doesn't do blading anymore, but I think doing it just to do it feels unnecessary. With that said, Cody sold the blood very well by reacting to it as if he couldn't see well. There was no storyline going into the match, so it was about having a competitive match for the title. I think they accomplished that goal.
Post match, Cody was joined in the ring by coach Arn, wife Brandi and brother Dustin while Luchasaurus and Marko Stunt checked on Jungle Boy. They showed replays of the Cross Rhodes that Cody hit to win the title. Cody and Jungle Boy hugged in the ring. They raised eachother's hands and the pyro went off. The announcers put over Jungle Boy's effort. Cody celebrated the win to end the show.
Three Stars of the Show
Cody
Jungle Boy
Kenny Omega/Adam Page
The Scoreboard
This week: 7 (out of 10)
Last week: 6.5
2020 Average: 7.14
Final Thoughts
I enjoyed this week's Dynamite with two very good title matches and some interesting promos throughout the show. I don't think Cody needed to show color in the main event against Jungle Boy, but that's what the Rhodes family does. By having Cody defend the TNT Title regularly on TV, it's going to make fans care more about those matches and build up the title as something valuable. The announcers tried way too hard to make it sound like some classic match. It was very good, but not a classic or even the best AEW match in the last month. The opening tag team title match was just as good as the main event too. I liked the FTR interview for the most part. Jericho's promo was funny after his match too.
It was an entertaining show. I just don't think there was anything that was must-see if you missed it. Every match outcome was an obvious result. They book too many matches with obvious outcomes, so there's not as much drama as there could be. After every match, the announcers put over the losers for their effort. It feels repetitive sometimes. It's not a major complaint, but it's just something I notice from doing this review every week.
Some of the storylines are moving slowly, but they are building to some big matches like Moxley vs. Cage at Fyter Fest next month. I was hoping Fyter Fest would be one night on a weekend instead of two weeks of Dynamite, but I'm sure it'll be fun when it happens. AEW usually presents their big matches and major events very well.
—
You can contact me using any of the methods below.
Thanks for reading.
John Canton
Email: mrjohncanton@gmail.com
Twitter: @johnreport