WWE News: LA Knight (Former Eli Drake) Debuts in NXT, Taya Valkyrie Also Headed to NXT, Triple H Comments Post Takeover
There are some familiar faces headed to WWE NXT, one of whom debuted last night at NXT Takeover Vengeance Day. If you haven't read my recap, it was a fantastic show that was up there with the best Takeover events ever.
LA Knight is the WWE name of former TNA/Impact Wrestling World Champion Eli Drake. Knight appeared on the NXT Takeover pre-show doing a cocky promo about how great he is.
Knight is 38 years old and was under contract with WWE earlier in his career from 2013-2014 using the name Slate Randall. In interviews over the last few years, he complained about then trainer Bill DeMott being tough on him and others, so that's part of the reason why he moved on. Knight went on to have a lot of success in Impact Wrestling where he became Impact World Champion in 2018 among other accomplishments there. Knight was known for being a strong talker and one of the better heels in the company during that area. After leaving Impact, Knight spent time working for the NWA as well.
It's not known when Knight will appear on NXT TV for the first time or how long his contract is. It could be three years, but we don't know right now. For now, he's a NXT wrestler that has nearly 20 years of experience in the ring.
TJR Thoughts: I think he's a great addition to the NXT roster. Drake is very talented in terms of being a promo guy and an actor. In the ring, he's solid too. I think he'll fit in very well especially if he's in a heel role.
Taya Valkyrie Signs With WWE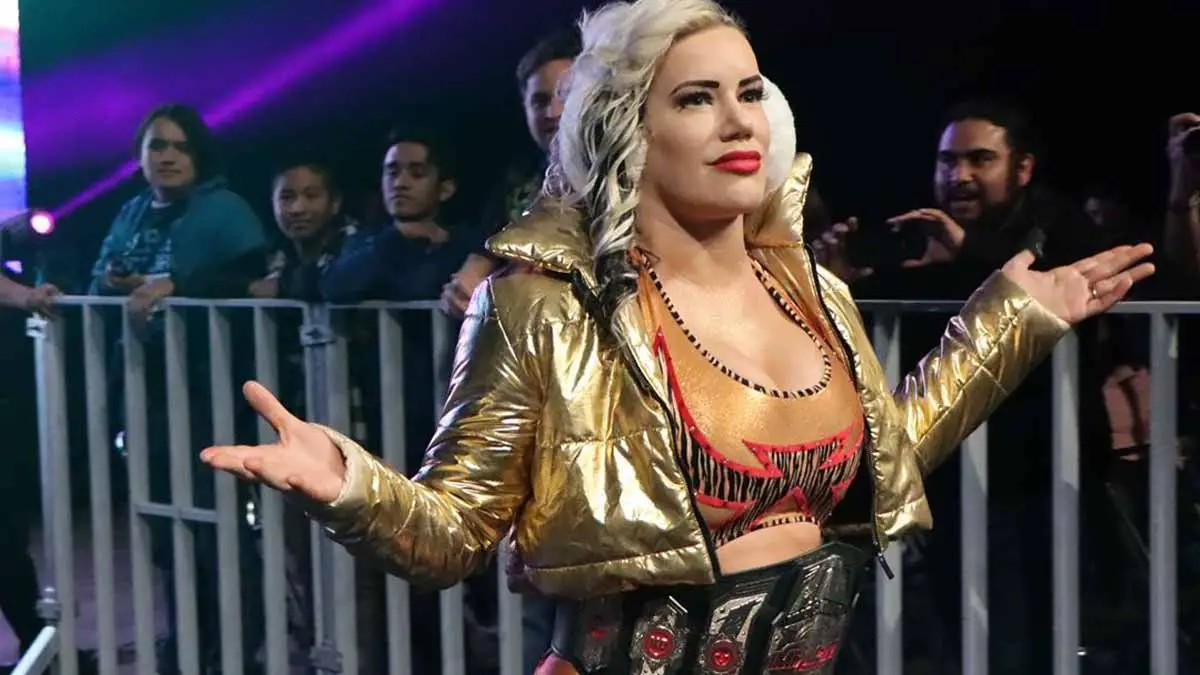 Another former Impact Wrestling champion is headed to WWE. It was reported by PWInsider that Taya Valkyrie was signed by WWE most likely to appear on the NXT brand. Valkyrie is 37 years old and is married to WWE Superstar John Morrison. She was part of the Impact Wrestling roster since 2017. Valkyrie's run as Knockouts Champion lasted 377 days, which is the record for Impact's women's title that goes back nearly 20 years. She also wrestled a lot in Mexico, mainly for the AAA promotion.
The guess here is that she won't be using the Taya Valkyrie name in WWE. No word on what her new name will be or when she will make her debut.
TJR Thoughts: I think Taya is a great fit for WWE. I think she would be ready to go on Raw with husband John Morrison, but WWE might want her to get used to WWE style a bit by putting her in NXT. I can see her joining Morrison on Raw (or Smackdown if he gets drafted there) at some point in the future as well. I'm pretty sure the couple lives in California. If she's joining NXT then that likely means they would move to Florida, but that's up to them to figure out. She's another talented Canadian wrestler. I'm happy for her.
WWE Signs More Wrestlers
The names Eli Drake and Taya Valkyrie aren't the only wrestlers signed to WWE deals. According to Dave Meltzer on Wrestling Observer Radio, WWE is signing a lot of people with Meltzer noting it was about 24 people.
Some other names signed to WWE deals including Blake Christian and Harlem Bravado. Meltzer commented on Blake Christian: "Blake Christian is 23, he's a guy, everyone wanted him, everybody was interested in him, and WWE got him. He absolutely has a lot of promise, he's the kind of guy that they should be going with the sense of they need young talent." (WrestlingNewsco)
It is believed that WWE's new recruits will likely be starting at the WWE Performance Center in Orlando next week. We should see a list of full names soon.
Triple H Comments After NXT Takeover
Here are some post-Takeover comments from Triple H after a conference call with the media.
– Triple H said that they got out of Takeover without any injuries to the wrestlers. That's always good news.
– The LA Knight signing with WWE led to these comments from Triple H:
"I've been a fan of his since he was here the first time. And you know, there's a lot of reasons on his side, and our side, as to why that didn't work out that time, but I was a fan of his then, I was a fan of his work and his promo skills, and everything else as he went along his journey, and I've always thought when the time was right, he'd be great, and the time was right. Phone calls were made, and interest was on both sides, and it just went from there. It was smooth and easy, you know? He wants to be in a place where he can have the biggest platform in the world, and that's here, and I want to give it to him. So we're going to run with it and see where we can go, and there is no ceiling." (WrestlingINC)
– Regarding the NXT Women's Title match at Takeover, Hunter commented that even though the table spot was messed up, the wrestlers handled it well. Hunter noted that the wrestlers were given about 20 minutes for the match, but they felt comfortable going about 12 minutes as we saw on the show. Hunter also put over Io Shirai for her versatility in the ring and out of the ring as well.
– There were several moments during the call where Triple H praised the MSK tag team. Hunter said that he and NXT's coaches have been so impressed by MSK, who have taken every opportunity given to them and knocked it out of the park.
You can listen to Triple H's conference call talking to the media here. (Wrestling Observer)