News: WWE's Jimmy Uso Arrested for DUI, Also Cited for Speeding and Running a Red Light
It was reported this morning that WWE Smackdown wrestler Jimmy Uso was arrested for DUI (Driving Under the Influence) on Monday night. TMZ reports that Jimmy (real name Jonathon Fatu) "was pulled over at around 10:35 PM on Monday in Pensacola after cops say he ran a red light after being clocked going 50 MPH in a 35 MPH zone."
The cops say he was driving in Florida with a BAC of .205, which is well above the legal limit of 0.08.
The report from the officers noted that they smelled alcohol on him and that's when he exited his Dodge Charger. When Jimmy got out of the car, he was swaying and Jimmy told the cops that he had "multiple" beers before he drove his car.
Jimmy was booked on a misdemeanor DUI charge and their post this morning noted that he was still behind bars, but perhaps he could be out by now. We don't know. Bond is set at $500. Jimmy was also cited for speeding and running a red light.
Here is a mug shot that TMZ posted.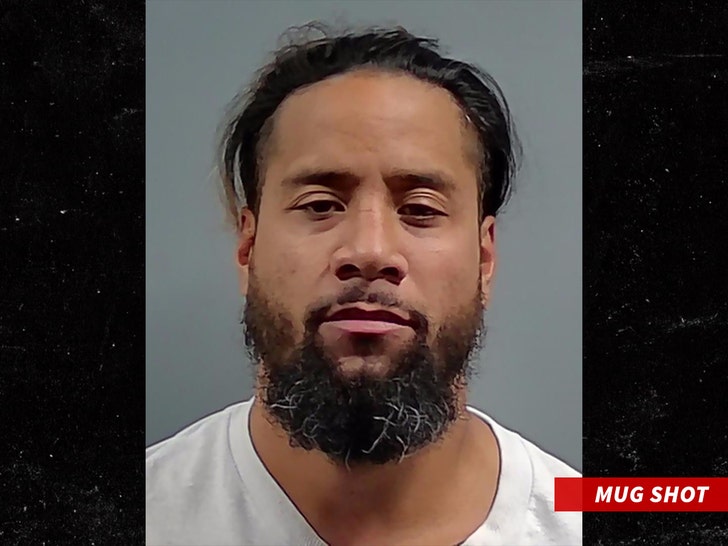 Jimmy's married to WWE Superstar Naomi, who was on Raw last night.
This is the second time Jimmy got charged for DUI (that was in 2019), but then a jury later found Jimmy was not guilty. Jimmy was also arrested earlier in 2019 after a dispute with cops in Detroit.
Jimmy Uso was arrested for DUI in 2011 and 2013 for driving with a suspended license as well.
Jimmy's brother Jey Uso was arrested for DUI in January 2018 in Texas.
TJR Thoughts: It was disappointing to read about this. Jimmy Uso is a 35-year-old man that should know after multiple DUIs in his life that he should just get an Uber or Lyft or cab and not drive after drinking. He is lucky nobody got hurt. Be smarter. Be more responsible. I hope WWE is smart enough to get some counselor to talk to him or try to convince him to get some help. Somebody could get seriously hurt if he drives drunk again.