Kurt Angle Hints At Return To The Ring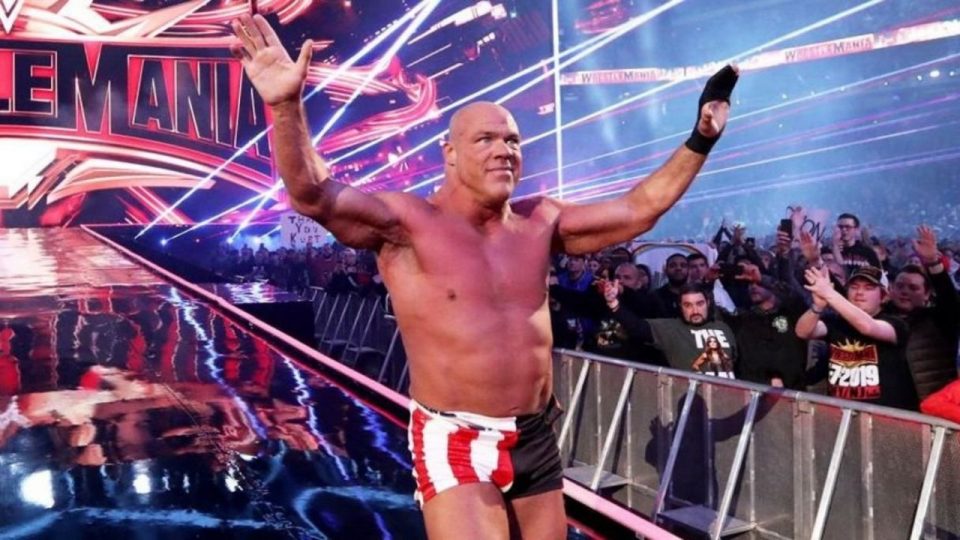 Kurt Angle has indicated that he could get back in the ring someday despite past statements insisting that he won't come out of retirement.
WWE Hall of Famer Kurt Angle last competed in the ring at WrestleMania 35 against Baron Corbin in what was billed as his retirement match. Since then, Angle has been open about his unhappiness with his final in-ring run in WWE.
He has even described his retirement bout as "filler" and expressed his disappointment at not getting a final World Championship match.
Despite this, he has insisted that he has no intention of getting back in the ring, not least because of the incredible toll his career took on his body.
On top of his well-documented history of serious neck issues, the star also suffered from knee issues which led to him having both joints replaced.
However, now that the knee surgery is in his rearview mirror, Kurt Angle has begun thinking of one last match again.
During a recent Gold Medal Q&A with AdFreeShows, the multi-time World Champion admitted that he thinks about another bout all the time.
"I'm not gonna lie to you. [The thought of a return] comes across my mind here and there every once in a while but I just had knee replacements.

"I'm in no position to think about wrestling right now. It's been two and a half months since I had my knees replaced. Both at the same time. It's a little rough doing both of them at the same time. But you know what I'm not gonna count out anything.

I've told so many reporters and people from the news that I was done but there is a chance that I might end up coming back. I don't know when, but it'll probably be for one last match. I guess I'm putting it out there tonight.

"I didn't wanna do that until my knees got better but I'm not gonna lie to you. I think about it all the time. I possibly could [return], yes."
Kurt Angle is set to appear on the August 29th edition of Monday Night Raw in his hometown of Pittsburgh, PA.
H/T to Sportskeeda Wrestling for the above transcription.