TJRWrestling WWE NXT Takeover Chicago Preview: Roode vs. Itami, Tag Team Ladder Match & More!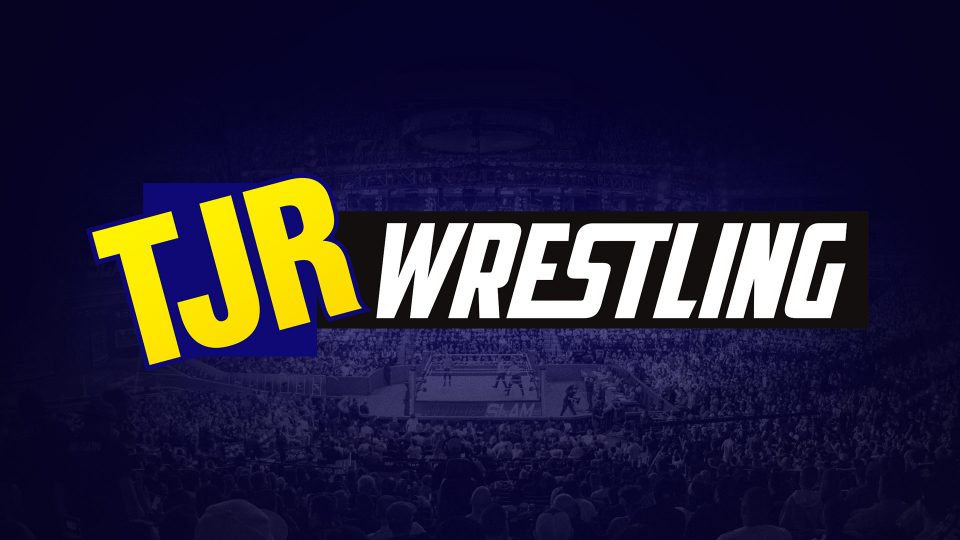 JOHN: The WWE NXT brand presents Takeover Chicago this Saturday night on WWE Network. Most Takeover events have at least two months of build, but this one has had less time since the last Takeover was the night before WrestleMania on April 1. I'm John Canton, the head honcho at TJRWrestling here to provide a look at every match on the show while talking about the feuds and the future as well.
Joining me for this preview is Kurt Zamora, who is our regular NXT reviewer on TJRWrestling. We did this in a format where we chatted online, so it's more than just a paragraph each. It's more of a friendly discussion about each match.
KURT: This card ultimately feels predictable but based on a lot of good to great talent and what's sure to be a hot Chicago crowd, I feel this will deliver in a big way still. There's a couple things in this card that I have issues with that I'll get into during the respective matches, but there's also a lot to look forward to. So I'm excited to preview it and write about it on Saturday.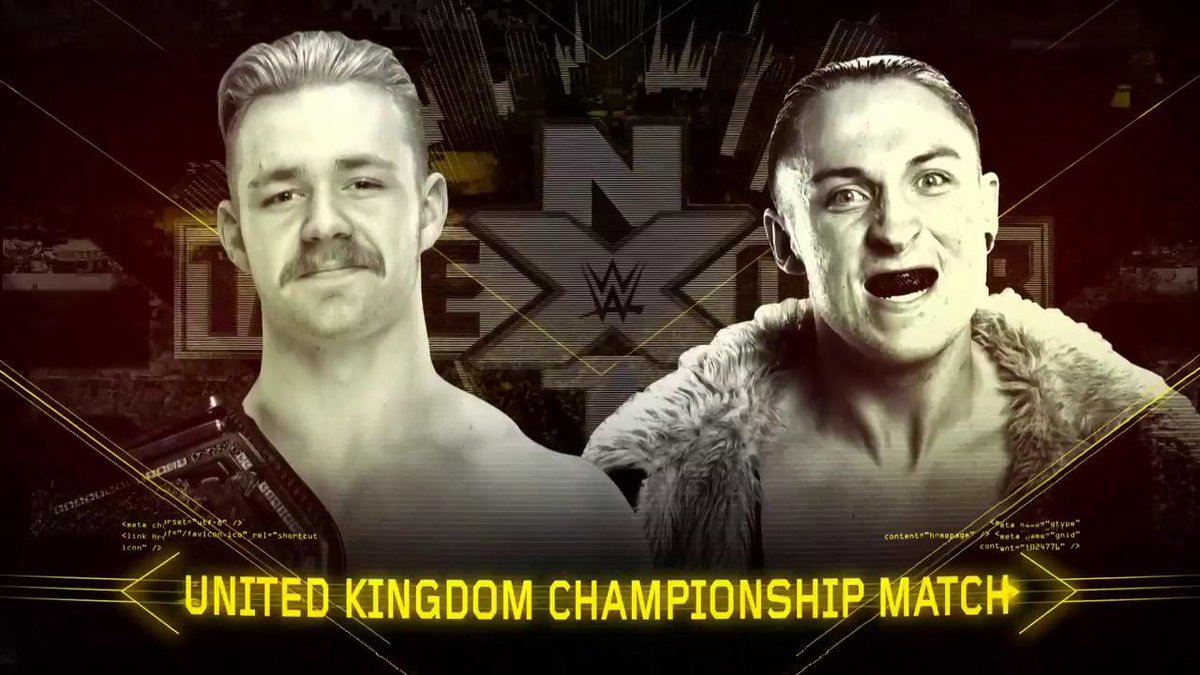 WWE UK Championship: Tyler Bate (c) vs. Pete Dunne
JOHN: Let's start with the UK Championship match featuring champion Tyler "Mustache Man" Bate defending the gold against a great heel in Pete Dunne. A lot of American fans may not know much about either guy because they may not have watched the first UK special and their time on NXT TV has been brief. Do you think it's a good idea that it's taking place at Takeover Chicago while other NXT stars, such as Drew McIntyre and Kassius Ohno, aren't even on the card?
KURT: I'm really glad you brought this up first and worded it the way you did, because this is absolutely my first issue with the card. When you have only five matches in each Takeover and so much talent like a McIntyre or Ohno that you brought up, or someone like Aleister Black who is NXT is rightfully presenting as a big deal, I don't feel that you have the luxury here to use one of those matches on a title that doesn't necessarily mean a whole lot right now. They're already promoting McIntyre and Black for NXT TV next week but more eyes are going to be on Takeover and that's where they belong.
They're also airing the UK Special that determined Bate's opponent on Friday, but we already know it's Dunne so why should we watch the special now? Just bad booking all the way around and putting importance on the wrong entities. I'm sorry to all the fans in and of the UK, I'm sure they hate me now.
JOHN: I think it's a case of Triple H really wanting to get the WWE UK talent over. He probably has a lot of confidence that the Chicago crowd is going to react to everything in a favorable way because they are arguably the best fans that WWE has. I've seen a show there and it's a fun crowd for sure. I've also seen both guys in action enough to know they are very good and even great against eachother. I'm pretty confident they will have an awesome match in 15 minutes because every NXT Takeover match is given plenty of time. Would I rather see Drew, Ohno or Black? Yes, but I understand why WWE (and specifically Triple H) chose this instead because he wants to get the WWE UK division over.
KURT: I would agree that's the reason they're doing it here, but I would just counter that again with the point that if you want us to get into the UK product more, just announce that Bate will be defending his title at Takeover and if you want to know who his opponent will be, watch the special on Friday. Maybe that's nitpicking, but so be it. I do want to get across that I like both guys in the limited work I've seen, especially Dunne. A title change wouldn't surprise me in the least especially since I think they like Dunne a lot, but I'm sure until they have the Network TV series set up for the UK, they'll keep it on Bate.
JOHN: I'm going with Dunne, who I think is one of the better heels in all of WWE because he has no interest in getting any support from the fans. He carries himself like a jerk the entire time, which is how it should be. Both of these guys are very talented and I expect it to be very good even though some fans watching may not be interested because they know very little about them.
John's Pick: Pete Dunne wins WWE UK Championship
Kurt's Pick: Tyler Bate retains WWE UK Championship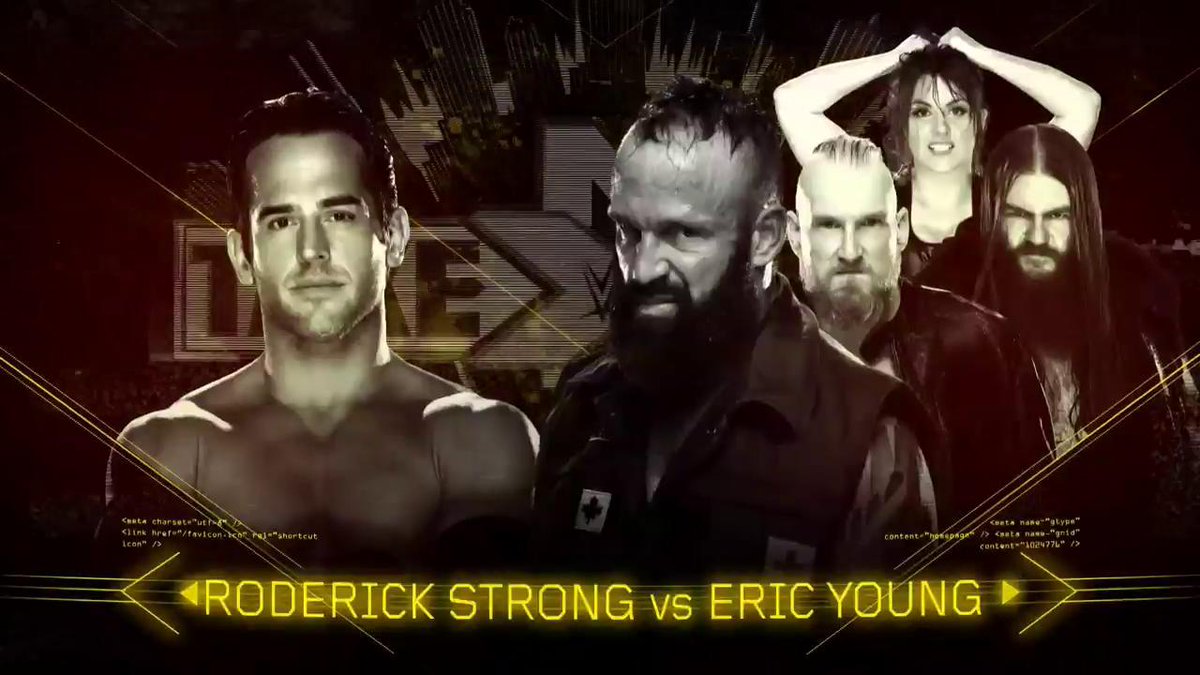 Roderick Strong vs. Eric Young
JOHN: Next up is Eric Young vs. Roderick Strong. Two guys that are veterans that made their names in other companies and are both looking to move up the ranks in NXT. What are your thoughts on this one?
KURT: Sanity is my favorite thing going in NXT right now. EY is a perfect leader for the group, Nikki Cross is just tremendous in her role, Killian Dain is a believable monster heel for them, and Alexander Wolfe rounds out as the "young guy" being brought up. They all mesh well. I've said before that Strong was my all time favorite in Ring of Honor so it goes without saying that I have a lot invested in this match.
JOHN: I agree about Sanity. It's a fun group and they are doing well, but it feels like they have been in the same spot for every Takeover event it seemed. Where's the progress? I'm trying to remember EY's wins and losses. It feels like he's been the victim of 50/50 booking, so here they are again in a match with another midcard face where it doesn't feel like either man is going to move up any time soon. I think the match will be good too. I just want to see some progress with Sanity.
KURT: That's a fair point/criticism. I would actually argue that I think Strong will be moved up as Roode's next contender since they'll save McIntyre for Brooklyn so that again would leave Sanity without much. I too would like to see more progression. EY is in a tough position since the champion is a heel so he can't be in that spot as the challenger. I've said before that I'd love to see a scenario where Sanity has all the belts in NXT but I don't see a way that will ever happen.
JOHN: I feel like Sanity will be on the main roster probably after SummerSlam, so that's why they aren't ever going to get a major push. I could be wrong on that prediction, though. As for a winner of the match, I'm leaning towards Strong because they are building him up after those great video packages about him (I know you loved them too) and he's a talented face that can headline a show with Roode for sure. Plus, Strong lost a tough match to Itami. It would make sense to get him going again with a win over Young.
KURT: I think Strong winning cleanly here is the only way they can go without it getting stale quick. The last thing I want to see is Strong becoming Tye Dillinger and 2 other babyfaces joining him against Sanity. We just spent the last 3 months or so doing that and I don't want to see it again. My prediction is actually somewhere in the middle as I think Strong will win but because of the help of No Way Jose. We haven't seen him since the day of the last Takeover when Sanity took him out. I see him coming out to help Strong and that propels Strong up to a potential title shot against Roode and gives Sanity a new target.
John's Pick: Roderick Strong wins
Kurt's Pick: Roderick Strong wins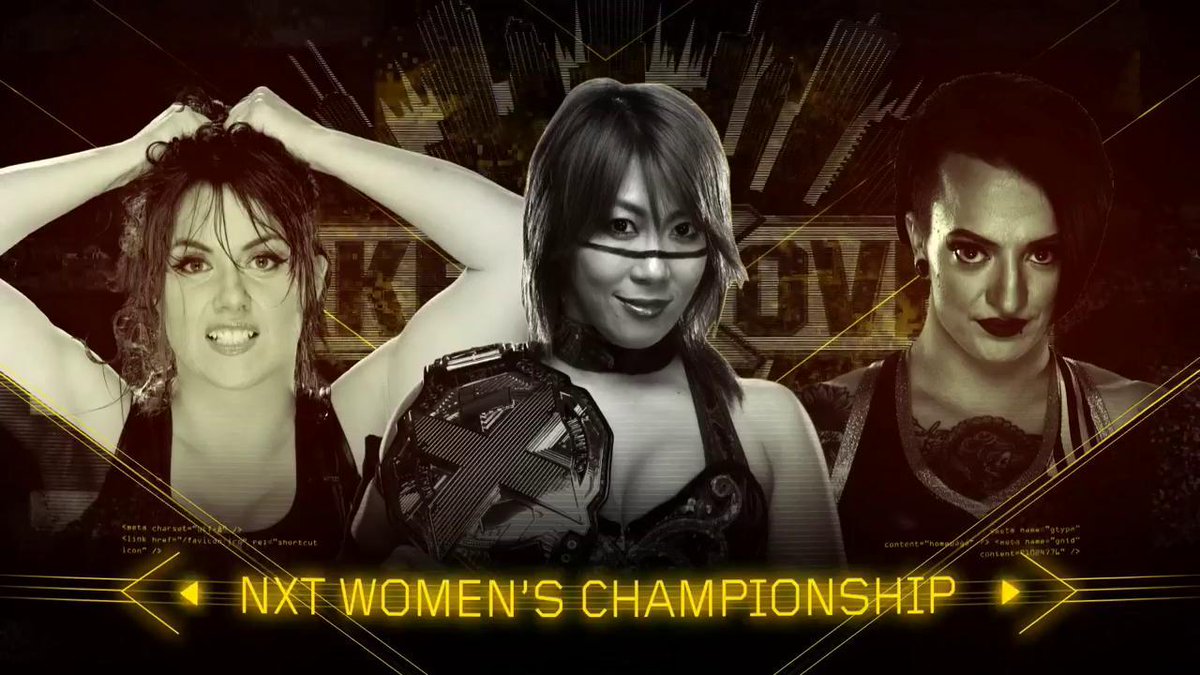 NXT Women's Championship: Asuka vs. Ruby Riot vs. Nikki Cross
JOHN: Let's move on to the first of the three NXT title matches. The NXT Women's Title features Asuka defending the title against Ruby Riot and Nikki Cross. It was going to be a four way, but Ember Moon is dealing with an arm injury. I think it's better that Moon isn't there because they can build her up for a singles match in Brooklyn. Anyway, this is the second multi-woman title match at a Takeover this year. Does it feel repetitive or should we get excited about it?
KURT: If Nikki Cross is in the match, that gives me reason to get excited about it. However, when it was originally announced as a Fatal Four Way, I did roll my eyes a bit. It felt like NXT has run out of ideas for Asuka but didn't know how to or want to get the belt off of her yet.
Instead of doing the whole battle royal angle, why not just do a gauntlet style match at Takeover? Billie Kay and Peyton Royce have done some strong work and deserve more opportunities than the one they got in January. Ember's injury sucks, but I agree with you that this is probably for the best. She needs a one on one match again with Asuka.
JOHN: This feels like the kind of match where they just want to have Asuka find another way to retain. I think WWE should mention her undefeated streak even more than they do because it's been over a year and a half now. I think the long term goal should be about making Asuka more of a heel (even though fans will cheer because she's cool) and then have Moon get that big moment by winning the title from her probably on SummerSlam weekend.
I feel like the match is okay, but probably a step down from other women's Takeover matches. I do like Nikki Cross a lot as you said she's very athletic and willing to do the big spots. Ruby Riot is well rounded with a unique look. I'm picking Asuka to win here. Would be very surprised if she loses.
KURT: This match should be nothing more than a way to continue the feud between Nikki and Ruby and as you put it perfectly, just finding another way for Asuka to retain. I would love to see a Falls Count Anywhere type match between Nikki and Ruby after this. I think it'll be a lot of fun because all three women seem willing to do anything but yeah I would be more shocked if Asuka loses than I was when Jinder Mahal became #1 Contender. And you know you shouldn't Hinder Jinder.
JOHN: Good call. Maybe they will do a big match for Nikki and Ruby on NXT television show rather than a Takeover.
John's Pick: Asuka retains NXT Women's Title
Kurt's Pick: Asuka retains NXT Women's Title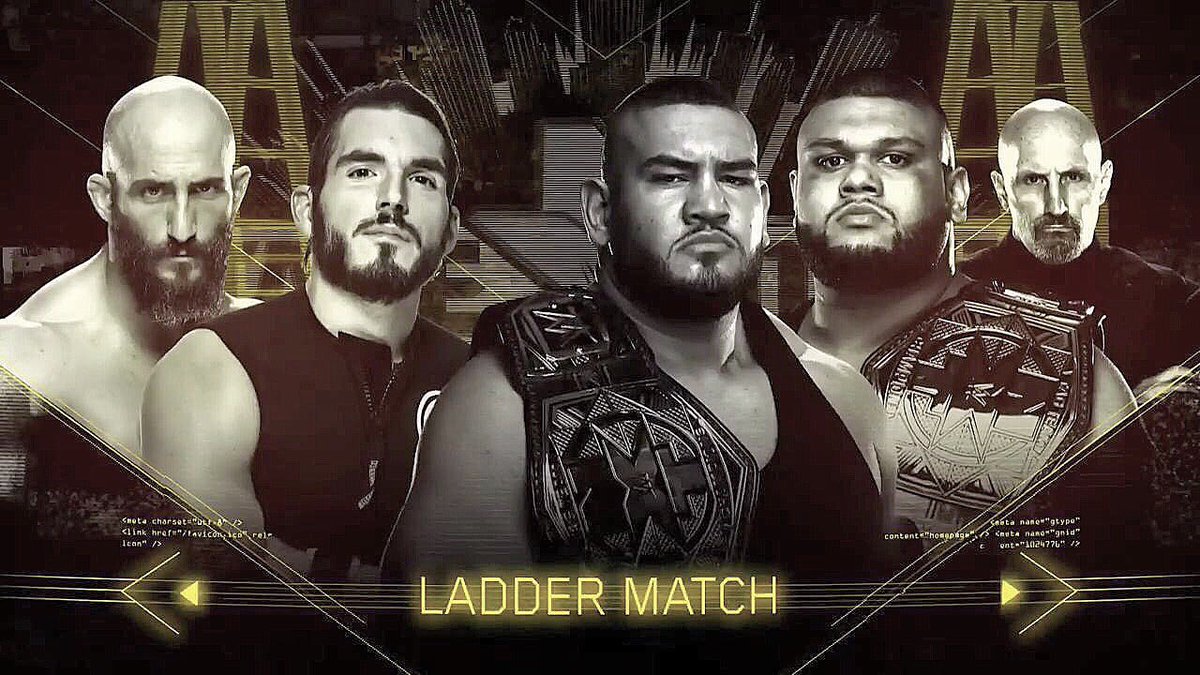 NXT Tag Team Titles Ladder Match: Authors of Pain (Akam & Rezar) vs. #DIY (Gargano & Ciampa)
JOHN: The NXT Tag Titles will be contested in the only specialty match on the show as the Authors of Pain – the dominant tag champs – will defend against Gargano & Ciampa one more time. Do you think this is the last title shot for #DIY if they lose? It feels like that way to me and I also wonder how much longer they'll be in NXT.
KURT: This is the match I'm most excited to see. I enjoy ladder matches more when it's being contested by guys that haven't been in ladder matches before. It typically lends to new ideas and spots being thought of. The tag division, especially on the babyface side, is in a tough spot. I'm sure they want to build Heavy Machinery to face NXT, and I like them a lot, but are they anywhere near ready to face AOP? I'm not sure. Although I don't think anyone thought AOP was ready and they've certainly proved that wrong.
I've had this feeling since the moment DIY got together that Ciampa would turn on Gargano just based on the story they told at the CWC. So I could see it going either way for them as a team should they lose. How are you feeling this match will go? Do you also see some creative spots coming from these four?
JOHN: I have a lot of faith in it being a great match because #DIY are incapable of bad matches. Plus, it feels like every NXT Tag Title match gets 20+ minutes. Considering how young both AOP guys are (both under 25 years of age) I think people need to remember that NXT is still partly a developmental show that benefits guys like them as much as anybody else. And they are an example of why NXT as a developmental brand works so well. Anyway, I think Heavy Machinery are next in line. What a name for a team, by the way! It's different, that's for sure. I guess you have a point about Ciampa turning on Gargano to give them a story for a few months. I'd rather see them together and on the main roster, though.
I feel like this will be an awesome match, probably the best on the show. They can do a lot of spots where the smaller #DIY guys go for the big moves and AOP's power advantage is too much. There's always creativity with these teams. I think AOP retaining makes the most sense and long term they'll probably drop the titles to TM-61 when they are healthy.
KURT: I keep forgetting about TM-61. They can't come back soon enough. I legitimately could see this match going either way, but I too find the most sense in AOP retaining. Match of the night for sure, either way.
JOHN: What about the future of Gargano & Ciampa? I think they stay together and be a team on the main roster or maybe as individuals in the cruiserweight division. You leaning towards a split soon?
KURT: I get scared when I hear DIY and main roster discussed in the same sentence. With the cruiserweight division floundering the way it is, I don't want to see them stuck in that scene. In a perfect world, it'd be great to see them come up together as an actual tag team, hello Smackdown Live, but I don't know if that's how Vince will see them. I think Ciampa is better suited as a heel from back in his indies work and there'd be a great personal aspect you could add to a feud between he and Gargano so I'm leaning towards that.
JOHN: I wasn't thinking about a Gargano vs. Ciampa feud, but you raise a good point with it and it would be awesome. I guess I'm just thinking how they've been there about 18 months, they are polished workers, so it's time to move them up. At the same time, getting lost on the main roster is a bad thing. Anyway, we're both going AOP so let's move on.
John's Pick: Authors of Pain retain NXT Tag Team Titles
Kurt's Pick: Authors of Pain retain NXT Tag Team Titles
NEWS UPDATE: Ciampa hurt his leg during a tag match on Thursday night, so it's very possible that he'll be out of the match. No word on his status yet. Our preview was obviously written before the injury happened.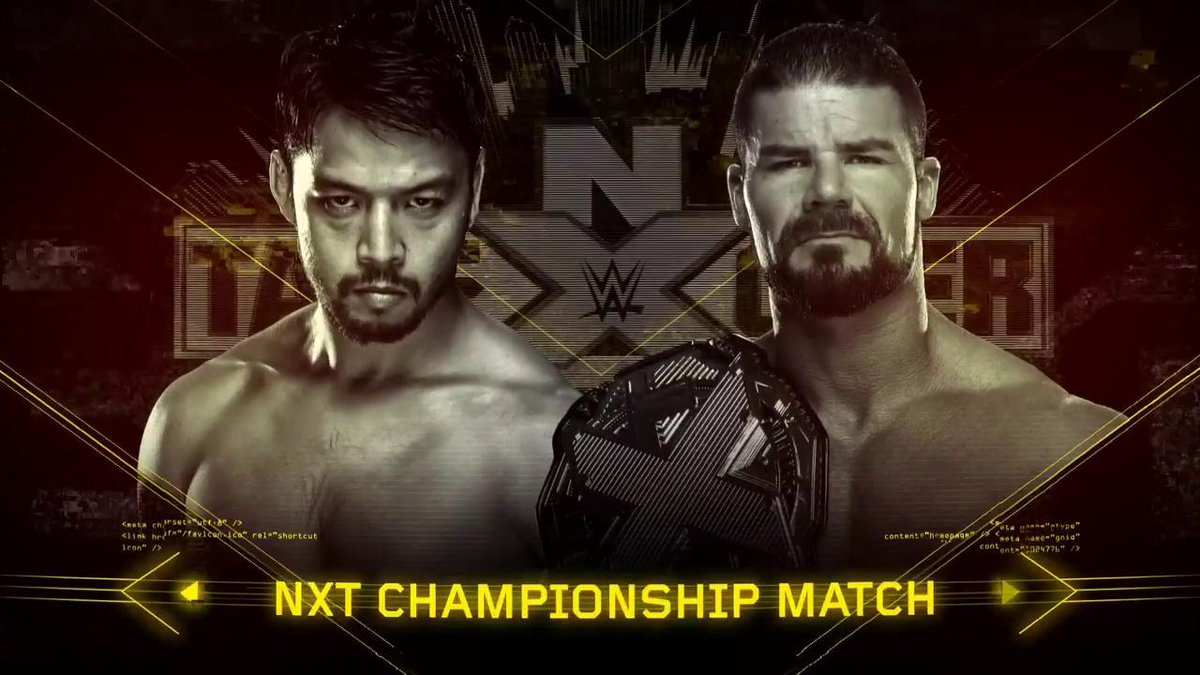 NXT Title: Bobby Roode vs. Hideo Itami
JOHN: The main event will see NXT Champion Bobby Roode defend the gold against Hideo Itami, who is finally healthy after two years full of injuries and he's earned the title shot after beating Roderick Strong. Itami tweeted the following:
Since I've come to WWE. I haven't lived up to my expectations. But finally I will have the opportunity to show, WHO I AM.
Get ready #G2S

— KENTA aka Lil'K (@KENTAG2S) May 18, 2017
I think he's honest and makes a good point in saying that he hasn't lived up to expectations. Two questions to start: How many CM Punk chants will there be if he hits a GTS (his move that Punk used in WWE before him) and is it possible that Itami may win?
KURT: A part of me wondered if Itami would just get straight up booed during the match because of his connection to the GTS and Punk and also because Roode is so popular anywhere he goes even as a heel. I don't know if it's possible that Itami can win, I mean they say anything is possible in the WWE, but what's most important for Itami is that he needs to put on a match of the year effort. He needs to have the best match he's ever had. I don't know if that's possible with some of the work he did in Japan, but he needs to have that mindset and he needs to try to accomplish that. Dave Meltzer was a little strong on Itami this week by saying that Itami, "has not looked anything special in NXT since returning." I would disagree with that as the GTS is clearly over like wildfire. But that's all he has.
The fans want to get behind Itami, but I think his injuries have left the fans feeling a little burned and also feeling pity on Itami. Think of the pictures that made the rounds from the Performance Center a few years ago with the likes of Balor, Owens, Zayn, Neville, & Itami (see above) and HHH is in one of them as well. Everyone has lived up to their expectations on the main roster and Itami is still in the starting blocks it feels like. Itami needs to remind everyone why he was in that group that was brought in back in 2014.
JOHN: It's going to be tough for Itami to ever get over huge. He was in WWE before Nakamura, but if you look at the both of them, most fans are going to be more intrigued by Nakamura obviously. He's got more star power and has had the better matches. I don't know if it's fair to compare them like that, but it's also a natural comparison as two good Japanese wrestlers trying to make it big in WWE. I doubt Itami is going to win here. Like you said, though, he needs to have the best match of his WWE career and a match that makes people say "wow" about him because right now he's not seen a major deal like he was in 2014.
KURT: Agreed. Even in a loss, if they go 20-25 minutes and just have a barnburner of a match and make the fans take notice in him, then that's still a victory for him. Roode just has too many good contenders lined up for him after this to lose the title here but as long as Itami makes people say "wow", like you said, then that will be the most important takeaway from the match. I know they'll get the time and they'll have a hot crowd as we mentioned so all the ingredients are there for Itami to step out finally. Even though I predict Roode to win, I hope Itami shines.
JOHN: I think there's going to be a tease of the GTS all match, then Itami will finally hit it and Roode will either roll to the floor or get a foot on the rope during a pin. Just do something to make it looks really close. I expect them to get 20-25 minutes as you said because most Roode title matches have gotten that or even longer. Roode should win, though. I think it's obvious guys like Drew McIntyre, Kassius Ohno, Roderick Strong and Aleister Black are faces that Roode can face down the line after this match. If Itami were to win, then there'd just be a rematch with Roode and maybe Eric Young can challenge him, but that path seems unlikely. It should be a win for Roode even if it's cheap a little.
John's Pick: Bobby Roode retains NXT Title
Kurt's Pick: Bobby Roode retains NXT Title
#NXTChampion@REALBobbyRoode, #WWENXT#WomensChampion@WWEAsuka, & #TagTeamChampions#AOP defend their titles this Saturday at #NXTTakeOver! pic.twitter.com/JoVU5jFQsU

— WWE (@WWE) May 18, 2017
FINAL THOUGHTS
JOHN: It should be a good show that I'll most likely enjoy a lot, but the absence of guys like McIntyre, Ohno, Black and others does hurt it a bit. I think WWE has made a big mistake by leaving McIntyre off the card. His return to WWE was a big deal in early April and now he's not even on the next Takeover event? That's just weird. I know he's advertised for a match on NXT TV next week against Buddy Murphy. It's not the same as being on Takeover, though.
You may notice that most of our predictions are the same with only the UK Title match prediction being different. That's because most Takeover shows are predictable. It doesn't hurt the quality of the matches, but it's rare that they do something that will truly surprise us.
That's all from us. Kurt's going to be back on TJRWrestling on Saturday night with a live review of NXT Takeover Chicago and I'm going to chime in with my review featuring star ratings/analysis like usual on Sunday morning.
Here's our Twitter info:
Kurt – @KTankTMB
John – @johnreport
If you want to send an email, send it to me at mrjohncanton@gmail.com as well. Thanks for reading.