Ten WWE Feuds That Should Happen Following WWE Draft
The WWE Draft begins tonight with part one taking place on Smackdown. It concludes on Monday's Raw with part two. The format isn't known right now, but if it's similar to the last two years then several names will be announced during Smackdown and then the others will be on Raw. I'm not here to write an article saying this wrestler should go to Raw and that wrestler should go to Smackdown. My buddy Joel McIntyre already wrote a column like that here on TJRWrestling and I thought he did a great job, so check that out.
What I'm here to do today is list ten WWE feuds I want to see following this WWE Draft that will lead to people switching shows to create fresh and new matchups. I'm not saying any of these matches need to happen right now in October 2021, but assuming the rosters hold for another year, I'm hoping we see them at some point in the next year. Whether they are in the next three months to close the year, maybe early 2022, WrestleMania next year or even next year's SummerSlam, I'd love to see every match below. Some of them are fresh and new. Others are matches we have seen, but maybe not that many times. If it was up to me, WWE should shake up the rosters more than once a year. Maybe right after WrestleMania, they should say there will be five moves for each brand. Maybe you can do trades at times to set up new matchups. All I'm saying is that they could do more than what they currently do. My only rule for my choices is that I am not using anybody more than once. I could, but I'm just trying to be fair. I'm also not going with any NXT choices except for one wrestler. I just wanted to focus on Raw and Smackdown people.
Here are my choices for ten feuds WWE should consider following the WWE Draft. The order doesn't really matter, but I did number there just to make sure you know there are ten of them.
1. Roman Reigns vs. Drew McIntyre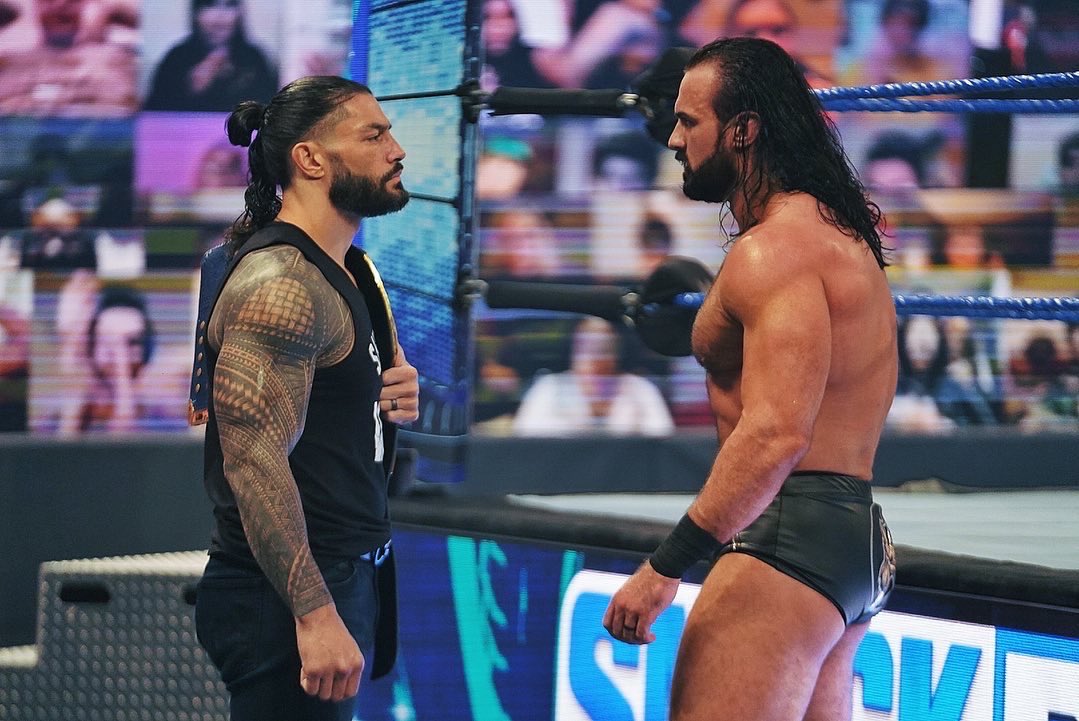 I think this is a no-brainer. If it doesn't happen I'll be surprised. Their match at Survivor Series last year was really good. It was certainly better than their WrestleMania match. I think Reigns has been so dominant as the Universal Champion on Smackdown over the last year, so it makes sense to bring McIntyre over as a top face to feud with Reigns. I don't know when Reigns is going to lose the Universal Title or to who. Should it be WrestleMania next year or before that? Not sure. I think Drew is a guy that "could" do it although I'm not sure if he will. Anyway, I assume we see a Reigns vs. McIntyre feud before the end of 2021 or early 2022. Bring it on.
2. AJ Styles vs. Finn Balor
Their lone WWE match was at TLC PPV in October 2017 with "Demon" Finn Balor beating AJ Styles clean. The loss didn't hurt Styles much since he won the WWE Championship again one month later. This match only happened because Balor was supposed to face Bray Wyatt, then it didn't happen and Styles was called in as a last-minute replacement because they wanted to present the fans with a great match. I rated that TLC 2017 match at ****1/4, which means it was outstanding. It also left me wanting to see a rematch. It's four years later. We're still waiting. I know Styles is in a tag team with Omos right now, but it's not like that has to go on forever. I would love to see Balor and Styles on the same show and to see them have an actual rivalry. Styles is 44 years old, Balor is 40 years old. The best time for this feud is now.
3. Big E vs. Seth Rollins
Big E is the WWE Champion that will likely get drafted to Raw, so obviously an easy way to set up this rivalry is for Rollins to get drafted to Raw as well. I don't know if that will happen because Seth Rollins' wife Becky Lynch is the Smackdown Women's Champion right now. Once again, though, this is not a column about matches WWE has to set up right now. Just give it to us at some point. They could move Rollins in a trade or a superstar shakeup or whatever they want to call it. There are a lot of ways it can go. There's actually some interesting history here since Big E was the one that beat Seth Rollins to become NXT Champion nearly a decade ago. They have been in WWE for about the same length of time, but Rollins can brag about how he's accomplished a lot more as a singles wrestler while the babyface Big E can put himself to the test against a veteran heel like Rollins. I think they could have a great rivalry with Rollins putting over Big E in a big way.
4. Bianca Belair vs. Charlotte Flair
I know there are some fans out there that hate Charlotte Flair so much that they don't want her to ever be in a high-profile feud. I think what they actually hate is that she is pushed so much and that she does the same heel promo for most of the past seven years. I get it. However, I think when it comes to being an in-ring performer, Charlotte is still one of the absolute best in WWE. She showed in some of her matches with Rhea Ripley and Nikki A.S.H. recently. While I wouldn't call any of them classics, I think their triple threat match did come close to reaching that four-star level. The point is that Charlotte can still produce great matches with the right person and in the right setting while bringing out the best in that person. I think Bianca Belair might be the best athlete among WWE's female superstars with Charlotte Flair probably near the top as well, so I think they could do some crazy athletic stuff together. Belair has improved a lot this year as a talker and as an actress on camera, so I think with the right story, they could have an outstanding feud.
5. Brock Lesnar vs. Bobby Lashley
If not now, then when? That's the question I have about this match that Lashley has been talking about for a long time now. Bobby Lashley is 45 years old (while moving around the ring like somebody that's 15 years younger) while Brock Lesnar is 44 years old. In the past, the reason not to do it is that maybe Lashley wasn't considered a main event talent in WWE. That has changed this year after his run as WWE Champion for more than half a year. I think WrestleMania would be a great setting for this match with Lashley as the dominant heel, Lesnar as the face that the fans respect a lot and let's see what they can do.
6. Io Shirai vs. Asuka
It's time for Io Shirai to make her presence felt on Raw or Smackdown and if that happens, I want to see her against Asuka. Who's the face? Who's the heel? I don't know if it matters. I think Shirai is as good in the ring as any WWE women's wrestler over the past few years and Asuka has had a tremendous run in the company. I'm sure both of them would love to have this match. There are plenty of ways to set it up. You could do it even as a match in the "Queen of the Ring" tournament that is being rumored. Just give them 10-15 minutes to show what they can do. I'm sure the crowd would react favorably to them because of how talented both women are.
7. Kevin Owens vs. Keith "Bearcat" Lee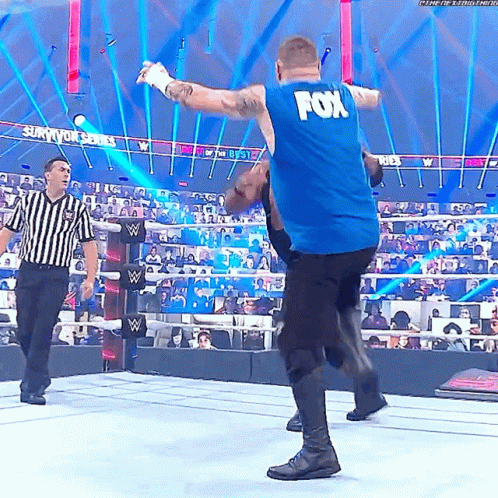 Styles make fights, or so they say in boxing and MMA. I think it applies to pro wrestling too. Kevin Owens is one of my favorite wrestlers in WWE and I know there have been reports of him having an expiring contract later in the year or early in the next year. Let's assume Owens stays, who is there to feud with? I think Keith Lee is a great choice. My feeling is that they are two bigger guys in terms of their appearance although Lee is definitely the bigger of the two. Owens is a bulky guy, though, so I think they match up well in terms of their stature, athleticism and ability to hit some cool-looking moves on opponents no matter their size. Who's the face and who's the heel? I don't know, but Owens is one of my favorite heels when he's in that role. There are rumors that Lee might be a heel and if that's the case then they set it up easily with a cheap attack from Lee and off they go. I think these guys would enjoy wrestling eachother too.
8. The Usos vs. The Viking Raiders
There really aren't a lot of great tag teams in WWE right now, but I wanted to pick one tag team match I wanted to see. To me, the Viking Raiders are underrated in the sense that they aren't pushed that much by WWE, yet they are so talented in the ring. They can have a power match with anybody and also match up with the quicker teams because they bump so well. The Usos are the best team in WWE, so I'd love to see those teams match up if it's properly built up using a story where The Usos realize they might not be able to beat these guys, so then you have the Viking Raiders look strong in the rivalry. It's simple, but it could work well. The Usos are well established as an all-time great WWE team. Let's see if the Viking Raiders can be elevated by beating them.
I also think NXT Tag Team Champions MSK would match up really well with The Usos too. That will be fun to see some day.
9. Edge vs. Sami Zayn
Two more of my favorite wrestlers happen to be fellow Canadians as well – Edge and Sami Zayn. I have really enjoyed Edge's feuds with Roman Reigns and Seth Rollins this year, but I want him to work with some guys that are a bit below that level. Guys like Reigns and Rollins can lose dozens of matches in a row, yet they are solidified as main event wrestlers for the rest of their lives. Did they really benefit that much from feuding with Edge? I'm not sure about that. Where I think Edge can provide WWE with a lot of value is by putting him against some midcard or upper midcard talent and use Edge's legacy as an all-time great to lift somebody else up. That somebody else in this instance is Sami Zayn, who really has all the tools to be a main event player as long as WWE gets behind him. That's what Edge is for in this feud. Just like Mick Foley elevated Edge in 2006, use Edge to elevate Zayn. I think they could have some incredible promos together, which would lead to some outstanding matches.
Edge vs. Cesaro would be equally as great in my opinion. The reason I picked Sami is because of rumors of his WWE deal being up in a few months, so I think if Sami stays and he's part of a major storyline with somebody the caliber of Edge then maybe WWE would want to push Sami more. That's my thinking on it anyway.
10. Rhea Ripley vs. Becky Lynch
Rhea Ripley had a lengthy feud with Charlotte Flair this year and also in early 2020. Did either feud really help Ripley that much? I'm not sure. I think the best woman that can get the best out of Ripley is Becky Lynch as a cocky heel champion. Ideally, this is a feud that they would do around WrestleMania season with Lynch putting over Ripley in a clean match. It would be easy to set up even if they are on opposite shows in the draft. Put Ripley over in the Royal Rumble, match her up against Lynch at WrestleMania and it's all set. Where I think Ripley needs to improve the most is her promo work, so I think having a rivalry with a great talker like Lynch would help Ripley a lot.
Final Thoughts
There are plenty of other wrestlers that I didn't include in this column that I could have added. Top women wrestlers Sasha Banks and Bayley can match up with anybody well no matter their roles. Plenty of great male wrestlers like Riddle, Randy Orton, Sheamus, King Nakamura, Apollo Crews, Jeff Hardy, Damian Priest and so on can be slotted in anywhere too. I don't want to sit here forever and keep listing them off. We can all think of good matchups, I'm sure. I just wanted to go with the ten that I liked the most.
I'm ready for the WWE Draft to begin tonight and will cover it on TJRWrestling later tonight as best as I can. And who knows? Maybe we'll get some of these matchups sooner or later.
Thanks for reading.