Strange Things in Wrestling (April 2022)
Welcome to the return of Strange Things In Wrestling. As a refresher, this column intends to highlight anything from the world of wrestling with odd, unique, quirky, or possibly bizarre qualities because that's what makes them stand out.
We'll dive deep into a handful of different things, stories whose strange nature is something that should be featured. Keep in mind – weird much like anything open for discussion, is subjective. Remember, one person's odd is another person's completely acceptable. And I'm not saying they can't be both; I'm just saying I really should stop talking because it's a whole new edition full of tears, sadness, and criticism.
Unlike previous editions, most of the items being covered this month have a general theme of sadness tied to them. Typically, April is filled with a ton of rain because it's supposed to bring in May flowers. You know, 'April showers bring May flowers.' But this month, we are faced with some of the most bizarre stories to come out this year. This month, we have the daughter of a former wrestler virtually attacked online, a former TNA Champion arguing with himself, the president of a company pointing the finger at bots for the criticism of his company, and a former World Champion unintentionally implicated in a celebrity trial.
So sit back, pull up a bag of your favorite snacks, avoid watching Sonic 2 if you are a parent, and crack open a can of your favorite frosty beverage from the sheer oddness that resonated from this month's edition.
Noelle Foley Suggests Mentioning Her Dad and Verbally Gets Thrown off A Cage
Obviously I understand it's difficult to fit everything into one speech and remember every single person you want to mention. But it just would have been really nice to hear my dad's name mentioned.

— Noelle Foley (@NoelleFoley) April 2, 2022
On April 1st, the WWE held its annual Hall of Fame induction ceremony. The event was ahead of their annual WrestleMania weekend. In the ceremony, a number of notable names were inducted. However, the main induction was by Vince McMahon for The Undertaker. It was a fairly notable speech. The Undertaker spoke for nearly an hour and shared stories and mentioned those closest to him, including The Godfather and the late Yokozuna. He spoke about facing Shawn Michaels and Triple H and how they were so important in his career. One name he didn't mention was someone he had a notable feud with: Mankind, Mick Foley.
Whether he didn't mention him on purpose or by accident, Foley was left out of The Undertaker's induction speech. While these things tend to happen, it didn't go unnoticed. One person that was vocal about it was Foley's daughter Noelle Foley. To Noelle's credit, she didn't say anything other than 'it would have been nice' that The Undertaker had mentioned her father. The problem is that when it's said in the Twitterverse the response is typically me with absolutely rational responses, no? No, they certainly aren't. The odd responses she endured were pretty scathing and bizarre.
Who runs the world…bots!
An independent study has confirmed that much of the staunch anti-AEW online community aren't real individuals, it's a staff running thousands of accounts + an army of bots to signal boost them. Look closely, these aren't real people. Who'd pay for such a *wildly* expensive thing?

— Tony Khan (@TonyKhan) April 8, 2022
One time Beyonce said who runs the world girls. So while she isn't a focal point here, the person that is a focal point here is AEW President Tony Khan. Earlier this month, Mr. Khan tweeted what you see above.
The response to it, much like a number of things that Tony tweets, is subject to a polarizing response.
For every person that saw where he was coming with things, there was someone rolling their eyes at it. But what the tweet did was spawn a series of copycat tweets that were either in jest of it or put their own spin on it. For instance, Becky Lynch was among those that parodied Khan's tweet with one of her own. Whether we believe that these tweets were signal boasted and are part of an anti-AEW legion of fans or not, we can all safely say that Tony has inspired many with his beliefs, thoughts, and tweets. Whether that's for the greater good or not we know that what he's doing is likely best for business. We're pretty sure there is no chance in hell that he's wrong about that.
ec3 won't let ec3 control ec3's narrative
EC3 forgot to switch over to his burner account to talk to himself. pic.twitter.com/OcIH6RWkl7

— WrestleCringe (@WrestleCringe) April 14, 2022
Control Your Narrative has emerged with a mixed review by fans. While the intent of the promotion is up for debate so has the value of them as well. Much like any company, its goal is to be seen as an option at any time. It hasn't mattered at what point in time any company has emerged its important that they gain credibility regardless of who it is. So in an unusual (or in tune with the promotion itself?) eC3 had a moment of um, confusion? We aren't completely sure if that's the case but if it was intentional it was amusing. If it wasn't it is more peculiar more than anything.
A few weeks ago, eC3 made a tweet like he is one to do. The isn't anything wrong with tweeting as those using the platform will do will explore an array of different elements on the platform. So while some will retweet, like and quote tweet, eC3 replied to a tweet. Which isn't unusual. What was out of the ordinary was that he replied to his own tweet. It wasn't as if someone else was being replied to as well as that can tend to happen as others may be part of the conversation. What eC3 did was reply to his own tweet and did it a second time. The replies almost resembled as though he was arguing with himself. It was amusing if his intent was to look like he was arguing with himself. It's a little strange if he did so because he wouldn't let the other side of himself control his narrative.
Kevin Nash is to Star in the next Pirates of the Caribean Film…or not.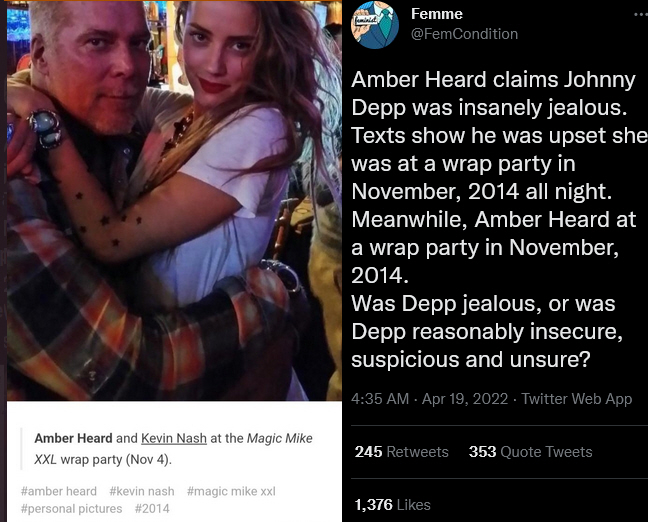 Oz, Vinnie Vegas, Diesel, and Kevin Nash. Often times it takes a wrestler years to find themselves. They typically need to find the right character, the right persona and sometimes even be in the right place at the right time. For two-time WWE Hall of Famer Kevin Nash, he's been in films as well. Fans may recall that he's been in Teenage Mutant Ninja Turtles and even more recently in the film The Punisher. What fans wouldn't have thought is he would be cast in the next Pirates of the Caribbean film! Well, they wouldn't have thought that because it isn't true.
Oddly enough, he likely wasn't even trying to be Captain Jack Sparrow either. But it seems Amber Heard managed to confuse the two of them as he's been implicated in the big Johnny Depp/Amber Heard trial. We aren't saying there were any shenanigans either. Nash is married and speaks on behalf of a number of different things, but it seems odd that of anyone's photo circulating with Heard it would be the former Big Daddy Cool's. Of course, we aren't investigators either so we won't assume to know if that photo was taken while she said she was away from Depp but cut Nash some slack. One would think the Wolfpack wasn't looking to add members either. It could just be much ado about nothing. But it certainly is strange.
__________________________
Follow me on Twitter @TheMarcMadison or @ProWrestlingPST
Follow our site on Instagram @prowrestlingpost
Feel free to like our Facebook page Pro Wrestling Post
Lots of interesting information is on our site ProWrestlingPost.com including interviews with IMPACT Wrestling's Tenille Dashwood, Sami Callihan, and Madman Fulton, AEW's The Blade (Formerly Braxton Sutter of IMPACT Wrestling), Chris Sabin, and our podcast, ProWrestlingPost Podcast.