TJR WWE Network Table for 3 Review: Shane McMahon, Bruce Prichard and John Laurinaitis (When WWE Bought WCW)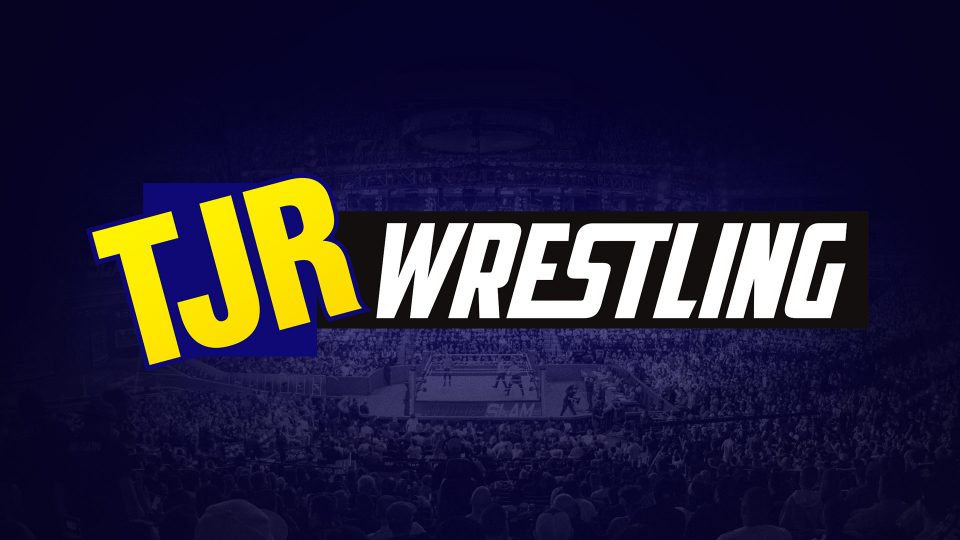 It's time for another edition of the WWE Table for 3 show on WWE Network. This episode premiered after Raw last night.
Here's the WWE Network synopsis for this episode: "WWE executives Shane McMahon, Bruce Prichard and John Laurinaitis talk business deals, corporate mergers and the end of WCW Monday Nitro."
Some more info on the people at the table.
Shane McMahon – The best in the world! Sorry. That was just a storyline. As the son of Vince McMahon, he's had a lot of jobs in WWE. At this point in March 2001 when WWE bought WCW, he was working backstage as an executive, he was an on-screen character and wrestler at times. Shane was in his early 30s at this point. Shane left WWE in 2009, then he came back in 2016 and I think his return pop on Raw in 2016 was one of the loudest crowd reactions anybody received this decade. Shane was a regular TV character from late 1998 until the late 2000s.
Bruce Prichard – He started with the company in the late 1980s, worked for nearly 20 years straight (had a brief time away in the early 1990s) and then he was brought back to the company late last year. Now he's the Executive Director of Smackdown. He also had a run on-screen as manager/talk show host Brother Love in the late 1980s into the early 1990s. Bruce also has the very entertaining "Something to Wrestle with Bruce Prichard" podcast that has a huge audience since it started three years ago. He's a great storyteller.
John Laurinaitis – A former wrestler known as Johnny Ace, who is the brother of Road Warrior Animal. His best wrestling days in Japan. By 2001, he was working backstage in WCW as a producer. After WWE bought WCW, John started working for WWE. He eventually became WWE's Head of Talent Relations in the mid-2000s until 2013 or so when Triple H took over that job. He still works for WWE as a Producer. People power!
Let's roll. I'll use first names to mention who is talking because it's less typing than the last names.
They started off with a toast with Shane noting that it was WrestleMania 35 weekend. That means they have been sitting on this episode for seven months. They drank some wine. Shane wondered if John remembered when they met and John said it was in Boston at the gym. Shane said it was World's Gym and it was around 1988 when John had the long blonde hair as a wrestler. Bruce told Shane they first met in 1987 at the house and Shane had a big pickup truck. Bruce said that Shane actually laid the bricks at the house where the family lived in. Shane talked about how he would work at the WWE warehouse and Shane said he got a job laboring for a brick mason. One of the jobs that the company scored was his parent's house that they were just building. Bruce said that he first met John in mid-1990s with John wanting to work for the WWF because John was mainly in Japan in those days. John said that he joined WCW in 2000 or so when Eric Bischoff hired him as a producer to help with match finishes. Eric told John since he can't get Pat Patterson, he got Johnny Ace and Shane laughed that John was comparing himself to Pat, but John said it was a tribute to Pat. Shane looked right into the camera and said: "Wow." That was pretty funny. Bruce and Shane joked that Pat would be offended. John said that he worked backstage in WCW at that point. John said he was in WCW for about eight months until WWE bought WCW. John said that Eric was gone and then somehow John was in charge.
Bruce said that WCW kicked their ass for 83 weeks, but WWE wasn't that far behind. Bruce said business picked up, they overcame WCW and then WCW died. Bruce said that the talent was disgruntled and there really wasn't anybody directing them. Bruce and Shane talked about how it was pretty quick because they were back in the race. Bruce said that Vince wondered what they were actually buying and they mentioned the television library was attractive.
Shane said when we (WWE) looked at the deals, the contracts, creative control and everything else, they thought they were out and that's why everything dominoed. Shane said when WWE showed interest in buying WCW, other parties gained interest and Shane thought they were out because of "fundamental issues" they were against. Then everything came back to them when the other suitors got out. Shane said then it became pennies on the dollar compared to what it originally was. Shane wondered if they were going to buy contracts of people that had creative control and he spoke about how an issue was that it wasn't a healthy locker room in terms of the personalities involved.
Bruce spoke about how WCW wasn't the only company they were looking to absorb or purchase because ECW was having issues as well. Bruce wondered if they should just get ECW. Bruce did a great Heyman expression saying "WCW is a dead brand." Bruce talked about how they were considering both of them, but they landed on WCW. Bruce said that the initial attraction was Turner Broadcasting so that they could have TV on TNT or TBS. Bruce said that they had the XFL, WrestleMania 17 (the best ever in my opinion) and Shane joked that his match with Vince was the biggest match instead of Austin vs. Rock. Bruce said that everyone's eyes were on them for so many different reasons. Bruce talked about how Vince refused to remotely let the wrestling side of things suffer because he was still doing that. And then Vince told them they were buying WCW as soon as that week. Bruce reacted with: "What?"
John talked about how they thought they would be bought by Eric Bischoff and this other company, but then it just happened two days later. Shane and Bruce said it was about two days later. Shane said they went from stop thinking about it to thinking about it and then a few days later they were the owners of WCW. Bruce said that he didn't think WCW even knew that WWE bought them. When Shane mentioned it, John confirmed "no" that WCW had no idea it closed.
Shane said Vince McMahon told Shane and Bruce to go on a plane to Panama City, Florida for Nitro. Gerald Brisco was with them. Shane said they asked John to assemble everyone in a room. Shane said he knew a lot of the guys from when they were in WWE while telling the group if you want to be onboard, WWE will be open arms and welcome, but those that do not, we understand and respect that as well. Shane said that led to him saying WWE has purchased WCW and he claimed that was the first time that WCW locker room had heard it. Shane said that some faces were awestruck, some were shocked and some were angry. John said just himself and the lawyers knew about it until the WWE guys came. Bruce joked that Shane was just a punk kid (Shane was 31 years old). John talked about how Bruce and Shane probably thought it was going to go bad. Bruce and Shane didn't know how it was going to go.
(Let me break from the review for a bit here. This has led to some arguments on Twitter because WWE posted that part as a preview clip. I think Shane is wrong in saying that was the first time WCW guys heard that WWE bought them because that last Nitro Shane was at was on Monday, March 26, 2001. Here's a press release from WWE on Friday, March 23, 2001 announcing the sale. There were also plenty of media outlets that reported on it that Friday or even a day before. The thought that the WCW talent didn't know that WWE bought them when they were at Nitro is pretty silly. I'm guessing Shane either misremembered something or misspoke in telling the story. It happens sometimes. Let's get back to it.)
Bruce told the story that they landed in Panama City and they were met by three plain-clothed sheriffs, who asked where their security was. Shane asked "what?" and Bruce said nobody is going to do anything because they are going to want jobs. Shane said those that didn't want to be a part of WWE, would they be upset? Bruce told the sheriffs that they are fine and everybody thought that the sheriffs were lawyers, so wrestlers would go up to them talking about their characters. Bruce said they didn't know who was going to be kept and who would be gone. A clip aired of Vince talking about one guy making history. Vince also said Jeff Jarrett of WCW was gone. Bruce said that Jarrett was right beside him when Vince said that and Jarrett realized he could just leave at that point. Bruce joked that he would be back in 18 years (that's because Jeff works backstage in WWE after getting hired earlier this year). Bruce said they had all that to deal with and they had to produce a television show.
Shane said one of the coolest things storyline wise is they did the simulcast in Panama City for Nitro and Cleveland for Raw. They showed Vince's promo at Raw saying he owned WCW and the WWF, so you will treat him with respect. That led to the clip of Shane McMahon walking to the ring on Nitro in Panama City. John told the story that they were told they needed 12 minutes free at the end of Nitro for the promos.
Shane talked about how as he walked out at Nitro, the audience was shocked and the WCW ring is much smaller (true). Shane said that there was a camera guy in the ring with him who he never talked to and he was right in his face while Shane was doing the promo. Shane said he was trying to push the guy back to give him some air since he had a lot going on.
While in the ring on Nitro, Shane delivered the famous line: "And the name on the contract does say McMahon…(long pause)…however the contract reads Shane McMahon!" The fans cheered loudly. "That's right. I now own WCW."
I'll never forget Vince's amazing facial expression reacting to that. Here it is.
Bruce said they talked about how they sent one or two technical people to see they were set up. John said he had no clue what was going on while wrestlers would go up to them asking him what was going on. John claimed he had no idea what would happen and thought he might go back to Japan. Shane put over John for being a consummate pro, he said that John was straight with everybody, he was honest and didn't BS them in any way. Shane said that the reason that show was so successful was because of John and John said thanks.
Bruce told a story about how he and Brian Gewirtz, who was the lead writer of Raw, they were trying to figure out what to do. Bruce said they came up with the Flair and Sting match. Bruce said he was told that Ric wasn't working that much and Ric famously wrestled in a t-shirt because he didn't wrestle for a few months. I know on Bruce's podcast he has told a story of how Ric didn't have his boots and they had to ship them to Panama City.
Shane said he knew Ric Flair from his days in WWE, but he didn't know Sting at all, so that was the first introduction. Shane said they met briefly at some other time. Shane told Sting he can have a match with Ric and told them to just do what they want to do. The match ended with Sting hugging Flair in the ring. Shane said that day rattled everybody and it was almost like they forgot everything. John said they were looking for direction. Shane said it was a difficult day, but the payoff worked with the simulcast. Shane talked about how it pumped up WrestleMania and having everybody there.
They showed a clip of Shane at WrestleMania 17 giving a shoutout to the WCW superstars sitting in a private box. They were names like Stacy Keibler, Chavo Guerrero, Lance Storm, Shawn Stasiak and others.
John talked about what a whirlwind that day was and it was stressful with a lot of uncertainty, but what an experience. He said it was a cool deal to be involved that. Bruce said that was one of the biggest days in the history of the business.
Shane talked about how several things were happening because it was vindication for Vince personally for enduring and battling through the Monday Night Wars. Shane said it was also a time for them to try to figure out how to move forward and keep things exciting because they didn't know for sure what to do.
Bruce said that the three of them were all a part of it and it was something that will probably never be duplicated again in this business in their lifetimes. Bruce said they flew in, then flew out and drank every drop of wine on the plane and it was a celebration. Bruce said that 18 years later, they're all back working for WWE, became friends, working associates and to that they say cheers. They toasted a final time to end it.
This episode of Table for 3 had a run time of 24:37 on WWE Network.
Just to add what I talked about earlier when Shane met the WCW talent and claimed it was the first time they heard WWE bought WCW, here's what former WCW ring announcer Dave Penzer tweeted about it.
This is inaccurate. There was an announcement made online the WCW website, a few days before Nitro, that WWE had purchased the company. We had no details of our future when Shane addressed us but we did know that the company had been sold. https://t.co/xC3GGO8R44

— David Penzer (@davidpenzer) November 11, 2019
Penzer added that maybe it was just remembered wrong by Shane, which is what I believe.
Memories fade after 20 years. I'm sure it was not that they concocted a story all these years later. Shane did have said talent meeting so, if that's the way he remembers it, no worries, just telling my memories.

— David Penzer (@davidpenzer) November 11, 2019
Final Thoughts
It was a good episode about a subject that really is one of the biggest days in wrestling history, as Bruce said. Bruce is a fantastic storyteller as fans of his podcast know and he really does a great job of painting the picture for those of us watching/listening to him. You can tell Shane and Bruce are close friends going back 30 years now. The story about Shane working for a company and laying the bricks at his parent's house was something I had never heard before, so that was cool. It was nice getting John Laurinaitis' perspective as the guy in charge of WCW that day and realizing that they really had no idea what was happening that night either.
I'm sure what people will get out of this show is that Shane was apparently lying about how he thought WCW people didn't know about the sale until Monday at Nitro even though it was in the news several days before that. Once again I don't think Shane did that just to lie and I think he probably didn't remember how it all went down in the first place.
I think Table for 3 is at its best when the people at the table are talking about a specific moment or topic like the sale of WCW in this case. Sometimes when this show is on and people just ramble about different things it gets boring. At least when you tune into this one you know what the subject is going to be and I thought it was entertaining to watch.
Check out the Table for 3 archive here because we have reviewed many episodes. Thanks for reading.