The John Report: WWE Smackdown 10/11/19 Review (WWE Draft Part 1)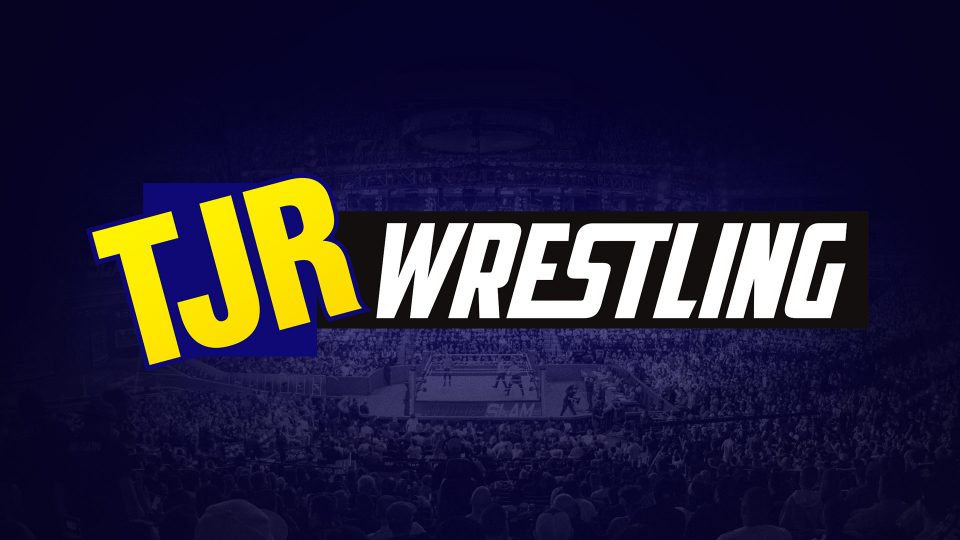 Welcome to another WWE Smackdown Review right here on TJRWrestling for the second episode of Friday Night Smackdown on Fox. It's a big episode because there's a WWE Draft where some superstars are going to find out if they will be a part of Smackdown or Raw. The second part of the WWE Draft takes place on Monday's Raw.
Three matches have been announced for Smackdown: Charlotte Flair defends the Smackdown Women's Title against Bayley, The New Day's trio of Kofi Kingston, Xavier Woods and Big E vs. The OC's trio of AJ Styles, Luke Gallows and Karl Anderson, plus Roman Reigns vs. Seth Rollins in the opening match. The winner of the Reigns vs. Rollins match will earn the first team for their current show with Reigns representing Smackdown and Rollins representing Raw. Stephanie McMahon also tweeted that she is hosting WWE Draft.
The list of wrestlers and groups (provided by WWE on their own website) eligible to be drafted tonight looks like this: Raw Women's Champion Becky Lynch, Roman Reigns, The O.C. (United States Champion AJ Styles, Luke Gallows & Karl Anderson), "The Fiend" Bray Wyatt, Drew McIntyre, Randy Orton, Sasha Banks, Ricochet, Braun Strowman, Bobby Lashley, Alexa Bliss & Nikki Cross, Lacey Evans, The Viking Raiders (Erik & Ivar), SmackDown Tag Team Champions The Revival (Scott Dawson & Dash Wilder), Natalya, The Street Profits (Montez Ford & Angelo Dawkins), Lucha House Party (Kalisto, Gran Metalik, Lince Dorado), Cesaro, Kevin Owens, Humberto Carrillo, Akira Tozawa, Sin Cara, Eric Young, EC3, Chad Gable, Heath Slater, Drew Gulak, The B-Team (Bo Dallas & Curtis Axel) and Tamina.
If you don't see somebody's name on that list it's because they have to wait until Raw to find out if they are Smackdown or Raw. It's a smart way to break it up and make people want to tune into Raw, but it's also going to confuse some viewers.
Live from Las Vegas, Nevada (my favorite city in America), this is Smackdown for episode #1051. Follow me on Twitter @johnreport. Please visit TJRWrestling.net daily for our regular updates on the wrestling business featuring WWE news coverage along with reviews about wrestling's past and present. Thanks to Melo Man for the banner up top.
The show began with the Smackdown intro video to the AC/DC song "Are You Ready" and it's really well done as I said last week when it debuted. I think after the Draft stuff is sorted over the next week, it will be Smackdown only people in the video, but for now, it's top stars from the main roster.
The pyro went off on the stage (feels good to write about pyro again) and the crowd in Vegas was loud. The Smackdown announce team of Michael Cole and Corey Graves welcomed us to the show.
Roman Reigns entered with the pyro adding a little bit more to his entrance. Good reaction for Reigns. Some boos, but mostly cheers. Seth Rollins, the Universal Champion, made his entrance and the crowd chanting "Burn It Down" right on cue.
For this match, Reigns represents his current brand Smackdown and Rollins represents his current brand Raw. The winning side gets the first draft pick tonight.
Roman Reigns vs. Seth Rollins
The former Shield "brothers" touched knuckles as a sign of respect to start the match. They battled over a headlock for the first minute or so. They did a sequence where Reigns avoided a suicide dive and Rollins avoided a Drive By kick. They went back into the ring to exchange punches, Reigns hit a clothesline and tossed Rollins over the top to the floor leading to a break. It was a slow pace to start the match.
(Commercial)
The match returned with Rollins in control with a headlock. They battled over a suplex, Rollins with a knee to the head, kick to the ribs and Reigns avoided The Stomp into a rollup for two, which led to a Powerbomb from Reigns for two. Reigns set up for a Superman Punch, Rollins caught him and sent him into the middle turnbuckle. Rollins with a clothesline over the top, suicide dive on Reigns, then another suicide dive by Rollins and Reigns went back first into the announce table. Back in the ring. Rollins off the top with a knee to the face of Reigns for two. Rollins went up top and hit a Frog Splash for two. They replayed the knee to the face because it connected well. Nice sequence of offense from Rollins there. Reigns came back with an uppercut, Rollins with a kick to the head, Reigns with a punch, Rollins with a superkick and Rollins gave Reigns a Buckle Bomb into the turnbuckle, but Reigns came back with a Superman Punch for two. The crowd came alive for that. Both guys were down in the ring selling for about a minute. Reigns set up in the corner, he charged for a Spear, but Rollins countered with a Pedigree for two as Reigns got his left shoulder up. That was a unique counter to the Spear. Rollins set up in the corner, but the lights went out in the arena and The Fiend was in the ring. The Fiend appeared from under the ring and gave Rollins the Mandible Claw. The fans were screaming for it. The Fiend pulled Rollins under the ring for a few seconds. The match went about 12 minutes. It's a DQ finish.
Winner: Seth Rollins by disqualification
Analysis: ***1/4 Good match from Reigns and Rollins even though I had the feeling there would be no result. They worked hard, had several fun sequences and nearfalls that the crowd bought into even though we didn't see a finishing move. I liked the flurry of offense from Rollins, then Reigns made the comeback and that Pedigree counter from Rollins was terrific. If they had more time and a longer match it would have been great, but I still enjoyed it. The DQ ruling is what they mentioned after the break.
Rollins managed to get away from The Fiend and went back into the ring. The Fiend peaked with his head above the hole and stared at Rollins some more. Rollins was grabbing his throat to sell the Mandible Claw attack. The Fiend went back up the stage and stared back at Rollins. They went to break.
Analysis: The Rollins/Wyatt feud ended badly at Hell in a Cell. I guess ignoring it wasn't an option.
(Commercial)
They showed the Fox Draft War Room and also a USA Network War Room with people pretending to look busy in both rooms. One of the guys in the Fox room is Rob Stone, who is a College Football broadcaster that held the 24/7 Title briefly.
The announcers went over the (confusing?) draft rules. You can see them on the image below.
Stephanie McMahon was introduced on the stage as the Host of the draft. She read the names off a card.
First Round of WWE Draft Picks
#1 for Raw: Becky Lynch
#1 for Smackdown: Roman Reigns
#2 for Raw: The OC trio of AJ Styles, Luke Gallows and Karl Anderson
#2 for Smackdown: Bray Wyatt (The Fiend)
#3 for Raw: Drew McIntyre
Analysis: Congrats to Becky on being the first pick. That's cool. The only name that changed shows there is Bray Wyatt, which is a bit of a surprise because I figured he would still be on Raw, but either show is fine for him. I will do another column breaking down the picks of both shows.
There was a panel on the show with Renee Young, Booker T, Beth Phoenix and Samoa Joe talking about the picks.
"King" Baron Corbin did a promo ripping on the fans for being filthy. Just a standard heel promo. He's against Chad Gable after the break.
(Commercial)
They showed the NFL on Fox main announce team of Joe Buck and Troy Aikman talking about the WWE Draft. Aikman was a #1 pick overall in the NFL too. Aikman said his favorite move was the piledriver. This was taped yesterday when they did the NFL game on Fox. It was only one minute. It's fine.
They are officially calling Chad Gable a new name with "Shorty Gable" as his moniker now. It's not good, but it is what it is.
Shorty (Chad) Gable vs. "King" Baron Corbin
Gable worked on the legs of Corbin a bit, he hit an arm drag and then Corbin hit a boot to the face for two. There were some brief "STD" chants for Corbin. Charge by Corbin, Gable avoided it and when Corbin tried his slide move, Gable hit a dropkick to knock Corbin into the barricade. Corbin grabbed Gable and gave him a Chokeslam onto the announce table, but it was not enough to break the table.
(Commercial)
The match returned with Corbin going for the Deep Six Slam, but Gable had a sweet counter with a bulldog. Gable with two running kicks on Corbin by the turnbuckle. Gable with a dropkick that sent Corbin over the barricade and onto the floor. Gable went up top and hit a perfect looking moonsault for a two count. Gable blocked a suplex attempt with a back elbow to the head and then a spinning slam off the shoulders for two. Gable hit the Chaos Theory roll into a bridging German Suplex for a two count. Gable with another German Suplex, but when he tried to do it, he couldn't do it. Corbin went for a Chokeslam, but Gable rolled through into a pin attempt for two. Gable slapped on the Ankle Lock on Corbin, who got near the ropes, Gable pulled him to the middle and Corbin managed to get out of it. Corbin hit the End of Days slam on Gable for the pinfall win after nine minutes.
Winner by pinfall: Baron Corbin
Analysis: **3/4 It was a solid match as usual between them. They have good chemistry and work together well. Gable won at Hell in a Cell on Sunday, so this is Corbin getting his win back. It might be the end of the rivalry as well. It's not a surprise that Corbin would get the win to end it.
The NFL on Fox crew of Terry Bradshaw, Curt Menefee, Howie Long, Michael Strahan and Tony Gonzalez. Terry liked Dusty Rhodes, Howie said Bruno Sammartino, Strahan said Ric Flair, Curt said Andre and Tony said Hulk Hogan. Good job
Stephanie McMahon announced the next picks.
Second Round of WWE Draft Picks
#4 for Raw: Randy Orton
#3 for Smackdown: Sasha Banks
#5 for Raw: Ricochet
#4 for Smackdown: Braun Strowman
#6 for Raw: Bobby Lashley
Analysis: Orton heads back to Raw after spending over three years on Smackdown while Sasha Banks is going to Smackdown for the first time since the brand split started three years ago. I'm a little surprised Strowman was moved off Raw, but a change might be good for him after three years on Raw. Ricochet and Lashley were already on Raw.
The draft panel talked about things again. I don't really pay attention to it. It's a way to try to make it look like a NFL or NBA draft.
There was a video package of the Braun Strowman/Tyson Fury angle to set up their Crown Jewel match.
There was a commercial for Total Divas next week.
(Commercial)
They replayed last week's Smackdown with Brock Lesnar beating Kofi Kingston for the WWE Title and then he was attacked by Cain Velasquez.
The Lesnar vs. Velasquez match at Crown Jewel on October 31 was advertised again. Earlier today, they didn't specify if the WWE Title is on the line. It is now a WWE Title match.
Let's Hear from Brock Lesnar with Paul Heyman
Brock Lesnar, the WWE Champion, made his entrance with his advocate Paul Heyman by his side.
Heyman did his introduction for the WWE Champion Lesnar. Heyman started the promo talking about fears that normal people might have and he asked what does Lesnar there? He said to relive October 23, 2010 when The Butcher of the UFC, Cain Velasquez, beat, victimized, bloodied and conquered Brock Lesnar. Heyman said that Velasquez took by will and by force the UFC Heavyweight Championship from Lesnar. Heyman said it was an unheard of first-round victory. Heyman said that for nine years, Lesnar has had no excuses about that fight because that's the kind of fighter that Velasquez is.
Heyman spoke about the problem with this whole thing. Heyman reminded us that last week Lesnar won the WWE Title and then Velasquez showed up. Heyman said that Lesnar conquers his fears and on October 31 at Crown Jewel, Lesnar will conquer his fear. Heyman said that Lesnar will conquer the nightmare of his past because Lesnar will conquer Cain Velasquez. Heyman said what he just offered us was not a prediction, that…and here's the interruption from Rey Mysterio with Cain Velasquez. Mysterio said you must have forgotten some footage from Cain Velasquez.
They showed images from UFC 121 in October 2010 when Velasquez overwhelmed Lesnar and bloodied his face to win the UFC Heavyweight Title with Cole noting that Velasquez was the first Mexican UFC Champion.
Lesnar pointed at the scar on the left side of his face above his cheek because Velasquez gave that to him during that fight. Velasquez spoke in Spanish. Mysterio said that Velasquez is going to give Lesnar another scare on the other side of his face. Velasquez and Lesnar had a staredown from a distance.
Analysis: Great promo work by Heyman as usual as he told the story of Lesnar wanting to conquer what happened to him against Velasquez in UFC nine years ago. It actually makes Lesnar feel like a babyface seeking revenge, but Lesnar is still the heel champion. Velasquez speaks good English, yet here's WWE making him speak in Spanish. I'm not sure why, but I've heard Cain speak English just fine. It wasn't made clear earlier in the day if this would be a WWE Title match, but now it is. That means Velasquez gets a WWE Title shot in his first match in WWE unless he gets a match on TV before Crown Jewel. Anyway, I'm only mildly intrigued by Lesnar and Velasquez in a WWE match.
The New Day were shown backstage with Big E doing the promo for their introduction. Kofi Kingston looks happy for a guy that lost the WWE Title in under ten seconds. I guess he's just got to play along with it.
(Commercial)
The Fox Sports college football guys talked about the WWE Draft. I didn't really pay attention. Sorry. It's not that important.
There was a video about women that have beaten breast cancer to plug WWE's work with Susan G. Komen for breast cancer awareness.
The New Day trio did a promo on change and talked about these two women winning the Champions of Hope contest. Sarah defeated breast cancer and her sister Samantha helped her. Xavier Woods said they met them and saw them go through this journey and they are two of the strongest people they have ever met. Woods said they are proud of both of them. New Day presented the two women with pink WWE Women's Championships. The fans cheered.
The OC trio of US Champion AJ Styles, Karl Anderson and Luke Gallows made their entrance.
AJ Styles, Karl Anderson and Luke Gallows vs. Kofi Kingston, Big E and Xavier Woods
Gallows went Woods out of the ring, which led to Anderson and Styles attacking Woods on the floor. Woods was sent into the steel steps, so they went to a break less than one minute into the match.
(Commercial)
The match returned with Kingston getting the tag, he hit a dropkick and a clothesline on Styles. Kingston hit a Boom Drop leg drop on Styles. Kingston went up top and hit a cross body block on Styles. Anderson made the save, Big E with a belly to belly suplex, Gallows kicked Big E out of the ring, Woods with a DDT on Gallows and Woods hit a somersault dive over the top onto Gallows and Anderson on the floor. Styles with a forearm to the face on Kingston, who avoided a move and Styles came back with a rollup. Styles went for a move off the shoulders, Kingston landed on his feet and Kingston hit a Trouble in Paradise kick on Styles to pin him after seven minutes.
Winners by pinfall: Kofi Kingston, Xavier Woods and Big E
Analysis: **1/2 It was fine for the time given, but it would be better if they showed all of a seven minute match instead of giving us only four minutes. I think Kingston pinning Styles is a tease for a US Title feud between them assuming Kingston (and hopefully New Day with him) gets moved to Raw. Styles and Kingston work well together, but they haven't had a proper feud, so I would be all for it.
There was a video that recapped Bray Wyatt attacking Seth Rollins earlier in the show.
Third Round of WWE Draft Picks
#7 for Raw: Alexa Bliss
#5 for Smackdown: Lacey Evans
#8 for Raw: Kevin Owens
#6 for Smackdown: The Revival (They are the Smackdown Tag Team Champions)
#9 for Raw: Natalya
Analysis: There are a few changes from where these wrestlers were before. I think Owens should be picked higher, but it doesn't really matter. It's just silly that Evans would go before Owens. I'm disappointed that The Revival aren't with Randy Orton anymore since Orton is on Raw. I liked them as a heel trio.
There was a shot of Charlotte Flair warming up backstage with the Smackdown Women's Title because she faces Bayley later in the show.
(Commercial)
A commercial was shown letting us know that Becky Lynch will face Sasha Banks on Raw on Monday. Lynch (representing Raw) and Banks (representing Smackdown) will have a match to determine what show gets the first pick on Monday.
Analysis: I assume Lynch wins and then Raw picks her fiancé Seth Rollins, who is the Universal Champion. Then Smackdown would pick WWE Champion Brock Lesnar after that.
Stephanie McMahon announced more draft picks.
Fourth Round of WWE Draft Picks
#10 for Raw: The Viking Raiders (Erik and Ivar)
#7 for Smackdown: Lucha House Party (Kalisto, Gran Metalik and Lince Dorado)
#11 for Raw: Nikki Cross (same show as tag team partner Alexa Bliss)
#8 for Smackdown: Heavy Machinery (Otis and Tucker)
#12 Raw: The Street Profits (Montez Ford and Angelo Dawkins)
Analysis: It's nice to see The Street Profits will be able to wrestle on Raw instead of just doing backstage promos. The Street Profits will be one of the best babyface teams in WWE as long as they get a chance to do their thing.
The panel led by Renee Young talked about the picks. Renee said that the names not picked are undrafted free agents, so they will be assigned to shows. We can find that out on WWE.com after the show.
Charlotte Flair made her entrance with the Smackdown Women's Championship around her waist and she got a nice ovation for her title match.
(Commercial)
There was a video from Fox NFL Insider Jay Glazer talking about "scoops" in WWE including the idea that there might be trades. There wasn't much to this.
There were highlights shown about Tyson Fury while Cole and Graves talked about his credentials. Cole noted that Fury said it was Fury's dream to get into a WWE ring.
At Crown Jewel on October 31, it's Tyson Fury vs. Braun Strowman.
As Charlotte Flair stood in the ring (for about five minutes at this point), they showed images of Flair beating Bayley at Hell in a Cell on Sunday to win the Smackdown Women's Title. Flair is now a 10-time Women's Champion in WWE.
Bayley made her entrance. She had a different haircut and new theme music. It was short hair and it was a different outfit. Bayley picked up some kind of axe or whatever it was and she destroyed the "Bayley Buddies" that were inflatable balloons that were part of Bayley's entrance during her WWE career.
Smackdown Women's Championship: Charlotte Flair vs. Bayley
Flair hit a neckbreaker where she used the ropes for an assist. Flair sent Bayley into the barricade. They went to the other side of the ring and Flair sent Bayley over the barricade. Bayley fought back, slammed Flair down by the head and whipped Flair into the steel steps. Bayley went back in the ring to smile as they went to break two minutes into this match.
(Commercial)
There are about 12 minutes left in the show with Bayley in control as she yanked down Flair by the left arm. Bayley kicked Flair's left arm while it was against the middle ropes. Bayley continued with a headlock, then a kick by the ropes, but Flair came back with a push that sent Bayley off the apron to the floor. Flair with a slingshot dive over the top onto Bayley on the floor. Flair whipped Bayley into the turnbuckle leading to a chop and an overhead suplex. Flair with a jumping knee attack to the left leg of Bayley. With Bayley on the apron, Flair with a boot to the face to knock her down. Flair was bleeding by the mouth again just like at Hell in a Cell on Sunday. Flair stood on the barricade and hit a moonsault on Bayley where her arm hit Bayley in the mouth. Back in the ring, Flair went for a backslide pin, but Bayley got out of it and Bayley hit the Bayley to Belly finishing move for a two count with Flair getting her right shoulder up. Flair with a neckbreaker and then she sent Bayley into the turnbuckle. Flair went up top, moonsault, Bayley got the legs up and Flair slapped on a Boston Crab submission. Bayley countered a Figure Four attempt by kicking Flair into the turnbuckle and Bayley got a rollup using the ropes for a two count. Bayley with a back suplex on Flair and a running knee against the ropes. Bayley went up top, she jumped off with an elbow drop and it barely connected for a two count. Bayley argued with the referee about the two count. While Bayley was throwing a tantrum, Flair hit a Natural Selection neckbreaker. Flair went for the Figure Eight submission, but Bayley countered into a cradle for the pinfall win after 13 minutes.
Winner by pinfall and New Smackdown Women's Champion: Bayley
The win by Bayley means that Flair only held the title for five days after winning it at Hell in a Cell.
Analysis: *** It was the usual Bayley and Charlotte match, which is good, but nothing special. I liked that Bayley cheated a bit during the match although it would have been even better if she cheated to get the win too. The inside cradle finish is more of a babyface thing. The title change surprised me because Flair just won it on Sunday. Perhaps this was a case of WWE wanting to do a title change on Fox for the second week in a row in the main event. That's probably what it is to make the title matches on Fox seem like more of a big deal.
There was a graphic that was shown on the screen telling us about the people that can be drafted during Raw. I assume Lynch wins the first pick, then her fiancé Seth Rollins goes to Raw and Brock Lesnar goes to Smackdown.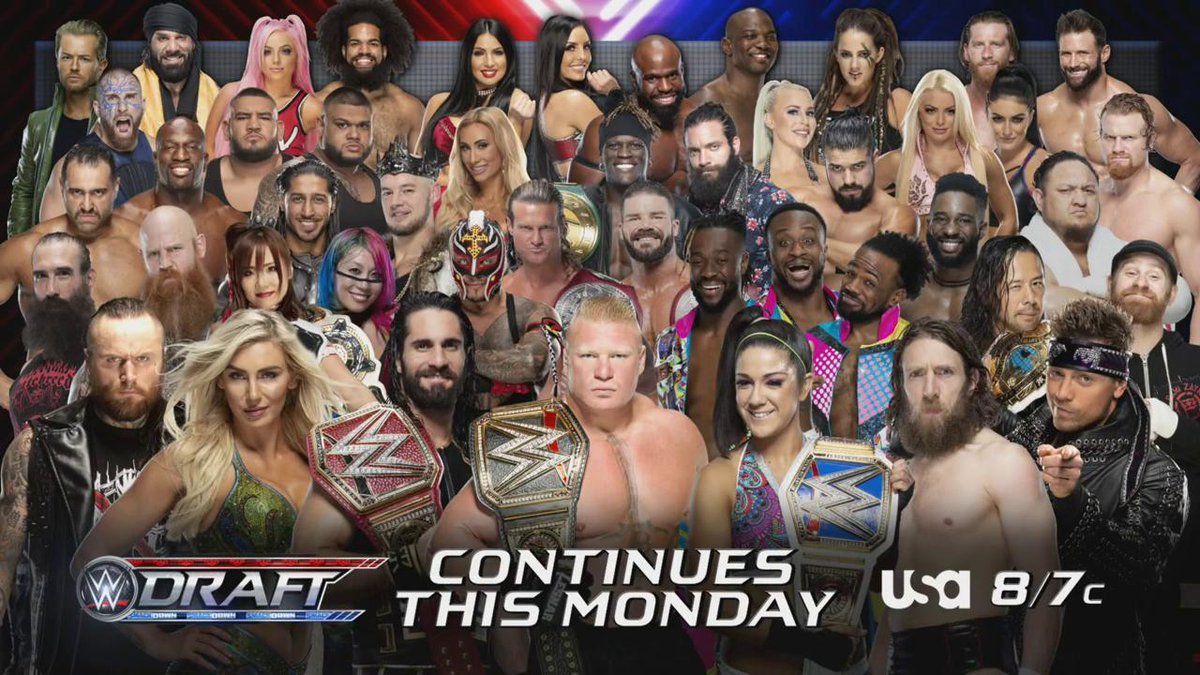 Bayley did a promo calling the fans bitches although we only heard the last part when she said "bitches" and Graves wondered what she said. Bayley: "Screw all of you." Bayley dropped the microphone as the fans booed her. Bayley held up the Smackdown Women's Title. Bayley left and that was the end of the show.
Analysis: I am in full support of heel Bayley. It is weird seeing it for sure, but anybody can turn in wrestling and we've seen it all our lives. I think she'll do well and I'm glad she changed her look too.
Three Stars of the Show
Bayley
Charlotte Flair
Seth Rollins/Roman Reigns
The Scoreboard
6 out of 10
Last week: 7
2019 Average: 6.73 (Raw is 5.84)
Last 5 Weeks: 6.5, 7, 6.5, 5.5, 5.5
2019 High: 8.5 (February 26)
2019 Low: 5 (January 15, June 11)
Final Thoughts
I give this week's Smackdown a 6 out of 10.
It was just an average Smackdown this week. It's a harder show to produce due to all the chaos involving the draft picks. They did a good job of explaining the rules and the process of the draft concluding on Raw although I can tell from social media that fans are confused by it too. The worst part of it was the bad acting by the Fox and USA Network "war rooms." It was silly in a bad WWE comedy way.
There wasn't a standout match this week, but I thought Bayley did well in getting over her new heel look and music as well as killing her "Bayley Buddies" balloons. She followed that up with another Smackdown Women's Title win, so it was a good night for her.
I think this show will be better when there's a brand exclusive roster that we get used to starting next week. This week felt all over the place and that hurt a bit.
The next WWE PPV is Crown Jewel on Thursday, October 31. Here's the official lineup so far.
WWE Championship: Brock Lesnar (c) vs. Cain Velasquez
Braun Strowman vs. Tyson Fury
Team Hogan (Captain Seth Rollins, Rusev and three others) vs. Team Flair (Captain Randy Orton, Baron Corbin and three others)
—
Thanks for reading. Go Los Angeles Rams, reigning NBA Champions #WeTheNorth Toronto Raptors and Toronto Maple Leafs. My contact info is below.
John Canton
Email mrjohncanton@gmail.com
Twitter @johnreport
Personal Facebook and TJRWrestling on Facebook