The John Report: WWE Smackdown 04/03/20 Review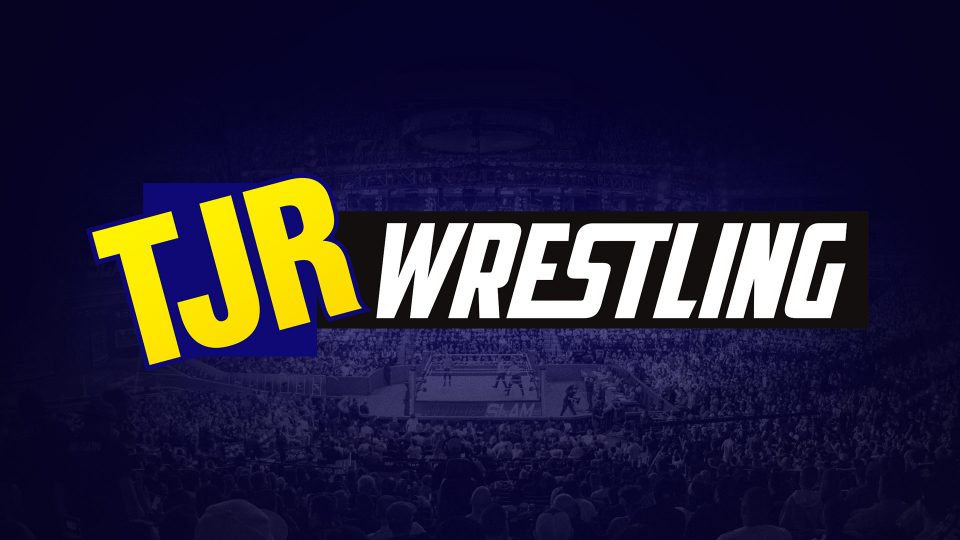 Welcome to another WWE Smackdown review here on TJRWrestling. It's the last Smackdown before WrestleMania on Saturday and Sunday due to the health crisis that the world is dealing with right now. This show was taped last week just like WrestleMania was. Speaking of WrestleMania, our in-depth WrestleMania preview went up exclusively on TJRWrestling on Friday afternoon, so please check that out in case you missed it. If you want my predictions for any of the matches, that's where you'll find it. I plan on writing a live review of WrestleMania 33 on Saturday and Sunday only on TJRWrestling.net as well.
Live (on tape) from the WWE Performance Center in Orlando, Florida, this is Smackdown for episode #1076. Follow me on Twitter @johnreport. Please visit TJRWrestling.net daily for our regular updates on the wrestling business featuring WWE news coverage along with reviews about wrestling's past and present. Thanks to Melo Man for the banner up top.
The Smackdown intro video aired to begin the show.
Miz TV
The WWE PC was set up for Miz TV with ladders around the ring. The Usos made their entrance saying they got jumped by Miz and John Morrison last week, so they wouldn't let that happen again. The Usos said they would become Tag Team Champions again at WrestleMania.
The New Day's Big E and Kofi Kingston made their entrance. Big E and Kingston went into the ring with Kingston saying they heard the Usos say they'd get those Smackdown Tag Team Titles and he was shocked by that. Big E said that these circumstances are a little unique, but it's still WrestleMania. Big E laughed while saying "annals" of time and he said they'll get those titles. Jey Uso called Miz and Morrison "Dumb and Dumber" followed by an argument between the teams.
The Miz and John Morrison walked out with the Smackdown Tag Team Titles. Miz said that they were "turtleneck tough guys" that deserve better. They mentioned beating the other Smackdown teams at Elimination Chamber and now in a Ladder Match, they will thrive. Miz told them to bicker all they want and they'll take a front row preview of what will happen at WrestleMania. Miz said they'll beat up eachother, which will lead to Miz and Morrison climbing the ladders retain their titles. Miz and Morrison climbed ladders that were on the stage. They did their "Be Jealous" catchphrase.
The Usos and New Day went after Miz and Morrison on the stage. Jimmy decked Kofi with a superkick after Morrison moved, so Big E hit Jimmy with a clothesline. Big E tossed Jey over the barricade. Miz and Morrison shoved Big E into a ladder. Miz and Morrison ran over Kofi and Jimmy with a ladder. Miz and Morrison stood tall, climbed the ladders and their music played to end it.
Analysis: It was a solid segment to set up the ladder match at WrestleMania. There was apparently a change in plans when they taped the match, though, so I don't know what they are doing at WrestleMania. All we know is that The Miz was sick and there was not a tag team match. We will find out at WrestleMania.
Later on Smackdown, John Cena is there. Also, they will replay Ric Flair's retirement match at WrestleMania 24.
Naomi made her entrance for a triple threat match after a break.
(Commercial)
The Smackdown Women's Champion Bayley and Sasha Banks were at ringside to join Michael Cole to call the match. Cole said he won a rap contest once, so he wondered if he can be on Sasha's new album, which led to anger from Banks.
Lacey Evans entered and put her ridiculous red hat on Cole's head. Tamina was last. The three women in this match, plus Bayley and Banks are in an Elimination Match at WrestleMania.
Tamina vs. Naomi vs. Lacey Evans
Tamina with a back elbow on Naomi, Evans with a dropkick on Tamina. Naomi went for a pin on Tamina, but Tamina slammed her head into the mat. Tamina sent Evans to the apron and Tamina knocked both women off the apron to the floor. That led to a break one minute into the match.
(Commercial)
Naomi with two boots on Tamina and then Tamina hit a running clothesline. Cole talked to Bayley and Banks saying that there are rumors that Bayley thinks she is the new boss. Banks said she's the Legit Boss. Anyway, Tamina worked over Naomi with a forearm and then Naomi came back with a springboard kick. Evans back in with an elbow and a running clothesline. Evans with a splash on Tamina against the turnbuckle. Banks and Bayley said they are equal as they hugged. That's not social distancing, but neither is having wrestling matches. Evans with an elbow drop on Tamina. Naomi with a kick on Evans on the floor. Banks got up and whipped Evans into the steel steps, so Naomi kicked Banks in the head. Naomi with a kick on Tamina and a sunset flip got a two count. Naomi with a kick to the head, Naomi charged and Tamina hit a Samoan Drop for a two count with Naomi getting her shoulder up. Tamina missed a corner splash when Naomi moved, Bayley choked Naomi against the top rope and Tamina hit a superkick on Naomi for the pinfall win after eight minutes.
Winner by pinfall: Tamina
Analysis: *1/4 It was a boring match. A cheap win for Tamina thanks to an assist from her fellow heel Bayley. There were no DQ's for the interference because there are no disqualifications in a triple threat match.
Post match, Bayley went into the ring for a handshake and she told Tamina she was proud to have her in their match. Tamina shook her hand, Bayley was about to leave and then Tamina hit her with a superkick. Banks checked on Bayley and Banks wanted to touch knuckles, but Tamina hit Banks with a Samoan Drop. Cole said Tamina may be the odds on favorite at WrestleMania. Tamina was standing alone in the ring to end it.
Analysis: It was the second week in a row where Tamina was made to look strong. Is she going to win the title? Probably not, but at least they tried to book Tamina well with a match win and post match attack.
The WrestleMania 24 match between Ric Flair and Shawn Michaels is up next.
(Commercial)
Tucker was shown warming up for a match. Mandy Rose went up to chat with him, but we couldn't hear them. Tucker faces Dolph Ziggler later in the show.
It was time for Flair vs. Michaels to take up about 30 minutes of the show. Here's my review of the WrestleMania 24 match between Shawn Michaels and Ric Flair. If you want more of my thoughts on it, go to the WrestleMania's Greatest Matches section on TJRWrestling. They probably should have picked a match featuring people actually wrestling at WrestleMania this year, but it doesn't really matter that much.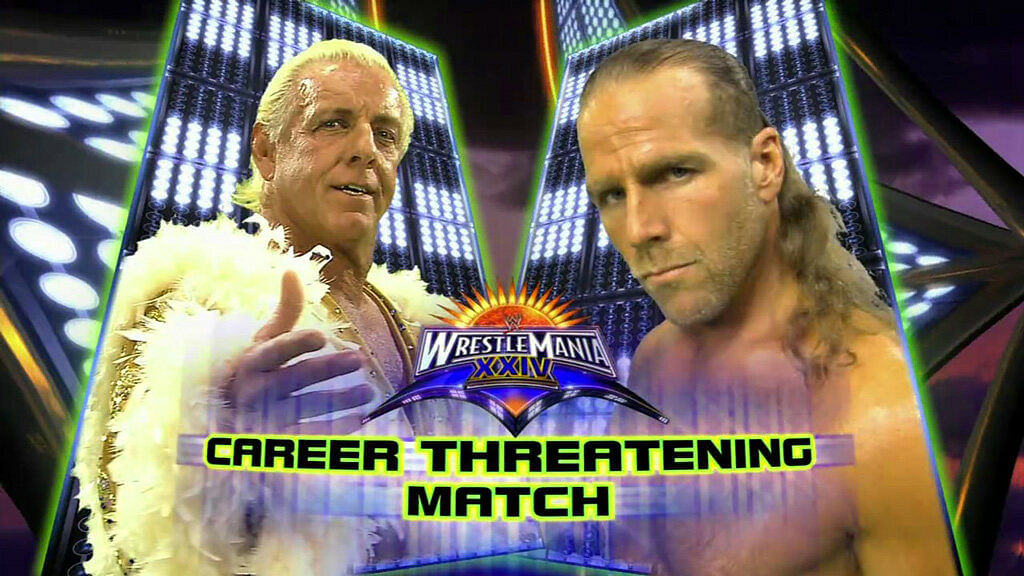 This match took place on March 30, 2008 at the Florida Citrus Bowl in Orlando, Florida at WrestleMania 24.
They did the intros for the Career Threatening Match. Michaels came out first. Huge babyface pop. Flair was next. He got a big ovation as well. In case you were wondering, Flair was 59 years old going into the match while Michaels was 42. Everybody knew who was going to win, but we didn't care. It was a big deal.
Career Threatening Match: Shawn Michaels vs. Ric Flair
The ref of the match was Charles Robinson, who a lot of people referred to as Lil Nature Boy (or Lil Naitch) over the years. They traded some basic holds early. Flair won an exchange with an arm drag. Lots of "Woo" chants in the crowd. Flair shoved him hard in the chest, so Michaels slapped him in the face and told him he wanted HBK so he got him. Flair's mouth was bleeding. Flair chopped him. The crowd chanted "Woo" with every chop. Flair put him down with a back elbow followed by the patented running knee to the head. Michaels countered a corner charge with an elbow to Flair's mouth. Michaels went up top and Flair threw him off the top rope. That's the typical Flair spot. Then Flair went up, Michaels went to throw him down, but Flair countered that and Flair hit a cross body. He hit a move off the top! Flair went for the Figure Four, but Michaels kicked him out to the floor and then gave him a baseball slide dropkick. Michaels went for a springboard moonsault. Flair moved. Michaels went rib first right into the corner of the announce table, which broke it. Crazy bump. JR: "My God! My God! My God!" The replay showed that Michaels' ribs did hit the corner edge of the table. That had to hurt. Ref Charles Robinson counted him out, but HBK rolled back in at the count of eight. Flair gave him a back suplex for two. Flair gave him a double underhook suplex for two. Nobody believed that was it, but JR was yelling about it as if it was close. Flair gave Michaels a delayed standing vertical suplex for a two count. More chops. Michaels came back with a neckbreaker. He gave Flair a back body drop over the top to the floor. Michaels went to the top rope. He hit a Moonsault onto Flair, who was standing on the floor. Flair really didn't catch him well. You could see Michaels' knee hit the ground pretty hard. They rolled back into the ring at the same time.
Back to their feet, they exchanged more chops. Flair whipped him into the ropes and Michaels came back with a flying forearm to the face of Flair. Michaels hit two atomic drops and then a body slam. Michaels was selling the rib injury. Michaels went to the top rope and hit a Flying Elbow off the top rope. It wasn't one of his better ones, but it did the trick for sure. Michaels "warmed up the band" to set up for the superkick. He stopped at the last second. Flair took advantage of the hesitation to give Michaels the Figure Four Leg Lock to a huge ovation! The crowd was going wild as Michaels tried to fight the move off. It was a sustained loud pop. Michaels turned it around, so Flair got out of it. They did a pinning sequence. They tried to do the spot where Michaels was on the floor and he would bridge up, but Flair couldn't move his body up. You could tell it was a tough move for him to do. Michaels broke it up with a shot to the ribs. Michaels got another nearfall for two off a sunset flip. Flair was really starting to tire at around this point of the match. Flair whipped him in the corner and Michaels took the bump by flipping upside down. Flair gave him a chop block to the back of the knee. Big pop for that vintage Flair spot. Flair went for the Figure Four, Michaels countered with a cradle for two. Great nearfall. Michaels went for an enziguri, Flair avoided it and put him in the Figure Four Leg Lock one more time. Michaels was in a lot of pain. After about 45 seconds, Michaels got to the ropes. With Michaels in the ropes, Flair stomped away at him. The ref told him to break it up. Flair did his strut. When he turned around…Sweet Chin Music. Wow. That was a perfect one. Both guys were down. Michaels covered. Flair got his shoulder up. Huge reaction for that. Fantastic nearfall right there. Michaels sold the knee injury and he got back to his feet while Flair was still down. Michaels yelled at him to get up. Flair got back to his feet while HBK warmed up the band. Flair hit a low blow without the ref seeing. Big pop for that. Woo! Dirtiest player in the game. Flair covered for a count of two. I love that these two were so good that they could make a low blow into a nearfall. Michaels put Flair into his inverted Figure Four Leg Lock. Flair pulled off a turnbuckle pad. Ref took it away from him. Flair did a thumb to the eye to break the hold. A rollup got two for Flair. They did another chop-fest on their knees. Flair hit him with three chops in a row and then Michaels hit a superkick out of nowhere. Michaels pulled himself to his feet. Flair struggled to get back to his feet. Michaels said the infamous words: "I'm sorry…I love you." Sweet Chin Music to the head of Flair. One…two…three. Michaels wins at 20:23.
Winner: Shawn Michaels
Post match, Michaels said something to Flair while he was on the mat. He kissed Flair on the forehead. Then he walked away.
Moments later, Flair got to his feet. The 70,000+ fans gave him a standing ovation. He was crying. His family at ringside was crying. Flair hugged his family at ringside. He was in tears. The fans continued the standing ovation for several minutes. Flair gave one final wave at the top of the ramp. The crowd was awesome.
Analysis: **** I know people who call this the best match of the show and even the best match of the year. I wouldn't go that far. It was a lot of fun, though. Considering Flair was 59 years old, he needs to be commended for wrestling such a good match against somebody like Michaels, who was considered the very best in the business. How many 59-year-old men could wrestle a four star match for 20 minutes? Probably only Ric Flair and maybe Shawn Michaels if he wants to have a match like this in 15 years. It's not easy. The match told a good story with Michaels missing that moonsault that sent him crashing on the table. Flair got the advantage. Michaels came back with his fast paced offense and then Flair focused on the knee. Eventually, though, Michaels came back. The finish was great. They did a lot of classic Flair spots and then Michaels was able to overcome it all to win with the Sweet Chin Music. A lot of people thought this was really it for Flair. It ended up being his last match in WWE, but he would move on to TNA where he had some more matches. The ending with Shawn saying "I'm sorry…I love you" is one of the more memorable moments in wrestling history, I would say.
The whole match is on WWE's Youtube channel as well, so you can catch it below.
https://www.youtube.com/watch?v=iC34u8Isk3M
They started the second hour with a replay of King Corbin knocking Elias off a staging area leading to a big bump to the floor for Elias…or at least that was the idea. The camera cuts allow them to edit it to look vicious. Anyway, the update is Elias still hopes to wrestle at WrestleMania.
There was a graphic that was shown with Michael Cole saying that Goldberg will now defend the Universal Title against Braun Strowman. No explanation was given about the match change why Roman Reigns was removed.
Analysis: The reason Reigns was removed was because he asked to be taken out of the match due to health concerns. Reigns even posted about it on Instagram on Monday. I figured WWE would say that or at least run an injury angle with Reigns. However, they said nothing and made no attempt to explain it other than showing a graphic for Goldberg vs. Strowman. Another bad thing about it is that Triple H said in an interview that the Reigns removal would play out in a storyline and there was nothing like that at all. It's a poor job by WWE in terms of announcing a major match change.
Otis and Tucker were backstage. Otis said that at WrestleMania, Ziggler is his and tonight Tucker gets to face him. Tucker said that he saw Mandy Rose asking about Otis, who asked what she was wearing. Tucker said he thinks she was heading to Dolph's dressing room and she was being nice. Otis got some text, then he left and Tucker told him the match is next.
(Commercial)
Tucker entered alone for the match as a replay aired of Otis freaking out two weeks ago when Dolph Ziggler taunted him about Mandy. Dolph Ziggler entered for the match alone and he's against Otis at WrestleMania.
Tucker vs. Dolph Ziggler
Tucker was in control early with a clothesline followed by some kicks while Ziggler was on the mat. Ziggler kicked the knee followed by a neckbreaker followed by an elbow drop for two. Ziggler did a hair whip to remain in control followed by a dropkick for two. Ziggler grabbed a chinlock, Tucker got back up and gave Ziggler a catapult into the turnbuckle. Tucker with a kick to the face, then a corner charge, Ziggler moved and he sent Tucker into the ring post. Ziggler hit a DDT leading to a break.
(Commercial)
Ziggler was in control with another chinlock, Tucker fought back with punches to the gut and a double arm suplex across the ring. Tucker sent Ziggler into the front of the announce table followed by a whip into the barricade. Tucker whipped Ziggler into the steel steps. Back in the ring, Tucker hit a sidewalk slam. When they left the ring again, Ziggler did a blatant eye gouge followed by the Zig Zag onto the bottom half of the steel steps, so the referee called for the bell for the DQ finish after about 9 minutes.
Winner by disqualification: Tucker
Analysis: **1/4 It was a decent match with Ziggler controlling most of it, Tucker did a good job with his comeback and Ziggler didn't care about the result. A DQ finish is fine for this kind of match. The post match angle was the real story here.
Ziggler grabbed the top half of the steel steps as Mandy Rose and Sonya Deville showed up to tell Ziggler to stop. Otis made his entrance as he checked on Tucker at ringside while Ziggler ran away.
There was a technical difficulties style screen as we have seen in weeks past and it said, "The Truth Will Be Heard." A guy in a hood was in a room with cameras behind him. The man said the truth will be heard. A clip was shown of Mandy on February 14 when she was talking to Sonya about how Otis was super sweet. Sonya said she's excited for her and wanted the details when she gets home. Mandy left, Sonya grabbed Mandy's phone that was on the table and texted Otis from Mandy's phone about being late. Otis replied that it sounds great (that caused Otis to show up late for the date). Sonya deleted it off Mandy's phone so she would have no idea. There was another clip from that same night with Sonya telling Ziggler that she'll get what she wants, he'll get what he wants and every one's gonna win. Ziggler said when it comes to Mandy, he looks forward to winning and he left.
Mandy was pissed off as she looked at Sonya while standing on the ramp. Sonya tried to explain, but Mandy just walked away. Ziggler ran away, Otis tackled him, but Ziggler managed to get away.
Analysis: There's the big reveal after nearly two months of this storyline. I don't know who the guy was in the room, but the circle symbol is like what Mustafa Ali has, so it's possible it could be something related to that. It also sets up the split between Mandy and Sonya. I don't know if they will do the lesbian angle route with Sonya wanting Mandy for herself or where it's going exactly, but at least they remembered to go back to the storyline about the mystery text. I guess they could say it was Sonya looking out for Mandy by keeping her away from Otis because Otis is a weird guy. It also fits the story of Ziggler being a heel while Otis is a likable face and Mandy did like him, so this angle should turn Mandy face in the long run. Anyway, it was a good way to further the storyline. We'll see how the match goes at WrestleMania where I have Otis picking up the win.
Daniel Bryan vs. Shinsuke Nakamura is next.
(Commercial)
Daniel Bryan entered with his buddy Drew Gulak. Shinsuke Nakamura was next and he was joined by Sami Zayn and Cesaro. It's Intercontinental Champion Zayn against Bryan at WrestleMania. Zayn joined Cole on commentary.
Shinsuke Nakamura (w/Sami Zayn and Cesaro) vs. Daniel Bryan (w/Drew Gulak)
They did some mat wrestling to start with Nakamura slapping on an armbar, which led to Bryan countering the armbar and hitting a knee to the arm. Nakamura ran the ropes leading to a dropkick by Bryan. With Nakamura on the floor, Bryan hit a knee drop off the apron to the face of Nakamura. Back in the ring, Bryan hit a missile dropkick off the top and he pointed at Zayn telling him this was for him. Bryan with a running corner dropkick, but a hurricanrana was blocked and Nakamura hit a jumping kick off the middle ropes for two. Zayn said he didn't want to tell Cole his strategy for WrestleMania. Nakamura with a kick to the back against the ropes followed by a sliding German Suplex. Zayn was happy about that as the show went to a break.
(Commercial)
The match returned with Bryan on a roll as he ran the ropes leading to a clothesline. Zayn was annoyed by Cole saying he knows how good Bryan is as Cole kept on talking about Bryan's success in his career. Nakamura got back into it with knees to the head as Zayn mentioned nobody has touched him in months. Nakamura worked over Bryan with kicks to the chest and back. Bryan tripped up Nakamura by grabbing the foot and Bryan kicked the left arm followed by a roundhouse kick for two. Nakamura went for a release suplex, Bryan landed on his feet and Nakamura hit a jumping kick to knock him down. Nakamura hit an overhead release suplex. Nakamura charged, but Bryan tripped him up and turned it into a half crab submission with Nakamura getting to the bottom rope to break the hold. Bryan and Nakamura exchanged strikes, they each went for an armbar and Bryan got a two count. Nakamura did a roll through into an armbar, but Bryan flipped into his own armbar. Zayn was yelling at Cole to shut up. Bryan slapped on the Yes Lock submission on Nakamura, so Cesaro went into the ring to stomp on Bryan. That led to the DQ finish after about 12 minutes.
Winner by disqualification: Daniel Bryan
Analysis: ***1/4 A pretty good match as expected from wrestlers of his caliber. They work well together, they had a physical match with a lot of strikes by both guys and it was fun to watch before the cheap finish. It felt like neither guy was in control for that long and clearly you can tell Bryan loves working with Nakamura. Their styles mesh so well together. It was very even with both guys coming close to winning a few times.
Post match, Gulak tackled Cesaro out of the ring. Cesaro managed to counter a dragon sleeper and sent Gulak over the barricade. Bryan jumped on Cesaro, but Cesaro ended up slamming Bryan onto the announce table. Cesaro and Nakamura whipped Gulak into the steel steps. Zayn sent Bryan into the ring with Zayn bringing his title in the ring. Cesaro hit the Neutralizer on Bryan and Nakamura hit the Kinshasa on Bryan. Zayn told his buddies to pick up Bryan, which led to Zayn hitting the Helluva Kick with Zayn saying that felt so good. Zayn taunted Bryan with the IC Title while Bryan was down in the ring. That ended it.
Analysis: That was a dominant showing from the heel trio. Bryan takes a beating as well as anybody, so it's a way to get sympathy for him after the 3 on 1 attack by Zayn, Nakamura and Cesaro. I'm hoping that Bryan/Zayn at WrestleMania is a great match, but as Zayn said during the match, he has barely been touched for months now. I'm not sure what kind of match they are going to have.
(Commercial)
A clip aired from last week with Bray Wyatt telling John Cena that The Fiend is challenging Cena to a Firefly Fun House Match at WrestleMania.
Let's Hear from John Cena
John Cena made his entrance in his green gear along with a hat. Cena looked into the camera to welcome us to Smackdown. Cena went into the ring.
Cena said one month ago, WWE said they would continue their performance at the WWE Performance Center in front of no live audience. Cena said that people are wondering what's going to happen, there's been a learning curve, there have been some "meh" moments, some great moments and together they are navigating the uncertainty. Cena thanked the fans for allowing them to do so and it has led them to here in the final minutes of the final broadcast before an unprecedented WrestleMania. Cena said it has led them to wonder what's going to happen. Cena noted that starting tomorrow night on WWE Network, an epic broadcast that will be the most viewed and WWE history because for the first time ever, no one really knows what is going to happen.
Cena noted that he was challenged to a Firefly Fun House Match and said that he can't get a single human being to tell him what kind of match that is. Cena said he didn't know if Bray Wyatt knows what that match is, but The Fiend wants it and he wants uncertainty. Cena said that fear leads to panic and panic can lead to collapse. Cena said that The Fiend thrives off uncertainty, The Fiend dominates WWE with fear, uncertainty and panic. Cena said here we are staring into the uncertainty asking what happens next. Cena claimed that he would not panic, he's not afraid and he will squash Bray Wyatt to finish what he started six years ago. Cena said he didn't care if it's a Fun House and said that Bray Wyatt isn't even on the level below him. Cena said that a poor man's version of a bootleg Mr. Rogers doesn't stand a chance. Cena claimed that Wyatt dressed like the overfed sex child of Wiz Khalifa and the WB Frog. Cena said he'll expose The Fiend as an embarrassment. Cena said that he was ready to step aside, but The Fiend made this challenge, yet The Fiend made this match on his terms and he's going to get his ass kicked. Cena accepted the challenge.
The "Ramblin' Rabbit" puppet was in the crowd. Rabbit said that after "he" is done with Cena, John can play with them forever. The other puppets were in the crowd too as Cena looked at them. The lights went out and The Fiend was standing on the platform in the building as Cena stared at him. As Cena stared at him, Wyatt showed up in his regular gear and told Cena to let him in. The lights went out as Cena was spooked out by it. When the lights went back on, Wyatt and Fiend was gone. The magic of video editing. That was the end of the show.
Analysis: I thought Cena's promo was great. He did well in terms of being serious when needed, he threw in a couple of quick jokes and showed a lot of confidence as usual. The ending was unique because when you have a taped show with no fans you can do stuff like that where the same guy Wyatt is in two different spots and it makes the audience think at home about what can happen when they have a match. I feel confident in saying that Wyatt is going to win at WrestleMania, but it's also not a sure thing.
Three Stars of the Show
Daniel Bryan
Shinsuke Nakamura
John Cena
This was a weaker show. If I rated it then I might go around a 5 or so. Maybe lower.
Final Thoughts
It was an average show, which has become the norm for Smackdown. What has made Raw more interesting in the last few weeks were the interesting promos. On Smackdown shows in the same period, they just haven't done those types of promos that are going to make people care about WrestleMania more. John Cena's promo was pretty good with some creative editing to make it look like Bray Wyatt was in two spots at once to end the show. I liked the way the big reveal was done in the Otis/Mandy/Ziggler/Sonya storyline. It was a bit like that old school GTV thing from over 20 years ago with a newer vibe to it and should lead to a Mandy/Sonya feud. Some of the acting was bad, though.
I liked the Bryan vs. Nakamura match quite a bit even though the DQ finish was obvious. At least they got over 10 minutes to have a good match. The women's match and post match segment was not that interesting at all.
Bring on WrestleMania. It's not going to be normal, but that's fitting considering what 2020 has given us in the world so far. This year is not normal and what's going on in the world right now is awful. Think of WrestleMania as escapism for about three hours on two nights. That's how I'm looking at it.
—
Thanks for reading. My contact info is below.
John Canton
Email mrjohncanton@gmail.com
Twitter @johnreport