The John Report: WWE Smackdown 03/20/20 Review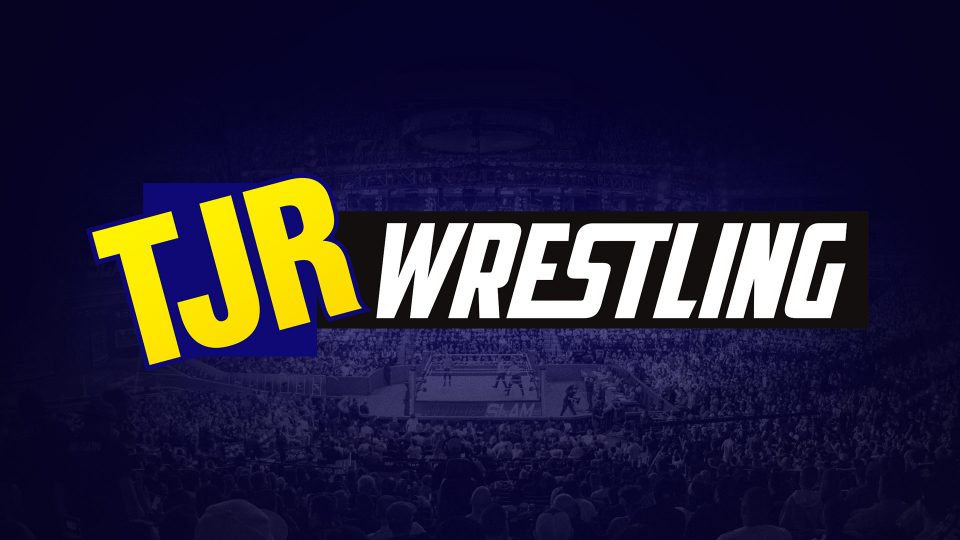 Welcome to another WWE Smackdown review here on TJRWrestling. It's the second week of Smackdown at the WWE Performance Center due to the Coronavirus pandemic that is disrupting the world right now. It's the new normal for us, I guess. I hope you and your loved ones are safe. The "stay at home" orders don't bother me too much since I work from home as a wrestling writer anyway, but I am missing normal life as I'm sure most people are. It's a weird time, but hopefully "social distancing" does work as well as the experts think. Anyway, keep checking out TJRWrestling.net daily because I'm going to do my best to keep putting out new content and maybe re-post some older stuff.
On a lighthearted note, kudos to WWE for having a sense of humor enough to sell "I Wasn't There" t-shirts for WrestleMania since there will be no fans in attendance. They promoted them last night and you can see them below.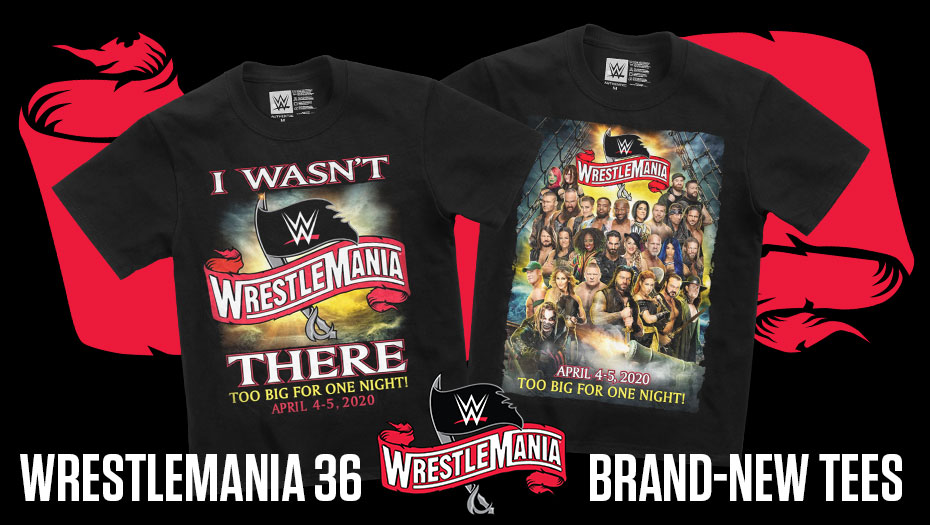 You can get them on WWEShop right here if you're interested.
Live from the WWE Performance Center in Orlando, Florida, this is Smackdown for episode #1074. Follow me on Twitter @johnreport. Please visit TJRWrestling.net daily for our regular updates on the wrestling business featuring WWE news coverage along with reviews about wrestling's past and present. Thanks to Melo Man for the banner up top.
The Smackdown intro video "Are You Ready?" played to start the show.
This week on Smackdown are Goldberg and Roman Reigns to sign their contract for their WrestleMania match. They are going to show John Cena vs. Bray Wyatt from WrestleMania 30 as well. Paige is also there.
Smackdown's play by play announcer Michael Cole was in the ring talking about how WrestleMania is "Too Big for One Night" because it's on Saturday, April 4 and Sunday, April 5th. Cole mentioned Rob Gronkowski as the host of WrestleMania.
Analysis: It's the second week in a row with no Corey Graves joining Cole as an announcer on Smackdown. Graves lives in Pittsburgh, so maybe he doesn't feel comfortable flying to Orlando or WWE just felt like he could stay home. Corey also lives with Carmella, who hasn't been on Smackdown for the last two weeks.
There were highlights shown of Rob Gronkowski having some fun in his life along with his WWE appearances. They also showed images of his great NFL career. Gronk retired after the 2018 season and recently he signed with WWE.
Rob Gronkowski Arrives in WWE
Mojo Rawley joined Cole in the ring. Rawley told Cole to get hyped, he slapped him in the ass repeatedly and then Rawley did a very enthusiastic for one of his best friends, Rob Gronkowski. Rawley was fired up of course. Mojo used to be a Raw guy, but I guess he's on Smackdown now.
Rob Gronkowski made his entrance by doing a ridiculous dance. It was stupid and made him look like a goofball instead of somebody that's a talented athlete. Gronk entered the ring. Gronk said that he has been watching wrestling since he was in the second grade in Buffalo where he's from. Gronk said he was in FCW supporting Mojo and he's been there at WrestleMania. Gronk said he was ready for anything and Mojo said that he was there to watch Gronk's back. Mojo warned Gronk by saying in WWE that they don't just get hit on the field, they get hit in the ring, they get hit backstage and everywhere. Mojo and Gronk got excited as Gronk hit Mojo with repeated chops to the chest.
King Corbin interrupted the fun and he told Gronk to get down on his knees and bow down. Gronk said no because they don't get on their knees. Corbin said that he was in the NFL, but now he's here and Corbin said that there are no pads in WWE. Corbin said he's bigger than him, he's badder than him and Gronk better fall in line like everybody else or Corbin will make sure his party is over.
Elias interrupted the proceedings, Corbin complained and Elias said he's wanted to sing this song for a few weeks. Elias did a song about how dumb Corbin sounds, then said Gronk will spike his head like a touchdown, he doesn't think Corbin will survive and he wishes there were people there to see it live.
Corbin got in Gronk's face, he said he knows Gronk knows something about getting hurt (Gronk had a lot of injuries in his NFL career that played a part in him retiring before he turned 30), Mojo went behind Corbin on his knees and Gronk shoved Corbin over Mojo like the old schoolyard thing. Elias went into the ring and he tossed Corbin out of the ring. Gronk said that as the host of WrestleMania, he can't make matches, but he is advocating Elias and Corbin to have a match at WrestleMania.
Analysis: This was okay as a way to introduce Gronk to the WWE fans in case they didn't know that much about him. The shove by Gronk on Corbin onto Mojo's back was like a schoolyard thing that I mentioned and just an easy way to have Grok get physical a bit without doing much. I'm not really excited about Corbin vs. Elias, but it's a way to get them on the card. Gronk's dancing was terrible and made him look like a dumbass. I realize that was his intent, but it wasn't the best way to introduce him.
They showed a door backstage with Goldberg's name on it to let us know he is there.
The trio of Cesaro, Shinsuke Nakamura and Intercontinental Champion Sami Zayn were shown walking backstage because they're in a match up next.
Daniel Bryan and Drew Gulak made their entrance, they did the "YES" chants to fire themselves and they're in tag team action up next.
(Commercial)
The trio of IC Champ Sami Zayn, Cesaro and Shinsuke Nakamura made their entrance. They are being called "The Artist Collective" as a group, so I guess we have to start using that name.
Cesaro and Shinsuke Nakamura (w/Sami Zayn) vs. Daniel Bryan and Drew Gulak
Zayn joined Cole on commentary. Bryan took down Nakamura, Gulak tagged in and Cesaro had a brief advantage until Gulak countered it. Cesaro hit an uppercut on Bryan, then Nakamura back in and Bryan hit an uppercut, Cesaro tagged in, Bryan hit a suicide dive on Nakamura on the floor and Bryan went up top with a leap only for Cesaro to catch him. Cesaro hit a backbreaker on Bryan and knocked Gulak off the apron leading to the break.
(Commercial)
The match returned with Cesaro and Bryan exchanging forearms with Cesaro getting control. Nakamura hit a sliding German Suplex while Bryan was against the ropes. Nakamura with a knee drop for two. Zayn said he won't explain why they are artists while putting over how talented they are. Cesaro with a gutwrench suplex on Bryan. Cesaro with running forearms, then Bryan came out of the corner with a dropkick and Gulak got the tag against Nakamura. Gulak with a running dropkick, he blocked a forearm and Gulak hit a German Suplex on Nakamura for a two count. Gulak with an armbar into a pin attempt, Nakamura with a spin kick and Cesaro tagged in. Cesaro sent Gulak to the top rope, Nakamura with a running knee and Cesaro with an uppercut on Gulak for a two count as Bryan broke up the pin. Cesaro sent Bryan out of the ring. Nakamura with knee strikes to the ribs of Gulak, but Gulak came back with a clothesline on Nakamura. Cesaro with a back body drop attempt, Gulak on his feet and Cesaro kicked him into the corner. Bryan tagged in, Gulak jumped on Cesaro and Bryan hit a sunset flip off the top on Cesaro while Gulak kept Nakamura out of the ring and Bryan pinned Cesaro to win the match. It went ten minutes.
Winners by pinfall: Daniel Bryan and Drew Gulak
Analysis: *** It was a good technical wrestling match as you would expect from these four guys. I liked the story of Bryan as the face in peril, Gulak got a lot of offense to show he was at the same level as the other guys and Bryan pinned Cesaro for the second week in a row. Solid work by everybody involved here.
Zayn complained about the finish saying that Gulak shouldn't have been in the ring while Bryan did that move and Cole said it was great teamwork. Bryan and Gulak celebrated the win while Zayn kept complaining about it. Zayn called it an injustice.
Still to come: Universal Champion Goldberg and Roman Reigns sign their WrestleMania contract. Paige is up next.
Michael Cole was on screen again talking about how ESPN is going to air WrestleMania 30 this Sunday. The following Sunday will air WrestleMania 32 on ESPN and then on WrestleMania Sunday, April 5th they will show WrestleMania 35, which was last year's show. We have all the details at TJRWrestling right here. I assume they will edit out parts of the show because otherwise they would run really long on TV with commercials.
(Commercial)
The new commercial aired for WrestleMania 35 on two nights: April 4 and April 5.
Daniel Bryan and Drew Gulak were stretching backstage to celebrate the win. Sami Zayn, Cesaro and Nakamura showed up with Zayn saying the Gulak was making Bryan mediocre while squeaking out wins two weeks in a row. Zayn wondered when Bryan was going to listen to him as the IC Champion. Zayn claimed he was untouchable as Intercontinental Champion. Bryan challenged Zayn to an Intercontinental Championship match at WrestleMania. Zayn said if Gulak can beat Nakamura then Bryan will get his match.
Let's Hear from Paige
Paige was interviewed at her Los Angeles home on Skype. Michael Cole was doing the interview. Bayley, the Smackdown Women's Champion, and Sasha Banks showed up for the interruption as they got into the ring to talk to Paige on the screen.
Bayley welcomed Paige to their show. Bayley wanted Paige to say what she had to say. Paige claimed that Bayley thinks that nobody from the past, present or future can touch her. Paige said it's bad enough having to listen to them run down the Smackdown women's locker room. Paige said it takes more than greatness to change people's hearts, it takes courage and those two bullies lack courage. Bayley said that nobody past, present or future can beat her. Bayley said Paige can't do anything about it because she can't do it. Paige said you're right, her career is over and it breaks her heart every single day and she wouldn't wish that upon anybody, not even them. Paige said that it's WrestleMania season and she can't wait to see who takes Bayley's title. Paige said that she spoke to her friends at Fox to announce who Bayley is facing at WrestleMania. Bayley said she was skipping WrestleMania.
Paige said that at WrestleMania, Bayley will defend the Smackdown Women's Title against Lacey Evans, Dana Brooke and Bayley joked maybe add Tamina there while wondering if she still worked there. Paige said Tamina is in too. Paige said let's add some more because now Bayley is facing Naomi too.
Sasha Banks took the microphone and called Paige a bitch. Paige was happy that Banks spoke up and said that Bayley's final opponent in her WrestleMania Six-Pack Elimination match for the SD Women's Title is going to be Sasha Banks. Paige's music played to end it. Bayley and Banks looked at eachother, Bayley was upset and Bayley left. Banks had a bit of a smirk on her face as Bayley walked away. When Bayley was gone, Banks had more of a smile on her face as if she was happy getting a title shot.
To sum it up, the WrestleMania match is Bayley defending the Smackdown Women's Title against Sasha Banks, Tamina, Dana Brooke, Lacey Evans and Naomi. It's also an elimination match.
Analysis: This segment wasn't very good, but they got through it to set up a WrestleMania match. It's tough to get into the idea that somebody like Tamina gets a SD Women's Title match just like that when I can't even remember the last time she was featured in a singles match on TV. It's also a bit of a surprise that Carmella isn't in the match since she was in the title hunt recently. Carmella lives with Corey Graves, who also hasn't been on the last two Smackdowns, so maybe they're just at home for now. The WrestleMania match should lead to either Bayley retaining the title or Banks winning it from her and then we'll get the Bayley vs. Banks feud that a lot of fans have been clamoring for.
The Cena/Wyatt match from WrestleMania 30 is next.
(Commercial)
They showed a clip of how the Cena/Wyatt match was set up for WrestleMania this year.
John Cena's match against Bray Wyatt at WrestleMania 30 was shown in full. I was there and this match wasn't anything special although I liked WrestleMania 30 overall. You can read my review of WrestleMania 30 right here. Here's my review of this match.
Analysis: Before this gets started, it's interesting to note that Luke Harper is at ringside for this match. Harper was also on AEW Dynamite this past Wednesday (my review is here) under his name Brodie Lee, so in a weird way you can say Brodie/Luke was on wrestling shows from two different companies this week.
John Cena vs. Bray Wyatt (w/Luke Harper & Erick Rowan)
Wyatt was in control early with a running body attack and he slowed it down thanks to a hard whip into the turnbuckle. Cena decked him with an explosive clothesline. Harper and Rowan were causing distractions outside the ring as Cena was grabbing at his own head while struggling to deal with the madness. Wyatt was laughing. Cena was making his angry face as he did a boot to the face, which is not something he usually does. Wyatt hit a suplex on Cena to regain control. Dropkick by Cena. The pace was really slow and the crowd didn't know how to react at this point. Wyatt applied a chinlock. Cena came back with the shoulder tackles as well as the spinning suplex. Cena went for the Five Knuckle Shuffle, but Wyatt popped up in his crab walking pose. Cena paused. Rowan distracted him for a second, so Wyatt came back with a uranage slam. Wyatt hit a running splash in the corner. Cena came back with a DDT off the middle ropes for two. Cena went up top, but Wyatt caught him and planted him with a Powerbomb. Both guys were down. Cena hit his spinning suplex and then a shortened version of the Five Knuckle Shuffle. Wyatt came back with a modified gutbuster. Cena wanted the AA again, but Wyatt gave him a face first DDT on the apron for two. Wyatt set up Cena on the top rope and Cena knocked him down. Cena was on the top rope looking like he would leap onto Wyatt, but instead Cena took out Harper & Rowan with a cross body block off the top. Good spot. Wyatt capitalized on that by throwing Cena into the steel steps. Cena came back by throwing Wyatt into the steel post or at least he sent Bray's shoulder into it. Cena was going to use the steps, but then he thought better of it. So Cena can't hit the guy with steps even though he threw him into the post? Alrighty then.
They went back into the ring and Wyatt hit Cena with a running cross body block. Wyatt rubbed Cena's head and started singing "he's got the whole world in his hands." Wyatt missed a splash on the mat and Cena came back with Attitude Adjust for just two. Rowan distracted the ref, so Harper hit Cena with a kick to the face. Wyatt got a body splash for two. Cena got dumped to the floor. Cena took matters into his own hands by tackling Harper through the barricade by the timekeeper. Wyatt attacked Cena on the floor and brought him back into the ring. Back in the ring, Wyatt did his upside down corner pose and wanted Sister Abigail, but Cena countered into the STF. Wyatt made it to the ropes. Wyatt hit Sister Abigail. Cena kicked out at two so both guys kicked out of finishers. Wyatt brought a chair into the ring. He kicked the chair to Cena. Wyatt wanted Cena to use it. Cena ended up hitting Rowan when he jumped on the apron. Wyatt got a rollup nearfall off the distraction. Cena powered out of Sister Abigail and hit the Attitude Adjustment. Cena covered for the pinfall win at 22:25.
Winner by pinfall: John Cena
Analysis: ***1/4 This was a long match, but that doesn't always mean a great one. It was still above average and told a good story. Perhaps if they cut off about 7 minutes it would have helped it. I did like the story they were trying to tell. I also appreciated it more when I watched the TV broadcast of it. Watching it live it didn't seem as good to me. The Cena win upset a lot of people, but when you consider some of the other match outcomes I think they wanted a strong babyface win for Cena. Based on the story of the match, Wyatt cost Cena the WWE Title twice. It makes sense for Cena, the babyface, to win this match to get his revenge. However, Wyatt's the younger guy that could have really benefited from a win here. I can see the decision from both sides. Cena winning doesn't bother me, though.
(Looking back on it now, I remember a lot of people being mad that Wyatt didn't win. As I said at the time, from a storyline point of view, Cena's win did make sense since Wyatt cost him the WWE Title on multiple occasions. If it was up to me, Wyatt would have won because winning at WrestleMania means more than winning at any other show, but I understand WWE's decision too.)
Smackdown returned with about 40 minutes left in the show. That match and the commercials took about 30 minutes.
They showed a clip from last week's Smackdown when Bray Wyatt told John Cena that his WrestleMania 30 loss to Cena changed Bray's career. Wyatt told Cena it's going to be a slaughter at WrestleMania.
Analysis: I am definitely picking "The Fiend" Bray Wyatt to win over Cena at WrestleMania. It's the right call this year.
The Miz and John Morrison made their entrance. There were chairs in the ring, so there is a promo segment before their match.
(Commercial)
A clip aired from last week's Smackdown when Asuka cost Alexa Bliss and Nikki Cross in their tag team match last week.
Alexa Bliss and Nikki Cross were interviewed by Kayla Braxton backstage. They're all short. Cross complained about Asuka. Bliss did a promo saying she's talking to Asuka and Bliss said she's played that game, but better. Bliss invited Asuka on Smackdown and told her this time, you can come through the front door.
Analysis: Asuka is Raw wrestler, but as a Women's Tag Team Champion she can be on any show. The last televised Women's Tag Team Title match was over three months ago at TLC in December.
The Dirt Sheet Hosted by The Miz and John Morrison
The Miz and Morrison said that they felt like they were missing something. They did their "hey hey, ho ho" chant. Miz said that they're on the road to WrestleMania with no challengers for their titles and Morrison pointed out that they beat everybody at Elimination Chamber. Miz and Morrison asked the WWE Universe who they should face at WrestleMania.
That led to a clip of Miz and Morrison mocking New Day in the crowd. Miz and Morrison also mocked the Usos. They also mocked Heavy Machinery as well, who were dressed as bacon.
Analysis: The impressions were over the top and they were okay, at least when Miz did them. Morrison wasn't as good at it. This was just a silly way to kill some time.
When the "fans" were not shown anymore, Morrison suggested that maybe they'll take the night off at WrestleMania.
Heavy Machinery made their entrance for the match that was announced earlier in the day.
(Commercial)
Heavy Machinery (Otis and Tucker) vs. The Miz and John Morrison
The Smackdown Tag Team Titles held by Miz and Morrison are not on the line.
Otis used his power to slam Miz down. Morrison tagged in with kicks and punches to knock the big guy down to one knee. Morrison with a leaping kick to the head, but then Otis hit a shoulder tackle to knock John down. Tucker tagged in, Otis passed Morrison on and Tucker hit a vertical suplex on Morrison for a two count. Tucker with a hiptoss on Miz, then a corner splash and Otis was back in wit ha shoulder tackle. HM did a double punch to Miz followed by a double sandwich charge and they knocked down Morrison with shoulder tackles followed by headbutts. Miz and Morrison were on the floor, so Tucker hit a dive off the apron onto both opponents on the floor. That was impressive by a 300-pound guy. Miz sent Tucker into the ropes, Morrison held the ropes down and Tucker bumped to the floor. Miz with a running dropkick on Tucker and Morrison came back in with an elbow to the chest. Morrison with a running knee on Tucker for two. Miz tagged in for a double team attack where they drove Tucker's ribs into their knees. Tucker fought out of the heel corner with punches and a clothesline on Miz. Otis was about to get the hot tag when Dolph Ziggler's music hit and Ziggler walked out with a black jacket and pink pants. Otis was looking at Ziggler, so Miz punched Otis off the apron and Miz got a DDT on Tucker for two. Morrison also knocked Otis down on the floor with a kick. Ziggler joined commentary for the rest of the match.
(Commercial)
The show returned with Morrison controlling Tucker with a headlock. Cole asked Ziggler why he stole Otis' hopeful girlfriend Mandy Rose and Ziggler said that Otis missed out so Ziggler took over. Morrison with a kick on Tucker, Miz tagged in and Tucker hit a double suplex. The technical difficulties took place teasing something that we don't know yet. Otis got the hot tag with a running shoulder tackle on Morrison, a body slam on Miz and a slam on Morrison. Otis with a running splash on both champions. Otis did the Caterpillar, then he was about to do the elbow, but Ziggler interrupted with a promo. Ziggler wanted Otis to see some pictures as Dolph shared photos of him with Mandy Rose hanging out. Otis was sad about it, Ziggler said there was nothing wrong with being second place or the first loser. Otis left the ring and he grabbed Ziggler. Miz and Morrison grabbed a steel chair from Otis, then they went into the ring and Otis knocked them both out of the ring with a double clothesline. Otis whipped Morrison into the steps and Otis beat up Miz on the announce table. Otis whipped Miz into the ring post. Morrison jumped onto Otis, who caught him and drove Morrison into the ring post. Otis charged at Miz and Morrison and tackled them through the barricade at ringside. Otis grabbed a chair, but Tucker tried to stop him and said that they should win this match. Instead, Otis hit Miz and Morrison in the back with chair shots to the back. That led to a DQ finish after about 14 minutes.
Winners by disqualification: The Miz and John Morrison
Analysis: **1/4 It was just an average tag team match with a non-finish due to the storyline. The ending was cheap with Ziggler getting involved, but at least it advances their story. I think Otis is hurt by the lack of crowd reaction as much as anybody since a lot of his comedy spots and grunts lead to the fans supporting him. At least the champs didn't lose non-title again because that has happened to them a few times since they won the titles.
Post match, Tucker tried to calm down Otis, but Otis did more chair shots. Ziggler had left up the aisle at this point. Tucker calmed down Otis and hugged him at ringside.
Analysis: There were rumors of an Otis vs. Ziggler at WrestleMania match in the original plans of the show. I assume they will still do that based on how this match ended. The crowd has been into the story in terms of supporting Otis, but now things are different obviously with no fans to root for the big guy.
The Goldberg/Reigns contract signing is the main event up next.
(Commercial)
Next week on Smackdown: Alexa Bliss vs. Asuka, Shinsuke Nakamura vs. Drew Gulak (if Gulak wins then Daniel Bryan gets Intercontinental Title match). Also, The New Day vs. The Usos and the winners get to challenge Miz and Morrison for the Smackdown Tag Team Titles at WrestleMania. Also next week, Bray Wyatt will be there with an episode of the Firefly Fun House.
Analysis: I think for the Tag Team Titles situation, they might do the booking where Miz and Morrison attack both teams leading to a triple threat tag team match at WrestleMania. Next week's show is being taped at some point this weekend.
Contract Signing for Goldberg and Roman Reigns
Michael Cole was in the ring to host the contract signing. There was a table in the ring along with two chairs and a contract on the table.
Roman Reigns made his entrance first with a serious look on his face. The Universal Champion Goldberg was up next with the blue Universal Title on his left shoulder. Goldberg put the title on the table. Reigns and Goldberg each tossed their chairs out of the ring. Cole said that the WWE Universe never saw this match coming, but now it's happening at WrestleMania.
Goldberg said that he was hoping it would be Roman Reigns that would challenge him on Smackdown, but he didn't think Roman had the balls to face him. Reigns said he has been fortunate because all the greats have chosen him like John Cena, Triple H, Brock Lesnar and The Undertaker while noting that they all lost to Reigns too and Goldberg won't be any different.
A tweet was shown from Reigns when he mocked Goldberg by saying that headbutting a door before a match (like Goldberg does) is stupid, so Cole asked why Reigns did that. Reign said, "Why not?" Roman said all he sees is a "little bitch bulldog sitting in my yard holding a title that he never earned." Reigns signed the contract.
Goldberg called Reigns a "punk" and said that he has been destroying steel doors all over the world with that headbutt. Goldberg said that at WrestleMania, you're going to be the next victim. Goldberg signed the contract.
Goldberg flipped the table over, picked up the Universal Title and they had a staredown to end the show. There were a lot of camera cuts where you could even hear the director or somebody shouting for the camera angles to change. I hate the camera cuts, but that's WWE.
Analysis: This was fine as a quick contract signing that was done in less than five minutes. Reigns made the obvious points about beating wrestling legends in the past while continuing what he said last week by saying Goldberg didn't deserve the title since he's a part-timer. Goldberg really didn't say much back other than he's going to beat Reigns like he beat the others. Reigns calling him a "bulldog" was a reference to Goldberg going to school at Georgia where he played football for the Bulldogs and Reigns went to Georgia Tech, so they have a college football rivalry there. There's also a nearly 20-year age difference between them too. Anyway, Reigns beating Goldberg seems like a lock at WrestleMania and if it doesn't happen, I'll be very surprised.
Three Stars of the Show
Daniel Bryan
Cesaro
Roman Reigns
Like I said last week, it's tough for me to put a rating here when they are limited to what they can do, so I'll just skip that part. I would probably rate it around a 5 or 6 if you're really interested.
Final Thoughts
This was a decent show and maybe I'm being kind in saying that. It's just hard for me to be too critical because of the tough situation the world is in right now. They set up some midcard storylines leading to WrestleMania while ending it with the Reigns/Goldberg contract signing. The debut of Rob Gronkowski wasn't great especially after his awkward-looking dance routine to start off. I liked the Reigns/Goldberg ending because it was simple. The way they set up the SD Women's Title match at WrestleMania was awkward. It's silly to have some people getting title shots at WrestleMania when they are barely on TV. I get why they do it to get more people on the show, but it's not that interesting for the viewer at home.
There were about 25 minutes of new in-ring action this week (plus Cena vs. Wyatt from six years ago), so that's an improvement over what they did on Raw on Monday. I think the story with Daniel Bryan and Drew Gulak against Sami Zayn's crew has developed at a nice pace and produced some solid matches. The other tag team match was just average, but it furthered the Otis/Ziggler story that is probably leading to a WrestleMania match too.
It would be nice if WWE was more willing to have more regular matches and try to do more of a regular show. It's also tough to criticize too much because this is only the second week with our world in a unique, difficult situation.
The next WWE PPV is WrestleMania on Saturday, April 4th and Sunday, April 5th. Rob Gronkowski will be the host of WrestleMania. The lineup looks like this with official matches announced so far.
* WWE Championship: Brock Lesnar (c) vs. Drew McIntyre
* Universal Championship: Goldberg (c) vs. Roman Reigns
* Last Man Standing: Edge vs. Randy Orton – Not official, but it's on the show.
* John Cena vs. "The Fiend" Bray Wyatt
* Raw Women's Championship: Becky Lynch (c) vs. Shayna Baszler
* The Undertaker vs. AJ Styles
*NXT Women's Championship: Rhea Ripley (c) vs. Charlotte Flair
* Kevin Owens vs. Seth Rollins
* Smackdown Women's Title Elimination Match: Bayley (c) vs. Sasha Banks vs. Tamina vs. Lacey Evans vs. Dana Brooke vs. Naomi
* Elias vs. King Corbin
There will also be matches for the Intercontinental Title and Smackdown Tag Team Titles that will be official on next week's Smackdown. There will be more Raw brand matches too.
—
Thanks for reading. My contact info is below.
John Canton
Email mrjohncanton@gmail.com
Twitter @johnreport
Personal Facebook and TJRWrestling on Facebook