The John Report: WWE Smackdown 03/18/22 Review
Hey yo. This week's WWE Smackdown featured a Roman Reigns-Brock Lesnar confrontation while WrestleMania opponents Drew McIntyre and Happy Corbin were on opposite teams in tag team action.
There were two other advertised matches: Sasha Banks & Naomi vs. Raw's Rhea Ripley & Liv Morgan and also Kofi Kingston in action against Ridge Holland. Best wishes to Big E after breaking his neck on Smackdown last week following a scary bump on the floor after taking a belly-to-belly suplex from Holland. Big E hopes to be able to wrestle again, but there's no timeline on that right now. Best wishes to Big E, who continues to post positive updates on social media. That dude is such a good guy. Easy guy to root for.
From the Spectrum Center in Charlotte, North Carolina, this is Smackdown for episode #1178. Follow me on Twitter @johnreport. Let's get to it.
The show began with a video package of WWE Champion Brock Lesnar calling out Universal Champion Roman Reigns. Paul Heyman informed Brock that Roman wasn't there. Lesnar chased after Heyman, who ran away into a waiting car and that was all we saw of Lesnar last week.
Let's Hear from Roman Reigns
The Universal Champion Roman Reigns made his entrance with Michael Cole noting that Roman's run as champion has reached 564 days. Reigns was joined by the Special Counsel Paul Heyman and SD Tag Team Champions The Usos. Cole was joined on commentary by Pat McAfee. Reigns had a shirt that said: "Greatness On a Different Level" Mode so it said "God Mode." Nice. Reigns faces Lesnar in a Champion vs. Champion match at WrestleMania 38 in just over two weeks from now. Reigns posed in the ring with The Bloodline.
Reigns: "Charlotte, North Carolina acknowledge me." Lots of boos for that. Reigns said it's a special night since it's the first time he gets to see Brock Lesnar face to face since he smashed him in Madison Square Garden. Reigns said he made Brock bleed all over New York and he'll do it in Charlotte as well. Heyman showed a text on his phone saying Lesnar had a weather delay in Saskatchewan four hours ago and Lesnar will not be there this evening.
Reigns said he wanted Brock to be there as well because he was about to smash him. Reigns said that was a business decision from Lesnar because Brock is scared of Reigns. Roman claimed Lesnar was scared of the Tribal Chief and the Head of the Table. Reigns said he was in God Mode while adding this is greatness on a different level. Heyman tried to interrupt, Reigns told him not to interrupt him and Reigns said that the people want to hear what Roman has to say. Heyman showed something on his phone: "He's landed and he's on his way here." Heyman was screaming: "He landed!" Reigns handed Paul the microphone to wrap this up and take it home. Reigns and The Usos left quickly with Heyman.
The announcers plugged what was coming up later on Smackdown.
Roman Reigns and The Usos were shown backstage getting into a truck with Jey in the driver's seat. Brock Lesnar was shown driving a forklift and used the end of it to break the glass of the driver's seat of the truck. Hopefully Jey and Jimmy ducked in the front seats or they may be dead from that. Anyway, they went to a commercial at that moment.
Analysis: Reigns showed confidence when he found out Lesnar wasn't there, but then when he heard Lesnar was going to be there, Reigns showed fear and the fans could tell that too. I like how they are building to the WrestleMania match with Reigns acting cocky when he's in control, but then he fears Lesnar when he knows Brock is around.
(Commercial)
There was a replay of Lesnar driving into The Usos, Reigns and Heyman in the truck. The guys in the truck avoided the end of the forklift that went into the windows. That was likely done as a pre-tape segment to avoid something bad happening. Reigns, The Usos and Heyman escaped, they left in another truck and Lesnar ripped off a door of the truck.
Analysis: It's "Stone Cold" Brock Lesnar mode. That's something WWE loved to do with Steve Austin as a babyface over 20 years ago when he would commandeer vehicles to go after his opponents.
Let's Hear from Brock Lesnar
Brock Lesnar walked out with the car door in his hand. Lesnar did not have the WWE Title with him, but he did bring the car door around the ringside area. Pat was laughing about how Brock was carrying around a car door like a piece of luggage. Lesnar got a big pop when he got into the ring.
Brock: "Excuse me, I'm a little riled up." Lesnar said that Reigns has "unleashed the bipolar beast." Lesnar said that Roman can run and hide, but in two weeks at WrestleMania, Lesnar will do more than blow the doors off him. Lesnar: "Roman Reigns, I'm coming for blood." Lesnar told Roman to be prepared and said he'll see him in two weeks, buddy.
Analysis: That was quick from Lesnar. I think people wanted to see a brawl between Brock and Roman, but that didn't happen at least early in the show. I think it's smart to try to save the physicality until WrestleMania although there are also two more Smackdown episodes before WrestleMania takes place on April 2-3.
They showed a replay of Rick Boogs beating Jey Uso last week to earn a Smackdown Tag Team Title match with Shinsuke Nakamura against The Usos at WrestleMania.
Rick Boogs played the guitar for the entrance of Shinsuke Nakamura. The fans were really into it as usual. Pat McAfee was really into it as well.
(Commercial)
Los Lotharios made their entrance with the Kiss Cam where they kissed a pretty woman on the cheek.
Shinsuke Nakamura & Rick Boogs vs. Los Lotharios (Humberto & Angel)
Nakamura and Humberto started the match, Humberto blew a kiss, Nakamura caught it and stomped on it. Yes, I even do play-by-play of kiss spots sometimes. Nakamura set up Humberto against the top rope leading to a running knee lift to the ribs. Angel tagged in with a running forearm to Nakamura and a double team move where Nakamura landed with his ribs hitting Angel's knee. Humberto jumped over Angel for a splash against the ropes (a Benjamin/Haas move) and then a dropkick to the back of a seated Nakamura. Humberto with a chinlock, Nakamura fought out with kicks and Humberto hit an elbow to the back. Angel tagged in with a kick to the ribs. Angel and Humberto did some tag team moves on Nakamura including a corner splash while also knocking Boogs off the apron. Humber with a chinlock, Nakamura with a hiptoss and Boogs got the hot tag. Boogs attacked with some axhandle strikes to the chest and a military press to Humberto, who Boogs tossed onto Angel. Boogs got a hold of Angel leading to some curls and then the powerslam called the Boogs Cruise for the pinfall win after five minutes.
Winners by pinfall: Shinsuke Nakamura & Rick Boogs
Analysis: **1/4 A basic tag team match here following the usual formula with Nakamura as the face in peril, Boogs getting the hot tag and winning the match after that. It's a simple formula that works. It made sense for the faces to win since they are challenging for the titles at WrestleMania.
A replay was shown from last week when Drew McIntyre fought off Happy Corbin and friends last week. That leads to this week's match.
The Viking Raiders made their entrance followed by Drew McIntyre with the sword in hand. The match was supposed to happen last week, but now we get it this week.
(Commercial)
Happy Corbin was backstage with Madcap Moss, Jinder Mahal & Shanky for an interview. Corbin said that nothing can bring him down for WrestleMania. Moss told a bad joke, Corbin and the guys didn't laugh, but then it was time for the match. McIntyre faces Corbin at WrestleMania on Saturday, April 2.
Drew McIntyre, Erik & Ivar vs. Happy Corbin, Jinder Mahal & Shanky (w/Madcap Moss)
It was announced before the show that Moss would be in the match, but they replaced him with Shanky for some reason. Shanky knocked down Erik to start the match. Mahal tagged in, Erik drove him to the corner and Ivar hit Mahal with a clothesline. Corbin tagged in with a punch on Ivar, then a shoulder tackle and Ivar hit a shoulder tackle that knocked Corbin out of the ring. Corbin hit a spinebuster on Ivar that looked impressive. Corbin with a cheap shot punch on Drew, the referee made Drew leave the ring and the show went to break there.
(Commercial)
The heels were in control with Corbin hitting Ivar with a corner splash. Mahal tried a cheap attack on Drew, so Drew decked him with a headbutt. When Ivar broke free, Drew got the tag and Corbin tagged Shanky in. Drew hit Shanky with clotheslines, a belly to belly to Mahal and a clothesline to Mahal over the top to the floor. Drew hit a Michinoku Driver to Shanky while Corbin was out on the floor. Drew hit the Claymore Kick on Shanky for the pinfall win after eight minutes.
Winners by pinfall: Drew McIntyre, Erik & Ivar
Analysis: ** It was yet another standard tag match that was all about building up to Drew's hot tag. Corbin did the cowardly heel thing to avoid Drew. I guess they put Shanky in the match to make Drew's power moves look more impressive on a bigger opponent.
Sami Zayn talked about how Johnny Knoxville has ruined his life with juvenile pranks and little stunts. Zayn said that he will show Johnny what it's like to step into his world. Zayn challenged Knoxville to an "Anything Goes Match" at WrestleMania. That was it.
Analysis: That's probably a way to involve Johnny's Jackass friends in the match as well.
Naomi made her entrance with Sasha Banks for tag team action.
(Commercial)
A video aired about "Stone Cold" Steve Austin appearing at WrestleMania on the KO Show with Kevin Owens. They also plugged Steve Austin's beer.
The Women's Tag Team Champions Carmella and Zelina Vega were seated at ringside to watch this match.
Liv Morgan and Rhea Ripley entered for tag team action even they are on the Raw brand. It's WrestleMania season and they are in the Women's Tag Team Match at WM against Carmella/Vega and Banks/Naomi. Cole claimed Ripley/Morgan are called "Liv For Brutality." Yeah, good luck with that name.
Liv Morgan & Rhea Ripley vs. Sasha Banks & Naomi
Naomi with a shoulder tackle on Morgan, Banks tagged in and taunted Morgan. Banks tried a hiptoss, but Morgan landed on her feet and Banks chopped Morgan in the chest. Banks with an arm drag off the ropes, then a rollup for two and they did a double dropkick spot. Naomi tagged in using her feet to knock Morgan down followed by a split leg drop. Morgan with a jawbreaker while Ripley tagged in and hit a running dropkick for two. Ripley had Naomi on her shoulder, Banks made a blind tag and hit a knee to the face. Banks with a headscissors on Ripley, but Ripley came back with a delayed vertical suplex. Morgan tagged in with a running backsplash against the turnbuckle. Naomi back in with a jawbreaker, Morgan sent Banks out of the ring and Morgan launched Naomi over the top to the floor. Ripley hit a cannonball off the apron onto both opponents. They went to break there.
(Commercial)
The match continued with Naomi hitting an impressive springboard kick to Ripley's face. Banks tagged in against Morgan with Banks hitting the double knees off the middle ropes for a two count. Morgan came back with an enziguri kick for two and Ripley hit a missile dropkick. Banks countered Ripley into a backstabber double knees. Naomi tagged in with a split-legged moonsault on Ripley, but Morgan broke up the pin. Banks and Naomi went for a double suplex, but then Morgan went over towards them and did the Powerbomb part of the Tower of Doom spot out of the corner. That drew a pop. That's when Natalya & Shayna Baszler went out to the ring to attack both teams. It's a double DQ after 12 minutes.
Match Result: Double Disqualification
Analysis: ***1/4 Good tag team match there with the non-finish. They worked hard, had some nearfalls in there and then it ended abruptly with the cheap attack by the heel team of Natalya/Baszler. I really think Sasha Banks and Rhea Ripley could have a great rivalry some day. Their styles mesh really well. Either one could be in a heel or face role. That's a good feud WWE should do in the future.
Natalya and Baszler stomped on everybody in the ring. They sent Ripley into the ring post. Natalya hit a German Suplex on Morgan. Banks and Naomi tried to fight back against Natalya & Baszler, but then the heel champions Carmella & Vega went into the ring as well. Carmella & Vega managed to get control while Natalya & Baszler made it known they wanted in on the Women's Tag Team Title match at WrestleMania.
Analysis: The heels were in control here to upset the fans and also have Natalya/Baszler make it known they want in on the title match. I made reference to another team being added to the Women's Tag Team Title match at WrestleMania and now you see how it's coming together.
There was a cell phone promo from Johnny Knoxville accepting Sami Zayn's challenge for an Anything Goes Match at WrestleMania.
The commentary team was shown with Michael Cole letting Pat McAfee know that he was supposed to go to Mr. McMahon's office.
(Commercial)
A video aired letting us know WrestleMania is just 15 days away. Stupendous! I should probably get started on the preview soon.
Natalya and Shayna Baszler were shown walking backstage with WWE Official Sonya Deville telling them she loved it and it was great. Sonya said that some of the women deserved it. Sonya said that she is adding them to the Women's Tag Team Title match at WrestleMania. Natalya and Baszler were happy about that.
Analysis: It's a way to get more people on the WrestleMania card. I'm happy for Natalya and Baszler as veterans that should be part of the biggest show of the year.
A Progressive Match Flo replay was shown of Pat McAfee attacking Austin Theory during Smackdown last week.
Pat McAfee was shown walking out of Vince McMahon's office while Cole speculated what it could mean for Pat's future. They did not show Vince.
Let's Hear from Pat McAfee
Pat McAfee walked out to the ring. Pat McAfee did a promo in the ring saying when he was 11 years old and saw pro wrestling for the first time, it inspired him, it was magical and it would shape him forever. Pat said that he found the thing that he thought he was put on this Earth to do. Pat said that other professions got in the way (the NFL) and when he retired, he got a call from the "greatest of all time" Michael Cole and was asked if he would come to work with WWE – Pat said "hell yeah." Pat said he has been dreaming of working for WWE, dreaming of traveling to cities like Charlotte, North Carolina (cheap pop) and here's the interruption.
Austin Theory made his entrance even though he's from Raw, but again during WrestleMania season, they ignore the "rules" that are supposed to exist. Pat said it was suggested to him that he had to apologize to Theory or lose his WrestleMania match. Pat tried to say it, but he stopped himself two times and Pat said: "I'm sorry for beating your ass last week. I'm sorry your parents raised a douchebag." Pat got in Austin's face to deliver one more: "Austin Theory, I apologize that you're a punk bitch." Theory took a selfie with him, said he apologized and shoved Pat in the chest.
Analysis: I enjoyed that. The fans were into it and they are really rallying behind Pat in this feud with Theory, who does a nice job of being an obnoxious heel. Pat is an entertaining announcer on Smackdown and a damn good in-ring promo too. He showed that during his NXT run as well. I think Pat and Theory are going to do very well at WrestleMania.
There were replays shown of "Stone Cold" Brock Lesnar vehicular attack on Roman Reigns and The Bloodline earlier in the show.
Kofi Kingston made his entrance for a singles match.
There was another Toyota Tundra video featuring Shinsuke Nakamura and Rick Boogs that they have been showing over the last month.
(Commercial)
A replay was shown from Smackdown last week when Big E took a belly to belly suplex from Ridge Holland on the floor. Big E landed on the top of the head. They showed Big E leaving on a stretcher while giving a thumbs up. They showed some video messages from Big E on Twitter noting that his neck was broken, but he didn't need surgery. They showed other WWE superstars sharing messages of support for Big E. They also shared a tweet from Big E thanking everybody for the support.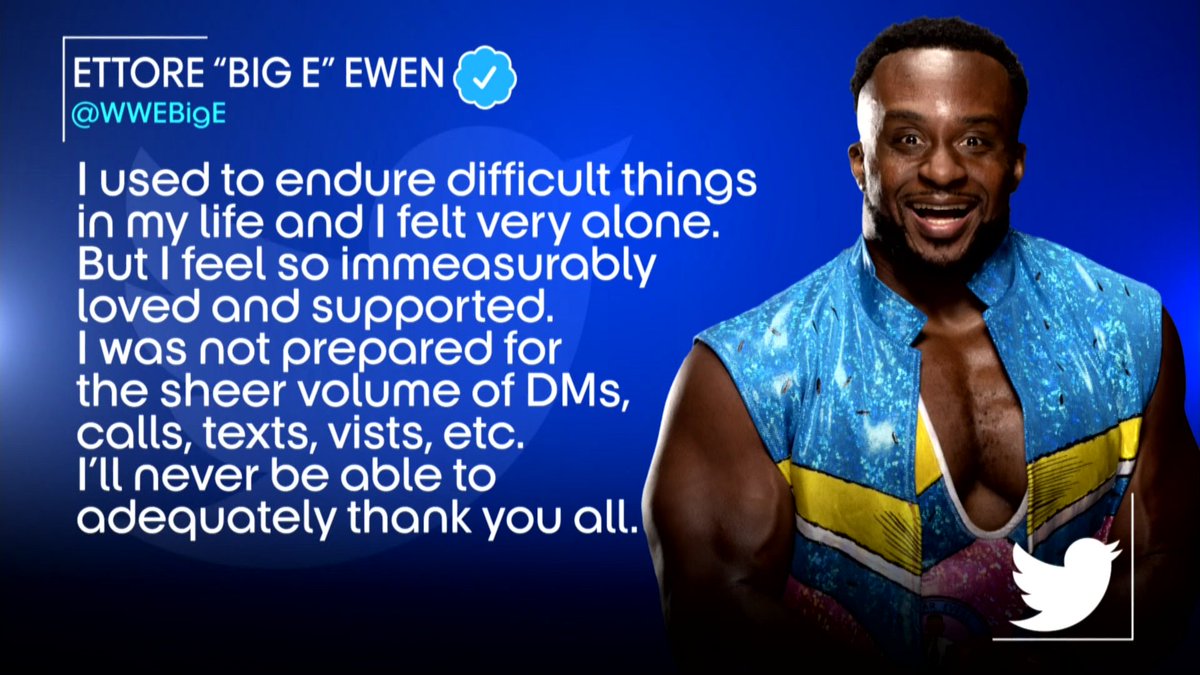 Analysis: I am going to miss Big E while he's gone. I don't know when he'll be back in action, but I think he'll be as popular as ever with the fans.
Kofi Kingston vs. Ridge Holland (w/Sheamus & Butch)
Kofi with a jumping back elbow on Ridge, but then Ridge hit a shoulder tackle. Kofi to the apron, he sent Holland to the floor and Kofi kicked Holland in the chest. Kofi jumped off the ropes with a chop to Holland. They went to break there.
(Commercial)
Holland was in control after they exchanged punches and Holland hit a back elbow. Holland with a chinlock, Kofi broke free with a jawbreaker along with chops and a dropkick. Kofi with a jumping clothesline followed by a Boom Drop double leg drop. Kofi went for a move, Holland caught him and then Kofi kicked Holland down. Sheamus distracted the referee, Butch went up the other side on the apron and Butch shoved Kofi off the apron. The referee ejected Sheamus & Butch from ringside. Kofi got a rollup on Holland for two. Kofi with a double foot stomp to Holland's chest. Kofi threw a club at Sheamus/Butch in the aisle, Butch tried going into the ring, then Butch left and Holland hit his Northern Grit sitout slam for the pinfall win after eight minutes.
Winner by pinfall: Ridge Holland
Analysis: **1/4 It was a solid match with Holland picking up the win thanks to the distraction from Butch, who was supposed to go to the back and ignored the orders of the referee. I thought Kofi would win as payback for Big E getting hurt last week. Kofi did work the match with more intensity than usual and less smiling since he was fighting for Big E. I thought maybe King Woods would be back here because he returned at live events last weekend, but there was no sign of him.
Post match, Butch went into the ring to try to go after Kingston, but he was held back by his buddies.
Analysis: I assume the WrestleMania plan was the New Day trio against Sheamus, Holland and Butch. Now that Big E is out, perhaps they'll use Intercontinental Champion Ricochet to team with Kofi & Woods or find some other babyface.
A video aired recapping Ronda Rousey's feud with Smackdown Women's Champion Charlotte Flair. Last week they exchanged words in the ring. At the end of the show, Charlotte attacked Ronda in the parking lot and they got into a brawl. Charlotte applied a submission pulling back on Ronda's head/neck while they were on a car. That's how Smackdown ended last week.
Charlotte Flair, the Smackdown Women's Champion, made her entrance in her hometown wearing some non-wrestling gear. It was some full body attire with the title around her waist. That main event promo segment was up next.
(Commercial)
Let's Hear from Charlotte Flair
Charlotte Flair was in the ring for the main event promo with a spotlight on her. Charlotte said she always has a plan. Charlotte said that last week, she showed Ronda Rousey why she's the most dominant, vicious and most decorated woman in sports entertainment history. Flair said nobody has caused Rousey more pain than her. Flair talked about how she had Rousey right where she wanted her, but then the referees and producers rescued her because they pulled Flair off of her. Flair said that was a taste of what's to come at WrestleMania. Rousey was shown watching on a TV backstage while fans chanted "you tapped out" to Charlotte.
Flair said that she is the mountain that Rousey has to climb to make a legacy here. Flair said that her legacy is bigger than Ronda's legacy. Flair added that when Rousey loses, she'll go home and pop out another baby. Flair said that she'll be here every week while Flair has the passion, the grace and the love to become the 13-time Women's Champion. Flair said she didn't want to wait until WrestleMania to eviscerate Rousey again so that Charlotte can embarrass Ronda in Charlotte's hometown, the Queen's city. Ronda Rousey was shown walking backstage, Kayla Braxton asked her if she was worried about being lured into a trap and Rousey kept on walking.
Ronda Rousey walked out to the ring to confront Flair, who grabbed a kendo stick that she planted by the ring. Rousey avoided the kendo stick and kicked Flair into the ropes. Flair got a takedown and she went for the armbar, but Flair got out of it. Flair tripped up Rousey on the apron and Rousey hit the floor hard. Rousey got back into it by whipping Flair into the ring post two times. Flair tried a kick, Rousey grabbed an ankle for an Ankle Lock, but Flair grabbed a kendo stick that she used to hit Rousey. Flair choked Rousey with a kendo stick. Rousey would not tap out. Flair picked up Flair and gave her a Powerbomb through the commentary table! Flair stood over Rousey with a foot on Ronda while Rousey had a busted lip. Flair stood tall as the show ended there.
Analysis: That was a really good brawling segment that was booked well with Flair relying on the kendo stick usage to get the advantage. I thought Ronda did a nice job of coming back when they left the ring, but then Flair got another kendo stick and Rousey showed her toughness by not tapping out. The table spot was a smart way to end it with a big move. They didn't clear off the table, but hopefully the landing wasn't too bad for Rousey. I think Rousey winning at WrestleMania is a lock and if it doesn't happen I'll be surprised. I think it's smart to give Flair the advantage in segments like this to get heat on her and the fans rallying behind Rousey to get revenge.
Three Stars of the Show
Brock Lesnar/Roman Reigns
Pat McAfee
Charlotte Flair/Ronda Rousey
The Scoreboard
7 out of 10
Last week: 5.25
Final Thoughts
A solid show for the most part, but not a great episode of Smackdown. Some of the matches had predictable outcomes since they featured people in WrestleMania matches that were obviously going to get wins against others that are in lesser roles.
The two main segments involved the major title with Brock Lesnar going after Roman Reigns and company although they didn't have any physical interaction. There was plenty of that physical interaction between Charlotte Flair in the main event segment. I thought that was good. I also liked Pat McAfee's promo a lot.
It's WrestleMania season, so we know the shows are going to be promo heavy and it's not always about the matches. That's okay with me.
The next WWE Premium Live Event is WrestleMania 38 from Dallas, Texas on Saturday, April 2 and Sunday, April 3. Here's the lineup so far:
Winner Take All – Title vs. Title: Universal Champion Roman Reigns vs. WWE Champion Brock Lesnar (Sunday)
Smackdown Women's Championship: Charlotte Flair (c) vs. Ronda Rousey (Saturday)
Raw Women's Championship: Becky Lynch (c) vs. Bianca Belair (Saturday)
Edge vs. AJ Styles (Sunday)
KO Show with Steve Austin (Saturday)
Rey & Dominik Mysterio vs. The Miz & Logan Paul (Saturday)
Women's Tag Team Championships: Carmella & Zelina Vega (c) vs. Sasha Banks & Naomi vs. Rhea Ripley & Liv Morgan vs. Natalya & Shayna Baszler (Sunday)
Drew McIntyre vs. Happy Corbin (Saturday)
Anything Goes Match: Sami Zayn vs. Johnny Knoxville (Sunday)
Smackdown Tag Team Championships: The Usos (c) vs. Rick Boogs & Shinsuke Nakamura (Saturday)
Pat McAfee vs. Austin Theory (Sunday)
WrestleMania 38 is a two-night event steaming LIVE on Saturday, April 2, and Sunday, April 3, beginning at 8 p.m. ET/5 p.m. PT on Peacock in the United States and on WWE Network everywhere else.
—
Thanks for reading. Please check out my reviews of every WWE PPV ever listed in order. Go Toronto Raptors and Toronto Maple Leafs. My contact info is below.
John Canton
Email mrjohncanton@gmail.com
Twitter @johnreport