The John Report: WWE NXT Takeover In Your House 2021 Review
Welcome to the WWE NXT Takeover In Your House 2021 Review. It's the third Takeover event this year. There was no Kickoff Show match. This Takeover has five matches as usual, so let's get to it. Here's what the set looks like: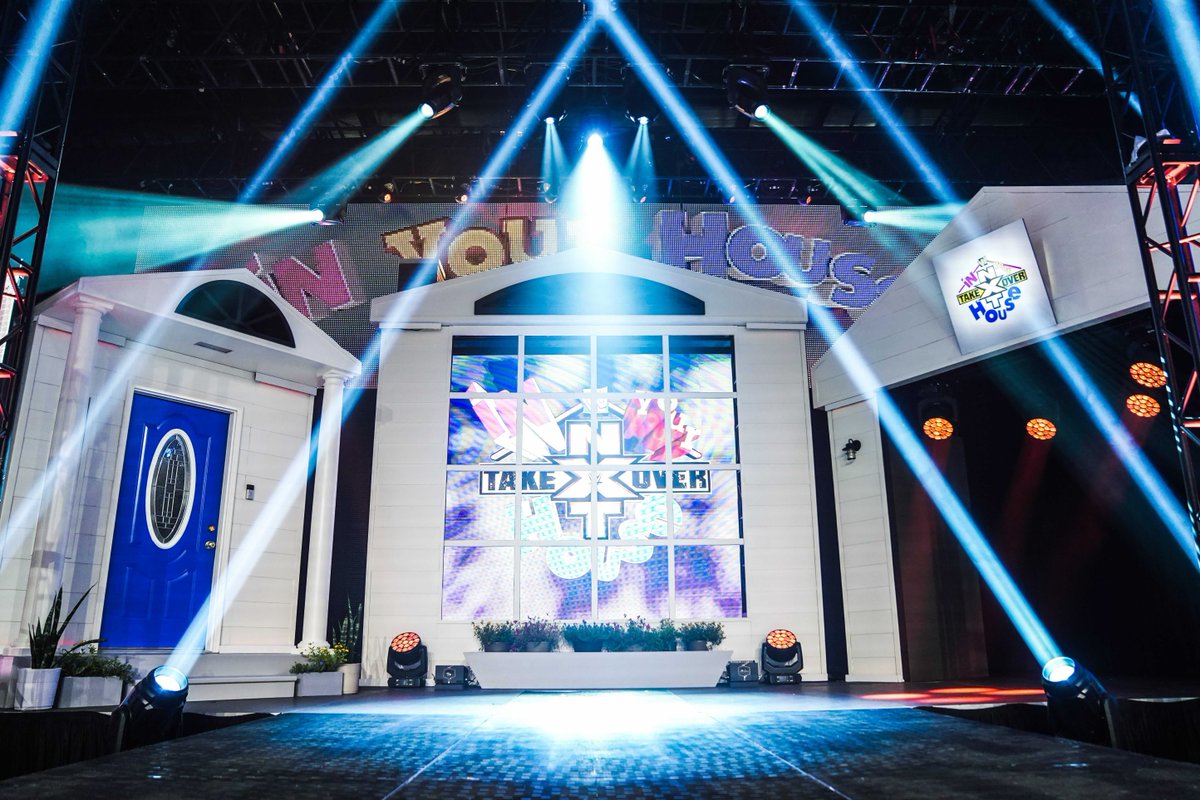 WWE NXT Takeover In Your House
From Capitol Wrestling Center at the WWE Performance Center in Orlando, Florida
June 13, 2021
They started with this: "NXT: For nearly a decade, the revolutionary force in sports entertainment." Nice throwback there. There was a video package with Todd Pettengill doing the voiceover by talking about the five matches advertised for the show. Todd did an awesome job. They also had Dok Hendrix (Michael Hayes) on hand to welcome us to the show.
There were more fans allowed at the show tonight and you can tell just by looking at the crowd shots there are at least a few hundred people there. A woman named Naomi Fox was on the stage singing as the "In Your House" theme song played.
Todd Pettengill appeared on the stage welcoming us to the show. Todd said that it was good to be home. Todd said we had the largest crowd at the Capitol Wrestling Center and he welcomed us to the show.
Analysis: I like the look of the set along with the throwback nature of Todd Pettengill being there. That's cool. Nice job by the NXT decision makers to come up with that.
The MSK duo of Wes Lee and Nash Carter entered as the NXT Tag Team Champions. Bronson Lee was up next as their tag team partner. Lee is the NXT North American Champion. The Legado del Fantasma trio made their entrance as the challengers. The announce team was Vic Joseph, Wade Barrett and Beth Phoenix as usual. There was a ramp from the back to the ring, which is standard for what they usually do for Takeover shows at the CWC building.
Winner Take All for the NXT North American Championship & NXT Tag Team Championships: Bronson Reed, Wes Lee & Nash Carter vs. Legado del Fantasma – Santos Escobar, Joaquin Wilde & Raul Mendoza
The North American Champion and Tag Team Championships are on the line. The first fall wins. If the challengers win then Escobar becomes NXT North American Champion and Wilde/Mendoza because NXT Tag Team Champions.
Lee started with Mendoza. They did a spot with Mendoza doing a headscissors, but Lee landed on his feet. Carter tagged in, so Wilde tagged in against him and Carter got a pin attempt. Wilde with a springboard arm drag. Carter with a knee to the jaw, Wilde with a pin attempt for two and a jawbreaker. Carter hit an impressive dropkick on Wilde. Escobar tagged in and didn't like Reed tagging in, so Escobar tagged Mendoza. A spin kick by Mendoza had no effect, Reed charged, Mendoza avoided him and Mendoza tried a clothesline that failed again. Lee with a shoulder tackle that knocked Mendoza down. Escobar made a blind tag as Reed sat on Mendoza and Escobar hit a running kick. Reed countered a slam attempt by landing on top of Escobar, who tagged out to Wilde, who wasn't thrilled about it. Reed with a press slam on Wilde, Carter with a senton splash and Lee with a diving attack off the top for two. Quick tags by the champions with Reed hitting a senton splash while MSK held Wilde and that got a two count for Reed. More quick tags by the faces leading to Lee hitting a jumping corner splash on Wilde for two. Carter back in, Wilde with a jawbreaker and Escobar was back in with Escobar knocking Carter out of the ring. Carter pulled Escobar on the floor and then Carter hit a moonsault off the middle ropes onto Escobar. Wilde with a jumping attack off the top rope. Lee hit a somersault dive onto Wilde. Mendoza hit a dive onto Lee on the floor. Reed rand the ropes and he hit a suicide dive onto the three Legado guys. The fans loved that. It was great. Lee was in the ring with Escobar, but then the other Legado guys sent Carter into the barricade and Escobar took control against Lee with a running knee attack. Escobar with a hurricanrana off the top for two. The Legado trio did their routine of running clotheslines by all three guys attacking Lee against the turnbuckle. Escobar with a brainbuster on Lee. Wilde with an assisted spinning splash on Lee for a two count.
Reed got the hot tag with a running body attack on Wilde and on Mendoza as well. Reed with a running splash on Wilde and Mendoza at the same time. Reed picked up Wilde/Mendoza on his shoulders leading to a double Samoan Drop. Reed with an impressive suplex on Wilde. Reed wanted Escobar to tag in to face him, but then Mendoza hit a kick to the leg and Escobar tagged in with a Michinoku Driver on Reed for two as Carter hit a superkick to save his buddy Reed. Wilde avoided a kick by Carter, then Carter with a jumping knee and the Legado boys hit their tag team legsweep/kick double team move for a two count because Lee hit a dive on Wilde to break up the pin. That was a great spot. Escobar left the ring to grab the title and then Reed tackled him through the barricade! MSK took control with a double stomp to take out Wilde. MSK hit their double team Powerbomb/Neckbreaker on Mendoza. Reed went up top and hit the Tsunami splash on Mendoza for the pinfall win at 13:40.
Winners by pinfall: Bronson Reed, Wes Lee & Nash Carter
Analysis: ***3/4 This was a great opener with a lot of action as expected. These guys have been feuding for a while (especially the tag teams), so there's a lot of chemistry between them. I liked all the highspots like when Wes Lee broke up a pin by running down the ramp and hitting a dive to save his partner from getting beat. That spot with Reed tackling Escobar through the barricade at ringside was smart because it was like the spot they did on NXT recently where he tackled Escobar into the barricade. The finish was booked well because after Escobar got taken out, MSK took out Wilde and then the trio of faces worked together to finish off Mendoza. I expected the champs to retain. They did. I enjoyed the match a lot.
There were commercials for SummerSlam and Hell in a Cell.
Kyle O'Reilly was shown getting interviewed in the parking lot earlier in the day. The Way showed up, so Kyle shoved Johnny Gargano and Austin Theory. Security showed up to break it up.
Todd Pettengill cued up the videotape for a feud recap. Mckenzie Mitchell showed up to tell Todd that they can play a clip digitally. They showed Mercedes Martinez beating Xia Li in the Mae Young Classic four years ago.
Mercedes Martinez made her entrance for the first of two women's matches on this show. Xia Li entered with Boa along with their leader Mei Ying (the woman in a black cloak) watching on.
Xia Li vs. Mercedes Martinez
Li was aggressive early with a kick to the ribs. Martinez came back with a back body drop. Martinez with an overhead suplex. Li tied up Martinez in the ropes for a five count. Li sent Martinez into the ring post. Li stomped on Martinez and then stretched the arms/legs of Martinez against the ring post. Li sent Martinez sternum first into the turnbuckle two times. Li with a running dropkick that sent Martinez out of the ring. Li went for a kick on the floor, Martinez moved and Li kicked the ring post, so Li was favoring her injured right leg. They exchanged strikes with Li getting a knee to the ribs. Martinez came back with a double underhook suplex. Li hooked the arm of Martinez and hit a suplex across the ring. Li charged at Martinez, who sent Li into the top turnbuckle. Martinez had Li on her shoulders and hit a spinning slam called a Cliffhanger for two. Martinez slipped out of a rollup and Martinez hit a jumping knee. Boa pulled Li out of the ring, so Martinez faced off with Boa, Li charged and Martinez gave Li a back body drop on the floor. Back in the ring, Li avoided the Air Raid Crash slam, Li sent Martinez into the ropes and Li hit a spinning kick for the pinfall win at 7:35.
Winner by pinfall: Xia Li
Analysis: **3/4 It was a hard-hitting match. It was like a TV match instead of a Takeover level match. I knew it would probably be the shortest match on the show, but I give them credit for having a fun match in the time given. Martinez has a lot of credibility as a hard-hitting veteran wrestler that knows how to take a beating and coming back for more. Li's finishing kick is impressive although I think she could have sold the right leg injury a little bit better during the match.
Post match, the fight wasn't over because Li tried an attack with a chair. Martinez prevented the attack by grabbing the chair. Martinez hit Boa with a couple of chairshots and Martinez hit Li in the back with multiple chairshots as well. Martinez stared at the mysterious woman in black and hit Li with another chairshot to the back. Martinez: "You wanna go, bitch? Let's go!" Martinez approached Mei Ying, who choked Martinez around the neck. Martinez used a chair to break free, but Mei Ying grabbed Martinez by the throat again and tossed Martinez into the barricade.
Analysis: There's some physicality by Mei Ying, which is new for her. It worked well in terms of having Martinez taking some big bumps.
There were commercials for COVID vaccines and Peacock programming.
Tommaso Ciampa and Timothy Thatcher did a promo talking about how they are going to show the Grizzled Young Veterans just how dangerous they are when they face them on NXT on Tuesday night. That will be an awesome match.
A video package aired for the Million Dollar Title Ladder Match.
Ted Dibiase made his entrance with two security guys carrying a case that had the Million Dollar Title in it. LA Knight made his entrance as the first wrestler competing in the match. Cameron Grimes got a good pop because he's a bit of a babyface now although it's not like he has fully embraced it yet. The fans like the "To The Moon" catchphrase a lot too. The Million Dollar Title was lifted above the ring. There were ladders all around the ring.
Ladder Match for the Million Dollar Championship: Cameron Grimes vs. LA Knight
Ted Dibiase was watching at ringside with his security guys standing by. Knight got some offense early and then Grimes hit a clothesline. Grimes hit a hurricanrana that sent Knight out of the ring. Knight brought a ladder into the ring, then he shoved Grimes out of the ring and Grimes avoided getting hit by the ladder. Knight with a clothesline. Knight set up a ladder, Grimes was on the other side, Knight knocked him down and Knight nearly sent a ladder into Grimes. Back in the ring, Grimes sidestepped Knight and sent him out of the ring. Both guys had ladders in their hands, Knight knocked the ladder out of Cameron's hand and then Grimes managed to send Knight out of the ring. Grimes sent Knight into the barricade. Grimes with a running PK kick on Knight on the apron. Knight with a back elbow and then he sent Grimes into the barricade. Barrett was critical of Grimes for not trying to climb a ladder as Knight swung a ladder into Cameron's face. Knight posed as the fans booed him and chanted "LA sucks" at Knight. Knight sent Grimes into the barricade and the steel steps. Grimes sent Knight into the barricade. They were out on the floor with Knight doing an eye gouge followed by Knight whipping Grimes into the barricade. Knight set up a ladder from the apron to the barricade. Knight jumped over the top with a shoulder tackle to put down Grimes as Knight remained in control. Knight set up a ladder against the turnbuckle, so Grimes hit a German Suplex to send Knight into the ladder. Grimes swung the ladder into the ribs of Knight. There was a spot with Knight avoiding getting hit in the groin with a ladder and then Knight delivered a neckbreaker on the edge of the ladder. Knight was favoring his right arm after a rough landing for him.
Knight brought a taller ladder into the ring as the fans booed Knight during one of his posing routines. Grimes with uppercuts and Knight whipped Grimes into the tall ladder that was set up. Knight set up a ladder against the ropes and another one across the top turnbuckle. Grimes whipped Knight into the ladder that was across the top turnbuckle. The fans loved that and cheered for Grimes. There were repeated kicks to the chest by Grimes, but then Knight pulled Grimes down by the hair. Grimes with a back body drop that sent Knight back first onto the ladder. Grimes also tossed Knight over the top onto the ladder bridge that was set up earlier. Grimes grabbed the gold ladder that was by the entrance. It was gold painted with dollar signs on it as well. The fans chanted "To The Moon" to support Grimes. The ladder was set up by Grimes, who climbed up and then Knight was up on the other side. Grimes knocked Knight down, but then Grimes shove the ladder so that Grimes hit the top rope. Knight charged at Grimes, who hit the running cross body block to take down Knight. Both guys were down as the fans chanted "this is awesome" for the wrestlers. Grimes was on the ramp and then Knight hit Grimes in the back with a ladder. Knight set up a ladder bridge by the ramp and Grimes came back with a kick to the jaw. Knight hid behind Ted's security, then Knight with a punch to the face and Barrett put over Knight as usual. Grimes climbed a ladder that was set up on the floor, Knight shoved it and Grimes climbed up a steel structure that was part of the set. Grimes jumped off the steel structure onto Knight on the floor. The camera showed both guys talking to eachother and then they showed Dibiase watching. Grimes tried climbing the golden ladder, Knight teased a Powerbomb and Grimes countered with a headscissors to send Knight out of the ring. Grimes climbed the gold ladder to reach the title, but Knight lifted up the ladder and Grimes took a back bump onto the ladder bridge that was set up earlier. Knight climbed up the ladder, reached up and pulled down the Million Dollar Title to win the match at 19:31.
Winner AND NEW Million Dollar Champion: LA Knight
Analysis: ***3/4 This was an entertaining match with both guys doing some big moves and taking some huge bumps. Knight took a beating a bit early while Grimes had his moments as well. I think Grimes was the better of the two guys here although Knight held his own. That final bump by Grimes was massive because he was on top of the ladder and had to go all the way over the top onto the ladder bridge that was set up. It looked very painful, but also a way to end the match in an impressive fashion. I like how they used different ladders around the ring, they made use of the gold ladder that was shown on NXT TV during the week and it made sense to use it for the finish of the match. They laid out the match well, it was given plenty of time as expected and they delivered an entertaining match. Good job by everybody involved.
After the match, Dibiase presented LA Knight with the Million Dollar Championship. Wade Barrett was happy about it because he's a big LA Knight supporter. There was some pyro that went off for Knight's big win.
Analysis: I think Knight is going to do well as the Million Dollar Champion. I'm not sure if the title will be defended that often, but it makes sense to have it on a heel like Knight. I picked Grimes to win, but I really thought it could go either way.
There was a commercial for WWE going live on tour again in July. There was a commercial for NXT merchandise on WWE Shop.
Todd Pettengill was trying to sell some WWE merchandise when the Hit Row group showed up to shill some of their merchandise.
There was a backstage scene with Karrion Kross and Pete Dunne having to be separated by WWE Officials like Steve Corino and Scott Taylor (Scotty 2 Hotty) along with security. William Regal showed up to tell them to save it for the ring.
There was a video package for the NXT Women's Title match between champion Raquel Gonzalez and challenger Ember Moon. The video focused on Moon being a former champion that is now getting another chance to win the title.
Ember Moon entered first as the challenger. Raquel Gonzalez entered last as the champion with Dakota Kai by her side. They stood in the ring as ring announcer Alicia Taylor did the championship introductions.
NXT Women's Championship: Raquel Gonzalez (w/Dakota Kai) vs. Ember Moon
Moon was aggressive early going for a dropkick, but then Gonzalez knocked her down by shoving Moon down. Gonzalez missed a charge and hit the turnbuckle. Moon went for a kick, Gonzalez moved and Gonzalez shoved Moon into the barricade. Gonzalez sent Moon into the barricade. Back in the ring, Gonzalez with repeated knees to the ribs and a hard whip into the turnbuckle. Moon went for a sunset flip, Gonzalez blocked it, Moon with a kick and Gonzalez blocked a double knee attack. Gonzalez with a one-armed sidewalk slam. Gonzalez hit a twisting backsplash off the middle rope for two. That was a cool spot by Raquel. Gonzalez slammed Moon off the shoulders for a two count. Moon got back to her feet to deliver an impressive superkick. Moon with kicks to the body, then a step-up enziguri and a clothesline. Moon with another kick to the head followed by a forearm. Moon with a Code Red (sunset flip powerbomb) for a two count. Moon tied up the legs of Gonzalez and then pulled back on the head of Gonzalez. Kai pushed the ropes towards Gonzalez, so that helped Raquel get to the ropes. Moon ran the ropes leading to a suicide dive onto Gonzalez that sent Raquel over the announce table. Moon sent Gonzalez into the hood of the announce table. Back into the ring, Moon hit a flatliner for two. Moon went up top, Kai with a distraction and then Gonzalez got back up with a superplex for two. Moon countered the Powerbomb with a rollup and then Gonzalez was back up with a boot to the face for two. Gonzalez went for a delayed suplex, but Moon slipped out leading to a Stunner for a modified Eclipse. Moon with a jawbreaker. Moon jumped off the middle rope and hit the double knees to the face. Moon went up top, she jumped off looking for the Eclipse and she hit it, but Gonzalez was near the ropes, so Kai put Raque's left leg onto the bottom rope. Shotzi Blackheart showed up at ringside and ran Kai into the barricade. Kai ran away from Blackheart and those two women went fighting to the backstage area. Good spot to bring Blackheart out there to remove Kai from ringside. Moon sent Gonzalez into the ring post. Gonzalez was on the apron and Moon hit a spinning DDT onto the ramp. Moon struggled to send Gonzalez back into the ring and Moon got a two count with Raquel managing to power out. Moon went up top, Moon went for the Eclipse again, but Gonzalez caught her. Gonzalez sent Moon face first into the top rope with Snake Eyes and then Gonzalez hit the one-armed Powerbomb for the pinfall win at 12:40.
Winner by pinfall: Raquel Gonzalez
Analysis: ***1/4 It was a pretty good match with the champion Gonzalez retaining as expected. I think Ember Moon is excellent in terms of taking a beating, selling and then making that big babyface comeback when needed. Everything Moon does looks believable and she makes it look easy. The key spot in the match was Moon hitting the Eclipse looking like she was going to win, but then Kai made the save by putting Raquel's foot on the ropes to save her friend. It was smart to have Shotzi Blackheart make the save for Ember Moon in that moment. Gonzalez winning was the expected result.
There was a backstage segment with Todd Pettengill talking about how people made old jokes about him and stuff like that. Todd was playing Karate Fighters (a game from the 1990s) with Dexter Lumis. Todd had some line about Dexter's women problems and then Dexter broke the game. Not much to it.
It was announced that the Great American Bash returns to NXT on Tuesday, July 6. Good stuff.
This Tuesday on NXT:
* Tommaso Ciampa & Timothy Thatcher vs. Grizzled Young Veterans in a Texas Tornado Tag Team Match.
* Kushida will have an Open Challenge for a shot at the NXT Cruiserweight Title.
The video package aired for the Fatal 5-Way main event for the NXT Title.
Johnny Gargano was shown in the backstage area making his entrance. There was more chaos backstage as William Regal and security were trying to break up a fight between Moon/Blackheart and Gonzalez/Kai. There was a lot of backstage fighting on this show.
The entrances took place for the main event. Johnny Gargano was up first followed by Kyle O'Reilly, who is the only true babyface in the match. Pete Dunne was next as another heel like Gargano with Wade Barrett saying that Dunne's gear is a nod to the England football/soccer team competing in Euro 2021. Adam Cole was next up as another heel in the match. It's weird seeing Cole enter to music that isn't the Undisputed Era theme song. Cole still did his "BOOM" and his "Adam Cole bay-bay" posing during his entrance. The last man to enter was NXT Champion Karrion Kross joined by the lovely Scarlett doing the "FALL AND PRAY" entrance as usual.
NXT Championship Fatal 5-Way Match: Karrion Kross (w/Scarlett) vs. Adam Cole vs. Pete Dunne vs. Johnny Gargano vs. Kyle O'Reilly
The first fall wins the match. The pinfall or submission has to take place in the ring. There are no disqualifications or countouts. This will be chaotic, so I may miss some things, but I'll do my best.
Kyle kicked Cole and they went brawling to the floor. Dunne dumped Gargano to the floor. Dunne with kicks to the legs of Kross, who came back with an impressive suplex. Kross rocked Kyle with a kick to the head. Kyle with a roll through submission into a kneebar, but Kross came back with a German Suplex. Gargano with forearms to Kross and Kross blocked a submission, so Johnny hit a chop block. Gargano with a running headscissors. Gargano charged, Kross caught him and Kross hit an overhead suplex on Gargano. Cole was back in with a running dropkick to the leg. Cole with an enziguri kick to the head. Cole was trapped against the ring apron as the three wrestlers punched him and Kross tossed Cole into the ring. Kross with clotheslines on Cole. Kross delivered kicks to Kyle, Dunne and Gargano. Kross hit an impressive double suplex on Gargano and Dunne at the same time. Kross with a clothesline on Kyle for two. Dunne with a judo throw takedown, then Kyle came back with kicks to the chest and a spin kick. Kyle was in control with kicks for the other wrestlers. Dunne did a spot where he pulled back on the arms of Gargano and Kyle at the same time, but then Kross gave Dunne a Powerbomb onto Gargano/Kyle. Kross went after Cole on the ramp. Kross grabbed Cole by the throat, Kross went for a Powerbomb and Cole avoided it. Dunne kicked the arm of Kross. Gargano and Dunne shoved Kross into the door that was part of the set, so that was a pretty big bump. Back in the ring, Cole with a slam on Kyle off the shoulders onto the knee. Cole jumped off the middle rope, Kyle moved and Gargano was back in with a kick to the back of Cole. Gargano set up Cole against Kyle with Dunne going back in and hitting a rollup for two. Gargano countered a Bitter End attempt by Dunne into a DDT. Gargano launched Dunne off the shoulders onto Cole/Kyle at the same time and it got a two count for Johnny on Pete. Gargano was in control as he worked over Dunne and Cole. Kyle got back up, Cole with a pump kick on Gargano and a clothesline by Kyle on Gargano. They did a sequence where the four guys in the ring each hit strikes and Cole got his arm on Gargano for a two count. Cole and Kyle exchanged strikes, Kyle applied a leg submission and then Kross showed up to toss Cole Kyle over the barricade. Kross with a suplex on Cole on the floor. Kross tossed Cole over the barricade. Kross sent Gargano back first into the ring apron. Kross suplexed Dunne onto Cole/Kyle on the floor.
Kross sent Gargano back into the ring and hit a spinning slam off the shoulders for a two count. It was like an F5 that Brock Lesnar does, but with more rotations. Cole charged, Kross with a boot to the face and then Gargano came back with a spinning DDT on Kross. Gargano with a suicide dive on Kyle into the announce table. Gargano with a dive onto Kross and a diving DDT on Dunne. Cole with some shots on Gargano, but Johnny avoided the Last Shot knee. Gargano and Cole kept on countering eachother. Gargano blocked the Panama Sunrise and then Gargano planted Cole in the ring for a two count. There were four guys in the ring with Kross on the floor. Gargano and Dunne with a double kick on Kyle. Gargano with a Reverse Rana on Dunne and then there were big moves by several guys. It was tough to keep track. Kross was back into the ring as he delivered clotheslines. Gargano with a kick on Kyle who came back with a double clothesline and then Kross hit a huge clothesline on Kyle, who did a flip bump. Kross was back up with a German Suplex on Kyle and Kross with a German Suplex on Cole. Kross with a German Suplex on Gargano as the fans booed Kross. Dunne landed on his feet after a Kross German Suplex attempt and then Kyle kicked Kross. Gargano with a superkick on Kross, then Cole with a superkick on Kross on the apron. Cole and O'Reilly worked together (like the Undisputed Era days) and they delivered a double Powerbomb on Kross on the announce table. The table did not break, but it looked and sounded like a painful bump.
The foursome of Dunne, Cole, Gargano and Kyle got into a slugfest in the ring. Dunne and Kyle each applied submission holds, then dropped the guys and then Dunne/Kyle exchanged punches. Dunne applied a kimura armbar on the left arm of Kyle and then Kyle rolled through, but Gargano with a slingshot Spear. Cole sent Gargano out of the ring. Cole with a suplex on Kyle onto Cole's knee for a two count. Dunne with a kick and then Dunne went for a moonsault, but he was kicked by both guys. Cole got a two count on Dunne. Gargano hit the One Final Beat DDT on Cole for two. Kyle went back into the mix and kicked the three guys to break up a submission attempt. Gargano with a kick to the arm of Kyle, then Kyle with a knee and Kyle hit a knee on Gargano. Kyle went up top, Cole shoved Kyle to the floor. Cole jumped off the ropes with the Panama Sunrise pin for two and you could tell there would be a breakup because Cole turned his legs towards the outside of the ring. Dunne pulled Cole out of the ring and hit a brainbuster on the floor. Kross was back in the ring as he faced off with Dunne with Kross hitting a German Suplex. Dunne sidestepped Kross and hit a German Suplex of his own. Dunne hit the Bitter End slam for a two count with Kross kicking out. Dunne with the triangle choke submission on Kross, but the other three guys jumped back into the ring that saved that. Kross was back up as Dunne went for the fingers of Cole and Kross hit a double suplex on Dunne/Cole at the same time. Kross applied the Kross Jacket submission on Dunne, but then Dunne snapped the fingers of Dunne. Gargano hit the One Final Beat DDT on Dunne. Kross went for the Kross Jacket submission on Gargano again, but Gargano countered it into a pin attempt for two. Cole back in with Last Shot knee on Kross. Kyle kicked Cole. Kyle went up top and hit a jumping knee onto Kross for two as Cole hit a superkick on Kyle. Cross with superkicks for Gargano and Dunne as well. Kyle avoided the Last Shot knee, then Kyle applied a kneebar submission as Cole nearly tapped out, but then Kross slapped on the Kross Jacket submission on Kyle. That led to Kyle letting go of the hold on Cole, so then Kross made Kyle fade in the Kross Jacket submission. The referee called for the bell to give Kross the win at 26:15. The fans didn't like that. Kross is also a heel, so that's the expected reaction.
Winner by submission: Karrion Kross
Analysis: ****1/4 Awesome match as expected. I thought it would reach the four-star level for sure and then it's just a matter of seeing how high it can go. The champion retains in what was a chaotic (in a good way) match full of action without much slowing down. It was tough to keep up with some of it. Karrion Kross was positioned to be the star of the match since he was the champion, he got taken out multiple times and then whenever he was back on his feet, he was able to dominate the smaller guys in the match. That doesn't mean I think he was the best performer in the match. I think Adam Cole, Pete Dunne, Johnny Gargano and Kyle O'Reilly all did a spectacular job. You could tell the fans didn't want Kross to win because he's a dominant heel champion, but I think the match was hurt a bit by a lack of faces to root for. Kyle was the only face in the match, so I think they could have done a better job of making the opponents more like faces. I'm a little surprised that Austin Theory didn't try to help Gargano win since there aren't disqualifications, so they could have had a creative spot with Theory helping Gargano and failing to do it, but at least it could have led to a nearfall. Kross being Kyle was a bit of a surprise because I thought it could have been Gargano in that spot and they should have saved Kyle, who already lost twice to Finn Balor. Anyway, it doesn't matter that much who lost, I guess. It was all about putting over Kross and that Kross Jacket submission hold, so Kyle did a nice job of selling that. I was very entertained by the match. I thought maybe they could have used more weapons since it's No Disqualifications, but I did like how much they fought outside the ring because that makes sense to me.
There were replays of the key spots in the match.
Karrion Kross celebrated in the ring with the NXT title and the lovely Scarlett by his side. The men that Kross defeated were all out on the floor. Kross stood tall in the ring with the title in his hands.
Karrion Kross went to the entrance area with Scarlett by his side and they celebrated with the NXT Title.
William Regal was shown walking out of the building with Mckenzie Mitchell asking him after all that's transpired tonight, Mckenzie asked for his thoughts. Regal said he's been GM of NXT for seven years, he's never seen this kind of madness and this bedlam, so he thinks it's time for a change.
Analysis: I don't know who they will put in Regal's place, but if they do a change that's fine with me. The rumor is Samoa Joe as I wrote about here on Monday morning. Regal is only used when necessary and he does a great job with it. Hopefully the next person in that spot can be as good as him.
This event had a runtime of 2:20:21 on WWE Network.
Five Stars of the Show
Karrion Kross/Adam Cole/Johnny Gargano/Pete Dune/Kyle O'Reilly
LA Knight/Cameron Grimes
I'll leave it like that.
Final Thoughts
It gets a 7.75 out of 10.
It was a very good show overall with the five men in the main event delivering the match of the night. I don't think Karrion Kross was the best performer because he was the winner. I think the other four guys (Adam Cole, Kyle O'Reilly, Johnny Gargano & Pete Dunne) performed at a high level as well and they all put together a memorable match. The word "chaos" comes to mind when it comes to the main event, but it was also controlled chaos a bit because they set up spots so well, they didn't really mess anything up and it was very entertaining by the end of it. A great main event is the right way to end the show.
The opening six-man tag team match was the right choice for the opener since it was a fast-paced, exciting match. I like how MSK & Bronson Reed wore took out the three Legado guys back to back to back to get the win. I was impressed by LA Knight and Cameron Grimes in their Ladder Match. It was a nice mix of big bumps, they used the ladders very well and set up the finish in a smart way. Both guys left that match looking like bigger stars while Knight also left as the Million Dollar Champion.
As for the whole show overall, I don't think I can rate it higher than the two Takeover events from earlier in the year. It was still a great show, but it was lacking a bit in the midcard. A lot of talented NXT wrestlers were not a part of the card, so that hurt it a bit.
Here are my NXT Takeover rankings in 2021 (out of 10):
NXT Takeover Stand & Deliver (April 7 & 8) – 9
NXT Takeover Vengeance Day (February 14) – 9
NXT Takeover In Your House (June 13) – 7.75
===
Thanks for reading. My contact info is below.
John Canton
Email mrjohncanton@gmail.com
Twitter @johnreport