The John Report: WWE NXT 04/19/22 Review
This week's WWE NXT featured Carmelo Hayes facing Santos Escobar, Grayson Waller battled Sanga and Natalya was in action as well.
This episode is taking place at the WWE Performance Center in Orlando, Florida. Follow me on Twitter @johnreport. My WWE NXT Review archive is here. Let's get to it.
A video was shown from last week's show when the team of Pretty Deadly won the NXT Tag Team Titles after winning the gauntlet match. The Creed Brothers lasted until the end, but Pretty Deadly left with the titles.
The NXT Tag Team Champions Pretty Deadly made their entrance. They showed Bron Breakker arriving at the building as well. The commentary team of Vic Joseph and Wade Barrett welcomed us to the show.
Pretty Deadly (Elton Prince & Kit Wilson) did a promo saying they were used to having gold around their waists. They talked about dominating the NXT UK Tag Team Championships, so they decided to come to the US and take their titles as well.
The Grizzled Young Veterans duo of Gibson & Drake arrived. The graphic showed they have shortened names now and it didn't say Grizzled Young Veterans on the graphic. Gibson & Drake said that the only reason Pretty Deadly had success in the UK is because Gibson & Drake were not there. Gibson talked about how they are long overdue on the opportunity and they will take it tonight. Elektra Lopez showed up with the Legado del Fantasma guys, who brawled with Gibson & Drake at ringside. Referees were there to try to break it up.
Analysis: A wild opening segment to show there are lot of teams interested in the titles. I guess the Grizzled Young Veterans name is no more. I liked it as a name.
Bron Breakker, the NXT Champion, made his way into the ring. Bron said that Joe Gacy wants to know what Bron is willing to sacrifice, so Bron told Joe to come out there with his dad Rick Steiner's Hall of Fame ring. Gacy told Bron he's not a hard man to find, so all Bron has to do is to find Joe. That led to Joe laughing maniacally as his face was shown all over the building.
Analysis: That's an ongoing story to follow throughout the show.
Tiffany Stratton entered for a singles match.
(Commercial)
They showed some social media trash talk between Carmelo Hayes and Santos Escobar to set up their match on this week's show.
Carmelo Hayes and Trick Williams did a backstage promo. Melo told Escobar saying he'll be the first casualty on Melo's quest to get back the North American Title.
Sarray vs. Tiffany Stratton
They have been feuding for several weeks. Sarray with an arm drag followed by running dropkick. Sarray used her leg to trap Stratton's legs and Sarray applied a submission, but Stratton got to the ropes. Sarray went for a running kick, Stratton moved and Stratton kicked Sarray in the ribs. Stratton hit a running butt splash to the back against the ropes. Stratton applied a chinlock, then she sent Sarray into the turnbuckle and Stratton hit a shoulder tackle. Stratton jumped off the top with a double knee attack to the ribs for a two count. Stratton got some offense going with a German Suplex followed by a double foot stomp off the middle ropes. Sarray kicked Stratton followed by a running dropkick that sent Stratton out of the ring. Sarray brought Stratton back in the ring, Stratton broke free of a move by using her head to knock Sarray down and Stratton hit a splash off the middle turnbuckle for the pinfall win after five minutes.
Winner by pinfall: Tiffany Stratton
Analysis: **1/4 It was a decent match that wasn't long, but that's okay because Stratton matches should be kept shorter at this point in her career. Sarray hit a lot of her signature moves, nearly won at a few different times and then it took just two moves for Stratton to put her away. This seems like the end of the feud.
They showed Gibson & Drake walking backstage in their suits. Bron Breakker was shown walking backstage, then he heard his dad Rick Steiner's voice and found a cage with a chair that also had an iPad that was playing the audio from two weeks ago when Joe Gacy abducted Rick. Braun smashed the tablet into the chair and left.
(Commercial)
They showed Pretty Deadly walking backstage in the hallways doing their "yes boy" catchphrase. The lovely duo of Persia Pirotta and Indi Hartwell walked up to them saying they wanted a match. They said the match would be with their men, Duke Hudson and Dexter Lumis. Pretty deadly walked away without looking happy about that.
Grayson Waller was interviewed by Mckenzie Mitchell, who asked why Waller fired Sanga last week. Waller said he had people fooled that he had an arm injury, but that idiot Sanga ruined their chance at becoming Tag Team Champions. Waller said without him, Sanga is nothing. Andre Chase and Bodhi Hayward walked up to Waller saying this was a teachable moment. That's when Sanga appeared, so Waller ran away from him and was throwing objects at Sanga. They made their way towards the ring to start their advertised match.
Analysis: The Waller/Sanga split happened after last week's NXT broadcast. It seemed sudden since Waller wasn't with Sanga for that long, but I guess the NXT decision makers felt like Waller would be better on his own than if he had a bodyguard with him.
Grayson Waller vs. Sanga
Waller with a punch that had no effect as the big man Sanga hit Waller with a clothesline to the back. Sanga tossed Waller across the ring four times in a row, so the fans chanted "one more time" and Sanga tossed Waller across the ring two more times for a total of six tosses across the ring. Sanga hit a shoulder tackle along with forearms to the back. Sanga with a body slam. Sanga wanted a Chokeslam, but Waller bailed to the floor. Waller managed to kick Sanga into the side of the commentary table. Waller went for another move, Sanga wanted a slam on the floor, Waller shoved Sanga into the ring post. Waler put Sanga in the ring, Waller did his leap into the ring and hit a Stunner for a pinfall win after about four minutes.
Winner by pinfall: Grayson Waller
Analysis: *3/4 It was one of those matches where the winner was selling for 90% of the match, yet Waller found a way to win. Sanga did look impressive while he was on offense for most of the match. Waller will continue to be pushed as a midcard and possibly upper midcard heel.
A video aired about Cora Jade talking about how her heart stopped when she saw Natalya on NXT last week. Cora said that Natalya was her hero, Natalya told Cora that her future is bleak and Natalya beat her up. Cora ripped up a photo she had with Natalya while saying her only dream now is to kick Natalya's ass.
They showed Natalya warming up in the locker room for a match up next.
Legado del Fantasma entered for tag team action.
(Commercial)
A video aired about a girl talking about how she was an outcast in school, but when she opened up her WWE video game it was an escape for her. She would get lost gaming for hours and hours. She was told that playing as herself in the game was as close as it would get to being a WWE superstar. She said next week she steps out of the video game and into real name. It ended saying Roxanne Perez debuts next week.
Analysis: She was known as Rok-C in other places, including Ring of Honor where she was a former Women's Champion. She is only 20 years old with a very bright future.
Roxanne Perez was interviewed by Mckenzie Mitchell with Roxanne saying she was super nervous and it was something she has worked for her entire life. The championship Toxic Attraction trio of Women's Champion Mandy Rose and Tag Team Champions Gigi Dolin/Jacy Jayne interrupted with Rose said that the butterflies you have standing next to them is normal. Rose told Roxanne to never set her bar too high because she'll never get there. Gigi sensed some attitude, so Jacy told Roxanne she should make her debut tonight. Roxanne said she'll figure something out and left.
Analysis: It just shows that they can put anybody in an impromptu match at any time, even when they say the debut is coming next week.
The team of Gibson & Drake made their entrance for tag team action.
Analysis: It is weird not writing Zack Gibson & James Drake as the names, but obviously they got the shortened names now. The reason is because Drake's first name is really James, so WWE wants to eliminate real names apparently. That's the edict that came out last week. Gibson's real name is Jack, but they probably felt like he should have his named shortened as well. Meanwhile, Raul Mendoza got the new name of Cruz Del Toro last week since his real name is Raul Mendoza, which means he had to change since WWE doesn't want real names.
Gibson & Drake vs. Legado del Fantasma (Cruz Del Toro & Joaquin Wilde)
Legado each hit dives onto their opponents on the floor. Gibson made the tag, Wilde fought off both guys and hit a double armdrag. Wilde hooked Gibson by the legs leading to a slam into the mat for a two count. Gibson fought out of the corner, Drake tagged in with an enziguri kick and Drake hit a running dropkick on Cruz to knock him off the apron. Wilde went for a sunset flip on Gibson, then Wilde hit a move and broke free to bring in Cruz. Cruz with chops on Drake followed by a dropkick and a headscissors into the turnbuckle. Gibson tagged himself in as Cruz hit a hurricanrana off the top on Drake, so Gibson punched Cruz in the throat. The fans chanted "Gibson sucks" at the guy without a first name now. Legado hit some impressive moves as Cruz hit a DDT on Drake and Wilde hit a dive onto Gibson on the floor. Drake was all alone in the ring as Wilde got the tag, Wilde hooked Blake up in the legsweep position while Cruz hit a jumping kick to the face and Wilde pinned Drake for the pinfall win after about four minutes.
Winners by pinfall: Legado del Fantasma (Cruz Del Toro & Joaquin Wilde)
Analysis: **1/4 They worked at a fast pace here and it was good by the end. It was a dominant win by the Legado boys. Gibson & Drake never got going or had a moment where it looked like they might win. Legado also worked as babyfaces for the most part with more high-flying moves than what they usually do. They definitely were trying to build up Legado as future title contenders.
Santos Escobar said it was time to keep the momentum rolling as he takes care of Carmelo Hayes. Escobar wanted Tony D'Angelo to watch very closely to see how a true leader handles his business.
(Commercial)
Wes Lee was interviewed by Mckenzie Mitchell with Wes saying the last few weeks have been chaotic and rough to say the least. Wes said there's a part of him that feels lost. Xyon Quinn showed up saying Wes doesn't run in straight. Wes said he didn't know what that means. Wes said this wasn't the time to give him a lecture and Quinn said maybe it's time to teach him a lesson. Wes said he has some doubts, but he's at home in that ring, so seeing Quinn out there could bring some peace to that chaos.
Carmelo Hayes made his entrance with Trick Williams.
They showed a clip during the commercial with Fallon Henley attacking Elektra Lopez. That led to Briggs & Jensen fighting with Wilde/Cruz as well. That sets up a tag team match for next week.
Santos Escobar vs. Carmelo Hayes (w/Trick Williams)
Escobar with a takedown leading to Hayes getting to the ropes to break the hold. Hayes with a headlock, Escobar drove him to the ropes and there wasn't a clean break because Hayes punched him in the face. Hayes ran the ropes leading to Escobar hitting a dropkick. Hayes sent Escobar to the apron, Escobar with a kick and Escobar jumped off the top with a cross body block. When Escobar bounced off the ropes, Williams tripped him, I think the referee saw it and did nothing, which led to Hayes hitting a springboard clothesline. Hayes with pump kick, they each countered eachother and Hayes hit a neckbreaker. That led to a picture in picture break.
(Commercial)
The match continued with Escobar hitting a jumping knee, a back elbow and then a running clothesline with Hayes doing a flip bump to sell it. Hayes with a punch, then he jumped off the ropes, but Escobar came back with a backbreaker off the knee for a two count. Escobar lifted Hayes, who grabbed a hold of the left leg and Hayes applied a single leg crab submission while Hayes was also selling a back injury. When Hayes let go, he grabbed a tight headlock, but then Escobar came back with a Fisherman's Suplex for a two count. They got back up with Escobar lifting up Hayes for a delayed vertical suplex. They did the staggered punches spot where they sold fatigue, Escobar drove Hayes into the corner where he delivered a kick and repeated punches to the head. Hayes got out that, Escobar with a kick, clothesline, forearm, kick and a toss out of the ring. Escobar ran the ropes leading to a suicide dive on the floor. After Escobar threw Hayes back in the ring, there were two guys in suits with black hats suggesting they were allies of Tony D'Angelo, who Escobar has exchanged words with. One of the guys in the suits hit Escobar in the back of the knee with a crowbar while the referee wasn't looking because Trick tried to give Hayes a chair, so it kept the referee busy. Escobar was sent back into the ring, Hayes went up top and hit the leg drop to the back of the head for the pinfall win after 14 minutes.
Winner by pinfall: Carmelo Hayes
Analysis: ***1/2 Great match by two of the best wrestlers in NXT. It was one of those matches that was even the whole way through until Escobar was attacked and Hayes capitalized on that to get the win. They were given plenty of time and had a competitive match. Both guys are heel characters, but they are both popular with the crowd, so the fans were into the match. They did a nice job of selling moves instead of rushing to get their spots in. I prefer that over guys doing spot after spot without selling. Anyway, it was not a clean win since Escobar was attacked. Hayes getting the win was the right move. It looks like Escobar and the Legado group will probably be faces going forward.
Carmelo Hayes and Trick Williams did a post match promo. Hayes said there is nobody standing in his way, so in two weeks at Spring Breakin' you're looking at the next NXT North American Champion. Cameron Grimes, the NXT North American Champion, walked out for a promo. Grimes said that last week, Hayes didn't tell him he wanted a shot at the championship. Grimes told Hayes that in two weeks at Spring Breakin' he's on. Solo Sikoa made his way into the ring, he took out Williams with a superkick and a popup Samoan Drop on Hayes. Solo had a staredown with Grimes as the fans chanted "Uce" at Solo. Solo said he's got next, Grimes stared at him and Solo left. Vic mentioned Solo and Grimes had a great match that was ruined by Hayes & Williams, so that's why Solo did what he did.
Analysis: That should set up a triple threat title match at the Spring Breakin' episode of NXT in two weeks. That's fine wit me because it should be an outstanding match.
Bron Breakker was shown getting out of an elevator. Bron walked towards a brown door and walked inside of it. Bron: "What the hell is this?" Bron noticed a lot of mirrors in the room while some eerie music played. When Bron looked in the mirror, Joe Gacy appeared behind him, but then Bron turned around and there was no sign of Gacy. Bron smashed a mirror and yelled: "Where are you?"
Analysis: I like Bron, but it's not exactly the most riveting piece of television when you he's acting on screen. He's certainly better in the ring. I'm also not a huge fan of this storyline although I guess NXT felt they had to be creative with this storyline.
(Commercial)
They showed Malcolm Bivens talking to Ivy Nile on the phone talking with Roderick Strong saying she was there to dominate. Strong said that the last few months has been a hard road, but all of that stops now. Strong said that he's the leader and told Bivens that he's not going to watch another group crumble (referencing Undisputed Era). Strong said he'll make examples of people, so if they don't agree with his vision for this group then they're an enemy of Diamond Mine.
Natalya made her entrance. She had Cora Jade's hat with her since she attacked Cora last week.
Natalya vs. Tatum Paxley
Natalya grabbed a side headlock while telling the fans to shut up. Paxley got a side headlock of her own, then Natalya broke out of it and Natalya delivered a slap to the face. Natalya grounded Paxley with an armbar while the fans were chanting for both women. Paxley managed to send Natalya out of the ring, then Paxley went after her, but Natalya was ready for her with a discus clothesline on the floor. Natalya with a suplex on the floor. Back in the ring, Natalya stepped on the back of the legs leading to a surfboard submission until she let go and kicked Paxley down. Paxley with a back elbow, a clothesline and a suplex. Paxley with a spinning senton splash for a two count. Paxley charged, Natalya moved and Paxley went running into the turnbuckle. Good bump. Natalya slapped on the Sharpshooter that looked great as usual and Paxley tapped out. They got about five minutes.
Winner by submission: Natalya
Analysis: **1/4 The match was okay for a five-minute match with the veteran Natalya working well with her younger opponent. Paxley got a bit of offense, but she didn't have many moments where it looked like she might win. They're going to keep giving Natalya some wins to put her over before she puts over Cora Jade most likely. I don't know if they'll push Natalya to win the Women's Title like Dolph Ziggler winning the NXT Title, but I guess it's possible.
Tony D'Angelo was shown outside of the building with a camera guy asking Tony if he had something to do with Santos Escobar getting attacked earlier. Tony denied it saying maybe it was a couple of goombahs trying to make a name for themselves. Tony pointed at a truck in the parking lot asking if that was Legado's car, the camera guy said yes and Tony said "nice wheels." Tony left.
Xyon Quinn made his entrance for a match.
(Commercial)
A video aired about Nathan Frazier debuting in NXT next week. He's coming over after a successful run on the NXT UK brand.
Dexter Lumis and Duke Hudson were in the locker room with Indi Hartwell wanted Duke to wear jeans like Dexter. Duke said that the outfits don't matter. Duke tried to talk strategy with Dexter, who never said a word and Indi told Duke to try to speak his language. Duke stared at Dexter with facial communication, Indi wondered what Duke was doing, Duke said that this is impossible and Persia Pirotta walked in asking what's going on. Indi said Duke is a bad communicator.
Analysis: Some of these skits are a struggle to sit through. It's so silly with some of these characters. I also don't think Dexter and Duke are a main event level tag team, but they are main eventing this show.
Wes Lee vs. Xyon Quinn
Lee with a running kick somersault kick in the corner. Lee with a dropkick that sent Quinn out of the ring. Lee hit a suicide dive that knocked Quinn into the barricade. Quinn got some offense going with a huge belly to back suplex/slam onto the ring apron. Lee ran off the ropes leading to Quinn sticking his forearms out and Lee bumped into them. Quinn with a running shoulder tackle in the corner. Quinn tried a power move, but Lee countered it into an inside cradle for two. Quinn launched Lee into the air and onto the mat. Lee with a superkick, a dropkick to the back and Lee slipped coming off the ropes, so Quinn hit him with a forearm. I assume that was the planned spot, but maybe Lee was supposed to jump into the forearm. Quinn bounced off the ropes with a running forearm for the pinfall win after about four minutes.
Winner by pinfall: Xyon Quinn
Analysis: ** A dominant win by Quinn after Lee's hot start. Quinn was impressive showing off his power in this match as they reposition him as a heel. A bad start for Lee as a singles competitor, but it was a competitive match. I don't know if he's going to get pushed in singles now although in terms of his talent, he's a great performer.
Natalya was shown walking backstage with Mckenzie Mitchell asking for a response to what Cora Jade said earlier tonight. Natalya said that last week was acting in self defense. Natalya said that every woman from NXT comes to Raw or Smackdown to find Natalya, so instead it was Natalya coming to find her in her home. Nikkita Lyons walked up to Natalya saying that next week after she takes care of Lash Legend, she's coming after Natalya. That led to Natalya saying when she puts the Sharpshooter on Nikkita, she'll know exactly what to do. Lyons: "Don't worry, I'm flexible." The fans liked that. They had a staredown.
Analysis: There's another future opponent for Natalya with Lyons continuing to gain popularity with the fans.
Jacy Jayne was shown getting ready for her match with her Toxic Attraction friends.
(Commercial)
They showed highlights of last week when Von Wagner tossed Ikemen Jiro into the crowd. They said that Jiro will be out for about a month while Wagner has been suspended and fined an undisclosed amount.
Roxanne Perez made her entrance for her first match on NXT. Jacy Jayne, one half of the NXT Women's Tag Team Champion, entered as the opponent with NXT Women's Champion Mandy Rose and fellow NXT Women's Tag Team Champion Gigi Dolin by her side.
Jacy Jayne (w/Mandy Rose & Gigi Dolin) vs. Roxanne Perez
Jayne with a knee to the ribs followed by chops. Perez came back with a chop of her own along with a rollup. They exchanged pin attempts with each woman getting multiple two counts. Jayne with a kick to the ribs, Perez with two armdrags and Jayne avoided a third one. Jayne sent Perez into the turnbuckle followed by a superkick. Wendy Choo was shown in the Toxic Attraction locker room and she flipped over some of the couches and cushions. Jayne was watching it, so Perez did a rollup into a Code Red (sunset flip Powerbomb) for the pinfall win after two minutes.
Winner by pinfall: Roxanne Perez
Analysis: *1/4 A quick match to put over Perez after the distraction. I'm not a fan of a video screen interruption. It was not really given much time to see what Perez can do, but it was more about putting over the storyline with Choo messing with the Toxic ladies. Congrats to Roxanne on her first win in NXT.
The Legado del Fantasma foursome were shown walking backstage. They showed Legado's car with a boot on the car and there was a dead fish on the hood of the car. Escobar said it was obvious who did this. He didn't say Tony D'Angelo's name, but that's who he was referring to.
(Commercial)
In two weeks is NXT Spring Breakin' with Cameron Grimes defending the NXT North American Title against Carmelo Hayes and Solo Sikoa in a triple threat match. It's official.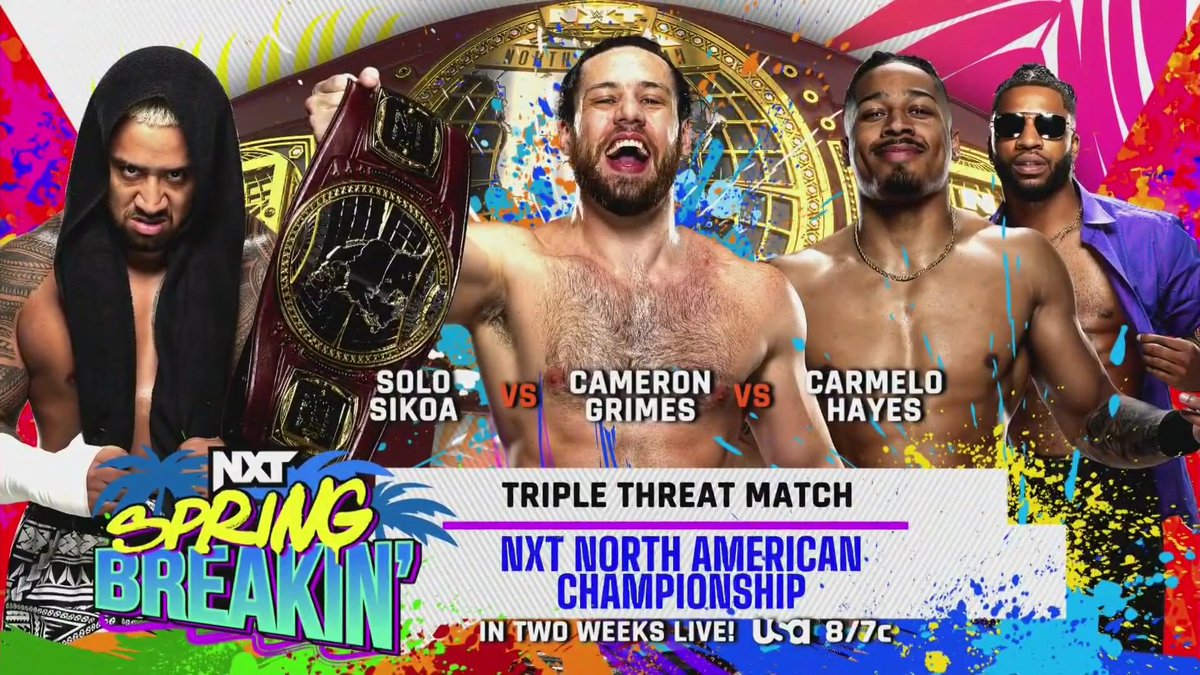 They showed Joe Gacy looking at some security cameras where he was watching Bron Breakker looking for him. Gacy said it was time for him to end this.
NXT Tag Team Championships: Pretty Deadly (Elton Prince & Kit Wilson) vs. Dexter Lumis & Duke Hudson (w/Indi Hartwell & Persia Pirotta)
Wilson (dark hair) started against Lumis with a forearm to the back along with kicks. Prince (light hair) tagged in for a double shoulder tackle and a leg drop/splash combo for two. Lumis with an atomic drop on Prince, then Wilson tagged in jumping off the top and Lumis gave him an atomic drop too. Hudson tagged in, he tried to get Lumis to do a double suplex, but Pretty Deadly stopped that and then PD left the ring to put their arms around the girls. Hudson and Lumis brought the champions back in with hiptosses into the ring. Lumis with a Thesz Press, punches and a running elbow on Wilson. Hudson tagged in for a double suplex on Wilson leading to Lumis and Hudson doing a thumbs up to eachother. Hudson hit a running back elbow on Wilson followed by a clothesline leading to a picture in picture break.
(Commercial)
Lumis was legal for his team as he worked over Prince with forearms to the head followed by a chinlock Prince tried breaking free, but Lumis hit a clothesline. Wilson helped Prince break free, so then the champions worked over Lumis in the corner. Wilson with a neckbreaker on Lumis. Wilson grabbed a chinlock, Lumis broke free and hit an enziguri kick. Prince tagged in, Lumis broke free and Hudson got the hot tag. Hudson with a belly to belly suplex along with a powerslam. Hudson with running clotheslines on both opponents followed by Hudson sending Wilson into Prince with a shoulder tackle. Fans were chanting "Duke" even though Duke has been a heel. Prince pulled Hudson off the turnbuckle after a distraction from Wilson and that got a two count for Prince. Hudson got an inside cradle for two. Hudson and Prince bumped into eachother, so they bumped to the mat. Hudson sent Wilson out of the ring, Wilson pulled Lumis off the apron, Lumis sent Wilson into the steel steps and Prince knocked Lumis off the apron to the barricade. Hudson hit a powerslam for two. The fans chanted "that was three." They are wrong. Wilson on the apron, Hudson knocked him down with a punch and Prince hit a running kick to the head for the pinfall win on Hudson after 12 minutes.
Winners by pinfall: Pretty Deadly (Elton Prince & Kit Wilson)
Analysis: **3/4 It was just an average match. Lumis was the only face involved and it was weird trying to convince us to support Hudson. I didn't think the match should have main evented this show even though Lumis & Hudson have been part of a storyline for a while. Hudson looked like he was in complete control, then wanted the hot tag to Lumis, who was taken out and Prince capitalized with the running boot that looked like a Helluva Kick from Sami Zayn, but not exactly the same as that. Anyway, it was enough for the champions to retain. That result wasn't surprising at all.
The lights went out in the arena. Joe Gacy was standing on a platform in the back part of the building. Joe said he's here and he's not a hard man to find. Bron Breakker, the NXT Champion, made his entrance. Bron walked up to the platform where Gacy was standing. Gacy said if you want the ring back so bad, all you had to do is ask. Gacy said he'll return it under one condition, Joe wanted a NXT Title match at NXT Spring Breakin' in two weeks. Bron said he's got it, so Joe put the Hall of Fame ring in Bron's jean jacket. Joe said that now that Bron has got the ring back and Joe has his title shot, Bron has to take a leap of faith. Joe shoved Bron, who took a bump off the platform. The arena was all dark, so we couldn't see what Bron landed on. The idea was that Bron bumped about 15 to 20 feet down to the floor. Bron was shown down on the floor while Gacy stared at him. Some guys wearing hooded outfits went over to Bron to try to grab him, Bron yelled "get off me" and that was the end of the show.
Analysis: The mysterious ways of Joe Gacy's character continued in this segment as he manipulated Bron into getting a title shot, returned the Hall of Fame ring and then shoved Bron off the stage where we are supposed to think Bron took a huge fall that is going to hurt him. I would have liked to see Gacy booked in a better way where he picked up meaningful instead of just getting a title shot because of mind games. I doubt Gacy wins the title, though, so it's just a way to have an NXT Title match at the Spring Breakin' show in two weeks.
Three Stars of the Show
Carmelo Hayes
Santos Escobar
Pretty Deadly
The Scoreboard
This week: 5.5 out of 10
Last week: 7
Final Thoughts
I thought it was just an average episode of NXT that was weaker than last week. It was a wild show with chaos. Lots of brawling all over the place. They set up matches with interview interruptions. It's not my favorite way of running a show. Some people like it, but I think they've had much better episodes recently.
The best match was clearly Hayes beating Escobar, which had a cheap finish. The main event tag team match was okay, but kind of a flat match. A lot of other matches were shorter to get more people on the show.
They are doing a nice job of building to the Spring Breakin' episode in two weeks, so that should be a good wrestling-heavy episode.
===
Thanks for reading. Go Toronto Raptors, Toronto Blue Jays and Toronto Maple Leafs. My contact info is below.
John Canton
Email mrjohncanton@gmail.com
Twitter @johnreport