The John Report: The WWE Raw Deal 11/18/19 Review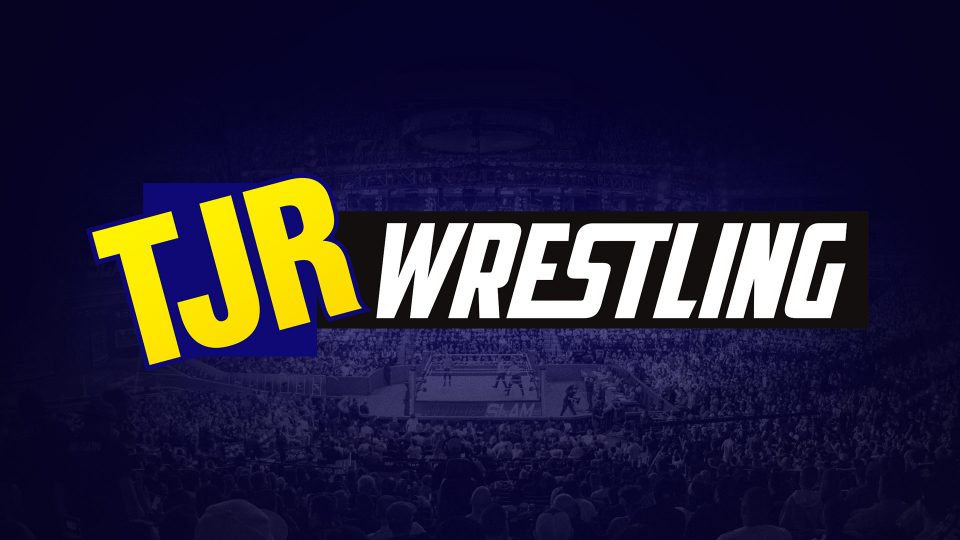 It's time for another WWE Raw Deal review here on TJRWrestling. It's the last Raw before Sunday's Survivor Series event in Chicago. We know most of the card for Survivor Series, but WWE still needs to finalize some things. In addition to this Raw review, I'm also going to do a review of Smackdown as always, a preview/review of NXT Takeover WarGames and a preview/review of Survivor Series. That's in addition to my reviews of AEW Dynamite and NWA Powerrr every week on TJRWrestling. It's going to be one of the busiest weeks of the year for me. Let's roll.
Live from Boston, Massachusetts, this is the Raw Deal for episode #1382 of Monday Night Raw. Follow me on Twitter @johnreport. Please visit TJRWrestling.net daily for our regular updates on the wrestling business featuring WWE news coverage, insightful columns from our team along with reviews about wrestling's past and present. Thanks to Melo Man for the banner up top.
The Raw intro video aired welcoming us to the show. That was followed by an impressive pyro display and a shot of the crowd in Boston.
The Raw Women's Champion Becky Lynch made her entrance holding her title in the air. This Sunday at Survivor Series, Lynch will face Smackdown Women's Champion Bayley and NXT Women's Champion Shayna Baszler. The Raw announce team is Vic Joseph and Jerry "The King" Lawler. Brock Lesnar putting Dio Maddin through the announce table a few weeks ago has led to Maddin missing the last two weeks. Is Maddin gone from the role? I don't know. It would seem pretty fast to pull the plug on him as an announcer already.
Lynch sucked up to the crowd by mentioning Boston. Lynch called out Bayley and Baszler by mentioning the "brand supremacy" that they are going to say repeatedly during the show. Lynch said we don't have to wait until Sunday, we can do it tonight and she said what better place for an Irish person to fight than here in Boston. That drew cheers due to mentioning the city.
The IIconics duo of Peyton Royce and Billie Kay made their entrance. Royce mentioned Survivor Series and Kay mentioned that somehow they have been left off Team Raw at Survivor Series. Royce and Kay got into the ring saying they are the future and the future is…but Lynch interrupted. Lynch said that she knows that she's supposed to team with Charlotte Flair against them since they are "tethered forever" and Lynch said she'll just fight them herself…but here comes Charlotte Flair.
Charlotte Flair entered in one of her robes as she walked down to the ring to join "Becks." Flair said Becky doesn't want to tag with Flair and Flair doesn't want to tag with Becky, but the forces want them to be together. Flair said she'll be leading Team Raw against Team Smackdown and Team NXT in the first-ever triple threat elimination match. Flair asked if it's okay with "The Man" for her to team with Lynch? Flair walked up to the ring.
Samoa Joe showed up in a suit. Joe is still injured with a thumb injury and he had a brace on the thumb.
(Commercial)
The women's tag team match started. Samoa Joe joined the announcers and said that he was told they needed him on commentary.
Analysis: It's a way to keep Joe on the show while he's hurt. He's a great talker, so he'll do fine.
The IIconics (Peyton Royce and Billie Kay) vs. Becky Lynch and Charlotte Flair
The heel IIconics worked together against Flair, but it didn't last that long. One of the women must have used too much spray tanner because there was a lot of it on the mat in the ring. Flair slapped the Figure Eight submission on Kay and got the tapout win. I wasn't even paying attention and this match was over in two minutes.
Winners by submission: Becky Lynch and Charlotte Flair
Analysis: 1/2* A simple squash win to give Lynch and Flair momentum going into Survivor Series.
Flair and Lynch walked up the ramp victorious. That led to NXT's Shayna Baszler going into the ring with Jessamyn Duke and Marina Shafir. Lynch and Flair turned back around to run down to the ring. They attacked Lynch and Flair with Baszler hitting a knee strike and then some kicks against the turnbuckle. None of the other Raw women on the show ran out there to help. Flair and Lynch left the ring to go into the crowd, but security guys got in front of them to keep the women apart while the NXT women walked to the back through the crowd. Lynch punched a security guy/indy wrestler in the head and the guy bumped to the ground, which led to "Becky" chants.
Analysis: Good segment to show that the random attacks will continue to build up to Survivor Series. I think it's smart to do it after the first match because it tells the audience there might be more of them later in the show. The punch from Lynch looked great.
(Commercial)
A replay aired of Becky Lynch punching a security guard that knocked him on his ass.
The team of Zack Ryder and Curt Hawkins were interviewed by Charly Caruso because they get a Raw Tag Team Title match tonight. They talked about how they are prepared. The AOP tag team of Akam and Rezar showed up, they stared at Hawkins/Ryder and beat them up. Akam and Rezar did the dreaded "foreign language trash talk" to end it. They speak perfect English, of course. AOP left while Ryder and Hawkins were down after the attack.
Analysis: Congrats to AOP for leaving that room where they do sitdown promos. I guess that's a storyline development.
The OC trio made their entrance. A replay aired from last week showing Humberto Carrillo pinning AJ Styles in a 6-man tag team match where Carrillo teamed with Randy Orton and Ricochet. That was the main event last week.
AJ Styles called the fans idiots and said he would love to defend the US Title against Humberto, but Humberto disrespected him last week. Luke Gallows said when you disrespect one member of The OC, you disrespect every member of The OC and that's why Karl Anderson will beat up Humberto. Anderson said that sounds like a party. Anderson said they are already the best tag team in the world – they have a trophy to prove it – and that they will teach Humberto a lesson. There wasn't much of a crowd reaction for Carrillo.
Karl Anderson (w/AJ Styles and Luke Gallows) vs. Humberto Carrillo
Carrillo was aggressive early on, he set up Anderson for a moonsault, but Gallows and Styles saved Anderson. The Street Profits made their entrance, which led to The OC looking at them for a distraction and Carrillo followed that with a dive over the top rope to take out The OC on the floor.
(Commercial)
The match continued with Anderson in control with a hard whip into the turnbuckle followed by a body slam. The announcers were shown on camera with Joe talking about AJ being ready and Anderson hit a back elbow followed by a headlock. Carrillo got back up to his feet leading to a dropkick. Carrillo with a low dropkick followed by a standing moonsault for two. Anderson with a punch, Carrillo slapped back and Carrillo went up top with a cross body block for two. Carrillo went for move off the ropes, but Anderson caught Carrillo with a spinebuster for a two count. Carrillo came back with a headscissors that sent Anderson into the turnbuckle and Carrillo with a springboard kick. Styles distracted the referee, Gallows sent Carrillo throat first into the ropes, then Gallows got a cradle, but Ford put Carrillo on top and the referee turned his head leading to Carrillo getting the pinfall win.
Winner by pinfall: Humberto Carrillo
Analysis: **1/2 A decent match with a fun ending where the faces outsmarted the heels, which doesn't happen enough in WWE. Carrillo getting the win was the right call since he's a singles wrestler while Anderson is part of a tag team, so it makes sense to put over the singles guy.
Seth Rollins was interviewed backstage by Charly Caruso, who mentioned Seth having some ups and downs in the last couple of months. Caruso mentioned Rollins accepting the challenge from Andrade for tonight. Rollins talked about how he has been there for seven years, not once has he backed down from a challenge and he won't start here in Boston. Rollins spoke about Boston knowing about leaders like a quarterback that has been so good for so long (Tom Brady) and people want to see him fail. The fans cheered the Brady reference. Rollins is a Chicago Bears fan, but babyface wrestlers like to suck up to the fans. Rollins put over Andrade being a great wrestler with a bright future, but it's still Monday Night Rollins. Seth left. Caruso added that there is some big news coming up later on Raw.
(Commercial)
There was a brief video recap of Lana and Bobby Lashley outsmarting Rusev on Raw last week.
Bobby Lashley made his entrance with the lovely Lana by his side. Samoa Joe said that Rusev has to think about if all of this is worth the pain. It was noted by Joseph that this is Lashley's first match on Raw in four months. That's because of elbow surgery, which was not mentioned by the announcers. No Way Jose was in the ring for a match.
Lana claimed today was the happiest day of her life because this morning she filed for divorce. She was no longer wearing a wedding ring. The fans chanted "Rusev Day" and she said you won't be seeing her soon to be ex-husband and she added that she filed for divorce. They even showed a temporary restraining order that even included the real names of Lana and Rusev. Lana said that Rusev can't come within 90 miles of her, then Lashley told her something and she said 90 days, then said 90 feet and giggled about it. It was a really over the top, dumb girl kind of laugh. Lana said they want Rusev out of their lives because Bobby and her want to be together forever. Lashley kissed her hand as fans chanted "Rusev Day."
Analysis: The divorce story at least furthers the story a bit. The 90 miles/days and then feet thing is not really a botch. She's playing a dumb blonde character, so she misspoke because that's what her character is to make people hate her more. I don't love the angle. I'm just saying that's probably what they were going for. I'll give WWE some credit for trying to make it seem legit by using the real names Catherine Joy Perry (she goes by CJ Perry I believe) and Miroslav Barnyashev. Here's how it looks.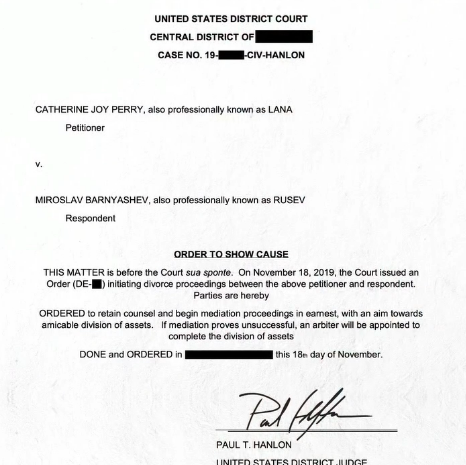 Bobby Lashley (w/Lana) vs. No Way Jose
Lashley grabbed Jose's hair early on, then Jose with a punch to the face and Lashley picked up Jose leading to a slam. Lashley with a shoulder tackle, which led to Joe laughing about it. Lashley picked up Jose with a one armed spinebuster/Chokeslam like move. Lashley slapped on a Full Nelson submission, which led to Jose passing out to give Lashley the win in under two minutes.
Winner by submission: Bobby Lashley
Analysis: 1/2* A squash win for Lashley. I don't remember the last time I saw Jose win a match on Raw. Good luck trying to get the Full Nelson over as a submission in 2019. I don't think it's going to work that well, but it's a power move fitting for somebody of Lashley's size.
Post match, Lashley and Lana had a celebratory makeout session in the ring. They left to boos from the crowd.
Still to come on Raw: Kevin Owens vs. Drew McIntyre with both guys as a part of team Raw. Seth Rollins vs. Andrade is up next.
A commercial aired for NXT Takeover WarGames on Saturday in Chicago with two WarGames matches.
(Commercial)
Seth Rollins made his entrance to a solid reaction, but it's not that loud considering he is supposed to be a top face. Rollins is the captain of Team Raw at Survivor Series.
Andrade made his entrance with business manager Zelina Vega with a microphone to do a pre-match promo. Vega said that after tonight, Andrade will be leading Raw into battle against Team Smackdown and Team NXT. Vega claimed that Andrade is the greatest in-ring technician on the face of the planet, he is Andrade. The match began at the start of hour two.
Seth Rollins vs. Andrade (w/Zelina Vega)
If Andrade wins, he will replace Rollins as Team Captain of the men's Raw team at Survivor Series.
The first two minutes featured Rollins and Andrade each going for basic wrestling holds with neither guy getting the advantage. Andrade with a shoulder tackle, a shove to the chest and Rollins came back with a two arm drags leading to an armbar. Andrade came back with a dropkick. When Andrade went for another dropkick, Rollins avoided it and hit a dropkick of his own. Rollins connected with a forearm while Andrade was against the turnbuckle. Rollins went for an attack on the apron, Vega grabbed Rollins' foot and Andrade knocked Vega off the apron. Vega went for a headscissors on Rollins, but Rollins caught her and put her down. The referee saw it, so he tossed Vega from ringside. Andrade capitalized with a dive over the top onto Rollins on the floor, which led to a break.
(Commercial)
The match returned with Rollins hitting the Slingblade neckbreaker followed by the Blockbuster out of the corner. Rollins with a clothesline that sent Andrade out of the ring followed by a suicide dive that sent Andrade into the barricade. Rollins with another suicide dive and they went back into the ring with Rollins hitting a knee attack off the top rope for two. Rollins with a jumping kick to the head, but Andrade countered a Buckle Bomb with a headscissors into the turnbuckle and Andrade hit a double knee attack for two. They battled over pin attempts, then Rollins hit a Buckle Bomb and a superkick for a two count because Andrade got his hand on the bottom rope. Rollins with kicks and chops, then a forearm to the face and Andrade connected with an elbow to the face. Andrade hit the three vertical suplexes in a row, which led to some "Eddie" chants and that got a two count. Andrade went up top, Rollins went after him, Andrade's stomp attempt missed, Rollins with a jumping knee missed and Rollins hit a superkick into a Falcon Arrow slam for two. Rollins went up top, but the Lucha House Party trio from Smackdown showed up (in blue Smackdown shirts) to shove Rollins off the top rope for the DQ finish after about 15 minutes.
Winner by disqualification: Seth Rollins
Analysis: ***1/4 A good match as expected from these guys. They had a very competitive match with Rollins coming close to winning by pinfall a few times and Andrade had a few moments as well where it looked like he might win. The finish is going to frustrate fans that want a clear winner and a loser, but that's what happens sometimes during Survivor Series season when WWE wants to try to make us care about brand supremacy. The finish also is a way of protecting Andrade from losing clean and WWE can go back to this match down the road where we they can deliver on more of a clean finish.
The Lucha House Party trio of Kalisto, Gran Metalik and Lince Dora stomped away on Rollins on the floor and sent him into the barricade. Samoa Joe was laughing about it on commentary. LHP went into the ring to go after Andrade. Rollins went back into the ring, he attacked the LHP trio and LHP were sent out of the ring by Rollins and Andrade. After the ring was cleared, Andrade pointed to Rollins as a sign of respect with Rollins saying they'll do this again down the road. The fans cheered that idea. Rollins left.
Analysis: It was a weak attack from Smackdown since it was just Lucha House Party doing the attack. The LHP trio are barely on Smackdown, so it's not like that attack is going to get fans that excited about Survivor Series. It was really just about giving Rollins and Andrade two guys to easily beat up.
The announce team talked about how Ryder and Hawkins weren't getting their title shot now because they got beat up by AOP earlier.
Buddy Murphy was shown walking backstage. He walked by Aleister Black's door, he knocked on the door, he said he was there to pick a fight with him and there was no noise. Murphy walked down a hallway, which is when Black emerged from the room looking and Murphy was gone. Maybe the camera guy should have told him.
Analysis: The "knock on Black's door" gimmick started six months ago. There needs to be some more progress, but at least we saw Murphy knock to set up a challenge.
There were some cars that were shown driving up to the arena and Triple H emerged in a suit, so the idea was that NXT superstars were in the cars with him.
A video aired mentioning that WrestleMania 36 tickets are now on sale.
(Commercial)
A video aired promoting WWE Backstage on Tuesday nights on Fox Sports 1. The big news is that CM Punk has joined the show after Renee Young introduced him. The others on the show had no idea he was there. Punk left WWE in January 2014, so it was his first time on a WWE show in nearly six years.
Analysis: I don't get FS1 in Canada, but the WWE on Fox Youtube channel does a great job of uploading the clips of the show the next day. I'm a CM Punk fan, so I'm glad he's back at least to some degree as an announcer on Fox. We know he's being paid by Fox and not WWE at this time, but the fact that Punk is back at all is a good sign.
Akira Tozawa made his entrance. There was also a pre-tape promo where he spoke mostly in Japanese. Buddy Murphy entered and got no reaction.
Buddy Murphy vs. Akira Tozawa
Murphy was in control with a launch into the air that sent Tozawa to the mat. Tozawa kicked Murphy out of the ring, Tozawa went for a suicide dive, but Murphy caught him and gave him a suplex on the floor. The crowd was dead for this match as Murphy slapped on an abdominal stretch. Tozawa with a hip toss over the top to the floor, then Murphy went back in and Tozawa hit a superkick on Murphy. Tozawa with a jumping kick to the head, then he went up top and hit a missile dropkick. Tozawa with a running kick to the face. Tozawa followed up with a snap German Suplex and a running knee for a two count. Tozawa up top, Murphy moved, they battled by the turnbuckle, Tozawa with a kick and a reverse Rana to send Murphy out of the ring. Tozawa with a suicide dive that looked good. Back in the ring, Tozawa hit a top rope senton to Murphy by the ropes and Murphy got his shoulder up to kick out at two. Murphy came back with a rising knee to the face followed by the Murphy's Law slam for the pinfall win after seven minutes.
Winner by pinfall: Buddy Murphy
Analysis: **1/2 They worked hard and had a competitive match. Tozawa got to show off a lot of offense that tells the audience that he's a very talented wrestler. The crowd didn't care, though. The match saw Tozawa on offense for most of it and then Murphy hit two moves to put him away. The lack of a crowd reaction says a lot because WWE needs to do more than just throw two good workers in the ring for a one segment match. They need to make the fans care more.
Erick Rowan was shown talking to his animal in a cage with Rowan calling it "cutie" and playing peek-a-boo with it.
(Commercial)
Buddy Murphy was backstage by Aleister Black's locker room again. Murphy was about to knock again, then Black walked out of the room and they had a staredown. That should be a good match soon.
Erick Rowan vs. Alex Malcolm
Rowan walked down to the ring carrying some object inside a cage that had a towel on it. The Bollywood Boys ran down to the ring with R-Truth chasing after them. Rowan with a double clothesline on Samir and Sunil. Truth ran away. Rowan picked up Malcolm and gave him a press slam over the top onto the Singhs on the floor. Rowan ran over Malcolm and the Singhs with a cross body block. Rowan hit the Iron Claw slam, then a foot on the chest for the pinfall win in less than one minute.
Winner by pinfall: Erick Rowan
Analysis: 1/4* It was an easy squash win for Rowan as expected against an unknown opponent.
To follow up the 24/7 Title thing, R-Truth won the title back later in the night. This is so lame.
Randy Orton was interviewed by Charly Caruso backstage with Orton saying for 18 years, he has proven that he doesn't play well with others unless it benefits him. Orton said that being the greatest superstars in the history of Survivor Series benefits him. Orton said he heard that the Viking Raiders are ready for a fight, so Orton said he'll be in the ring later tonight with a partner of his choosing and it will benefit him.
This Friday on Fox: The superstars of Raw, Smackdown and NXT will be there. It's the first of four straight nights of WWE shows in Chicago.
(Commercial)
Kevin Owens made his entrance to a good ovation. That always makes me happy since KO is a favorite of mine. Drew McIntyre entered as the opponent. They are both a part of the Raw team at Survivor Series. Joe wondered why this match was even happening since they were on the same team and said this was not a team building exercise. Joe said he didn't know if tonight's matchup was the best call. Lawler agreed with that.
Analysis: The points that Joe and Lawler were making were valid. The problem is on Raw we don't know who makes the matches, so there's no attempt at trying to explain why it's happening other than simply they are both in a match at Survivor Series.
Kevin Owens vs. Drew McIntyre
There was an elbow to the face from Owens followed by a dropkick off the middle ropes. McIntyre whipped Owens hard into the turnbuckle followed by punch and a neckbreaker. McIntyre pulled back on KO's arms, Owens stomped on the foot, McIntyre with a kick to the chest and a hard whip into the turnbuckle, but Owens moved. Owens followed up with a cannonball attack against the turnbuckle. They left the ring, McIntyre sent Owens into the ring apron and Owens with a kick to knock Drew down. Owens was on the apron, so McIntyre slammed Owens off the apron and sent him into the barricade. Ouch.
(Commercial)
McIntyre was in control with a move where he grounded Owens by pulling back on his arms. McIntyre with a belly to belly suplex followed by an armbar. Owens managed to send McIntyre out to the floor, which led to Owens hitting a cannonball dive off the apron onto McIntyre on the floor. They battled on the apron, McIntyre with a headbutt, Owens with a superkick and McIntyre slammed Owens off his shoulders onto the ring apron. McIntyre went back in the ring, the referee counted Owens out and Owens got back in the ring at the eight count. McIntyre hit a sitout Powerbomb for two. McIntyre set up Owens on the top rope, he wanted a superplex, but Owens broke free with a headbutt and Owens hit a Frog Splash off the top for a two count. The fans bought that as a believable nearfall. Owens wanted a Stunner, McIntyre got out of it, Owens with a superkick, McIntyre with a clothesline, McIntyre off the ropes and Owens hit a sitout Popup Powerbomb for two because that is not KO's finisher anymore since he uses the Stunner now. Joe called the action "incredible" while the fans chanted "this is awesome" for them and I agree. Owens went up top, he went for a Swanton Bomb, but McIntyre got the knees up to block it. Owens with a superkick, but then McIntyre came back with a Claymore Kick for two with Owens getting his right foot on the bottom rope. You could tell that was coming after seeing how Drew didn't cover most of KO's body. Owens got a pin attempt for two and Owens hit a Stone Cold Stunner. Owens covered, you could tell Drew was close to the ropes and Drew got the left foot on the bottom rope for a two count. McIntyre hit the double underhook DDT for a two count. That used to be his finisher. The fans chanted "this is awesome" again. McIntyre went up top, he jumped off, Owens moved and Owens hit another Stunner. That led to Triple H making his entrance, the referee talked to Owens to give him some cue and the match just stopped. They went to break. I guess it's a No Contest finish after about 18 minutes.
Match Result: No Contest
Analysis: ***1/2 A great match that the crowd loved, but the finish is another reminder that it's hard to get excited about matches during Survivor Series season because it's obvious that interference was coming. Owens and McIntyre worked their asses off to put on a good showing, which will make me care more when they have another match. I loved the nearfalls with the boots on the ropes to break the pin attempts after finishing moves. Owens took some huge bumps during the match while McIntyre was right there with him. If they had a hot finish then it could have been a four-star match, so I really hope we get to see this again soon. With all of that said, I don't like how they ended this segment. Give us a result or something. The match just stopping and staring at Triple H is a weak ending. That's one of the weakest endings that you could book to end a match. They just stopped? It's lame.
(Commercial)
There was no explanation for why the previous match ended. The show just continued from there.
Triple H was in the ring with Kevin Owens with Hunter asking for water, which he gave to Owens. I guess Drew left. Sure. There were NXT superstars Damian Priest, Donovan Dijakovic and the Forgotten Sons trio standing at ringside. Hunter talked about how Boston is a great place, he trained to wrestle with Killer Kowalski right down the road and Hunter said that he got to wrestle in the Boston Garden while claiming that magic happens in this building right here in Boston. Hunter claimed they had the opportunity to make some magic. Hunter said that he's here for the same general reason for Seth Rollins while adding that he had a soft spot for Rollins, but Owens is a different breed. Hunter talked about how when he brought Owens to NXT, he turned on his best friend (Sami Zayn) to win that title and then Owens brought the NXT Title to Raw. That's when Owens attacked John Cena, which led to Cena leaving in an ambulance while adding that Owens held up the NXT Title over a fallen Cena. Hunter said that Owens maybe more than anybody put NXT on the map and he legitimized NXT, maybe more than anybody. Hunter said then Owens was taken and his guess is that he didn't want to be taken. Hunter said that the people that took him didn't want him. Hunter continued the sucking up by saying Owens was too talented, too smart and he didn't fit the mold. Hunter mentioned that Kurt Angle and Shane McMahon fired him while telling Owens that he didn't belong here. Hunter said he knows where he does belong because he sees it in Owens when he looks in his eyes. Hunter said that Owens has one of the smartest in-ring IQs he's ever seen and is every bit as good as he thinks he is. Hunter said he sees a guy that doesn't fit the damn mold and he loves it.
Hunter said when you look at those guys, it's not an ultimatum. Hunter said that they are just there to ensure that Hunter and Owens can have this conversation. Hunter said that they came all the way here so that Hunter and Owens can talk while KO's teammates are in the back while noting that none of them are out there. Hunter told Kevin that "they" (the other wrestlers) don't give a damn about Kevin. Hunter says that the other wrestlers know if they go out there, they'll get their asses handed to them.
That led to some lower card Raw wrestlers entering the arena, which led to a brawl. I think Buddy Murphy was brawling with former partner Wesley Blake. It also led to the Undisputed Era foursome to attack Owens from behind with punches. Hunter was talking to Adam Cole wondering what he was doing. The trio of AJ Styles, Karl Anderson and Luke Gallows went out to the ring, so The Undisputed Era left.
Analysis: It was a good speech by Hunter making points to Owens that the main roster hasn't really featured Owens as well as Hunter did when Owens was in NXT. That teases the idea that maybe Owens will turn on Raw during the elimination match at Survivor Series and perhaps he'll help NXT win the match. The brawl at the end was okay, but nothing special. It's not like this is a great storyline. At least there's an effort in trying to make it work.
(Commercial)
A commercial aired for Total Divas. Yawn.
It was back to the interview set with Charly Caruso mentioning that next week on Raw, AJ Styles will defend the US Title against Humberto Carrillo. Carrillo said he's very happy right now and he doesn't have the words to describe how excited he is. Caruso mentioned some more news from Paul Heyman.
Paul Heyman was shown backstage sitting down somewhere. Heyman reminded us that he's the advocate of WWE Champion Brock Lesnar. Heyman talked over highlights of Lesnar attacking Rey Mysterio and his son Dominick while Lesnar also won the WWE Title that same week. That led to highlights of Lesnar's victory over Cain Velasquez at Crown Jewel. Mysterio followed that up with a steel pipe attack to the legs of Lesnar. Heyman said that Lesnar is just fine and will be 100% at Survivor Series. Heyman claimed there were wild rumors that believe Lesnar is still hurt, so he may be upset at Survivor Series. Heyman said that at Survivor Series, it will be Lesnar vs. Mysterio in a No Holds Barred, no disqualification match. Heyman said this Sunday you will either see Rey Mysterio pull off a miracle or you will see Lesnar massacre Mysterio and deliver a beating so heinous. Heyman claimed that you will have to pull this footage from WWE history because it will be that graphic in nature. Heyman claimed that this will be a "public torture session." That's his spoiler. Heyman: "Miracle or massacre – we all find out together."
Analysis: Great promo as usual. It's a little surprising that Lesnar wasn't on the last Raw before Survivor Series, but we all know he's on the limited schedule.
Rey Mysterio was interviewed backstage by Charly Caruso. Mysterio told Carrillo that he's happy for his success, he is making the Latinos proud and told him to keep doing what he's doing because he knows Carrillo has what it takes to get the US Title from Styles. Mysterio and Carrillo shook hands and hugged.
Mysterio said that he accepted the No Holds Barred, No Disqualification match. Mysterio said he's going to show Brock what he can do with a little help from his friend. Mysterio had a steel pipe with him while adding this "friend" will be with him this Sunday in Chicago. Mysterio said that Lesnar came after him, that Lesnar attacked Rey's son and Rey added that he'll make Lesnar pay. Mysterio said that knows Lesnar isn't the one to apologize and that's okay because this Sunday at Survivor Series, Rey isn't coming for an apology, he's coming for the WWE Championship. Mysterio said "this is for you, son" and that ended it.
Analysis: I liked the intensity in that promo from Rey. I think he has been doing the best promos of his career in the last few months even though he's wrestling a lot less than he used to. My feeling on the No Holds Barred match is that Dominick is going to have a role where he helps Rey nearly win, but Brock will fight back and win. Perhaps they even do a spot where Dominick attacks with some weapon and accidentally hits Rey, which leads to a Brock win. Cain Velasquez could show up as well. Anyway, due to the stipulation, interference is possible.
Asuka made her entrance with fellow Women's Tag Team Champion Kairi Sane by her side.
(Commercial)
There was another replay of WWE Backstage last week with CM Punk appearing to set up his role on the show on WWE Backstage this Tuesday night.
Natalya entered as Asuka's opponent. Two weeks ago on Raw, Natalya made Asuka tap out in a tag team match last week. This is their first time in a singles match on TV.
Asuka (w/Kairi Sane) vs. Natalya
They did a running shoulder tackle spot, then Asuka went for a hip attack, Natalya caught her and Asuka got a rollup for two. Asuka with a spinning back fist for a two count. Asuka slapped on an Octopus Stretch submission, Natalya powered out of it and hit a low dropkick. The crowd wasn't reacting to this much at all. Natalya with a back elbow followed by a suplex. Asuka charged, Natalya moved and Natalya tried a suplex, but Asuka blocked. Natalya came back with a German Suplex followed by a discus clothesline for a two count. Natalya left the ring, she knocked down Sane, whipped Asuka into the barricade and Natalya told a fan to shut up too. Back in the ring, Natalya was looking at Sane, so Asuka hit a roundhouse kick to the head for the pinfall win after five minutes.
Winner by pinfall: Asuka
Analysis: ** It was too short for my liking, but it was too good for the time given. When this match was announced I figured it would be a 10 to 15 minute match, so to see them get under five minutes was disappointing. The crowd wasn't into the match at all. Asuka getting the win was fine because they need to push a heel woman on Raw. I think the finish was weak, though. It made Natalya look like a rookie, which is typical WWE booking babyfaces to be dumb.
Up next is The Viking Raiders vs. Randy Orton and a partner.
This week on NXT is Adam Cole vs. Dominik Dijakovic in a Ladder Match.
(Commercial)
Randy Orton made his entrance with the announce team talking about Orton's history at Survivor Series with Joseph saying that Orton has been on five winning teams at Survivor Series (the most ever) and has the most eliminations ever with 15. Orton has also been the sole survivor in matches three times.
The Viking Raiders entered with the Raw Tag Team Championships for this title match. At Survivor Series, The Viking Raiders will face The New Day and The Undisputed Era in a triple threat match.
The tag team partner of Randy Orton made his entrance and it was Ricochet, which was expected. They are teammates on Team Raw at Survivor Series this Sunday.
Raw Tag Team Championships: The Viking Raiders (Erik and Ivar) vs. Randy Orton and Ricochet
Erik used his power to slam Ricochet down. Ricochet with a headscissors takedown followed by a dropkick. Ricochet went for a dive over the top, Erik caught him, Orton did a blind tag and went after Erik. Orton decked Ivar with a forearm to the face. Ricochet went for a dive on Erik, who moved, so Orton slammed Erik on the ring apron. They showed Cesaro, Dolph Ziggler and Robert Roode from Smackdown beating up Raw guys like Eric Young, Mojo Rawley and Cedric Alexander. The Smackdown guys were conveniently wearing blue shirts while Raw guys were in red shirts. Imagine that! Anyway, that led to a break.
(Commercial)
The match returned with Orton in control of Erik with a headlock, which led to Erik breaking free with a forearm. Ricochet tagged in, Ivar did some athletic stuff with him and Ivar hit a cartwheel into the ropes leading to a back elbow on Ricochet. Ivar sent both opponents to the floor followed by a suicide dive (305 Live!) to knock both guys down. Ivar sent Orton back in the ring since Orton is legal, Ivar sent Ricochet into the barricade and Orton hit a draping DDT. Orton posed for the fans, so there were some cheers and then the Smackdown "Are You Ready?" song played. That led to the Smackdown roster going into the ring to attack Orton with Cesaro and Roode (neither guy is wrestling at Survivor Series) leading the way. The match went about eight minutes.
Match Result: No Contest
Analysis: *1/2 Another match that meant nothing with a crappy finish. They were basically told to kill eight minutes, so they did and that led to the predictable non-finish to the match. At least Ivar and Ricochet doing some highspots was fun to watch.
The Smackdown wrestlers, who are all dressed in blue shirts like the good independent contractors they are, were beating up Orton and Ricochet in the ring. The Viking Raiders got back into it to go after the Smackdown guys. The Smackdown guys outnumbered them for a bit, but then the four Raw guys were standing tall in the ring.
That led to NXT wrestlers going down to ringside for some brawling with the Smackdown guys. Matt Riddle was out there barefoot, bro. Other NXT guys included Tommaso Ciampa, Keith Lee, Pete Dunne, Lio Rush and Isiah Scott. There were more NXT wrestlers that showed up including the Undisputed Era as well as the five guys that were at ringside earlier. Orton hit a RKO on Wesley Blake, Ricochet hit a Recoil on Dominik Dijakovic and Orton hit a RKO on Dijakovic, who bumped in a big way onto his head before falling onto his back. The NXT guys went into the ring to dominate the Raw guys. That led to Seth Rollins' music hitting and more of the Raw wrestlers went down to ringside to join the brawl. The NXT guys were in the ring, AJ Styles went into the ring to go after them and Roderick Strong hit a rising knee to the face.
Triple H was backstage in the Gorilla Position talking into a camera. Triple H said that in six days this Sunday at Survivor Series, NXT will prove why they are the "A" brand in WWE. Hunter said until then, this Wednesday night is an open door at NXT. Hunter said he's going to leave the doors wide open for Raw and Smackdown wrestlers.
It was back to the ringside area with more brawling. Orton was going after Riddle, the camera was shaking way too much and NXT guys continued to dominate in the ring. Keith Lee gave a press slam to Carrillo that sent Carrillo crashing onto Raw guys on the floor. That was the end of Raw.
Analysis: It's like what we get every year with a big brawl to set up Survivor Series. It was fine, but I'm not going to act like this was some amazing ending that is unlike anything we've ever seen. It's the right way to end the Raw before Survivor Series. I also find it ridiculous that everybody has to wear their color-coded t-shirts when it comes to Survivor Series and then after the PPV is over, none of it seems to matter again. Plus, most of the Smackdown guys brawling aren't even in matches at Survivor Series, so again, why should the fans care about it? I just wish there was more effort put into this storyline.
As for Triple H's promo at the end, it's a way to tell the audience that Raw and Smackdown wrestlers are likely going to be on NXT on Wednesday, which should help NXT in their weekly battle against AEW Dynamite on Wednesdays. It's a smart move by WWE to drive up interest in the NXT brand.
When it comes to Survivor Series, everything appears to be set, but we don't know the NXT wrestlers in the men's and women's elimination matches yet. I assume we'll know by Wednesday. I just think WWE should have announced that by now.
Three Stars of the Show
Kevin Owens
Drew McIntyre
Seth Rollins/Andrade
The Scoreboard
6.75 out of 10
Last week: 5
2019 Average: 5.85 (Smackdown is 6.67)
Last 5 Weeks: 5, 6.5, 5.5, 6.5, 5.5
2019 High: 8 (September 9)
2019 Low: 3.5 (May 27)
Final Thoughts
This week's Raw gets a 6.75 out of 10.
It was a slightly better than average Raw due to some good matches, they pushed Survivor Series a lot and there wasn't anything on the show that was that bad. It's still a level below where I would recommend it as a great show. An issue that sticks out to me is you've got Triple H pushing NXT, saying we're going to win at Survivor Series and that's fine, but there is nobody stepping up for Raw or Smackdown saying they are going to win. So why should we care who wins at Survivor Series? The answer is we shouldn't care. No reason has been given to us about why we should care about the results and that's what hurts Survivor Series. A bunch of wrestlers brawling while wearing the colored shirts representing their show isn't that interesting. The main purpose of this year's Survivor Series is to raise the stature of the NXT brand so that they can get more viewers and try to tell the fans that their show is just as important as Raw and Smackdown are. I have no problem with that because I love NXT too. I just wish the storylines were better for the Raw and Smackdown guys.
The two best matches were Owens vs. McIntyre and Rollins vs. Andrade with neither match having a decisive finish. The main event also didn't have a clean finish. It's hard to be that excited about matches when they book so many non-finishes in the same show.
I really liked hearing Samoa Joe on commentary all night long because he's well-spoken while supporting the heels. I think Joe has a career in commentary when he retires if that's what he wants to do.
The next WWE PPV is Survivor Series, which is this Sunday, November 24. Here's the official lineup so far.
No Holds Barred for the WWE Championship: Brock Lesnar (c) vs. Rey Mysterio
WWE Universal Championship: "The Fiend" Bray Wyatt (c) vs. Daniel Bryan
Men's Traditional 5-on-5 Survivor Series Elimination Match: Team Raw (Seth Rollins, Randy Orton, Kevin Owens, Drew McIntyre and Ricochet) vs. Team Smackdown (Roman Reigns, Braun Strowman, "King" Baron Corbin, Shorty G and Mustafa Ali) vs. Team NXT
Raw Women's Champion Becky Lynch vs. Smackdown Women's Champion Bayley vs. NXT Women's Champion Shayna Baszler
NXT Championship: Adam Cole (c) vs. Winner of Pete Dunne, Killian Dain and Damian Priest
United States Champion AJ Styles vs. Intercontinental Champion Shinsuke Nakamura vs. NXT North American Champion Roderick Strong
Raw Tag Team Champions Viking Raiders (Erik and Ivar) vs. Smackdown Tag Team Champions The New Day (Xavier Woods and Big E) vs. NXT Tag Team Champions The Undisputed Era (Kyle O'Reilly and Bobby Fish)
Women's Traditional 5-on-5 Survivor Series Elimination Match: Team Raw (Charlotte Flair, Natalya, Asuka, Kairi Sane and Sarah Logan) vs. Team Smackdown (Sasha Banks, Carmella, Dana Brooke, Lacey Evans and Nikki Cross) vs. Team NXT
Survivor Series takes place on Sunday, Nov. 24, at 7 p.m. ET/4 p.m. PT, streaming live on the award-winning WWE Network.
—
You can contact me using any of the methods below. Go Los Angeles Rams, NBA Champion Toronto Raptors and Toronto Maple Leafs.
Thanks for reading.
John Canton
Email: mrjohncanton@gmail.com
Twitter: @johnreport