The John Report: The WWE Raw Deal 10/28/19 Review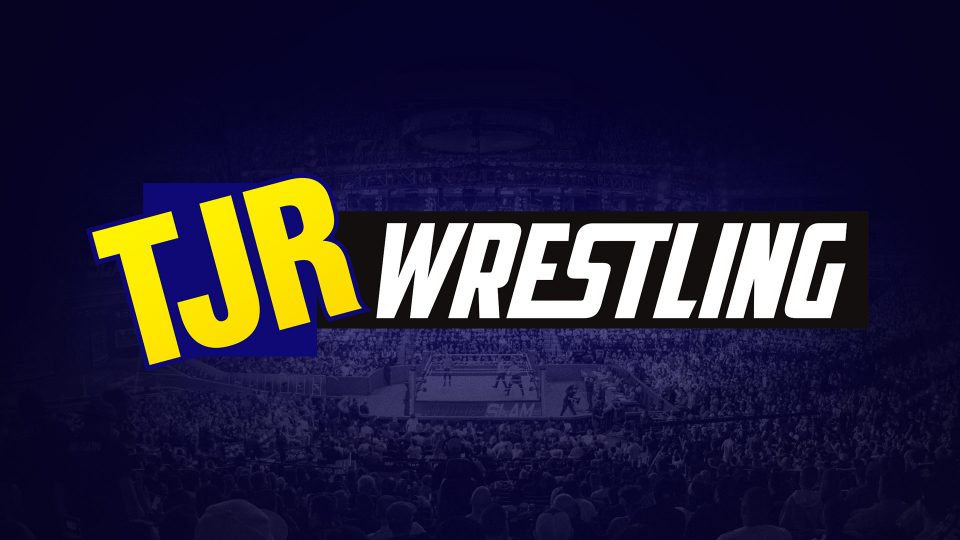 Welcome to another edition of the WWE Raw Deal review here on TJRWrestling for last Raw before Thursday's Crown Jewel event on WWE Network.
Live from St. Louis, Missouri, this is the Raw Deal for episode #1379 of Monday Night Raw. Follow me on Twitter @johnreport. Please visit TJRWrestling.net daily for our regular updates on the wrestling business featuring WWE news coverage, insightful columns from our team along with reviews about wrestling's past and present. Thanks to Melo Man for the banner up top.
The Raw intro video aired to start the show. The pyro went off in the arena and the crowd had a lot of energy. The Raw announce team of Vic Joseph, Dio Maddin and Jerry "The King" Lawler were on camera welcoming us to the show while plugging what was advertised this week.
Paige made her entrance to a nice ovation. Paige welcomed us to Raw and said she has been advising a very special tag team and she's proud to be part of their success. Paige introduced the Women's Tag Team Champions Asuka and Kairi Sane aka The Kabuki Warriors. That led to Asuka and Sane walking down to the ring with Paige. They showed a replay from three weeks ago when Asuka sprayed the green mist in Asuka's face and Sane pinned Becky Lynch in a tag team match.
The women were in the ring now with Paige looking way taller than the other two thanks in part to some heels she was wearing. Paige said that six months ago, she introduced us to this tag team that's a force in the women's tag team division. Paige went over the credentials of both women and she's so proud that they are the Women's Tag Team Champions. Asuka grabbed the microphone and said something in Japanese. Sane grabbed the microphone and laughed. The microphone got knocked down, so Paige went to pick it up and then Asuka spit the DREADED GREEN MIST~! into Paige's face.
Analysis: The Kabuki Warriors turned heel to win the titles although it wasn't enforced that much by WWE. I think by doing this angle where Asuka spit the green mist in Paige's eyes that put an end to Paige as a babyface manager of the Kabuki Warriors and sets up Asuka/Sane as heels moving forward. It was a necessary step in the story to end Paige's association with the team while also getting more heel heat for Asuka/Sane. As for Paige, she works on the WWE Backstage show now and I believe she has a successful clothing/makeup business in LA, so good for her.
EZ – PZ🤮 pic.twitter.com/2MydSBej6n

— ASUKA / 明日華 (@WWEAsuka) October 29, 2019
The green mist was on Paige's face and she sold it by saying she couldn't see. Some people at ringside gave Paige a towel with water on it to clean her eyes/face from the mist.
Becky Lynch ran down to the ring and attacked Sane with punches. Lynch was wearing a shirt that said "I Don't Care About Your Damn Feelings" on it. Sane bailed to the floor. Lynch went to the floor and attacked Asuka and Sane with punches. Lynch sent Asuka over the barricade into the crowd. Sane bailed to the floor again to get away from Lynch, which led to a break.
(Commercial)
The match was set to begin after the break. A replay aired of Asuka spitting the green mist in Paige's eyes.
Becky Lynch vs. Kairi Sane (w/Asuka)
This is not for Lynch's Raw Women's Title. Sane bailed to the floor to get away from Lynch. Sane got back into the ring, she sent Lynch into two turnbuckles, then Lynch sent Sane into a turnbuckle and then a bulldog followed by a two count. Lynch with a dropkick. When Lynch went to the ropes, Sane tripped her up, which sent Lynch down onto her back. Lynch caught the foot, slammed Sane down and slapped on a wrist lock. When Sane broke free, she tried an attack off the ropes, but Lynch avoided it and hit a kick to the face. Lynch tried for the Disarmher, but Sane tripped her up and bailed to the floor again. Asuka went on the apron, Lynch focused on her for a moment, Sane tried to attack on the floor and Lynch hit her with a clothesline. Lynch looked at Asuka, so Sane kicked Lynch back first into the steel steps. That led to a break.
(Commercial)
The match returned with Sane in control as she put her knees into Lynch's back while stretching Lynch across Sane's body. Sane with a knee to the jaw followed by a hair whip takedown. Lynch with a kick to the gut, a kick to the body, two clotheslines and a jumping kick to the jaw. Lynch charged in with a forearm followed by a Bexploder Suplex for a two count. Lynch charged, Sane grabbed the leg and turned it into a submission. Lynch got out of that and hit a running forearm. Sane got an inside cradle for two. Lynch tried for a suplex, but Sane countered with a DDT for two. That was a good spot. Sane with a headbutt as they battled by the turnbuckle, but then Lynch came back with a slam off the ropes followed by a leg drop off the middle ropes for two. Lynch was shocked that she didn't win with that move that she never wins with. Lynch was bleeding from the right elbow so referee John Cone put on the white gloves. Lynch with two kicks to Sane and Lynch hit a forearm off the apron to Asuka on the floor. That didn't look good in terms of connecting. When Lynch went back in the ring, Sane hit a spinning back fist for a two count. When they got back up, Lynch slapped on the Disarmher and Sane tapped out to give Lynch the win after 15 minutes.
Winner by submission: Becky Lynch
Analysis: *** Good match with Lynch getting the win as expected since she wins nearly every match. Lynch controlled the first half of it, then Sane took over and Lynch made the babyface comeback leading to the Disarmher for the victory. I thought they could have set up the finish better because it came out of nowhere instead of doing something more exciting. Lynch has no real feud right now although if they put her against Asuka that would be fun to see again.
There was a video shown from last week's Raw when Rusev attacked Bobby Lashley in a restaurant while Lashley was having dinner with Rusev's wife Lana. Rusev was taken away by "cops" on the scene.
Still to come: Seth Rollins vs. Erick Rowan, Drew McIntyre vs. Ricochet and Rusev/Lana on Divorce Court hosted by Jerry Lawler.
R-Truth made his entrance singing the "What's Up?" song that the fans love.
(Commercial)
R-Truth was interviewed in the ring by the lovely Charly Caruso. Truth said Buddy Murphy is not his buddy and he doesn't even know the guy. Caruso mentioned Sunil Singh won the 24/7 Title with his brother Samir. Truth said he knew he needed another set of his eyes to help him, so he bought glasses and now he's got both pairs of eyes on the prize to get his baby back. Truth said when he sees and pins "Ranjin Singh" he will be the 52-time 48/7, 7/11, 24/7 European Champion and here's Buddy Murphy.
Analysis: I like R-Truth comedy bits. He's great at it. Ranjin Singh was the name of Great Khali's "brother" and manager, who is a long-time member of the creative team named Dave Kapoor.
Murphy did a promo saying Truth is so focused on the 24/7 Championship and everyone else, but after tonight Truth won't forget Murphy.
Buddy Murphy vs. R-Truth
Murphy stomped away on Truth, who came back with a headscissors, Truth did the splits and Truth hit a running forearm for two. Truth missed a kick, Murphy went for an attack, Truth avoided that and Truth hit a jumping side kick for two. The Singh Brothers ran around the ring with midcard wrestlers chasing them like morons. Why not just stop running? Because they are idiots. Truth joined the running around the ring, then he went back in and Murphy hit a knee strike to the face for the pinfall win after about two minutes.
Winner by pinfall: Buddy Murphy
Analysis: 1/2* I like Murphy a lot, but this didn't really help him since it was so short and there was the presence of the comedic 24/7 Title that took the attention off the guys in the ring.
This week on Smackdown will see Bray Wyatt as a guest on the Miz TV talk show.
(Commercial)
There was a promo from the Authors of Pain (AOP) tag team of Akam and Rezar seated in a room while wearing suits. They spoke in a foreign language, then spoke in English saying that in any language and any style, they will own the tag team division. They will have violence for the sake of violence.
Analysis: I assume the long term plan for the tag team division on Raw will build to the AOP and Viking Raiders as unstoppable tag teams.
The Street Profits duo of Montez Ford and Angelo Dawkins made their entrance. They did their usual thing where they walked in the crowd and went down the aisles until they made their way to the ring. They had microphones to do a promo with Lawler joking maybe they were too tired to talk. There was a "We Want the Smoke" chant.
Montez Ford said that not only did they make their Monday Night Raw debut last week, but they showed up and they showed out. Angelo Dawkins said you always remember your first. Ford said that even though it wasn't in St. Louis, they made The OC feel the blues (hockey reference). Dawkins said "stun Owens stun" for Kevin Owens helping them. Dawkins said to all the superstars that want to throw down with The Street Profits had messed up and Ford said they want the smoke. That led to the "We Want the Smoke" chant again.
That led to Ford and Dawkins saying "We Want the Smoke" repeatedly, then they went back into the crowd and walked towards the ramp again. That was it.
Analysis: This felt like a time waster just to enforce the "We Want the Smoke" catchphrase by having the team say it repeatedly. That was pretty much it. I like this team a lot, though.
There was a shot of Hulk Hogan with Jimmy Hart and Ric Flair each walking backstage for their segment up next.
A commercial aired for NXT this week after Finn Balor turned heel by attacking Johnny Gargano last week. Great angle.
(Commercial)
They showed the end of Hulk Hogan's entrance while Ric Flair was already in the ring. They don't have time to show both of their entrances on a three-hour show? Odd. The graphic was shown for the 5-on-5 Team Hogan vs. Team Flair tag team match at Crown Jewel on Thursday. As a reminder, that match looks like this: Team Hulk Hogan (Roman Reigns, Rusev, Ricochet, Ali and Shorty G) vs. Team Ric Flair (Randy Orton, Baron Corbin, Bobby Lashley, Shinsuke Nakamura and Drew McIntyre).
Ricochet made his entrance to represent Team Hogan with Ricochet hugging Hogan and Jimmy Hart in the ring. Drew McIntyre was up next representing Team Flair. This is a rematch from last week when McIntyre beat Ricochet in a great match.
Drew McIntyre (w/Ric Flair) vs. Ricochet (w/Hulk Hogan and Jimmy Hart)
McIntyre was standing outside the ring staring, so Ricochet hit him with a suicide dive with a flip to knock McIntyre down. When they got in the ring, Ricochet hit a jumping kick to knock McIntyre out of the ring. Ricochet with a jumping attack over the top rope onto McIntyre on the floor. It was like a twisting cross body block. McIntyre took over by sending Ricochet ribs first into the top rope since Ricochet had taped ribs on the right side. McIntyre with an overhead suplex on the floor followed by a chop that was approved by Flair with a "WOO" at ringside. McIntyre with a belly to belly suplex across the ring. McIntyre decked Ricochet with a hard open hand palm strike. Ricochet fought back with strikes, McIntyre with a boot to the face and a leg drop. McIntyre left the ring, he got in Hogan's face after he did two of his moves and told him "Crown Jewel" as Hogan stared at him. There were some "Hogan" chants. McIntyre slapped on an abdominal stretch, Ricochet fought out of it and McIntyre did two hip tosses. Ricochet ran the ropes, headscissors, springboard attack, but McIntyre caught him and hit a back body drop with a lot of height. McIntyre picked up Ricochet and launched him into the turnbuckle for a Buckle Bomb with Drew smiling about it. McIntyre did some Hogan-like poses that drew boos. They left the ring where McIntyre sent Ricochet throat first into the barricade. Back in the ring, McIntyre charged and Ricochet got two boots up to knock him down. When Ricochet went for a move off the ropes, McIntyre hit a jumping kick to knock him down.
(Commercial)
McIntyre remained in control with stomps to the head of Ricochet with Ricochet coming back with a sunset flip pin for two. McIntyre sent Ricochet into the turnbuckle. Ricochet avoided another Buckle Bomb with a hurricanrana counter that sent McIntyre into the turnbuckle. Ricochet with a step kick to the chest and then an enziguri kick to the head. Ricochet with a jawbreaker, kick to the face and a roll through into a dropkick. Ricochet came back with a springboard clothesline as well as a Lionsault off the middle ropes for the two. Great height on those moves by Ricochet. McIntyre with a running back elbow followed by a reverse Alabama Slam that led to Ricochet bumping onto his chest, which got a two count for McIntyre. There was a headbutt from McIntyre followed by a spinning lariat for a two count. Hogan was at ringside encouraging Ricochet to get up. McIntyre wanted a superplex, Ricochet punched him and then McIntyre threw Ricochet across the ring while Drew was upside down. McIntyre charged, but Ricochet stopped him with a jumping kick to the head. Ricochet went up top, he grabbed the ribs and missed a 450 splash out of the corner because McIntyre moved. That's when Randy Orton showed up out of nowhere with a RKO on Ricochet to end the match via DQ. Ricochet landed right on the top of the head, which looks painful. The crowd popped big for the surprise appearance from St. Louis' own Orton. It went 17 minutes.
Winner by disqualification: Ricochet
Analysis: ***1/4 It was another very good match from these two like last week, but I thought last week's match was better. Both matches got a lot of time with a similar story where McIntyre dominated, Ricochet came back and then we got the surprise attack by Orton. The best thing about this is that Ricochet didn't get pinned for the second straight week because I think he's a guy they need to push more than they do.
Orton was celebrating the attack by giving Flair a high five at ringside. They showed this little girl at ringside that was very excited. I don't know if it was one of Randy's daughters or just a great kid reaction. I did notice Randy's wife and other kids at ringside (if you follow him on Instagram, then you know) going crazy for him. As I mentioned, Randy is from St. Louis, so the pop for him was loud.
Orton and McIntyre shook hands in the ring because they are a part of Team Flair. That led to Flair trash talking Hogan. Orton posed as his music played and the fans cheered him even though he's a heel. McIntyre dumped Ricochet out of the ring. They replayed the RKO by Orton while emphasizing the bump on the head by Ricochet. Orton, McIntyre and Flair stared at Hogan to end it.
Analysis: That means Team Flair has the advantage going into Crown Jewel. I expect Team Hogan to get the win in that match just because it would be a feel good moment to put the faces over.
There was a backstage scene with AJ Styles, Luke Gallows and Karl Anderson staring at Humberto Carrillo. Styles said that he was impressed by Humberto's match with Seth Rollins last week. Styles said at one point he was a rookie, but now he's one of the most well liked veterans. Styles said if Humberto was willing to prove himself against the top champion, he picked the wrong one as Styles held up his US Title and told Humberto step in the ring with him tonight. Carrillo just stared at him without saying anything as The OC left.
(Commercial)
There were two wrestlers named Rizzo and Bryant introduces as the Chicago Cubs, which drew boos because they are the rivals of MLB's St. Louis Cardinals. Anthony Rizzo and Kris Bryant are two of the best players on the Cubs. It's a cheap heat gimmick. The Viking Raiders, who are the Raw Tag Team Champions, entered as the opponents.
The Viking Raiders (Erik and Ivar) vs. Rizzo and Bryant
This is not for the Raw Tag Team Titles as if that matters. Erik slammed down Bryant and then a forearm by Erik on Rizzo. Ivar with a jumping splash on Bryant and a running splash on Rizzo. When Ivar took the jersey of Bryant the fans cheered and then Erik slammed Ivar onto Bryant. Erik with a knee to the face of Rizzo. Erik had both guys in his arms and slammed them both down. Erik launched a guy into the air and Ivar hit the Viking Experience powerslam for the pinfall win after two minutes.
Winners by pinfall: The Viking Raiders (Erik and Ivar)
Analysis: * A squash win for The Viking Raiders like they have done so many times.
Still to come: AJ Styles vs. Humberto Carrillo.
They showed Lana and Bobby Lashley sitting backstage awaiting the segment later in the show.
(Commercial)
A video aired featuring WWE employee Holly talking about how she battled and beat breast cancer.
Andrade made his entrance with business manager Zelina Vega. They replayed Andrade beating Sin Cara last week thanks to help from Zelina Vega.
Sin Cara was interviewed by Sin Cara behind the curtain. Sin Cara said Andrade introduced Carolina, who is a masked women's wrestler and she did a promo in Spanish talking trash. Carolina is from Chile and she's just 19 years old.
When Sin Cara posed in the ring, the graphic said "Carolina" for his masked friend, but at one point Dio Maddin said Catalina. Her name was Catalina Garcia as a wrestler in Chile, but WWE is using the name Carolina for her on their website.
Andrade (w/Zelina Vega) vs. Sin Cara (w/Carolina)
Sin Cara with a headscissors takedown that sent Andrade out of the ring. Sin Cara went up top, but Andrade knocked him down. Andrade with a hard chop. Back in the ring, Andrade with a backbreaker after putting Cara on his shoulders. Lawler said "Andrada" instead of Andrade because he's old and gets things wrong. Anyway, Andrade hit a running knee against the turnbuckle. Andrade went for a running knee again, Cara moved and Andrade went over the top to the floor. Cara hit a twisting cross body block on Andrade on the floor. Cara hit a reverse rana that spiked Andrade on his head. Vega was on the apron, Carolina went over to her and slammed Vega into the barricade. Cara celebrated that, so Andrade got the ROLLUP OF DEATH~! with his feet on the ropes for the pinfall win after three minutes.
Winner by pinfall: Andrade
Analysis: *1/2 The match was okay for the time given and just a way to introduced Carolina although she didn't her friend Sin Cara win. It was the right call to have Andrade win again. This week's match was shorter than last week. They book the ROLLUP OF DEATH~! finish too often, but it's a way to set up another match between them most likely.
The team of Charlotte Flair and Natalya were shown walking backstage for a tag team match.
(Commercial)
Charlotte Flair made her entrance. She is a face now even though she never really did anything to turn after she was a heel. I like her more as a heel. Natalya made her entrance with Joseph noting that she hasn't teamed with Flair before while the announcers talked about their legendary pedigree because of their family history.
The IIconics duo of Peyton Royce and Billie Kay entered as the opponents. Thank you, Peyton, for pointing to IIconics on the back of your shorts. No really, thank you so much.
The new WWE podcast called After the Bell by Corey Graves debuts this Wednesday with Triple H as the first guest.
Charlotte Flair and Natalya vs. The IIconics (Peyton Royce and Billie Kay)
Flair worked over Royce with chops, Flair caught Royce in her arms, mocked the screaming that The IIconics do and hit a fallaway slam. Natalya tagged in leading to a double suplex on Royce. The heels took advantage with Royce grabbing the hair of Natalya and Kay tagged in with a chinlock. Royce stretched Natalya's body against the ropes. Natalya got a cradle on Royce, but Royce came back with a spinning back kick. Royce grabbed a chinlock. Kay tagged in and Royce sent Natalya into the knee. Flair went in, kicked Royce off the apron and there was a lot of screaming by Kay. Kay knocked Flair off the apron. Natalya slapped on a Sharpshooter on Kay and Flair hit a Spear on Royce, then Kay tapped out for the submission win after four minutes.
Winners by submission: Charlotte Flair and Natalya
Post match, Natalya and Flair hugged in celebration of their victory.
Analysis: *3/4 It was a simple match to put over Flair and Natalya as a potential babyface tag team that can go after the Women's Tag Team Titles. I figured Flair would get the hot tag to get the win, but they didn't even do that. The IIconics have barely been featured on TV since losing the titles. Even when they were champions, they didn't defend them that often.
Seth Rollins was interviewed by Charly Caruso backstage. Rollins said he's got Erick Rowan in a Falls Count Anywhere right here in St. Louis (cheap pop) and he said he accepted the match because "this is what I do" as he borrowed a Mark Henry line. Rollins talked about how tough the match will be with Bray Wyatt. When Rollins mentioned burning down the Firefly Fun House, the fans booed, but then he said he knew it would be back. Rollins said that the only way to beat The Fiend is to keep his Universal Title and to burn it down.
Analysis: That Rollins/Fiend match is on Thursday at Crown Jewel. It's supposed to be a big deal, but it really doesn't feel that way.
(Commercial)
Seth Rollins made his entrance with the Universal Championship around his waist. He faces The Fiend at Crown Jewel for the Universal Championship and it's a Falls Count Anywhere match. Erick Rowan entered as the opponent with WWE filming him from the ground up to try to show how big he is.
Falls Count Anywhere: Seth Rollins vs. Erick Rowan
This is not for the Universal Title. Rollins with a dropkick, two forearms, boot to the face and Rollins hit the Blockbuster neckbreaker off the ropes for two. Rowan charged, Rollins ducked and Rowan went over the top to the floor. Rowan whipped Rollins into the barricade two times. Rowan sent Rollins face first into the barricade at ringside followed by a boot to the face. Rowan dumped Rollins over the barricade with the referee following them since it's Falls Count Anywhere. Rowan gave Rollins a headbutt to send him over the hockey boards in the arena. They battled on the stairs and then went up the stairs leading to a brawl into the hallway in the aisles. Rowan was in control with a knee to the ribs. They were in section 101 of the arena in the main concourse. Rowan grabbed Rollins and tossed him over the WWE merch stand. Rowan picked up Rollins and slammed him uranage style through the table. Rowan covered for two.
(Commercial)
The match returned with both men at ringside as Rollins hit a suicide dive that sent Rowan into the barricade. Rollins hit another suicide dive, Rowan kept walking around the ring so Rollins went for it again, but Rowan caught him. Rollins managed to come back by shoving Rowan into the steel steps. Rollins whipped Rowan into the steel steps again. When Rollins charged again, Rowan hit Rollins with the steel steps. Corner splash by Rowan in the ring and then a dropkick by Rowan sent Rollins out of the ring. There was a running cross body block by Rowan that got a two count on the floor. There were "burn it down" chants in support of Rollins, but that didn't help much because Rowan gave Rollins a Powerbomb into the ring post for a two count. Rowan carried Rollins up the ramp, Rollins tried to fight back, but Rowan hit him with a clothesline. Rowan cleared off the announce table on the stage. Rowan went for the slam, Rollins kicked him in the head and hit The Stomp on the announce table. A delayed cover by Rollins got a two count. Rollins followed up with a cross body block off the announce table onto Rowan. They went backstage again with Rollins hitting Rowan in the back with a steel chair a few times. Rowan managed to send Rollins into some well-placed steel poles that were there. Rowan sent Rollins into a forklift. Rowan grabbed a road case, Rollins ducked it and Rollins hit Rowan with a ladder to the ribs and the back. Rollins hit The Stomp on the steel ladder. There was a forklift there, he asked who knows how to run this thing, then he told a guy to turn it on and lower the forklift onto Rowan. Rollins actually pushed the button to lower the forklift on Rowan. Rollins stood on the wooden plank on the forklift and the referee counted the pinfall win for Rollins after 15 minutes.
Winner: Seth Rollins
Analysis: **3/4 It was a decent brawl to put over Rollins as the babyface Universal Champion that overcame the attack from the bigger man. Rowan is better in these kinds of matches instead of regular matches because he's more of a brawler and having him put Rollins through things like tables shows off his power more. The finish was lame with the forklift. It was the Halftime Heat 1999 Mankind/Rock ending. The idea behind the finish was to show that Rollins was able to find a creative way to win the match.
Rollins went back out to the arena and posed with the Universal Title as the winner of the match.
Still to come: AJ Styles vs. Humberto Carrillo and Divorce Court is the main event. Yes, really.
There was a shot of Lana and Bobby Lashley on a couch backstage. Lashley said he'll go out there with her, but she said she wants to do it alone.
(Commercial)
Aleister Black was in a darkened room doing one of his promos looking for a fight. Black said if he's not a madman, then what is he? Black said that the next time he walks to the ring, one of two things will happen: 1) Black will make sure the person he is facing has an intimate relationship with fear right before he takes their head off. 2) They will come running, knocking down his door ready to pick a fight with him.
Analysis: Black is not going to be a part of Crown Jewel because earlier this year he missed the first Saudi Arabia show due to some tattoos he has.
The announcers shilled WWE Crown Jewel on Thursday. They aired a replay of Brock Lesnar attacking Cain Velasquez, Rey Mysterio and Dominick in the trainer's room.
The lineup for Crown Jewel: Brock Lesnar vs. Cain Velasquez for the WWE Title, Team Hogan vs. Team Flair in a 5 on 5 tag team match, Mansoor vs. Cesaro, Tyson Fury vs. Braun Strowman and the Tag Team Turmoil Match. Also, a 20-Man Battle Royal will be on the Kickoff Show. The winner of that match is going to face AJ Styles for the US Title later in the show. There is also a Universal Title match with Seth Rollins defending against "The Fiend" Bray Wyatt. I'll have a preview up on TJRWrestling on Wednesday morning.
AJ Styles made his entrance with the US Title and his buddies Luke Gallows and Karl Anderson by his side. They entered to The OC song, which is okay, but I prefer AJ's singles theme song better.
(Commercial)
Humberto Carrillo made his entrance as the opponent. They got rid of the cape thing he was wearing last week, which is a good move. He just walked down to the ring in a t-shirt. For what it's worth, Styles is 42 years old and Carrillo is 24 years old.
AJ Styles (w/Luke Gallows and Karl Anderson) vs. Humberto Carrillo
There was some fast paced offense from Carrillo early on with a diving attack off the top that looked like a forearm to the chest. Carrillo with a springboard kick to the face for two. Styles got his hand up to block it. Carrillo with a standing moonsault for two. Carrillo tried an attack on the floor, Styles caught him, sent him back first into the barricade and Styles hit a Tornado DDT on the floor as the show went to break.
(Commercial)
The match returned with Styles in control with a headlock, Carrillo broke free and hit a spinning kick to the head. Carrillo came back with a dropkick. Carrillo went up top with another dropkick, this time off the top called a missile dropkick. Carrillo hit the Aztec Press moonsault off the ropes for a two count. Carrillo went up top, jumped off, Styles moved and Styles hit a reverse DDT for a two count. Styles teased the Phenomenal Forearm, but Carrillo tripped him up. Carrillo went up top and hit a moonsault although he jumped too far, so he only connected with his arms. Carrillo charged at Styles, he jumped off the ropes, Styles hit a forearm to the leg. Styles slapped on the Calf Crusher submission on the left leg and Carrillo tapped out quickly to give Styles the win after about ten minutes.
Winner by submission: AJ Styles
Analysis: *** That was a fast-paced match that was a lot of fun with Carrillo coming close to winning just like in his match against Rollins last week. It's nice that WWE thinks highly of Carrillo and is willing to put him in there with Raw's best guys, but losing close matches isn't the same as racking up wins. I thought Carrillo should have tried to fight out of the submission longer. He tapped out too quickly for my liking.
Post match, Styles went back into the ring to extend his hand for a handshake. Carrillo was about to shake the hand, but Styles pulled the hand back. Carrillo with a hard slap. Styles kicked the leg and Styles hit a Styles Clash to put Carrillo down. Gallows and Anderson were about to hit a double team move on Carrillo, but The Street Profits made the save. They knocked Anderson and Gallows out of the ring. The Street Profits and Carrillo stood tall in the ring while the heels were on the floor, so that's a future six-man tag team match.
Analysis: I think they did that post match angle to keep the rivalry going. Carrillo may win the battle royal at Crown Jewel to get the US Title shot at Styles later in the night.
A video package aired showing the "highlights" of the storyline with Lana's affair with Bobby Lashley while poor Rusev is angry about it.
The Divorce Court segment is the main event up next.
Analysis: I didn't expect them to main event with this segment. There was nothing else that big on the show unless they went with Rollins vs. Rowan, but I guess they wanted to go with Divorce Court on last.
(Commercial)
There was a commercial for Table for 3 with Ron Simmons, JBL and Teddy Long, which is on WWE Network now.
King's Court (or Divorce Court) with Rusev and Lana
Jerry "The King" Lawler was introduced in the ring for his King's Court talk show. There were about ten minutes left in the show. Lawler said we'll find out if divorce is the best option for two of WWE's brightest superstars.
Rusev made his entrance wearing a suit. He got a decent pop from the crowd as Rusev entered the ring with Lawler.
Lana made her entrance in a blue dress as the fans booed her. She looks tremendous. She is still wearing her wedding ring. I don't need to say it, but I'll say it anyway that this just an angle and they are still together in real life. They just cut out the social media posts together to push this angle that they are having issues. Lana and Rusev stood opposite eachother with Lawler in between them. Rusev is still wearing his wedding band on his left hand because Lawler said Rusev wants to reconcile.
Lana said that every single day she has to deal with the WWE Universe always hating on her, bullying her to her face, on Instagram and in her comments. Lana said that she was here to tell the truth to the WWE Universe. The fans chanted "Rusev Day" at them. Lana told the fans to shut up and listen. Lana said that between them, their marriage was only about what Rusev wanted. Lana said what Rusev wanted from her was sex, which drew cheers and Rusev replied: "Well, can you blame me?" Good question!
Lana said that Rusev wanted sex from her in the morning, in the afternoon, in the evening (the fans were cheering), she said he wanted sex in the kitchen, in the arena, at the doctor's office, at the locker room at WrestleMania and she said Rusev is a sex addict. The fans cheered her talking about all that stuff. Rusev said he couldn't believe she would say these things. Lana said that it was never about Rusev wanting and desiring her. Lana said it was always about Rusev wanting to put a baby inside her…which drew cheers. Lana said Rusev knew more about her "monthly cycle" than she knew. Lana said that all Rusev wanted was having "little Machka brats running around crushing." Rusev said he never insisted she has a child with him and he said that he loved her. Lana said she has a career, she has a modeling career and is a fashion influencer. Lana said no designer will dress her if she has a baby with stretch marks, she said people don't even like her and the way she makes money is being the most ravishing woman in the world, not being Mama Rusev.
Lawler wondered aloud by asking if the only reason this happened with Lana and Lashley is because Rusev wanted to have a baby?
Lana said that's not it. Lana claimed that Rusev cheated on her. Rusev: "WHAT?" Lana said that Lashley told her and Rusev whined about it saying that Lashley is "talking shit" is what he's doing. Rusev claimed that never happened. Rusev said if you want to talk about lies and here comes Lashley.
Bobby Lashley showed up wearing his wrestling gear. He had a big brace on his right elbow because he had surgery on it in July and was out of action for about three months.
Rusev went after Lashley on the floor with punches as fans chanted "Rusev Day" in support of him. Rusev whipped Lashley into the steel steps. A referee was out there to give them time cues most likely. They went into the ring with Lashley hitting a flatliner. Lana was smiling about that. Rusev got back up with a kick to the gut and a Samoan Drop. Rusev took off his wedding ring and he put the ring in Lashley's mouth or so we thought. Lana went into the ring and hit her husband Rusev in the back with three kendo stick shots to the back. Rusev asked her why she was doing this. Lashley recovered with a low blow punch on Rusev. The wedding ring was in the ring in case you are wondering. Lashley did not swallow it. Anyway, Lashley hit another low blow with a running kick to the groin. Lashley beat on Rusev with punches.
Lashley and Lana stood over a fallen Rusev and they kissed eachother on the lips as the fans booed. That was the end of Raw with Rusev down on the ground while Lashley and Lana kissed over top of him.
Analysis: That was raunchy for a PG show in terms of the dialogue spoken by Lana and Rusev as well as the ending scene that was similar to a few weeks back when Lashley kissed Lana on the stage. Rusev also got to say "shit" as an authentic reaction that fans can relate to for somebody in that position. The good part about this is that they have really positioned Lana as a heel by being a disloyal wife that only seems to care about herself since she talked about how she makes money while claiming she didn't want Rusev's baby. Meanwhile, Rusev is clearly the victim because he claims Lashley lied about Rusev's cheating and the fans at home are going to have sympathy with Rusev for that. There may be twists along the way too. I think it has been effective in getting Lashley and Lana a lot of heat while Rusev has the fans behind him. Do I think it is some main event angle that should be ending the show? Not really. It's just a soap opera storyline that is effective in terms of getting heat. I can't say it's my favorite thing on the show, though. From strictly a performance point of view, Rusev and Lana did well in their roles. This might be the storyline that propels Rusev to that main event level, but time will tell on that one.
I'm not sure if I'm seeing things, but it appeared there was a bit of a bump on Lana's waist, so maybe this will turn into a pregnancy angle. No idea if that's where they are going or if I'm seeing things. A few people mentioned it to me too, so I'm not going crazy…I think.
I posted this review about 12 hours after Raw ended and the Youtube video of Lana/Rusev got over 2 million views. That's by far the most from the show, so as much as some people may complain about it, WWE is going to look at numbers like that and say there's plenty of interest in this. The Youtube views numbers don't matter as much as TV, but people consume WWE in different ways in today's world too. I get more feedback than ever from people saying they don't watch it on TV, but they read my reviews and check out the clips I post. Anyway, just putting it out there saying that some people might really care about this angle more than you or I would think.
Three Stars of the Show
Drew McIntyre
Ricochet
Becky Lynch
The Scoreboard
5.5 out of 10
Last week: 6.5
2019 Average: 5.84 (Smackdown is 6.66)
Last 5 Weeks: 6.5, 5.5, 5.5, 6, 7
2019 High: 8 (September 9)
2019 Low: 3.5 (May 27)
Final Thoughts
This week's Raw gets a 5.5 out of 10.
It was another average Raw, which is a phrase I have been writing a lot of late. That's just what the show is. I don't know how else to say it. The build for Crown Jewel has been poor especially on the Raw side. The Rusev/Lana/Lashley angle is unlike anything we have seen in WWE for a long time. On a show that's lacking in long term storylines, at least they are trying to be different with this love triangle feud.
The only reason these shows aren't getting a score like 3 out of 10 is because there are a few very good to great matches every week, so that helps. I don't really like the storylines they are giving us, but at least the matches keep the show watchable. There are a lot of fans that don't care about that, though. They want better stories, more interesting characters and something to get excited about, but WWE isn't giving us that right now. They need to be better on Raw and Smackdown. It's not just one show. It's both shows.
The next WWE PPV is Crown Jewel on October 31. Here's the official lineup so far.
WWE Championship: Brock Lesnar (c) vs. Cain Velasquez
Falls Count Anywhere Match for the Universal Championship: Seth Rollins (c) vs. "The Fiend" Bray Wyatt
Braun Strowman vs. Tyson Fury
Five on Five Tag Team Match: Team Hulk Hogan (Roman Reigns, Rusev, Ricochet, Ali and Shorty G) vs. Team Ric Flair (Randy Orton, Baron Corbin, Bobby Lashley, Shinsuke Nakamura and Drew McIntyre)
United States Championship: AJ Styles (c) vs. Winner of Battle Royal
Tag Team Turmoil Match: The New Day (Kofi Kingston and Big E), Raw Tag Team Champions Dolph Ziggler and Robert Roode, Smackdown Tag Team Champions The Revival (Scott Dawson and Dash Wilder), The Viking Raiders (Erik and Ivar), Zack Ryder and Curt Hawkins, Heavy Machinery (Tucker and Otis), Lucha House Party (Kalisto, Gran Metalik and Lince Dorado), The OC (Luke Gallows and Karl Anderson), and The B Team (Bo Dallas and Curtis Axel).
Cesaro vs. Mansoor
Battle Royal: The Winner Earns US Title Match (KICKOFF SHOW) – Wrestlers are: Apollo Crews, Buddy Murphy, Andrade, Drake Maverick, Eric Young, Luke Harper, Cedric Alexander, Heath Slater, Humberto Carrillo, No Way Jose, Champion Sunil Singh, Mojo Rawley, Erick Rowan, R-Truth, Sin Cara, Brian Kendrick, Titus O'Neil, Tony Nese, Akira Tozawa, and Shelton Benjamin
I'll have a preview up on Wednesday.
—
You can contact me using any of the methods below. Go Los Angeles Rams, NBA Champion Toronto Raptors and Toronto Maple Leafs.
Thanks for reading.
John Canton
Email: mrjohncanton@gmail.com
Twitter: @johnreport
Personal Facebook and TJRWrestling on Facebook