The John Report: The WWE Raw Deal 10/07/19 Review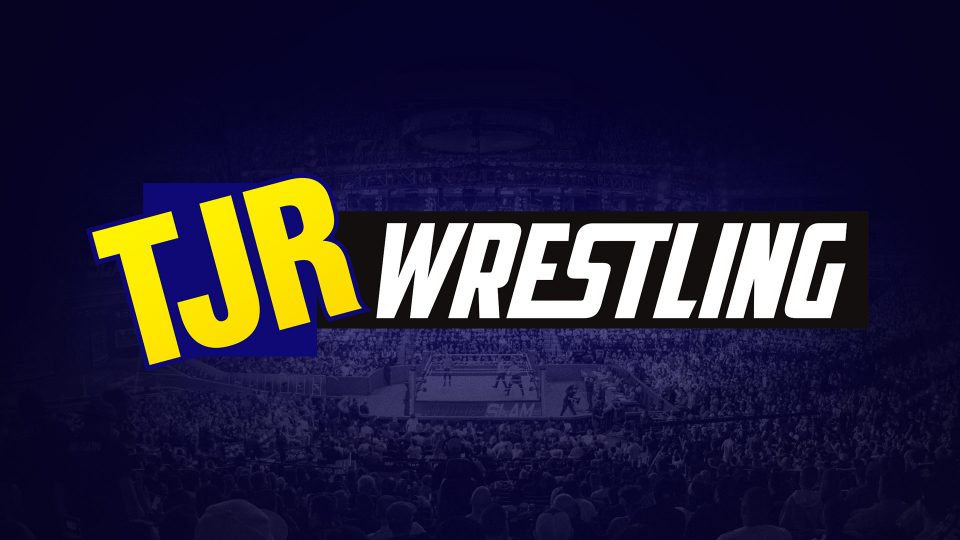 Welcome to another edition of the WWE Raw Deal review here on TJRWrestling. Here's my review of WWE Hell in a Cell that took place on Sunday night. It was a disappointing show. Let's try to move on from it.
Live from Bakersfield, California, this is the Raw Deal for episode #1376 of Monday Night Raw. Follow me on Twitter @johnreport. Please visit TJRWrestling.net daily for our regular updates on the wrestling business featuring WWE news coverage, insightful columns from our team along with reviews about wrestling's past and present. Thanks to Melo Man for the banner up top.
The opening video package showed the controversial moment from last week's Raw when Lana kissed Bobby Lashley on the stage while Lana's husband Rusev looked on from inside the ring.
The Raw introduction video aired with the new Raw theme song "Legendary" playing.
There was already action in the ring with Rusev getting beat up by Randy Orton and Baron Corbin. Rusev managed to fight them off and send them out of the ring. The idea was that Randy Orton was going to wrestle Rusev, but it never got started.
Bobby Lashley was shown on the video screen with a message for Rusev. Lashley revealed that he was at Rusev's house, in his bed and he was with Lana, who appeared on camera as well. That led to Lana saying that everything they own is in her name now including joint checking accounts. Lashley said Rusev shouldn't have sent his money to his family in Bulgaria, so the idea is that Lana got his money. Lana had on some lingerie, but she covered up with a blanket. Lana took that off, covered up and then laid down with Lashley. Lana was wearing her wedding ring. Bobby turned the lights off to end the scene. Rusev looked on from ringside and he was nearly crying at what he saw.
Analysis: It certainly felt like a different kind of start to Raw with more raunchiness after last week's Lashley/Lana makeout session and this week they were shown in bed together although there was no kissing this week. I know some people hate the storyline, but it will likely be effective in terms of getting sympathy for Rusev and heat on Lashley with Lana. I'm not sure when Lashley will be cleared to wrestle. He had elbow surgery in July and I was told late October/early November return, so obviously he's being kept out of the ring until he's ready. Also if you want to see more of Lana, she's not shy on her Instagram account. Just saying.
Rusev was angry as he stood in the ring. Randy Orton and Baron Corbin were laughing at ringside. Rusev left the ring and he tackled Corbin at ringside. Rusev punched Orton repeatedly. Rusev sent Corbin into the steel steps and hit a fallaway slam on Orton that sent him into the barricade. The fans chanted "Rusev" as Rusev hit Orton and Corbin with the steel steps. Corbin bumped over the barricade and went into the crowd after the steel steps him. Rusev grabbed Orton, asked "are you laughing at me?" repeatedly and whipped Orton into the ring post. Rusev hit a running Machka Kick on Corbin to knock him down. Rusev with a running Machka Kick on Orton to knock him over the barricade. Rusev left looking dominant.
Analysis: That was a good ass-kicking from Rusev to show that he was pissed off about what his wife and Lashley were doing to him. It's rare to see a guy beat up two others like that, but it was the right booking. The crowd was strongly behind Rusev because they sympathized with him. I thought Rusev did a great job while Corbin and Orton deserve praise for bumping to make Rusev look strong here.
The Raw announce team of Vic Joseph, Dio Maddin and Jerry "The King" Lawler were shown on camera talking about what's to come on the show.
The first match up next is Natalya vs. Lacey Evans in a Last Woman Standing match.
(Commercial)
A quick commercial aired for NXT on Wednesday where they mentioned that Finn Balor is on NXT now.
Lacey Evans was at ringside. They showed a clip of Natalya beating Evans on the Hell in a Cell Kickoff Show. Post match, Natalya decked Evans with a Woman's Right punch.
Evans said they are at the end of the road and now the trash is ready for removal. There was a trash can with Natalya's name on it. Evans said that they are going to have a Last Lady Standing match where she's the last lady standing and Natalya will be taken out like the trash that she is. Natalya made her entrance.
Last Woman Standing Match: Lacey Evans vs. Natalya
Natalya was very aggressive early with the announcers noting they were 2-2 in their matches. Natalya hit a back body drop on the floor followed by a snap suplex on the floor. Back in the ring, Natalya hit her with a spinning clothesline. Natalya slapped on the Sharpshooter and it was noted by the announcers that it didn't matter if Evans tapped out. Evans got to the ropes, which meant nothing and Natalya held onto the hold. Evans came back with a knee to the ribs. Evans did a head whip that sent Natalya into the mat. Natalya with another suplex. Natalya charged, Evans was on the floor and Evans swung Natalya into the barricade. The referee counted Natalya down for a count of 8. When Natalya got up, Evans kicked her down. Evans grabbed a table from under the ring, but then she changed her mind and put it back under the ring. Evans whipped Natalya shoulder first into the steel steps.
(Commercial)
The match returned with Evans still in control as she worked over Natalya with a kendo stick shot to the body. Natalya got up at 9, so Evans whipped her into the ring post. Natalya pulled herself up using the side of the ring at the count of 9. Evans put Natalya in the chair, put a kendo stick in the chair to trap her there and Evans kicked Natalya over in the chair, so Evans hit her with the kendo stick in the back again. Natalya came back with a monkey flip where she also got a hold of the kendo stick and Natalya hit Evans in the back with the stick. Evans hit Natalya with the stick again leading to Natalya getting up at the 9 count. Evans brought in a second kendo stick, Natalya left the ring again and Evans hit a neckbreaker on the floor. Evans grabbed a trash can and hit Natalya with the can. Evans went to the barricade, Natalya stood in position and Evans knocked her down with a moonsault although it barely connected. Natalya got up at the count of 9 again. Evans brought Natalya to the ramp and gave her a suplex on the ramp. Evans whipped Natalya into the side of the stage and Natalya went rolling down it because it looks like a skateboard ramp. They went over to the announce table, Evans cleared off the table and Natalya was up at 9 again. Evans gave Natalya a suplex on the table and once again, Natalya was up at 9 again. Evans whipped Natalya into the stage setup leading to Natalya sliding down again. Natalya came back with a suplex on the ramp. Natalya picked up Evans and gave her a Powerbomb off the stage onto a conveniently placed table that was right there. The referee counted Evans down for a ten count and Natalya ended up winning the match after 17 minutes.
Winner: Natalya
Analysis: ***1/4 The match was pretty good with Evans dominating most of it and then Natalya making the big comeback for the win. It dragged a bit because it's not that exciting watching a bunch of 8 or 9 counts where you know the match is going to keep going. I thought Evans would win since she's still new on the main roster while Natalya is the more established wrestler, but they opted to go with Natalya winning. It's fine because the rivalry is probably done and they can both on. I just figured the whole point of this story was for Evans to be elevated by winning the feud. Natalya worked her ass off and did great. Evans was okay, but if Natalya was in this match with one of the better women's wrestlers then this could have been a lot better.
Post match, Natalya stood on the announce table and raised her arms as the winner of the match. Evans was still down on the broken table.
There was a shot of Tyson Fury backstage with his five kids and his wife backstage. That's a big family.
A commercial aired for the WWE Draft starting this Friday on Smackdown and continues next Monday on Raw.
(Commercial)
There was a plug for WWE's work in raising breast cancer awareness with the Susan G. Komen company. They do this every year.
Aleister Black was shown in a room in a suit talking about how he requires a battle. Black said that underneath his calm demeanor, that is not who he is. Black said that he is unforgiving as fire and as cold and as permanent as death. Black said he is forever restless. Black said he wanted somebody to come find him on this WWE Showcase, knock on his door and pick a fight with him.
Analysis: They completely forgot Black for a few months and now he's back. They haven't used Black very well since he's been exclusive on the main roster.
The Street Profits did one of their hyped up promos talking about how there is going to be the WWE Draft. They did a scouting report saying Apollo Crews is a blue chipper and they said Buddy Murphy was WWE's best kept secret. Angelo Dawkins said Drake Maverick is like WWE's Steve Carrell that is a 40-year-old virgin. Montez Ford said he just hasn't consummated the marriage. They talked about Tyson Fury is there on Raw and Ford told "Kerwin" to air the B-roll.
They showed a replay of what happened on Smackdown when Braun Strowman and Tyson Fury teased a fight. There were images shown of media coverage of Fury's interaction with Strowman.
Tyson Fury was interviewed by Charly Caruso. Fury said he wasn't picking a fight, he was just watching the matches and he wanted an apology. Fury said if he doesn't get an apology then Strowman is going to get some of these hands.
The Viking Raiders made their entrance.
(Commercial)
The Raw Tag Team Champions Dolph Ziggler and Robert Roode finished their entrance.
Robert Roode and Dolph Ziggler vs. The Viking Raiders (Erik and Ivar)
This is not for the Raw Tag Team Championships. Ziggler grounded Rowe with a headlock. Rowe picked up Ziggler and slammed him down. Ivar tagged in, body slam on Ziggler and Erick slammed Ivar onto Ziggler. Roode tried to take down the big man Ivar, but that didn't work, so Roode did a chop block and kicks to the legs of Ivar. Roode ran the ropes, Ivar with a running shoulder tackle and Erik tagged in. Erik with a jumping knee on Roode and Erik slammed Ivar into Roode against the turnbuckle. Ziggler grabbed Roode out of the ring. Erik sent Roode back into the ring and slapped on an armbar. The crowd was quiet for this match. Erik with a knee to the jaw of Roode. Erik with an overhead suplex on Roode and a clothesline that sent Roode out of the ring. Ziggler tried to beg off and say no more. The match went to a break there.
(Commercial)
The match returned with the heels finally taking over after a Ziggler distraction and Roode sent Erik into the barricade. Ziggler hit a DDT on Erik on the floor and sent Erik back in the ring for Roode getting a two count. Ziggler with a neckbreaker on Erik got a two count. Roode went back in with a suplex followed by a chinlock. Ziggler and Roode whipped Erik into the corner, Erik avoided a charge, Ziggler hit the ring post (with his hand) and Erik knocked Roode down. The big man Ivar got the hot tag with a back body drop on Ziggler, sidewalk slam on Roode, cross body block on Roode, jumping attack on Ziggler and a cartwheel into a clothesline by Ivar on Roode. The crowd came alive a bit now and Ziggler hit a Fameasser on Ivar for a two count. Ivar with a spin kick on Ziggler. Erik tagged in and Ivar hit a clothesline into a German Suplex by Erik for a two count because Roode broke up the pin. Erik dumped Roode out of the ring. Erik attacked with a double knees attack, Ziggler moved and Ziggler got a cradle for two. Roode picked up Erik and they hit a spinebuster/Zig Zag combo for a two count. Ziggler knocked Ivar off the apron to knock him down. Roode did his "Glorious" pose, Erik avoided the DDT, forearm to the face, Ziggler tagged in, Ivar tagged in and Erik tossed Ziggler to Ivar and Ivar hit the Viking Experience powerslam on Ziggler for the pinfall win after 17 minutes.
Winners by pinfall: The Viking Raiders (Erik and Ivar)
Analysis: *** It was a long match where the champions lost non-title, which is something we see far too often to build up contenders for titles. The work in the match was fine because they all know what they are doing out there, but it went for too long. Shave off five minutes and it would have been a hotter match. The crowd was dead for a lot of it until Ivar got the hot tag and the Viking Raiders hit their double team moves.
Aleister Black was shown backstage in his room without his shirt on and he had his fists taped. Black said he's seen how this goes down, so he's going to go down to the ring to see who wants to pick a fight with him.
Analysis: It took him three months to realize people don't knock on the door. WWE really has to book their babyfaces in a smarter way lol.
A commercial aired for WWE Crown Jewel on October 31 on WWE Network.
(Commercial)
The Singh Brothers duo of Samir and Sunil Singh were in the ring doing their Bollywood movie star gimmick. They said that they are going to show us why they should be the top picks in the WWE Draft. They said they wanted to pick a fight with Aleister Black.
Aleister Black made his entrance, which is one of the coolest entrances in all of WWE as he rises to the stage and it's a cool theme song as well.
Aleister Black vs. Samir and Sunil Singh
Samir ran at Black and Black kicked him in the head to knock him out of the ring. Black with a kick to Sunil followed by a jumping knee strike. Samir went back in the ring with a forearm to the back and Black hit a Black Mass kick on Samir. Black with an elbow smash on Sunil and then a submission move where he hooked Sunil in a choke for the submission win. It went just over one minute.
Winner by submission: Aleister Black
Analysis: 1/2* A quick win to showcase Black, who hasn't done much on the main roster yet. Black has a bright future if WWE remembers to use him properly.
A video package aired about the Friday Night Smackdown premiere on Fox from last week.
There was a shot of Braun Strowman talking to a random guy backstage with Strowman up next.
(Commercial)
Braun Strowman was interviewed by Charly Caruso backstage. Strowman said he was just trying to have fun at Smackdown, but if Fury wants to get all serious then so will Strowman. Strowman said if Fury asks nice, he might get the apology, but if he doesn't he might "get these hands" and he left. They showed a clip of Strowman knocking out AJ Styles with a punch at Hell in a Cell on Sunday.
Analysis: They are doing a good job of building up to the Strowman/Fury showdown later in the show.
There was a video package of Brock Lesnar's performance last week when he beat up Rey Mysterio and Dominick on Raw followed by Lesnar beating Kofi Kingston for the WWE Title in about ten seconds on Smackdown. After the match, former UFC Champion Cain Velasquez got into the ring with Lesnar, Velasquez tripped up Lesnar, punched him while Lesnar covered up and Lesnar left.
Rey Mysterio was interviewed by Charly Caruso with Rey having his left arm in a sling to sell the attack from last week. Rey thanked superstars and the WWE Universe for the support shown for him and his son Dominick. Rey said that in a way, he's never been more proud because Dominick took a beating like a man and he said his physical scars will heal soon, but the emotional scars will take longer. Mysterio said when men and women become parents, they vow to love and protect their children. Mysterio said he was beaten so badly he had to watch Lesnar maul his son and he truly felt helpless. Mysterio said he felt like he let his son down, but also his family. Mysterio said he's sitting at Dominick's bedside at the hospital, then who walks in, his Godfather, the former UFC Heavyweight Champion (that won the title from Lesnar in 2010) and a man that can brag that Lesnar fears him, Cain Velasquez. Mysterio said if there is somebody that's going to avenge what happened to his family it's Cain Velasquez. Rey left.
Analysis: Great promo from Rey. He showed the right kind of emotion and also the babyface heart that makes him so liked by the fans. The part about Cain being Dominick's Godfather is likely just a storyline because Cain would have been about 15 years old when Dominick was born. Anyway, it was a good promo from Mysterio talking about his family and why he believes Velasquez can beat Lesnar.
The OC trio of AJ Styles, Luke Gallows and Karl Anderson entered for a match.
(Commercial)
There was a video featuring the AOP tag team of Akam and Rezar doing a promo in a room while wearing suits. They talked trash in foreign languages about other WWE tag teams like they have done in previous weeks. They could speak in English perfectly, but if you don't speak English that means you are meaner…I guess.
The OC (AJ Styles, Luke Gallows and Karl Anderson) vs. Lucha House Party (Kalisto, Lince Dorado and Gran Metalik)
Kalisto worked over Styles with a dropkick that sent him to the turnbuckle. Anderson faced off with Dorado with Dorado grabbing an armbar. They did a spot where Metalik did a splash on Anderson after jumping off the shoulders. Gallows took over with a punch on Metalik, Anderson with a body slam and an elbow to the face. Metalik hit a springboard hurricanrana on Styles, a hurricanrana on Anderson and they sent Gallows out of the ring. All three LHP guys went up top and hit moonsaults onto the three OC guys on the floor. Good spot.
(Commercial)
The match returned with Anderson hitting a spinebuster on Dorado. There was a cross body block from Dorado on Anderson. Styles tagged back in, Dorado avoided him and Kalisto got the hot tag with a hurricanrana on Styles. Jumping kick by Kalisto on Styles and a spike hurricanrana for two. Metalik with a dropkick on Anderson. Gallows ran over Metalik with a shoulder tackle. Kalisto sent Gallows out of the ring, Styles with a Pele Kick on Kalisto and a forearm to Dorado. Styles hit a springboard Phenomenal Forearm on Kalisto for the pinfall win after about nine minutes.
Winners by pinfall: The OC (AJ Styles, Luke Gallows and Karl Anderson)
Analysis: **1/2 It was fine for a tag team match to put over The OC, who seem to lose more than they win recently. I think it was just a way to get The OC a victory. The best part of the match was the triple moonsault by the LHP guys.
After the match, Gallows and Anderson sent Metalik back into the ring, which led to a Magic Killer double team move on Metalik. Styles also hit a middle rope Styles Clash on Dorado.
There were images shown from Hell in a Cell where Becky Lynch beat Sasha Banks to retain the Raw Women's Title. Lawler said this match stole the show and I agree because it was the best match of the night.
Miz TV with Becky Lynch and Charlotte Flair is next.
(Commercial)
A video package was shown featuring women of WWE talking about how they have joined the fight to save lines for breast cancer awareness.
Miz TV with Becky Lynch and Charlotte Flair
The Miz made his entrance in a suit to host Miz TV. Lawler bullshitted that Miz could be the number one draft choice. Vintage Lawler. Miz has barely done anything as a babyface this year. He is poorly booked, but at least he can talk.
The Miz said last week was premiere week and it was huge for WWE. Miz said celebrities showed up like The Rock, Cain Velasquez and Tyson Fury. For now, he wants to introduce Becky Lynch and that led to the Raw Women's Champion making her entrance. I like the smoke they have added to her entrance to make it stand out a bit more. There were "Becky" chants so she said "Hello Bakersfield" and the fans cheered because fans are easy to please like that.
Charlotte Flair was up next in a blue robe that matches her blue Smackdown Women's Title. Flair and Lynch sat in chairs in the ring holding their titles while Miz was in the middle of them.
Miz recapped the things that Becky has done this year. Is being on the cover of ESPN The Magazine a big deal? People don't buy that magazine. It's why it barely exists. Anyway, Lynch is even on the cover of Golden Crisps cereal. Lynch said accomplishments, making history and cereal are great. Lynch said she was beat up by Sasha Banks, but if Banks was there right now then Lynch would remind Banks that Lynch kicked her ass.
Miz reminded us Flair is a 10-time Women's Champion and Flair said it's good to the be The Queen. Miz talked about how the draft can change careers, they can end up on either brand or same brand. Miz said they are two of the most dominant women and Flair said you could just say dominant. Miz mentioned they are facing the Kabuki Warriors on Raw.
Lynch said that as beat up as she is, she noted she lost to Asuka the last time they had a match (at Royal Rumble). Flair said she's always the consummate professional. Lynch commented on Flair looking proud of herself with the belt that Lynch made famous. Flair: "And I made you famous." Both statements are true to some degree at least from the character's perspective.
Flair and Lynch stood up. Flair said that Lynch may have been Becky Two Belts once, but Flair has been The Woman ten times. Lynch said her reigns may be plentiful, but Lynch's are meaningful. Flair said that ten times are still ten times.
Asuka and Kairi Sane made their entrance with the Women's Tag Team Titles that they won at Hell in a Cell. Asuka did a promo in Japanese. Sane spoke, then the fans chanted "WHAT" at them. Lynch said let's do this right here, right now. Asuka and Sane went into the ring leading to the four women starting out brawling. Flair and Lynch cleared the ring, which led to a break to set up the match.
Analysis: The promos were okay with Lynch and Flair doing the thing where they are always trying to one-up the other person by bragging about their accomplishments. Lynch referencing Asuka beating her at Royal Rumble was a nice nod to history, but it's not like WWE capitalized on that because Asuka has been out of the title picture most of the year. Flair is a face now, but she's not sucking up to the fans yet. If this was Smackdown they likely wouldn't have had the promo segment and would have just gone to the match. As for the Kabuki Warriors, I guess speaking in Japanese makes them more like heels, but it's not really clear right now. Since it's Raw, they have time to kill.
(Commercial)
Becky Lynch and Charlotte Flair vs. Kabuki Warriors (Asuka and Kairi Sane)
This is not for the Women's Tag Team Titles.
Asuka and Lynch battled with strikes, Sane with a distraction and Asuka kicked Lynch off the apron. Asuka with a bulldog leading to Sane hitting a running dropkick. Sane with a boot to the face of Lynch, Sane missed an attack out of the corner and Lynch hit a jumping kick on Sane. Flair tagged in against Asuka with Flair hitting a shoulder tackle, clothesline and hard chops to the chest by Flair. There was a belly to back suplex by Flair and a kip-up leading to cheers. Flair with a backbreaker and the Natural Selection neckbreaker led to Asuka rolling out of the ring. The announcers didn't call the Natural Selection even though it is one of Flair's big moves. Flair hit a moonsault off the top onto Asuka and Sane on the floor where Flair knocked them down with her arms. Flair with an overhead suplex on Sane. Flair went over the top to attack Asuka, but Asuka kicked her in the ribs leading to a break.
(Commercial)
The match returned with Flair still as the face in peril. Sane tried to do a cross body block, but Flair caught her and Flair hit an overhead suplex. Lynch tagged in against Sane with kicks followed by a forearm to the chest. Lynch hit a Bexploder Suplex on Asuka followed by a missile dropkick on Asuka. Sane stopped Lynch with a spinning fist. The announcers kept talking about the aggressiveness of Asuka and Sane to try to tell the fans they are heels now even though there wasn't even a turn. Lynch slammed Sane off the ropes and hit a leg drop off the middle ropes for a two count because Asuka kicked Lynch in the head. Flair kicked Asuka in the head to knock her down. Sane with a rollup on Lynch for two, the referee made Flair go back to her corner and Lynch slapped on the Disarmher on Sane. Asuka went back in the ring and sprayed the DREADED GREEN MIST~! into the eyes of Lynch with the ref checking on Flair, so he didn't see it. That led to Sane doing the ROLLUP OF DEATH~! that of course was successful as Sane pinned Lynch for the pinfall win after ten minutes.
Winners by pinfall: Kabuki Warriors (Asuka and Kairi Sane)
Analysis: **3/4 The match was okay with the champs finding a way to win through evil means and the green mist. I thought the finish was weak. I would have rather seen Sane hit her Insane Elbow finisher instead of doing the lame rollup that we see way too often. It's nice to see the Kabuki Warriors on winning a non-title match, which is rare for any champion in WWE. Also, since they are trying to tell us Asuka is a heel now, I'd love to see her have a proper feud with Lynch on whatever show they are on. Lynch getting pinned is rare in 2019. It wasn't clean, of course.
After the match, Flair tried to attack Sane and Asuka with punches, but it didn't work. Sane grabbed Flair's legs and Asuka kicked Flair. Alexa Bliss and Nikki Cross ran out to attack the Kabuki Warriors. Cross hit a forearm on Asuka to knock her out of the ring and Bliss hit a DDT on Sane. Bliss and Cross celebrated.
Analysis: There have been changes in the women's division with Charlotte Flair as a face now with Asuka and Sane as heels. Alexa Bliss is also firmly in the face role after about three years of being a heel. It's taking some getting used to, but hopefully it works out for all of them.
They showed images of boxer Tyson Fury and media stories about him being controversial. He is still to come on Raw.
There was a video package about Roman Reigns with the story from last October when he announced that leukemia (a form of cancer) was back. They showed clips of kids that have battled cancer and Reigns spoke about a girl that sent him a message that really lifted his spirits. Good video. Roman's a great dude. Glad he's doing well.
(Commercial)
They showed some fans at ringside that got a seat upgrade. Did WWE apologize that they didn't put on a better show? They should.
There was a replay of Bobby Lashley and Lana in bed as Rusev watched on from inside the ring. That led to an angry Rusev beating up Randy Orton and Baron Corbin after Rusev saw them laughing at him.
Apollo Crews was interviewed by Charly Caruso. Crews said that he goes way back with Ricochet and it's an honor to be in the ring with somebody he honors and respects. Crews talked about how he's been motivated and hungry for so long. Crews said that it's nothing personal with Ricochet, but this is his showcase.
There was a promo from the Viking Raiders in a room with a red light. They said that next week they raid and become the new Raw Tag Team Champions. That was followed by some grunting.
Ricochet was interviewed by Sarah Schreiber from the Gorilla Position behind the curtain. Ricochet said that if his name gets called to join Smackdown then this will be his last match on Raw. He said there's nobody that he would rather share the ring with than one of his legit best friend Crews. He agrees that it's not personal, but regardless of what happens tonight, this is about the draft and a fresh start. Ricochet said he's out to prove that superheroes can be real.
Analysis: The lines by Ricochet and Crews about being close friends is true. I believe they were roommates for a while. Crews is married with kids now, but they were very close as they were coming up in the business.
Ricochet made his entrance.
(Commercial)
They plugged an encore presentation of Total Divas on USA Network after Raw. The premiere last week on E Network did very poor numbers, so I guess WWE was trying to get it more exposure.
Ricochet vs. Apollo Crews
Ricochet with an arm drag followed by a spot where they showed off their athleticism and neither guy had the advantage leading to a handshake. Crews hit a shoulder tackle to Ricochet to send him out of the ring. They avoided attacks outside the ring and Crews hit a dropkick for two. Crews hit a delayed suplex. Ricochet with an arm drag, he sent Crews into the turnbuckle and a kick to the head was followed by a top rope clothesline. Ricochet hit a standing Shooting Star Press for a two count. Crews came back with an enziguri kick followed by a standing moonsault for two. Ricochet with a sunset flip into the Recoil (Codebreaker) for the pinfall win after about four minutes.
Winner by pinfall: Ricochet
Analysis: **1/4 It was pretty good for the time given. They showed off their athleticism and had an entertaining short match. The announcers did not name the finishing move that Ricochet used even though he has used it before. It's important to say the names of finishers so the fans know. They need to make sure they do that.
A video package aired about the Seth Rollins/The Fiend Hell in a Cell match from Sunday. This was not a good match because of the stupid red light, the story of the match and the fans reacted to it poorly with boos as well chants for things like "refunds" and "AEW" as well. The match ended in a No Contest, which was a terrible decision that only pissed off the fans more. After the match was over, The Fiend attacked Rollins again with the Mandible Claw and Rollins was bleeding from the mouth to sell it.
Analysis: It took WWE 2 hours and 40 minutes into Raw to show this video package. You would think it would be on earlier in the night, but they waited until later in the night. They also wisely kept Rollins and Wyatt/Fiend off the show because Rollins was booed loudly at Hell in a Cell (it was not shown in the video package), so if they had Rollins out there doing a promo, maybe he would get booed again. Wyatt/Fiend did appear in a segment after the show was over when he gave Cesaro the Mandible Claw. Anyway, it's possible WWE may continue the Rollins/Wyatt story and if they do, hopefully the crowd responds better than they did at Hell in a Cell.
They showed boxer Tyson Fury walking backstage and he shook hands with wrestlers like The Miz, Cedric Alexander, Curt Hawkins and Zack Ryder as Fury walked towards the ring.
(Commercial)
It was announced that Dolph Ziggler and Robert Roode will defend the Raw Tag Team Titles against the Viking Raiders.
Analysis: What happens if any of those guys get drafted to Smackdown on Friday? I mean if the Viking Raiders go to Smackdown and then win the Raw Tag Team Titles then what happens then? WWE did not make that clear. I assume all of these guys are staying on Raw, but that's not known right now.
Confrontation Between Tyson Fury and Braun Strowman
Jerry Lawler was in the ring to introduce the 6'9" undefeated Lineal Heavyweight Boxing Champion of the World, the "Gypsy King" Tyson Fury. That led to Fury making his entrance in a shirt, shorts and hat. There was not much of a reaction for him. Security surrounded the ring. There were about nine minutes left in the show.
Fury gave a shoutout to Bakersfield to draw a pop from the crowd. Fury said that he was minding his own business and Braun made him look like a fool, so he's here to demand an apology.
Braun Strowman made his entrance to a pretty good pop from the crowd. Strowman entered the ring as fans chanted "Get These Hands" for him.
Strowman told Fury he was messing around and trying to have some fun with him on Smackdown. That is until he saw the way Fury looked at Strowman like he wanted a piece of him and that's why Strowman gave him a present like when he threw Ziggler into the barricade. Strowman said when security was taking Fury away, Strowman wanted them to let him go because the last thing Fury wants is to get in his ring. Strowman told Fury he has no idea what Strowman is capable of. Strowman claimed he would "literally" eat him for lunch.
Fury told Strowman it's a good thing that security did its job because Fury would have gone in this ring and knocked Strowman out. Lawler left at this point.
Strowman told Fury he was mistaken because Fury would be laying on his back staring up at the lights and not for a slow-ass ten count like the last time he fought Wilder. Fury told Strowman he's the Heavyweight Champion of the World and asked Strowman how many titles has he won.
Analysis: There were some nice lines from Strowman there. Fury's last line was good in terms of trash talk since Strowman has not won a major title in WWE yet.
They went to face to face in the ring. Fury might be an inch or two taller, but they are pretty close to being the same size. Fury shoved Strowman into the ropes, so Strowman picked him up and safely put him against the turnbuckle. That was the cue for about 20 security guys to go in the ring to try to break it up.
Strowman and Fury were pulled apart in the ring as the fans chanted "let them fight" for them. Fury broke free and they threw some weak looking punches because the security guys prevented them from getting free. Fury threw some obvious worked punches that barely connected or didn't connect at all. Strowman punched his security guys down too. Strowman and Fury went at it against the turnbuckle. The WWE locker room ran out there with most of the guys in their ring gear and they tried to break it up. Strowman broke free and went after Fury again, but they were separated. Fury broke free briefly for an attack and then Strowman broke free again for another attack on Fury.
Strowman was frustrated by being separated, so he left first and went up the ramp. Fury was in the ring with the WWE guys including D-Von Dudley, who is a Producer in WWE now.
Strowman was backstage in the Gorilla Position with Charly Caruso for an interview with less than one minute left in the show. Strowman said that Fury is a "tough son of a bitch" but he's going to get these damn hands before it's over and done with. Caruso asked if Strowman is going to give him an apology. Strowman said of course not. Strowman said that Fury was disrespecting him and his business of WWE. Strowman ran back down to ringside and he went after Fury again as Raw ended right at the end of that third hour.
Analysis: The pull-apart "brawl" took about five minutes to end the show. It was the kind of thing we have seen many times in wrestling and it's not like this was one of the better ones I've ever seen, but the crowd was into it enough, so that's fine. Fury's worked punches looked awful. He has to work on that. The plan is to do Strowman vs. Fury at Crown Jewel on October 31, so this was all done to set up that match. It's not official yet, but that's where it is going.
Also, whoever told Strowman to say he will "literally" eat another man probably should have picked another word like "figuratively" or something else. Just saying.
Three Stars of the Show
1. Rusev
2. Braun Strowman
3. Natalya
Nobody really stood out this week.
The Scoreboard
5.5 out of 10
Last week: 6
2019 Average: 5.84 (Smackdown is 6.74)
Last 5 Weeks: 6, 7, 7, 8, 6
2019 High: 8 (September 9)
2019 Low: 3.5 (May 27)
Final Thoughts
This week's Raw gets a 5.5 out of 10.
This Raw was an example of what you do when you know the PPV the night before disappointed your fans, so you put on a basic show the next night. The fact that they didn't mention the Hell in a Cell main event until deep into hour three was very telling. They know the fans hated it, so they barely mentioned it. No sign of Rollins or Wyatt either (although Wyatt was on the post-Raw segment to please the fans in attendance). The only storyline they really pushed hard was the Strowman/Fury angle. I can't imagine somebody sitting at home watching this show and thinking it was very interesting because it was just average stuff all night long.
I feel like they were in a holding pattern creatively due to the WWE Draft beginning on Friday. The announcers talked about draft ramifications all night long and plugged it a lot, but we still don't know a lot of details about it. I could ask so many questions about it, but WWE doesn't provide these answers. They just refuse to give out more info. The announcers tried to tell us that USA and Fox network executives wanted certain things, but the format is not clear.
It wasn't a bad show in terms of the action. It just had some boring parts and it was uneventful. If you missed it, there was nothing that I'd consider "must-see" on Raw this week.
That 5.5 out of 10 is my lowest score since a 5 on July 22, so Raw has been better for nearly three months now.
The next WWE PPV is Crown Jewel on October 31. Here's the official lineup so far.
Team Hogan (Seth Rollins, Rusev and three more) vs. Team Flair (Randy Orton, Baron Corbin and three more)
—
You can contact me using any of the methods below. Go Los Angeles Rams.
Thanks for reading.
John Canton
Email: mrjohncanton@gmail.com
Twitter: @johnreport