The John Report: The WWE Raw Deal 02/17/20 Review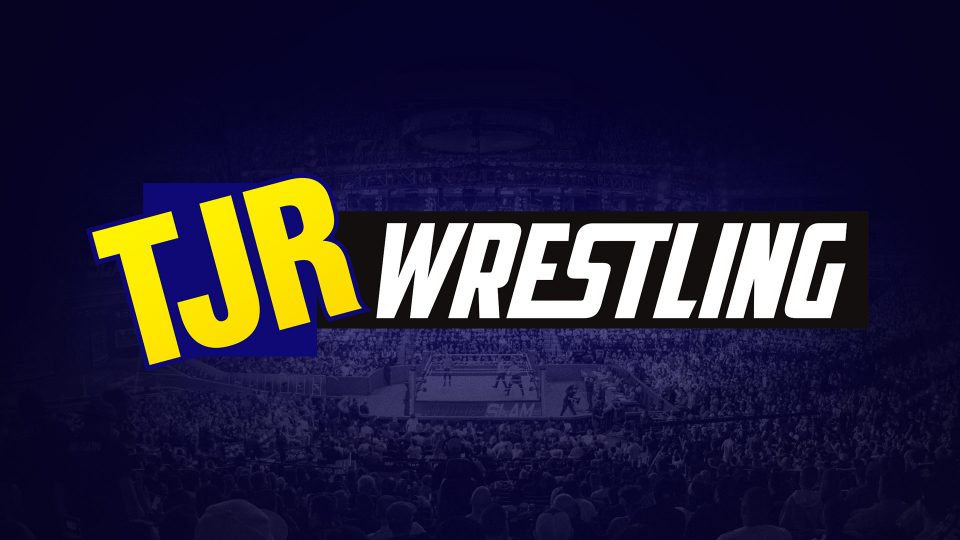 Welcome to another WWE Raw Deal review right here on TJRWrestling. I think Raw has been better of late and last week's show was my highest graded Raw of the year. This week's Raw is advertising Randy Orton vs. Matt Hardy in a No Holds Barred Match, Aleister Black vs. Erick Rowan and a tag match with Rusev teaming up with Humberto Carrillo against Bobby Lashley and Angel Garza.
There was a WWE NXT Takeover in Portland on Sunday night and it was an awesome show as usual for a Takeover event. Check out my review of NXT Takeover Portland right here in case you missed it. There was a Raw tie-in there since Charlotte Flair attacked Rhea Ripley after her victory and challenged Ripley to a match at WrestleMania. There may be some more twists along the way too.
Live from Everett, Washington, this is the Raw Deal for episode #1395 of Monday Night Raw. Follow me on Twitter @johnreport. Please visit TJRWrestling.net daily for our regular updates on the wrestling business featuring WWE news coverage, insightful columns from our team along with reviews about wrestling's past and present. Thanks to Melo Man for the banner up top. Let's roll.
The Raw intro video started off the show. That was followed by fireworks in the arena. The graphic simply said "Washington" instead of Everett, Washington since that's not a big city although WWE likes the arena there.
Let's Hear from Randy Orton
Randy Orton made his entrance in his wrestling gear. The announce team of Tom Phillips, Jerry Lawler and Byron Saxton were shown on camera welcoming us to the show. The announcers plugged what's coming up this week. Orton's walk to the ring was very slow. He pointed up at the video screen.
They showed a replay of last week's Raw when Matt Hardy asked Randy Orton why he brutally attacked Edge three weeks ago. Matt wondered why Orton did what he did, so Orton beat him and gave him the Conchairto leading to Matt getting taken. We thought that was the last we would see of Matt in WWE, but he's back for a match this week.
Orton said that he's supposed to face Matt this week, but after what happened last week, that match is not going to happen. The fans booed that as Orton said that Matt is trying to get cleared by WWE's doctors. Orton said that the Hardys are known for going to the highest of highs and crashing to the lowest of lows and…here's Matt Hardy.
Matt Hardy showed up on the stage with a neckbrace on while he was wearing street clothes. Hardy wondered "what in the hell is wrong with you, Randy Orton?" Hardy said that Orton didn't like that when he asked him last week, so that's why Randy wanted to make Matt feel the same way Edge felt. Matt said that Randy wanted to take Matt's passion away from him and Matt said he is not ready for that, so he came here tonight to fight Randy. By this point, Matt was just outside the ring. Hardy said that the WWE doctors won't clear him to compete in a match tonight, but Matt is a man of his word and he's here. Hardy said that much like Edge, he has grit, he won't quit and Matt Hardy will not die. Hardy said that they will always get back up while adding he doesn't know what the future holds for Matt Hardy, but it won't be determined on Randy's terms, it will be determined on Matt's terms.
Orton said Matt should have said goodbye last week when he could leave the arena on his own two feet. That led to Hardy slowly walking into the ring with Orton.
Orton asked Matt what's he going to do if Orton decided to RKO him right now? Orton said Matt has balls, but you will never understand why Orton did what he did. Orton said he respects everything that Matt has done, he always has and always will. Orton said not only does he respect Edge, but he loves him like a brother. Orton said he is sorry, he is truly sorry and Orton left the ring.
Orton reached the top of the ramp, he took off his vest and slowly walked down to the ring. Matt Hardy grabbed a steel chair from ringside and he was waiting for Orton in the ring. Matt swung the chair, Orton ducked it, Matt hit the top rope with the chair and Orton drove Matt's neck into the top rope. Matt turned around right into an RKO by Orton. Some fans chanted "one more time" as Orton grabbed a chair and hit Matt repeatedly in the back. Orton jabbed the chair into Matt's ribs about five times. Orton with a chair shot to Hardy's back.
Orton grabbed a second chair and by this point, two referees were down at ringside although nobody was trying to stop Orton. Randy took the neck brace off Matt's neck, he put another chair under his head and Orton was about to do another Conchairto to Matt's head. Orton stopped himself before he could swing the chair as the fans were screaming with some of them wanting him to do it and others not wanting to see it. Orton threw the second chair out of the ring and Orton was about to walk to the back until he changed his mind.
Orton grabbed Matt and pulled him out of the ring. Orton placed Matt's head against the bottom of the steel steps. This has been going on for several minutes with only two referees at ringside, who were doing nothing to try to stop it. Orton laughed like a maniac. Orton grabbed the steel chair and gave Matt the Conchairto with Matt's head against the steel steps (a Conchairto is a chair into another chair, this is a chair into the steps so it's a similar idea). They got some reaction shots of fans freaking out about it while other fans chanted "one more time" for it. Orton sat on the chair at ringside.
Orton left with the chair, but once again Orton went back down to the ringside area. Orton used the steel chair to give Matt another Conchairto against the steel steps. Orton yelled "I'm sorry" as some EMTs were finally at ringside. Orton left as they went to break 21 minutes into the show.
Analysis: This was very well done as a segment to get heat. There were a lot of boos as well as fans being shocked by what Orton was doing, but also some fans chanting "one more time" as well. If you want to pick a hole in the logic you can because nobody tried to help Matt Hardy for about ten minutes of that. There were just two referees at ringside that did nothing and nobody on the roster tried to help Matt. No security. You would think they would have at least somebody try to help a GUY IN A FREAKIN' NECK BRACE, but that didn't happen. I'm just saying logically, you would think security or other wrestlers would care about Matt enough to try to help him. Instead, it looks bad with nobody helping Matt at all. I understand why there was no help because they want the angle to play out to put over how crazy Orton is now. It was very good in terms of getting Orton more over as a psycho heel.
(Commercial)
The announcers used SERIOUS VOICES~! to go over the replays of Orton's attack on Matt Hardy.
They showed video of Matt Hardy getting taken out on a stretcher. They got a replay of a kid nearly crying in the crowd. That's the kind of shot that is gold to WWE's bosses. Vince is probably celebrating at the sight of a crying kid: "We got him, pal!"
Erick Rowan made his entrance with his cage with a cloth on it. Aleister Black entered as the opponent.
Erick Rowan vs. Aleister Black
Black missed a moonsault on the floor, so Rowan hit him with a cross body block leading to a break. They went to break about 20 seconds into the match because of how long the previous segment was.
(Commercial)
The show returned with Rowan hitting a slam for a two count. Rowan pulled Black out of the ring, sent him into the barricade and sent Black legs first into the top of the barricade. Rowan tried an attack on the floor, but Black hit a headscissors move that sent Rowan into the ring post. Black went to the middle ropes and hit a moonsault onto Rowan on the floor with mostly Black's arm hitting Rowan to knock him down. Back in the ring, Black hit a rising knee to the face for a two count. That sounded good while Black slapped his ass to make a noise for it. They exchanged forearms, Rowan with a boot to the face and Rowan hit a Powerbomb for a two count. Rowan wanted the Iron Claw Slam, but Black slipped out of it and hit a Black Mass kick that staggered Rowan towards the ropes. Rowan was down to one knee, so Black hit another Black Mass kick for the pinfall win after eight minutes.
Winner by pinfall: Aleister Black
Analysis: **1/2 That was good for the time given although we only got to see about five minutes due to commercial. Rowan hit hard, got in some big moves and Black kept coming back for more. I like that Black hit the Black Mass to stun him and then he hit it again to win the match. It didn't hurt Black to have to do it twice since Rowan is a bigger guy and it looked like the first Black Mass would have beaten Rowan if he didn't land against the ropes. Black continues his winning ways and is one of the best booked wrestlers in all of WWE. Keep the winning streak alive. I would like to see Black vs. Orton as a feud at some point this year.
Charlotte Flair is up next.
(Commercial)
This week on NXT it's Velveteen Dream vs. Roderick Strong. That should be very good.
Let's Hear from Charlotte Flair
Charlotte Flair made her entrance in street clothes in a black skirt, heels and a yellow top. I try to be descriptive especially in this case since those are NXT colors. She looks pretty good as she got in the ring and pointed at the WrestleMania sign.
Charlotte went into the ring for a promo. She said she was in Portland at NXT Takeover Portland and cued up the video of what happened. Flair challenged Rhea Ripley to an NXT Women's Title match at WrestleMania and Flair left her laying. They did not show Flair whipping Bianca Belair into the steel steps.
Charlotte said that she went to NXT to see who was filling Rhea Ripley's head with the idea that she can go to Raw to challenge The Queen. Flair said she was impressed, she thought about NXT training in a warehouse, then she thought about the growth and she thought about her class that built the foundation that is now the third brand called NXT. Charlotte said that what bothers her is the entitlement that exists in people like Rhea Ripley since she didn't build NXT the way Charlotte did. Charlotte didn't like Ripley going on Charlotte's show and holding the title that Charlotte made famous. Charlotte said that she is going to humble Ripley at WrestleMania while adding everyone is the next big thing until they are not. Flair celebrated as the graphic was shown for WrestleMania. Flair pointed at the sign again.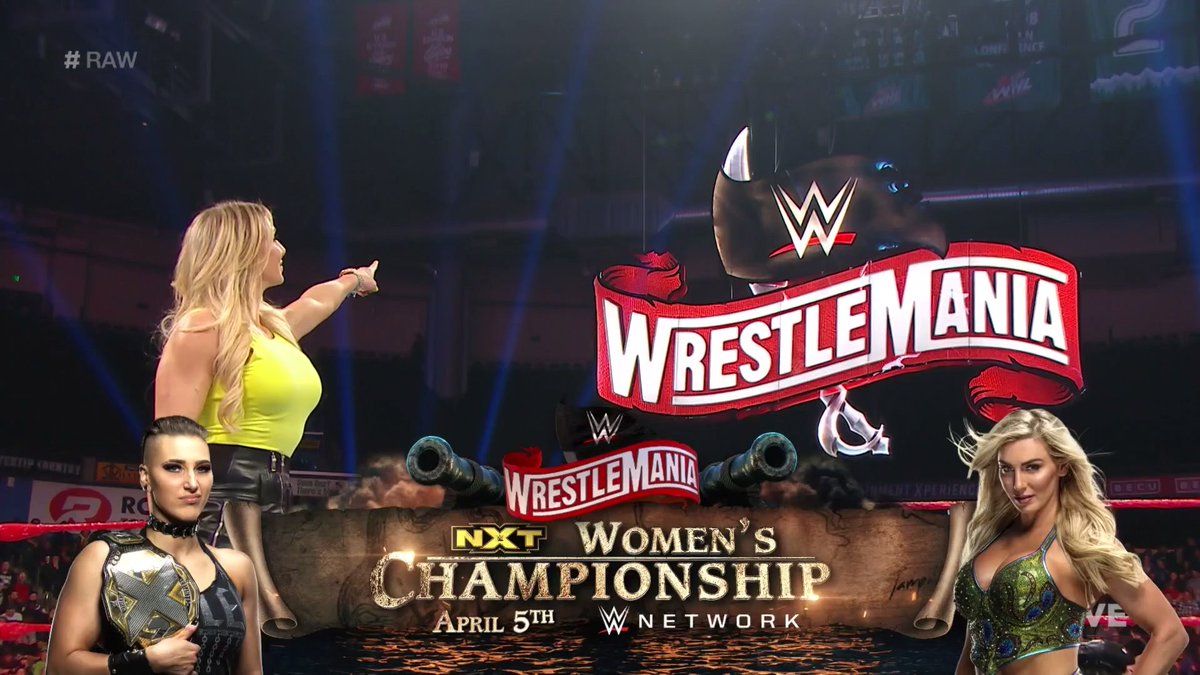 Analysis: This was okay. It was Flair trying to explain why she's going after NXT's title by saying she felt disrespected by Ripley getting in her face. What WWE is really doing is trying to elevate the NXT brand by having a top women's star like Flair willingly going after the NXT Women's Title at the biggest show of the year. It's a smart way to build up NXT some more.
(Commercial)
There was a plug for the Super Showdown event on February 27 and the Tuwaiq Trophy Gauntlet match with AJ Styles, R-Truth, Rusev, Andrade, Bobby Lashley and Rowan.
The show returned with the bell ringing for a triple threat match.
24/7 Championship: Riddick Moss vs. Mojo Rawley vs. R-Truth
Mojo hit a splash on Moss to start the match. Truth sent Mojo out of the ring. Moss slammed Truth for a two count as Mojo broke up the pin and Mojo whipped Moss into the barricade. Truth hit two shoulder tackles on Mojo, then a spinning slam like "his hero" John Cena and Truth hit a Five Knuckle Shuffle like Cena. Truth went for the AA, Mojo countered that and hit a slam off the shoulders. Moss went into the ring and hooked up Mojo in a pinfall for the victory after about two minutes.
Winner by pinfall: Riddick Moss
Analysis: 1/2* A quick match that felt rushed. This title doesn't mean much at all. Matches like that are not going to help. At least Truth doing Cena's moves was pretty funny to see.
After the match, Moss ran away. Mojo yelled at Truth about what happened, so Truth hit Mojo with a scissors kick and Truth left.
It's Drew McIntyre vs. MVP up next at the top of hour two.
Analysis: There were only about ten minutes of in-ring action in that first hour. They need more action.
(Commercial)
The women's Elimination Chamber was promoted next. It's on March 8 at the Elimination Chamber PPV with Natalya, Liv Morgan, Shayna Baszler, Asuka, Ruby Riott and Sarah Logan in the match. It was announced earlier on Monday and you can see more about it here. The winner of that match gets to face Raw Women's Champion Becky Lynch at WrestleMania.
Analysis: That should be a win for Shayna Baszler. If anybody else wins that match I would be very surprised.
Drew McIntyre made his entrance wearing a new t-shirt. They added a blue lighting effect to his entrance as he posed on the turnbuckle.
McIntyre did a pre-match promo saying that he can see everybody is fired up tonight because there are only 48 days left until WrestleMania. McIntyre said he could point at the sign, but Charlotte already did that. McIntyre told the crowd to point at the sign with Drew, so he counted them down and they all pointed at the sign. McIntyre said that these days Suplex City is located in Claymore Country as it says on his shirt. McIntyre said that at WrestleMania, they are demolishing Suplex City to the ground and he is leaving as WWE Champion.
Paul Heyman interrupted things with a promo on the stage while Heyman was wearing a suit. The fans booed before Heyman could do his full introduction, but then Paul was able to get through it. Heyman mentioned the WWE Champion Brock Lesnar, pointed at the entrance and then there was no sign of Lesnar, so the fans booed that. Heyman said he's sorry while pointing out that Lesnar was not there tonight. Heyman said that he wanted us to know what it sounds like after Lesnar defeats Ricochet at Super Showdown and after Lesnar F5s and pins McIntyre at WrestleMania – Heyman pointed at the sign.
McIntyre told Heyman you can say Brock's name over and over because Drew is going to beat Lesnar and take the WWE Championship from him. Heyman said he had profound respect for McIntyre while saying he did not come there to debate him. Heyman said that he is a huge admirer of Drew's talents while saying that this man is not an admirer of Drew's talents because he is his opponent tonight. Heyman presented MVP for this match.
Analysis: It was a solid promo exchange from McIntyre and Heyman with Drew continuing to show a lot of confidence.
MVP walked out to the ring saying that Heyman may not have an issue with Drew, but he has an issue with Drew. MVP said he treated Drew with the respect of an elite level VIP because they're old friends or so he thought, but how did Drew repay him? Drew said he kicked his head off. MVP said you got jokes right, you think you're Billy Connolly and MVP said Drew got him with a cheap shot while saying that Drew will see this coming. MVP got in a cheap shot punch and a kick, which led to the start of the match.
Drew McIntyre vs. Montel Vontavious Porter
MVP charged in and McIntyre got a boot up to knock him down. McIntyre worked over MVP with punches. MVP came back with a back elbow, but McIntyre hit him with the Future Shock DDT that put MVP down. Drew did his 3-2-1 Claymore Countdown leading to the Claymore Kick for the pinfall win after just under two minutes.
Winner by pinfall: Drew McIntyre
Analysis: 1/2* It was another dominant win by McIntyre as he continues his winning ways on the road to WrestleMania. This outcome was never in doubt. MVP said a few weeks ago after he lost to Rey Mysterio that he thought that was his last WWE match, but it was not. MVP is working as a Producer in WWE now too.
A replay aired of last week's Raw when Becky Lynch beat Asuka clean to retain the Raw Women's Title. After the match, Shayna Baszler attacked Lynch that featured a moment where Baszler bit the neck of Lynch. After that, Lynch drove the ambulance to the local medical facility (WWE hates saying hospital), drove back to the arena and did a promo saying she's ready to smash Baszler's face in whenever she shows up again.
Becky Lynch made her entrance in street clothes including a jacket and leather pants. Lynch had the Raw Women's Title in her left hand a brown paper bag in her right hand. A Lynch promo is after the break.
This week on Smackdown: Goldberg will be live on Smackdown on Fox. It's Goldberg vs. Bray Wyatt at Super Showdown for the Universal Title, so they will build to that on the last Smackdown before SSD.
(Commercial)
Let's Hear from Becky Lynch
Becky said "Washington" to start the promo because WWE must really not want people to say Everett as the city they are in. Lynch had a bandage on the left side of her neck where she was bitten. Lynch opened her back to reveal $100 bills while saying that that's to pay for her fine for when she gets her hands on Shayna Baszler. Lynch told Baszler to take a look at the longest reigning Raw Women's Champion in history (a history that's not even four years old) with Lynch talking about beating women like Charlotte, Natalya, Sasha and Ronda and she cut them down because she had to. Lynch said she's coming after Baszler because she wants to.
Shayna Baszler appeared on the video screen with an NXT graphic. Baszler said this is how it's going to happen. Baszler said that she's going to be in the Elimination Chamber match, it's in the cage and she's going to win that match to go on to face Lynch at WrestleMania. Baszler claimed she didn't plan on biting Lynch last week, but imagine the things she does have planned and Baszler said she's going to "tear the living shit out of you" and they did not bleep the swear word.
Lynch said she'll be watching Elimination Chamber and rooting for Baszler. Lynch left.
There was a backstage scene with Bobby Lashley and Lana standing beside Angel Garza and Zelina Vega. Charly Caruso asked about how this happened. Lana said they were two great couples so it was like a double date, Vega said that her pairing with Garza is just business and Garza said no woman can handle him while his cousin Humberto Carrillo will find out no man can beat him.
Analysis: Regarding the relationships, Vega is married to Aleister Black although that is not acknowledged on WWE TV. Garza got engaged in the NXT ring a few months ago to a woman that is not a wrestler. Lana and Lashley are just storyline married as I'm sure you know. Confusing huh?
Rusev made his entrance as part of the babyface team for this tag team match.
(Commercial)
PLUG TIME: I wrote detailed reviews of the new "Ruthless Aggression" docuseries on WWE Network. The first episode review is here covering the end of WCW with WWE moving onto the brand extension. There were some things on that episode that were pretty sketchy in terms of how WWE covered it, but that's how WWE is sometimes. The second episode covered the rise of John Cena in WWE and I covered that in-depth right here. Watch it or read my review to learn about the tuna story, who WWE was originally watching tapes of when they realized what they might have in Cena, how close he was to getting fired, what wrestler referred to the Spinner WWE Title as "30 something pounds of garbage" and plenty more. I thought the Cena episode was better than the first one mainly because there was less bulls**t in it. The next episode is next Monday, so I'll review that one too.
Bobby Lashley and Lana made their entrance. They showed a clip from two weeks ago when Angel Garza beat up his cousin Humberto Carrillo.
Bobby Lashley (w/Lana) and Angel Garza (w/Zelina Vega) vs. Rusev and Humberto Carrillo
Lashley sent Carrillo into the turnbuckle. Garza with a chop on Carrillo, then Carrillo went to the turnbuckle and hit a back elbow off the ropes. Carrillo with an armdrag on Garza across the ring while Rusev punched Lashley on the apron. Garza came back with a running dropkick on Carrillo. Garza removed the pants to show his tights and threw the pants at Rusev. Garza went to the barricade, a female fan kissed him in the cheek and then Carrillo hit a suicide dive on Garza into the barricade. That led to a break.
(Commercial)
The match returned with Lashley working over Carrillo by jumping on his back. Carrillo avoided a slam, but then Lashley caught him and Carrillo managed to tag out. Rusev got the tag with a clothesline on Garza, a flatliner and an overhead belly to belly suplex. Rusev with a running splash in the corner followed by another overhead belly to belly suplex. Rusev avoided a Lashley attack and Rusev punched Lashley against the turnbuckle. Garza got a rollup for two followed by a superkick with Carrillo breaking it up. Carrillo hit a twisting dive over the top onto Garza on the floor. Lashley with a Spear on Carrillo on the floor, but there's Rusev with a running clothesline on Lashley. The fans chanted "Rusev Day" for the big man. Rusev up top, Lashley grabbed the foot and Garza kicked Rusev. Rusev sent Garza off the ropes and Rusev hit a headbutt off the top rope for a two count. Garza avoided the Accolade submission, Lashley on the apron, Rusev kicked Lashley down and Garza got the ROLLUP OF DEATH~! on Rusev for the pinfall win after ten minutes.
Winners by pinfall: Bobby Lashley and Angel Garza
Analysis: **1/2 A cheap win by the heels using one of the worst finishing spots in all of wrestling. I'm really sick of the rollup finish. Anyway, Garza continues to impress while Rusev doing the job seems to happen in every match he has because apparently he hasn't signed a new deal with WWE yet. The women didn't even get involved, which was a bit of a surprise. Carrillo and Garza had a few good moments, but what they did wasn't anything special. The amazing thing is how much the crowd still cares about Rusev even after all the losing he has done. It shows that the fans appreciate his talent and it would be nice if Rusev got a push again.
After the match, Garza celebrated the win and Rusev punched him out of the ring. Rusev raised his arms in the air to celebrate.
The Kabuki Warriors were shown walking backstage with Kairi Sane in a match against Natalya up next.
(Commercial)
This week on WWE Backstage, the guest is NXT North American Champion Keith Lee with Renee Young, Mark Henry and Booker T as the hosts this week.
Natalya entered for a match. Kairi Sane was up next with fellow Women's Tag Team Champion Asuka. They haven't defended the titles in about two minutes. Asuka asked if Natalya is okay after Asuka gave her a black eye. Sane said they don't care. Asuka said she'll beat Natalya inside Elimination Chamber and go to WrestleMania.
Analysis: The odd thing about Elimination Chamber is that Sane is not in the match even though she's holding a title while other women who have barely won any matches on WWE TV are in the match.
Kairi Sane (w/Asuka) vs. Natalya
Sane sent Natalya into the turnbuckle with a double axe to the chest. Sane went up top, Natalya moved and Sane did some weird taunts followed by some ass slapping. Natalya with a hard slap to the face followed by a delayed vertical suplex. Sane avoided the Sharpshooter by holding the bottom rope to escape. Sane with a spinning back fist followed by a one foot cover for a two count. Sane knocked down Natalya with a head whip to send her into the mat. Sane jumped on Natalya's back and Natalya went to her butt to break free. Natalya with a kick to the ribs, but Sane came back with a whip into the turnbuckle. Sane did a weak charge towards the ropes and Natalya hit a discus clothesline for a two count. Sane got a rollup for two. Natalya caught Sane looking for a Sharpshooter, Asuka to the apron, Natalya got distracted and Sane knocked Natalya off the apron. Asuka with a roundhouse kick on Natalya to knock her down. Natalya stayed down for the ten count to give Sane the countout win after five minutes.
Winner by countout: Kairi Sane
Analysis: ** This was okay while also feeling like a match where they were building to something longer and then it just ended abruptly. A countout finish doesn't happen often, but they did it to tell the story of Asuka being the reason that Sane won and Natalya was unable to get back in the ring after selling the Asuka roundhouse kick. What I think it will lead to is somebody saving Natalya next week like Beth Phoenix or perhaps somebody else (a returning Mickie James would be cool), which can lead to a women's tag team feud. Natalya and Asuka are also in the Elimination Chamber match, so they can keep building up the rivalry.
A sermon from Seth Rollins is up next.
(Commercial)
Seth Rollins Delivers A Sermon
The show returned with Murphy in the ring joined by AOP with "Monday Night Messiah" Seth Rollins images in the ring. There was also a podium with a Rollins image on it. Murphy introduced us to the man that singlehandedly saved Monday Night Raw, the "Monday Night Messiah" Seth Rollins. Murphy is one half of the Raw Tag Team Champions with Rollins.
Seth Rollins made his entrance in a leather jacket and he had his wrestling tights underneath. Rollins shook hands from fans on the way down to the ring and he was nodding at them. Lawler said it was like Rollins was blessing them. Rollins went into the ring where he hugged Rezar, Akam and Murphy.
Rollins thanked Murphy for the introduction and he thanked the fans for making him the Monday Night Messiah. Rollins said "sermon" was not a term that he came up with and he said it was something that the powers that be came up with. Rollins said sermon feels appropriate because what he has to say right now is divine.
Rollins said we are here to celebrate progress, celebrate moving forward in our vision. Rollins said that phase one of this movement led to some resistance, but they completed phase one last week as fans chanted "you suck" at Rollins, who asked for a little respect. Rollins talked about how they vanquished Kevin Owens, Samoa Joe and the Viking Raiders. Rollins said they proved you can achieve whatever you set your mind to.
Rollins claimed that now the work begins. Rollins said he takes the responsibility of being the Monday Night Messiah very seriously. Rollins said phase two of the movement will not be easy as fans chanted "you suck" at him. Rollins said that this phase is necessary and it is for the greater good. Rollins claimed that now it is time to seek out the weak, seek out the lesser than, they must find the flaws in the system and rehabilitate them if they can and eradicate them if they must. Rollins said that this is not a promise, not a threat and not a warning because this comes from his heart and this is the gospel. Rollins said that if there are any WWE superstars that remain non-compliant then they will suffer the same fate as the weak. Rollins added that if you stand in the path of progress…and here come the Viking Raiders.
The Viking Raiders went down to the ring and they got into a brawl with AOP while Rollins and Murphy left. Murphy went into the ring, but he was beaten up easily. Ivar sent Rezar into the ring post and Erik hit Akam with a knee to knock him out of the ring. Kevin Owens showed up on the ramp and he hit Rollins with a Stone Cold Stunner to put an end to this. KO's music played to end it.
Analysis: This dragged on a bit with Rollins talking about phase one ending and phase two about to begin, but the fans liked the faces showing up to clean house. I don't mind Rollins doing the heel promos. This just felt like it didn't work as well as some of his other promos. The word "boring" comes to mind.
(Commercial)
Seth Rollins was shown backstage with his buddies with Charly Caruso there to say that his sermon didn't seem to go well. Rollins said if Kevin Owens and Viking Raiders want a fight then they can face AOP and Murphy tonight.
Analysis: Another tag team match between these guys. It's not that fresh, but here we go again.
Let's Hear from The OC
AJ Styles made his entrance with his OC buddies Luke Gallows and Karl Anderson with all of them in their ring gear. Styles is back for the first time since the Royal Rumble over three weeks ago after a sore shoulder.
Styles said that Phenomenal One is back on Raw because what would WrestleMania be without him? Gallows said that Styles is phenomenal and they pointed at the sign. Anderson said that Styles is the new Mr. WrestleMania. Styles said that as the humble man that he is, he is the greatest superstar on any roster. Styles said that he is the greatest superstar of any era. Styles claimed he had critics that claim he's not as phenomenal as he says he is. Styles said when he wins that gauntlet match at Super Showdown, nobody can say anything except for him. Styles said what he'll say is: "Who's next?" Styles said that he didn't care who it is, it can be Brock Lesnar, Roman Reigns, Drew McIntyre, Ricochet, Undertaker Shawn Michaels, Hulk Hogan or the NWO. Styles said when he proves his dominance at Super Showdown and here comes Ricochet.
Analysis: The Styles plan for WrestleMania is The Undertaker according to multiple reports. That should be set up in the coming weeks. Styles did mention him by name in that promo. The "Mr. WrestleMania" name is a shot at Undertaker too since Undertaker has the best record with 24 wins and just two losses at WrestleMania.
Ricochet got into the ring with Styles calling him "Little Ricky." Styles said he was joking when he said his name and that he was being nice like he was being nice to a lot of people. Styles said nobody thinks Ricochet will be WWE Champion while wondering what Ricochet did to deserve a title match. Ricochet said that he earned his WWE Title match (that's true because he won a triple threat match) and at Super Showdown, he plans on beating Brock Lesnar to become the WWE Champion. Styles and his buddies laughed at him. Ricochet said how about he proves it against Styles right now?
The OC guys spoke up saying "whoa" repeatedly. Anderson said he can't allow AJ's first match back on Raw against this non-good brother and since Ricochet is handing out challenges, Anderson said he's got this.
Ricochet vs. Karl Anderson (w/AJ Styles and Luke Gallows)
Ricochet sent Anderson out of the ring followed by a somersault dive over the top onto Anderson on the floor. They went to break about 20 seconds into this match.
(Commercial)
The match returned with Anderson hitting a neckbreaker. There was a moment during the break where Styles hit a clothesline on Ricochet on the floor, so the referee ejected Styles and Gallows from ringside. Ricochet kicked Anderson down followed by a roll through into a dropkick. Ricochet ran off the ropes leading to a forearm to the face, then a kick while Anderson was against the turnbuckle and Ricochet hit a springboard cross body block. Ricochet with a standing Shooting Star Press for a two count. Ricochet went up top and he jumped off with nothing because Anderson moved. Ricochet with a boot to the face, but Anderson came back with a spinebuster for a two count. Ricochet with a rising kick to the face followed by a slam off the shoulders into a kick to the kick to the face for the pinfall win after about seven minutes.
Winner by pinfall: Ricochet
Analysis: **1/4 A basic match to put over Ricochet ahead of his WWE Title match against Brock Lesnar. The outcome of this match was never in doubt here. Anderson is a good wrestler that is always in the right spot and does his job well, but it's not like he's going to win singles matches very often. The finish by Ricochet was a different move than what he usually wins with. I think Ricochet should use the 630 Splash since it's so spectacular, but I guess it's okay if he wants to change it up once in a while.
Up next on Raw is Kevin Owens and Viking Raiders vs. Murphy and AOP.
(Commercial)
There were highlights shown of Randy Orton beating up Matt Hardy in the opening segment of the show. Orton beat up Hardy with a steel chair, which led to Matt doing a stretcher job leaving the arena.
Liv Morgan was interviewed backstage by Charly Caruso, who asked about Ruby Riott attacking her. Morgan said she was as excited as anyone when Riott returned and in that moment, the rush of emotions she felt when Riott came out to celebrate with her, but then Ruby betrayed her trust. Morgan said that being betrayed by somebody hurts and it might break some people, but she is not that person anymore with the power of looking forward to the future. Morgan said that she is going to eliminate Ruby Riott in the Elimination Chamber match and she's moving on to a championship match at WrestleMania. Morgan left.
Analysis: I will make a not so bold prediction that Morgan will fail to win the Elimination Chamber match. That will be a win for Shayna Baszler. Morgan may eliminate Ruby Riott from the match, though. That would be cool with me.
Kevin Owens made his entrance for this tag team match that feels like a repeat considering how many tag team matches these guys had. The Viking Raiders entered to join Owens for this match. The team of Murphy and AOP entered to the Seth Rollins theme song. That match is after a break.
(Commercial)
Kevin Owens and Viking Raiders (Ivar and Erik) vs. Murphy and AOP (Akam and Rezar)
The match began when they returned with Ivar running over Murphy with a shoulder tackle. Erik with a forearm to knock down Murphy. Owens worked over Murphy with a hard chop followed by a running back elbow. Ivar tagged in and Erik went into the ring with a body slam on Ivar on Murphy. A jawbreaker by Murphy led to Akam tagging in against Erik. They got into a slugfest, Ivar back in with a knee to the ribs and Erik with a rising knee to Akam. Akam managed to get some offense going with a powerslam on Erik. Rezar tagged in with a lifting knee to the face of Erik for a two count. The heels made some quick tags as they worked over Erik with Murphy hitting a kick to the side of the head. The fans were chanting for Owens as Rezar knocked Ivar off the apron. Erik sent Rezar out of the ring and Erik with a rising knee on Akam. Nobody slaps their leg more than Erik when delivering a move like that. Owens got the tag against Murphy with Owens hitting a clothesline and a senton splash on Murphy. That's an awkward spot for a break, but that's what they did.
(Commercial)
The show returned with the heels in control again as Rezar worked over Owens with punches to the head. Akam tagged in with a running kick on Owens, Murphy was in for his team and Owens hit three kicks on Murphy to knock him down. Murphy prevented Owens from tagging out, which led to Rezar slapping on a headlock. Murphy tagged back in for the heel team, they got into a slugfest and Owens decked Murphy with a punch to the face. Ivar tagged in with a kick, a side slam and a running cross body block. Ivar with a spin kick on Murphy. Ivar with a seated senton on Rezar, who was legal and Ivar with a cartwheel into a clothesline on Erik. There was a double knee attack by Erik and Erik sent Ivar onto Rezar against the turnbuckle. Owens tagged in and went up top where he hit a Senton Bomb. Rezar came back with a clothesline on Owens. Murphy up top, he jumped off and Owens hit a Popup Powerbomb with Akam breaking up a pin attempt. The Viking Raiders had both AOP guys set up on the floor and Akam/Rezar hit a suicide dive on both guys. Owens hit a Stone Cold Stunner on Murphy, who did a flip bump. Owens was about to cover, but Rollins showed up to attack Owens for the DQ finish. It went about 15 minutes.
Winners by disqualification: Kevin Owens and Viking Raiders (Ivar and Erik)
Analysis: *** It was a pretty good main event tag team match until the predictable ending that had a non-finish in order to keep this rivalry going. I would have predicted a DQ finish if I was doing a preview of it. The Viking Raiders really work well with AOP while Murphy is awesome and Owens was great throughout the match. I really liked KO's energy leading to the finish.
Post match, Rollins continued to attack Owens. AOP sent Viking Raiders into the barricade. Rollins and friends worked over Rollins with AOP and Murphy holding Owens. Rollins did a promo saying that they are going to crucify Rollins. The Street Profits went into the ring to make the save for Owens and friends. That led to the tag teams brawling in the ring with Dawkins hitting Murphy with a spinebuster. Montez Ford and Ivar were each on the top rope as Owens hit a Stunner on Rezar. Ivar hit a splash and Ford hit a Frog Splash on opposite corners. That was very impressive by Ford! The faces celebrated in the ring with Ford doing his comedic rope shaking.
Rollins was on the ramp looking angry about what happened. He called for his guys to get up the ramp with him. The show ended there.
Analysis: The presence of the Street Profits made that a fun way to end it. I think they're a team that has been underused on Raw, so I'm glad they got involved here to get them in the mix a bit. The KO Stunner plus the splashes from Ford and Ivar really popped the crowd and that helped end Raw on a happy note.
It seems like every week it changes in terms of who stands tall with the heels on top one week and the faces the following week. I guess that is good for the heels next week.
After Raw was over, WWE announced that The Street Profits will challenge Rollins and Murphy for the Raw Tag Team Titles at Super Showdown.
Three Stars of the Show
Randy Orton
Matt Hardy
Kevin Owens
The Scoreboard
5.75 out of 10
Last week: 7.5
2020 Average: 6.5
Last 5 Weeks: 6.75, 5.5, 6.75, 7, 6.25
Final Thoughts
This week's Raw gets a 5.75 out of 10.
It felt like an average edition of Raw with a lot of promos. I know that's a common thing that happens during WrestleMania season, but this is still a three hour show that could benefit from some better in-ring action. The best part of the show was Randy Orton's attack on Matt Hardy in the first 20 minutes of the show. It got Orton a lot of heat, which was the goal and it may be the last time we see Matt in WWE since his contract is up in a few weeks. I don't think any of the promos were that bad, but when you see so many promos over the course of three hours it just gets to be too much.
This episode felt like every time a great match was needed, there was another promo or interview. When the matches were happening, most of them felt too short or just not that interesting because the outcomes were too predictable. I think they need to find a better balance or promos and find time for those good matches too. That's why this just felt like an average Raw to me.
The next WWE Network special is called Super Showdown on Thursday, February 27 from Riyadh, Saudi Arabia. Here's the lineup so far.
WWE Championship: Brock Lesnar (c) vs. Ricochet
WWE Universal Championship: "The Fiend" Bray Wyatt (c) vs. Bill Goldberg
Steel Cage Match: Roman Reigns vs. King Corbin
Smackdown Tag Team Championships: The New Day (Big E & Kofi Kingston) (c) vs. The Miz and John Morrison
Raw Tag Team Championships: Seth Rollins and Murphy (c) vs. The Street Profits (Montez Ford and Angelo Dawkins)
Tuwaiq Trophy Gauntlet Match: United States Champion Andrade, Rusev, R-Truth, AJ Styles, Erick Rowan and Bobby Lashley
Smackdown Women's Championship: Bayley (c) vs. Carmella or Naomi (Carmella vs. Naomi takes place on Smackdown this week.)
WWE Super ShowDown comes to International Arena at The Boulevard in Riyadh, Saudi Arabia on Thursday, Feb. 27, at 12 p.m. ET/8 p.m. AST, streaming live on the award-winning WWE Network. (I grab that sentence from the WWE.com preview.)
—
You can contact me using any of the methods below. Go reigning and defending NBA Champion Toronto Raptors and Toronto Maple Leafs.
Thanks for reading.
John Canton
Email: mrjohncanton@gmail.com
Twitter: @johnreport
Personal Facebook and TJRWrestling on Facebook