The John Report: AEW Dynamite 12/18/19 Review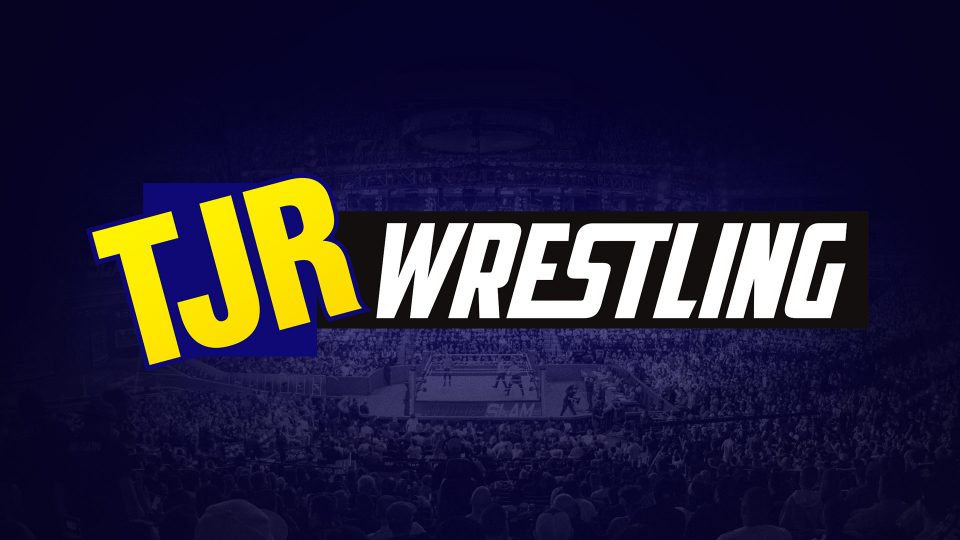 It's the last episode of AEW Dynamite in 2019. That means my next review will come after the January 1st show. It's been a huge year for the company, so let's see what they have in store for us this week.
Live from Corpus Christi, Texas, this is episode #12 of AEW Dynamite. Follow me on Twitter @johnreport. Please visit TJRWrestling.net daily for our regular updates on the wrestling business featuring WWE, AEW and other wrestling news coverage along with reviews about wrestling's past and present. Thanks to Melo Man for the banner up top. Here's my AEW Dynamite TV review archive. I'm watching on TSN2 in Canada, so there might be different commercial breaks or split-screen moments. Just letting you know because I had some comments about that in the past.
The show began with wrestlers in the ring for the first match. That's fine with me. The announcers are Jim Ross, Excalibur and Tony Schiavone with Justin Roberts doing the introductions. Let's get to the action.
Kenny Omega and "Hangman" Adam Page vs. The Lucha Brothers (Pentagon and Rey Fenix)
Omega and Fenix showed off their athleticism to start the match with the fans getting behind Lucha Brothers because the arena was close to the US/Mexico border. Fenix and Omega countered eachother's moves, Omega dropkick to the leg and the leaping bulldog. Pentagon and Page tagged in, Pentagon took the glove off, then they wasted about one minute to set up the "Ciero Muedo" (Zero Fear) chant. Page said "Cowboy Shit" in reply to that. Pentagon and Page exchanged chops to the chest, Pentagon with a kick to the face, then Page with a running boot and Omega tagged in leading to chops to Pentagon to knock him down. Fenix went into the ring with Omega hitting a chop on him. Omega with a hurricanrana on Pentagon, who bailed to the floor, so Omega ran the ropes and hit a tope con hilo (somersault dive) over the top onto both Lucha Bros. Back in the ring, Page was legal against Pentagon and Fenix grabbed Page's legs on the apron, so Pentagon kicked him off the apron. Fenix with a double foot stomp off the top onto Page's back for a two count as Omega made the save. Pentagon with hard kicks to the left leg of Page. A running clothesline by Page knocked down Pentagon. Omega tagged in, he went up top and hit a cross body block on Pentagon. When Fenix went in the ring, Omega knocked him down. Omega with a forward senton roll on Pentagon, then he jumped off the apron, but Pentagon blocked a moonsault by getting his knees up. Fenix attacked Page on the apron, but we didn't see it. Omega was sent out of the ring with Fenix hitting a suicide dive. Pentagon with a splash off the top on Omega for a two count. There was some graphic that appeared possibly for the Dark Order, but it went away quickly. Fenix hit a hook kick to the face of Omega, but Kenny came back with a Powerbomb and a running kick to the chest. Fenix knocked Page off the apron again. Omega fought out of the corner, Page got the tag, he hit a clothesline on Pentagon and a fallaway slam on Fenix. Page with a slingshot cross body block on Pentagon on the floor. Page with a clothesline on Fenix and then Page hit suicide dives on Pentagon and Fenix back to back. Good sequence there.
Back in the ring, Page hit clotheslines on both Lucha Bros, then a dropsault onto Fenix for a two count. Fenix came back with a step up spin kick and a jumping facebuster for a two count. Pentagon used Fenix to hit a rolling splash on Page for another two count. Pentagon kicked Omega while he was on the apron. Pentagon went to the turnbuckle, Page went after him and he hit a fallaway slam off the ropes. They announced it was at the 15 minute mark in a 30 minute time limit match. Omega tagged in with a running back elbow on Pentagon, then Fenix with a kick to the face and Omega sent Fenix into Pentagon. Page with a discus elbow on Fenix. Page with a German Suplex on Fenix and Omega with a sitout spinebuster into a pin for two. Pentagon avoided an Omega charge and hit a Slingblade. Page with a clothesline on Pentagon, Fenix with a knee to the face of Page, Omega with a knee and a Snapdragon Suplex on Fenix. Omega with a jumping knee to Pentagon. Fenix went for some move, but Omega moved, so that looked like an awkward mistake. Omega held Pentagon, Page went for the Buckshot Lariat, Pentagon moved and Page hit Omega by accident. Pentagon sent Page out of the ring. Pentagon held Omega in position and Fenix jumped off the top with a double foot stomp into a piledriver on Omega with Pentagon pinning Kenny for the pinfall win after 18 minutes.
Winners by pinfall: The Lucha Brothers (Pentagon and Rey Fenix)
Analysis: ***3/4 Awesome match. Great action as you would expect from wrestlers of that caliber. Page screwing up the clothesline to cost Omega was the easy way to go about the finish. Fenix is one of the most impressive guys in AEW while Pentagon is pretty intense too. I wish that Lucha Bros cared about tag team rules more than they do, but they still aren't used to it. As for the result of the match, it was exactly what I predicted when I wrote in the preview of the show: "The story is that Page may be turning on Omega, so I expect something where they make a mistake caused by Page and Lucha Bros capitalize to win the match." It's a slow burn heel turn for Page most likely.
After the match, Page rolled back into the ring to stare at Kenny with both of them looking frustrated about the loss. They looked at eachother face to face, they talked about what happened, Omega shoved Page and Page shoved him back. Pac appeared on the screen with a microphone on hand. Pac said he asked Kenny a question and he has yet to receive an answer. Pac said it's time to remind him exactly what he is capable of. Pac told the camera to follow him.
Pac went into a locker room where Kenny's best friend Michael Nakazawa was sitting in a chair with his back turned. The announcers said he was Kenny's best friend. Pac shut the door and the camera was back on Kenny, who ran to the backstage area.
Analysis: The story is that Pac and Omega are 1-1 in singles matches, so Pac wants another match with Omega.
(Commercial – The split-screen commercial showed Omega in the backstage area, he went into the room and Pac wasn't there. Neither was Nakazawa. When Omega walked down a hallway, the Lucha Bros were there to attack Kenny. Page showed up to save Omega from a further attack. Page ended up helping Omega to the backstage area. They showed Darby Allin on his skateboard on his way to the ring.)
The announce team were shown on camera plugging what matches are still to come on the show.
The Butcher and The Blade entered with The Bunny and they even got some pyro for their entrance. Darby Allin was first up for his team as he went on his skateboard down to the ring. They found a kid in the crowd with some Allin facepaint. Cody was up last and got a superstar pop even though he has been on the losing end of matches of late. The fact that he gets more pyro than anybody else probably helps too.
The Butcher and The Blade (w/The Bunny) vs. Cody and Darby Allin
Allin dropkicked Butcher off the apron, then an armdrag off the top on Blade to send him out of the ring and Cody applauded the effort of his partner. They wasted about a minute, Cody got in a punch on Butcher and Butcher decked him with a clothesline. Blade tagged in, Cody with a powerslam, Butcher back in and he hit him with a boot to the face. Bunny went on the apron to distract, so Blade pulled the ropes down to send Cody out of the ring and Blade stomped away on Cody. Butcher tagged back in with a legdrop/sidewalk slam combo for two.
(Commercial – The split-screen action saw the heel duo of Butcher and Blade continue to isolate Cody from his partner. It was basic stuff with quick tags, punches and kicks. When Cody tried a leap off the ropes, Butcher caught him and hit a fallaway slam across the ring. Bunny even drove Cody left shoulder first into the ring post.)
The match returned with Blade and Butcher continuing to isolate Cody with Butcher driving Cody into the turnbuckle to prevent a tag. Butcher charged, Cody sent him to the ropes and Cody sent Blade out of the ring. Cody and Blade hit a double cross body block. That led to both guys being down for a moment, then Allin got the hot tag and slapped Blade followed by a sunset flip into a pin. Butcher was the legal man with a backbreaker on Allin. Butcher slapped on a Texas Cloverleaf submission on Allin, so Cody kicked Butcher twice and Butcher slammed Allin down. Cody whipped Blade into the steel steps. Allin with a floatover into a Stunner on Butcher. Cody tagged back in and hit the Cross Rhodes on Butcher, but Bunny distracted the referee. Blade tagged back in, Cody sent him out of the ring and Cody/Allin hit stereo suicide dives on the heels on the floor. Cody with a Disaster Kick on the apron. Allin went up top and he hit his Coffin Drop dive on Butcher on the apron. Cody went up top and jumped off with a Cody Cutter on Blade for the pinfall win after 11 minutes.
Winners by pinfall: Cody and Darby Allin
Analysis: *** The match was basic tag team wrestling with Cody as a face in peril to try to build up Allin as a babyface on the rise. It started slow early on, but then it picked up and Cody's team getting the win was the expected outcome. That Coffin Drop by Allin on the apron was a cool spot. Cody needed a victory to get some of his momentum back after recent losses, so it's understandable that he got the win.
After the match was over, the announcers put over the story that Darby wants a second chance at Cody after they had a draw earlier this year.
A training video was shown of Jungle Boy, who is the son of the late actor Luke Perry, preparing for his match against Chris Jericho.
Awesome Kong made her entrance with Brandi Rhodes. They were joined by Melanie Cruise. This group is called The Nightmare Collective. They showed a pre-tape promo from Brandi saying that perhaps Kris Statlander wins and joins the Nightmare Collective. Some bald guy appeared in the video as well.
Analysis: This is Kong's first match on AEW Dynamite. I like her a lot, but they obviously don't want her working a lot since Kong is past her prime.
Awesome Kong (w/Brandi Rhodes and Melanie Cruise) vs. Miranda Alize
They did not announce the name of Kong's opponent. Kong with a back fist to the head. Kong hooked the arms of Miranda and slammed her with a sitout slam onto her knees. Kong covered for the pinfall win in about 30 seconds.
Winner by pinfall: Awesome Kong
Analysis: A squash match to put over Kong as an unbeatable monster. No point in rating that.
Post match, Kong cut some of her opponents' hair and they had a collection of other hair they have obtained over the last few months.
Jungle Boy was interviewed in the ring by Jim Ross earlier in the night. Boy said that Chris Jericho doesn't scare him, but he respects him as a man and what he accomplished. Boy said that pressure makes greatness and he is ready to tackle him head on. Boy said his dad (Luke Perry) would be proud of all this. Boy said this would be everything he wanted and he would be happy about it.
Analysis: I liked that a lot. That was only one minute long and it's something they need to do more often on this show. Let's hear from the wrestlers before a big match.
Chris Jericho made his entrance with the AEW World Title along with the "Big Hurt" Jake Hager by his side.
(Commercial)
Jungle Boy made his entrance with his buddies Luchasaurus and Marko Stunt by his side. Boy is 0-8 in AEW. They showed some of Boy's family at ringside including his mom, grandmother and sister.
Chris Jericho (w/Jake Hager) vs. Jungle Boy (w/Luchasaurus and Marko Stunt)
This match has a 10-minute time limit and there's a clock on the screens in the arena. It is not for Jericho's AEW World Title.
Boy with a dropkick, then a springboard armdrag and a headscissors into a pin attempt got two. Jericho got back into it with a clothesline and he sent Boy throat first across the top rope. Jericho with a knee to the ribs and then he hit the Codebreaker double knees to the face. No cover attempt by Jericho as he walked across the chest of Boy. When Boy got back up, Jericho hit another Codebreaker and Jericho pulled him up at the count of two. The announcers didn't even pick up on it because they were shilling tickets for the next show on January 1. Jericho sent Boy out of the ring, Hager sent Boy into the barricade. Hager and Luchasaurus exchanged punches, Stunt jumped off the apron and Hager decked him with a forearm. The referee Aubrey Edwards ejected Hager from ringside along with Luchasaurus and Stunt, so there was nobody left at ringside. Back in the ring, Boy got an inside cradle for two. They battled on the apron, Jericho missed a dive, so he was on the floor and Boy went back into the ring for two suicide dives followed by a somersault dive over the top on Jericho. The fans popped big for that. Back in the ring, Boy jumped off the ropes leading to a diving DDT for two. Boy hit a backstabber (knees to the back) for a two count although it didn't look that great. Jericho with a forearm, then a Lionsault missed and Boy came back with a Lionsault on Jericho for two. When Boy ran off the ropes, Jericho decked him with a clothesline. Jericho with a catapult that sent Boy throat first into the bottom rope. Jericho with a powerbomb followed by the Walls of Jericho submission. The clock was at about 1:15 left in the match as Boy tried to fight it. Boy crawled to the bottom rope, but Jericho pulled him back out to the center of the ring and sits down on it. There were about 20 seconds left. Boy continued to hold on as the crowd counted down from 10 and Boy held on to last 10 minutes against Jericho.
Match Result: 10-Minute Draw
Analysis: ***1/4 They told a good story with Jericho as the overconfident, more experienced guy and Boy showed a lot of heart in continuing to comeback. It's no surprise that Jericho gave Boy a lot of offense to make it look like a competitive match. The fans really got into it too. Jericho had Jungle Boy in his Walls of Jericho finisher for about 1:30 in all and couldn't beat him with it, so that hurts Jericho's finisher a bit. My prediction was for Jericho to win just under the ten-minute mark. By going to a draw, it should set up another match between them early next year at some point.
After the match, Jericho was mad at the referee because he thought Jungle Boy tapped out. Jericho went over to the timekeeper and announcer Justin Roberts while demanding five more minutes.
Jericho slapped Boy in the face a few times. Boy came back with a hurricanrana, the referee counted the two, Boy with a crucifix pin, Jericho left the ring, grabbed the title and he left. The crowd booed him.
Analysis: This also put over Jungle Boy for a strong effort and Jericho leaving showed that maybe Jungle Boy could beat him someday.
(Commercial – There was more split-screen action. Jericho went down to ringside, he threw down the ring bell, tipped over the table and talked trash to Jungle Boy's family. Jericho left with his AEW World Title. I guess somebody told him to go back out there to kill a few minutes.)
Jericho was at the top of the ramp with Tony Schiavone there to interview him. Jericho said that Jungle Boy could not beat him and he bragged that he told us. Schiavone pointed out that Jungle Boy did last ten minutes, Jericho said, "no he didn't" repeatedly and told "Skeeavone" to shut up. Jericho said they were lucky he didn't kick their ass. Jericho said that Jungle Boy didn't beat him, but he'll get his later. Jericho said this is about the real story and his good friend Jon Moxley while wondering if he would join the Inner Circle. Jericho said that the Inner Circle spent all week at their palatial mansion while telling the crowd it means "big house" and he said "casa grande" in Spanish. Jericho said that they have surprises for Jon when he makes his decision. Jericho said he knows he has talked about it with his lovely wife and his amazing mother, who Chris met, and he said in two weeks it is January 1st on Dynamite they have a giant surprise for Mox – all he has to do is say yes. Jericho: "Merry Christmas Mox, from all of us here in the Inner Circle. We'll see ya on New Year's Day." Jericho left.
Analysis: This is one of those things where you can say the heel Jericho is trying to manipulate the situation and that he is fearful of Moxley, so he's trying to suck up to him. It's a slow build to Moxley turning down the Inner Circle and then it should set up Jericho vs. Moxley at Revolution on February 29.
The SCU trio were backstage being interviewed by Jenn Decker. Christopher Daniels said that in AEW the tag team of the moment is SCU and tonight…but here are the Lucha Brothers. Pentagon said he didn't think Daniels had it anymore while showing the clip of Daniels botching a move on the ramp and Daniels stared at him followed by Daniels walking away.
Analysis: I know the Daniels move off the ropes and landing on the ramp looked like a botch, but I feel like it was part of the story. Daniels is an older guy, so it's a story with him trying to prove he's still got it. That's just my take on it anyway.
A commercial aired for the AEW Revolution pay-per-view in Chicago on February 29.
(Commercial – There were backstage clips of Young Bucks and SCU getting ready for the main event.)
Kris Statlander is only 2-0 in singles and is second ranked in their women's division. Statlander's gimmick is that she's an alien or something like that. I don't know. I like her in the ring, though. Britt Baker is first ranked among the women and she's 4-2 in singles. Yes, she's a dentist.
#1 Contender for the AEW Women's Championship: Dr. Britt Baker vs. Kris Statlander
Statlander did cartwheels around the ring to show off what she can do. Statlander touched the nose of Baker and Excalibur explained it by saying that's how Statlander's species communicates. The announcers laughed about it because of how stupid it is. Anyway, they fought over a pin attempt and Statlander got a two count. Baker hit a one armed suplex, then Statlander got up very quickly, so that was no sold. Baker came back with a neckbreaker.
(Commercial – The split-screen action saw Baker in control with a clothesline. Baker with a hard whip into the turnbuckle followed by a chinlock. They exchanged strikes and Statlander hit a running forearm.)
They ran across the ring with Baker hitting a running knee against the turnbuckle. Baker tried her Lockjaw submission, but the alien was smart enough to pull the arm against the turnbuckle. Statlander with a running knee on the apron and then up top for a missile dropkick for two. Baker got a rollup for two, Statlander with an inside cradle, shoulders weren't down because it looked sloppy and Baker hit a weak-looking Slingblade for two. Statlander with a clothesline. Statlander up top, but I guess aliens are slow climbers because cut her off and Baker hit a superplex. Statlander countered with a sitout slam for a two count. Baker hit a spinning neckbreaker, Statlander blocked a kick, then a roundhouse kick, Baker with a superkick and Baker tried her submission, but Statlander powered out of it. Statlander had Baker upside down, then dropped to her knees and they call that the Big Bang Theory (since she's an alien?) for the pinfall win after 10 minutes.
Winner by pinfall: Kris Statlander
Analysis: **1/2 It was an average match with Statlander continuing her positive momentum. That finish was really well done. They had some slower moments in there, but it was a good enough match by the end. I think both women could improve at things like selling moves. Both women are still improving, so as long as they keep working hard they'll get better. Baker is fine although some of her offense looks weak. I am genuinely impressed by Statlander's athleticism and I think she's a star on the rise, but the alien gimmick crap is so stupid. When you have the old announcers JR and Tony wondering what she's doing while Excalibur tries to explain while he is laughing about it because it is ridiculous, that hurts the wrestler. It makes her look too goofy. Stop the goofy shit. Let her wrestle. She'll be fine that way.
The win by Statlander means she will challenge Riho on Dynamite on January 1. They showed Riho watching from ringside. Riho hasn't been in a match on the show in over a month. The last title defense she had was November 9 at Full Gear, so it will be nearly two months between title defenses.
Post match, Tony tried to interview Kris the alien at ringside. Statlander touched Tony in the nose with her finger because that's how she does promos? I guess. Brandi Rhodes showed up and told Tony he's done because she'll take it from here. Brandi talked to Kris, who can apparently understand English despite being an alien. Brandi asked if Kris is with the Nightmare Collective or not. Kris tapped her nose, then did a "no" finger wag in Brandi's face, so Kong and Melanie Cruise showed up on the ramp. Brandi hit Statlander with the high heel to the head to knock her down. Sadie Gibbs, another wrestler, checked on Statlander. Can she speak alien too? I'll stop.
Analysis: This was weak. They have too many cults and groups where people get asked to join.
Shawn Spears and Tully Blanchard did a promo. Spears talked about being in the tag team division and Tully talked about how they were going to find a guy for Spears to team with. Tully wants to find Shawn a guy that he can look at just like what Tully did with Arn where they'd look at eachother and know what to do. That's what they have to find. They left.
(Commercial)
A video promo aired featuring The Young Bucks talking about how nearly every main event of Dynamite has been a tag team match. I don't know if that's true, but they have had a lot of tag team matches for sure. The Bucks talked about how they feel like they have lied to the fans because they thought they would be the best team in AEW. Matt Jackson said they have climbed their way back to the top of the tag team rankings and then on Dynamite, they won a shot at the AEW Tag Team Titles. Nick Jackson said that SCU are some of their best friends while adding they will have them over for Christmas dinner. Matt said it's their time to shine and they'll show us that they are the best team.
The wrestlers were in the ring for the tag team main event match.
AEW Tag Team Championships: So Cal Uncensored (Frankie Kazarian and Scorpio Sky) vs. The Young Bucks (Matt and Nick Jackson)
There were some quick tags early on from both sides. Matt with a shoulder tackle on Sky, Nick and Kazarian tagged in and Matt launched Nick into the air for a double dropkick. Nick kicked Sky off the apron to the floor. Matt sent Kazarian into the turnbuckle, Nick with a kick, then Matt with a cannonball splash while Nick got in another kick. Kazarian with a backstabber to Matt and Sky hit a hurricanrana off the apron onto Nick on the floor. Nick tagged back in with kicks for both guys, then a knee to Sky and a bulldog followed by a running clothesline. Nick and Sky did a routine on the ropes leading to Nick hitting a hurricanrana off the ropes. Nick with a kick to Sky and Matt jumped off the top with an elbow drop for a two count. Kazarian saved Sky by pulling him out of the ring, so Nick went up top followed by a twisting dive on both guys on the floor.
(Commercial – Nick sent Sky to the turnbuckle, then a running knee and Matt tagged in leading to a splash/moonsault combo for a two count. Matt with a sunset flip on Sky followed by the Sharpshooter submission. Sky tried to fight it off, but then Nick jumped over the top and hit a facebuster. The referee did nothing about it as usual. Kazarian went into the ring and DDT on Matt.)
Nick tagged in against Kazarian with Frankie hitting a spinning back kick. Kazarian hit a double clothesline to take down both Young Bucks. Kazarian leaped over the top with a hurricanrana on Matt. The Bucks stood there for about five seconds as Sky hit a running somersault dive over the top onto the Bucks on the floor. Kazarian was back in the ring with a leaping DDT on Matt with Sky pinning for two. The announcers put over the idea that Matt was hurting after the Street Fight match last week. Matt hit a Spear on Sky, which led to Nick getting the tag. Nick with a springboard attack, but Sky hit him with a Cutter to stop him. Sky with a Dragon Sleeper, then Matt jumped into a Cutter by Kazarian and Matt threw Kazarian into Sky/Nick to break up the submission. Kazarian and Matt exchanged punches. Sky reached under the top rope to tag Kazarian, which probably isn't legal, but in AEW they don't enforce tag team rules. Kazarian hit a German Suplex on Matt and then Kazarian hit a leaping DDT on Nick on the apron. Matt got an inside cradle on Sky. Sky came back with the TKO, Kazarian tagged in and hit the SCU Later knee to the face for the pinfall win after 11 minutes. The fans barely reacted to that finish.
Winners by pinfall: So Cal Uncensored (Frankie Kazarian and Scorpio Sky)
Analysis: ***1/2 The match was good although I expected them to come up with a finish that was more exciting than that. I think this match was hurt by the lack of nearfalls by both teams. It felt like they just wanted to get their shit in by hitting a bunch of moves, which meant a lot of knees and kicks, but they barely attempted to try to win the match. The ending was weak. I'm not sure why it ended so suddenly, but my reaction was like the fans. That's it? The finish just felt off. If this was in the 15-20 minute range with more exciting moves, then I could see it being a special match. This wasn't that. The announcers continuing to reference Matt being injured is a way to give the Young Bucks an excuse for losing. I thought the Young Bucks would win, but I have no problem with SCU retaining.
Post match, both teams remained in the ring as masked men surrounded the ring. They were creepers from the Dark Order stable.
Dark Order leaders Evil Uno and Grayson appeared on the ramp with Uno doing a promo about how the Young Bucks suffered a loss. Uno said any other night, they would ask them to join Dark Order, but tonight is not about recruit, it's an initiation. Uno told them to put the guys down. That led to the Creepers going into the ring including Alex Reynolds and John Silver to attack Young Bucks and SCU with Christopher Daniels joining his buddies. Kenny Omega ran down to ringside to try to save his friends, but Dark Order beat him up too. There were too many Creepers out there. Cody and Dustin Rhodes ran down to the ring to try to save, but the Creepers overwhelmed them as well. The fans booed this while Excalibur noted that Adam Page was nowhere to be found. The Creepers managed to send the others out of the ring except for the Young Bucks.
The Dark Order group stood in the ring with Grayson pulling out two masks. Uno said he told us this was an initiation as Reynolds and Silver put on masks. Uno said you'll never doubt them again. Uno stuck his hand in Matt's mouth and Matt was bleeding. Dark Order posed over Matt Jackson. That was all for the show.
Analysis: I have a hard time getting into this Dark Order group as a strong heel entity. It just feels so cheesy to me. They have enough cult-like groups already. Guys like Reynolds and Silver were used as jobbers over the first few months in the company, but now they are part of this group. I guess this means the Young Bucks are feuding with them? I'm not really clamoring for a Dark Order rivalry, but here we are.
Three Stars of the Show
1. Lucha Brothers
2. Kenny Omega/Adam Page
3. Young Bucks/SCU
The Scoreboard
This week: 7 (out of 10)
Last week: 6.75
2019 Average: 7.42
Last 5 Weeks: 6.75, 6.25, 7, 7.75, 7.25
Final Thoughts
This week's Dynamite gets a 7 out of 10.
It was a good show that was entertaining most of the way. I was a bit disappointed because I thought the matches would be better. There wasn't a standout match. There were several good ones. I just think AEW has had better matches on Dynamite on previous weeks. The SCU/Young Bucks main event match had such a flat ending and the crowd barely reacted to it even though they were into rest of the match. I liked the opening tag team match and Jericho vs. Jungle Boy a lot. The rest was just okay.
This week also felt like it was all about the matches more than ever and they barely had any promos. The promos were basically about people joining cult-like groups. We also found out that the alien chick, who is a good wrestler, can only talk with a finger. It's silly. I'm also not a huge fan of the Dark Order group being on as if they are some main event act. I don't think the fans see them that way at all. It just felt like a flat ending to their last show of the year.
The next AEW PPV is Evolution on February 29. No matches have been announced yet.
There is no episode of Dynamite next week, so I'll be back with the next AEW Dynamite review after their next show on New Year's Day 2020.
—
You can contact me using any of the methods below. Go Los Angeles Rams, NBA Champion Toronto Raptors and Toronto Maple Leafs.
Thanks for reading.
John Canton
Email: mrjohncanton@gmail.com
Twitter: @johnreport
Personal Facebook and TJRWrestling on Facebook