Impact Wrestling Review – July 21, 2022
This week's episode of Impact Wrestling featured a number 1 contenders match between one of Impact's greatest ever tag teams, the Motor City Machine Guns, as Chris Sabin and Alex Shelley faced off to earn the chance to fight Josh Alexander for the Impact World Championship at Emergence on August 12th.
Last week we saw the team of Impact World Champion Josh Alexander and the Motor City Machine Guns victorious over Violent by Design in 6-man tag team action. After the match, there was some tension between Alex Shelley, Chris Sabin and Josh Alexander, as the tag team duo set their sights on the possibility of one of them becoming Impact World Champion. Impact Executive Scott D'Amore announced that Shelley and Sabin would face off in singles competition to crown a new challenger to Alexander for the August Impact Plus special, Emergence. On this taped edition of Impact Wrestling, I hope to see more of the card established, and we will also see another tag team grudge match between the Bullet Club and Honor No More.
The photos used in this review come from ImpactWrestling.com.
Impact Wrestling 21/7/22 from Old Forester's Paristown Hall in Louisville, Kentucky
The show opens with a video package highlighting the tag team achievements of Chris Sabin and Alex Shelley. Shelley points out that whilst Sabin has been Impact World Champion before, Shelley has not so that hunger will give him the edge in tonight's huge main event. The commentators, Tom Hannifan and Matthew Rehwoldt, welcome us to the show as we kick off with Knockouts tag team action.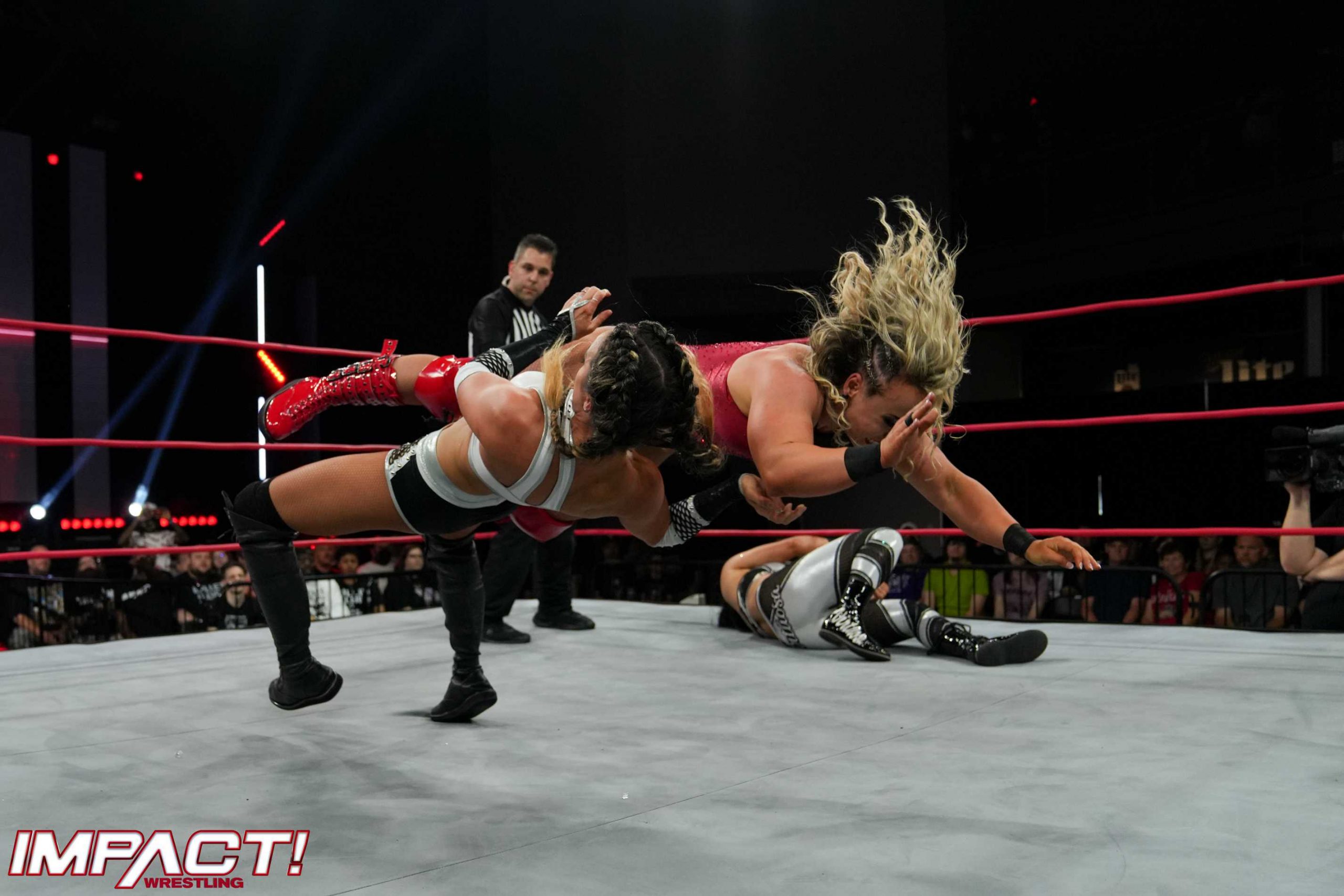 Match #1 VXT (Chelsea Green and Deonna Purrazzo) vs Mia Yim and Jordynne Grace
Green is coming off a big win over Mickie James last week. The heel team are now being referred to as VXT (pronounced Vexxed) whilst Mia Yim is the number 1 contender for Jordynne Grace's Knockouts Championship. Grace and Purrazzo start the match off, as they trade arm drags before Grace hits a big shoulder block. Grace bounces Purrazzo's head off the turnbuckle and takes her down with a big clothesline for the first two count of the match up. Grace takes in Yim who tries a few quick pinning attempts but only gets three 1 counts. Purrazzo gets a cheap shot in and takes in Green who Yim takes down easily with 3 hip tosses. Yim hits a big boot in the corner for a 2 count. Yim takes in Grace and she hits stalling Scoop Slam on Green for 2. Another quick tag in but Purrazzo distracts the referee so it doesn't count. Grace is still legal and Purrazzo takes her down from the apron then rolls her back in for Green to hit a big kick for a 2 count. Green stomps Grace's face into the bottom turnbuckle and gets a 2 count. Green puts a sleeper on Grace and tags in Purrazzo. They hit a double team kick on the outside whilst Yim is complaining to the referee. Purrazzo rolls Grace back into the ring for a 2 count. Green comes back in and she and Purrazzo try to double-team suplex Grace. Grace reverses it and Suplexes both her opponents. Grace breaks free from a Purrazzo Sleeper hold and hits German Suplex on Green to tag in Yim. Yim comes in and takes out the heels with a variation of a Neckbreaker. Purrazzo trips her up on the apron then they try a Suplex on Yim but Grace comes in for the save. The heels are turfed to the outside so Yim and Grace hit synchronised suicidas to their opponents through the ropes. Yim rolls Purrazzo back to the inside for a 2 count. Yim sets up for the Package Piledriver but Green makes the distraction so Purrazzo can hit the Flatliner on Yim. Illegal Curb Stomp by Green on Yim for a close 2 count. Purrazzo whips Yim into the corner and tags in Green. They unsuccessfully try another double team move in the corner but Jordynne Grace comes in and cuts Purrazzo off with a Spinebuster. Green hits a Jawbreaker on Yim and Purrazzo comes back in to aid her tag partner but Yim thwarts them with a double Stunner! Yim wants the tag but Grace has been taken out on the outside of the ring. VXT hit a double-team flipping slam on Yim and pick up the pinfall after 9:20.
Analysis: *** A solid opener with plenty of action, where the established team got the win. It's not the best way to build Yim as the number 1 contender, but she can say that Grace wasn't there when she needed to make the tag. The heel team finally hit a double team move for the pinfall, after trying unsuccessfully for the majority of the match. Green and Purrazzo will probably move on to the Knockouts Tag Titles as teams are pretty thin in that division.
Backstage Honor No More are all together for a promo. Matt Taven is complaining that after all the wins they've had in Impact, they still have had no title shots at all. Kenny King chips in and threatens Heath that if he keeps trying to take members of Honor No More out, then eventually it will come back to bite him. Vincent says that Heath is a bad guy because he has been attacking Honor No More from behind. Eddie Edwards asks where PCO was when Heath has been making these attacks. Edwards screams that mistakes and failure aren't options anymore. Maria Kanellis-Bennett says that tonight against the Bullet Club there will be no more mistakes.
Analysis: It was fine as a quick promo summing up what's been happening with Honor No More lately. Everyone got a quick chance to say something and I'm glad that they addressed possibly going for the tag titles as we can't do 10-man tag matches forever. It's Bennett and Taven against Chris Bey and Ace Austin tonight.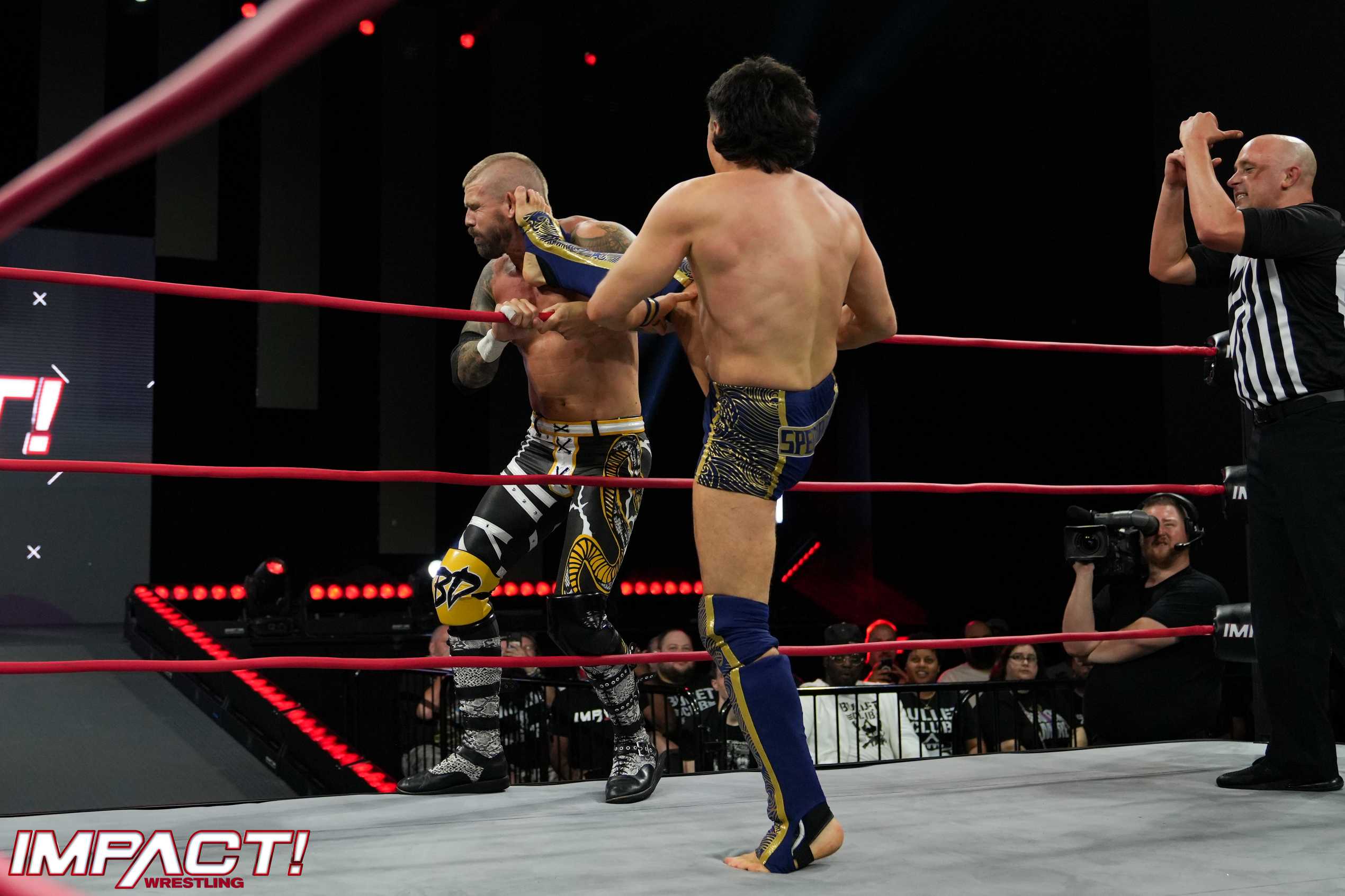 Match #2: X-Division Championship: Mike Bailey (c) vs Deaner w/ Joe Doering
This match came about after Mike Bailey successfully defended his title 2 weeks ago against Alan Angels, when VBD attacked both wrestlers from behind. Bailey responded and said that if Deaner wants a shot at him then bring it on. It's a simple storyline where Bailey is the fighting babyface champion who will defend his title against anyone. Deaner was out first with his stablemate Doering and then Bailey made his entrance. Deaner charged at Bailey in the corner but missed, so Bailey kicked away at Deaner. Deaner quickly gained the upper hand at went for the Deaner DDT but Bailey wriggled free and took down Deaner with a dropkick. Bailey applied a Boston Crab early in the match but Deaner got to the ropes quickly. Bailey chopped away on Deaner in the ropes, Deaner bailed to the outside so Bailey tried a baseball slide and Deaner caught him up in the ring apron and scored with a big right hand. Deaner got into the face of the referee which allowed Doering to take Bailey down with a big shoulder block.
(Commercial)
Back from the break and Deaner was chopping away at Bailey in the corner. Bailey fought back with chops of his own, but Deaner started biting Bailey on the forehead! Deaner with a knee drop for a 2 count. Deaner set up Bailey's head against the middle turnbuckle and hit a hard dropkick in the corner. Deaner hit a Neckbreaker for a 2 count. Bailey held onto the ropes as Deaner tried an Irish Whip. Bailey hit combination kicks as he started to build momentum. Bailey hit a Twisting Shooting Star Press for a 2 count. Deaner retreated into the corner but Deaner caught him with a running knee strike and a modified Powerbomb that looked great for a 2 count. Both men traded chops until Bailey took Deaner down with a big kick to the head. Deaner rolled to the ring apron and Bailey missed a kick and got tangled in the ropes. Doering confronted Bailey and went for Ultima Weapon on the ring apron but Deaner moved. Deaner went for the DDT but Bailey countered into a roll up for 2. Bailey was tied up in the ropes again and Deaner hit a Neckbreaker using the middle ring rope. Deaner taunted Bailey, then ran at him but was sent over the top rope. Bailey hit a Springboard Moonsault to the outside of the ring. Double knee strikes by Bailey back in the ring. Deaner avoided a kick and rolled up Bailey using the ropes for an advantage for a 2 count. Bailey stunned Deaner with a kick to the head. He hit his running kick in the corner followed by Ultima Weapon to retain his championship at 9 minutes.
Winner and STILL X-Division Champion: Mike Bailey
Analysis: ***1/2 A hard-hitting and entertaining match up. Bailey doesn't have bad matches and when Deaner is given almost 10 minutes in a rare opportunity in a singles match you can count on him to deliver. There were some moments where you could've thought Deaner might have won, but Bailey is doing a fine job as the fighting champion for now so there's no real reason for a title change. They told a good story of the underdog face overcoming the continuous double team efforts of the heel team.
Next up was the 'Ric Flair Moment of the Week', in celebration of Ric Flair's final match at Starrcast on July 31st. We now know that it will be Flair and Andrade vs Jay Lethal and Jeff Jarrett. They showed highlights of Flair's last (last) match against Sting in Impact in 2011. Sting won this match that was full of outside interference (thankfully).
Backstage, Gail Kim confronted VXT. Green suggested that because Purrazzo pinned Mia Yim earlier, that Purrazzo should now be number 1 contender to Jordynne Grace's Knockouts championship. Instead, Gail announced that VXT would challenge for the Knockouts Tag Team Championships at Emergence.
Analysis: My prediction from earlier in the show was correct. It's not that hard to predict storylines in wrestling most of the time!
Eric Young was giving a pep talk to Deaner and Joe Doering. He was disappointed that Deaner didn't beaten Mike Bailey earlier in the night. He said that they needed to prove themselves further and find a cure to this 'sickness' (losing).
Analysis: I'm not sure what they're suggesting here but VBD need to get a win on the board soon. Maybe they're alluding to a new member in the future.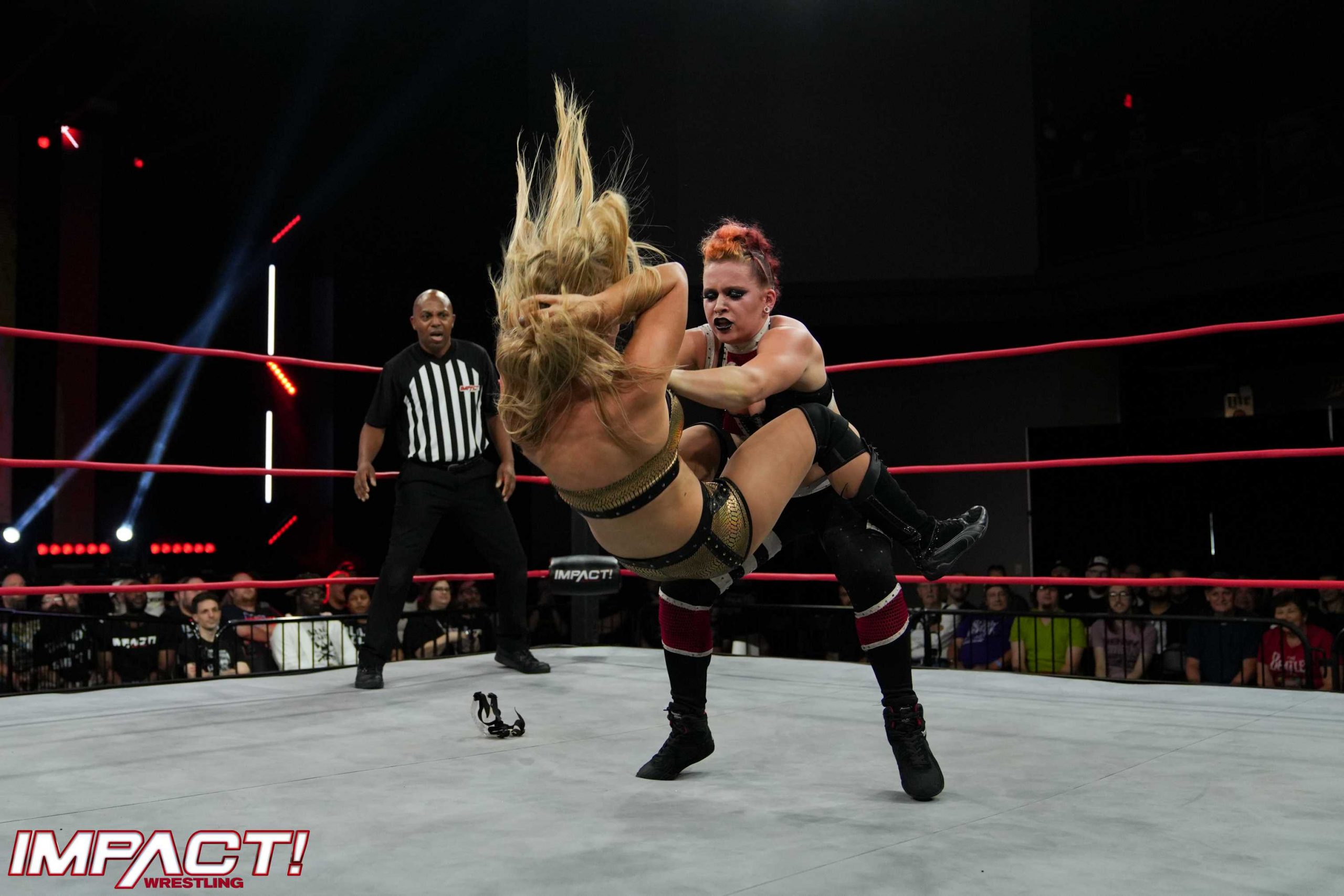 Match #3 Madison Rayne w/Gisele Shaw vs Masha Slamovich
Masha has been bulldozing her way through the Influence, so tonight is Madison Rayne's turn it seems. Masha is 12-0 in Impact. Rayne is still sporting her face mask from her broken nose that she suffered a few weeks back. Slamovich backed Rayne into the corner and removed her mask. She picked up Rayne and slammed her hand into the mat then smashed the mask. Rehwoldt humorously suggested that the mask cost more than Hannifan's house. Slamovich hit the Snow Plow for the win after 1:16.
Winner by pinfall: Masha Slamovich
Analysis: * Another squash win for Masha, who they're building up as an unstoppable monster in the Knockouts division. She's taken out Tenille Dashwood and Rayne in consecutive weeks.
After the match, Masha left the ring to get an envelope for Gisele Shaw. It was Shaw's photo with a red X, showing her that she's next. Sure, Masha could've just taken her out there but it makes Shaw think about it for the next week I guess.
Backstage and the Digital Media Champion Brian Myers has his weekly dodging of contenders backstage. This week it's Bhupinder Gujjar again who says that Myers is scared of him. Myers says a lot of people want to face him and he can't fight them all. Myers says a lot of people also want to fight Gujjar and that Vincent was talking trash about him in the locker room so Gujjar should fight him instead. Myers ran off to find Vincent.
Analysis: Myers plays the cowardly heel who doesn't want to defend his title well. I'm sure this is leading to a match between Myers and Gujjar which is fine.
Another vignette for Killer Kelly aired. She makes her return to Impact Wrestling next week.
Chris Sabin and Alex Shelley were shown warming up separately backstage, ahead of their main event match tonight.
Analysis: I'm very much looking forward to that match later!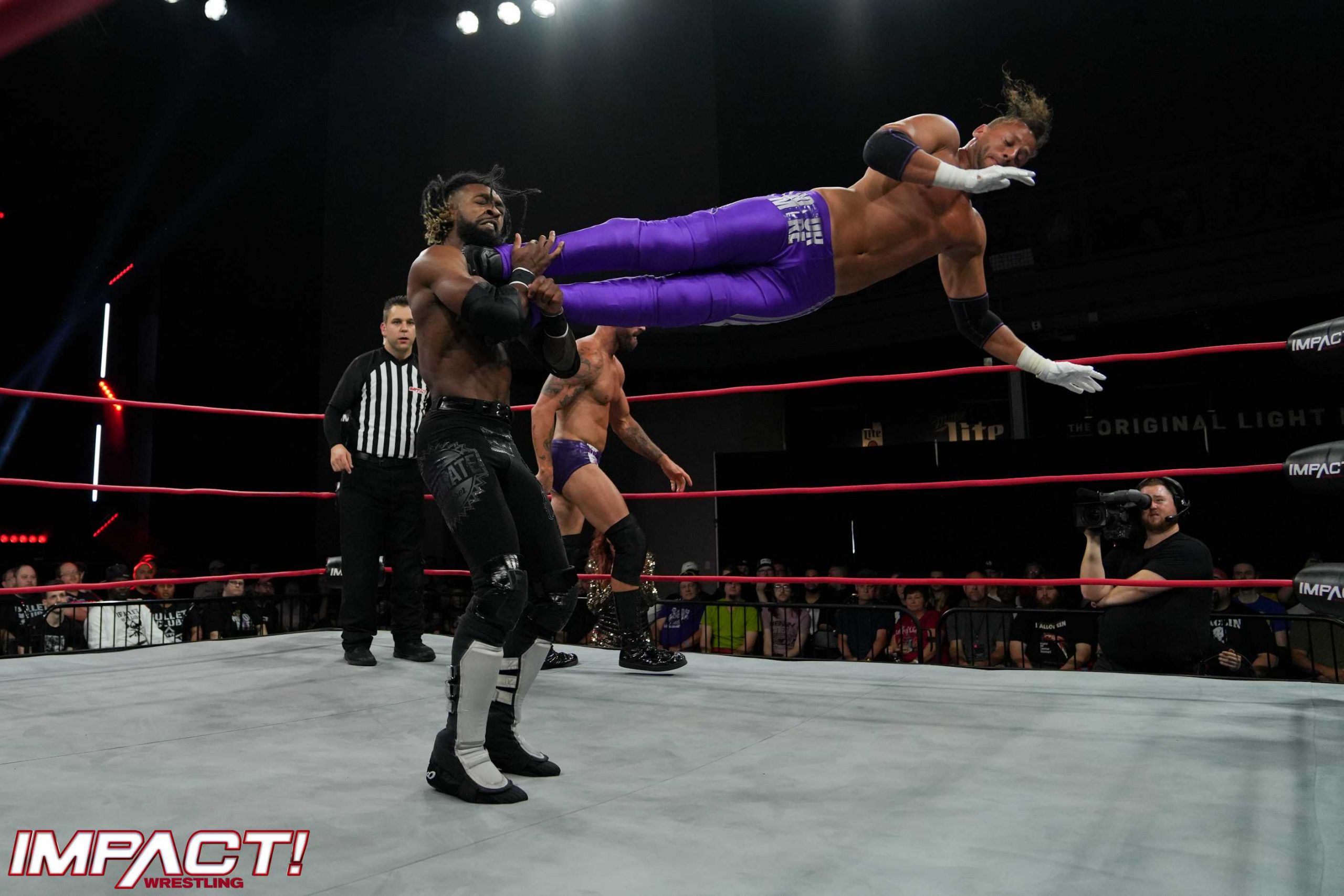 Match #4 Honor No More (Mike Bennett and Matt Taven) w/ Maria Kanellis-Bennett vs Bullet Club (Ace Austin and Chris Bey)
This match continues the ongoing rivalry between HNM and Bullet Club. Bennett and Taven are looking to prove that they deserve a title shot at the Good Brothers. They entered first, followed by Austin and Bey who are a new team. It's Taven and Austin kicking things off with plenty of trash talk. Taven takes the advantage early with a headlock, grounding Austin to the mat. Austin takes Taven down with a drop toehold and an enziguiri for a 2 count. He tries a roll up and gets another 2 count. Taven hits an athletic dropkick as he whips Austin off the ropes. Taven taunts the crowd and turns around to receive a dropkick from Austin. Bennett tags in and so does Chris Bey. They exchange submission attempts before having a chop-off in the centre of the ring. Bey takes Bennett down with a Hurricanrana using the middle ring rope for a 2 count. Taven tags in and hits another dropkick for 2. He misses an elbow drop and that allows Austin to tag back in. Taven avoids a double-team move in the corner and nails Bey with a nice Spinning Heel Kick. He runs at Austin in the corner who avoids contact and nails Taven with a hard knee strike off the top rope. Austin runs to the corner and dropkicks Bennett off the ring apron. Taven whips Austin into the ropes and Maria pulls down the middle rope so Austin falls to the outside, landing hard on his shoulder. Taven tried to send Austin back into the ring but he held onto the ropes and hit a reverse Hurricanrana on the floor. Austin did his cartwheel on the apron routine to avoid Taven's strikes, then nailed a kick on the side of his head. The referee started his count as Bennett interfered with a big forearm to the face on Austin. Bennett hit a Scoop Slam on Austin on the outside then threw him back into the ring. Tag back into Bennett who hit another forearm followed by the Blue Thunder Bomb by Taven for a 2 count. Bennett applied a chin lock on Austin and Taven tagged back in. Austin avoided some double team strikes in the corner and tagged in Bey. Bey nailed a Neckbreaker/DDT combo on Honor No More and a big Neckbreaker on Bennett for a 2 count. Taven went to interfere but Austin intercepted. Bennett tried a Superkick on Bey but he was caught. Double team stomp on Bennett but Taven broke up the pinfall. All 4 men were fighting in the ring at this point. Taven sent Austin over the top with a back body drop. This allowed Bennett to take down Bey with a Brainbuster. Taven went for the Aurora Borealis Frog Splash but Bey avoided the attack. Bey nailed Bennett with a DDT where he jumps from the ring apron back over the ropes and in. Smooth move. Maria got up on the ring apron but Ace Austin confronted her. Taven nailed Bey with a low blow as the referee dealt with Maria. Heath snuck in and hit the Wake Up Call on Taven. Bennett was incensed so Austin took advantage and hit the Fold for the win after 11 minutes.
Winners by pinfall: Bullet Club
Analysis: ***1/4 A solid tag-team match involving four very good in-ring competitors. Bennett and Taven always work together so well in whatever tag team scenario they are in and the team of Austin and Bey have a really exciting set of moves that pop the fans. They seem to have turned face as soon as facing Honor No More (they and the Good Brothers were booked as heels until recently). I guess anyone that takes on HNM automatically is a face now. Anyway, there was plenty of good action and the usual heel shenanigans from Maria which kept the crowd involved. I was surprised in the outcome of the match as I thought they were building to a title match for Bennett and Taven, but I'm fine with Bey and Austin continuing to gain momentum.
Backstage Steve Maclin was with Gia Miller. Gia asked if he was scared of Sami Callihan after his actions at Against All Odds. Maclin said that all Callihan is interested in is mind games. Callihan showed up behind Maclin and they started brawling. Moose appeared and restrained Sami whilst Maclin hit him with a steel pipe. Sami pressed a button on his phone and the lights went out so he could escape. Moose and Maclin were left frustrated.
Analysis: Good to see some more development to this storyline. We still don't know why Maclin assisted Moose at Against All Odds. Maclin vs Callihan in the near future will be a decent feud.
Rosemary, Havok and Taya Valkyrie were backstage. Rosemary was trying to get Havok to put her mask on as she does when they make their entrance. Havok (or Jessica as she's referred to at this point) didn't understand what she was talking about. Rosemary was getting frustrated that the other two women weren't taking their title match with VXT seriously.
Analysis: Not the most interesting storyline currently, but the match at Emergence should be good.
Backstage Scott D'Amore and Josh Alexander were discussing Sabin vs Shelley. Rich Swann showed up and said that being World Champion was the best time in his career. But when he lost his title, he lost his mojo. Swann said he never had a rematch after losing his championship to Kenny Omega. D'Amore said if you want a shot at Alexander, then he needs to beat the debuting Kushida next week.
Analysis: It's nice that they remember that Rich Swann still works at Impact. He has been so poorly booked this year. Hopefully we get the serious Swann, not the goofy dancing version, going forward. That match against Kushida should be great.
Also next week it's Eddie Edwards vs Ace Austin.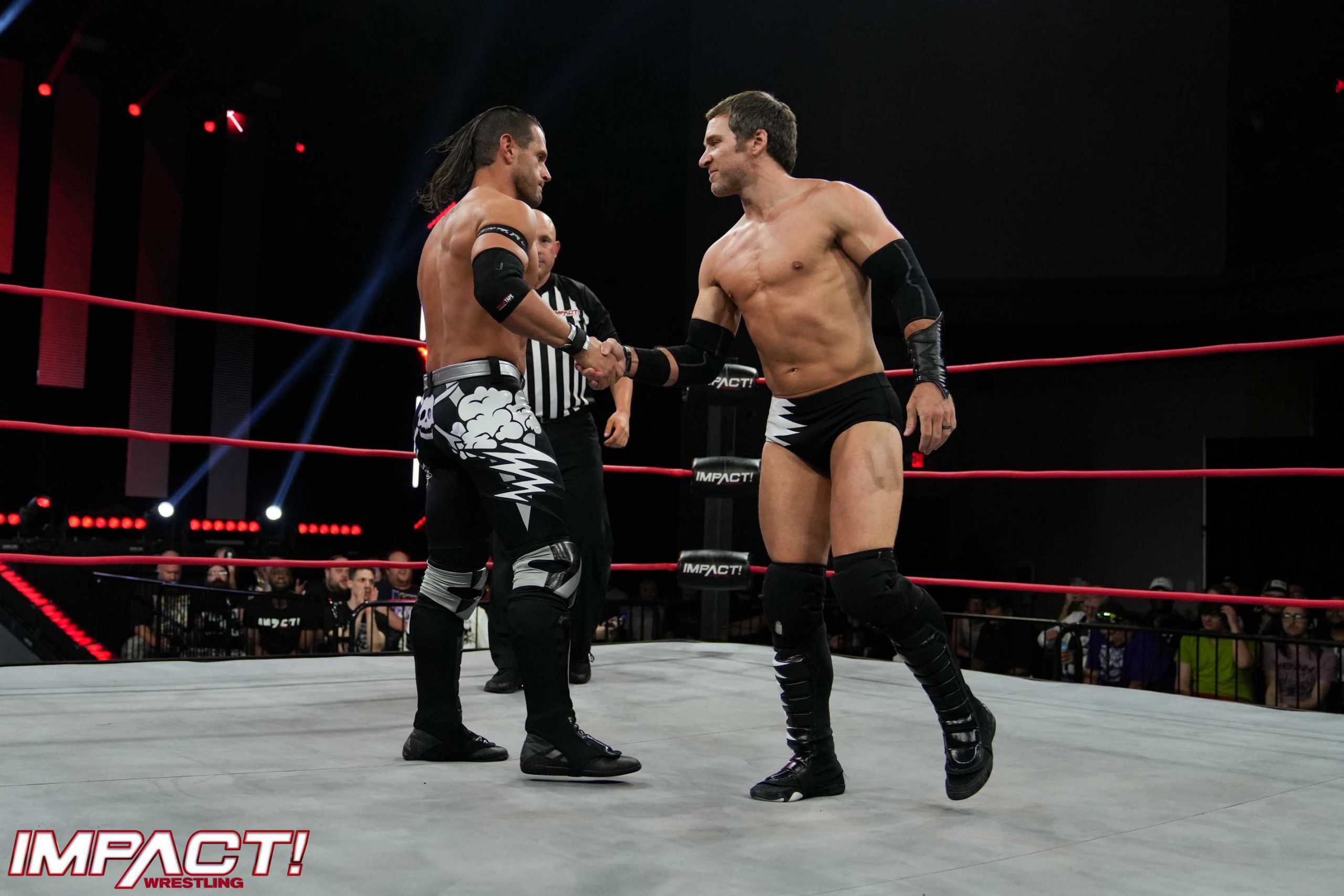 Match #5: Number 1 Contenders Match for the Impact World Championship: Alex Shelley vs Chris Sabin
The winner will face Josh Alexander at Emergence on August 12th. These two have faced off 7 times in Impact with Shelley leading 5-1, with 1 draw. However, it's their first match against each other since 2009. Shelley entered to the Guns' music, whilst Sabin had his own theme. There's over 20 minutes left on the broadcast so there's plenty of time for a high-quality match up here. They shake hands and hug as the match begins. Shelley gets an early backslide for a 2 count. Shelley tried another roll through for a pin but Sabin blocked it with his own roll up for a 2 count. Josh Alexander was shown watching the match on a screen backstage. Sabin had Shelley in a side headlock but Shelley took down the legs of Sabin. Shelley hit a tip toss into a backslide for a 2 count. There has been a lot of counter wrestling in the first few minutes.
(Commercial)
Back to the action and Sabin took down Shelley with a Neckbreaker. Sabin with a big forearm to the neck and another Neckbreaker for a 2 count. Sabin was stomping away on the right shoulder of Shelley who tried to fight back with a kick but Sabin blocked it and rolled Shelley up for a 2 count. Sabin continued to target the neck, stretching Shelley out on the middle and top rope. Sabin hit a headbutt then locked in a headlock in the middle of the ring. Shelley slowly rose to his feet with elbows to the ribs of Sabin. Sabin ran the ropes and Shelley hit a dropkick to Sabin's left knee.
(Commercial)
Sabin was locked in the corner ropes as they came back from the break. Shelley was firmly targeting the left knee of Sabin. Shelley locked in a submission focusing on the knee of Sabin. Sabin laid back in pain and the referee counted his shoulders for a 2 count. Sabin tried to mount a comeback but Shelley hit a creative Neckbreaker by twisting Sabin's arms over his head. Shelley had a wrist lock wrapped around Sabin's left leg so Sabin's own body was locking him in the submission hold. Sabin tried to get up but Shelley cut down the left knee again. Sabin came back with chops and a backslide for a 2 count. Shelley tried for a back Suplex but Sabin turned it into a DDT. There were duelling chants from the fans as the match pace started to pick up. Sabin sent Shelley to the outside with a kick. Sabin ran on the ring apron and hit another kick, targeting the shoulder of Shelley. Sabin went flying from the top rope and connected with a Crossbody for 2. Sabin hit a huge kick in the corner and followed up with a Tornado DDT to get a very close 2 count. Sabin went for the Cradle Shock but Shelley battled out and kicked at the knee of Sabin. Sabin was backed into the corner so Shelley grabbed the knee and hit a Dragon Screw into the mat. Shelley hit a Back Suplex but Sabin tried to flip over and ending up falling on his head, not sure that was intentional. Shelley took down Sabin with a number of chops, holding onto the arm of Sabin. He ran the ropes and Sabin hit a standing enziguiri. Sabin hit a German Suplex and went for a Clothesline from Hell but Shelley nailed a Superkick. Shelley went for Slice Bread but Sabin hit a Superkick of his own. Sabin connected with the Clothesline from Hell, turning Shelley inside out. Sabin went for the Cradle Shock again but Shelley slipped out his shoulders and connected with Sliced Bread for a close 2 count. They exchanged pin attempts and Shelley hit the Shell Shock then locked in the Motor City Stretch and Sabin tapped out after 17 minutes.
Winner by submission and #1 contender: Alex Shelley
Analysis: ***3/4 You could tell that those guys really enjoyed that. It was such an even match the whole way through, which makes sense as they have tagged for so long and know each other so well. The first half of the match focused on each wrestler targeting a different body part, where the back end of the match they were pulling out all the stops to try and get the win. It was not a fast-paced match for the duration (that might disappoint some), and the second commercial break was very poorly timed, but they told a good story and had the fans involved. Shelley got a big win over Jay White earlier in the year, so it makes sense for him to get another big win here and go on to face Alexander. They can tell a good story too, as Shelley has never been World Champion before.
Post-match Sabin congratulated Shelley whilst Josh Alexander nodded his head in approval as he watched on the TV screen backstage. All of a sudden Joe Doering and Deaner attacked the Machine Guns in the ring. Doering was choking Sabin out on the mat and Deaner was choking Shelley using the bottom turnbuckle. Kushida's music hit and he ran to the ring to make the save. Doering ran at Kushida but he went tumbling over the top rope. Kushida hit the Tanaka Punch on Deaner. Kushida checked on Sabin and Shelley as VBD retreated up the ramp as Impact went off air.
Analysis: Great to see Kushida end this week's episode of Impact. I enjoyed his time in NXT, although I think he could've been featured a lot more and in more high-profile matches. It makes sense for him to make the save here as he has been in a tag-team with Alex Shelley in the past called the Time Splitters. Violent by Design fail again, which won't please Eric Young.
Final Rating: 7.5/10
A really entertaining episode of Impact Wrestling this week. They showcased 4 matches that were all given a decent amount of time (there was one squash but it still made sense storyline-wise) and the main event, whilst not the instant classic that I hoped for, played up a lot of tradition that Impact has been promoting in 2022. Shelley vs Alexander is a fresh match up and I'm looking forward to it in 3 weeks' time. They furthered the storylines for both championships in the Knockouts division as Mia Yim and Jordynne Grace couldn't get the win over Deonna Purrazzo and Chelsea Green, who earnt a shot at Rosemary and Taya Valkyrie's tag titles. Mike Bailey and Deaner had a solid X-Division title match, too. I was surprised that Honor No More lost to Bullet Club, as they looked to be lining up a shot at the tag team titles against the Good Brothers, which would further that story. There were minimal backstage segments this week but at least there was interaction between Moose, Maclin and Sami Callihan, which should set up Callihan vs Maclin for Emergence.
So far the Emergence card looks like this:
– Impact World Championship: Josh Alexander (c) vs Alex Shelley
– Impact Knockouts Championship: Jordynne Grace (c) vs Mia Yim
– Knockouts Tag Team Championships: Rosemary and Taya Valkyrie vs VXT
– Steve Maclin vs Sami Callihan as well as the Good Brothers vs Matt Taven and Mike Bennett will probably be added too. There will also be a AAA match featuring Bandido against Rey Horus. This will mark the debut match for both luchadores in Impact. I know a little bit about Bandido as former ROH Champion but nothing of Horus.
Any feedback or comments are welcome. My email address is kristian.l.thompson@gmail.com in case anybody wants to get in touch with me and Twitter is @thomok6 as well. Thanks for reading!