WWE News: Tag Team Title Unification Match Announced for Next Week's Smackdown (May 20)
A huge match was announced for WWE Smackdown on May 20 with RK-Bro and The Usos set to clash in a Tag Team Title unification match.
The Raw Tag Team Champions RK-Bro (Randy Orton & Riddle) started this week's episode of Smackdown making their intentions known. They called out The Usos (Jimmy & Jey), who are the Smackdown Tag Team Champions, to accept RK-Bro's challenge to unify the two sets of Tag Team Titles.
It was several weeks ago when The Usos wanted to unify to the titles, but the contract signing became a chaotic situation that led to no contract being signed and a six-man tag team match was set up for WrestleMania Backlash. That excellent match at WrestleMania Backlash took place this past Sunday with the Undisputed WWE Universal Champion Roman Reigns & The Usos (collectively known as The Bloodline) defeating RK-Bro and Drew McIntyre.
While RK-Bro waited for The Usos to accept the title challenge, Sami Zayn made an appearance. Zayn considers himself to be a locker room leader on Smackdown, which led to Sami claiming he could speak on behalf of The Usos and Reigns. That led to Orton telling Zayn that if Riddle can beat Zayn then THe Usos will accept the challenge. Zayn accepted the match even though the stipulation wasn't official. Riddle ended up beating Zayn in what was a very entertaining match.
After the match, Reigns and The Usos wondered why RK-Bro was there since they (The Bloodline) already smashed them at WrestleMania Backlash. Reigns made it known that they would give an RK-Bro an answer to the challenge later in the night.
As for Sami Zayn, he was shown talking to Paul Heyman (Special Counsel to the "Tribal Chief" Roman Reigns) with Zayn saying that he wanted Roman Reigns to see Sami's intentions. Sami said that RK-Bro disrespected Reigns and The Bloodline, so Zayn was the one that stood up to them. Zayn said he needs to get his respect back, so he wants to make sure that Roman is not mad at him. Heyman told Zayn: "Your Tribal Chief appreciates you." That made Zayn happy.
The main event segment on Smackdown saw the Roman Reigns-led group known as The Bloodline go out to the ring for a promo. Reigns did his usual cocky speech bragging about smashing all of his opponents while mentioning names like past opponents such as John Cena and Brock Lesnar. That's when Orton & Riddle appeared again. Orton told Reigns that "John Cena is ten times the superstar that Reigns will ever be." Orton also spoke very slowly to insult The Usos by saying they were slow. It eventually led to The Usos accepting the challenge while saying it won't be this week, but it will be next week on Smackdown.
Jimmy Uso said that after next week, all three members of The Bloodline are going to have two titles. As Reigns posed with his titles, Riddle hit Reigns with a jumping knee lift to the face. The fans loved that while Reigns was stunned by it. Riddle and Orton left the ring quickly.
Smackdown ended with Orton and Riddle celebrating their successful appearance on Smackdown since they got what they wanted – the tag team title match against The Usos.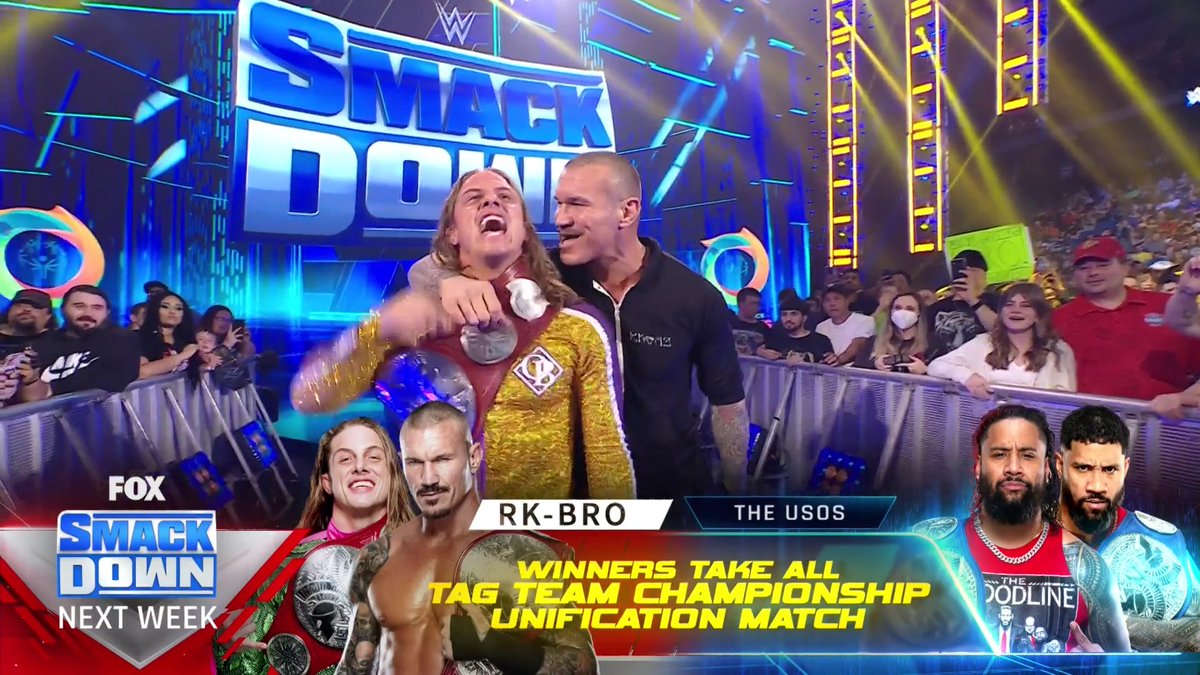 Next week on Smackdown in Grand Rapids, Michigan, it's Orton & Riddle vs. The Usos for both sets of tag team titles. Will it be a clean finish with one team leaving with all the gold or is a disqualification type finish likely? We'll all find out together next week on Smackdown.