The John Report: WWE Smackdown 05/13/22 Review
This week's WWE Smackdown featured RK-Bro confronting The Usos while Sasha Banks & Naomi defended the Women's Tag Team Titles against Natalya & Shayna Baszler.
Another match that was advertised was Kofi Kingston facing Butch in singles action.
From the Mohegan Sun Arena in Wilkes-Barre, PA, this is Smackdown for episode #1186. Follow me on Twitter @johnreport. Let's get to it.
The show began with highlights from WrestleMania Backlash on Sunday with The Bloodline beating Drew McIntyre & RK-Bro in a great six-man tag team match main event.
The Raw Tag Team Champions RK-Bro (Randy Orton & Riddle) made their entrance to start the show. The Smackdown commentary team of Michael Cole & Pat McAfee were on hand to call the action. They both commented that it was a loud crowd this week.
Let's Hear from RK-Bro
There were loud "Randy" chants from the crowd as Orton welcomed us to Friday Night Smackdown. It was a crowd full of energy. Orton said that they were excited to be there, but they are also sick and tired of the chase. Orton said it's obvious that The Usos don't have any balls to make any decisions for themselves. Orton said it's obvious that Roman Reigns is the only one to make the decisions. Riddle gave them props because he thought they had the match in the bag, but Reigns hit a Spear and they lost. Riddle said "my bad" for that. Riddle said what he has noticed is that when The Usos can't handle business, Roman Reigns comes in and handles it for them. Orton said he knows we're all sick and tired of it. Orton said since they want to become the unified Tag Team Champions, he wanted the Tribal Chief (and other nicknames he made up) Roman Reigns to come out there.
Sami Zayn interrupted wearing "The Bloodline" t-shirt. Sami said that's not how it works on Smackdown. Sami said that as the locker room leader, he'll address this on "his" behalf. Sami said that he speaks for The Bloodline, the locker room and the WWE Universe that nobody wants to see the tag team title unification match. The fans booed. Sami said that if the match happens then RK-Bro will lose. Zayn got into the ring with them. Sami told RK-Bro has a good thing going, but what he suggests and there was a loud "Sami sucks" chant. Sami suggests they take the Raw Tag Team Titles, go back to Raw and don't come back.
Orton wondered what Sami is doing out there. Riddle said he'll call Sami "Rusty" because his hair is the color of rust. It led to small "Rusty" chant. Sami said his name is not Rusty, it's Sami Zayn the locker room leader. Sami told them they should think about how they talk about Roman Reigns and The Bloodline. Zayn said that last week he took care of Shinsuke Nakamura and he personally handled it. Orton wondered if Sami was a shot caller and getting things done. Sami said it is kind of cool. Orton said he had the perfect idea. Orton wanted Sami to make a match where Sami faces Riddle and if Riddle wins then they get their unification match for the tag team titles. Riddle: "Come on, Rusty." Orton led the crowd in "Rusty" chants. Zayn said fine, let's do it. Zayn left the ring said there's no way it's going to happen tonight, but maybe it will be in a week or two. Sami said maybe he'll talk to Paul Heyman or Roman Reigns to figure it out.
Adam Pearce, the WWE Official, appeared saying that while he can't speak for The Bloodline, he thinks we all want to see a match between Sami and Riddle, so it's official and it will take place right now. That match is next.
Analysis: The crowd loves RK-Bro so if they want to try to throw a "Rusty" nickname onto Zayn then the fans are going to get into it and chant it as well. Zayn accepting the match doesn't officially mean The Usos or Roman Reigns agreed, but the story is that Sami *thinks* he's a guy with influence, so that's an ongoing thing to watch for in the future. Anyway, the crowd is vocal and the guys talking did a nice match. It sets up a fresh match to start the show.
(Commercial)
Riddle (w/Randy Orton) vs. Sami Zayn
Zayn was wrestling in The Bloodline shirt. Zayn got a running shoulder tackle, then he ran the ropes and Riddle grabbed an armbar, but Zayn rolled out of the ring. Riddle kicked Zayn into the barricade. Zayn with an elbow knockdown followed by some punches. Zayn with the double knees to the back while Riddle was against the middle ropes. Zayn grabbed a chinlock, Riddle broke free and got a jumping kick to the face. Riddle with a Fisherman's Suplex, Zayn avoided a few moves and Riddle went for a Broton, but Sami got the knees up. Zayn charged for a kick, Riddle got a boot up, Riddle up top and Zayn shoved him off the top to the barricade.
(Commercial)
Zayn was in control as the fans chanted "Let's go Riddle" for Riddle. Zayn went up top, Riddle popped up to meet him, but Zayn knocked him down and Zayn jumped off the top with nothing as Riddle hit a rising knee to the face for two. Great nearfall there. Zayn tried a Blue Thunder Bomb, Riddle got out of it and Zayn hit a Michinoku Driver on the back of the neck for a two count. Zayn nailed that move. Fans chanted "Rusty Sucks" at Zayn. Zayn wanted a draping DDT like Orton, Riddle sent Zayn over the top to the floor and Riddle delivered a kick from the apron. Orton with a twisting splash off the ropes. Back in the ring, Zayn ran right into a powerslam by Riddle, who did it just like Orton. Riddle hit the draping DDT off the ropes with Orton liking that at ringside. Riddle set up for the RKO, but Zayn rolled out of the ring. Riddle went after Zayn, so Zayn shoved him into the ring post and Zayn tossed Riddle over the barricade. Riddle got back in the ring right before the ten count. Zayn tried to pick up Riddle, but Riddle countered it into a Bro Derek slam for the pinfall win after 11 minutes.
Winner by pinfall: Riddle
Analysis: ***1/2 That was a great match. Riddle has great matches on a regular basis whether it's singles or tags and we know Sami is one of the best if he's given the chance to show it. They did a nice job of giving Sami a few nearfalls like that Michinoku Driver for a two count. The countout spot worked perfectly since Zayn beat Nakamura last week in a similar manner. Riddle winning was what I expected to happen. The crowd was really into the match too, so that helped a lot.
Roman Reigns and The Usos with Paul Heyman were watching in their dressing room. Reigns wondered why RK-Bro was there since they (The Bloodline) already smashed them. The Usos weren't happy about RK-Bro disrespecting them with Jimmy noting they have been champions for nearly 300 days. Reigns said that tonight they will give them an answer.
Ronda Rousey was up next.
(Commercial)
The announcers talked about WWE Clash at the Castle in Cardiff, Wales on September 3 with McAfee putting over how loud the UK fans are. They are awesome fans, that's for sure. Tickets are available next Friday. That's going to be a huge show.
Sami Zayn was shown walking backstage with Shinsuke Nakamura laughing at him. Nakamura said Roman is the Head of the Table, but Sami is the table's ass. Sami said nothing. Nakamura laughed.
Let's Hear from Ronda Rousey
Ronda Rousey made her entrance as the Smackdown Women's Champion. Big pop for her. Rousey won the Royal Rumble, she didn't win at WrestleMania, but she did at WrestleMania Backlash in an "I Quit" match that was very good. They showed some highlights of Ronda's win.
There's a storyline injury for Charlotte Flair, who has suffered a broken arm. In reality, she is getting married this summer, so WWE is giving her some well-earned time off for a few months.
Analysis: I'm fine with Charlotte missing a few months. She said earlier in the year she's getting married "this summer" to Andrade so it's coming soon. Charlotte was pushed heavily and I think fans can get sick of her sometimes. A break can be a good thing.
Ronda Rousey said that Charlotte Flair was a 13-time World Champion. Rousey said that was impressive, but Rousey said "was" is the key word because Ronda has the title now. Rousey said that she had to break her arm to say "I Quit" while adding she would die before she would say those words. Rousey said that she wants to be a fighting champion, so to prove it she's issuing an open challenge for the "Smackdown Championship Title" (it's the Smackdown Women's Champion) and wondered who wants to make history tonight.
Raquel Rodriguez made her entrance smiling because she has talked about how they have told her to smile a lot, so clearly she got the message due to all the smiling on the way to the ring.
Raquel faced off with Rousey in the ring letting her know that her name is Raquel Rodriguez and she accepts the challenge. Raquel said she may be new to Smackdown, but what better way to be on Smackdown to win the championship and it would be an honor to be in the ring with a legend like Rousey. Raquel said she was going to make history. That match is next.
Analysis: I certainly didn't expect Raquel to answer the open challenge, but it's a fresh matchup, so it's cool with me. They kept Ronda's promo short, which is fine because she can be a bit awkward in her promos. I wonder if somebody backstage will remind her of the name of the title since she got it wrong more than once.
(Commercial)
Smackdown Women's Championship: Ronda Rousey vs. Raquel Rodriguez
This is Raquel's second match on Smackdown. Raquel with a waistlock takedown and then she lifted up Rousey to send her into the corner. Raquel hit a clothesline for two. Raquel lifted Rousey into the turnbuckle followed by a fallaway slam across the ring. Raquel hit an other fallaway slam across the ring and then an elbow drop off the turnbuckle. Raquel lifted Ronda up on her shoulders, Rousey got out of that, Raquel with a kick to the body and a corner whip. Rousey went for an armbar, Raquel powered out of it and hit a sidewalk slam. Raquel went for an elbow drop off the middle rope, Rousey moved out of the way and Rousey delivered a kick to the ribs. Rousey went guillotine choke off the ropes, Raquel blocked that, Rousey got a tight headlock and Raquel powered out of it with a delayed vertical suplex for two. Raquel with an armbar, Rousey fought back with a knee to the face and punches to the body by Ronda. Rousey with a running knee, then a kick to the head and Rousey wanted the Piper's Pit slam, but Raquel turned it into a spinning slam for a two count. Raquel went for the Chingona Bomb, but Rousey got a hold of the right arm, so Raquel sent Ronda into the ropes. Rousey applied an Ankle Lock, Raquel got to her bad to kick herself free. Raquel with a boot to the face for a two count. Raquel went for a Powerbomb, Rousey countered it into a takedown and sat on top for the pinfall win after seven minutes.
Winner by pinfall: Ronda Rousey
Analysis: **3/4 That was pretty good with Raquel on offense for about 90% of the match, but Rousey was able to do a counter move leading to a pinfall win. I liked how it was booked with Raquel looking credible and tough to beat until Rousey got a takedown leading to the pin for the win. If Rousey won in three minutes with Raquel barely getting any offense then I'd complain about it. However, what they did here was the right way to book it with Raquel looking strong even in defeat.
Post match, Rousey extended a hand and Raquel shook her hand. Raquel let her know that it was close because she nearly won. Rousey left with her title.
Analysis: If you watched NXT then you know Raquel spent most of her time as a heel, but she was a face at the end of her run. It wouldn't surprise me if they turned her heel sooner rather than later.
There was a backstage scene with Shotzi telling Adam Pearce that she was going to the ring and then Raquel pushed her out of the way. Aliyah was there saying Shotzi locked her in a room to prevent Aliyah from answering the challenge. The women were bickering as the scene ended.
Analysis: That will probably lead to a match between Shotzi and Aliyah, both of whom are not featured that much on Smackdown.
This Monday on Raw: Bobby Lashley vs. Omos in a Steel Cage Match. It was set up last Monday. That's all they advertised.
(Commercial)
Madcap Moss Interview
Kayla Braxton was in the ring and she introduced Madcap Moss, who won the 2022 Andre the Giant battle royal. The trophy was at ringside, so Moss pointed it out. Kayla mentioned Moss had the biggest victory of his career at WM Backlash, so they showed a Progressive Match Flo replay of Moss beating Happy Corbin in their match.
Moss tried talking about how Corbin was tough, but he persevered. Moss ripped on Corbin for being a terrible guy, he ripped on his tattoos and the bald head. Moss talked about things he wanted to do like form a mixed tag team with Sasha Banks called Madcap Boss, winning Money in the Bank, he talked about suspenders and then Happy Corbin showed up with a cheap attack. Corbin hit Moss with chair shots to the back that knocked Moss down. Corbin grabbed the Andre trophy and brought it into the ring. Corbin putt he steel chair around Madcap's throat and then slammed the Andre trophy onto the chair, so the idea was that it crushed Madcap's throat. Referees and officials like Adam Pearce and Shawn Daivari went into the ring. Corbin was laughing about it. A stretcher was brought out there as EMTs checked on Moss.
Analysis: A cheap attack by Corbin, who was a sore loser after losing to Moss at WM Backlash. Since Moss likes to tell jokes that make fun of Corbin, it was Corbin's way of shutting him up. I would prefer it if the feud ended at WrestleMania Backlash, but apparently it's going to continue.
(Commercial)
They showed what happened before the break.
Madcap Moss was shown on a stretcher. They were about to put him in an ambulance, but Corbin was there to tell Moss he was going to the "Moss-pital" instead of hospital. That's mean while Corbin laughed about it. Moss was put into the ambulance.
It was the second championship match of the night with Natalya & Shayna Baszler up first as the challengers. The popular Women's Tag Team Championship duo of Sasha Banks & Naomi were up next. Banks. They showed two weeks ago when Baszler stomped on Naomi's arm, but then last week on Smackdown, the champions fought off a heel attack.
Women's Tag Team Championships: Sasha Banks & Naomi vs. Natalya & Shayna Baszler
Baszler went after Naomi's injured left arm right away with an armbar takedown. Naomi kicked Baszler to break free, Banks tagged in leading to a double foot attack to the head. Natalya tagged in as she stomped on Banks in the corner. Banks sent Natalya's head into the turnbuckle, then a headscissors and Banks hit the double knees for the two count. Banks countered a move leading to a sunset flip for two. Banks and Natalya each got rollups, then Banks got a submission on the head, but Natalya got to the ropes to break free. Natalya with a suplex, Baszler tagged in and stomped on Banks. That led to a break.
(Commercial)
Natalya was in control of Banks, who was the face in peril. Baszler got the tag, she held Banks and Natalya ran the ropes for the Hart Attack clothesline. That got a two count for Baszler because Naomi made the save. Baszler pulled Naomi off the apron to prevent a tag, but Banks hit a knee to Baszler and Naomi got the tag. Naomi jumped off the ropes with a cross body block on Baszler on the floor. Naomi with a heel kick on Baszler, then a jawbreaker by Naomi and Baszler came back with a boot to the face for two with Natalya trying to help her cheap, but referee Jason Ayers stopped them from trying to cheat. Natalya tagged in, Naomi with a kick that hit Baszler because Natalya ducked. Naomi hit a springboard kick. Banks tagged in with double knees in the corner, Naomi got the tag, Natalya broke free and knocked Banks down. Naomi with a full nelson slam for a two count because Baszler made the save. Banks with the double knees to the back of Baszler. Natalya wanted a Sharpshooter on Naomi, but Naomi countered it with an inside cradle while sitting on top for the pinfall win after nine minutes.
Winners by pinfall: Sasha Banks & Naomi
Analysis: *** It was a good match with all four women working well together. Both teams had nearfalls along with good pin breakups that led to more drama as the match went on. Natalya did really well as usual, Naomi was in the ring a lot for her team and that led to Natalya finding a way to win. The finish to the match was similar to what Rousey did to beat Raquel. I thought this match would end with Banks or Naomi hitting a finishing move or their double team finisher, but it was just a counter pin by Naomi. Natalya's match with Cora Jade on NXT earlier this week was better than this match, but I'm happy for Natalya getting TV time to have some really good matches this week.
Drew Gulak was shown talking to Ricochet, who is the Intercontinental Champion. Gulak talked about how things have been so tough in the last few weeks. Ricochet said if Gulak wanted to be the best version of himself then the only person that can control it is himself. Gulak said he won't let Gunther chop him down to size and said that the next time he sees Gunther he'll put him in his place. Gulak walked down a hallway, he saw Gunther and Ludwig Kaiser, who asked Gulak what he was going to do. Gunther sent Gulak into a door, ripped his shirt and hit a huge chop that knocked Gulak. Gunther chop!
Analysis: Poor Gulak. Gunther is one of my favorites, so it's always good to see him. Hopefully he gets a feud soon. Ricochet doesn't have much to do most weeks either. Maybe it can lead to Gunther going after Ricochet and if that happens then Gunther will win the title.
Kofi Kingston and Xavier Woods entered for Kofi's match.
A commercial aired featuring Cody Rhodes for WWE Money in the Bank in Las Vegas on Saturday, July 2nd.
(Commercial)
They showed a tweet of Drew McIntyre promoting the Clash at the Castle PPV in Wales this September. Drew is in the UK on a promotional tour.
I'm back in Wales talking all things #WWECastle 🏴󠁧󠁢󠁷󠁬󠁳󠁿 The buzz for this event is unlike anything I've ever seen so get those tickets ASAP. Thankfully the roof is retractable or it would be getting blown off Sep 3rd

Special packages available May 17th, tickets on sale May 20th pic.twitter.com/trcDCsqMua

— Drew McIntyre (@DMcIntyreWWE) May 13, 2022
It's "Fight Night" Time with the wild man Butch making his entrance with his buddies Sheamus & Riddle. They showed three weeks ago when Butch lost to Xavier Woods, then he missed the next week and came back last week to help Sheamus/Ridge beat New Day in a Tables Match.
Butch (w/Sheamus & Ridge Holland) vs. Kofi Kingston (w/Xavier Woods)
Kofi with a running dropkick, then a corner splash and Butch came back with a running clothesline. Butch overpowered Kofi with repeated punches to the head. Butch stomped on Kofi's hand while Sheamus was talking to the announcers. Butch with punches, he charged at Kofi and Kofi delivered a back body drop over the top to the floor. Kofi slid out of the ring, Butch back in and Kofi kicked Butch in the head. Kofi teased a dive, Woods was playing the trombone, that distracted Butch and Kofi kicked Butch. Woods played the trombone to celebrate a bit. That led to a break.
(Commercial)
Butch was in control while holding an armbar, but Kofi came back with punches. Butch charged, Kofi ducked and Kofi hit some chops followed by a dropkick. Butch with an elbow to the face, but Kofi came back with the SOS slam for a two count. Butch pulled on Kofi's ears, then a hard slap and Kofi came back with boots to the face. Kofi jumped off the top, Butch with a forearm to the face and Kofi kicked out at two. Sheamus and Holland hit the match telling Butch it was time to fight. Butch with a kick attempt, Kofi ducked and then Butch hit another jumping kick. Butch charged, but Kofi jumped up with boots to the chest. Holland on the apron, Woods knocked him down, Sheamus with a knee to Woods and Kofi kicked Sheamus off the apron. Butch hit the Bitter End lifting slam for the pinfall win after nine minutes.
Winner by pinfall: Butch
Analysis: *** I liked the match with Butch getting a much-needed win since he lost to Xavier Woods in the past. Kofi Kingston is a former WWE Champion, but it's not like he's pushed much, so you might as well use him to put over a younger guy like Butch. Good to see Butch using the Bitter End that he used a lot in NXT during his Pete Dunne days. The numbers game was a factor because Kofi had to kick Sheamus off the ropes, so that allowed Butch to capitalize for the win.
After the match, Sheamus and Holland were happy about the result. Butch left the ringside area by jumping the barricade, then walking into the crowd and then he came back to join Sheamus and Holland on the stage. Butch lifted their hands to show he was happy.
A replay was shown of Riddle beating Sami Zayn earlier in the night.
Sami Zayn was shown talking to Paul Heyman with Zayn saying that he wanted Roman Reigns to see Sami's intentions. Sami said that RK-Bro disrespected Reigns and The Bloodline, so Zayn was the one that stood up to them. Zayn said he wanted to make sure everything was on the same page with Reigns. Zayn said he needs to get his respect back, so he wants to make sure that Roman is not mad at him. Heyman told Zayn that "your Tribal Chief appreciates you."
They said that The Usos were up next. It was also Roman Reigns, but they only said The Usos.
(Commercial)
Let's Hear from Roman Reigns and The Bloodline
It was time for the Head of the Table, the Undisputed WWE Universal Champion Roman Reigns made his entrance joined by "Wise Man" Special Counsel Paul Heyman and The Usos. Together, they are The Bloodline. Reigns has been Universal Champion for 622 days while The Usos have been Smackdown Tag Team Champions for 298 days. Reigns was wearing his "God Mode" shirt. They took their time getting into the ring as usual. When they got into the ring, The Bloodline held up their titles and the pyro went off as they reminded us they are "The Ones" as usual.
Reigns took his time to soak up the boos. There were even some "Roman" chants. Reigns: "Commonwealth of Pennsylvania, acknowledge me." That led to boos. Reigns said that y'all know the deal, they smash them on Sunday and then they come out on Friday to tell them who's next. Reigns talked about smashing guys like John Cena and Brock Lesnar while telling you what was next. Reigns said last Sunday they smashed RK-Bro and Drew McIntyre, so there's nobody next. Reigns said that everybody is terrified of him and nobody wants to step up to "The Mountain" while adding that Trible Chief is untouchable.
Reigns said that this is where things get interesting. Reigns said that his cousins, his blood, The Usos were challenged and now the question is what are they going to do about it? Here comes an interruption.
The Raw Tag Team Champions Randy Orton & Riddle made their way down to the ring. Orton told Reigns that John Cena is ten times the superstar that Reigns will ever be. Riddle was going to tell one of his stories, Randy stopped him and Riddle told him to get his mind out of the gutter. Riddle said that he watched their match at WrestleMania Backlash when they lost, so he wanted to make that unification title match happen.
Orton said that between both Usos, he knows they only have one brain. Orton spoke slowly saying that they wanted a tag team title match. Orton said that they will take The Usos' titles and then they'll combine their titles to make the Undisputed WWE Tag Team Titles. Orton said he just noticed he's way taller than them. Jimmy Uso said that they accept. Jey Uso said not tonight (the show is nearly over). Jey said that next week, it's on and then they will be the new unified WWE Tag Team Champions. Jimmy said that all three members of The Bloodline are going to have two titles. As Reigns posed with his titles, Riddle hit Reigns with a jumping knee lift to the face. Riddle and Orton left the ring quickly.
A graphic was shown to make it official. Next week on Smackdown in Grand Rapids, Michigan: RK-Bro vs. The Usos in a Winners Take All Tag Team Championship Unification Match.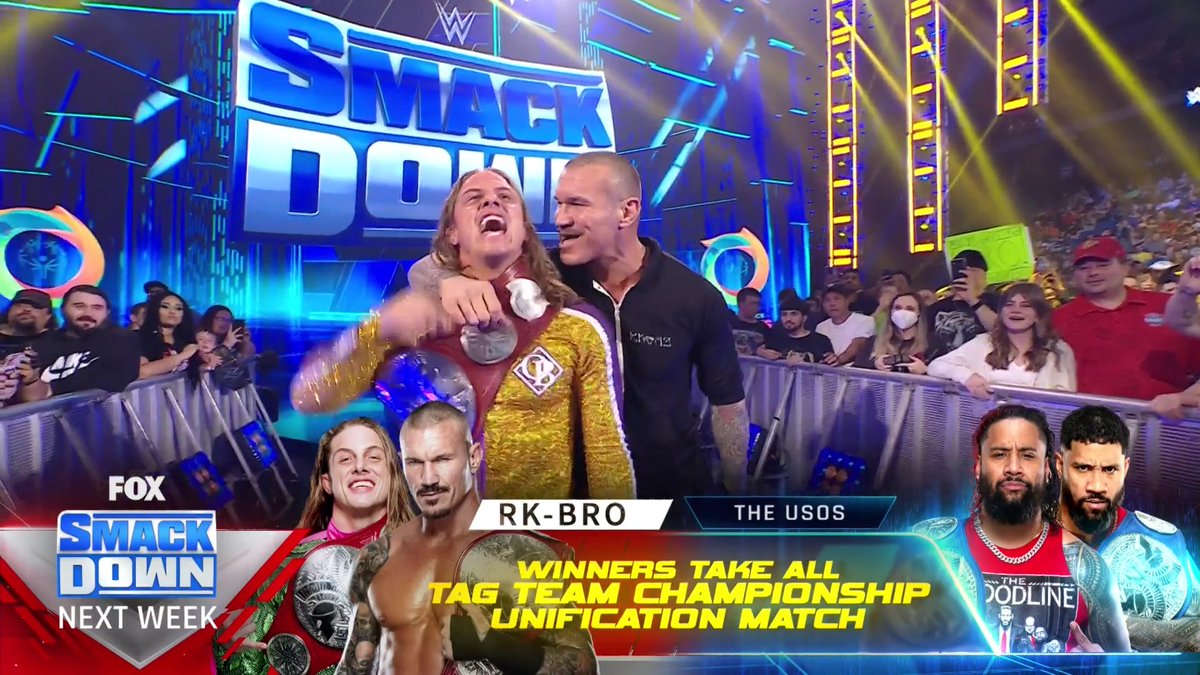 Riddle and Orton celebrated in the aisle while Reigns was selling the knee to the jaw after Riddle hit that move on him. That was the end of Smackdown.
Analysis: That's a huge match next week in Grand Rapids. It wouldn't shock me if there's a DQ finish like Roman Reigns getting involved to prevent The Usos from losing in order to avoid unifying the titles. I really don't know if WWE wants to unify the titles. I like it better when the two brands have separate titles, but I'm fine if they do want to unify the titles. Orton had some good lines in there especially putting over John Cena, Reigns was his usual cocky self and the fans were into what they were all saying. I don't love talking main event segments, but it was well done. Also remember that knee by Riddle to Reigns because perhaps they are going to say Reigns wants payback, so maybe Riddle gets pushed a bit leading to a match with Reigns at some point in the future.
Three Stars of the Show
Riddle/Randy Orton
Sami Zayn
Butch
The Scoreboard
7.75 out of 10
Last week: 7.5
Final Thoughts
I thought it was a great show this week. The match quality was better than usual and I liked most of the promos. The good thing about the matches is that they didn't really have any short matches, all of them told believable stories and at least three of them went around ten minutes, which is always nice to see.
Riddle beating Zayn was great (best match on the show), the Women's Tag Team Title match was solid, I liked Ronda Rousey's match with Raquel Rodriguez and wildman Butch got the big win over Kofi as well. Some weeks you might get three or four really short matches on the same show. Not this week. Let the wrestlers wrestler and it's a better show. That's what I think anyway.
They did a nice job of focusing on the Tag Team Titles in the first part of the show and then the main event as well. RK-Bro vs. Usos next week is a big match on Smackdown for both sets of Tag Team Titles. I think there will be interference for a DQ finish.
===
Thanks for reading. Please check out my reviews of every WWE PPV ever listed in order. Go Toronto Blue Jays and Toronto Maple Leafs. My contact info is below.
John Canton
Email mrjohncanton@gmail.com
Twitter @johnreport