TJR Blog #3: Fans Care About WWE Divas; Can WWE Creative Join Us?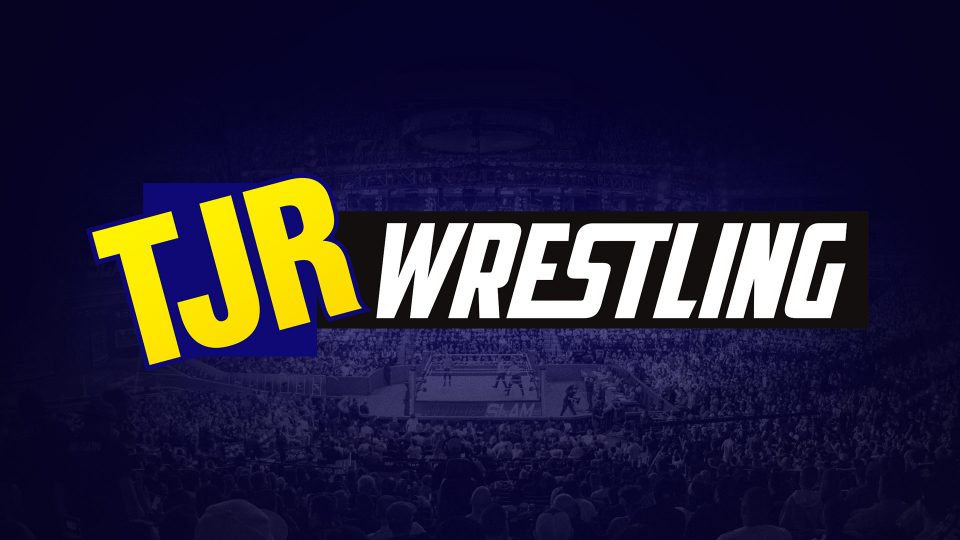 I get asked about the Divas Title quite a bit regarding Nikki Bella's long reign as champion. People wonder if she's going to break AJ Lee's record of 295 days as Divas Champion. Nikki can beat it in about three months since she's at 208 days as I write this. Here's my question: Are we supposed to think AJ's record is some coveted thing?
The title has been around for seven years and there are almost no memorable feuds. I don't see the big deal if Nikki does or doesn't break it. I write about every show and the most memorable thing I remember about the title was Paige winning the Divas Title in her first match, which was pretty cool. Almost every Divas Title match on PPV is about 7 minutes. They're not memorable and it's no fault of the ladies either. Blame the booking.
Look at that image at the top of the article. It was when the Bellas were spraying tanner on Paige because she's pale because somebody in creative thought that was a good thing for mean girls to do to a woman that doesn't have a tan. Awful storyline. Never do it again, please.
The reason WWE may want Nikki to break AJ's record is because AJ doesn't work there anymore. She "retired" at age 28. I don't know if she was hurt or if she just lost her passion because the company doctor is SUING HER HUSBAND (hey CM Punk, how you doing?), but I would imagine that WWE is probably a little upset that she left.
Think about AJ's departure from WWE's perspective. If you invest years in a performer and then she just leaves that can sting. The thinking is that now they can give Nikki this really long reign, get the record and say "Nikki Bella is the greatest Divas Champion" because she had the longest reign. AJ isn't around to battle her for it and AJ isn't around to put over the divas of the future either even though she's younger than some of them.
AJ Lee was a pretty good performer that was booked like a minor character at first when she was paired with Daniel Bryan and then WWE realized that she had a lot of star potential. Give her a lot of credit for going from a girl that was in developmental for a few years to becoming the most popular diva in the company. I wish she stuck around longer, put over other divas and then chose to walk away, but it's her life and I don't blame anybody for walking away if they are unhappy.
Another thing that people rarely talk about is that in the last few years WWE has had Divas Champions quit before they even hit the age of 30. Some of the names are AJ Lee, Eve Torres, Kaitlyn and Kelly Kelly, who "retired" at 25 years old. I followed her on Twitter for a bit and I have no idea what she does for a living although she's getting married to millionaire former hockey player Sheldon Souray, so I guess she'll be fine. I know that Eve is starting a family and Kaitlyn started a business, but I also think that they left because of how poorly the divas are booked.
Think about it this way: Some of these talented women would stick around longer if WWE cared more about the divas division. Better booking equals happier employees. Makes sense, right?
The Bellas have improved a lot in the last two years. Nikki is much more believable as a heel than Brie, but Brie's just as solid in the ring. They're definitely better together than they were apart because I think the feud they had in 2014 was the worst of the year. Paige had a line recently about the Bellas dominating for like seven years. That's laughable. They spent about five years doing nothing and even left the company for a year to try things in Hollywood, which didn't work out.
If you think Paige and AJ Lee doing four title changes in five months last year was entertaining then that's your choice, but I think it was an example of short sighted booking without much of a payoff. If you only have a 35 day title reign you come off as a cheap champion that isn't able to hold onto something that is supposed to be important.
Speaking of short sighted booking, look at Brie Bella in the last year. She's one of the worst booked characters in WWE considering how much she's been featured. Nobody is booked worse than King Barrett, but I digress.
Brie fought so hard against Stephanie McMahon in a high profile feud at SummerSlam that ended when Nikki turned on her. Remember when Stephanie and Nikki suggested that Brie's husband – the lovable Daniel Bryan – was having an affair with his physical therapist? Something like that should be considered serious and should have led to Brie fighting them for telling lie about her husband, but oh no Brie didn't seem to care that much. (By the way, Bryan came off like such a loser in that story because he never spoke up for himself because babyfaces are booked like the biggest idiots on the planet.)
After Nikki beat Brie in a match that followed a lot of bad promos, Brie was forced to be Nikki's assistant and then helped her win the Divas Title at Survivor Series to begin Nikki's reign when Brie kissed AJ as a distraction similar to when AJ kissed Bryan that inadvertently cost him the World Title at WrestleMania 28. A few months later, after being this unstoppable mean duo that put over Paige and AJ Lee at WrestleMania, the Bellas turned face. No reason was given. They just did a feud with Naomi and Tamina that really only lasted a couple of months. Now the Bellas are heel again while we're back with the same "Paige is a loner with no friends" story that they did before WrestleMania.
That means that Brie Bella has turned three times in about seven months! That's worse than her awful f'n theme song that should be played over loudspeakers for people on death row to make them feel really bad about the crime they did. Does WWE creative care or are they just a bunch of guys that think women change their minds all the time, so let's turn them all heel? She's turned so many times that even Kane and Big Show are probably jealous!
Natalya should have been Divas Champion more than once. Considering her ability in the ring, they should book her like a dominant champion that is tough to beat and when somebody finally does it means something. The reason she hasn't had more reigns is likely because she's a company soldier that will do anything they ask of her whether it's spending a year walking the Great Khali to the ring for his one minute comedy matches and doing some stupid dance with him. She even survived a gimmick where they suggested that she had a farting problem! Somebody thought that was a good idea. They were paid money to say "hey let's have this really talented wrestler have a flatulence problem" and Vince McMahon put it on his TV shows! How does this happen? Because creative just doesn't care. I'm sure some people that work for WWE care, but if the boss has no interest in developing these stories than all the care in the world means nothing.
When you think about the best divas matches in WWE history you can look to the last couple years of NXT Women's Title matches on their Takeover specials. Most of those matches get 12-18 minutes are booked like highly competitive matches that get a lot of build and often times have clean finishes. The last Takeover special in May had a great match with Sasha Banks beating Becky Lynch and it ended with a standing ovation for both ladies. Lynch was made to look like a bigger star after she lost because it's not about wins or losses, it's about telling stories. Fans don't think Becky is a loser. They think she's a fighter that came so close to winning a title that when she gets another shot, those same fans will believe she can win. That's a story based on a match! It's not about trash talking on Twitter or some awful backstage segment like whatever that was on Raw this week. Let them wrestle!
What's the best divas match in WWE history? In terms of just the actual match without the story it's Natalya vs. Charlotte at Takeover last May. That's the one that I'll always remember because they were given a chance to actually wrestle and they put on a show that we will never forget. It was just the finals in a tournament to determine the new Women's Champion, so it's not like they had a big story. They were just allowed the opportunity to wrestle. Most of the "best diva matches in WWE history" contenders are from NXT specials. That's pretty telling. It's not that hard of a concept to understand that fans just want to see better matches presented as a big deal.
The only women's feud on the main roster in the last few years that was given significant screen time was Stephanie "Main Event" McMahon vs. Brie Bella. Gee, I wonder why. That feud headlined Raw with promos two times leading into SummerSlam. Stephanie was great, but Brie Bella is an awful face and her acting is pretty bad. Could you imagine what it would mean for women in the company if they got to main event Raw with a promo? Huge. Too bad girls because it's probably not going to happen, unless your last name is McMahon or is it McMahon-Levesque?
As for Stephanie, I'm not here saying she's a bad performer. Far from it. Often times she's a great heel and I enjoy the way she snaps at the fans, but the current women on the roster need to be treated as a bigger deal and it would probably help if she used her star power to get involved in some divas angles once in a while too.
I love women's wrestling. I think WWE has a lot of talented women on their roster and they also have some that should probably never be in the ring because they tell a ref to count when they pin somebody's back. I just wish WWE cared more about booking the divas to be stars instead of some sideshow act that get four minutes of airtime during a three hour episode of Raw. The show is three f'n hours and they almost never let the women do significant promos or have long matches. That needs to change.
There's not much history or prestige with this Divas Title, which they merged with the Women's Title in 2010 because WWE cares about trademarking the term "divas" more than they care about the history of a title that goes back decades. It's all about the buzz words and brand marketing, kids.
I hope the divas division is booked better soon. I believe that Triple H wants women to be booked like bigger stars because he runs NXT and he books like them that. I just don't think nearly 70 year old Vince McMahon is going to change his opinion on the matter. As we know in WWE, Vince gets what he wants and does he wants.
It seems like now is the right time to bring up Charlotte to the main roster, then Sasha Banks should follow, then Becky Lynch and maybe Bayley too. Paige is an awesome performer that you can really build around for years to come because she loves the business. She wants those longer matches as much as anybody. There is so much potential for better matches and storylines – it's just a matter of whether WWE will allow it to happen.
When people keep asking me about Nikki potentially breaking AJ Lee's Divas Title record I don't know what to say except that I wish WWE cared about it as much as the fans do. If Nikki gets there or she doesn't, it means nothing. I just want them to get more time to have better matches along with storyline that are built up through promos.
Keep working hard, ladies. True wrestling fans support you and want change as much as you do. The sad truth is that the only way for things to change is if WWE takes it upon themselves to implement it. Don't talk about it in promos. Show it with your actions. We'll be watching.
John Canton –mrjohncanton@gmail.com
Twitter@johnreport