The John Report: WWE Smackdown Live Review 02/06/18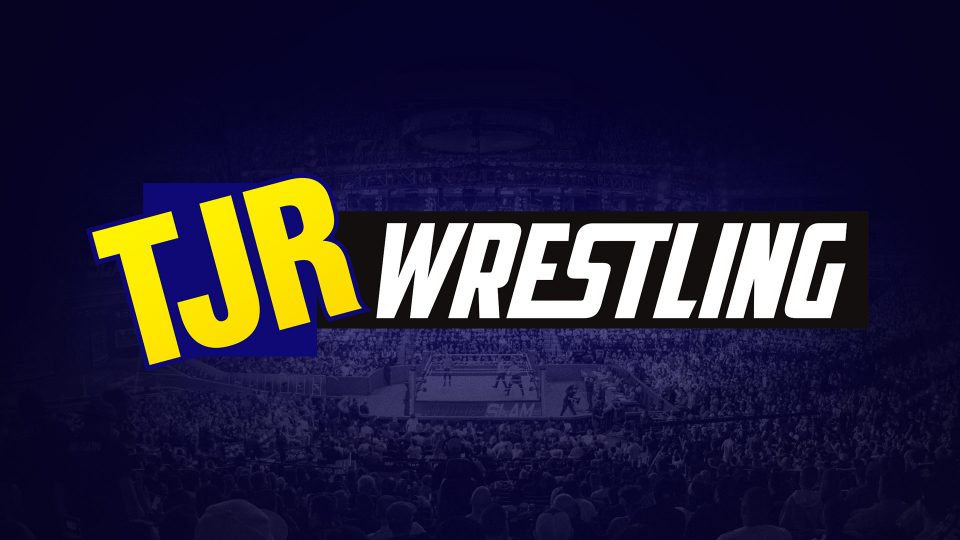 Live from Kansas City, Missouri, this is Smackdown Live for episode #963. Follow me on Twitter @johnreport. Thanks to Melo Man for the banner up top.
The show started with the announcers shilling Sami Zayn vs. Kevin Owens.
Shane McMahon, Smackdown's Commissioner, was in the ring for a promo. Shane said normally he'd be ecstatic about a big match like that for a shot at AJ Styles for the WWE Title at Fastlane. Shane said that he didn't think that Zayn and Owens deserved another opportunity (some fans booed that), so Shane brought out somebody that does think they deserve an opportunity. Shane introduced Smackdown GM Daniel Bryan.
Bryan made his entrance to the usual big ovation from the crowd along with the loud "yes" chants.
Shane talked about how every week they listen to the fans because it's the land of opportunity. Shane said he's not sure Bryan is listening and fans chanted "Rusev Day" so Shane said, "duly noted." Shane talked about how Bryan gives the same superstars opportunities, but maybe the fans want to see somebody else.
Bryan pointed out that the referee made a mistake at the Royal Rumble in the WWE Championship match, so Bryan set up the huge main event where two superstars will rip eachother apart for an opportunity. Bryan thought he would get a pay raise and cued up "yes" chants while Shane said let's not get carried away. Bryan said, "I hope that is duly noted as well." Clever. Shane said he's looking forward to Zayn and Owens ripping eachother's heads off, but Shane is bothered by Bryan continually giving them opportunities at the WWE Championship. Shane wondered why Bryan would continually give them an opportunity. Shane said he understands what he's done here and Shane claimed this is emotional for him while noting that Bryan has changed WWE forever with the "yes movement" leading to yes chants. Shane said that Sami and Kevin are not like Bryan, nor is their "yep movement" because it's a cheap imitation of what Bryan created. Shane said he knows that more than anything in this world, Bryan wants to compete in this ring and fans chanted "yes" for that. Bryan told Shane to hold on and asked Shane what he is doing. Shane said it's plain to see that Bryan is living vicariously through Kevin Owens and Sami Zayn. Bryan fired off a serious look at Shane for that comment.
AJ Styles, the great WWE Champion, made his entrance to a big ovation. Styles went into the ring with the two men in charge. Fans chanted "AJ Styles" before Styles said a word. Well deserved respect for the champ.
Styles said since the new year started last month he's traveled over 10,000 miles defending the WWE Title because that's what he does. Styles said he was put on this planet to be phenomenal. Styles said he can deal with the bumps, the canceled flights, the travel that takes him away for days at a time because it's part of the grind and he can deal with the grind. Styles said he can't deal with Smackdown management obsessing over Owens and Zayn. Styles said their decisions affect him. Styles did his catchphrase about Smackdown Live being the house that AJ Styles built. Styles told them to stay out of the way tonight. Styles said he's going to walk out of Fastlane and into WrestleMania as the WWE Champion.
Analysis: It was yet another conversation with Shane and Daniel arguing about their beliefs in terms of running the show. They didn't really do that much other than Shane bringing up that Bryan wants to compete in the ring (a possible tease for the future?) and then Shane saying that Bryan is living vicariously through Sami and Kevin. Styles telling them to stay out of the Owens/Zayn match later teases there's going to be something controversial later.
The New Day trio were in the locker room with some pancakes and they're interacting with fans using the #AskTheNewDay hashtag on Twitter. In other words, creative has nothing for them.
Later on Raw is Roode vs. Rusev for the US Title and Charlotte Flair vs. Liv Morgan.
This week on Mixed Match Challenge: Goldust & Mandy Rose aka Rose Gold vs. the husband and wife duo of Jimmy Uso & Naomi.
(Commercial)
AJ Styles was shown walking backstage. Shinsuke Nakamura, the Royal Rumble winner, walked up to him: "I'm going to beat you at WrestleMania." That's what he said last week too. A nice reminder from Nakamura every week is fine with me.
The Riott Squad trio of Ruby Riott, Sarah Logan and Liv Morgan made their entrance since Morgan has a match.
The announce team for Smackdown is Tom Phillips, Corey Graves and Byron Saxton like usual. A clip aired from last week when the Riott Squad beat up Charlotte and nobody helped Charlotte.
Charlotte Flair, the Smackdown Women's Champion, made her entrance to a nice ovation from the crowd.
Charlotte Flair vs. Liv Morgan (w/Ruby Riott & Sarah Logan)
This is not for Charlotte's title.
Charlotte stomped away on Morgan right away. They battled on the floor a bit and the show went to break.
(Commercial)
Back from break, Morgan was in control as she sent Charlotte into the turnbuckle. Charlotte came back with chops that knocked down Morgan followed by the Flair strut. Charlotte hit an overhead suplex and a running boot. Charlotte climbed the ropes, but Morgan pulled her down by the feet. Morgan with a double foot stomp to the back leading to a two count. Morgan grounded Charlotte with a pull back on the arms hold. Charlotte got back to her feet and Morgan got a pinning attempt for two. Charlotte with a neckbreaker and a Spear. Logan on the apron, so Charlotte hit a shoulder tackle to knock her off the apron. Riott pulled Morgan out of the ring, so referee Mike Chioda tossed Riott and Logan from ringside. Charlotte rolled Morgan back in the ring, Charlotte avoided a kick and Charlotte hit a running kick to the face. Charlotte slapped on the Figure Eight submission and Morgan tapped out for the loss.
Winner by submission: Charlotte Flair
Analysis: **1/4 It was a solid win for Charlotte in a predictable match. I don't think anybody believed Morgan had a shot to win because she's barely won any singles matches on the main roster. It's nice to see a champion win a non-title match since it's so rare in WWE. Morgan's offense was passable. She's not that good when on offense, but her selling is good enough.
Charlotte went to the announce table and said "one down, two go" in a comment about the Riott Squad members.
Analysis: I assume this will lead to Charlotte vs. Ruby Riott in a SD Women's Title match at Fastlane. It would make sense to do that.
A video aired about Black History Month.
Still to come is Zayn vs. Owens and a Smackdown Live top 10 list.
(Commercial)
There was a shot of Renee Young outside of Kevin Owens' locker room. She knocked on the door and Owens walked out for an interview. Owens talked about how the friendship with Zayn is up to Zayn and seeing if Zayn can handle losing to him.
The Bludgeon Brothers duo of Harper and Rowan made their entrance.
The Bludgeon Brothers vs. Two Dudes With No Chance
Harper with a running kick on the hapless small man and then an overhead suplex by Harper. The other partner tried to run away, but Rowan hit a running cross body block to take him down. Rowan tossed the dude into the ring. Harper stacked the two guys against eachother against the turnbuckle, Rowan hit a splash and Harper hit a Powerbomb. They grabbed the first guy again and picked him up for the double team Crucifix Bomb for the pinfall win. It went about one minute.
Winners by pinfall: The Bludgeon Brothers
Analysis: 1/2* Another ass kicking from the Bludgeon Brothers. It's what they do.
The Usos, who are Smackdown's Tag Team Champions, made their entrance as The Bludgeon Brothers were standing by the ring. The Usos walked down towards the ring and they chose to walk around The Bludgeon Brothers. Harper and Rowan walked to the back. Promo time for The Usos up next.
Analysis: Second week in a row where they teased a match for these teams. I'm all for it because they have had great matches in the past. It's been a while, so it will be fresh again.
(Commercial)
The Usos were in the ring doing a promo. Jey said he's not talking about getting booked and fingerprinted or sleeping on a slab of concrete. Jimmy said they are talking about a state of mind, which means they're talking about lockdown and they run that prison. Jimmy said they were talking about the hunger for success. They spoke about the thirst of being in the spotlight. Jey said they aren't talking about bedtime stories or bunk beds. Jimmy talked about how 2017 was a big change for the Usos by mentioning their change in look and Jey said they had the match of the night. They ended it by saying their catchphrase "it's not paranoia, it's The Usos."
Analysis: It was just a quick promo to show the confidence of the champions.
There was a shot of Daniel Bryan in the office talking about the first ever WWE Smackdown Live Top List. Bryan said the list was compiled by the Smackdown roster and they could not vote for themselves. Bryan added that Shane and Daniel didn't have any impact on the voting. Bryan revealed the order:
10. Tye Dillinger – Funny how that works.
9. Randy Orton
8. Becky Lynch
7. Smackdown Tag Team Champions The Usos – Should be higher.
6. The New Day
5. US Champion Bobby Roode
4. Naomi – Too high.
3. Shinsuke Nakamura
2. Smackdown Women's Champion Charlotte Flair
1. WWE Champion AJ Styles
That was the end of it. The announcers talked about it with Graves wondering why Randy Orton was so low, why The New Day was ahead of The Usos and where was Rusev? Saxton said maybe some people didn't think The Usos were that good. Phillips mentioned again that it was voted on by the Smackdown superstars.
Analysis: I have no idea if that was legit. I'll assume it was, but it's WWE, so you never really know. I'm not sure if there will be other lists because when Bryan introduced this last week he said there would be lists about opportunities, yet the top names on here are champions already. I guess it's something for people to complain about, but it doesn't mean that much.
The New Day were in the locker room where Big E had a funny line about how "6 is the percent I'd give Corey Graves in a street fight." That's probably a reference to Booker T talking shit about Graves a few days ago on his podcast.
There was a cell phone promo from Aiden English and Rusev with English talking about how "Bob Roode" is going to lose his US Championship.
(Commercial)
The melodious voice of Aiden English was in the ring. The words for his song appeared on the screen as he trashed Kansas City and called them stupid. English sang that today is the greatest day of this or any year because yes, this is Rusev Day.
Analysis: Great performance by English like usual. I prefer his melodious voice over the Elias songs on Raw although Elias is alright too.
Rusev made his entrance for the US Title match. Fans chanted "Rusev Day" as Rusev entered the ring. Graves said that English just insulted Kansas City and then they were chanting Rusev Day.
Analysis: That summarizes wrestling fans. The same ones boo Roman Reigns and then chant "this is awesome" during his matches.
Bobby Roode, the US Champion, made his Glorious entrance.
United States Championship: Bobby Roode vs. Rusev (w/Aiden English)
There was a slow pace early on as each man battled for positioning. Rusev nailed a running shoulder tackle, so Roode went into the corner to take a break.
(Commercial)
Back from break, Roode nailed a Blockbuster neckbreaker off the ropes for a two count. Roode ran the ropes, Rusev caught him and Rusev nailed a fallaway slam that sent Roode across the ring. Rusev worked on the lower back of Roode with a hard kick. Rusev nailed a suplex on Roode. Rusev slapped on a headlock to keep Roode grounded. Fans chanted "Let's Go Bobby" and "Rusev Day" to counter eachother. Roode got back to his feet with punches, a forearm, clothesline and Roode nailed a corner clothesline followed by a neckbreaker. Roode went up top with a clothesline. Some fans were happy, but some boos too because they like Rusev. English distracted Roode, so Rusev nailed a roundhouse kick to the head for a two count. Great nearfall there. The show went to break there. I think it continued during the commercial in the US, but not here in Canada.
(Commercial)
Back from break, Rusev with a knee to the ribs on Roode, but Roode came back with a spinebuster for a two count. English went on the apron, so Roode punched him down. Rusev got an inside cradle for two. Rusev tossed Roode off the turnbuckle to counter a DDT attempt and Rusev hit a superkick or a Matchka Kick. Rusev stomped on Roode's back to tease an Accolade submission attempt. Roode slipped out of it and got a rollup for two. Rusev rolled up Roode for a two count. Rusev went for Accolade again, but Roode with a snapmare and a Glorious DDT connected to give Roode the pinfall win. It went 16 minutes.
Winner by pinfall: Bobby Roode
Analysis: ***1/2 That was a very good match given a lot of time for a TV match. I enjoyed it a lot. It was a competitive match between two guys who haven't wrestled eachother that much, yet they had good chemistry. I'd like to see more from them although their roles need to be reversed because it's time to make Rusev a face while Roode is better as a character when he's a heel. I liked the way Rusev worked on the lower back of Roode, which is a good setup for the Accolade, so the story became about Roode avoiding the Accolade and winning because he got to hit his finishing move first. The fans wanted Rusev to win, but I'm okay with Roode retaining.
Analysis x2: I saw some people were mad about this loss for Rusev. It doesn't bother me at all. If you think Rusev was "buried" you are wrong. That term is used by some wrestling fans way too much. Rusev has won that title multiple times. There's no reason to take the title off Roode when he just won it a few weeks ago. Getting 20 minutes of TV time is a good thing and I hope there's more for him. He is clearly a guy the fans want to see in a bigger role, so hopefully WWE Creative is listening. I predicted a major championship run for him last year and this year. I hope it happens.
Roode celebrated the win with his music playing, but that was stopped when Randy Orton went into the ring and dropped Roode with a thunderous RKO in the middle of the ring. The crowd was going wild for it. Orton nailed a RKO on English as well. Rusev stumbled back to his feet and Orton hit a RKO on Rusev as well. The crowd loved all of that.
Analysis: That RKO by Orton on Roode looked great and came out of nowhere because nobody saw that one coming. It doesn't mean Orton is going heel or anything like that. It's more about Orton sending a message to the others on Smackdown Live since there wasn't much of a storyline in place for Orton.
Still to come: Zayn vs. Owens.
There was a promo from Benjamin and Gable talking about how they are there to bring prestige to the Smackdown Tag Team division. They trashed Breezango and The Ascension with Gable saying the are the "Weapons of Tag Destruction." it was a promo where some of the words appeared on the screen. They are in action up next.
Analysis: I'm not a huge fan of the promos with the words showing up on the screen. I get that WWE wants to try different things once in a while and that's okay, but it looks cheesy more than it helps the show.
(Commercial)
Gable and Benjamin made their entrance. The Ascension were already in the ring.
Chad Gable & Shelton Benjamin vs. The Ascension (Konnor & Viktor)
Konnor with a running back elbow, but he missed an elbow drop and Benjamin hit a spin kick to the head. Konnor with a shoulder tackle that knocked down Benjamin. Running kick in the corner missed by Konnor and Gable wrenched the knee against the ropes. Benjamin with a knee to the face for a two count. Gable tagged in leading to a double team chop block to take down Konnor. Gable worked over Konnor's knee a bit. The crowd was dead as Gable said "no jokes around here" and Konnor hit a flapjack on Gable. Viktor got the ht tag with forearms for Gable, chops to the chest and a running uppercut in the corner. Viktor with a flying knee to the face off the turnbuckle for two as Benjamin made the save. Benjamin spinebuster on Konnor. Viktor dumped Benjamin out of the ring. Bridging German Suplex by Gable, Benjamin tagged in and a double team Powerbomb into a clothesline combo for the pinfall win for Gable and Benjamin. It went about four minutes.
Winners by pinfall: Chad Gable & Shelton Benjamin
Analysis: ** It was decent for the time given. Viktor did well after the hot tag, but The Ascension are so low on the totem pole that we all know they weren't going to win. Matches where the outcomes are so obvious lead to a dead crowd like we just saw there because there was no reaction when The Ascension hit some of their moves. The right team won since Gable & Benjamin have been in the title picture while The Ascension are well off the radar.
The New Day were shown answering questions from the fans again.
There were reaction tweets shown from Smackdown superstars talking about the top 10 rankings including #1 AJ Styles, #2 Charlotte Flair and #3 Shinsuke Nakamura.
Sami Zayn was interviewed by Renee Young backstage. Zayn said that he's been in Owens' shadow noting that Owens has won titles like Intercontinental Title, US Title and Universal Title. Zayn said they are best friends, so he knows Kevin will stop at nothing.
Zayn's music played and he made his entrance for the main event.
(Commercial)
There was a plug for 205 Live.
Next week on Smackdown: Dolph Ziggler vs. Baron Corbin.
Analysis: Why is there no explanation or promo time for Ziggler? They sent him home for nearly two months after giving up the US Title, brought him back in the Royal Rumble, he did nothing there and hasn't said anything since then. The lack of follow up to the Ziggler story is bad.
AJ Styles joined the Smackdown announce team on commentary for the main event.
Kevin Owens made his entrance to face off against his best friend Sami Zayn.
Kevin Owens vs. Sami Zayn
The winner will challenge AJ Styles for the WWE Championship at Fastlane.
Owens tripped up Zayn early on and grabbed a headlock. Zayn got to the ropes, so Owens let go. Owens with a running shoulder tackle and Zayn came back with a hip toss into an armbar. Styles talked about Smackdown decisions affecting him. Owens got to the ropes to break a hold and Zayn shoved him in the face. Owens with a sharp back elbow to the face. Zayn tripped up Owens and nailed him with punches, so Owens bailed to the floor. Owens told Zayn to calm down. Owens went back in the ring, so Zayn nailed him with punches and Owens bailed to the floor again.
Analysis: The "calm down" thing makes me think of Royal Rumble when Strowman hit Lesnar with hard knees and Lesnar said "calm the f**k down" at him while punching Strowman. I can see Owens doing it here as a smart ass thing.
(Commercial)
The show returned from break with each man connecting strikes and Owens nailed Zayn with a clothesline that Zayn sold with a flip bump. Zayn tried to get some offense going, but Owens nailed an enziguri kick followed by a cradle suplex into a neckbreaker for two. Zayn nailed a sweet Tornado DDT out of the corner for a two count. Zayn tried for a superplex, but Owens held on and elbowed Zayn down. Owens went for a Senton Splash off the top, but Zayn got his knees up as the knees hit Owens in the back. They were outside the ring where Zayn nailed the DDT on the floor where he jumps under the middle rope to set it up and the DDT connected on the floor. When Zayn first did that spot 4 or 5 years ago it was incredible. It's still cool all these years later, but he doesn't do it that often. Some fans chanted "this is awesome" for them. Back in the ring, Zayn charged in and Owens nailed a superkick. Owens up top and he connected with the Frog Splash (I like calling it the Bullfrog Splash when KO does it) for a two count. Owens told Zayn to stay down and Zayn nailed him with a forearm. Zayn avoided the Popup Powerbomb, hit a half and half suplex (nasty landing for Owens) and Zayn hit the Blue Thunder Bomb for a two count. Very good sequence into that nearfall. Owens rolled out of the ring, so Zayn went after him and they were right in front of Styles. Zayn trash talked Styles, who told Zayn to put him in the ring and finish him off. Zayn got in Styles' face, pushed him in the shoulder while Styles was in the chair, so Styles pushed Zayn into Owens. Styles punched Zayn and punched Owens too. The ref called for the bell at around the 14 minute mark.
Match Result: No Contest
(Zayn really won by DQ because he was punched by Styles first, but they are saying no content on WWE.com so I'll go with that.)
Analysis: ***1/4 Great work like usual from two guys that know eachother so well. The chemistry is there obviously. Kevin and Sami have wrestled hundreds of times going back the last 15 years in their careers together. It's so easy for them to hit their moves on eachother and they are willing to take riskier bumps to make the other guy look good too. As for the finish, it makes me groan because I would have liked to see a singles match at Fastlane and instead WWE is going a familiar route where everybody knows what is coming.
Styles kicked Zayn out of the ring. Owens tried a cheap attack on Styles, but Styles nailed KO with a punch. Slingshot dive over the top by Styles onto Zayn and Owens on the floor. Styles yelled about wanting a winner.
Daniel Bryan appeared on the stage with a microphone in hand. Bryan said: "Due to the superlative performance of Kevin Owens and Sami Zayn and the outside interference of AJ Styles, I declare that both Sami Zayn and Kevin Owens will compete for the WWE Championship at Fastlane in a triple threat match."
Styles was mad about the decision while Zayn and Owens seemed happy about it. Replays aired of what happened with the announcers arguing about it. There was more staring as the show ended.
Analysis: I'm so tired of triple threat matches even though I really like all three guys and they will have a great match. This is the same formula that WWE does way too often. They just did it leading up to the Raw triple threat match with Kane and Braun Strowman having a match where there's no winner, so that set up a triple threat match with Brock Lesnar at the Royal Rumble. It's lazy booking by WWE. They should have thought of something different. If they did something where Styles must defend the title against Zayn or Owens at Fastlane and then later in the night, the winner of that match faces the other guy. At least that would be different. Doing another triple threat match feels so repetitive. We just saw Braun Strowman lose two triple threats in eight days. They happen way too often and when that happens, they lose their luster as an interesting match.
I fully expect Styles to retain the WWE Title at Fastlane. No reason for him to lose it even though I'd be happy with Zayn or Owens holding the title. The WrestleMania match should be Styles vs. Nakamura like we all want, so hopefully that's what WWE sticks with as the plan.
Please WWE, cut back on the triple threats. They are too repetitive.
Three Stars of the Show
1. Rusev
2. Bobby Roode
3. (tie) Kevin Owens
3. (tie) Sami Zayn
The Scoreboard
6.5 out of 10
Last week: 5.5
2018 Average: 5.67
Last 5 Weeks: 5.5, 7.5, 5.5, 4.5, 4.5
Final Thoughts
It gets a 6.5 out of 10.
The show was carried by the two long matches: Roode over Rusev for the US Title and Zayn vs. Owens ending in a no contest. Both matches were given a lot of time and they delivered in terms of putting on entertaining matches that the crowd was into.
The next Smackdown PPV is Fastlane on March 11 with only one match announced so far.
WWE Championship: AJ Styles vs. Sami Zayn vs. Kevin Owens
—
That's all for now. Go Toronto Raptors and Toronto Maple Leafs.
My contact info is below. Thanks for reading.
John Canton
Email mrjohncanton@gmail.com
Twitter @johnreport
Personal Facebook and TJRWrestling on Facebook