WWE Elimination Chamber Match Review #3: New Year's Revolution 2005
The third Elimination Chamber match had something common with the first two because it was about the World Heavyweight Championship with Triple H in the middle of everything.
The difference between this match and the first two Chamber matches is that the World Title was vacated, so there was some question about whether or not Triple H would win it back.
The Story Going Into The Match
There was a match on the 11/29/04 edition of Raw between World Champion Triple H, Chris Benoit and Edge. Randy Orton took out Triple H with a chair attack, which led to an ending where Edge pinned Chris Benoit while Benoit had Edge in a submission hold, so two referees saw it differently and it was a pinfall/submission at the same time. Vince McMahon said the World Title would be vacated, much to the dismay of Triple H.
That meant the World Heavyweight Title was vacated with the winner of the match becoming the new champion. The six men in the Elimination Chamber match had singles matches and Batista won his match the fastest, which meant that Batista got to enter the Chamber last out of the six men. That led to some friction between Batista and Triple H with Batista telling Triple H that he was pissing off Batista. Shawn Michaels was announced as the special referee. He was out for a few months due to a knee injury.
WWE New Year's Revolution
Coliseo de Puerto Rico in San Juan, Puerto Rico
January 9, 2005
The Chamber was lowered around the ring.
Triple H and Ric Flair talked to Batista in the locker room. Triple H got mad at Batista for thinking that he was going to win the match for himself. Batista said first and foremost, he's a member of Evolution, so they will watch each other's backs. Batista said if Triple H is eliminated before Batista gets in the match, nothing is going to stop Batista from getting that title.
Eric Bischoff, the General Manager of Raw, walked out with the World Heavyweight Title for a promo.
Shawn Michaels entered first as the special guest referee for the match. Big ovation for him.
Edge made his entrance and was mad about Shawn Michaels being the referee. Edge entered one of the chambers. Triple H, the former World Champion, was up next with Ric Flair by his side. Fans cheered him even though he's a heel.
Randy Orton got a nice response since he was in his babyface days. I miss the "hey nothing you can say" song. The current song is fine, but I always liked this song. Orton yelled at Triple H, who was in one of the chambers. Orton was only 24 years old at the time. Batista was up next and he got a good reaction because he was a star on the rise. We knew he was #6 to enter the match.
Chris Jericho made his entrance. He was also in the first two Chamber matches along with Triple H. Chris Benoit was the last man to enter the match. Jericho and Benoit each good reactions from the crowd.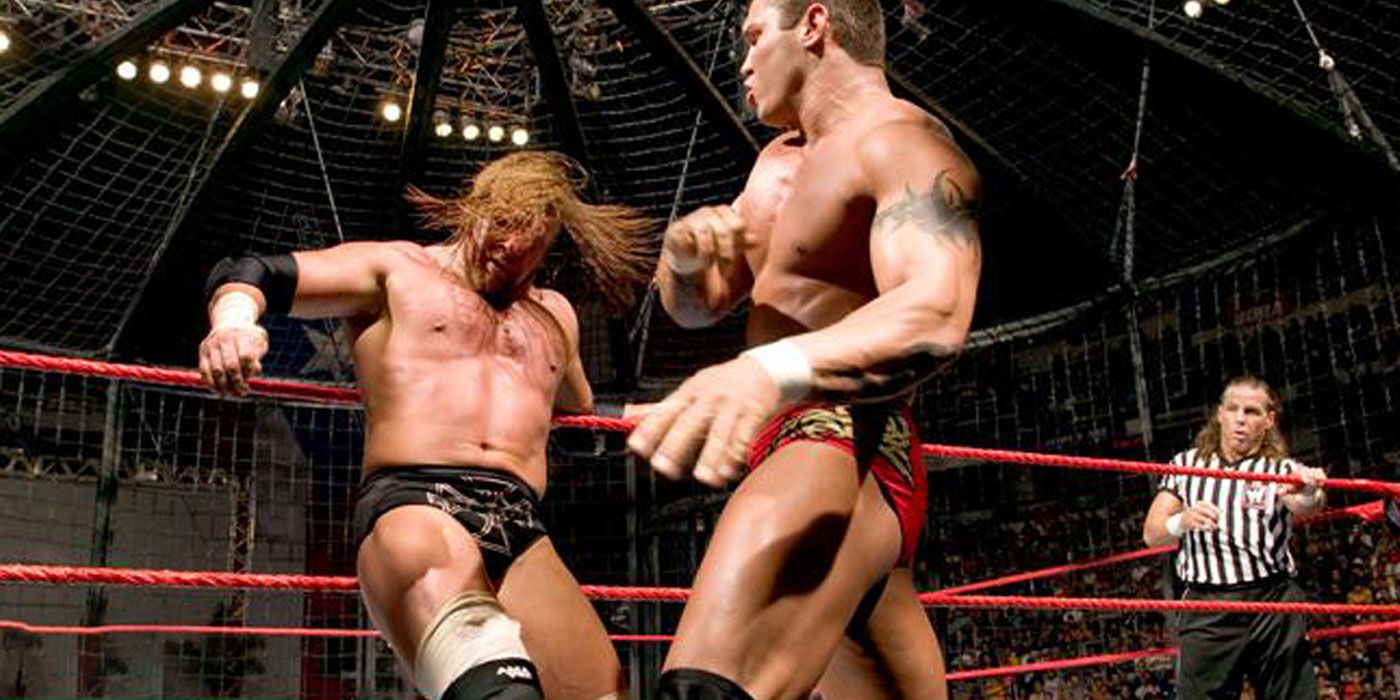 Elimination Chamber Match for the World Heavyweight Championship – Triple H (w/Ric Flair) vs. Edge vs. Batista vs. Chris Benoit vs. Randy Orton vs. Chris Jericho – Shawn Michaels is the referee
Pre-match notes: Triple H was the main heel. Batista was a heel that was still aligned with Triple H in the Evolution group and Edge was a heel too. The faces were Orton, Benoit and Jericho.
The announcers for the match are Jim Ross, Jerry Lawler and Jonathon Coachman.
Jericho and Benoit started the match, which made sense since they were the two best in-ring performers in the match. Benoit crushed Jericho with chops, which drew a big reaction and a running forearm by Benoit. Jericho came back with chops of his own. Benoit tried for a Sharpshooter early on, but Jericho rolled out of it and Benoit nailed Jericho with a German Suplex. Jericho went for the Walls of Jericho, but Benoit fought out of it. Jericho with a clothesline followed by a back suplex for two. Fans chanted "HBK" for Michaels. They battled on the top rope with Benoit nailing a superplex. The clock counted down for the third man in the match after five minutes of action.
It's Triple H at #3 as he entered with punches for Benoit followed by a hard whip into the turnbuckle and a running high knee on Jericho. Triple H with a hard whip that sent Benoit sternum first into the turnbuckle. Jericho with some chops on Hunter, but Hunter came back with a clothesline. Triple H tossed Benoit onto the steel outside the ring followed by a face first whip into the cage. Hunter tossed Benoit onto the steel outside the ring. Benoit was busted open after a blade job, so Hunter worked him over with punches. Hunter whipped Benoit into the cage again for a two count. Jericho back in with a forearm to Triple H. Jericho with a back body drop on Triple H that sent Triple H back first onto the steel outside the ring. Jericho slammed Triple H onto the steel again. Jericho suplexed Hunter back in the ring for a two count. Benoit decked Jericho with a hard chop. Neckbreaker by Benoit on Jericho as the clock counted down for the next man.
Edge is the #4 entrant in the match. Edge with shoulder tackles against the turnbuckle for Jericho, Triple H and an Edgecution DDT on Hunter got a two count. Edge with a belly to belly suplex on Benoit. Edge with a back body drop on Hunter and Jericho nailed a dropkick on Edge. Springboard dropkick by Jericho on Edge on the steel. Edge with a catapult that sent Jericho into the cage. Edge also did a catapult that sent Triple H into the cage. Edge clothesline off the top onto Benoit for a two count. Jericho did a blade job and so did Triple H. That's three out of the four men in the match. Jericho back in the ring with an enziguri on Edge for a two count. Hunter back with a spinebuster on Jericho for two. Hunter was bleeding by the nose, so not a typical blade job from the forehead. Benoit with a Northern Lights Suplex on Edge got a two count. Triple H with a Pedigree on Jericho, but he was too hurt to cover him. The clock counted down for the next man in the match.
It's Randy Orton at #5 to a good reaction. Orton sent Edge back first into the cage and Orton up top with a cross body block on Hunter. Orton sent Hunter over the top to send him onto the cage and Orton sent Hunter into the cage. Orton continued to work over Triple H by sending him into the cage and then back in the ring with a powerslam. Orton with an RKO on Jericho. Benoit blocked a RKO attempt and Benoit slapped on the Crippler Crossface although it was more of an aggressive choke. Benoit tripped up Triple H and slapped on a Sharpshooter with the crowd going wild for it. Orton broke that up with an RKO on Benoit. Coach pointed out that Orton inadvertently saved Triple H. Edge wanted a Spear, Orton ducked and Edge nailed Michaels with a Spear instead. Edge ran the ropes and hit a Spear on Orton, but Michaels was too hurt to count. Edge helped Michaels up, he slapped him in the face and Michaels hit a superkick on Edge. Jericho with a Lionsault on Edge and Michaels counted the pin that was a three count. The crowd popped huge for it.
Edge eliminated by Chris Jericho
Analysis: That whole sequence was well done with the accidental Spear, then Edge had a pin on Orton, but no ref and Michaels got his revenge on him. It worked because Edge had issues with Michaels as well.
Benoit nailed Triple H with three German Suplexes. Benoit climbed up one of the pods. Benoit jumped off and nailed a headbutt onto Triple H. Jericho slapped n the Walls of Jericho n Triple H and Benoit slapped on the Crippler Crossface at the same time as the last chamber opened.
Batista entered as the #6 and final man in the match to take care of Benoit and Jericho from the double submission attempt. Batista with a shoulder tackle on Benoit. Batista tossed Jericho and Benoit over the top onto the steel outside the ring. Batista hit a Spinebuster on Orton. Batista had a long staredown with Triple H, who was now bleeding from the forehead as well as the nose. Batista with a double clothesline on Benoit and Orton. Batista tossed Jericho onto a cameraman that was inside the chamber. Powerslam by Batista on Benoit. Batista choked Orton, so Benoit hit a chop block to the back of the leg of Batista. The door of the chamber opened up to get the injured camera man out of the chamber. Triple H sent Orton into the cage and Jericho hit a bulldog on Triple H on the steel grating. Benoit escaped a slam and shoved Batista into the cage. Triple H stumbled into the ring did a face first Flair style bump, which drew some laughs. Batista nailed a huge spinebuster on Benoit and a Batista spinebuster on Benoit led to Batista pinning Benoit to eliminate him.
Chris Benoit eliminated by Batista
The crowd was chanting for Batista and Ross said if Batista doesn't win the title here then he'll be shocked. Jericho caught Batista and hit a front-forward slam. Batista hit a Batista Bomb on Jericho. Batista covered Jericho and pinned him to eliminate him.
Chris Jericho eliminated by Batista
Triple H gave Batista the "thumbs up" hand gesture and Orton gave Triple H a back body drop onto the steel. Triple H with a catapult that sent Orton into the cage. Orton was a bloody mess, so that's four guys in the match were bloody. You could see Orton doing the blade while Triple H was sending him into the cage. Triple H and Orton worked over Orton in the ring. Batista hit a powerslam on Orton for a two count. Triple H hit a spinebuster on Orton for a two count. Triple H set up Orton and hit a running clothesline for a two count.
Orton fought back against the double teams with punches for both guys. Orton went for an RKO on Triple H, but Triple H shoved him into Batista and Orton countered a Powerbomb attempt with a low blow. Orton hit Batista with an RKO. Some fans booed that and others cheered.
Batista eliminated by Randy Orton
Analysis: The key thing was that while Orton did the pin, Triple H stood up and made no attempt to save Batista. Great job by WWE shooting that from an angle where you can see Triple H made no effort to save his ally Batista.
Triple H punched Orton from behind. Triple H tossed Orton over the top rope onto the steel outside the ring. Orton sent Triple H into the cage three times in a row until Triple H stumbled back into the ring. Orton hit an RKO on a stumbling Triple H. Batista tried to save Triple H, but Michaels prevented him, Flair went in, Michaels punched him and Batista nailed Orton with a clothesline. Orton was selling like he was out of it. Triple H was also exhausted, he picked up Orton and Triple H hit the Pedigree for the pinfall win at 35:02.
Randy Orton eliminated by Triple H
Winner and New World Heavyweight Champion: Triple H
Analysis: **** It's a great match at four stars out of five with an interesting story where Triple H benefited from Batista's help, but when Batista needed help, Triple H was not willing to do it. That played into their friendship ending over the course of the next month. The reason the story worked so well is because Batista was this midcard heel prior to this, but this match really elevated him due to his dominance and then the way Triple H screwed him over by not helping him. It is one of the better main event storylines that WWE did in the 2000s, that's for sure. I also liked the angle where Edge got eliminated because he got involved with Michaels because it worked due to their history with eachother. Jericho and Benoit were in there to be the workhorses in the match with each man lasting over 25 minutes, but nobody expected them to win. Orton did a good job although you could tell his face run was dying. That's why they moved him to Smackdown and he turned heel.
After the match was over, Triple H celebrated the World Title win with Flair and Batista. JR was yelling about how Triple H won because of Batista, which was true. Triple H hugged the World Title in his arms. It was the 10th reign of Triple H as World Heavyweight Champion.
Replays aired of the last eliminations with Triple H not helping Batista after the RKO. It showed Batista helping Triple H with the cheap clothesline to set up the Pedigree.
Triple H got a hug from Batista in the ring and they pose along with the World Title for another successful night from Evolution.
Analysis: The story continued from here with Batista winning the Royal Rumble a few weeks later. Triple H tried to keep abusing his power, but Batista got sick of Triple H and Flair using him, so Batista did the famous thumbs down scene where he made it clear he was going to face Triple H at WrestleMania 21. That's where Batista became the World Heavyweight Champion for the first time.
THREE RANDOM THOUGHTS
– It was a great story with Triple H using Batista, who had a strong showing in the match and was by far the most dominant guy in the ring. However, when Batista could have used help, Triple H made no attempt to help Batista. That played into their story over the next few weeks with Batista realizing what kind of jerk Triple H was.
– A lot of people hated Triple H winning again because he had dominated the World Title scene for over two years with guys like Benoit, Orton and Goldberg having runs as champion, but none of them were long-term champions since they were faces. I think based on where they were going with the story, it was right for Triple H to win back the title in order to have him drop it to Batista. That made the most sense.
– Four guys did blade jobs in the match. It doesn't happen in WWE anymore since they went PG about ten years ago. Using blood to tell a story is a tool that made sense in this era. It's not a necessity obviously, but it's a way to put over the physicality of the match.
FACTS & OPINIONS
Wrestler that lasted the longest: Triple H at 30:02.
Most Eliminations: Batista with 2.
Best Performers (3): 1. Triple H, 2. Batista, 3. Randy Orton
Most Memorable Moment: When Orton hit the RKO on Batista, Triple H saw the whole thing, didn't help Batista and Batista was eliminated. That was the key spot in the match.
Match Rating: **** out of five.
That's all for me. Check out the full list of my WWE PPV Review archive right here. Thanks for reading.
—–
My contact info is below.
John Canton
Email mrjohncanton@gmail.com
Twitter @johnreport