TJR: WWE Royal Rumble 2015 Match Review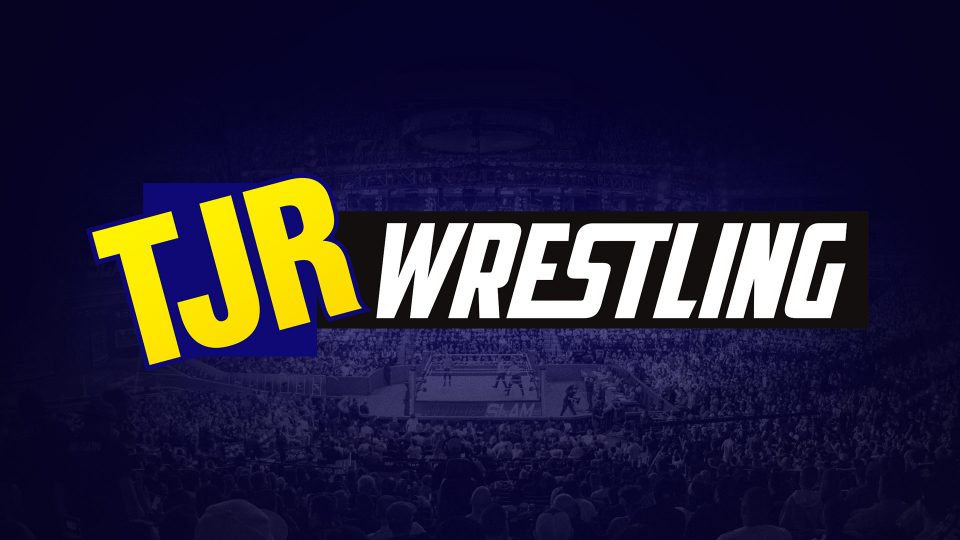 This review was written live on the day of the show and not altered since then.
WWE Royal Rumble
From Philadelphia, Pennsylvania
January 25, 2015
The announcers for the match are Michael Cole, John Bradshaw Layfield and Jerry Lawler.
The Miz is the #1 entrant in the Rumble match and R-Truth is #2, so he did his rap on the way to the ring. Miz hit a boot to the face. The #3 entrant is Bubba Ray Dudley in Dudley Boys gear. Amazing. The crowd popped huge for him. He spent many years in TNA, so it's great to see him back in WWE. They were cheering loudly for him as he did some of his signature spots. Loud "ECW" chants for him too. He got Truth to do the Wassup Drop on Miz. Then Bubba looked confused, but told Truth to get the tables. Truth and Bubba did the Dudley Death Drop on Miz. That led to Miz getting tossed out and Bubba tossed out Truth with a back body drop. The #4 man is Luke Harper, who started exchanging punches with Bubba. Luke hit a superkick, but Bubba nailed him with a clothesline. Bray Wyatt is #5. He worked with Harper to battle Bubba and they tossed out Bubba. Wyatt was the one that eliminated Bubba. Wyatt told Harper they should work together. I enjoyed seeing Bubba in there.
It was Curtis Axel as the #6 man, but Eric Rowan attacked him by tossing him into some steel by the entrance. Rowan entered for a Wyatt Family face off. The announcers said Rowan was not in there legally, but he still went after Wyatt and Harper. As Rowan and Harper battled by the ropes, Wyatt dumped both them over the top to the floor. The #7 entrant is The Boogeyman. Yawn. Not a great surprise. It's a stupid gimmick. Wyatt did his upside down pose/walk, hit a clothesline and dumped him out quickly. It's Sin Cara at #8, who barely gets a big reaction. Wyatt quickly overpowered him, hit the Sister Abigail and eliminated him. Wyatt grabbed the microphone to say that this is Bray Wyatt's year. He started singing "he's got the whole world in his hands" with the crowd singing along with him. Zack Ryder is back as the #9 man. He's been out for months after a shoulder surgery. Ryder was on fire with some of his signature spots including a Broski Boot. Wyatt recovered quickly to eliminate Ryder. Here's some much needed star power with Daniel Bryan is the #10 spot. Bryan was on fire and the crowd was going crazy with "yes" chants as he hit multiple running dropkicks on Wyatt in the corner. He did four of them. Bryan did a hurricanrana off the top.
It's Fandango at #11. He nails Bryan with a dropkick as some in the crowd try to sing his old theme song, but it really didn't catch on. He did some posing. Bryan did an airplane spin to Fandango and tried to eliminate him. Wyatt rested in the corner during that altercation. Tyson Kidd is #12. He nailed Bryan with a kick followed by a missile dropkick. Bryan nailed Fandango with a dropkick in the corner and then Kidd hit Fandango. There was a double cross body block sequence by Kidd and Bryan, so all four guys were down in the ring. Wyatt has stayed in the corner for over three minutes. Stardust is #13. Fandango nearly eliminated him, but Stardust hung on and did the skin the cat move. Kidd went after Bryan, but Bryan was able to eliminate him with a back suplex over the top to the floor. Bryan knocked Wyatt to the floor, then hit a running dive between the top/middle rope. Wyatt tossed Bryan into the stairs. They weren't eliminated. They just went out of the ring by going under the rope. It's Diamond Dallas Page as a surprise entrant at #14 although it was leaked online a couple of days ago. The reaction to DDP was solid. He was wearing his DDP Yoga shirt of course. DDP hit the Diamond Cutter on Stardust. Fandango went to the top rope, but DDP gave Fandango a Diamond Cutter off the top rope. DDP avoided a Wyatt attack and he gave Wyatt the Diamond Cutter to a big pop. The crowd loved that spot for DDP. Rusev is #15. No Diamond Cutter for him, because he shoved Paige away, gave him a superkick and tossed Page out of the ring. Rusev also tossed Fandango out. Rusev stared at Wyatt. Bryan nailed both of them with a dropkick off the top and then a series of kicks. Rusev superkick on Bryan, but Bryan held on. With Bryan on the apron, Wyatt knocked him out of the ring. The crowd hated that. I do too. I didn't think Bryan would win. I just thought he would last longer.
There's Goldust at #16. Stardust tried to eliminate him, but Goldust hung on. Fans were chanting "Daniel Bryan" even though he went to the back. Kofi Kingston is #17 to almost no reaction from an angry crowd. Wyatt nearly eliminated Kingston, but Kofi was able to hang on. Adam Rose is #18 with the Rosebuds entering the building along with him. I can't hear the crowd booing because of the music, but I assume they are. Kingston got tossed over the top, but the Rosebuds caught him and put him back in. That's the creative Kofi save spot. Rusev got rid of Rose quickly and then a Rusev kick to the head finally got rid of Kofi. In the ring right now are Rusev, Stardust, Wyatt and Goldust. Roman Reigns is #19 and the crowd is booing him. This is not the reaction WWE thought he would get, but they shouldn't be that surprised. Reigns cleaned house with a Samoan Drop on Goldust, then he tossed him out and then he gave Stardust a clothesline to eliminate him. The crowd was still booing Reigns. Big E is #20 to almost no reaction. Rusev hit a running dive on Big E in the corner. Four guys in the match 2/3 of the way through it: Reigns, Rusev, Wyatt and Big E.
The 21st entrant is Damien Mizdow. The fans cheered. The Miz comes out to tell Mizdow that he should go to the back. The Miz was on the apron, Reigns knocked him out of the ring before he could get in. Mizdow went in, hit a couple of moves and then he was eliminated by Rusev. Miz yelled at him, but Mizdow just sat beside him imitating him. They blew an opportunity to do something cool with them in this match. Jack Swagger is in at #22 to a mild reaction, but nothing much. Not a whole lot happens following Swagger's entrance. Ryback enters at 23 to almost no reaction and cleans house on everybody with power moves. When he hit Reigns with a clothesline the fans cheered that. Ryback hit the Meat Hook Clothesline on Rusev. No eliminations. Fans were chanting "CM Punk" because they were bored. The veteran Kane is #24 as the announcers mentioned he has 38 eliminations all time while Shawn Michaels has the record with 39 eliminations. That was another dead spot in the match because they just wanted to fill up the ring with more guys. Dean Ambrose is 25 and the fans like him, so that's good. There was a "Let's Go Ambrose" chant for him as he took down Ambrose with a flying elbow drop off the top. There were eight guys in the ring with five men left.
It was Titus O'Neil at #26. Lawler says "oh boy" as if he's a big name, then he gets tossed out in four seconds. It would have been quicker, but he didn't go over the top the first time he was hit with a clothesline. Cole noted that Wyatt has been there for 38 minutes. The IC Champion Bad News Barrett is #27. Barrett hit the spinning slam to Ambrose, then immediately joined the others in just trying to dump somebody out. Cesaro is #28. He didn't do anything of note. Why not let him do some power moves? Too many guys are going into this match without doing a thing once they get in there. Rusev eliminated Big E with a dropkick while Big E was on the apron. Big Show is #29. Everybody faced him. Show and Kane did a double chokeslam to get rid of Ryback, so Kane has 39 eliminations in his career to tie Michaels. Show eliminated Swagger. Nothing else of note happened there. Dolph Ziggler is #30.
Ziggler quickly eliminated Barrett by putting him on the apron and then nailing a superkick. There was a battle with Cesaro and Ziggler by the ropes, which was won by Ziggler. He eliminated Cesaro. Ziggler teased being eliminated by Kane, but then Big Show nailed him with a KO Punch. Kane and Big Show picked up Ziggler, then dumped him out of the ring. Crowd hated that. Me too. Big Show with the KO Punch on Wyatt so Show and Kane dumped him out.
Final four in the match are Reigns, Ambrose, Show and Kane. Reigns hit a leaping clothesline on Show. It looks like Reigns was bleeding from the mouth. Kane hit a big boot to slow down Reigns and then the heels stomped on Ambrose. Show with a Chokeslam on Ambrose. That led to Show and Kane dumping Ambrose out. That means Reigns is against the two evil big guys. The heels went to eliminate Reigns, but then Show tried to dump Kane out too. Kane got mad about it, so they started brawling. Kane and Show grab eachother by the throat. Reigns walks over to them and dumps them both out.
After the Rumble, Reigns received a Chokeslam. The Rock's music hit and he came out for the save for his cousin Roman Reigns. Rock hit the Spinebuster and Rock Bottom. He took care of the giants. Rusev went back into the ring because he wasn't eliminated. Reigns gave Rusev a Spear and then tossed him over the top rope to eliminate him.
Winner of the Royal Rumble: Roman Reigns
Backstage, WWE Champion Brock Lesnar and Paul Heyman were looking on.
Analysis: **1/2 That was a weak Rumble. The crowd hated nearly everything that happened after Daniel Bryan was eliminated. Bray Wyatt was booked strong for most of it, but then he got dumped out so easily that it made him look weak. Bryan's elimination sucked. He should have lasted longer. My guess is that WWE wanted him long gone before Reigns got in there so that it made Reigns look like a bigger star. That strategy didn't really work.
The highlights of the Rumble were seeing guy like Bubba Ray Dudley and DDP out there. I hope that Bubba stays in WWE full time after this because he's still a very good performer. Bring back D-Von too. They missed an opportunity by not putting D-Von in the match as well because the crowd would have loved seeing them together in this. Fans were even chanting for D-Von to be out there.
I spent about 15 minutes after the show just interacting with people on Twitter and Facebook about it. People are genuinely mad about what happened. I'm mad too. If you read my preview of the event then you know I picked Reigns winning with heels like Big Show and Rusev lasting until the end so that WWE would think fans would cheer Reigns, but guess what? The fans didn't care.
Back to the show.
Roman Reigns celebrated in the ring with his cousin The Rock. The Authority's Triple H and Stephanie McMahon stood by the entrance looking angry about Reigns winning and The Rock being out there.
When The Rock left, Reigns posed by the WrestleMania logo and the crowd booed. His mouth was still bleeding. The announcers didn't mention the poor reaction for him. The PPV went off the air at around 10:43pmET.
Ranking the Rumble matches in terms of star ratings:
1992: ****1/2
2007: ****1/4
2001: ****
2005: ****
2002: ***3/4
2000: ***3/4
2013: ***3/4
2004: ***1/2
1990: ***1/2
2010: ***1/4
2006: ***1/4
2003: ***1/4
2008: ***1/4
1997: ***1/4
2012: ***
2011: ***
2009: ***
2014: ***
1994: ***
1995: **3/4
1998: **1/2
2015: **1/2
1988: **1/2
1996: **1/4
1993: **1/4
1991: **1/4
1999: **
1989: **
That's it as far as retro Rumble posts go.