The John Report: WWE Smackdown Review 06/23/16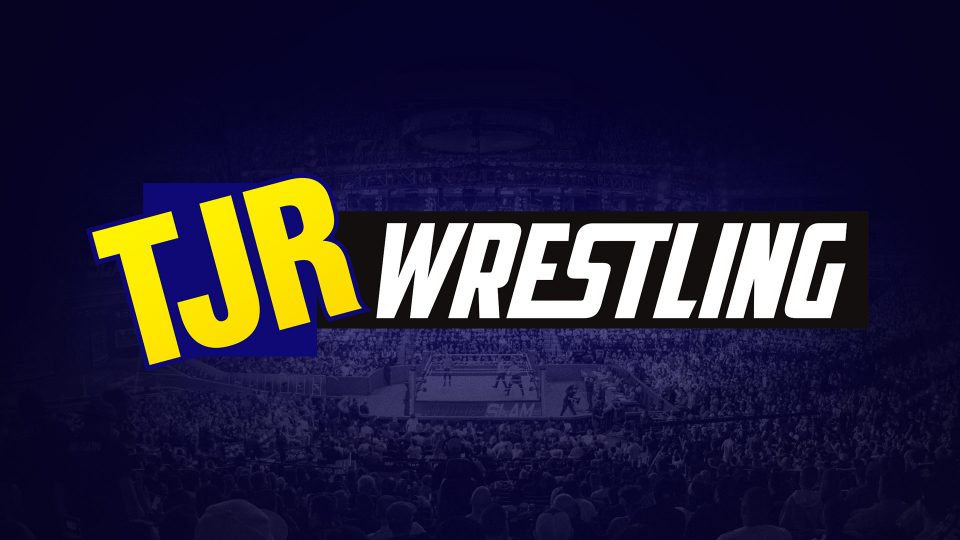 Taped in Tucson, Arizona this is Smackdown for episode #879.
There was a three-minute video package to start the show with a focus on the big happenings from Money in the Bank and Raw. Live in the arena, the Raw and Smackdown podiums are there again.
The former WWE Champion Seth Rollins entered first for a promo. He said that nobody outworks him, he came back from a career threatening injury faster than anybody and he pinned the paper champion Roman Reigns right in the center of the ring. He noted he wasn't out there with the WWE Championship because that thief and scumbag Dean Ambrose stole his championship. To make matters worse, instead of taking him on in the rematch one on one, he has to beat Ambrose and Reigns in a triple threat match at Battleground. He said at Battleground he'll prove once again that he will always be the best member of The Shield. He said he wants to prove he's more of a man than Ambrose could ever be. Rollins issued an open challenge to anybody to face him in the main event of Smackdown.
Here comes Sami Zayn. Good reaction for him. He went into the ring to go face to face with Rollins. Rollins wondered if Sami's "master" Kevin Owens let him off the leash. Rollins told him he's perfect to face him later and he laughed at Zayn's appearance.
The new WWE Champion Dean Ambrose walked out with the title. He told them to stop. Ambrose told them they looked like amateurs, so he called some people to bring on his "set" now. The ring was filled with the "Ambrose Asylum" set with a cactus plant. Then he welcomed us to the Ambrose Asylum and drew a championship on the board.
Analysis: That was pretty funny.
Dean's first question to Seth: "Why are you being such a jackass?" Rollins said he has no time for his games. Ambrose told Rollins he had a poor attitude. Zayn wondered why they had to wait unitl the main event when they can do it right here right now. Ambrose said he asked the questions and then asked the same question. Rollins said that's his title, his ring and they do things on his time. Rollins said this is bullcrap and he left angrily. Zayn asked if Rollins is always like that.
Ambrose reminded us that tonight it's Rollins vs. Zayn in the main event.
Analysis: That was a fun segment. My only gripe is that Zayn didn't get to talk much at all. He should have talked about how he wants to prove himself by beating Rollins and showing that he's capable of being a top guy in WWE. Let's hear from Zayn in a situation like that so we can root for him even more.
The announce team is Mauro Ranallo, Byron Saxton and David Otunga. Later in the show is Sheamus vs. Crews and Lynch vs. Brooke. Cesaro vs. Del Rio up next.
Analysis: They didn't mention anything about why Lawler is gone, but it's because of a domestic incident last week. I thought it might be Corey Graves in that chair, but they chose to go with Otunga who has done commentating on the Raw pre-show for the last few months.
(Commercial)
There were pre-match inset promos from both guys prior to the match. Cesaro said the only thing he'd be jealous of regarding Del Rio is his pretty hair.
Alberto Del Rio vs. Cesaro
Cesaro with a backbreaker early on. Uppercut train time by Cesaro. Del Rio bailed to the floor, so Cesaro took him out with a running dive off the apron. With Cesaro on the apron, Del Rio wrenched the arm against the top rope and kicked him to the floor.
(Commercial)
Back from break, Del Rio with a double axe and then he applied an armbar. Del Rio continued to work on the arm of Cesaro. Then Del Rio jumped off the ropes and Cesaro countered with an uppercut shot to knock him down. Cesaro nailed several more uppercuts. Springboard elbow by Cesaro gets two. As Cesaro was doing the pin, he was selling his left arm injury because he's great like that. Backstabber by Del Rio gets two. Standing side kick by Del Rio gets two. Cesaro came back with a dropkick. Del Rio crotched him on the top, but Cesaro came back with an arm drag. Del Rio came back with a Cross Armbreaker attempt, Cesaro rolled through and a Neutralizer by Cesaro finished it off after about eight minutes.
Winner by pinfall: Cesaro
Analysis: **3/4 They are two guys in a similar spot right now, so it was right to book them in an even match like that. It was a bit shorter than I would have expected, but they made the most of their time. I just think if they had another five minutes they could have had Del Rio work on the arm a bit more and tease some finishing spots better. It was still a competitive match that was good. I think the right guy went over. I'd like to see Cesaro win the IC Title from The Miz or the US Title from Rusev.
Zayn vs. Rollins is later. Crews and Sheamus are shown walking backstage because they are coming up next.
(Commercial)
Sheamus vs. Apollo Crews
This is a rematch from Money in the Bank last Sunday when Crews won with a crucifix pin. Sheamus was aggressive early until Crews took him down with a cross body block that sent them both over the top to the floor. Crews tossed Sheamus into the steps at ringside. Back in the ring, Crews with a step up enziguri and a standing moonsault gets two. Sheamus came back with forearm shots to Crews and a punch to the ribs. Crews was able to send Sheamus to the floor. Crews with a clothesline off the apron. Sheamus with a rolling senton on the floor gets two. Crews with a dropkick on the floor. Sheamus kicked him out of the ring, tossed him into the apron and Sheamus hit a Brogue Kick into the back into the steel steps on the floor. Crews stayed down, so Sheamus wins by countout after four minutes.
Winner by countout: Sheamus
Post match, Sheamus celebrated the win while refs checked on the left shoulder of Crews.
Analysis: ** It was a quick match that was very physical. I liked how they booked it because it was done to tease something more from them. When guys work with the intensity they did it comes off as a more believable fight. The countout victory is fine too. It's okay to do that once in a while.
Later: Lynch vs. Brooke and coming up is a recap of Styles with Cena from Raw.
(Commercial)
The announcers plugged live Smackdown starting on Tuesday, July 19 and the draft taking place on that show.
There were highlights shown from the AJ Styles/John Cena story from Raw.
Styles was backstage with Luke Gallows & Karl Anderson. They talked about how great it was beating up John Cena. The Usos walked up to them. Jey said that Styles can't win without Head & Shoulders helping him. Jimmy Uso challenged Styles to a match. Styles gave him his "wordski" that he wouldn't have The Club with him. They wanted a shake but The Usos didn't shake and did the "dab" thing instead.
Analysis: That's how they set up things on Smackdown because there's no on screen person in charge, so they just have people randomly make their own matches. I find it hilarious how both Shane and Stephanie want to run Smackdown, yet there hasn't been an authority figure on this show in months.
They made their entrances for the match.
(Commercial)
AJ Styles vs. Jimmy Uso (w/Jey Uso)
Styles tripped up Jimmy in the ring and applied an armbar. Otunga was talking about how Jimmy was going to win because he trained with him. What a terrible way to justify a pick. Usos with an uppercut and then a clothesline sent Styles over the top to the floor. Styles blocked a dropkick to the floor and then slammed Jimmy face first into the steps. Styles grounded Jimmy in the ring with a chinlock. Jimmy nailed an enziguri, so Styles came back with a Pele Kick. When Styles went for a springboard attack, Jimmy kicked him and Styles was knocked down. Jimmy with a Samoan Drop gets a nearfall. Jimmy missed a corner charge, but he connected with a superkick for two. Gallows & Anderson showed up at ringside to attack Jey. Jimmy saw it, so he jumped over the top to take out G&A. Styles took advantage of that with a slingshot forearm to the floor on Jimmy. Back in the ring, Styles connected with the Phenomenal Forearm for the win after six minutes.
Winner by pinfall: AJ Styles
Analysis: **1/2 It was a solid win for Styles, who didn't really win clean because The Club showed up for the cheap attack. It fit with the story of AJ saying he wouldn't have them with him at ringside, but of course that was a lie and they showed up to make a difference. I liked how Styles finished him off with two huge forearm shots. That move looks so devastating.
Another reminder of Lynch vs. Brooke and Zayn vs. Rollins to come.
(Commercial)
The Vaudevillains were in the ring. The New Day made their entrance with the crowd cheering for them. Here's a recap of The New Day's interaction with the Wyatt Family on Raw. No pre-match promo from New Day, which is pretty rare.
The New Day (Kofi Kingston & Big E w/Xavier Woods) vs. The Vaudevillains (Aiden English & Simon Gotch)
This is not for the tag team titles. The Vaudevillains worked over Kingston with quick tags. English nailed a running hip attack in the corner. Kingston nailed a leaping double knee attack. One minute into the match, hot tag to Big E. Belly to belly by E on Gotch, who was legal. Three suplexes by Big E, who followed it up with the best big splash in the business. Big E with a back body drop on English on the floor and then Kingston took him down with a clothesline. New Day hit the Midnight Hour (new name for the double team Big Ending) for the win after about three minutes.
Winners by pinfall: The New Day
Analysis: *1/2 An easy win for the tag champs. It was a bad week for The Vaudevillains. English got pinned on Sunday, they lost a quick match to Enzo & Cass on Raw and here's a short loss to New Day.
The Wyatt Family showed up with a promo on the Tron. Bray just talked about their mistake on Raw and mentioned that pain deserves to be felt. Wyatt said "New Day falls" and that ended it.
Zayn vs. Rollins later.
(Commercial)
There was a "Life Lessons" segment with Darren Young and Bob Backlund. It was just Backlund talking about his career and said they're going to make Darren Young great again. Same old thing.
Sami Zayn was interviewed by Greg Hamilton backstage, but first here's a look at Zayn brawling with Kevin Owens backstage on Raw. Zayn said that things didn't go according to plan on Raw, which is why he accepted the Rollins challenge. Zayn said that beating Rollins would be a gigantic statement. He said Rollins should be worried about Zayn kicking his face off.
Analysis: There's the promo I wanted Zayn to be in the ring. It's better in the ring than backstage.
Charlotte and Dana Brooke were backstage as Renee Young interviewed them. Charlotte talked some trash. She talked about how Sasha Banks is going to bow down to her and Charlotte said she's the queen. Brooke claims she is going to finish off Lynch.
Becky Lynch made her entrance.
(Commercial)
They showed images of WWE sending the WWE Title to the NBA Champion Cleveland Cavaliers. They also showed a pic of Cavs forward Kevin Love posing with titles.
A replay aired of Lynch getting attacked by Natalya on Raw.
Analysis: They should have had Natalya do a promo on Raw or Smackdown instead of saying just one line on Raw.
Becky Lynch vs. Dana Brooke (w/Charlotte)
How many times have they done this match in the last two months? At least four times. It feels like more than that. Brooke nailed some knees to the ribs. Lynch nailed a reverse DDT. Charlotte was on the apron, Lynch knocked her down, Brooke flipped Lynch over and covered it. Really? That's the finish. Not the ROLLUP OF DEATH~! but similar. It didn't even last two minutes.
Winner by pinfall: Dana Brooke
Post match, Ranallo noted that it was the third time Brooke has beat Lynch and Lynch beat her once, so I was right in remembering four matches.
Analysis: 1/2* That was bad because it was so rushed. I feel bad for the women because WWE can spout all this stuff about how they care about the women's division, but they don't show it by giving them time. This was less than two minutes, which is because Brooke is still pretty green and I doubt WWE has a lot of faith in her to go in a longer match.
Lynch nailed Brooke with a Bexploder Suplex. Charlotte nailed a boot to the face to knock down Lynch. Sasha Banks came out for the save as Charlotte had a shocked look on her face. Why is she shocked when she also came back on Raw? I don't know. Banks looked like she was ready to fight, but Charlotte bailed to the floor. Brooke tried to attack, but Banks gave her the Banks Statement into the submission. After about 15 seconds, the heels left.
Analysis: It was fine. Similar to what happened on Raw. This feels like a replay of nearly every women's feud they do with a two on one scenario. Earlier this year they even did the same thing with Naomi & Tamina bullying Lynch, so Banks came to her aid. Can't they book anything different for the women? Whether it's heel Bellas or AJ Lee with Tamina, they've basically done the same story for years in the women's division. Be creative!
Seth Rollins was backstage. Dean Ambrose said he won't miss the match. He's going to have a front row seat. Rollins just walked off angrily.
(Commercial)
Seth Rollins made his entrance first. Dean Ambrose is on commentary for this match. Rollins talked trash to him. There was a reminder that Ambrose vs. Rollins vs. Reigns is set for Battleground.
Analysis: No mention of Roman's suspension, of course. He's still in the match because it's after his 30 day suspension ends.
Seth Rollins vs. Sami Zayn
Zayn was in control early on with a headscissors takedown. Zayn went for some offense on the apron, but Rollins knocked him down. Rollins sent Zayn back in the ring and nailed a clothesline.
(Commercial)
Rollins was still in control as Ranallo noted it was their first match in WWE although I know they have wrestled before they were in WWE. Rollins with a Falcon Arrow suplex for two. Rollins hit a Sling Blade for a two count. Zayn was able to come back with a huge clothesline. Rollins escaped to the floor, so Zayn followed him out and hit another clothesline to knock him down. Zayn with a cross body block for two. Zayn went for a Blue Thunder Bomb, Rollins fought out of it and then Zayn connected with the Blue Thunder Bomb for a two count. Zayn was stunned it didn't get the pin. Rollins nailed a dropkick to counter the Helluva Kick. Rollins with a Buckle Bomb. Zayn rolled him up for two. Wow what an amazing Tornado DDT by Zayn! Rollins escaped to the floor to avoid the Helluva Kick. Zayn nailed a somersault dive over the top aka the tope con hilo. Zayn sent Rollins back in the ring. When Zayn went back in, Rollins nailed a Pedigree. Rollins sold some pain, then covered and won after 11 minutes.
Winner by pinfall: Seth Rollins
Analysis: ***1/2 It was a great match featuring two of the best workers in WWE. I just wish they got more time. If they had a 20 minute match it would be one of the best matches of the year. I hope they do a rematch soon where they get 15-20 minutes because this match left me wanting more. Zayn was great when doing the comeback. He shows so much babyface fire and is as good as anybody in that spot. I didn't love the finish just because I think Rollins should be selling a bit more after taking all that offense from Zayn. The loss didn't make Zayn look bad because he came so close against the former champion and it showed that Zayn was nearly on Rollins' level.
Post match, Rollins got in the face of Ambrose at ringside. When Ambrose went to sit back down, Rollins attacked him with punches. Ambrose fought back with punches of his own. In the ring, Ambrose went for the Dirty Deeds, but Rollins fought off and went up the ramp. Ambrose held up the WWE Title to end the show.
Analysis: A simple ending to the show with the heel retreating to avoid an attack.
I think it should just be Rollins vs. Ambrose at Battleground. I know Roman Reigns is advertised for it, but he won't be on TV for the next month, so it's going to be hard for people to believe he has a shot to win it. Ambrose and Rollins will do a great job of building it up.
Three Stars of the Show
1. Seth Rollins
2. Sami Zayn
3. Cesaro
The Scoreboard
6.5 out of 10
Last week: 6.5
2016 Average: 5.85
Last 5 Weeks: 6.5, 5, 7, 6, 6.5
2016 High: 7.5 (March 3)
2016 Low: 4 (January 21)
As of this week, the average Smackdown score is a 5.85 and Raw is 5.74, so Smackdown > Raw so far this year.
Final Thoughts
It gets a 6.5 out of 10 similar to main event.
The highlight of the show was Rollins vs. Zayn as expected. It left me wanting more, so they accomplished the goal. Cesaro's match against Del Rio was pretty good too. Nothing else on the show was that bad. It was just a lot of short matches with predictable endings.
It's going to be so weird for the next month without the suspended Roman Reigns on the shows, yet he's still in the Battleground main event. That could change, but for now he's in the match.
That's all for me. Have a great weekend.
John Canton – mrjohncanton@gmail.com
Twitter @johnreport