The John Report: WWE Smackdown Review 06/16/16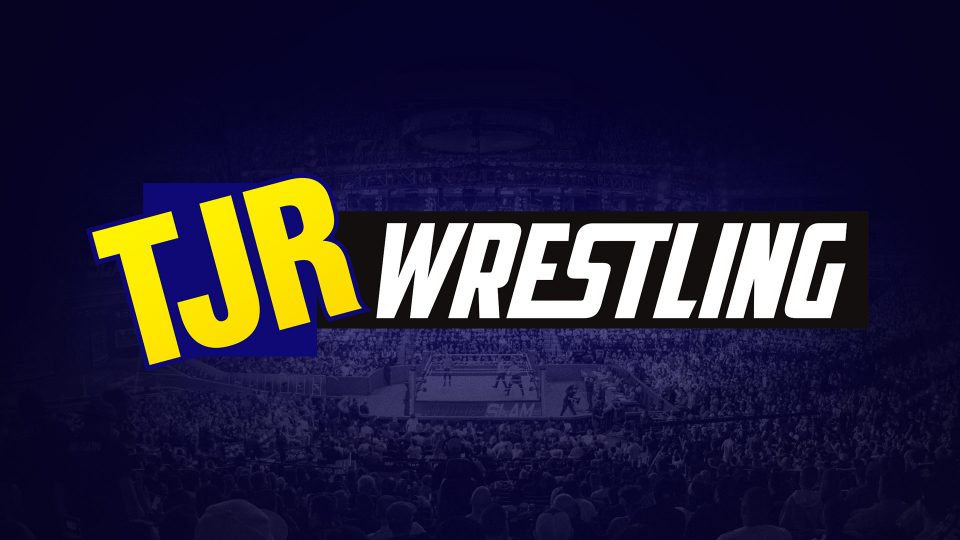 Taped in Biloxi, Mississippi this is Smackdown for episode #878.
The Smackdown intro video played to start the show.
Chris Jericho was in the ring to host a Highlight Reel segment.
The Highlight Reel
The scarf wearing man Chris Jericho was alone in the ring on his "set" including the Jeritron 6500 TV screen as he called it. He kept saying "quiet" to annoy the crowd. He said there's a $20,000 carpet as well. He bragged about being a multi-millionaire and pointed out how there's a lot of equity with the Money in the Bank briefcase above the ring. Jericho commented on creating the MITB match saying it was his genius that came up with it. Jericho brought out a man that he hates with every fiber of his being, Dean Ambrose.
Dean Ambrose entered to a good ovation with a coffee in his hand. Ambrose complimented the carpet in the ring. Jericho talked about how the carpet came from "Serengeti yak hair" – it's awesome how he can say that with a straight face. Ambrose drank his coffee saying it's the "gift of Jericho" and said "drink it in." Jericho said Ambrose has lost his Jeritron privileges as the screen moved up.
Jericho told Ambrose he hasn't forgotten what he did to him when he wrecked his jacket and the 69 thumbtacks that Jericho had in him after the Asylum Match. Jericho talked trash about how Ambrose has never been the World Champion while Jericho has six times. Jericho said he's going to win the Money in the Bank match.
Kevin Owens walked the ramp to interrupt the proceedings. Owens said that neither of them was going to win the briefcase because that contract is his. He said the idiots from Mississippi can boo, but it's a fact. Owens said he's not going to tell anybody when he'll cash it in.
Alberto Del Rio was the next man to interrupt. He wondered what they knew about cashing in as he said he was the only one there that has won the Money in the Bank…and it's another interruption.
Cesaro walked out in his suit. Before he could say anything, here's another interruption.
Sami Zayn showed up to say that Money in the Bank is great, but later tonight it's Owens, Del Rio and Jericho against three of the best in WWE. Cesaro argued with Zayn about how Zayn didn't let Cesaro say a word. Jericho called them stupid idiots.
All six guys were in the ring. Jericho said that he thinks their team will whip their "rear ends" all around this dump. Ambrose dumped the coffee onto the carpet, so Jericho freaked out. That led to the six guys brawling in the ring. Referees showed up to break it up and that ended things.
Analysis: It was a basic show opening promo. Jericho's heel act is very entertaining and he's one of the few people in all of WWE that can get genuine heat. Ambrose pouring coffee on the carpet was a good way to get Jericho to freak out. The six man tag match was already announced before the show.
Four way match up next.
(Commercial)
The intro from Enzo & Cass was interrupted by The New Day. It followed the opening segment well in terms of interrupting. Kofi Kingston entered on Big E's shoulders.
Aiden English (w/Simon Gotch) vs. Luke Gallows (w/Karl Anderson) vs. Big Cass (w/Enzo Amore) vs. Kofi Kingston (w/Big E & Xavier Woods)
It's a fatal fourway match so first pin or submission wins. Enzo and Xavier are on commentary for this match. Cass with a clothesline on Gallows and a slam on English. Cass with a clothesline sent English to the floor. Gallows dumped Cass out of the ring. Gallows and English both sent Cass into the barricade. Everybody argued on the floor as it went to break.
(Commercial)
Gallows and English worked over Kingston while Cass was out on the floor. Cass ran in with a big boot on Gallows followed by a shoulder block, clothesline and corner splash. Kingston with a pendulum kick to English and then Cass with a big boot. Gallows tripped up Cass on the floor to slow him down. Kingston with a cross body block off the top onto Gallows & Cass on the floor. Big E with a clothesline on Gotch. Kingston nailed the Trouble in Paradise kick on English for the win after seven minutes.
Winners by pinfall: Kofi Kingston
Analysis: **1/4 It was a fast paced match for the time given. I like how they involved some of the guys on the floor too without having them do too much. Cass was protected in the match because he was put over huge when he was on offense and wasn't involved in the pin. Kingston winning makes my pick of Gallows & Anderson winning the titles on Sunday make more sense since the win on TV, lose on PPV theory would be in effect.
The lovely duo of Natalya and Becky Lynch were interviewed by Renee Young. Natalya thanked Becky for being in her corner. Becky said that Charlotte can't win a fight on her own. Charlotte and Dana Brooke showed up to interrupt. Charlotte called them wannabe champions. Brooke said they are crystal clear on their partnership.
Analysis: Just a quick promo to set up the match for later.
(Commercial)
The announce team of Mauro Ranallo, Byron Saxton and Jerry Lawler welcomed Dolph Ziggler to the announce table.
Baron Corbin vs. Zack Ryder
Corbin stared at Ziggler while on the floor. Ryder nailed a dropkick off the apron. Ryder hit him with some punches and then Ryder hit a Broski Boot to the face for two. Corbin avoided a missile dropkick by Ryder. Corbin nailed the End of Days slam for the win after two minutes.
Winner by pinfall: Baron Corbin
Analysis: * A short match to put over Corbin. Ryder got in some offense including the Broski Boot, but it was an easy win for Corbin.
Post match, Corbin got into Ziggler's face at ringside. Ziggler kept calling him "kid" like he was calling Ryder kid. Corbin just walked away. They meet on Sunday.
Analysis: Hopefully it's the end of the Corbin/Ziggler feud on Sunday. It's dragged on too long and it's not really helping either guy.
Six man tag later.
(Commercial)
PLUG: Go read our WWE Money in the Bank 2016 Preview for predictions on all the matches. You can also listen to the TJRWrestling Podcast for my verbal predictions on all the matches as well as a reflection on every Money in the Bank cash-in ever.
The ravishing Russian Lana was in the ring. She introduced the US Champion Rusev. A highlight aired of him attacking Titus O'Neil on Raw.
Kalisto made his entrance. Rusev caught him in mid air before he could even get in the ring. Rusev with a kick to the back of the head. Rusev applied the Accolade on Kalisto. Sin Cara ran out for the save, nailed a cross body block and Rusev just shoved him down. Rusev put Sin Cara in the Accolade as well.
Titus O'Neil ran out for the save, Rusev bailed and O'Neil followed him on the floor. O'Neil pounded away on him. O'Neil sent Rusev into the barricade. Rusev tried to run away, but O'Neil kept on punching him. Rusev was finally able to get away.
Analysis: It wasn't an official match. Good to see O'Neil with an aggressive attack like that. He went after Rusev around the ringside area while not stopping when Rusev left the ring. What worries me with this feud is that O'Neil hasn't been in the ring very much in the last month, nor has he really had a lot of promo time. I just don't think WWE has built him up well.
A video package aired about the John Cena/AJ Styles contract signing from Raw. Read all about it in my Raw Deal review.
Styles, Gallows & Anderson were interviewed by Renee Young backstage. Styles said that Cena can't beat him and he'll prove it on Sunday all on his own. Styles said this is the greatest Money in the Bank in history and he's phenomenal. The New Day trio showed up. Xavier Woods said that the whining Styles does goes with his emo haircut. Big E said he had a "I wear socks with sandals" look. Styles said Woods is the guy that does nothing but run his mouth the most. Styles suggested he have a match with Woods. Kingston said no at first, but Woods said let's do it. Woods suggested they do it right now.
Analysis: That was good. They set up a match to take place right after the break because we are to believe that whoever runs this show (we don't know) had nothing else planned, so people can just make their own matches any time they want.
(Commercial)
This Monday after Raw it's AJ Styles as a guest on the Stone Cold podcast on WWE Network.
Styles made his entrance alone as the announcers discussed Styles vs. Cena on Sunday.
AJ Styles vs. Xavier Woods
Their deal was that nobody could be at ringside. Styles got the advantage early as he hit a shoulder tackle to the knee of Woods. Styles kept attacking the left knee while the referee said he had to check on Woods. After the ref checked on Woods, Styles kicked the knee. Woods hit a right knee to the face and then Styles nailed a Pele Kick to knock him down for a two count. Styles nailed a corner clothesline for a two count. Jawbreaker by Woods. Styles with a chinlock. Woods with a rollup for two, so Styles came back with a backbreaker.
(Commercial)
The action picked up with them battling on the top rope. Woods with a headbutt and then a cross body block off the top rope. Woods with forearm smashes, kick to the leg and a running dropkick. Woods with an inverted suplex. Woods nailed Styles with a forearm shot while on the apron that sent Styles to the floor. Woods with a somersault diving attack over the top to take out Styles. That was great. Back in the ring, Woods hit a flying elbow drop off the top rope for two. Styles tripped up Woods on the turnbuckle and slammed him down. Styles nailed the Phenomenal Forearm attack off the top rope. Styles said this is what he's going to do to John Cena. Styles applied the Calf Crusher submission. Woods tapped out after 12 minutes of action.
Winner by submission: AJ Styles
Analysis: ***1/4 That was a really good match with Woods selling the knee for the early part of it and Styles winning by submission made him look like a crafty heel. No surprise that a Styles match hit the three-star level because if he's in a match that gets over ten minutes it will usually reach that point. He's arguably the best in-ring performer in WWE. Woods has a lot of in-ring talent even though they don't let him show it enough. He was great in this match. I want New Day to stay together long term, but if they break it up then perhaps a guy like Woods can show what he can do in singles.
Post match, Styles kicked Woods out of the ring. He said that is just a taste of what he's going to give to John Cena. Styles called it the greatest Money in the Bank pay per view in history (the company keeps calling it that), he said Cena's time is up and his time is now.
Analysis: Plenty of confidence shown by Styles. I'm picking him on Sunday although it's far from a sure thing. Picking against Cena is always risky.
Natalya vs. Charlotte is up next.
(Commercial)
A "Life Lessons with Coach Backlund" video aired featuring Bob Backlund and Darren Young. They were on the split screen again. Backlund told Young to never take advice from anyone while Young said that Backlund is his coach, so should he take advice from him. Backlund told him that he gives orders, not advice. He ordered Young to do 100 high knee runs on the spot.
Analysis: I still have no idea when they are going to put them in front of a crowd, but I'm optimistic about it. I like Young as a worker while Backlund fits as a crazy old guy.
Charlotte (w/Dana Brooke) vs. Natalya (w/Becky Lynch)
This is a non-title match. Natalya was the aggressor early on with the surfboard submission. Basement dropkick by Natalya. Charlotte slipped out of the ring to avoid a Sharpshooter. Dropkick by Natalya sent Charlotte out of the ring. Charlotte came back with a boot to the face on the floor. Back in the ring, Natalya hit a Russian legsweep and then a release German suplex gets two. Natty by Nature clothesline for Natalya gets two. Charlotte nailed Natalya with a hard chop. To the top for Charlotte, but Natalya got back up and nailed a great sitout Powerbomb for two. Great nearfall there. Brooke had the title on the apron. Lynch went after her, they brawled in the ring. Charlotte threw the title at the feet of Natalya. The ref saw that, so he took the title out of the ring. It led to Charlotte nailing a chop block to the knee. Figure Eight submission by Charlotte leads to the submission win after five minutes.
Winner by submission: Charlotte
Analysis: **1/4 It was good for the time given. I liked the believable nearfall for Natalya with the sitout Powerbomb. The crowd bought that as a possible finish. Charlotte did a bit of Eddie Guerrero like craftiness by using the title as a distraction and it paid off. I'm picking Natalya and Lynch to win on Sunday.
Preview of Reigns vs. Rollins up next.
(Commercial)
A video aired about the history of Rollins vs. Reigns using highlights from their careers and comments they made in recent video packages.
Dean Ambrose made his entrance for the main event.
(Commercial)
As we returned from break, the three faces were in the ring as well as two of the heels and here is Chris Jericho up last.
Dean Ambrose, Sami Zayn & Cesaro vs. Kevin Owens, Alberto Del Rio & Chris Jericho
All six guys started brawling around the ring early on. Del Rio missed a kick, Cesaro with an uppercut train on Del Rio and looked for more, but Del Rio went to the floor. Cesaro with a cannonball attack on Del Rio on the floor. Cesaro with uppercuts on Owens, Jericho and Del Rio on the floor. Cross body block by Cesaro on Del Rio in the ring gets two. Cesaro Swing on Del Rio for a bit, Owens comes in, here's the Swing on Owens, Jericho comes in and there's the Swing for Jericho. Sharpshooter by Cesaro on Jericho with CJ tapping out, but he wasn't legal. Del Rio nailed a superkick for two because he was still legal.
(Commercial)
Jericho was in the ring with Cesaro as Jericho hit a dropkick. The heel team worked over Cesaro in their corner. Del Rio with a step up enziguri gets a two count. Cesaro with a dropkick while Del Rio was on the apron. Zayn got the hot tag against Jericho. Back elbow by Zayn, boot to the face and a cross body block off the top for two. Owens with a punch on Zayn knocked him down. Zayn came back with a Blue Thunder Bomb on Jericho.
Ambrose got the hot tag for his team against Del Rio. Ambrose was on fire with forearm shots, cross body block, punch for Owens on the apron, forearm on Del Rio and a bulldog. Ambrose with a slingshot cross body took out Owens on the floor. Ambrose suicide dive on Del Rio. Back in the ring, Del Rio with a boot to the stomach and a backstabber gets two. Ambrose with the Lunatic Lariat gets two as Jericho made the save. Cesaro accidentally nailed his partner Ambrose with an uppercut. Zayn nailed a somersault dive over the top that took out Cesaro because Owens moved. Owens sent Zayn into the barricade. Del Rio tagged Owens in, so Owens nailed Del Rio with a superkick. Owens with a superkick to Jericho. Ambrose rolled up Owens to get him to his feet and Ambrose with a Dirty Deeds for the win after 13 minutes.
Winners by pinfall: Dean Ambrose, Sami Zayn & Cesaro
Analysis: *** That was an excellent tag match as expected from these guys. I liked some of the spots in the match with the faces accidentally hitting eachother while the heel Owens intentionally kicked his partners in the face because he's a jerk. Ambrose goes in the match with all the momentum since he beat Jericho on Raw and got the clean pin here as well. Even though I like all of these guys a lot, WWE has overdone it in terms of putting them in the same matches week after week for the past month. They did this tag two weeks ago on Raw, so it didn't feel that fresh to me. As for the winner of the briefcase, I'm going with Owens for the win on Sunday.
They replayed the key spots in the match.
Ambrose was standing on the ropes looking at the briefcase. All of the other guys were around the ring look at the briefcase too. That's how Smackdown ended.
Three Stars of the Show
1. AJ Styles
2. Xavier Woods
3. Dean Ambrose
The Scoreboard
6.5 out of 10
Last week: 5
2016 Average: 5.83
Last 5 Weeks: 5, 7, 6, 6.5, 6
2016 High: 7.5 (March 3)
2016 Low: 4 (January 21)
As of this week, the average Smackdown score is a 5.83 and Raw is 5.74, so Smackdown > Raw so far this year.
Final Thoughts
It was a slightly above average show thanks to two really good matches, an opening promo that was okay and the rest of the show did a decent job of promoting things that will happen at Money in the Bank. I still wish WWE cared more about Smackdown and did more to make it feel like a "must see" show most weeks.
Please read our WWE Money in the Bank 2016 Preview for predictions on all the matches. You can also listen to the TJRWrestling Podcast for my verbal predictions on all the matches as well as a reflection on every Money in the Bank cash-in ever.
That's all for me. Have a great weekend.
John Canton – mrjohncanton@gmail.com
Twitter @johnreport