The John Report: WWE Smackdown Review 06/09/16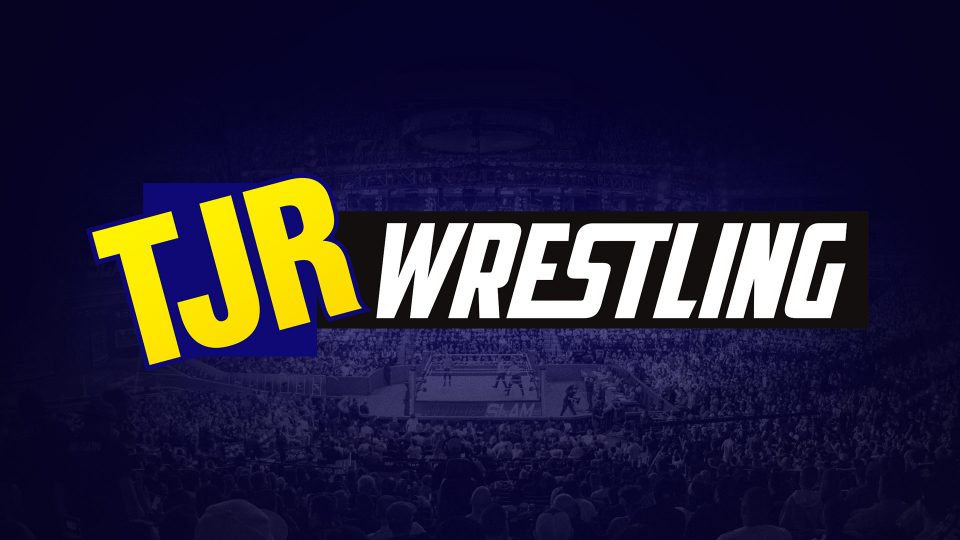 Taped in Wichita, Kansas this is Smackdown for episode #877.
The Smackdown intro song played. I hope both Smackdown and Raw get new songs in July when the brand extension takes place.
The Club trio of AJ Styles, Luke Gallows & Karl Anderson started us off. Replays of Raw aired as well as reminders of their respective Money in the Bank matches.
Styles noted that people are comparing Money in the Bank to WrestleMania and saying this could be the greatest Money in the Bank of all time. Styles said it's not just because The Club can win the tag team titles, but the dream match will finally happen: Styles vs. Cena. Styles said this could be the first and last time you could see these matchups due to the brand extension – crowd chanted "Cena" to upset him. Styles said that for the past decade it's been the John Cena Era and it's time for a change. He said the new era in WWE can't start until he takes out Cena.
Styles said that was the plan all along. He said when he came to WWE he made sure that people knew that The Club was a package deal. He said they dominated everywhere. Styles said he'll personally show John Cena "you can't beat me." He also said Gallows & Anderson will become the tag team champions at Money in the Bank as well.
Here's Enzo Amore and Big Cass with the interruption. They did their usual intro with the crowd chanting "how you doin'" at them. Cass said that there are four teams in the Money in the Bank tag team match and only one team will walk out with tag team titles. Cass said it won't be the "Mr. Clean dream team" you've got there. Enzo said they're the next tag team champions.
Anderson talked about how for the last ten years they've been travelling the world making names for themselves as the absolute best. He asked Enzo what he's been doing – managing a Hooters? Enzo admitted he did manage a Hooters and he's dominating life. He said those guys had matches on every continent except Antarctica.
Gallows mocked Enzo for getting knocked out the last time he had a big match (from Payback). AJ mocked his fall. Enzo did his "cuppa haters" (couple of haters) routine. Enzo said every time he steps in the ring he risks it all, but when the chips are down they are all in. Enzo told them to pay attention. Cass said there's only one word to describe them and he's going to spell it out for them: SAWFT!
Analysis: Solid promo work from everybody involved. The heels did a good job of being cocky jerks like heels should. I've been impressed by AJ's heel promos since he turned. Enzo & Cass always do a great job of getting the crowd going.
(Commercial)
The announce team of Mauro Ranallo, Jerry Lawler and Bryon Saxton welcomed us back. The tag team champions The New Day were on commentary for this match as well. Big E was wearing some Sasha Banks merch, so that looked funny.
Luke Gallows & Karl Anderson vs. Enzo Amore & Big Cass
Anderson started with Enzo. Big E said he had a broom with him to clean out the tag division. Xavier Woods said they are going to take care of their division and then the rest of WWE. Perhaps a reference to The Young Bucks and Kenny Omega, who calls himself "The Cleaner" in New Japan and ROH. Or I'm overthinking it. Gallows worked over Enzo in the corner. The New Day guys talked about liking the wings at Hooter. Anderson with a backbreaker. Saxton gave Big E some grapes and then the others as well. The New Days calls Enzo "Muscles Marinara." Slam by Anderson. Kofi Kingston suggests trying alfredo sauce instead of marinara. Anderson hit a corner dropkick. Enzo stunned Anderson on the top rope. Then Enzo avoided a boot by Gallows. Anderson nailed a running kick to prevent a tag. Here come The Vaudevillains on the stage.
(Commercial)
Gallows worked over Enzo in the ring. Enzo almost made a tag, but Gallows put him on the turnbuckle. Enzo came back with a DDT off the middle rope. Hot tag to Cass against Anderson. Corner splash by Cass, there are some clotheslines and a fallaway slam. Stinger Splash followed by a big boot by Cass. He nailed the elbow drop. Gallows broke up the pin. Cass with a boot to the face sent Gallows over the top to the floor. Anderson dumped Cass over the top too. New Day got up from commentary as The Vaudevillains went down to ringside. Brawl with The New Day and Vaudevillains. It spilled into the ring, so the ref rang the bell. It went 11 minutes.
Match Result: No Contest
Post match, all four teams were brawling in the ring. Gallows and Anderson were knocked out of the ring first, then New Day followed them. Enzo saved Cass from a double team. They dumped Gotch out of the ring and Cass nailed a clothesline on Aiden English to knock him out of the ring. That ended it.
Analysis: ** It was the standard Enzo/Cass match with Enzo getting beat on for the entire match, Cass getting the hot tag and nearly getting the win. Once the other two teams were out there it was pretty obvious that it was going to end without a clean result. That's booking 101 right there.
A video aired of the start of the Jericho/Ambrose feud from two months ago. They have a match later.
Tribute to Muhammad Ali up next.
(Commercial)
They aired the tribute video to Muhammad Ali, who passed away last week. Lawler said it was amazing to be in his presence. It's the same video that aired on Raw. Really well done.
The announcers mentioned the two big Money in the Bank matches: Reigns vs. Rollins for the WWE Title and Cena vs. Styles.
Rusev and Lana were interviewed by Renee Young, who mentioned Rusev is defending the US Title against Titus O'Neil at Money in the Bank. Rusev said that Muhammad Ali isn't the greatest – Rusev is. He said that O'Neil is jealous of him and his title. O'Neil showed up to question why Rusev would mention himself with Ali – the greatest. O'Neil said that Rusev has been floating like a butterfly and O'Neil has shown him he can sting like a bee (that's a Muhammad Ali reference). O'Neil said the US Title is coming home with him.
Analysis: The feud is okay. I just don't think they have done a good enough job of building up O'Neil as a credible challenger. The crowd needs to believe in the guy as a winner, but they aren't putting him in enough matches on television. I can't even remember his last win. Rusev should retain at MITB.
Cesaro made his entrance followed by Sami Zayn. They're in a tag match up next.
(Commercial)
Alberto Del Rio made his entrance followed by Kevin Owens. Ring announcer Jojo is pretty good, but she doesn't say KO's name as well as Brandi/Eden did.
Analysis: All four guys are in the Money in the Bank Ladder Match. It feels like they've done almost every combination of tag match and singles match between these six guys in the last couple of weeks. I like all of them, but it gets repetitive after a while.
Cesaro & Sami Zayn vs. Alberto Del Rio & Kevin Owens
It was funny when Del Rio hit a move on Zayn, then yelled in Spanish and Owens said "he can speak Spanish – he's so cool" in a very sarcastic way. Del Rio with a kick to the ribs of Cesaro, then he tripped him up on the turnbuckle and grabbed an armbar. Del Rio wanted a tag, but Owens walked away like he's done before. Zayn ran up the ramp to go after Owens. Del Rio hit Cesaro with a DDT. Cesaro with a dive off the apron onto Del Rio on the floor. Time for a break.
(Commercial)
Del Rio with a backbreaker on Cesaro while their partners were still in the back. Del Rio with a Backstabber on Cesaro gets two. Lawler was getting on the other two guys for loving Cesaro so much. Del Rio with a punch off the top rope for two. Cesaro came back with a delayed vertical suplex. Owens and Zayn were brawling at the top of the ramp. Then they went into the ring. Owens knocked Zayn off the apron. Del Rio and Owens shoved eachother. Del Rio left the ringside area. Owens cut him off. They argued outside the ring. Zayn hit a somersault dive over the top to take out Owens. Del Rio tossed Zayn into the barricade and there's Cesaro with an uppercut on Del Rio. Cesaro suplexed Del Rio on the floor. Cesaro with a cross body block on Del Rio gets two. Del Rio with a double knee attack on the left arm of Cesaro. Owens nailed a superkick on Cesaro. Zayn with a Dragon Suplex on Owens – that was nasty! Del Rio superkick to Zayn. Cesaro uppercut to Del Rio. Cesaro did his uppercut train spot with several uppercuts in a row. Del Rio missed a kick on Cesaro that hit Zayn. Swing time by Cesaro on Del Rio. Cesaro with a Sharpshooter on Del Rio, but Owens made the save. Cesaro with a standing dropkick on Del Rio, who was on the top rope. Owens tripped up Cesaro on the top rope. Del Rio hit his double foot stomp. Owens tagged himself him, pulled Del Rio out of the ring and tossed him into the barricade. Owens pinned Cesaro for the win after 14 minutes.
Winners by pinfall: Alberto Del Rio & Kevin Owens
Post match, Owens climbed a ladder that was in the aisle and celebrated his win.
Analysis: ***1/4 That was a very good match as you'd expect by these guys. As I said earlier, it felt similar to a lot of the matches between them. Owens was pinned by Ambrose on Raw, so seeing him get the win is pretty consistent with how WWE books these things. Cesaro was outstanding in this match. As for Cesaro taking the pin, he got a clean win on Raw when he beat Jericho. It's the typical 50/50 booking that exists in WWE as a way to keep everybody at the same level.
Another highlight from the Ambrose/Jericho feud from a month ago when Jericho smashed the potted plant "Mitch" over Ambrose's head.
Becky Lynch entered with Natalya. Lawler mocked the goggles she wears during her entrance. I think Lynch's hair extension are a little out of control.
(Commercial)
Dana Brooke (w/Charlotte) vs. Becky Lynch (w/Natalya)
Lynch took her down with some arm drags. Brooke kicked Lynch in the knee leading to cheap shot by Charlotte, who actually wears the Women's Title unlike most champions. Lynch nailed a couple of clotheslines and a leg lariat. Lynch with a forearm smash in the corner followed by a standing back kick. Brooke stunned Lynch on the top rope. Brooke nailed Natalya with a slap. Charlotte went after Natalya. The ref ejected both Natalya and Charlotte. Rollup by Lynch does not lead to a win, so it was not deadly in this case. Lynch quickly applied the Disarmer submission for the win after about three minutes.
Winner by submission: Becky Lynch
Analysis: *1/2 The face Lynch was able to get the win because there wasn't the distraction of Charlotte outside the ring. Brooke beat Lynch two times before, so this was Lynch getting her revenge. I liked how they didn't do a ROLLUP OF DEATH~! finish and instead Lynch got the win with the Disarmer. Use finishing moves to win matches. It's better than the dreaded rollup.
Baron Corbin was shown walking to the ring.
(Commercial)
Here's a Life Lessons segment with Darren Young and coach Bob Backlund talking on split screens. Young did his "Millions of Dollars" dance. Backlund told him to stop. Young said he had a moonwalk. Backlund told him to save money, don't spend it. Young asked him how he saved so much money. Backlund: "This is my only pair off clothes." Young asked him if he had multiples, Backlund said "you gotta want it." Then Backlund asked Young about Bob's bowtie.
Analysis: I like Young as a wrestler and Backlund as a crazy old man, so the combination is fine. I just want to see them in the arena and see how the reaction is to this act.
Dolph Ziggler is on commentary for the next match.
Baron Corbin vs. Kalisto
When describing what Ziggler did to Corbin the last time he faced him with a low blow, Ranallo said Ziggler "kicked him in the technicals" playing off the technical wrestling term. Kalisto was aggressive early with a series of kicks. Then Corbin punched him in the ribs while on the apron. Corbin tossed Kalisto onto the barricade. Corbin tossed Kalisto against the side of the apron. Back in the ring, Kalisto came back with a jawbreaker and a rolling kick to the head. Kalisto with a spinning corkscrew followed by a headscissors into a DDT for two. Corbin with a forearm blow to the back of the head. Corbin hit the End of Days to win after about four minutes.
Winner by pinfall: Baron Corbin
Ziggler said he didn't like him, but he gives him credit. Corbin stared at Ziggler post match with Ziggler saying any time he wants it.
Analysis: * It was a short match to put over Corbin, which is no surprise since he's in the ongoing feud with Ziggler while Kalisto is barely on television. It only took two moves for Corbin to put him away. That's fine because the shot to the back was sold well by Kalisto and Corbin's finisher is impressive too. It looks like we'll get another Corbin vs. Ziggler match at Money in the Bank, possibly on the Kickoff Show again.
The next Jericho/Ambrose clip showed Ambrose destroying the Jericho jacket.
(Commercial)
The announce team talked about how great Money in the Bank is with two WrestleMania main event caliber main events. Lawler talked about how back in his day he had to face people in his regional territory before getting a title shot. He said Cena vs. Styles is a dream match that is finally going to happen. They also discussed Reigns vs. Rollins for the WWE Title.
Backstage, Sheamus was bragging about the success of Teenage Mutant Ninja Turtles with him in the movie. He was really egotistical about it while Zack Ryder, Goldust, R-Truth and Summer Rae didn't look impressed. Sheamus said "move over Rock because Sheamus is taking your spot." Apollo Crews walked up to him. Sheamus wondered if Crews could get him a coffee or carry his bag. Crews just punched him in the face. Crews just left. Sheamus was mad about it.
Analysis: I like the idea of a Crews vs. Sheamus feud because neither guy had anything going before this, so it gives them something to do. I assume it will be a match at Money in the Bank. It's not official yet.
Dean Ambrose made his entrance for the main event. Next week on Raw he has Roman Reigns and Seth Rollins as guests on the Ambrose Asylum talk show. That will be interesting.
Chris Jericho made his entrance with the scarf. The announcers kept saying "first time ever on Smackdown" even though they've had several matches elsewhere.
(Commercial)
A reminder of the six men in the Money in the Bank ladder match: Cesaro, Sami Zayn, Kevin Owens, Dean Ambrose, Chris Jericho and Sami Zayn.
Dean Ambrose vs. Chris Jericho
Jericho slapped him while yelling that Ambrose put 69 thumbtacks in him at Extreme Rules. Ambrose went after him with chops. Jericho took control with a forearm to the back. Jericho kept yelling about the thumbtacks. Ambrose with a leaping clothesline and then a clothesline that sent Jericho over the top to the floor. Ambrose with a suicide dive took down Jericho by the announce table. Ambrose cleaned off the announce table. Ambrose wanted to hit Dirty Deeds, but Jericho fought out and Jericho gave Ambrose a slingshot onto the floor. It looks like a good bump, but it's not like it's a big move.
(Commercial)
Jericho with a dropkick kept Ambrose grounded. Headlock by Jericho: "Ask him!" Love the "Ask him!" by heel Jericho. Ambrose got a rollup, Jericho up at two and Jericho hit a clothesline. Ambrose came back with a clothesline of his own. Ambrose with a couple of forearm smashes, Jericho with a punch and Ambrose with a boot to the gut to counter a top rope attack. Jericho went for the Walls, but Ambrose fought out of it. Jericho jumped off the middle rope and Ambrose hit him in the forearm for a two count. Jericho came back with a missile dropkick off the middle ropes for two. Ranallo is so good at showing excitement for nearfalls. Ambrose sent Jericho down to the mat with a front suplex off the top rope. Ambrose with a cradle gets two. They did a collision spot where they both ran into eachother. Ambrose went for his bounce off the ropes clothesline, Jericho avoided it. They each failed to connect with their finisher. Jericho sent Ambrose into the corner where Ambrose nearly hit the ref. Then Ambrose turned around and Jericho hit the Codebreaker for the clean win after 14 minutes.
Winner by pinfall: Chris Jericho
Analysis: *** A very good wrestling match between two guys that have wrestled many times in the last couple of months. There's obviously solid chemistry between them. I like how Jericho was able to win with the Codebreaker clean. If Ambrose kicked out of it that would have hurt the move and I think Jericho needs to win with it more often. That "Even Steven" 50/50 booking strikes again because Ambrose beat Owens clean on Raw and Jericho lost to Cesaro on Raw, yet here's Jericho with the win.
Post match, Jericho wedged a ladder between the top/middle ropes. Ambrose ended up whipping Jericho into the ladder. Ambrose dropped the ladder onto the back of Jericho. Ambrose set up the ladder, climbed near the top and Ambrose hit the flying elbow attack on him.
Analysis: It was the way for the face to get the revenge after the losing the match. I think Ambrose may win Money in the Bank. He's my second pick after Owens.
Three Stars of the Show
1. Cesaro
2. Chris Jericho
3. Dean Ambrose
The Scoreboard
5 out of 10
Last week: 7
2016 Average: 5.8
Last 5 Weeks: 7, 6, 6.5, 6, 5
2016 High: 7.5 (March 3)
2016 Low: 4 (January 21)
As of this week, the average Smackdown score is a 5.8 and Raw is 5.7, so Smackdown > Raw so far this year.
Final Thoughts
A very average show again. The two best matches featured the six Money in the Bank guys, which again felt like a repeat because they've been put in the same matches week after week for the last month.
It was a very uneventful show this week. I'm so ready for the brand extension starting on July 19 because maybe Smackdown will matter again. Right now, it just seems like WWE could be doing so much more with it and instead it's just an average wrestling show week after week.
That's all for me. Have a great weekend.
John Canton – mrjohncanton@gmail.com
Twitter @johnreport