The John Report: WWE Smackdown Review 05/26/16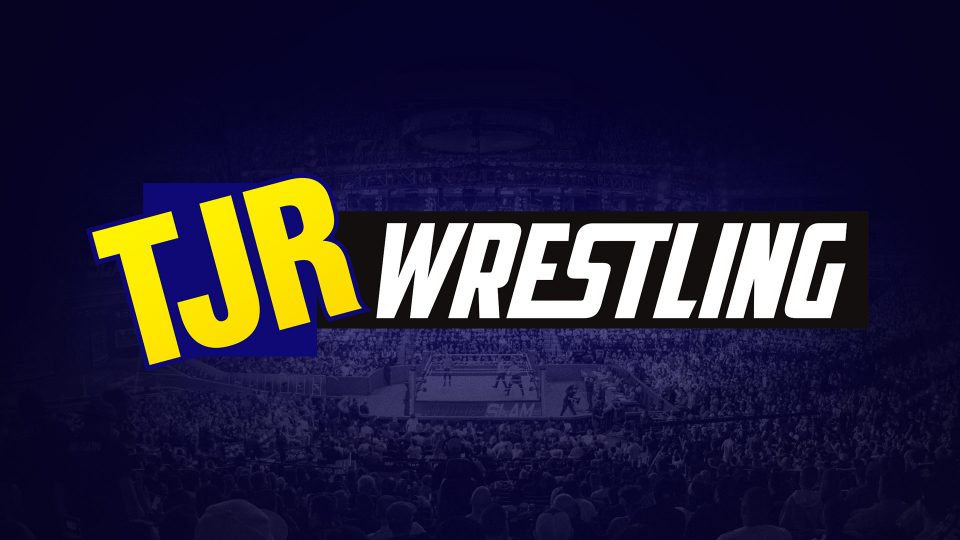 Taped in Norfolk, VA this is Smackdown for episode #875.
There was a video package about the Money in the Bank qualifying matches on Raw that saw Zayn, Cesaro, Jericho, Ambrose & Owens earn five of the seven spots in the Money in the Bank match.
On this week's show Rusev vs. Kalisto for the US Title and The Miz vs. Cesaro for the IC Title. The announce team is Mauro Ranallo, Jerry Lawler and Byron Saxton.
There was a Money in the Bank briefcase in the ring on a podium with Michael Cole also in the ring talking about the briefcase. He brought out Dean Ambrose.
Analysis: At least they didn't come up with a name for a Michael Cole talk show.
Ambrose talked about how Chris Jericho felt what it feels like to be in the ring with Ambrose. He said he's done it all in WWE in terms of matches and when things get dangerous it means he's just getting started. Cole noted that 14 of the 16 winners of this match have gone on to become champion. Sorry John Cena and Damien Sandow. I added the "sorry" bit. (Technically Ken Kennedy won and Edge beat him for it, but his cash-in was successful so they count it.) Cole wondered what Ambrose was willing to do to win that contract. Ambrose was thinking, but here's an interruption.
Kevin Owens walked down the ramp wondering what Cole was doing there. He said he didn't want to see Cole's face by the time he gets in there, so Cole left as Owens got in the ring. Owens said he's going to walk out Mr. Money in the Bank just like he would have walked out of the IC Title match at WrestleMania if…
Here comes Sami Zayn or as Lawler calls him "the man with the stupid hat." Zayn got into it with Owens calling Zayn the cause of his problems. Zayn told Owens that nobody cares what he has to say. Ambrose said he didn't care what KO had to say either. Zayn said this isn't a joke and Owens told Zayn he was a joke. Zayn talked about how Owens got in his head too many times and it cost him the IC Title at WM and ERules. Zayn told Owens he's not going to stop him and Zayn told Ambrose he won't stop him either. If Ambrose thinks he can stop him, Zayn told him to check into that Asylum of his.
Alberto Del Rio showed up to do a promo on the stage. He talked about how he's been Mr. Money in the Bank and that he's cashed in to become champion before. Zayn said ADR isn't in the match yet because he has to beat Zack Ryder.
Owens attacked Zayn from behind with a punch. Owens went after Ambrose too. Zayn went for a kick, Owens avoided it and Zayn stopped before he hit Ambrose with the kick. Ambrose went for Dirty Deeds, but Zayn slipped out of it. They played Del Rio's music to end the segment.
Analysis: It was a good opening segment as the first three guys got a chance to say quite a bit about why they are going to win. I like Zayn saying that Owens has caused him too much grief in the past, but he's going to get past it this time. I think either Owens or Ambrose is going to win the briefcase. It felt like they were building to a tag match although that's not happening since Del Rio is in a match up next.
(Commercial)
Zack Ryder made his entrance.
Money in the Bank Qualifying Match: Alberto Del Rio vs. Zack Ryder
Del Rio was aggressive early on with a snap suplex. Del Rio with a boot to the side of the head while Ryder was on the apron. Ryder with a flapjack on Del Rio led to Del Rio going to the floor. Ryder hit a dropkick on the floor followed by a neckbreaker on the floor as they went to break.
(Commercial)
Del Rio with a chinlock in the ring as they showed a clip of ADR doing a double foot stomp outside the ring that happened during the break. Ryder tried a missile dropkick that Del Rio avoided, so Del Rio kicked him for a two count. Ryder was able to come back with a Broski Boot in the corner for a two count. Del Rio avoided the Rough Ryder by sending Ryder into the turnbuckle. Del Rio with a kick to the back and then he hung up Ryder against the ropes upside down. Ryder avoided the attack. Ryder hit the Rough Ryder finisher, but Del Rio rolled out of the ring to the floor. Back in the ring, Ryder went for a move while Del Rio was on his back, but Del Rio applied the Cross Armbreaker for the submission win after 10 minutes.
Winner by pinfall: Alberto Del Rio
Analysis: **3/4 That was a solid match. I really liked the ending sequence with Ryder hitting his finish, but then ADR was smart enough to roll to the floor. It's also great that they went right to the finish after that spot, which is the right thing to do. I like that it was a competitive match and that Ryder had a legit shot to win. Del Rio needed the win to give him some momentum, so I'm glad they put him over the way they did.
The win means that Del Rio is the 6th man in the Money in the Bank ladder match with one more spot left.
A clip aired of Seth Rollins coming back on Sunday to attack Reigns with a Pedigree. That led to a WWE Title match that was announced by Shane McMahon for Money in the Bank on June 19.
They advertised Seth Rollins returning to Smackdown later in the show.
(Commercial)
A clip aired reminding us that John Cena returns to Raw this Monday, May 30.
The team of Enzo Amore and Big Cass made their entrance to a big ovation as they did their usual promos.
The Dudley Boyz showed up for a promo. They were on the stage. Enzo reminded them that Bubba lost to Cass on Monday.
Big Cass said that they will throw them a beatdown right now. D-Von said if they want a piece of them that's fine. The Dudleys walked to the ring. Bubba stopped D-Von to say not tonight. Bubba said they're going to do this on Raw. Bubba shoved D-Von: "D-Von! Can we please get the hell out of this stinkin' town?" Cass did the SAWFT bit to end it.
Analysis: A basic promo exchange to set up a match on Monday's Raw. This kind of thing isn't even necessary, but it's a way to fill time. I don't mind setting up matches early, though.
Rusev and the lovely Lana were interviewed by Renee Young. Rusev said that Kalisto is nothing to him and that he's just a little child. Then Rusev said when he crushes the little mosquito he will never fly again.
(Commercial)
They aired clips of the great IC Title match at Extreme Rules with The Miz retaining the title in an outstanding four way match. Then Cesaro pinned Miz non-title on Raw leading to the IC Title match on Smackdown.
Lana was in the ring as she asked the crowd to put their hands on their hearts to welcome the greatest US Champion of all time, Rusev.
The lovely Eden Styles (Brandi Rhodes) did the in-ring intros for them. This is her last time on WWE TV since she left the company along with husband Cody Rhodes. Rusev made her introduce him first.
United States Title: Rusev (w/Lana) vs. Kalisto
Kalisto got in a kick early, but then he jumped off the top with an attack and Rusev hit him in the ribs to knock him down. They went to break about 30 seconds into it.
(Commercial)
Rusev was in control after the break as he stomped away on Kalisto and hit a body slam. Kalisto tried a slam, but Rusev fell on top of him for a two count. Then Kalisto slammed him. It was treated like a big deal. Rusev was shocked by it. Kalisto went for the ROLLUP OF DEATH~!, but Rusev was able to kick out. I guess it wasn't that deadly in this instance. Kalisto nailed a springboard corkscrew attack and then a spike hurricanrana for two. Kalisto took down Rusev with a hurricanrana to the floor. Kalisto with a springboard moonsault that took out Rusev on the floor. That got a two count in the ring. Rusev came back by pounding Kalisto in the back with a forearm. Rusev missed a splash in the corner. Kalisto with a dropkick. Rusev got his knees up to block a 450 splash. Rusev kicked him in the back of the head. Rusev applied the Accolade submission and Kalisto tapped out quick for the Rusev win after 9 minutes.
Winner by submission: Rusev
Analysis: **1/2 It was similar to their match at Extreme Rules on Sunday in terms of match length. Kalisto got more offense this time around. Strong ending for Rusev with some good offensive moves and an ending that was very believable. That's the end of Kalisto in the US Title picture. I'm surprised it lasted like five months. He'll probably go back to being a tag team with Sin Cara on a more regular basis.
Rusev rolled Kalisto back in the ring. Titus O'Neil entered for the save. O'Neil wanted Rusev to fight him right now. Fans chanted "USA" for O'Neil. Rusev just backed out of the ring. Rusev left with Lana while O'Neil checked on Kalisto.
Analysis: Rusev needed a new opponent, so I guess it's going to be O'Neil. They'll need to build him a bit because he hasn't done much this year and was recently suspended for 60 days.
A clip aired of Charlotte telling Ric Flair he's dead to her and that she doesn't want him around anymore. Then there were clips of WWE superstars talking about what happened on Raw.
The WWE Women's Champion Charlotte made her entrance as Lawler said he's known Flair for 35 years and that was the saddest day of Ric's life. She's on commentary for the next match.
Analysis: Well, it's not like Flair was as sad as when his son Reid died, but I get what Lawler was trying to say to get the angle over. Remember, heels lie.
(Commercial)
Natalya vs. Dana Brooke
Natalya took down Brooke with a headlock and nailed her with some punches. Clothesline by Brooke. Brooke missed an elbow, so Natalya put her in the Sharpshooter and Charlotte went into the ring to attack Natalya from behind. The "match" went about 40 seconds.
Winner by disqualification: Natalya
Charlotte tried to attack, but Natalya put Charlotte in a Sharpshooter. Brooke came back, Natalya went after her and Charlotte whipped Natalya down by the hair. Charlotte hit an overhead suplex to send Natalya out of the ring. Charlotte held up the Women's Title with Brooke standing by her side.
Analysis: I can't really rate it. That was a really short match. I'm not sure if they were going to get more time and it was cut when they went out there or if there was just no desire for them to book a match with substance. It's the same old story with heel divas having the numbers advantage. Somebody will have to save Natalya at some point possibly on Raw. Maybe Paige. Maybe Becky Lynch. It could be Sasha Banks. I just hate how they book the women faces to be so stupid all the time.
There was a recap of AJ Styles telling Gallows & Anderson they're done as allies in WWE. Then Owens beat Styles in the main event.
Styles was interviewed by Renee Young. He said he's won some respect and lost some friends, but he was so close to winning the WWE Championship. He said he's not sure what's next for him and that he has to think of something.
Analysis: If I had to guess he'll probably get attacked by Gallows & Anderson soon leading to Styles getting a partner to go against them. I'm not sure who they will get for him.
Cesaro vs. Miz is later.
(Commercial)
The Golden Truth entered together with Truth modifying his "What's Up?" rap for them.
The Golden Truth (Goldust & R-Truth) vs. Breezango (Tyler Breeze & Fandango)
Truth started with Breeze and then Fandango talked in with a dropkick on Truth. Truth came back with a leg lariat. Back body drop by Truth. Goldust wasn't on the apron because Fandango knocked him down. The ref was distracted by Goldust, so Breeze nailed a Supermodel Kick on Truth and Fandango pinned for the win. It went about two minutes.
Winners by pinfall: Breezango
Analysis: * This is the second time they've done this match and Breezango won because of miscommunication by the faces. I guess the story is that they still have to work out certain things while the heels are able to work together better.
Seth Rollins up next.
(Commercial)
Backstage, Goldust and Truth were talking about what happened. Goldust called them the most powerful alliance the WWE Universe has ever known. Breeze and Fandango walked up to them laughing at them. Breeze had some line about goldilocks falling off the beanstalk. Goldust said the WWE Universe wants and needs the Golden Truth. The crowd cheered. Truth said he's with him. They hugged.
Analysis: I think that was longer than the actual match.
The great Seth Rollins went into the ring in a suit. Lawler put him over as an amazing athlete and said he loved how he set the WWE Universe straight on Monday. He's facing Roman Reigns at Money in the Bank for the WWE Title as we know.
The crowd was cheering Rollins for his return to Smackdown. I don't think it was piped in noise. He toyed with the crowd again by asking if they missed him. They cheered and chanted "yes." He just said "I wish I could say the same to you" and then he dropped the microphone. He left.
Analysis: Another heel promo from Rollins to get the crowd against him although this was really quick. I thought he'd be a face when he came back, but WWE chose a different root for him. I still think they can turn him face pretty soon by having Triple H return as a heel and attack Rollins since they have a long history together. For now he's a heel, but I don't know how long it will last.
The Miz with Maryse and Cesaro were shown walking to the ring for the main event.
(Commercial)
There was another reminder that John Cena is back on Monday.
Cesaro made his entrance first. The Miz entered with the Intercontinental Title and his wife Maryse, who looks tremendous as always. Saxton plugged that Syfy has a two-hour Raw replay on Fridays at 8pm now.
Intercontinental Title: The Miz (w/Maryse) vs. Cesaro
Cesaro was aggressive early on. He nailed a dropkick that sent Miz to the floor. Cesaro hit a cannonball dive off the apron onto Miz on the floor. They went to commercial less than a minute into it.
(Commercial)
Miz was in control by sending Cesaro throat first into the bottom rope. Miz worked on the left arm of Cesaro using the rope again. Miz tossed Cesaro shoulder first into the barricade at ringside. Lawler talked about how Cesaro has his shoulder taped up, so it makes sense for Miz to attack his shoulder. Cesaro fought out of a neckbreaker, then hit a few uppercuts. It's uppercut train time by Cesaro, but Miz kicked him in the left arm. Cesaro tossed him in the air and hit another uppercut for two. Miz hit a snap DDT on Cesaro for a two count. Miz went to expose the turnbuckle, the ref stopped that and then Maryse took the turnbuckle off. Cesaro came back with a springboard uppercut as the ref put the turnbuckle back on. Cesaro went for a Neutralizer, Miz fought out, Cesaro got an inside cradle and the ref slid in for the count for two. The ref wasn't there right away, so it was bad timing for Cesaro. After Miz got a rollup, Cesaro applied a Sharpshooter. Miz was in pain, but he got to the ropes. Cesaro went for the Swing, but Miz got to the ropes and left the ring. Cesaro nailed Miz with an uppercut on the floor. Back in the ring, cross body block by Cesaro gets two. Great nearfall there. Miz avoided a corner attack, Cesaro went shoulder first into the exposed turnbuckle (Miz took the cover off again) and then Miz hit the Skull Crushing Finale for the win after 11 minutes.
Winner by pinfall: The Miz
Analysis: ***1/4 That was a pretty good match similar to what they did on Raw except with a different ending. Typical WWE 50/50 booking where a guy loses on one show and wins on the next show. They did a great job with the finish. The exposed turnbuckle trick always works. It's not like they do it that often, so it was a smart way to give Miz a cheap win without hurting Cesaro too much. Heels should cheat to win. Miz is one of the best pure heels in WWE right now. Whether people like that or not, I'm sorry but it's true. He's a lot better with Maryse by his side because she cheats to help him win too. As for Cesaro, it would be cool if he is the guy to beat Miz for the title whether that's in a month or two. It could boost him at this point in his career since I don't think he's going to win Money in the Bank.
They aired replays of the key spots in the match.
The Miz celebrated with the title and his wife while Cesaro was still out in the ring. Ranallo plugged Cena back on Raw to end the show.
Three Stars of the Show
1. Cesaro
2. The Miz
3. Rusev
The Scoreboard
6 out of 10
Last week: 6.5
2016 Average: 5.78
Last 5 Weeks: 6.5, 6, 5, 4.5, 6
2016 High: 7.5 (March 3)
2016 Low: 4 (January 21)
Final Thoughts
It was an average episode of Smackdown. There was a strong main event, a couple of solid midcard matches and two quick matches that felt were really rushed.
In terms of star power, there were a lot of big names missing in action as well as the guys that I'm used to writing about on Smackdown. No match for Owens, Zayn, Ambrose, Reigns, Styles, Jericho and Ziggler so it felt like people were missing even though there were promos.
The most encouraging thing about the show was that they put a IC Title match in the main event. That's a good sign as they continue to build up the title to mean something.
I'm looking forward to the brand extension leading to live Tuesday Smackdown shows (I will still be reviewing it) and hopefully some freshness to this show that badly needs it.
That's all for this week. For my American friends out there, have a nice Memorial Day weekend.
John Canton – mrjohncanton@gmail.com
Twitter @johnreport
Personal Facebook and TJRWrestling on Facebook