The John Report: WWE Smackdown Review 05/19/16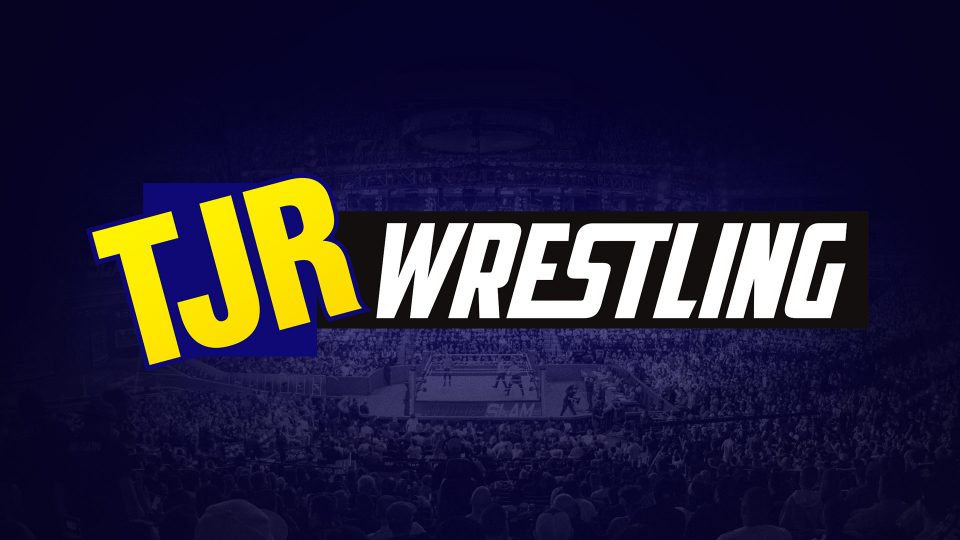 Taped in Greenville, South Carolina this is Smackdown for episode #874.
The opening video package focused on the Intercontinental Title picture with highlights of what was shown on Raw. Here's my Raw review from this week if you want the details.
Kevin Owens made his entrance. Sami Zayn, The Miz and Maryse were sitting on commentary with Mauro Ranallo, Jerry Lawler and Byron Saxton for the first match.
Kevin Owens vs. Cesaro
Owens with a clothesline early, but Cesaro came back with a dropkick. Owens went out of the ring, so Cesaro brought him back into the ring with a body slam followed by an elbow drop off the middle rope for two. Cesaro hit a suplex for two. Owens went out of the ring again, which led to Cesaro hitting a running uppercut to knock Owens down. Miz talked trash to him. Maryse started yelling at Cesaro, so Owens knocked Cesaro off the apron and then Owens tossed Cesaro into the steps at ringside. Owens taunted The Miz and then hit a senton splash for two. Maryse was talking to Sami in French, so he talked back to her in French. Miz was arguing with Sami on commentary as Owens hit an elbow to the back for two. Cesaro started his comeback by getting his knees up to counter a senton attack. Cesaro with a boot to the face, but Owens hits the ropes to crotch Cesaro on the top rope. Owens with the cannonball attack in the corner gets two.
(Commercial)
Owens was in control with a back elbow. Miz and Maryse started kissing while Zayn said that it was unprofessional. Cesaro with an uppercut on Owens while KO was on the top rope. Dropkick by Cesaro. Cesaro hit a gutwrench suplex off the top rope. That was impressive looking and they sold it as a big move. Cesaro nailed uppercuts as he did his uppercut train spot followed by a cross body block off the top rope for two. Owens with a back body drop. Owens yanked Cesaro's head against the top rope. Owens punched Zayn outside the ring. Cesaro came back with a dive that took out Owens. Cesaro shoved Miz down. Back in the ring, springboard European uppercut by Cesaro. Cesaro did his Swing on Owens, Miz jumped on the apron and Owens superkicked Cesaro for two. Zayn went into the ring, so Cesaro punched him. Owens with the ROLLUP OF DEATH~! with tights and of course that's enough for the win after 14 minutes of action.
Winner by pinfall: Kevin Owens
Analysis: ***1/4 It was a really good match from these two like usual. They've wrestled many times and have great chemistry together. If they wrestled 50 times I wouldn't be bored by it. The finish is funny because I commented that it was a surprise there wasn't a ROLLUP OF DEATH~! ending on Raw this week, but there it is in the first Smackdown match. Owens did grab the tights as well, which is fine for a heel to do.
Post match, Owens celebrated the win in a big way as he went up the ramp to celebrate the win. Cesaro with an uppercut on Miz and Zayn nailed a Helluva Kick on Cesaro to knock him out. Miz nailed a Skull Crushing Finale on Zayn.
Analysis: A quick post match angle. It was solid. Miz is my pick to win the IC Title match at Extreme Rules as I wrote in our preview, but it's not an easy match to predict.
Later in the show it's Reigns vs. Gallows.
Paige made her entrance.
(Commercial)
Becky Lynch is on commentary, so we're two for two on matches with wrestlers on commentary.
Paige vs. Dana Brooke
Good line by Lynch on commentary saying that the double vision from her eye injury means she has to see Brooke's face twice. Paige had control early with a running knee to the face. More knees by Paige. Brooke used her power to get control including a big clothesline in the ring. Paige with a back kick, a knee in the corner and another knee attack in the ring gets two for Paige. Lynch with a jawbreaker. Brooke put Paige on her shoulders and hit a sitout slam for the pinfall win after four minutes. Paige kicked out right after the finish.
Winner by pinfall: Dana Brooke
Post match, Brooke taunted Lynch some more telling her that it's her playground.
Analysis: *1/2 It was an okay match with a bit of a surprising finish. They could have built up the finish better. It's pretty telling that Brooke beat Paige clean. It shows that Paige has fallen pretty far if she's being used to put over a newcomer like Brooke. I don't mind that Brooke is getting a push because I like her potential a lot. She's undefeated on the main roster at this point. I'm not sure how long that will last.
Rusev and Lana were interviewed by Renee Young. A clip aired of Rusev destroying Kalisto on Raw with a vicious Accolade submission move. Lana called Kalisto week while saying that Rusev is the best US Champ ever. Rusev says that at Extreme Rules he takes back his title. Rusev said the crowd will chant "Matchka" for him.
Analysis: If you're wondering what Matchka means, it's similar to saying "crushed" in English.
Dolph Ziggler and Sheamus were shown walking backstage in separate areas leading to their match.
(Commercial)
Dolph Ziggler vs. Sheamus
There was a mild "you look stupid" chant for Sheamus that didn't really pick up with the majority of crowd. Ziggler with a dropkick. Sheamus was able to use a punch to the gut as well as a knee lift to get control. They went to break as Ziggler rolled out of the ring.
(Commercial)
Sheamus was still in control as he blocked a superkick with an elbow to the knee. Sheamus hit four forearm shots to the chest and then a suplex back into the ring for two. Ziggler was trapped in a headlock, so he sent Sheamus out of the ring to counter it. Sheamus back in, he missed a Brogue Kick and Ziggler hit a Fameasser for two. I think Ziggler's Fameasser is one of the best nearfall spots in WWE. Ziggler hit two corner splashes, but then Sheamus caught him with a backbreaker for two. Sheamus with a suplex into a slam for two. Ziggler did a headbutt, Sheamus did a stun gun on the top rope and Ziggler came back with a superkick out of nowhere for the win after 10 minutes of action.
Winner by pinfall: Dolph Ziggler
Analysis: **1/2 That was a solid match for the time given. Is this an upset? I guess it is a mild one. Sheamus isn't a part of Extreme Rules while Ziggler is, so that's why Ziggler got the win here. There's no real explanation for it other than that. Remember their "Kiss My Arse" feud about a year ago? I don't think either man is in a better spot today. It just shows how little progress there is for these guys. Hopefully they both get some positive momentum soon. They definitely need to work on making Sheamus a big deal again.
Post match, Baron Corbin showed up on the stage. Corbin told Ziggler that this Sunday at Extreme Rules he's going to do what he does best: "I'm going to hurt you." Corbin said No Disqualification means that there isn't anything that anybody can do to stop it. Then his music stopped and that was it.
Analysis: They should have had Ziggler speak to end that segment to show that he's focused on winning. It would have given the crowd a reason to care about it more.
Chris Jericho up next as he "checks into the Ambrose Asylum."
(Commercial)
There was a shot of the Asylum above the ring featuring the weapons that were on top of main cage structure.
The man in the scarf Chris Jericho made his entrance into the ring as he stared at the Asylum above the ring. They showed clips of their issues in the last few weeks while not mentioning that Ambrose beat Jericho at Payback already.
Jericho bragged about how he's been in all kinds of matches in WWE (he named a bunch of them) and he said that he's never been in an Asylum Match while pointing out that Ambrose hasn't been in one either. Jericho said that he's crazier than Ambrose: "I am a lunatic." Jericho bragged about beating up Ambrose last week on Smackdown and putting Ambrose in the hospital after he hit him with the plant. Jericho asked them to lower the Asylum cage. Jericho pointed out the items on the cage saying that he might put Ambrose in the hospital for ten days or so. Then he added that it might be 40 days that Ambrose spends in the hospital. Jericho said he's going to give him lacerations, contusions, anguish and physical pain. He added that he's going to give Ambrose the gift of Jericho.
A dude with a beard walked up behind Jericho in the cage. He took the beard off and it was Dean Ambrose. The crowd was cheering while Jericho was still posing. Ambrose tossed Jericho into the cage two times. Ambrose climbed the cage and grabbed a kendo stick, which he used to hit Jericho in the back several times. Jericho opened the door and ran away.
Analysis: That was just an average segment. Jericho's promo was just okay because there really wasn't much to it. At least he did a good job of putting over the items available on the cage. Ambrose's attack was fun, but it was short and felt rushed a bit.
Eight man tag up next.
(Commercial)
A Darren Young segment aired with Bob Backlund as they were on the split screen again. Backlund was mad that Young was taking notes and told him he should remember what he's saying. Backlund told him to name the US Presidents and Young said he couldn't do it. Backlund made him do 200 jumping jacks.
The New Day trio made their entrance. They rock. When Big Cass made his entrance, the New Day guys were dancing to the song.
Big E, Kofi Kingston, Xavier Woods & Big Cass vs. Bubba Ray Dudley, D-Von Dudley, Aiden English & Simon Gotch
Bubba did his usual trash talking and then he missed a splash on Kingston. That set up the unicorn stampede spot in the corner by The New Day. Time for Woods to play the trombone as well as some dancing. The match went to break about two minutes into the match.
(Commercial)
Woods was on offense against Bubba. Then Gotch distracted the ref and English shoved Woods off the top rope leading to a big clothesline. Lawler commented on the size of Big Cass. Yes WWE, we know he's tall. Fans chanted "How you doing" for Cass as English got in there with a nearfall on Woods. Bubba was yelling a lot while on the apron. He's a lot of fun. When Gotch tagged English, the Dudleys were mad that they didn't tag in D-Von. The heels made a bunch of quick tags with Woods in there as the face in peril. Bubba said this is how you light somebody up. Too bad Woods nailed him with an enziguri. Cass got the hot tag against D-Von as he hit a huge body slam and an elbow drop for two as Gotch broke up the pin. Big E with a belly to belly on Gotch. Kingston hit a dive over the top to take out English. Bubba booted Big E to send him out of the ring. Cass kicked D-Von in the head and hit a sloppy East River Crossing slam on Bubba. Cass with the Empire Elbow on Bubba earns the win after 11 minutes.
Winners by pinfall: Big E, Kofi Kingston, Xavier Woods & Big Cass
They showed replayed of key spots and the announcers put over the elbow drop as if it's a big deal.
Analysis: **1/2 I'm not sure if Bubba was legal – if he was I didn't see the tag because it was D-Von in there with Cass when things broke down. An elbow drop winning a match? I know The Rock had the People's Elbow, but an elbow drop isn't something that should be winning matches since it's so common. Cass continues to look strong. The two teams in the tag title match weren't involved in the pin, so neither side really gets momentum aside from New Day winning the match.
The announcers plugged WWE Network.
Reigns vs. Gallows up next.
(Commercial)
A brief video aired showing John Cena getting ready for his return to action on the May 30 edition of Raw.
There was a video package about Charlotte's match against Natalya at Extreme Rules on Sunday.
The entrances took place first for Luke Gallows & Karl Anderson together and then AJ Styles on his own. Really good ovation for Styles.
(Commercial)
The Usos made their entrance followed by their cousin, the WWE Champion Roman Reigns.
Roman Reigns (w/The Usos) vs. Luke Gallows (w/AJ Styles & Karl Anderson)
Gallows with a shoulder-block early on and then an elbow smash. Gallows shoved Reigns out of the ring. Back in the ring, Reigns hit a Samoan Drop for two as Gallows left the ring. Reigns hit the Drive By dropkick on Gallows as they went to break two minutes into the match.
(Commercial)
Back from break, Gallows nailed a running clothesline for a two count. Gallows nailed a few elbows on Reigns for two. I guess his multiple elbows aren't as good as the Big Cass elbows? That's why you shouldn't have an elbow drop finisher. Chinlock time by Gallows. Gallows nailed a splash in the corner. After another chinlock by Gallows, Reigns hit three clotheslines in a row including a leaping clothesline off the middle ropes. Reigns hit his corner clotheslines followed by a boot to the face. Gallows with the rollup for two. Reigns came back with the Superman Punch. With Reigns posing in the corner, Styles grabbed his leg. Jimmy nailed Styles on the floor with a leaping clotheslines. Anderson went after Jimmy. Jey took out Anderson. Styles nailed Jey. Reigns hit Styles with a Drive By dropkick. Gallows came back with a boot to the face and then a huge spinebuster for two. Really good nearfall there. That was very believable. Styles told Anderson to "get him" so Anderson went in the ring. Anderson hit the Boot of Doom double team move with Gallows as the ref called for the disqualification after 12 minutes.
Winner by disqualification: Roman Reigns
Analysis: **3/4 The disqualification was obvious from the beginning, butit was still a solid big man match. There was a good story with this match because Gallows did a great job of weakening Reigns using his power offense. It built up Reigns' comeback well. Too often in Reigns matches we don't see him selling much at all and that hurts him. When he's there selling for the majority of the match, suddenly the crowd likes him more when he makes his big comeback. That's basic wrestling booking.
Post match, The Usos went after G&A. Styles took care of The Usos with a forearm shot and an enziguri kick.
Styles hit a dropkick on Reigns to send him out of the ring. They fought on the floor with Reigns slamming Styles on the announce table. Gallows saved Styles, but one of the Usos took him out. Usos started brawling with G&A. Then Reigns picked up Styles and they went crashing over the announce table into the chairs. That's where it ended.
Analysis: That was a pretty wild post match brawl. They should have showed more of it, but I don't mind it as a tease to set up the two matches at Extreme Rules.
WWE also released a post show video you can check out here.
Three Stars of the Show
1. Kevin Owens
2. Cesaro
3. Roman Reigns
The Scoreboard
6.5 out of 10
Last week: 6
2016 Average: 5.76
Last 5 Weeks: 6, 5, 4.5, 6, 6
2016 High: 7.5 (March 3)
2016 Low: 4 (January 21)
Final Thoughts
It gets a 6.5 out of 10 from me. That's my highest score since a 7.5 on March 3. I'm feeling generous.
A solid show this week. Lots of good action with a few matches hitting the ten-minute mark or more. They didn't have time to really build up every match at Extreme Rules, but most of the people wrestling on that show were featured in some way here.
I'm a little surprised that there weren't more promos. Other than Jericho in the ring, there wasn't much in that area. That could also be why it was a better show. More action and less talking is usually better.
That's all for this week. Check out our Extreme Rules preview here and I'll be back at TJRWrestling.net on Sunday night with a live review that I'll post on other sites on Monday morning.
John Canton – mrjohncanton@gmail.com
Twitter @johnreport