The John Report: WWE Smackdown Review 04/21/16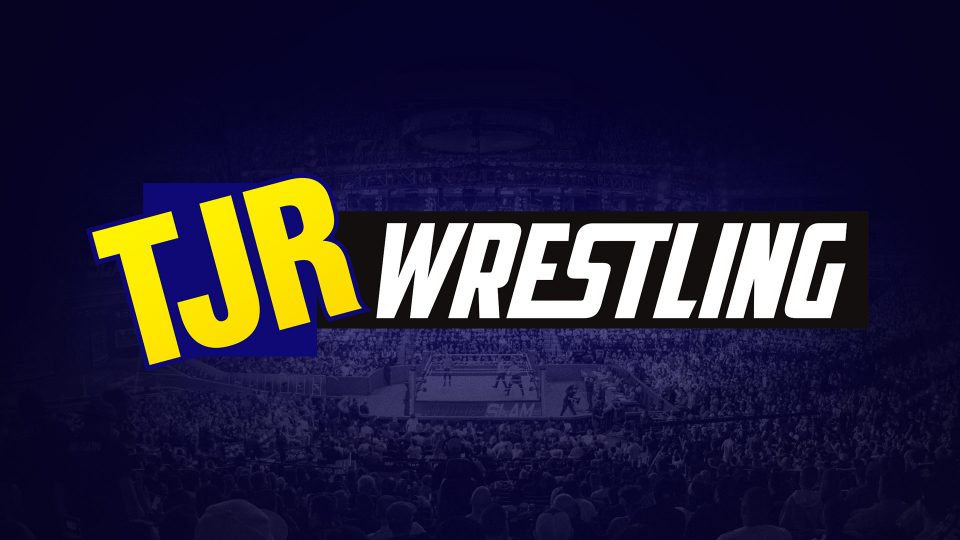 Taped in London, England this is Smackdown for episode #870.
A recap video showed highlights from Raw where Roman Reigns was attacked by Karl Anderson and Luke Gallows while AJ Styles denied having anything to do with it. You can read my very detailed review of Raw with analysis here.
The Smackdown intro video aired.
Miz TV
The Miz and his lovely wife Maryse were in the ring to host Miz TV. I like these segments a lot more now that Maryse is back. She called him the biggest American movie star in the whole world. The Miz quickly introduced his guest, AJ Styles.
Styles received a really nice ovation from the crowd. The announce team of Mauro Ranallo, Jerry Lawler and Byron Saxton welcomed us to the show.
Styles sat in a chair in the ring along with Miz and Maryse. Miz talked about how in Japan in 2014 it was Styles, Anderson & Gallows running roughshod over there. Styles said they had five titles between them while also noting he knocked out some of The Miz's teeth last time he was in the ring with him. Miz asked Styles if he asked them to attack Reigns. Styles said he had nothing to do with the attack on Raw. Miz wondered if he told them NOT to attack Reigns. Styles looked frustrated. Miz said Styles knew they had his back when they got to WWE. Styles claimed that they were friends for a long time and he was upset about what they did because it involved him. He said he doesn't need anybody's help to beat Reigns.
Miz claimed that Styles didn't want to appear weak, so he had them to do their dirty work. Miz pointed out that Reigns is bigger and stronger than Styles while adding that Reigns is "The Guy." Miz said that in order for Styles to beat him, he needs help from his guys. Styles looked frustrated. Miz recited some movie lines. Maryse said that was so sexy and told him that she loved him. They kissed in the ring. Styles was just standing there. When Miz turned back around, Styles nailed him with punches and kicks. Miz went down. Styles' music played and then he left.
Analysis: That was an effective segment in terms of pushing the story about if Styles knew about Gallows and Anderson attacking Reigns on Raw. There was no clear answer given here, but at least they were able to get an annoying heel like Miz to push the angle in a way that was needed. Miz is a lot better with Maryse with him. They're annoying as heels and have great chemistry.
Tag match later: Dean Ambrose & Sami Zayn vs. Chris Jericho & Kevin Owens.
Analysis: This is what I wrote last week near the end of my review: "Can we pencil in a Owens/Jericho vs. Ambrose/Zayn tag match on Raw or Smackdown next week? Yes I think so." Nailed it. I'm not saying it was a hard prediction. Just saying that WWE booking is easy to predict sometimes.
Ryback vs. Kalisto is up next.
(Commercial)
Later on the show it's AJ Styles vs. The Miz.
Kalisto vs. Ryback
This is not for the US Title that Kalisto barely defends. Even though I was at WrestleMania, I didn't see this match because we were still trying to get into the building due to the Wifi ticket issue. Ryback was aggressive early on using his power moves by tossing Kalisto across the ring and connecting with a running shoulder tackle. Press slam by Ryback. Ryback sent Kalisto shoulder first into the steel post as they went to break.
(Commercial)
Ryback was still in control with a delayed vertical suplex off the middle rope for two. Ryback missed a corner attack and Kalisto came back with a top rope leg drop to the back of the head. Dropkick by Kalisto followed by a flying corkscrew attack and an enziguri kick. A snap hurricanrana did not look good due to how Ryback sold it. Ryback shoved Kalisto into the ropes and hit the Meat Hook Clothesline. Kalisto countered Shellshock into a DDT for two. When Kalisto went for his finish, Ryback countered into Shellshock and covered for the win after 10 minutes of action.
Winner by pinfall: Ryback
Post match, Ryback grabbed the US Title and held it up before dropping it on Kalisto.
Analysis: ** A decent match to put over Ryback and give him some momentum that he needs. It's nice that WWE has remembered their US Champion, but I'm not sure if people were clamoring for more matches between these guys. It could lead to a US Title match at Payback as well as a title change with Ryback leaving as US Champion. If they're not going to do that then why have Ryback get the non-title win? Makes sense to do a title change from here.
Corbin vs. Ziggler up next.
(Commercial)
They mentioned Total Bellas coming to E later this year with Lawler saying "this is going to be amazing." I'd rather watch paint dry. Poor Daniel Bryan.
Dolph Ziggler made his entrance. Baron Corbin attacked with a forearm to the back before Ziggler could enter the ring. Corbin tossed Ziggler into the barricade at ringside a couple of times. Corbin sent Ziggler shoulder first into the steps at ringside. Corbin hit the End of Days on Ziggler on the floor. The crowd booed all of it.
Corbin was interviewed by Rich Brennan on the ramp. He was asked why he did that to Ziggler: "Because I can." Then he left. Ziggler was checked on by refs and doctors at ringside.
Analysis: No match, but a good angle to put over Corbin as a mean dude that wanted to send a message to Ziggler again. The match is likely to happen at Payback on May 1. Fine with me.
Styles vs. Miz up next.
(Commercial)
They showed a replay of Corbin attacking Ziggler.
AJ Styles vs. The Miz (w/Maryse)
The Intercontinental Title held by The Miz is not on the line here. Styles with a headscissors, then a slam, knee drop and a Muta Lock submission hold that worked on the back of Miz. Styles nailed a dropkick to prevent Miz from getting control. Miz with a knee to the ribs to ground Styles. Styles with a spinning heel kick sent Miz out of the ring. Styles chased him on the floor, so Miz hid behind Maryse and that led to a punch followed by a face first attack that sent Styles into the barricade. Miz sent Styles into the barricade again.
(Commercial)
Back from break, Miz was still in control with his backbreaker/neckbreaker combo. Boot to the face by Miz. Styles got a rollup cover, but then Miz came back with a boot to the face for two that Styles sold well. Miz tripped up Styles on the top rope. Styles got out of that predicament and then they did a cross body block spot where they crashed into eachother leading to both guys down in the ring. Styles came back with a running forearm attack, a corner clothesline and a gutbuster gets two. Miz shoved Styles back into the corner and kicked the leg of Styles. Snap DDT by Miz gets two. Styles with a Ushigoroshi (fireman's carry into a knee to the back) for two. Styles went for an attack, but Miz stopped it and applied a Figure Four Leglock in the center of the ring. Styles was able turn it leading to Miz breaking free. Styles rolled through, applied the Calf Crusher and Miz was able to get to the ropes. Nice drama there with the crowd cheering a lot. Styles with a victory roll gets two. Awesome Pele Kick out of nowhere by Styles. That was sweet. Miz looked like he was leaving, but Anderson and Gallows were in the aisle. Styles with the slingshot Phenomenal Forearm on Miz on the floor. Back in the ring, Styles hit the springboard Phenomenal Forearm fro the win after 16 minutes.
Winner by pinfall: AJ Styles
Post match, Anderson and Gallows were in the aisle. They applauded Styles on the win. Styles just stared at them while the announcers questioned if Styles knew they would be there.
Analysis: ***1/4 That was a really good match, which is the usual for Styles. He's had more three star plus matches than anybody this year or so it seems. I liked the back and forth nature because every time it looked like Styles was going to get the advantage, Miz came back. There was even some psychology with Miz working on the knee of Styles to slow him down and led to a nice Figure Four spot. As for the result, no surprise that Styles got the win since he's main eventing Payback against Reigns and they need to keep giving him momentum going into that. Miz did well in terms of looking like he was on the same level as Styles. He's a lot better when he's booked in a credible way instead of looking like a joke. In addition to all the good in-ring work, there are more questions on Styles' friendship with Anderson and Gallows. All things considered, a great match to go with an interesting storyline developmental as well.
Some highlights from Raw aired showing the issues with Ambrose and Zayn against Jericho and Owens. Then it showed Ambrose's win over Owens followed by Jericho hitting the Codebreaker on Ambrose to end Raw.
Zayn and Ambrose were interviewed by Rich Brennan. Ambrose said Jericho and Owens are dirty rotten scoundrels as well as guys he doesn't like. He said he was angry because of what Jericho did to him on Raw. Zayn went over some tag team names that he wanted, but Ambrose didn't like them. Ambrose suggested Rough Riders for them while Zayn noted that was too suggestive. Ambrose told him they had to go get ready.
Analysis: It was a bit of a comedy segment that wasn't as funny as they probably thought it was, but it was okay. I like both guys at least.
(Commercial)
Replays aired of the end of the Styles/Miz match.
Anderson and Gallows were interviewed by Brennan. Gallows said their actions don't mean anything while he said that AJ doesn't need their help. Anderson said they're there to make an impact like they will make on The Usos on Raw when they have their first match. Gallows: "We have arrived." They left.
Analysis: That was smart to announce their match coming on Raw since it's their in-ring debut. I find it weird calling it Gallows' debut because he was in WWE going back ten years and featured quite a bit in 2010 as part of the Straight Edge Society, but it's been long enough that it can be called a debut again since he's with Anderson.
Natalya & Paige vs. Tamina & Naomi
The heels worked over Natalya early on until Natalya tripped up Naomi and brought in Paige for a bit. Natalya nailed her running dropkick. Naomi got to the apron, kicked Natalya in the head and hit a legdrop for two. Tamina with a nice clothesline gets two. The heels worked over Natalya in their corner with Naomi nailing a dropkick for two. Natalya avoided a Tamina attack and brought in Paige. There's the "this is my house" line by Paige as she nailed running knee attacks on both ladies. It looked like they slipped up on a spot. Paige did her "house" yell again leading to the Rampaige DDT, but Tamina broke up the pin. Natalya went after Tamina with a Sharpshooter and Paige did the PTO submission on Naomi for the win after five minutes.
Winners by submission: Natalya & Paige
Analysis: *1/2 I liked the finish of that match. It was basic stuff to give Natalya more momentum going into her Women's Title match against Charlotte at Payback. Smart to have Paige out there since she's British and the crowd was solidly behind her.
Up next is R-Truth vs. Fandango with Goldust as the referee.
(Commercial)
Fandango vs. R-Truth – Goldust is the referee
Each guy hit a move and then did some dancing. Truth did a dance followed by a hip toss. Fandango did some dancing of his own. Even Goldust started dancing with them. Truth hit the Little Jimmy for the win after two minutes.
Winner by pinfall: R-Truth
Analysis: 1/4* Just a silly comedy segment to fill time. This Goldust/Truth thing has been built up for four months and they're still not teaming regularly. Maybe they will now. I don't think I care either way.
Main event tag still to come.
(Commercial)
Enzo Amore and Colin Cassady made their entrance as clips aired showing Enzo & Cass as well as The Vaudevillains winning matches on Raw.
When they got in the ring, Enzo did their usual promo with the crowd chanting along. Even though it's not a match, Cass is in his ring gear.
The Vaudevillains made their entrance. They're also in their ring gear. They had microphones with them. Aiden English insulted them saying that people are tired of their foolish ramblings. He told Enzo he looks like a rodent with a bad case of mange. Enzo told them to keep reading them books and they'll keep writing them. Enzo said they're G's and that stands for gentlemen. Enzo said he had no idea what English said. Enzo kept on rambling on.
English told them this is a man's world and who better than two real men to remind you of the value of men from a better era. Simon Gotch said that at Payback when they stand over them they will ask "how are you doing?" Cass said that they are doing great. He told them that at Payback they won't be doing too well because they (E&C) are walking away as the number one contenders for the tag team titles. There's only one word to describe them: SAWFT. That ended it.
Analysis: A decent promo from these two teams that are new to the main roster. I'm glad that both of them have got some quality wins in the last couple of weeks. The crowd seemed interested in the promos although the dialogue by both teams wasn't that great. It was just a little off. Maybe it would have been better if they had a physical ending with the heels escaping because then it would have added a bit more to their Payback match.
Jericho and Owens were shown walking backstage. Jericho knocked some food out of the hand of a guy standing there. Owens took food (I think it was popcorn in a cup) and ate some.
(Commercial)
A video aired featuring Primo and Epico talking about how great it is in Puerto Rico.
The entrances aired for the main event with Chris Jericho out first followed by Kevin Owens. Then it was Sami Zayn and Dean Ambrose with Lawler noting that even Ambrose said that Zayn had a stupid hat.
Chris Jericho & Kevin Owens vs. Sami Zayn & Dean Ambrose
Zayn used his quicks to apply an armbar on Jericho early on. Ambrose tagged in, nearly hit Dirty Deeds on Jericho and Jericho rolled to the floor leading to a break two minutes into the match.
(Commercial)
The heels were in control of Ambrose in their corner. That only lasted about a minute until Ambrose tagged in Zayn. Nice heel kick by Zayn, then a clothesline on Jericho and a cross body block off the top for a two count. Zayn punched Jericho in the stomach, teased a move on Jericho and then he jumped on Owens outside the ring. Owens did a blind tag, tripped up Zayn and tossed Zayn into the barricade outside the ring. Owens to Ambrose: "Come on, crazy guy!" Owens tagged in Jericho: "And that's why Canadians are the best!" He's right. Love this team. Jericho connected with a Lionsault for two. After some Jericho taunting, Zayn nailed a Blue Thunder Bomb.
Ambrose received the hot tag against Owens. Ambrose with forearm shots, a flying clotheslines, punches, a corner forearm smash and he ducked by the ropes to send Owens to the floor. Ambrose with a suicide dive to take out Owens on the floor. Ambrose with a clothesline to Jericho on the floor. Owens with a superkick gets two. Ambrose ducked an Owens attack and hit Dirty Deeds, but Jericho broke it up when he tried to pin. Zayn with a dropkick on Jericho. The ref sent Zayn out of the ring. Ambrose was on the top rope, so Jericho shoved him off and Ambrose was crotched on the top rope. When Ambrose landed in pain, Owens capitalized with the pin for the win after 14 minutes.
Winners by pinfall: Chris Jericho & Kevin Owens
Analysis: *** Good match as expected although I was a bit surprised that they went with a finish like that. It felt a bit flat, but also put over the idea that a match could end at any time – even a crotch spot. It was pretty much the usual tag match that you will get in a TV main event spot because they get enough time to tell an interesting story. Zayn's the best guy in WWE in terms of selling a beating, so if he's in a tag match he's usually going to be the guy that the heels are going to target. Ambrose was awesome after the hot tag. I love Jericho and Owens teaming together since they are the best pure heels in WWE right now. Owens was very entertaining throughout the match too.
Post match, Owens did a running jump into the arms of Jericho. That was hilarious. What a hug! There was a replay of the crotch on the top rope that led to the finish.
Owens and Jericho celebrated the win to end the show.
"WE'RE THE BEST!!!"

Victory hug between @FightOwensFight and @IAmJericho! #SmackDownpic.twitter.com/JkYCaF8ypb

— WWE (@WWE) April 22, 2016
Three Stars of the Show
1. AJ Styles
2. The Miz
3. Kevin Owens
The Scoreboard
6 out of 10
Last week: 6
2016 Average: 5.83
Last 5 Weeks: 6, 5.5, 5, 5, 6
2016 High: 7.5 (March 3)
2016 Low: 4 (January 21)
Final Thoughts
It gets a 6 out of 10 from me. It's another score slightly above my average for the year.
There were two matches that hit the three star level as above average matches: Styles over Miz and the main event tag. Neither match was exceptional or something you should go out of your way to see, but I enjoyed both matches quite a bit.
I liked the booking decisions for the most part. The only segment that was really poor was the R-Truth/Fandango comedy match. I just don't think it worked very well. Other than that, the show was fine.
For the second week in a row, there was a limited roster because the other half of the crew was on tour elsewhere in Europe.
That's all for this week. Check out our TJRWrestling Podcast as Rey and I discuss the latest edition of Raw, the WWE Payback lineup and we reflect on the life and career of Chyna.
I'll be back next week for Raw. Go Raptors.
John Canton – mrjohncanton@gmail.com
Twitter @johnreport
Personal Facebook and TJRWrestling on Facebook