The John Report: WWE Smackdown Review 02/18/16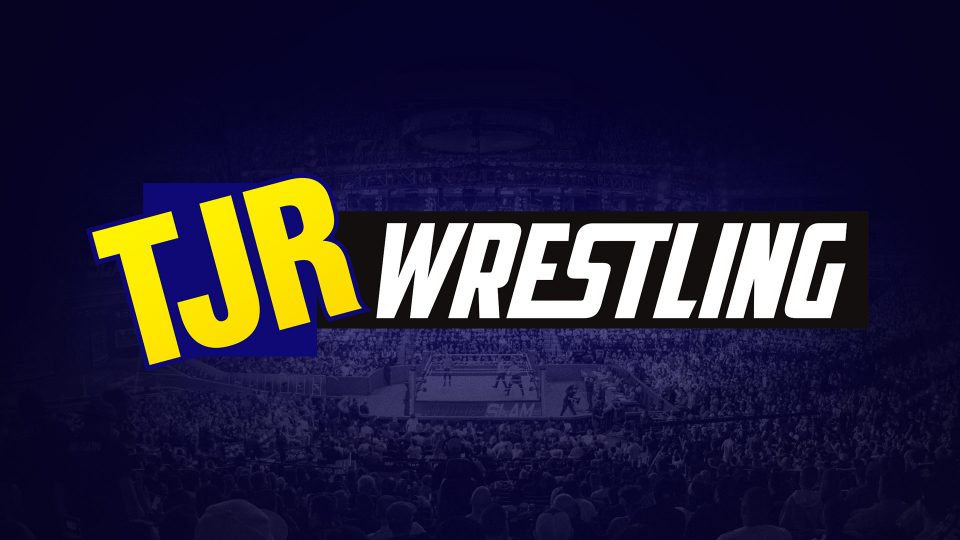 Taped in Ontario, California this is Smackdown for episode #861.
There was a video shown from Raw when Dean Ambrose lost the Intercontinental Title in a Fatal 5-Way match. Great match. Kevin Owens is the new IC Champ. The Smackdown intro video aired.
The new IC Champ, my favorite WWE wrestler (since Daniel Bryan is retired) Kevin Owens, is out first. He's in his street clothes. The announce team for this week is Michael Cole, Byron Saxton & Jerry Lawler. Cole is sitting in for Mauro Ranallo, who is out with the flu. Ranallo will be back next week. Owens joined the announce team for this match.
Analysis: I'll miss Ranallo this week. He's great at his job, but I'm glad he'll be back next week.
Dolph Ziggler entered and then the Lucha Dragons. We're starting the show with a match? That's so rare and a welcome change from the usual promo.
Dolph Ziggler, Kalisto & Sin Cara vs. Alberto Del Rio, Rusev & Sheamus (w/King Barrett)
There's Barrett out there in his ring gear again even though he hasn't wrestled in months and yes I read the news about how he's gone from WWE later this year. There was a funny line by Owens saying that Cole knows that Ranallo is better than him, so Cole got him fired. Not true, but that was funny. Owens was mocking Cole a lot. Kalisto with a dropkick to the legs of Rusev to knock him down and then a DDT gets a two count. Monkey flip double team move by the Dragons gets a two count. Sin Cara was in there against Del Rio. Owens thanked Stephanie McMahon for the opportunity on Monday. Kalisto tagged back in with a headscissors takedown on Del Rio, then a dropkick on Sheamus and the Dragons hit double suicide dives to take out Sheamus/Del Rio. Ziggler sent Rusev out of the ring and then Ziggler hit a flying elbow off the top to take down all the heels. Owens told Cole to shut up as they went to break.
(Commercial)
Back from break, Rusev was in control of Sin Cara in the ring. Owens was mocking Saxton for sucking up to Cole while the other Owens and heel Lawler were mocking Cole. The heels made quick tags as they continued to work over Sin Cara. Owens: "I'm not saying Michael is an idiot, but if I had my phone with me right now I'd block him on Twitter." That was clever. Del Rio went for an attack off the top, but Sin Cara was able to come back with a dropkick. Ziggler made the hot tag against Sheamus with Ziggler hitting forearm shots and a neckbreaker. Huge DDT by Ziggler gets two as Del Rio broke it up. Sin Cara sent Del Rio to the floor, but Rusev kicked Sin Cara. Del Rio sent Kalisto into the barricade. Ziggler got a rollup for two and then a left legged Fameasser gets two for Ziggler. Ziggler knocked Rusev and Del Rio off the apron. Then Owens went on the apron, Ziggler went after him, Owens dropped to the floor and Sheamus hit a Brogue Kick to win the match after 11 minutes.
Winners by pinfall: Alberto Del Rio, Rusev & Sheamus
Analysis: **1/2 It was a solid tag match with the heels getting the win due to all of the distractions. Even though Sheamus and Rusev don't have matches at Fastlane, they're on the winning team. Ziggler getting pinned may make it seem like he's going to beat Owens at Fastlane, but I don't think that will happen. I also think Kalisto's probably going to retain his US Title against Del Rio. As I said earlier, it's nice to see a match open the show instead of a promo like usual.
Later on Smackdown, Brock Lesnar is there. To do what? Keep watching. Also Dean Ambrose & Roman Reigns vs. The Dudley Boyz.
Sasha Banks was shown walking backstage for a match after the break.
(Commercial)
TJRWrestling Shirts Available Now! We have released our first ever TJRWrestling shirts at Prowrestlingtees.com/tjrwrestling so if you want to support our site or this column, go get a shirt now! Use that PWT link to check it out to see what's available. They are only $19.99 and they ship worldwide. Get a new shirt now!
There was a Rosa Parks quote in honor of Black History Month.
Tamina (w/Naomi) vs. Sasha Banks
The Fastlane match is Sasha Banks and Becky Lynch against Tamina and Naomi, so this is a preview of that. Fans were chanting for Sasha early on. Tamina used her power early to toss Banks across the ring by the hair. Banks did a comeback with some kicks and the double knee attack in the corner a couple of times. There's a third running knee attack for a two count. Banks knocked Naomi off the apron with a forearm. Banks nailed a Mysterio-like bulldog and then Banks applied the Banks Statement submission. Tamina tapped out quickly. The match went about three minutes.
Winner by submission: Sasha Banks
Analysis: * It was a short match to put over Banks leading into Sunday's match.
Post match, Naomi nailed Banks with a forearm to the back. Naomi and Tamina double teamed on Banks. There's Becky Lynch for the save. She nailed Naomi with forearms and a forearm to Tamina as the heels escaped. Lynch helped Banks to her feet. Banks shoved her away and she left on her own.
Analysis: The story is that Banks doesn't really want Lynch to help her even though in this situation it's clear that she needs the help. It's good story progression because it's part of the face turn of Banks.
Jericho and Styles in a promo up next.
(Commercial)
Becky Lynch walked up to Sasha Banks backstage. Lynch said that she wants her WrestleMania moment and Banks said she wants hers. Lynch said that they needed eachother. Banks said they are not friends, but she hates those two (Naomi & Tamina). They shook hands. Lynch: "Let's kick some lass." Banks: "Like a boss." Way to work in those catchphrases, ladies.
Analysis: I think the booking of the Banks face turn has been handled really well in the last month. They have taken their time with it. Banks and Lynch should win on Sunday leading to both of them going on to face Charlotte for the Divas Title at WrestleMania in a triple threat match.
Chris Jericho entered in his ring gear. He called out AJ Styles, but instead The Miz walked out in his ring gear. I wonder if this will lead to a match. Now that's sarcasm.
The Miz said that everybody is sick of Jericho and Styles playing footsie, but Miz has an announcement. Jericho wanted Miz to quit the business, which led to a "quit" chant. Miz said he is not quitting. They were piping in crowd noise as Miz talked about being at the Playboy Mansion after the Grammys. He told Jericho he doesn't have to worry about Styles because he's got something to worry about right now. Miz went to attack, so Jericho tossed him over the top to the floor.
Analysis: They teased something with Jericho and Styles, but it was really just a segment to lead to the Jericho/Miz match.
(Commercial)
Chris Jericho vs. The Miz
The match started after the break. Jericho was in control early on with a delayed suplex. Cole said that Miz was at the Playboy mansion and turned away at the door. Poor Miz with his ridiculously hot wife Maryse. Jericho missed a shoulder charge and hit the steel ring post. Miz hit his corner clothesline as the crowd chanted "we want AJ" a bit. Jericho came back with a dropkick. After some back and forth action, Jericho hit a cross body block off the top for two. Jericho ducked a Miz charge to send him to the floor and Jericho hit the dropkick on the apron. Miz got control when they went back into the ring while slowing down Jericho with some boots to the head.
(Commercial)
Back from break, Miz was still in control with his backbreaker/neckbreaker combo. Jericho with a chop off the top. Jericho avoided a neckbreaker and wanted the Walls of Jericho, but Miz fought out of it. Jericho nailed a step up enziguri for two. Running bulldog for Jericho. Lionsault missed, so Miz hit a snap DDT for a two count. Jericho with a butterfly suplex into a backbreaker for two. Nice move. Boot to the face for Miz. With Jericho standing in the corner, Miz charged in. Jericho caught him, put him in the Walls of Jericho and Miz tapped out. Jericho wins by submission after 13 minutes.
Winner by submission: Chris Jericho
Analysis: *** A good match that gave Jericho a clean win as expected. It was booked very evenly with both guys getting a number of nearfalls. The Miz has been used as a TV feud for Jericho and Styles in the last month. He's done a good job in terms of promos and he's looked good in the matches. They have booked him as a comedic heel for too long, but if they book him like this going forward he can go back to being a solid midcard heel. There's still a lot of value in The Miz. This win gives Jericho some momentum going into Fastlane.
Jericho got on the microphone to give credit to The Miz, but once again Y2J comes out on top. He wants AJ Styles to come out there so he can answer the question that everybody wants to know the answer to.
AJ Styles came out to a good ovation. Cole said Styles has been phenomenal while Lawler said Styles is an egomaniac. Styles went into the ring with Jericho. Fans were chanting "AJ" for him.
Jericho mentioned that Styles challenged him to a rematch. Jericho said that here in WWE you're only as good as your last match and in their last match, Jericho beat Styles. He knows why Styles wants a rematch, but Jericho said he has to do it with somebody other than Y2J. Jericho said that he respects Styles that is one of the best in the world today, but this isn't about respect – he doesn't like him. Jericho doesn't want to do him any favors. Jericho said "no" to Styles vs. Jericho III.
Styles wanted to know if there was anything he could do to change Jericho's mind. Styles nailed Jericho with punches and kicks. Then he gave Jericho a clothesline over the top to the floor. With Jericho on the apron, Styles tossed him the microphone. Jericho told him that was stupid. Jericho: "Styles vs. Jericho at Fastlane, right? You want it? You want it? You got it." Jericho told Styles he's going to regret it. They had a staredown and then Jericho left.
Analysis: It was pretty obvious they were going to agree to the match. They just chose to drag it out after Monday's Raw and even after Jericho's match on this show. I'm picking Styles to win. More thoughts on the match are in the Fastlane preview I posted on Saturday.
There was a clip from Monday's Raw with Paul Heyman talking to Roman Reigns, then the Dudley Boyz attacking, Dean Ambrose making the save and Ambrose nearly hitting Reigns with the Dirty Deeds.
Reigns and Ambrose were talking backstage. Ambrose said he just wants to get in the ring. Reigns said he'll see him later and told him not to try the Dirty Deeds again. Ambrose wondered if he could take a joke. Reigns said a good joke, but not that. With Reigns walking away, Ambrose walked off and bumped into Paul Heyman. Ambrose kept on talking to him saying that he is his guy. Heyman said that Ambrose knows how much he respects Reigns and then he told Ambrose that Lesnar is at Smackdown. Heyman told Ambrose that Lesnar's in a bad mood and looking for Ambrose. Ambrose wanted advice. Heyman said he can't give him advice for this. Ambrose said then he has to figure it out on his own and he told Heyman to tell Lesnar to not keep him waiting. Ambrose said he'll be waiting on him.
Analysis: That was a fun segment. Of course Lesnar was advertised for this show, so Ambrose should have known he was there anyway, but it was still good to see Ambrose interacting with Heyman like that.
(Commercial)
They showed rapper Fabolous at ringside with his son. He bought his son a WWE bed a few months ago that they showed during the broadcast.
The Tag Team Champions The New Day were interviewed by Jojo backstage. Xavier Woods said they're the franchise team in the WWE and they don't have to prepare for it. Kofi Kingston wanted to give them a small sample of what will happen, but then they didn't give a preview. Big E said when it's all said and done, they're going to be entered into the Rock N Roll Hall of Fame. Kingston said when it comes to Edge & Christian they've gone out of styles because as Big E said this isn't the 90s, people don't say "reeking of awesomeness" and people don't use flash photography anymore. Valid points! Woods said it's 2016 and it's all about the GIF. Woods said this is their pose after they embarrass E&C at Fastlane. Woods played the trombone while the other two did some excitable gyrating – I don't know how to describe it better than that.
Analysis: A fun promo from New Day like usual. I'm looking forward to the segment with E&C on Sunday. They could use it to set up a feud with a current team or possibly a debuting main roster team like Enzo & Cass (also E&C). That may just be wishful thinking on my part.
There was a video package about Divas Champion Charlotte.
Charlotte made her entrance with Ric Flair. It's Charlotte vs. Brie Bella for the Divas Title at Fastlane on Sunday.
Charlotte (w/Ric Flair) vs. Natalya
This is not for the Divas Title. They had one of the best divas matches ever in May 2014 in NXT. Too bad they haven't had a proper feud on the main roster. Natalya grabbed a headlock, but Charlotte slammed her down. Natalya did a slingshot suplex, then the step on the back move leading to a dropkick. They went to break about one minute into the match.
(Commercial)
Natalya was in control after the break with a double underhook suplex. Charlotte was outside the ring, then outsmarted Natalya outside the ring and Charlotte nailed a huge boot to the face. She has an impressive boot to the face. Smart move for her to do to stop the momentum since she's taller girl. Charlotte wrapped the legs around Natalya's waist and applied a front facelock. Natalya avoided a knee drop, hit a discus clothesline and then nailed a German suplex. Natalya went after her on the apron, Charlotte yanked the apron, Natalya tripped and sold pain in her leg. Charlotte took her down and applied the Figure Eight submission. Natalya tapped out. Charlotte wins by submission after 7 minutes.
Winner by submission: Charlotte
Analysis: ** A good match between two of the best divas in terms of in-ring skills. Natalya needs to catch a break so that she can be featured more. She's too good to not be used more. I liked that she got a decent amount of offense in there. The finish was well done. I'm guessing Finlay had a hand in it because he used to do the "pull the ring apron" spot a lot when he wrestled and he's worked with the divas for years, so it reminds me of him. What bothers me is they put in a commercial break in a match that was only seven minutes. If a match is 10 minutes or more then I get it. If it's seven minutes then you throw in three minutes of commercials and you only get about four minutes of action. They need to time it better.
Post match, Charlotte taunted Brie Bella with the "YES" chants. Oh no it's the "Brie Mode" song and here comes Brie. Brie took down Charlotte and then nailed some Daniel Bryan-like yes kicks. Brie wanted the running knee, but Flair pulled Charlotte out of the ring. Flair even bumped on the floor! Brie did some "yes" chants. Brie held up the Divas Title.
Analysis: It was a solid follow-up to their segment on Raw. They needed to make Brie look stronger this week and they did that. Will Brie win at Fastlane? Nope. Charlotte's going to retain the title. I promise you I will not miss the "Brie Mode" song when she retires.
R-Truth was backstage on the phone and then he walked up to Goldust. Goldust was dressed like a rapper and he said he was Dusta Rhymes. Goldust was doing a "What's Up" rap with him. R-Truth did a rhyme about how Goldust reminded him of One Flew Over The Cuckoo's Nest. Then he did a rap about how they're not partners in the ring or in life. Goldust looked sad.
Analysis: That was pretty funny.
The announcers went over the key matches at Fastlane and then a video package of The Wyatt Family's destruction in the last few weeks. It's The Wyatt Family against Kane, Big Show & Ryback at Fastlane. Should be an easy win for The Wyatt Family.
Up next is Roman Reigns & Dean Ambrose vs. The Dudley Boyz…sponsored by Geico.
(Commercial)
This Monday on Raw it's the Vincent J. McMahon Legacy of Excellence Award. I have no idea who will win it, but maybe Triple H as a way to build him up as an even bigger deal. I'm not sure.
The Dudley Boyz made their entrance. Bubba Ray slapped away a sign from a fan that had "Lunatic Fringe" on it in support of Dean Ambrose. Then Ambrose made his entrance followed by Reigns.
Dean Ambrose & Roman Reigns vs. The Dudley Boyz
Bubba was doing a great job of trash talking. He shoved Reigns, so Ambrose tagged him in. Ambrose and Reigns did clotheslines to send both Dudleys out of the ring. They went to break a few minutes into it.
(Commercial)
Back from break, they showed the Dudleys doing a double team neckbreaker Ambrose. The heels worked over Ambrose with D-Von nailing a back elbow. The heels kept double teaming Ambrose. Bubba nailed a punch and Ambrose did this big groan that was almost comical with the way he sold it. Bubba did a neckbreaker off the turnbuckle on Ambrose. Another neckbreaker by Bubba. Lawler mentioned he's been in the business for 45 years and only had one shot at WrestleMania. Yeah, a terrible match at Michael Cole that I wish I could forget. They didn't mention that was the match. I feel bad for reminding you. Bubba's such a great heel in terms of talking trash. He started up a "Let's go Ambrose" chant. Bubba missed a splash off the middle rope. Hot tag to Reigns against D-Von. Reigns with a clothesline for D-Von, Samoan Drop for Bubba and more clotheslines for Reigns. When Reigns set up for the Superman Punch, Brock Lesnar's music started up and Lesnar walked down to the ring with Paul Heyman. He even got pyro. The Dudleys attacked Roman and Dean from behind. Reigns with a Superman Punch on D-Von and Ambrose with a flying elbow on Bubba followed by a suicide dive on D-Von. Lesnar attacked Ambrose outside the ring, so the ref called for the bell.
Winners by disqualification: Roman Reigns & Dean Ambrose
Analysis: ** The match was easy to forget about as soon as Lesnar got there. I'm not a huge fan of playing music and doing the full intro of a guy not in a match, but I get why they did it in this case. No surprise with the disqualification finish. They can probably do this match again in the near future with a clean finish.
Post match, Reigns was brawling with Lesnar and Ambrose got back to his feet as they double teamed Lesnar. In the ring, Lesnar nailed a German Suplex on Reigns and then a German Suplex on Ambrose. Reigns nailed a Superman Punch to stun Lesnar. He went for a Spear, Lesnar moved and Reigns ran into Ambrose, but it wasn't a Spear. Ambrose went for Dirty Deeds, but Reigns turned it into a Samoan Drop. Lesnar picked up Reigns and a nailed a F5 on him.
Analysis: Excellent sequence right there. That exchange worked really well. You had Lesnar wreaking havoc, the other two guys working together against him and then Ambrose going after Reigns leading to Reigns hitting him with a Samoan Drop. Then Lesnar took advantage of that with a F5 on Reigns.
Lesnar left the ring with a smile. Triple H's music played as the WWE Champion stood at the top of the ramp. He had a big staredown with Lesnar. The other two were still in the ring selling the pain.
Analysis: A nice closing image to end the show. Teasing Lesnar vs. Triple H is fine, but I'm going with Reigns while Lesnar will probably get attacked with the Wyatt Family. Where does it leave Ambrose? Not sure. I guess we'll find out soon. Looking forward to the triple threat on Sunday.
Three Stars of the Show
1. Chris Jericho
2. The Miz
3. Dean Ambrose
The Scoreboard
6 out of 10
Last week: 6.5
Average: 6
Last 5 Weeks: 6.5, 7, 5.5, 4, 6
2016 High: 7 (Jan. 7/Feb. 4)
2016 Low: 4 (Jan. 21)
Final Thoughts
It gets a 6 out of 10 from me.
A solid show this week. The highlight was the Jericho/Miz match and the ending with Lesnar was pretty good too. The rest was pretty average.
Check out our Fastlane preview for my thoughts on all the matches. I'll have live coverage of Fastlane on TJRWrestling.net on Sunday night, so check it out live or after the show is over.
John Canton –mrjohncanton@gmail.com
Twitter@johnreport
Personal FacebookandTJRWrestling on Facebook