The John Report: WWE Smackdown Live Review 12/06/16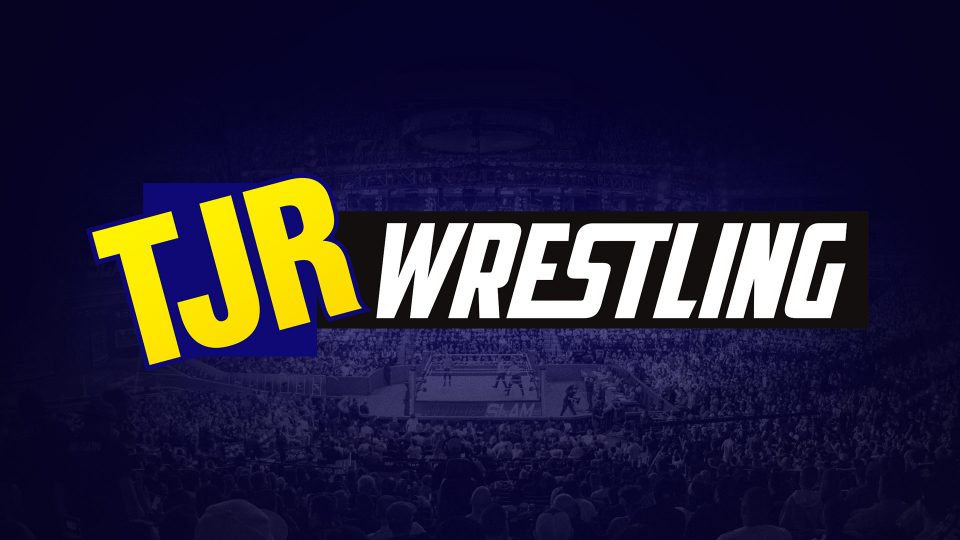 There's one month left of WWE Smackdown in 2016 following the blue brand's strong effort at Sunday's TLC pay-per-view event in Dallas. Announced for this week's show is AJ Styles defending the WWE World Championship against James F'N Ellsworth. I added the middle name. It may not happen to due to Styles having an ankle injury. Also announced for the show is Orton/Wyatt vs. Slater/Rhyno for the Tag Team Titles.
Live from Houston, Texas this is Smackdown Live for episode #903.
The opening video package focused on the main event of Sunday's TLC show with James Ellsworth playing a factor in AJ Styles beating Dean Ambrose.
The WWE World Champion AJ Styles made his entrance. His left foot was in a walking boot for his injured ankle.
The announce team consists of Mauro Ranallo, John Bradshaw Layfield, David Otunga and Tom "No Talking During Matches" Phillips were shown on camera introducing us to the show.
Styles said he's not going to waste our time, so let's address the elephant in the room. There was a pic of the hole in his tights. He bragged about beating Ambrose with chairs, putting him through tables and prevented Ambrose from getting AJ's World Championship. He says if the worst happens and he's stuck in a boot for a week then it's okay. Styles noted that the only negative is that he's not medically cleared to face James Ellsworth. The crowd booed.
Ellsworth made his way down to the ring. No neckbrace for him this time. Ellsworth mocked Styles having boot and wondered if it was just a way to avoid defending the WWE Title against Ellsworth. He suggested that maybe Daniel Bryan is protecting Styles since Ellsworth has beaten Styles three times. Ellsworth said if Styles wasn't ducking him then he (Ellsworth) would win the WWE Title. Ellsworth said Styles is still WWE Champion because of Ellsworth.
Styles mocked him by saying Ellsworth was drinking his own "chin and tonic" as a twist on a famous phrase people sometimes say about kool-aid for example. Styles told him that everything Ellsworth has in WWE is because of Ambrose. He said that Ambrose has burned that bridge now. Styles said that he knows how to stop beating on you, but Ambrose isn't going to stop until he's caved in your face like your chin is.
Dean Ambrose entered to join the party in the ring. Ambrose kicked Ellsworth in the stomach, hit Dirty Deeds and walked right back out of the ring. JBL was laughing about how Smackdown got off to a great start because he enjoyed Ellsworth getting hurt.
Analysis: The ankle injury for Styles is unfortunate, but the hope is that it's only a minor thing that will keep him out of the ring for a week or two. With ankle injuries you never know. If it was really serious it would be more known by now. Ellsworth getting attacked by Ambrose makes perfect sense considering what he did to Ambrose at TLC.
Later on Smackdown: Alexa Bliss has a Women's Championship celebration. Also, new Tag Team Champions Bray Wyatt and Randy Orton defend the titles against former champs Rhyno & Slater up next.
There was a shot of Wyatt, Orton and Luke Harper backstage with Wyatt saying "we're here" to end it.
(Commercial)
Bray Wyatt and Randy Orton made their entrance with Luke Harper. I like the way they set up the intro video with a part of showing Orton's old "Nothing You Can Say" video/song, then his "Voices" song and then it turns into the Wyatt Family.
Smackdown Tag Team Championships: Bray Wyatt & Randy Orton (w/Luke Harper) vs. Heath Slater & Rhyno
Slater hit a forearm shot on Orton early, but Orton came back by slamming his head to the mat. Wyatt tagged in and Slater nailed a cross body block on him. Rhyno tagged in with a belly to belly suplex on Wyatt. Rhyno charged at Wyatt, but Wyatt went to the floor for the break two minutes into the match.
(Commercial)
Back from break, Wyatt nailed a clothesline on Rhyno followed by a senton splash for a two count. Orton tagged in with a standing dropkick on Rhyno for a two count. Rhyno came back with a shoulder tackle on Orton leading to the hot tag to Slater. Kick by Slater to Orton, flying knee, leg lariat and a neckbreaker by Slater on Orton for two. Wyatt was on the apron, so Orton was able to bounce back with a powerslam. Wyatt nailed Rhyno with a boot to the face and sent him out of the ring. Orton tagged in Wyatt, who crushed Slater with a stiff clothesline. Wyatt teased the Sister Abigail, but changed his mind to tag in Orton. Wyatt kissed the forehead of Slater and Orton nailed a RKO on Slater for the pinfall win after nine minutes.
Winners by pinfall: Bray Wyatt & Randy Orton
Post match, the Wyatt Family posed in the ring with their titles.
Analysis: **1/4 A good tag match that was longer than their TLC match by about one minute. It was a dominant win for the champs although Slater did some good offense in after he got the hot tag. I don't think anybody believed that they had a chance in winning, though. As much fun as Slater & Rhyno were for a few months, that team is likely not going to get the titles back again. I'm enjoying the Wyatt/Orton alliance and hope it lasts a few months before the inevitable split.
Kalisto was interviewed by Dasha Fuentes backstage. She mentioned Kalisto asked for a rematch against Corbin. Kalisto said that he has the speed advantage against Corbin and said that speed kills.
Up next is Carmella vs. Natalya.
(Commercial)
Carmella entered for her match and wants to do a promo. She said that Nikki Bella thought that Carmella took her out at Survivor Series, but Natalya bragged about pulling a Tonya Harding on Nikki. That's a reference that's over 20 years old to a cheap attack by a figure skater. Carmella mocked Natalya saying that she wishes she was more like Nikki Bella. Fans chanted "how you doin'" so she said "shut up I'm talking." It was just a question! Carmella said the real Natalya has reared her head and that Natalya denying what she did just proves that she's a deceiving con artist. Natalya made her entrance.
Natalya ran into the ring and punched Carmella. They exchanged punches. Carmella slapped her. Carmella left the ring, ran up the ramp and went to the back. Natalya followed her. I guess that's the match.
Natalya was shown walking backstage. Nikki Bella was standing there. Natalya told Nikki that you can't believe what Carmella was saying and claimed Carmella is a liar. Nikki said nothing and just left.
Analysis: I don't think the match ever started because they never stood up in the ring so that the ref could ring the bell. It was more of a brawl than anything. They are blurring the lines a bit with Natalya since she turned heel months ago by attacking Becky Lynch, yet Carmella's promo made Natalya seem like a face. If it's true that Natalya attacked Nikki at Survivor Series then that would make Natalya a heel. Confusing right? I like that there's a storyline and they didn't forget about the attack a few weeks. I just don't know if they need to run this angle for weeks when it's not a major angle. The positive thing about this is that they are utilizing nearly all of the women on Smackdown with storylines instead of just the champion.
Later on Smackdown: Alexa Bliss has a celebration and Miz TV with Dean Ambrose as a guest.
(Commercial)
Baron Corbin was shown walking backstage when Dasha Fuentes showed up to interview him. She didn't even ask a question – she just said there's no denying his quickness. Corbin said Kalisto's like a mosquito that's fast and buzzes around until they land on him – SPLAT!
Analysis: Translation for that promo: "Me big. He small." That's it.
Hype Bros (Zack Ryder & Mojo Rawley) vs. The Ascension (Konnor & Viktor)
There were pre-taped promos from both teams. I find Mojo to be very annoying. Calm down, bro.
Ryder hit a forearm on Konnor while he was on the apron, so Viktor took him down with a flying knee. Konnor pulled Ryder out of the ring by his arm to work him over a bit. Double boot to the face of Ryder by The Ascension. Viktor with a fist drop that didn't come close to connecting thanks to the camera angle that was used for it. Ryder with a neckbreaker on Konnor leading to the hot tag to Rawley against Viktor. Rawley with shoulder tackles on Viktor, then a clothesline, Stinger splash, there's a second one and a full nelson into a slam for two by Rawley as Konnor made the save. Ryder dumped to the floor by Konnor and Rawley sent Konnor out of the ring. Tag to Ryder, Rawley picked up Viktor and they Zack jumped off the middle rope with the Hype Ryder for the win after four minutes.
Winners by pinfall: Hype Bros
Analysis: *1/2 It was fine for what it was a short match. When there's a hot tag in a match about three minutes in you know it's going to be rushed. The good guys got the win to give them some momentum although I don't know if that means they are getting a title shot any time soon. Ryder and Rawley make a pretty good team as long as they can rack up wins in order to get the crowd behind them.
Up next is Miz TV with Dean Ambrose as the guest.
(Commercial)
Miz TV With Dean Ambrose
The Intercontinental Champion The Miz made his entrance with his lovely wife Maryse. He wondered why there were no "you deserve it" chants. He said TLC was a night of highs and lows while adding that a high was him winning the ladder match against Dolph Ziggler. If we're talking about the lows then nobody ended up lower than his guest, Dean Ambrose.
Dean Ambrose made his entrance and sat in the chair in the ring along with Miz and Maryse also seated. Good ovation for Ambrose.
Miz asked Ambrose how he felt after losing the TLC Match because of James Ellsworth and said that Ambrose must be the most angry person alive. Ambrose tried to talk, but Miz cut him off saying that maybe Ambrose deserved it since he brought along Ellsworth like a puppet. Miz said that the audience wanted to see Ellsworth vs. Ambrose and see Ellsworth give Ambrose what he deserved. Miz asked Ambrose if he really was surprised.
Ambrose said it always surprises him when somebody intentionally tries to piss him off. Ambrose got out of his chair, so Miz hid behind Maryse. Miz noted that Ambrose walked away empty handed, but Miz has something for him. Miz had a frame as he presented Ambrose with the first ever "Miz Participation Award." Fans chanted "you deserve it" for that. Miz wondered if he should try to shove that down the throat of The Miz.
The Smackdown General Manager Daniel Bryan appeared on the stage. He said he sees the look in Ambrose's eyes and he can't let him attack Miz because he has something better. Bryan set up Ambrose vs. The Miz in the main event later tonight. Bryan asked if they wanted the IC Title on the line with fans chanting "yes" for that. Bryan led them in "yes" chants to end the segment.
Analysis: Really good promo work from The Miz like usual. Since Miz was being a jerk from the moment they were in the ring, it seemed obvious that Bryan would come out to make the match especially since there was nothing announced for later in the show. It also makes up for the lack of WWE Title match due to the ankle injury of Styles. The fans seemed very into the idea, so it worked in terms of a way to setting up the match. Was it predictable? Of course, but that's typical WWE these days.
Up next is Corbin vs. Kalisto.
(Commercial)
Kalisto vs. Baron Corbin
Corbin with a running shoulder tackle followed by hard forearms to the head. Corbin dumped Kalisto to the floor. Kalisto came back with a jumping kick and a low bridge sent Corbin to the floor. Kalisto nailed a moonsault off the top rope to the floor to knock down Corbin. Rolling kick by Kalisto, tornado DDT and a snap rana by Kalisto earned a two count. Kalisto charged in again, but Corbin caught him and hit End of Days for the win after about three minutes.
Winner by pinfall: Baron Corbin
Analysis: *1/2 A quick win for Corbin. Kalisto was on offense for much of it, but Corbin squashed him like a mosquito just like he mentioned earlier.
The lovely Nikki Bella was walking backstage. Some girl named Sophia Grace was backstage. Nikki's excited for some song of hers coming out. They hugged.
Analysis: No idea who that is. You don't have to tell me. I can't pretend to care.
Still to come is the celebration of Alexa Bliss.
(Commercial)
Gable vs. Breeze up next. There was an Earlier Today segment with Breezango giving them tickets for bad fashion since Breezango are the fashion police.
Analysis: This fashion police thing is bad. I like both guys a lot, but it's weak.
Chad Gable (w/Jason Jordan) vs. Tyler Breeze (w/Fandango)
Gable nailed Breeze with a cross body block that sent them both over the top. Fandango tripped over a camera cord on the floor while trying to interfere, so that was funny. Chinlock by Breeze. Gable got back to his feet and sent Breeze to the floor. Exploder suplex by Gable followed by a cross body block. Breeze knocked Gable out of the ring. Jordan hit a belly to belly suplex on Fandango on the floor. Gable with an O'Connor Roll into a German Suplex on Breeze for the victory after three minutes.
Winner by pinfall: Chad Gable
Analysis: *1/4 An easy win for Gable with an impressive finishing sequence. Good to see American Alpha with some momentum. Breezango can't seem to get going in terms of winning matches.
Later: Miz vs. Ambrose for the IC Title. Bliss is up next.
(Commercial)
Alexa Bliss Championship Celebration
Alexa Bliss walked out with the Smackdown Women's Championship, which she won on Sunday at TLC. She posed with the title on the middle rope and the pyro went off on the stage for her.
Bliss: "Ding dong, the witch is champ." She said she proved that at TLC she proved that happy endings don't exist. Bliss said that Lynch called her a word that rhymes with witch, so Bliss said this little bitch runs the women's division on Smackdown.
Becky Lynch walked down to the ring with a purpose. Bliss said this was her party and Lynch wasn't invited. Lynch said she can't stand that some selfish, petulant whiny little girl could be considered the leader of Smackdown Live. Lynch told Bliss it's a whole other story to stay on top.
Bliss said she doesn't care about the love and adulation of the WWE Universe. She said it's not the new era, it's her era. Bliss said that Lynch can call her whatever she wants, but she will call her champion. Lynch said she likes what she called her last week. Lynch told her that she wants her rematch right now. Bliss wasn't in her wrestling gear. She teased a fight and then left the ring with the title. They did some trash talking to end the segment.
Analysis: A good promo from both women as usual from them. The rematch is coming at some point, but we don't know when that is yet. I like that Bliss is a pure heel that has no interest in getting any support from the crowd and has no problem telling them that. Lynch is a typical babyface that shows a lot of fire (of course I used that term) and is easily likable in everything that she does. Their roles are clear, so it's easy to follow and like the feud.
The announcers summarized the Ambrose story from earlier in the night.
Dean Ambrose made his entrance for the main event.
(Commercial)
The Miz made his entrance with his lovely wife Maryse.
Intercontinental Championship: The Miz (w/Maryse) vs. Dean Ambrose
The match started at 9:45pmET so they should get some decent time. Hip toss for Ambrose. Ambrose nailed a clothesline that sent Miz over the top to the floor. Miz put his wife in the way to prevent a diving attack from Ambrose. Ambrose tossed Miz into the barricade as the show went to break two minutes into it.
(Commercial)
Back from break, Miz hit two corner dropkicks and a clothesline in the corner. Ambrose with forearm smashes as well as a clothesline. Bulldog by Ambrose gets two followed by a cradle for two. Ambrose went for an attack off the top, but Miz avoided it. Miz kicked the left leg of Ambrose followed by a dropkick while Ambrose was trapped in the corner. Miz continued to work on the leg with a shinbreaker on the left leg. Ambrose tried a comeback with a leaping attack off the middle ropes, but Miz caught him and applied the Figure Four Leglock. Ambrose was near the ropes, so he just grabbed the ropes to break the hold. Miz charged in, Ambrose ducked and Miz went crashing over the top to the floor. Ambrose hit a suicide dive onto Miz on the floor. Ambrose did a good job of selling the left knee as well. Back in the ring, Ambrose got a nearfall. Miz came back with a DDT for a two count. Miz hit some kicks and Ambrose came back with the bounce off the ropes clothesline. Ambrose went up top, Miz went after him, Ambrose knocked Miz down, the ref checked on Miz and Maryse shoved Ambrose off the top. Miz hit a running knee attack for a two count. James Ellsworth went down to the ring to tell the ref that Maryse interfered. Ambrose got a cradle, the ref wasn't in position due to Ellsworth and Miz kicked out. Ambrose was mad about it. Miz snuck up behind Ambrose with the Skull Crushing Finale for the win after 14 minutes.
Winner by pinfall: The Miz
Analysis: *** Good match with some believable nearfalls for both guys although it was obvious that Ambrose was going to lose because of Ellsworth. That's just the way the story has played out the last few weeks. Miz winning cheap fits his character because that's what he usually does, so no problem with that all. It was another of those matches where you could tell the outcome was obvious as soon as they started the match.
The show ended right at 10pmET with Miz celebrating with his title.
Three Stars of the Show
1. The Miz
2. Dean Ambrose
3. Bray Wyatt/Randy Orton
The Scoreboard
5 out of 10
Last week: 6
2016 Average: 6.05
2016 Average Post Brand Split (July 26): 6.23 – Raw is at 5.95
Last 5 Weeks: 6, 6.5, 7, 6, 6.5
2016 High: 8 (August 23/September 27)
2016 Low: 4 (January 21)
Final Thoughts
It gets a 5 out of 10.
It was a slightly below average show this week. Since there's no PPV coming up any time soon (Royal Rumble is on January 29) there wasn't much of a focus in terms of the storylines.
Some of the matches that took place were rematches from TLC while others felt like they were randomly thrown together to help fill some time.
The women did a good job although the Carmella/Natalya match never happened. I liked the Bliss/Lynch promo and look forward to their next encounter.
Good effort by Miz and Ambrose in the main event, which was the only significant match on the show.
—
PLUG TIME: We do a TJRWrestling Podcast every week that you can listen to right here on Podbean or use iTunes by searching "TJRWrestling" or "John Canton" to get it. Please check it out! Thanks!
That's all for now. Go Toronto Raptors. Go Los Angeles Rams.
John Canton – mrjohncanton@gmail.com
Twitter @johnreport