The John Report: WWE Smackdown 05/29/20 Review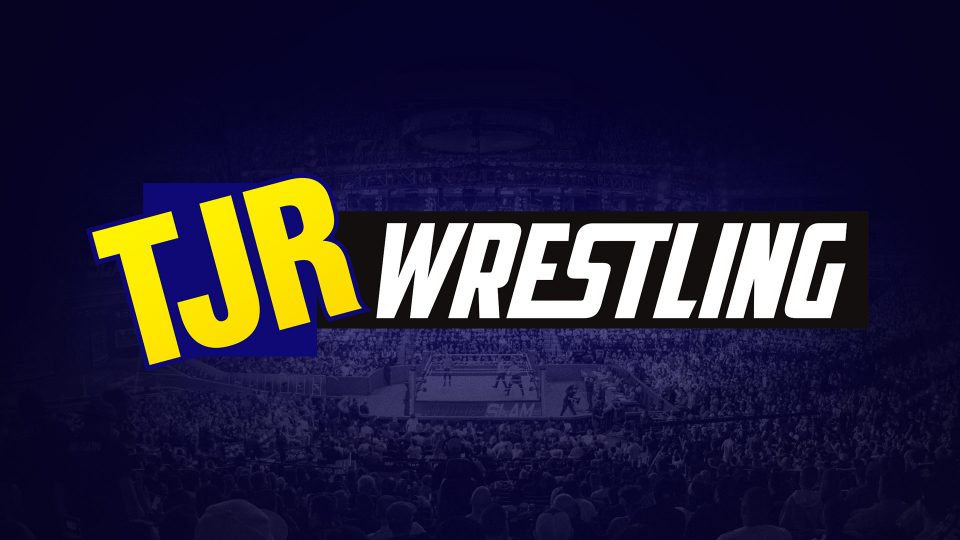 Welcome to the WWE Smackdown review here on TJRWrestling. This is the first edition of Smackdown since the health crisis started over two months ago where there will be developmental wrestlers in the crowd as fans making noise. I think Smackdown has had some better shows in the last few weeks and I'm hoping that positive momentum continues heading into the next WWE pay-per-view called Backlash on June 14.
This week's show advertised two Intercontinental Title tournament semifinals with Daniel Bryan facing Jeff Hardy and AJ Styles facing Elias. In addition to that, Alexa Bliss and Nikki Cross host The New Day on the "Moment of Bliss" talk show and Lacey Evans faces Sonya Deville. This show was taped this past Monday.
From the WWE Performance Center in Orlando, Florida, this is Smackdown for episode #1084. Follow me on Twitter @johnreport. Please visit TJRWrestling.net daily for our regular updates on the wrestling business featuring WWE news coverage along with reviews about wrestling's past and present. Thanks to Melo Man for the banner up top.
The show began with a car that crashed into another car. Elias was in the car that got hit and he was being put onto a stretcher. Renee Young was there to say that there was an eyewitness on the scene. There were guys in police officer outfits that were indy wrestlers (the bald guy uses the wrestling name Michael Stevens) that found a bottle of alcohol that was mostly full and found a paper that said Jeff Hardy's name on it. The idea is that it was Jeff's car rental and the cops acted like they didn't know who Jeff Hardy was, so I guess they haven't watched wrestling in the last 20 years. Way to book your fake cops as non-fans, WWE. This was some bad acting. Renee said they had an eyewitness on hand.
Kayla Braxton interviewed Braun Strowman in the parking lot. Strowman said he pulled up to work, he saw Elias lying on the ground and he called 911. He hopes Elias is fine. Strowman said he saw somebody running. The cops ran over to a guy they found in the bushes and it was Jeff Hardy. The two cops were there along with WWE Producers Jamie Noble and Jason Jordan along with two referees. Hardy said he wasn't drinking, but the officers said that he smelled like alcohol. Jeff wondered what happened as the officers put handcuffs on him. The officers pulled Hardy over to the scene with the cars and they saw Elias being taken away on a stretcher with Jeff freaking out about it. The cops put Hardy into the back of the car and Jamie Noble tried to calm Jeff down. Renee summed it up saying that Jeff was taken away for further questioning while Noble was saying they'll go with him. Meanwhile, the ambulance left with Elias. They went to break about eight minutes into the show.
Analysis: That was a unique way to start the show. I don't think it's a good thing to have Jeff Hardy doing drunk angles, but the way this was done makes it look like he was set up. It's not like Hardy was booked to drink booze on the show. Perhaps they will say it was Sheamus since they have had a feud, but I have no idea where they are going with it right now. It was definitely a surprising way to start the show. It also feels like the kind of long term mystery angle that Smackdown has been lacking, so hopefully it can lead to more interest in the show. Considering Jeff Hardy's history of drugs and alcohol abuse, this kind of thing is going to upset some fans. To me, it's a way to take Jeff's real-life history and use it in a storyline, which is more realistic than a lot of hokey wrestling storylines that a lot of us complain about. Jeff has been clean for the last year or so according to him and it's not like he was drinking booze on camera. It's just a storyline.
CM Punk chimed in on Twitter to react to the bad acting of the bald guy dressed as a cop.
LOLOLOL AT THE COP SNIFFING THE FULL BEER BOTTLE THAT DIDNT GET SPILLED THEN SAYING "JEFF HARDY" LIKE HES CALLING BINGO NUMBERS. IM DYYYYYYYING

— player/coach (@CMPunk) May 30, 2020
(Commercial)
There was a backstage scene with Producer Adam Pearce standing on a platform to talk to the wrestlers. Pearce summarized what was happening and said that Elias was taken to the hospital while Jeff Hardy was arrested. Sheamus called Jeff a junkie. Styles said that it sounds like the finals of the Intercontinental Championship tournament should be him against Daniel Bryan. That led to Bryan suggesting they each get an opponent and Styles said that was dumb because they had a free ride to the finals. Bryan said he wasn't a coward, so he wants to fight. Sheamus said that he deserves a shot at the title. Sheamus suggested that he faces Bryan, so Bryan said he'll take him on. King Corbin said that he should face AJ Styles. That led to Styles complaining about it. Sheamus suggested a triple threat with him, Corbin and Bryan. Jey Uso spoke up saying Jimmy was hurt, so Jey wants a shot since Sheamus and Corbin already lost. Dolph Ziggler reminded everybody that he's a six-time Intercontinental Champion and said maybe you guys forgot. Shorty G said that nobody forgot, but Ziggler is a jackass. Pearce said that they will have a battle royal and whoever wins that match will face Daniel Bryan in the semifinals while AJ Styles will get his spot in the finals. Pearce said that they should go to the ring because the battle royal is next. The wrestlers left except for Bryan and Styles. Bryan thought it was a great idea and Styles said to him: "You really are an idiot." Styles left.
Analysis: They set that up well with good dialogue between the wrestlers and Adam Pearce, who a lot of the audience doesn't know. Pearce is a former five-time NWA Champion that also worked for Ring of Honor and was a booker there. Pearce has worked for WWE since May 2015 starting at the WWE Performance Center and then becoming a top Producer that's also booked the 205 Live brand as well. It also showed that Styles is heel that wants to get his spot in the finals while Bryan wants another match.
(Commercial)
There was a Total Bellas commercial. Poor Daniel Bryan.
The announce team of Michael Cole and Corey Graves were there to call the action while setting up what happened to begin the show. There were wrestlers surrounding the ring behind the plexiglass just like on Raw and NXT this week.
Battle Royal To Earn Spot in IC Title Tournament
It was a 10-man battle royal. There was a lot of standing around and doing nothing the first few minutes. Dolph Ziggler managed to avoid elimination a few times. Sheamus nearly got rid of Drew Gulak, but Drew (who signed a new WWE deal recently) was able to hang on. Sheamus was trash-talking Cole as he tried to eliminate Jey Uso and Shorty G nearly eliminated Sheamus, who managed to hold on. Lince Dorado was the first guy eliminated when King Corbin punched him out. Corbin was on the apron and gave Gulak a hip toss over the top to the floor. Gran Metalik got in some moves on Corbin, but then Ziggler hit Metalik with a superkick and Corbin got rid of Metalik. Corbin and Ziggler celebrated, then Ziggler tried to eliminate Corbin and when Corbin realized it, Corbin grabbed Ziggler by the hand and launched Ziggler over the top to the floor. Jey Uso hit a superkick on Corbin to eliminate him after Corbin eliminated four guys.
(Commercial)
There were five guys left: Sheamus, Cesaro, Jey Uso, Shinsuke Nakamura and Jey Uso. Sheamus and Cesaro with a double shoulder tackle on Shorty and then a fist bump between the former members of The Bar tag team. Shorty G hit a Tornado DDT on Sheamus. Uso hit superkicks on Cesaro and Nakamura, Shorty with a running Liger kick on Cesaro and Nakamura hit a spin kick on Jey. Shorty set up Nakamura on the apron, Cesaro with an uppercut on Shorty and Shorty held on to avoid elimination. Shorty grabbed Cesaro in a headlock over the top to the floor to eliminate Cesaro. Shorty went back in the ring while Cesaro was mad about the elimination. Nakamura battled Shorty with Shorty getting a hold of him with a belly to belly suplex over the top to the floor. While Shorty was looking at Nakamura, Cesaro went back in and eliminated Shorty. The referees were looking at Nakamura on the floor, so they didn't see Cesaro do the elimination, but they saw Shorty hit the floor, which meant Shorty was out.
Sheamus was in the final two with Jey Uso. Jey was sent to the apron, Sheamus tried to get rid of him, but Jey hit a jumping kick and a superkick. Jey went for a clothesline over the top to the floor, but Sheamus landed on the apron to hold on. Sheamus pulled Jey to the apron, which led to Jey hitting a chop to the chest. Sheamus blocked a superkick and Sheamus hit a Brogue Kick on Jey to eliminate him after 15 minutes.
Winner: Sheamus
Analysis: **3/4 It was a solid battle royal. I liked how Shorty G was booked in the match especially because they started an angle with him and Cesaro, which should lead to some great matches. King Corbin dominated early, but then Jey Uso was able to get rid of him. I liked seeing Jey involved. Sheamus winning isn't that much of a surprise since he barely lost to Jeff Hardy last week, so of course they want him to look better this week.
Sheamus celebrated the win and now he gets to face Daniel Bryan in the IC Title tournament semifinals.
Sonya Deville was shown backstage saying she beat a barbie doll Mandy Rose last week and this week she'll beat another one when she faces Lacey Evans. While Deville was talking, Evans gently pushed Deville over and called her a nasty. Their match is next.
(Commercial)
There was a shot of Shorty G complaining to Cesaro and Shinsuke Nakamura backstage with a referee standing by. Shorty said he eliminated both of them in the battle royal while Cesaro illegally eliminated Cesaro. That led to Cesaro telling Shorty to get out of their face, then made fun of him being short and suggested a match. Shorty hit Cesaro with a forearm and accepted the match.
Lacey Evans made her entrance. They showed some Twitter trash talk between her and Sonya Deville, who made her entrance.
Sonya Deville vs. Lacey Evans
Evans told Deville she'll show what blondes are capable of. Evans started on all fours to give Deville a chance, then Evans was able to get a double leg takedown and Evans flexed to show off her power. Evans ran the ropes right into a shoulder tackle by Deville. Evans with a kick to the face, took out a tissue and tossed it onto Deville. Evans said that Mandy will always be better, so Sonya punched her and whipped Evans into the turnbuckle. Deville stood on Lacey's hair and kicked Evans in the chest. Evans with a takedown using her legs and a face first slam that was almost like a DDT. Evans worked over Deville with forearms to the ribs and she trapped Deville against the ring apron. Deville broke free with a Spear-like takedown on the floor, Evans got back with punches and the referee counted them out for a double countout finish after about four minutes.
Match Result: Double Countout
Analysis: ** It's a case of a rare double countout finish to set up another match between two women that haven't interacted that much in the past. They worked hard, there were some hard shots in there by both women and as soon as the referee picked up the pace of his count you could tell the countout was coming. It was too short to be anything memorable, but Evans and Deville worked hard here.
After the match was over, Evans sent Deville ribs first into the corner of the announce table. Evans went back into the ring wanting to continue the fight. Deville said she'll fight her on her own terms.
Analysis: I'm not sure if Sonya's feud with Mandy is finished, but now she has a rivalry started with Lacey too. Sonya has been doing well of late, so I'm glad she's getting chances to do more.
The Forgotten Sons trio were backstage doing a promo. Wesley Blake is the one that wasn't in the army like the other two guys, but he respects them. Blake said that their blood was on your hands, but now "your" blood is on their hands. It's the same thing they say every week.
Alexa Bliss and Nikki Cross were backstage when The New Day showed up and they have a talk show segment after the break.
This week on Raw: Seth Rollins will host Rey Mysterio's retirement ceremony, plus Charlotte Flair vs. Asuka. There's also Apollo Crews defending the US Title, which was not mentioned.
(Commercial)
A Moment of Bliss Hosted by Alexa Bliss and Nikki Cross
Alexa Bliss and Nikki Cross entered in their ring gear with the Women's Tag Team Titles around their waist. Bliss welcomed us to the show while Cross said she was excited about the guests. Bliss introduced The New Day.
The New Day duo of Big E and Kofi Kingston entered as the current Smackdown Tag Team Champions. That means two sets of tag team champions are in the ring together for this talk show.
Bliss said they were there to talk about the competition. Cross gave them a box with Scottish pancakes, she said they made them by hand and they are her grandma's special recipe. Big E grabbed some coffee beans out of his tights, they poured some water in and Big E stirred some of the drink. Bliss was reluctant to take a sip, which was a smart move.
Bliss said that she's so excited to have them on the show and she wondered if there are any teams for New Day to face. Kofi said that The Forgotten Sons made a name for themselves in the Fatal 4-Way match. Big E wondered if Alexa Bliss had a team "who" could face them on Smackdown, which led to "who" being repeated by people in the building. That led to Bayley and Sasha Banks interrupting.
Bayley had the Smackdown Women's Championship in her hands. Bayley and Banks said they didn't see the best tag team on Smackdown in the ring and then they entered the ring to claim that they were the best team. Cross congratulated Bayley on the win over Charlotte Flair last week (Bayley won by cheating). Bayley said that she's the most dominant Smackdown Women's Champion in history. Bliss said that the second Bayley started talking, Bliss stopped listening. Bliss pointed out there were five champions in the ring and she asked Banks where her championship was? The fans reacted with an "ooohhh" for that. Bayley talked about Banks while noting Banks is the leader of the women's division. Banks said that they put the Women's Tag Team Titles on the map and said without them, there wouldn't be those titles. Bliss told them to name the time and place. Bayley suggested that Banks can beat Bliss right now even though Banks was not wearing her wrestling boots. Bayley said she would go get Sasha's shoes and Bliss hit a dropkick to knock Banks out of the ring.
Analysis: It's the typical WWE booking scenario where they do a talk show segment in order to set up a match. The New Day guys really didn't offer much in this setting, but by mentioning The Forgotten Sons it likely means that is their next rivalry. The trash talk with the women followed the pattern they have done in the past when Charlotte Flair also mentioned that Sasha Banks didn't have a title, so it's a way to try to drive a wedge between Banks and Bayley. I thought Bliss had some good lines in there.
(Commercial)
The match began after a break with Nikki Cross and Bayley joining the announce team. Banks was wrestling in sneakers that Bayley brought out to her, but they weren't Sasha's regular wrestling shoes.
Alexa Bliss vs. Sasha Banks
Bliss got a few rollups for two counts and Banks got a two count of her own. Banks with a knee that was blocked, so Bliss hit Banks with a slap to the face. Bliss with an elbow drop followed by the two knee drops to the ribs. Cross was hyper on commentary as usual. Banks drove the double knees onto Bliss against the turnbuckle and that got a two count. Bayley threatened punching Cole for some of his comments and Cross told her not to, which was funny. Cross makes me chuckle sometimes. Banks ran the ropes with the double knees attack for a two count. Cross led the crowd in "Lexi" chants and even Cole was joining in on some of the clapping. Cross was yelling at Bayley, so Cole was laughing about it while Banks pulled back on the arms of Bliss in the ring. Banks with a backbreaker. Banks told the fans to shut up, then talked trash and Bliss came back with punches. Bliss sent Banks face first into the mat leading to more clapping from Cross, which infuriated Bayley. Bliss with two clotheslines, a punch and dropkick. Banks sent Bliss face first into the turnbuckle followed by the meteora attack against the corner followed by a double knee attack to the chest for a two count. Bliss rolled through on Banks for a two count, then a headscissors into the corner and Bliss with a punch to the face. Bliss went up top, Bayley to the apron, Cross went after her and Bayley shoved Cross into the turnbuckle, so that knocked Bliss down. Banks with a knee attack on Bliss. Banks jumped over the top with a sunset flip into a pin on Bliss for the pinfall win after seven minutes.
Winner by pinfall: Sasha Banks
Analysis: **1/4 This was okay. They have wrestled a lot in the past. It's nice to see Banks get a meaningful win since she seems to be on the losing end more often than she should. I thought the finish was booked well with Bayley shoving Cross into Bliss and then Banks capitalized to win. Heels should cheat to win occasionally. Cross was very entertaining on commentary as usual when she's in that spot.
Coming up on Smackdown is some celebration between Otis and Mandy Rose. Up next is a recap of the story to start the show.
(Commercial)
Otis and Mandy Rose were chilling by the pool with some champagne and they had peaches since he calls her his "peach" all the time. Mandy in a bikini are a welcome sight. Otis in his short trunks is not as good of a sight. Otis wanted to hang out, but Mandy said she was sleepy. That led to Mandy putting on her shades and had some dream sequence where it was like she was fantasizing about Otis. It featured clips of slow motion Otis and then Mandy was making out with him in this dream sequence. The dream ended and Otis hit a cannonball that led to water splashing on Mandy. Otis asked if he woke her up, she said it's okay and said she was having an amazing dream. They went into the pool and kissed on the lips with Mandy saying "Oh Yeah" which is Otis' catchphrase. Apparently it was a parody of the movie Fast Times at Ridgemont High. I haven't seen that movie in many years, so it didn't come to mind, but I had a few people mention it. WWE mentioned "Fast Times" in the video below too.
Analysis: The Otis and Mandy storyline has been great for him more than her. I think this was a way to try to show the audience that they are a couple by having them make out on screen because they haven't really done that since WrestleMania nearly two months ago. They didn't have much on screen chemistry in the past. Perhaps a segment like that will make it look more believable. Anyway, lucky man Otis. Mandy looked tremendous.
There was a clip of Kurt Angle talking about how it was great to be back on Smackdown. Angle talked about some of the big names that used to run Smackdown including Edge and Randy Orton. Angle said he was looking forward to Edge vs. Orton at Backlash. Angle introduced the superstar that will become the face of this brand. Angle said he got to see him up close and personal at NXT this past Wednesday and tonight he's happy to announce he's coming to Smackdown on Fox. It's Matt Riddle! A video aired showing Matt Riddle in action talking about how he is pretty chill, but he can go from brodown to throwdown at the flip of a switch. Riddle said he's competed all over the world in all kinds of words and he's done it all in wearing no shoes.
Analysis: It was a smart way to introduce Riddle by having Kurt Angle endorse him. Riddle to Smackdown was reported earlier in the week. I'm glad he's there. I think he'll do very well on the blue brand and I hope he gets a significant push. Putting Riddle against Nakamura or Cesaro would be a good choice as a first feud for him.
Sheamus showed up for an interview with Kayla Braxton. Sheamus said while Jeff Hardy and Matt Riddle get all the hype, he gets results. Sheamus said that the Intercontinental Title is the one title he hasn't won in WWE. Sheamus said he won't let Daniel Bryan get in his way to stop him from being the ultimate Grand Slam champion. Sheamus said there's no place for the weak. Daniel Bryan showed up for a staredown, Sheamus told him to say something, Sheamus shoved him in the chest and Bryan stomped on Sheamus' foot. Bryan left. That main event match is next.
(Commercial)
A video aired reminding us of Braun Strowman's rivalry with John Morrison and The Miz. It will lead to a match at Backlash in a 1 on 2 match for the Universal Title held by Strowman. Morrison and Miz got the title shot even though they lost to Strowman in back to back weeks.
Next week on Smackdown: The Miz and John Morrison have a warning for Braun Strowman. Also, Alexa Bliss and Nikki Cross defend the Women's Tag Team Titles against Sasha Banks and Bayley, who were the first champions.
Daniel Bryan made his entrance for the main event. Bryan was laughing about how enthusiastic the wrestlers were in the "crowd" as they did the "YES" chants for him. Sheamus was up next as the opponent.
Intercontinental Championship Semifinals: Daniel Bryan vs. Sheamus
Sheamus was in control using his power to keep Bryan grounded. Sheamus grabbed an armbar, then Bryan came back with punches and kicks to the ribs. Cole noted there were nine World Championships between these two men. Sheamus with a running clothesline, then forearms to the chest and back and pulled on the face of Bryan. Bryan ran the ropes leading to a clothesline and Bryan hit a back body drop over the top on Sheamus to send him to the floor. Bryan hit a suicide dive on Sheamus into the barricade as the show went to break.
(Commercial)
The match returned with Sheamus wearing down Bryan with repeated elbows to the head as the fans booed Sheamus for his actions. Sheamus hit a knee lift that knocked Bryan out of the ring and Sheamus whipped Bryan into the barricade at ringside. Sheamus taunted Cole by telling him to do "yes" chants, Cole was scared of him and the guys went back into the ring. Sheamus jumped off the top with a clothesline for two. Sheamus said he created the "Yes Movement" at WrestleMania when he won in 18 seconds. It's partially true, but not exactly. Anyway, Bryan came back with punches, but Sheamus caught him with the Irish Curse Backbreaker followed by a Texas Cloverleaf by Sheamus. That was a very nice sequence as Bryan crawled to the bottom rope to break the hold. Bryan with forearms, then a neckbreaker across the top rope, but then Sheamus hit a Brogue Kick while Bryan was up top. Sheamus tried a superplex attempt, Bryan blocked with punches and a headbutt followed by a missile dropkick off the top rope. Bryan with kicks to the chest, then Sheamus avoided the roundhouse kick and Bryan got a crucifix pin for two. Sheamus got back to his feet leading to the White Noise slam for a two count. Bryan with a drop toe hold into the middle turnbuckle, then a kick and a running dropkick. Bryan charged again, but Sheamus came back with a double axehandle smash to the face with Bryan selling it great with a flip bump. Jeff Hardy showed up on the ramp to yell at Sheamus, who was distracted and Bryan hit Sheamus with a running knee to the face for the pinfall win. The match went about 12 minutes.
Winner by pinfall: Daniel Bryan
Analysis: ***1/4 This was a very good match between two guys that work well together. I think Bryan is the best rival of Sheamus' career because I think back to Extreme Rules 2012 (WrestleMania 28 is more famous, but ERules 2012 is much better as a match) and I really enjoyed it. A lot of those things showed up here as well with Sheamus using his power, Bryan making the comebacks and all of it just looks very crisp when they are out there. I know from reading Bryan's book years ago that they were travel partners as well, so they are close friends. Anyway, the Hardy appearance gives Sheamus an out by not making it a completely clean loss.
The win by Daniel Bryan means he'll face AJ Styles in the Intercontinental Title tournament finals for the title. I believe the match is in two weeks on Smackdown, which is two days before Backlash.
It will be @AJStylesOrg vs. @WWEDanielBryan in the #ICTitle tournament finals!#SmackDownpic.twitter.com/KMhenQdxcu

— WWE (@WWE) May 30, 2020
Post match, Jeff Hardy went into the ring and attacked Sheamus with punches. The announcers wondered what was happening. Sheamus ran out of the ring and got away. Jeff Hardy celebrated in the ring to end the show.
Analysis: It's likely going to lead to a storyline reveal that Sheamus (or somebody else) was the cause of the car accident after he beat up Jeff Hardy and drove Jeff's car into Elias in the parking lot. They can say the culprit planted a bottle in the car and beat up Jeff in the bushes. Remember how they found Jeff in the bushes away from the cars? There will probably be some mystery footage that shows somebody did it and beat up Jeff. They probably should have a quick promo from Jeff at the end saying he was innocent and he was set up.
Here's the Hardy storyline update on WWE.com that went up after Smackdown:
WWE Digital has learned Jeff Hardy was released from custody by the Orlando police after successfully passing the required sobriety tests, therefore absolving Hardy of the charges of public intoxication, driving under the influence, and the hit-and-run on Elias earlier tonight.

Elias was found injured in the parking lot with an abandoned car nearby before Friday Night SmackDown began. Hardy was taken into custody after being found in a dazed state not far from the scene, but he reemerged as Sheamus battled Daniel Bryan in the night's final match.

Stay tuned to WWE social and digital channels for the latest updates on the developing situation.
At least they tried to explain how Hardy was allowed to show up at the WWE PC to end the show.
Since I had people complaining about the angle with WWE using Jeff Hardy in this spot, here's how I explain it: Jeff Hardy wasn't drinking on the show. Somebody beat him up, threw him in the bushes, dumped booze on him and crashed the car into Elias. Then a heel will be responsible and Jeff will get revenge. There's a long term storyline here where they can use a hacker video to reveal who did it. Remember the mystery hacker story? Use it here. It's not like WWE showed Jeff Hardy drinking alcohol. He was framed. The story is about Jeff getting revenge against whoever did this to him.
I don't love the angle, but I try to understand it and I think Smackdown needs something in terms of storylines to build up interest. The same old shit isn't drawing ratings or interest in the blue brand, so trying to tell some long term storylines is a good idea. Will everybody like the angle? Of course not. It is too close to home because we know Jeff's history of drugs and alcohol, but once again they aren't having the guy drink a bottle of whiskey on camera. It's a story and if it causes a reaction from fans at home then that's what WWE wants.
Three Stars of the Show
Daniel Bryan
Sheamus
Cesaro/Shorty G
The Scoreboard
6.25 out of 10
Last week: 7.5
2020 Average: 6.14
Final Thoughts
The show was solid this week with some good storyline progression throughout, but the matches weren't as interesting as what they did last week. There was a big angle to start the show with Jeff Hardy drunk driving to take out Elias in his car, but it looks like a long term storyline to show that somebody framed Hardy for it and that it wasn't really him. I guess WWE felt the need to start a soap opera storyline using a guy that has had multiple DUIs in his past. Is it smart to do that angle with a guy like Hardy considering his past? That's up to the viewer to decide, but it's a way to play up Hardy's real past and use it in a storyline to gain sympathy for him. I don't love it or hate it. By having Jeff show up at the end to go after Sheamus, it suggests that Sheamus was the cause of it, so they'll probably explain it more next week. Then again, it could be a mystery person like AJ Styles, who got a bye into the finals because of the accident. There are a lot of options and ways it can go with plenty of other choices on the roster. Keep in mind that Smackdown has the mysterious hacker angle, so that could be part of it. It's episodic TV after all. Some wrestling fans have no patience and don't want to wait for stories to play out. Long term stories are a good thing. We need to see more of them in WWE.
The best match was Daniel Bryan beating Sheamus in the main event. I really liked Shorty G beating Cesaro, but it wasn't long enough. The Banks win over Bliss was booked well. The battle royal was entertaining for the most part.
I think Smackdown has been entertaining post-WrestleMania, but the Universal Title picture has been boring. At least the IC Title tournament has provided some good matches with a Bryan vs. Styles finals that should be excellent.
The next WWE pay-per-view is Backlash on June 14. Here's the lineup so far.
Edge vs. Randy Orton – I think this will be the main event.
WWE Championship: Drew McIntyre (c) vs. Bobby Lashley
Universal Championship: Braun Strowman (c) vs. The Miz and John Morrison
Raw Women's Championship: Asuka (c) vs. Nia Jax
If they do Seth Rollins vs. Rey Mysterio and some tag team matches then it's a pretty good lineup.
—
Thanks for reading. My contact info is below.
John Canton
Email mrjohncanton@gmail.com
Twitter @johnreport
Personal Facebook and TJRWrestling on Facebook