The John Report: WWE Smackdown 05/01/20 Review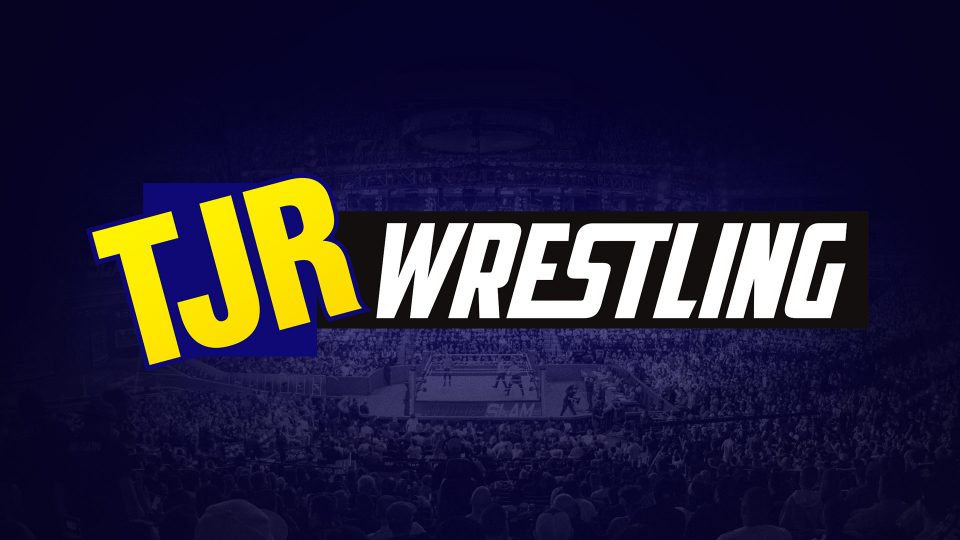 Welcome to another WWE Smackdown review here on TJRWrestling. The ongoing health crisis continues and because of that, WWE taped this show last week. They also taped next week's show, so that way they didn't have to fly their superstars in every week and it gives everybody a break. Since we don't get spoilers from these tapings anyway, going live or taping the show doesn't really have an effect on us as viewers. The positive thing for WWE is they can edit out things if they want. The WWE Money in the Bank pay-per-view is on May 10, so we'll see how they continue to build that card that is not finalized yet.
From the WWE Performance Center in Orlando, Florida, this is Smackdown for episode #1080. Follow me on Twitter @johnreport. Please visit TJRWrestling.net daily for our regular updates on the wrestling business featuring WWE news coverage along with reviews about wrestling's past and present. Thanks to Melo Man for the banner up top.
The show began by promoting the two Money in the Bank qualifying matches: Otis vs. Dolph Ziggler and Mandy Rose vs. Carmella. Plus, Bray Wyatt will be there with the Firefly Fun House. The announcers are Michael Cole and Corey Graves as usual.
Daniel Bryan made his entrance as the Money in the Bank briefcases were above the ring. Bryan's in the MITB contract ladder match and so is his opponent. Bryan said that it's no secret that he loves what he does and at this stage in his career, he loves overcoming obstacles and trying new things. Bryan said it's the most unique match in WWE history that is taking place at WWE headquarters and they will risk it all to reach that briefcase on the roof of WWE headquarters. Bryan said that's wild. Bryan said he's competed in a lot of weird and wild places like pawn shops, gas stations and things like that, but it's the first time in an office building. Bryan wondered if he can take the elevator to the roof, is there catering and would he get fined for breaking something expensive? Bryan asked: "Is it true that Mr. McMahon has dinosaur bones in his office?" Bryan said he'll find out. (Vince does! I've seen the photos!) Bryan said it's an opportunity for him. Bryan talked about how nine years ago he couldn't even get booked on Smackdown and then he won the Money in the Bank match (in 2011), then he cashed in on Big Show to become a World Champion for the first time. Bryan said that winning the Money in the Bank match was the pivotal moment in his WWE career. Bryan said that's what spawned the "Yes Movement" and fighting for his dreams. Bryan said that it proved he belonged in WWE with the very best, so yeah he's excited. Bryan said that he was hoping his coach and good friend Drew Gulak would be competing with him, but unfortunately, King Corbin ruined that for Drew, so he called out Corbin to settle this right now.
Analysis: Great promo from Bryan, who is as good as any talker in the company. Bryan did a nice job of talking about the craziness of the Money in the Bank match this year while also putting over how important it is.
King Corbin showed up telling Bryan you should be careful what you wish for when you called out Corbin. Corbin bragged about taking out Bryan's coach Drew Gulak. They showed a clip of Corbin beat Gulak last week after Cesaro and Shinsuke Nakamura attacked Bryan at ringside. After Corbin beat Gulak, Corbin hit Gulak in the throat with a scepter, so Gulak is out this week selling that injury. Corbin told Bryan to stop dreaming about winning Money in the Bank said it's just a dream. Corbin reminded Bryan that he (Corbin) has won Money in the Bank before and said he'll stand tall looking down at his subjects as King Money in the Bank.
Bryan pointed out that there have been 23 Money in the Bank winners and Corbin is one of four people to completely blow it. Bryan reminded us that you can surprise people and Corbin blew it. Bryan said that makes Corbin a loser, not a king. Corbin said Bryan should watch it or he'll end up like Gulak or Elias. Corbin said that Bryan is tired now and he hired Gulak as a coach while Corbin said now he's smarter than he was when he won Money in the Bank. Corbin said he'll show Bryan right now.
Analysis: It was a solid promo from Bryan. Both guys did a nice job of putting over the importance of winning Money in the Bank with Bryan mocking Corbin for not winning a World Title while Corbin continues to brag about how dominant he has been. They both made good points.
(Commercial)
King Corbin vs. Daniel Bryan
Bryan with a kick to the leg, so Corbin overpowered Bryan against the turnbuckle followed by a forearm to the face. Bryan grabbed the foot for a trip attempt, but Corbin blocked and hit a running shoulder tackle. Bryan with a running dropkick to the knee. Bryan with a dragon screw leg whip on Corbin followed by a kick to the back of the left leg and Corbin got to the ropes when Bryan went for a kneebar submission. Bryan drove the left knee into the canvas, but then Corbin grabbed the leg and Corbin mounted Bryan with forearms to the face. Corbin called Bryan a disappointment just like his coach and then punched Bryan in the head. Corbin with elbow smashes, then Bryan came back with kicks and strikes. The ref broke it up, so Corbin hit Bryan in the ribs with a punch. Bryan with forearms, but then Corbin punched Bryan out of the ring. Corbin whipped Bryan's left shoulder hard into the ring post.
(Commercial)
The show returned with Corbin grounding Bryan with an armbar on the left arm and then Corbin with punches to the ribs. Bryan got a crucifix pin attempt for two and a rollup pin for two. Corbin with a knee to the ribs, Corbin charged, Bryan avoided and Corbin did his slide out of the ring and slide back in for a two count. Bryan tried to fight back, but Corbin stopped that with a rising knee to the face. Bryan got some momentum going as Corbin was on the floor and Bryan hit a suicide dive on Corbin on the floor. Back in the ring, Bryan hit a missile dropkick off the top rope. Bryan worked over Gulak with kicks to the back of the leg and Bryan slapped on an Ankle Lock submission. Bryan stomped on the left foot followed by a kick to the face for a two count. Corbin came back with a Deep Six slam for two because that's what that move usually gets. Bryan went for a half crab submission, but Corbin was able to get to the bottom rope to break it. Bryan kicked Corbin in the upper body, Corbin to the floor, Bryan tried a dive, Corbin caught him and Bryan kicked Corbin. When Corbin was on the floor, Corbin grabbed a ladder and Corbin tossed a ladder at Bryan. The referee called for the disqualification after 15 minutes.
Winner by disqualification: Daniel Bryan
Analysis: ***1/4 This match was pretty good with each man working on a body part and getting plenty of offense. If you give Bryan that much time in a match it's always going to be solid even he's against a boring wrestler like Corbin. Bryan's comeback was very well done, it looked like he might get the win and then Corbin did the cheap thing by throwing a ladder at Bryan. It's a way to keep both guys strong without having one of them lose. It wouldn't surprise me if WWE went to Bryan vs. Corbin as a feud after the next PPV.
Post match, Corbin brought a ladder in the ring and told the referee this is happening because of him. Corbin tried a slam onto the ladder, but Bryan broke it up and Bryan put the Yes Lock on Corbin. Shinsuke Nakamura saved Corbin by hitting him with a running knee to the back of the head. Cesaro hit Bryan with a ladder to send Bryan out of the ring. Corbin whipped Bryan into a ladder by the stage, which knocked down other ladders by the entrance. Corbin celebrated with his scepter to end it.
Analysis: It was fine for a post match angle to put the heels over as being cheap in terms of how they attacked in that manner. I think it's possible that Bryan wins at Money in the Bank, but my official pick, for now, is Aleister Black. Sami Zayn has apparently opted not to work the tapings, so WWE is putting Nakamura and Cesaro with Corbin. It fits because they're heels, but I miss Zayn's presence.
Braun Strowman was talking to Alexa Bliss backstage, she handed him one of his t-shirts and Strowman wiped his head with it. Strowman is up next.
(Commercial)
There was a photo of Drew McIntyre sending a WWE Title to a World War 2 veteran that is 100 years old. In other words, WWE sent it and said Drew did to make the top face Drew more likable. I like Drew, but it is what it is. It's a nice thought.
Let's Hear from Braun Strowman
The WWE Universal Champion Braun Strowman made his entrance. Strowman defends his title against Bray Wyatt at Money in the Bank.
Strowman said that the past is the past, but at Money in the Bank he's going to…and here's Bray Wyatt.
Bray Wyatt was sitting in a rocking chair with a book on his leg because he said it's story. Wyatt "read" a book called The Black Sheep. Wyatt said that the Black Sheep looked like Brun, he smelled funny and the shepherd noticed the Black Sheep wandering alone, so the shepherd took him home. Wyatt read that the Black Sheep left the shepherd for greener pastures. Wyatt said that eventually all of the other animals abandoned the shepherd and then the shepherd lost the entire farm. Wyatt said that the reptilians took over. Wyatt said there's another story where the shepherds find the Black Sheep, then takes away what makes him happy and straight to the slaughterhouse but there's Strowman with the interruption.
Strowman said that he was sick of this and he told Bray to say it to his face. Wyatt simply waved at Strowman to end it. Wyatt said he'll see you soon, bye and Strowman looked at the Universal Title. That was it.
Analysis: This was very basic. A short promo from Wyatt talking about their history by telling a story. It didn't make me any more interested in their Money in the Bank match.
Sheamus was shown warming up backstage for a match up next.
(Commercial)
There was a video about WWE's work with Make A Wish in celebration with Make A Wish's 40 Year Anniversary. John Cena narrated the brief video.
Sheamus made his entrance to win another squash match. As Sheamus got to the ring, he stared at Cole and Graves since Sheamus got mad when Cole has mentioned Jeff Hardy in the three previous weeks with Sheamus around.
Sheamus vs. Leon Ruff
Ruff with a dropkick that barely grazed Sheamus, then Sheamus avoided a second dropkick and Sheamus hit an Irish Curse backbreaker. Sheamus with another backbreaker as he stared at Cole. Sheamus with a third backbreaker and then he tossed Ruff out of the ring. Sheamus with the ten forearms to the chest. Sheamus backed into the corner, Ruff slowly got back up and Sheamus hit a Brogue Kick on Ruff for the pinfall win in about two minutes.
Winner by pinfall: Sheamus
Analysis: 1/2* Another squash win for Sheamus. That Brogue Kick looked great.
Sheamus went over to the announce team to ask if they're going to show Jeff Hardy again and Cole said they are because this is the comeback.
A Part Four video aired about Jeff Hardy called The Comeback. They showed a clip from Jeff in April 2019 saying the knee was in bad shape and he has done what he could to better himself. Hardy was on WWE Backstage recently saying he was cleared and he is ready to fell it again. Hardy said that he will be different as the 2020 version of Jeff Hardy and said there was something left for him to do in WWE. Jeff said that he's very blessed after the dark days (multiple arrests) and they showed highlights from Jeff's career. Jeff said he knows he has it in him to do what he loves to do and do it better than he's ever done it. Hardy said he takes pride in being human while adding that he knows the people still care about him. Hardy said he was born to do this and he's ready for the future.
Analysis: It's going to be hard for Jeff to recapture the magic that he had in those 2008-09 years where he was more popular than anybody in WWE. I'm rooting for him to do well and I'm glad he has gotten clean after years of alcohol/drug problems.
It was announced that Jeff Hardy is back on Smackdown on Fox next week.
Sheamus was still at the announce table, so he spoke to Cole saying that it's good that Jeff Hardy will be there next week because Sheamus will be there too.
Analysis: It would make sense to set up a Sheamus vs. Jeff Hardy match for Money in the Bank. That's a fresh rivalry for both of them that can stretch over a few PPVs as well. If Jeff won the first match it would be an upset since Sheamus is so dominant, so then Sheamus could attack to set up more matches.
Otis and Mandy Rose were interviewed backstage by Kayla Braxton with Otis saying he'll beat Dolph Ziggler again. Mandy said that what Sonya Deville hurt her, but she's focusing on Carmella, who is a former champion and she's even won Money in the Bank before. Rose said that Otis is going to win the Men's Money in the Bank match and she'll win the Women's Money in the Bank match. Mandy said she's got this and then she kissed Otis in the cheek with Otis doing his "oh yeah" Chris Farley impression to end it.
Carmella made her entrance for the Money in the Bank qualifier after the break at the end of hour one.
(Commercial)
Mandy Rose made her entrance in some blue ger that I believe is new for her. The Money in the Bank briefcase was above the ring.
Women's Money in the Bank Qualifying Match: Carmella vs. Mandy Rose
Rose grabbed a headlock, Carmella with a headscissors and a snapmare. They did a spot where they each ran the ropes, Carmella avoided Rose and Carmella hit a superkick for two. Rose fought out of an armbar and she hit a body slam followed by a chinlock. Sonya Deville's music hit, Sonya appeared and Deville did a promo from the stage. Rose hit a backbreaker as Deville talked about how she nearly helped Deville win Money in the Bank, but then Mandy still lost. Carmella came back with a clothesline as Deville continued to talk. Carmella with forearms, then a boot to the face and Rose hit a forearm to the face of Carmella. Deville told Rose that karma's a bitch, Rose was distracted and Carmella hit a superkick for the pinfall win after about four minutes.
Winner by pinfall: Carmella
Analysis: *1/4 That's the worst kind of finish in WWE where they not only have somebody standing on the ramp, but doing a promo during the match. It almost always leads to the wrestler being distracted because they apparently don't know how to continue after that happens. Anyway, I would have liked to see Mandy Rose win here, but it's not her time yet. Carmella winning doesn't interest me much. Carmella is very boring as a face.
The win by Carmella means that the Women's Money in the Bank Ladder Match looks like this: Asuka vs. Shayna Baszler vs. Nia Jax vs. Dana Brooke vs. Lacey Evans vs. Carmella.
Post match, Deville went into the ring and hit a running knee on Rose. Deville tossed Rose out of the ring where Sonya whipped Rose into the ring post and the steel steps. Deville hit a running knee to the back that sent Rose into the steel steps. Deville was laughing about it as referees and Producer Jamie Noble showed up to check on Rose. Deville left looking proud of herself. Deville was yelling "I will end you" as referee Charles Robinson held Deville back. Deville told Rose that she will ruin her life.
Analysis: This post match attack was a lot better than the match. That was an aggressive attack by Deville with Rose selling everything very well. The bumps into the ring post and steel steps looked great. I feel like Rose and Deville can have a good match together because they know eachother so well. It all depends on if they get time.
Next up on Smackdown is The New Day vs. The Forgotten Sons.
This Monday on Raw, Drew McIntyre faces Murphy and there's a Last Chance Gauntlet Match for a spot in the Men's Money in the Bank Ladder Match.
(Commercial)
There was a shot of Mandy Rose in the trainer's room with a doctor looking at her right leg that had a big scar/bruise on it. Otis checked on her, she said she'll be alright and the doctor said he had to check it out. Otis was continuing to walk in the Performance Center and Dolph Ziggler was there to ask if Mandy was okay. Otis looked at it, breathed heavily and said nothing. Ziggler left.
The New Day duo of Kofi Kingston and Big E made their entrance as the Smackdown Tag Team Champions. This is a non-title match. The Forgotten Sons entered as they showed highlights from last week when they looked strong in a meeting of WWE tag teams. The Miz and John Morrison entered to join commentary for this match.
The New Day (Kofi Kingston and Big E) vs. The Forgotten Sons (Wesley Black and Steve Cutler) (w/Jackson Ryker)
This match is not for New Day's Smackdown Tag Team Titles.
Big E with a slam on Cutler and Kofi tagged in with a running kick on Cutler. Blake tagged in, but Kofi got the advantage against him with a running dropkick. Blake whipped Kofi down by the hair. Kofi sent Cutler out of the ring, Big E tagged in and Big E with a belly to belly suplex on Blake two times and a side belly to belly on Blake. Cutler charged at Big E, who hit a back body drop on the floor. Big E hit a big splash on the apron on Blake leading to a break.
(Commercial)
The match returned with Kofi leaping over Big E's back and hitting a splash on Cutler. Big E was legal as he chased after Cutler, Blake got the tag and Cutler kneed Big E in the back to send him out of the ring. Blake hit a suicide dive on Big E and then a splash for a two count. Cutler tagged in for a double team spinebuster on Big E for a two count. Blake tagged back in for a double team backbreaker on Big E for two. Miz and Morrison did their "hey hey, ho ho" song on commentary. Impressive lyrics. Blake charged and was met by a huge uranage slam by Big E. Kofi tagged in against Cutler with a chop off the top, a dropkick and a clothesline with Cutler selling it before there was even contact. That looked weird. Kofi hit a boom drop leg drop on Cutler. There was a distraction from Blake, so Cutler hit a backbreaker for two. Kingston got back into it with a double foot attack to the chest for a two count. Blake got the tag, Cutler with a backstabber and Blake jumped off the top with an elbow drop on Kingston for a two count. Cutler tagged back in, Kingston sent both opponents out of the ring and Big E launched Kofi over the top onto both opponents. Kingston got the tag, Big E with a clothesline and Cutler sent Big E out of the ring. Ryker whipped Big E into the ring post to take him out. Kingston punched Cutler, but Blake made the blind tag with a double knee attack to the back of Kingston. Cutler jumped off the middle ropes with a stomp to the chest into a reverse DDT by Blake and Blake picked up the pinfall win on Kingston after 13 minutes.
Winners by pinfall: The Forgotten Sons (Wesley Black and Steve Cutler)
Analysis: **1/4 This is typical WWE booking where the champions lose non-title to build up the opponents for a future title shot. We've seen it so many times and really it's been going on for decades. It is done so often that as soon as the match was setup, most regular WWE fans likely knew what was coming. The Forgotten Sons winning does give them their biggest win so far, so I get it in terms of wanting to build them up by beating New Day. I just find it difficult to get excited about the same booking tactics all the time. I liked some of the tag team moves from the Forgotten Sons. They didn't get a big push in their NXT days, but they work well together.
Post match, Miz and Morrison chanted "you deserve it" at New Day for the loss.
Still to come is Otis vs. Dolph Ziggler.
(Commercial)
The announcers talked about WWE Money in the Bank on May 10. They revealed the Men's and Women's Money in the Bank Ladder Matches will take place simultaneously. It was taped a few weeks ago and there were reports that it was done at the same time, so there's the confirmation of that.
A clip was shown of Lacey Evans beating Sasha Banks last week with Banks getting mad at her friend Bayley for accidentally costing her the win.
Tamina was interviewed by tiny Kayla Braxton with Tamina saying she's up for the challenge. Sasha Banks showed up looking nearly as tall as Tamina, so she must have been in some high heels. I notice things like that. Anyway, Banks noted that she made her WWE debut standing by Tamina's side and she knows how kind Tamina is. Banks said you know how much Banks loves her friend Bayley and they can stand tall as the strong women they are. Bayley showed up for a cheap attack on Tamina, but then Lacey Evans joined in on the fun. The fight was broken up by referees and Producer Sonjay Dutt. The women yelled at eachother as they were separated.
Dolph Ziggler was shown backstage with Sonya Deville talking about how she hurt Mandy while telling Dolph that he hopes Dolph can do it to Otis. Ziggler said that just because he knows how the world works doesn't make him the bad guy. Ziggler said people like Otis don't really win – they get pats on the back and sympathy likes and they start to believe that heart actually matters more than skill, hard work or talent and with a little luck they might get some moral victories. Ziggler said that he's the winner and he'll be in that ring doing what he's better at than anybody else. Ziggler said he'll go on to Money in the Bank, he'll win again, he'll cash in that contract again and he'll be champion again. Ziggler said after Sonya is done hurting Mandy, Ziggler said he'll slide up to Mandy as the new champ and make her feel better. Sonya: "Sounds like a plan to me."
Analysis: Solid promo from Ziggler there. I just don't know if the audience sees Ziggler as a top guy the way Ziggler sees himself. Ziggler isn't booked that way anymore.
Otis made his entrance for the main event. Yes, Otis is a TV main eventer now. It doesn't make me too excited.
(Commercial)
Next week on Smackdown: King Corbin, Cesaro and Shinsuke Nakamura vs. Daniel Bryan, Drew Gulak and a mystery partner. Also, Tamina and Lacey Evans vs. Bayley and Sasha Banks. There will also be a face to face between Braun Strowman and Bray Wyatt.
Dolph Ziggler made his entrance for the main event match. The Money in the Bank briefcase was above the ring.
Money in the Bank Qualifying Match: Dolph Ziggler vs. Otis
Otis with a running shoulder tackle that Ziggler sold very well by bumping to the floor. Otis with a delayed suplex and a body slam. Ziggler with a headbutt, Otis caught him and did a catapult that launched Ziggler head first into the middle turnbuckle. Big time oversell by Ziggler on that, but not in a bad way. It looked believable. Back in the ring, Otis with a belly to back suplex for two. Ziggler was against the turnbuckle, Otis charged, Ziggler moved and Otis hit the post leading to a bump to the floor. Ziggler shoved Otis into the barricade.
(Commercial)
The match returned with Ziggler in control with a dropkick, then a headbutt and another dropkick that sent Otis into the ropes. Ziggler grabbed a chinlock, then he tried a sleeper and Otis powered out of it. Ziggler with a kick to the gut leading to Otis doing his hulking up routine with a punch, then a clothesline and Ziggler came back with an elbow. Otis drove Ziggler into a corner leading to Ziggler selling like he was knocked out. Otis tried his Caterpillar spot, but Ziggler rolled to the apron. Ziggler with a neckbreaker using the ropes for n assist, Otis blocked a Fameasser attempt, so Ziggler with an eye gouge and Ziggler hit a Zig Zag for two because that's not his finisher anymore. Ziggler wanted a superkick, but Otis caught him and tossed him across the ring. Otis did the Caterpillar into an elbow drop for the pinfall win after 11 minutes.
Winner by pinfall: Otis
Analysis: **1/4 The match was okay. That finisher by Otis looks so weak. I know The Rock (happy birthday by the way) used the People's Elbow, but Otis is no Rock. Otis should go with a front slam like what Mark Henry used or something like that. They told the story of Otis dominating early, then Ziggler managed to take control for a few minutes and Otis came back to win. Ziggler did a great job of bumping to make Otis look strong. Obviously, Otis is a strong guy, but Ziggler's selling has always been a strength for him. I actually thought Ziggler would win since Otis won at WrestleMania, but instead Otis is 2-0 against Ziggler now.
The win by Otis means the Money in the Bank Qualifying Match looks like this: Daniel Bryan vs. Aleister Black vs. Rey Mysterio vs. King Corbin vs. Otis and one more wrestler from Raw.
The show ended with Otis standing in the ring celebrating the win with the announcers plugging Money in the Bank. That was it.
Three Stars of the Show
1. Daniel Bryan
2. Dolph Ziggler
3. Mandy Rose/Sonya Deville because I liked their post match segment.
The Scoreboard
4.75 out of 10
Last week: 5.5
2020 Average: 6
Final Thoughts
This was a below-average show. I had a hard time getting into anything they did. It's hard to get excited about anything on Smackdown right now. The booking is predictable like with Deville costing Rose the win, the tag champs losing non-title and then the main event of Otis vs. Ziggler was one of the weakest main events I think there's ever been on Smackdown. None of the matches were terrible. There just wasn't much that stood out this week. The show just feels boring. It's hard for me to recommend anything because a lot of it was skippable this week.
The build to the Strowman vs. Wyatt match at Money in the Bank has been as boring as anything on either Raw or Smackdown in the last month. I can see them going two PPVs with it with Braun beating Bray at MITB and then "The Fiend" wrestles Braun at the next PPV. They haven't done anything to make it feel interesting and it's supposed to be for the Universal Title. We complain when there are part-time champions, which is justified. However, now that there's a full-time champion like Strowman there isn't anything interesting about it.
I know it's hard to do these shows without fans with a top guy like Roman Reigns missing, but the lack of creativity by the creative team has made Smackdown a consistently average show. I gave it a 7 two weeks ago because it was a fun show that had better matches and built storylines. This week was lacking in those things. It's hard to get excited about anything WWE is doing when it comes to Smackdown. Raw hasn't been great, but at least it has been better.
The next WWE pay-per-view is Money in the Bank on May 10. Here's what we know so far:
WWE Championship: Drew McIntyre (c) vs. Seth Rollins
Universal Championship: Braun Strowman (c) vs. Bray Wyatt
Men's Money in the Bank Contract Ladder Match: Daniel Bryan vs. Aleister Black vs. Rey Mysterio vs. King Corbin vs. Otis and one more wrestler from Raw
Women's Money in the Bank Contract Ladder Match: Asuka vs. Shayna Baszler vs. Nia Jax vs. Dana Brooke vs. Lacey Evans vs. Carmella
Smackdown Tag team Championships: The New Day (c) vs. The Forgotten Sons vs. Lucha House Party vs. The Miz and John Morrison – It was announced by WWE on Saturday right here.
Smackdown Women's Championship: Bayley (c) vs. Tamina
It would also make sense to have Sheamus face Jeff Hardy on this show.
There's currently no Raw Tag Team Title match on the card, but that might change because The Street Profits face The Viking Raiders on Raw in a non-title match and typical WWE booking would suggest that they face off at Money in the Bank too.
A match between Sonya Deville and Mandy Rose would make sense based on their story over the last month.
It doesn't appear as though Raw Women's Champion Becky Lynch will have a match on the card.
There will probably be eight or nine matches on the card, so we should know more after Raw and Smackdown next week.
You can check out WWE Money in the Bank streaming on WWE Network on Sunday, May 10, at 7 ET/4 PT.
—
Thanks for reading. My contact info is below.
John Canton
Email mrjohncanton@gmail.com
Twitter @johnreport