The John Report: WWE Smackdown 03/27/20 Review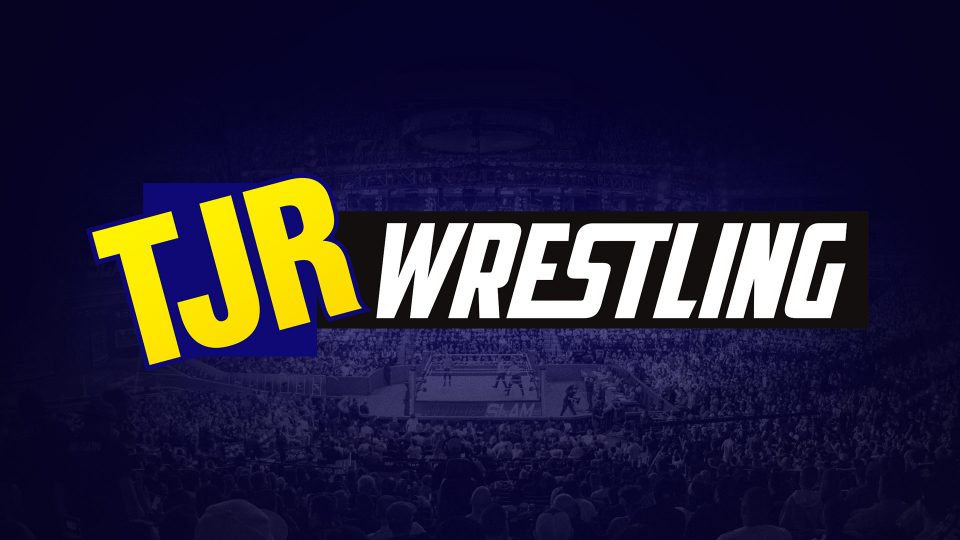 Welcome to another WWE Smackdown review here on TJRWrestling. This is the third week of Smackdown at the WWE Performance Center due to the Coronavirus pandemic/crisis that the world is dealing with right now. That also means no fans in attendance. The difference between this week's show and the last two weeks is that they taped it several days earlier.
Live (on tape) from the WWE Performance Center in Orlando, Florida, this is Smackdown for episode #1075. Follow me on Twitter @johnreport. Please visit TJRWrestling.net daily for our regular updates on the wrestling business featuring WWE news coverage along with reviews about wrestling's past and present. Thanks to Melo Man for the banner up top.
The Smackdown intro video aired to begin the show.
The WWE Performance Center was shown with no fans in attendance as Michael Cole welcomed us to the show. Cole plugged what's coming up this week.
Let's Hear from Sasha Banks and Bayley
Sasha Banks and Bayley entered for a promo since they were not in their wrestling gear. Bayley said that they're a little over a week away from WrestleMania and this year it's too big for one night (way to get in the slogan quickly). Banks said that it's supposed to be a magical time where anything can happen, lives can change and dreams can come true. Bayley said this year their WrestleMania is a nightmare because of Paige. Bayley said that Paige is jealous of Bayley's success and how dominant she has been. Bayley complained about how it's not fair being in a 5-Way Elimination match and Paige thinks she's so slick by putting Banks in the match. Bayley said that the plan is going to backfire because they're best friends and they're better together. Bayley said there's no separation…right…but Banks was cut off before she could talk.
Lacey Evans walked out wearing one of her dresses and a hat. Evans said that Bayley's mouth is as back as big as Lacey's hat is. Evans said that Banks can barely get a word in and Bayley called Evans a loser. Banks said that maybe Lacey's bratty little kid is ashamed of her. Evans said that WrestleMania will be a nightmare for both of them and Banks won't be able to say Lacey's daughter's name when she breaks her jaw with a Woman's Right punch. Evans told Bayley she'll take that title.
Naomi was next up as she went into the ring with the three other women Naomi said she's with Evans until they handle these two. Banks told Bayley they have unfinished business. Naomi said she'll snatch the blue wig of Sasha's head and become the three-time Smackdown Women's Champion. Bayley said that this is not going to be one of those nights where they interrupt everyone.
Tamina was the last of the five women to enter with Cole trying to talk her up as a threat even though Tamina barely wrestles in WWE. Tamina said "actions speak louder than words" as Tamina gave Naomi a headbutt and hit a superkick on Evans. Bayley and Banks stomped away on Naomi, then they backed into Tamina and Bayley left with Banks while Tamina stood tall in the ring.
Analysis: This was just a basic promo segment with the women each trying to claim they were threats to win. Tamina standing tall was done to make her look like a threat since she is barely on television and it's a way to remind the audience that she's in the match. I think Bayley will probably retain the title at WrestleMania and then Banks can turn face to feud with Bayley after that.
It's Drew Gulak vs. Shinsuke Nakamura up next.
(Commercial)
A video aired showing highlights from last week's Smackdown to set up the Gulak-Nakamura match this week.
Drew Gulak and Daniel Bryan made their entrance to Bryan's theme song. They are filming from the same angle as they did on Raw with the entrance and stage in the background. That's the right way to do it. Shinsuke Nakamura entered with Cesaro and Intercontinental Champion Sami Zayn.
Shinsuke Nakamura (w/Cesaro and Sami Zayn) vs. Drew Gulak (w/Daniel Bryan)
If Gulak beats Nakamura then Zayn will defend the IC Title against Bryan at WrestleMania. Zayn joined Cole on commentary.
Nakamura took down Gulak with a front facelock followed by a knee drop. Gulak managed to take control with some kicks, but Cesaro was there to pull Nakamura out of the ring to save his buddy. When Gulak went to the apron, Nakamura kicked him to trip him up. Nakamura sent Gulak into the ring, but Gulak managed to twist Nakamura's leg against the ropes two times to slow him down. Nakamura came back with a jumping kick attack off the middle ropes on Gulak for a two count. Nakamura with a headlock, then a punch and a front suplex. Nakamura set up for Kinshasa, but Bryan pulled Gulak out of the way and Gulak got a jackknife cover on Nakamura for the pinfall win after four minutes.
Winner by pinfall: Drew Gulak
Zayn complained about Bryan cheating to help Gulak win. The win by Gulak means that Daniel Bryan will challenge Sami Zayn for the Intercontinental Title at WrestleMania.
Analysis: ** It was fine for a short match. Gulak winning was the obvious result because it was needed to set up the Bryan match against Zayn at WrestleMania. If they had a longer match it would be a lot better, but WWE tends to like shorter matches with no fans in attendance.
Still to come is Alexa Bliss vs. Asuka and Bray Wyatt is there.
(Commercial)
The graphic was shown letting us know Sami Zayn will defend the Intercontinental Title against Daniel Bryan at WrestleMania.
There were replays shown of Dolph Ziggler taunting Otis last week on Smackdown due to Dolph's relationship with Mandy Rose. Otis ended up attacking Miz and Morrison leading to a DQ finish to the match.
Dolph Ziggler was shown backstage looking at his phone, there were some technical difficulties on-screen and Heavy Machinery went up to Ziggler backstage. The Heavy Machinery team of Otis and Tucker were held back by referees and producer Adam Pearce. Ziggler challenged Otis to a match at WrestleMania with Otis agreeing to it. That was it.
Analysis: That match was rumored for the WrestleMania lineup, so now it's official. The technical difficulties on-screen has been happening for a few months now.
Elias was in the PC singing about how after he destroys Corbin at WrestleMania, he's going to see the light. Elias told Corbin to bring his medieval costume and a bow and arrow as a graphic mocking Corbin was shown on camera. They put Corbin's face on some toilet paper as well. They also had an image of Corbin on the toilet while Elias called him a turd. That's when Corbin showed up for the predictable attack from behind. Corbin hit Elias in the head with his scepter to knock him off the platform that Elias was on. Corbin hit Elias off the platform and Elias bumped to the floor. They did a camera cut, though. They edited it and made it look like Elias took a back bump off the staging area about eight feet high. Elias was checked on by producer Adam Pearce and referees as they called for help.
Analysis: The big bump at the end there is the benefit of taping the show in advance. It allows them to make a bump like that look more devastating. When they filmed it, Elias likely landed on some soft padding, but when they showed it, the idea is that Elias hit the cement. It's all about how they present the product. It's cheesy a bit for sure, but at least it furthers the storyline. The edited images of Corbin during the Elias song were lame. That's the kind of humor WWE loves.
(Commercial)
There was a replay of the Elias fall from before the break. Michael Cole claimed, while using SERIOUS VOICES~!, that Elias was being transported to a local medical facility (aka hospital). Sure he is.
Asuka entered alone with her Women's Tag Team Title around her waist. No Kairi Sane with Asuka. The last Women's Tag Team Title match on television was mid-December at TLC 2019, so it's been over three months. Two weeks ago, Asuka cost Bliss in a tag team match. Alexa Bliss entered with her buddy Nikki Cross. That led to Cross joining Cole on commentary, Cole wasn't happy about it and Cross hugged him while Cole mentioned social distancing.
Alexa Bliss vs. Asuka (w/Nikki Cross)
Bliss worked over Asuka with forearms followed by a dropkick for two. Cross was sitting on the announce table instead of sitting on the chair that was there. Asuka with a shoulder tackle on Bliss. Asuka went to the turnbuckle, Bliss with a forearm that sent Asuka to the apron and to the floor. Asuka was on the apron, so Bliss kicked Asuka to the floor. Asuka grabbed Bliss on the floor and Asuka whipped Bliss into the steel steps leading to a break.
(Commercial)
The match returned with Asuka slapping on an armbar while Cross chanted "Lexi" with Cole joining in because Cross asked her. Asuka kicked Bliss to the apron. Asuka went for the hip attack, Bliss moved and Bliss kicked Asuka in the back. Cross was slapping the announce table to help her friend while Cole was laughing about it. Asuka teased a suplex on the apron, but Bliss wrenched on the arm of Asuka and drove Asuka shoulder first into the ring apron. Bliss got a two count out of that. Asuka charged, but Bliss kicked her to knock her down. Bliss sent Asuka shoulder first into the turnbuckle. Bliss with a clothesline followed by a low dropkick. Bliss hit the knees to the ribs, then she talked to Asuka, did a move and Asuka moved right on cue. They were on the floor with Bliss sending Asuka into the apron and back in the ring, Bliss got a two count. They did a roll through spot out of the corner and Bliss hit a DDT on Asuka for the pinfall win after ten minutes.
Winner by pinfall: Alexa Bliss
Analysis: **1/4 It was okay with some good selling by both women with Bliss grabbing at her arm. The finish didn't feel like the end, but they just ended it there. Asuka losing to just a DDT seems weak to me. I think they could have done some nearfalls and near submission spots to build to it a bit better. Bliss winning should lead to a Women's Tag Team Title match, so it was another match with an obvious match. That's the way WWE always books these kinds of matches to set up a title shot. I thought Cross was entertaining on commentary.
Post match, Cross celebrated with Bliss while Asuka left angrily.
The Usos were backstage doing a promo. They did a promo about The New Day ahead of their match tonight.
Up next is a replay of WrestleMania 32 when Roman Reigns faced Triple H in the main event.
This Monday on Raw: Brock Lesnar, Edge, The Undertaker and Becky Lynch will all be there. That show was taped earlier this week.
(Commercial)
A WrestleMania graphic was shown letting us know that WrestleMania was eight days away. It's a two night event on Saturday, April 4 and Sunday, April 5.
They showed the WrestleMania 32 main event with Triple H defending the WWE Championship against Roman Reigns. Cole continued to plug Goldberg vs. Reigns at WrestleMania.
Analysis: I find it odd that they are continuing to advertise Goldberg vs. Reigns when a lot of fans are watching this show knowing that Reigns is not going to be in the match. Why not show a match featuring another wrestler? That would be a smarter thing to do. Plus, this match is also going to be on ESPN on Sunday when they show WrestleMania 32, so they are airing the same match twice within a few days.
Here's my review of this match from my WrestleMania 32 review. I was at this show in Dallas and I don't have fond memories of this match mostly because I was tired of sitting there for seven hours (counting the pre-show). I just remember a lot of fans booing Reigns. Anyway, here's my review of the match.
Stephanie McMahon did some promo on the stage while wearing some leather outfit as she talked on a throne. She called the people blind sheep and that they own us. She spoke for a few minutes before Triple H made his entrance. No fancy entrance for him this year. He let his wife do it.
There were a lot of boos for Roman Reigns on his entrance. There was some pyro for him as he put his fist on the ground by the stage.
WWE World Heavyweight Championship: Triple H (w/Stephanie McMahon) vs. Roman Reigns
I think Triple H fell asleep in a tanning bed or had too much spray tan on. Hunter dumped Roman to the floor with a hip toss over the top. Reigns mocked Triple H with a bit of a DX chop. JBL said that Roman isn't a bad guy, he's not a good guy – he just wants to be a good guy. Reigns said those same words on Raw and Smackdown, so that seems to be a line fed to JBL by Vince. Triple H knocked down Reigns a couple of times with forearm shots to the back. Reigns came back with a couple of clotheslines followed by his Drive By dropkick for a two count. More clotheslines for Reigns. Stephanie distracted the ref, so Triple H kicked Roman in the balls. Hunter punched him a lot followed by a spinebuster. Hunter slammed Roman headfirst into an announce table at ringside and then Roman did it to him. It was well over ten seconds by this point, but I guess the ref wasn't counting. JBL just covered for it saying the ref was giving them a lot of leeway for a championship match. Hunter gave Reigns a neckbreaker off the announce table on the floor. Knee to the back by Hunter off the middle rope got a two count, he went for it again and Reigns nailed him with an uppercut. Reigns nailed a Samoan Drop for two.
When Reigns set up for a Superman Punch, Hunter rolled out of the ring to avoid it. Reigns nailed him with a leaping clothesline off the steps. Hunter tossed Reigns into the steps. Then Hunter tossed Reigns over the announce table. Reigns came back with a huge Spear through the barricade at ringside. That was a big spot. Reigns was favoring his left arm. It actually looked bad when it happened, but he got through the match fine, so he was just selling. The ref finally started to count as Reigns brought Hunter back in to break the count. Hunter applied an armbar on the injured left arm of Reigns. That lasted for over a minute until Reigns powered out with a Powerbomb style slam for a two count. Reigns took off the glove on his left arm as Hunter applied another armbar. Reigns powered out again as the crowd booed him some more. Hunter wanted a Pedigree, but Roman powered out with a back body drop. Triple H nailed a forearm to counter a Roman attack. Roman hit a Spear. Stephanie pulled the ref Chad Patton out of the ring. Then the ref went back in to count and Hunter had enough time to kick out.
Stephanie went into the ring to argue with the ref. It was pretty obvious what was going to happen here. Hunter got up, Reigns charged in, Hunter and the ref left, so Reigns hit a huge Spear on Stephanie. That led to the biggest ovation of the match. Hunter capitalized with a Pedigree for the one…two…no. Great nearfall. Reigns came back with a Superman Punch as he started to get some momentum until Triple H came back with the running high knee. That gets a two count for Hunter. Stephanie gave Hunter the sledgehammer as Cole said that if Hunter is disqualified he retains the title. That could be the worst finish in WrestleMania history. Reigns nailed a Superman Punch and then another one. More boos. Reigns ducked a sledgehammer shot, ran the ropes and hit a Spear for the victory after 27:11 of action. This is the third WWE Title reign for Reigns.
Winner by pinfall AND NEW WWE Champion: Roman Reigns
Analysis: **1/2 It was an average match that went too long with a finish that was very predictable. Hunter did well as the veteran heel that tried to wear down Reigns, but it just kept on going. The crowd was sitting there for over five hours by this point if you count the pre-show. Going a half-hour in a match where the crowd doesn't like the guy that's supposed to be the face was a bad idea. We were tired sitting there for so long. The only thing that really popped the crowd was when Reigns hit that Spear on Stephanie by accident. It was obvious they were setting it up, but it still worked. To have a match at such a slow pace was dumb. They should have made this a No DQ type match with weapons because if they did that then the crowd would get into it. I assume they didn't go that route because of the Lesnar/Ambrose match earlier. I just thought they would have had a better match if they made it more of a brawl. Reigns has proven to be better in those situations, so why not do it for the main event on the biggest show? I think it's a case of them hurting themselves with the booking.
Reigns celebrated with the WWE Title after the match while fireworks went off. JBL was saying there was a celebration all over the world for Reigns even though he was getting booed in the arena. It's amazing how much WWE wants to ignore the crowd.
(I thought they went way too long and wrestled at a slow pace that didn't help them. As I wrote in the analysis, if it was more of a brawl that went around the stadium it would have been a lot more interesting. Another thing that hurt the match is it was so obvious that Reigns was winning that there wasn't much drama to the match. Stephanie's bump was the most memorable part of the match to me.)
The Smackdown broadcast of that match was clipped. They only showed about half of it.
Triple H was interviewed by Michael Cole to talk about the Reigns/Goldberg match at WrestleMania. Hunter said that they bring the one thing you have to have to make it to the top in WWE – intensity. Hunter said that the biggest difference is that with Reigns it's a guy that has intensity that builds and with Goldberg, that intensity can burn fast. Hunter said Goldberg's intensity runs for a brief period of time, but as the match goes on, Reigns feeds off whatever you're bringing to him. Hunter said if this match goes quick, it's for Goldberg and if Reigns can sustain it, then his money is on him and Reigns will win after Goldberg runs out of gas.
Analysis: The match isn't happening, but thanks for the insight. I like how Hunter tried to explain it at least.
The New Day's Kofi Kingston and Big E talked about how every time they face The Usos it's a battle for the ages. They put over how they are friends and said they were going to beat them so they can go on to become 8-time Tag Team Champions because…New Day rocks.
The Firefly Fun House with Bray Wyatt is next.
(Commercial)
There was a backstage scene with Dolph Ziggler talking to Sonya Deville. Mandy Rose walked up, her buddy Sonya left and Mandy asked Dolph why you are doing this to Otis? Ziggler admitted that last week was a little too much and he's sorry. Rose said that he refuses to let them fight over her like she's some sort of prize. Ziggler said that he'll win his match at WrestleMania and he left with her to go back to the hotel.
Firefly Fun House
Bray Wyatt was in the Firefly Fun House talking to his head (that represents the old Bray) saying that "you" failed against John Cena. Abbey the Witch asked if he had the formula to beat Cena. Wyatt put some Disappointment, Self Loathing, Hot Sauce, Rage & Redemption into a blender and he tossed Rambling Rabbit into the blender because of his irrelevant opinions. Wyatt pushed the button on the blender although they didn't show the blender.
Wyatt said when he's not playing the Fun House, he's creating the perfect concoction for "him" to defeat John Cena at WrestleMania. Wyatt said that Cena deserved something more than an ordinary match. Wyatt said he wanted Cena to step in a world where anything goes and the fun never ends. Wyatt said "he" is challenging Cena to a Firefly Fun House match at WrestleMania. Wyatt drank his drink, he said there's a nasty side effect and "Let Me In" played to end it.
Analysis: That means they have a gimmick match for Wyatt and Cena at WrestleMania now. I don't know what Firefly Fun House match is going to entail, but it will allow them to do something different by not being in a ring. Hopefully the match doesn't suck, but when Wyatt had a House of Horrors match with Randy Orton it sucked, so it may be difficult to have a good match.
The Miz and John Morrison made their entrance with the Smackdown Tag Team Titles to join Michael Cole on commentary.
(Commercial)
Next week on Smackdown: Goldberg and Roman Reigns will be face to face. Also, John Cena answers the Firefly Fun House match challenge from Bray Wyatt.
The New Day's Kofi Kingston and Big E entered with Kofi tossing the pancakes as usual. The Usos entered as the challengers.
The Usos (Jimmy and Jey Uso) vs. The New Day (Kofi Kingston and Big E)
Jimmy with a shoulder tackle on Kingston. Kingston went for a dropkick, Jimmy blocked it and gave Kingston a catapult into the turnbuckle, which led to a dropkick from Kingston. The Usos left the ring to regroup with Miz and Morrison being annoying on commentary. Jey tagged in against Big E with Jey hitting an uppercut, but Big E came back with an elbow smash. Kingston tagged in with a leap over Big E leading to a splash on Jey for a two count. Jimmy tagged in against Kingston leading to a double team by Usos that sent Kingston throat first into the top rope. Big E got the tag against Jimmy with two belly to belly suplexes. Big E with a running splash on Jimmy on the apron leading to a break.
(Commercial)
The show returned with The Usos hitting a double team spinebuster on Big E for a two count. Jey hit a running back splash on Big E against the turnbuckle. Jimmy did his "Uso" yell with no fans there to chant it and Big E hit him with a uranage. Kingston got the tag against Jey with chops to the chest followed by a dropkick and a leaping clothesline. Kingston with a Boom Drop leg drop on Jey. Kingston jumped off the top with a headscissors, he charged and Jey slapped on a half crab submission. Miz and Morrison were being very over the top on commentary. Kingston got out of the submission hold with an SOS slam for two. Big E tagged back in, he lifted up Jey and Jey avoided an attack from Kingston. Jimmy sent Kingston into the ring post. Jimmy with a superkick on Big E and Jey with a superkick for two. Miz and Morrison chanted "this is awesome" for the match. The Usos tried a double team on Big E on the turnbuckle, Big E knocked them down and a kick knocked Big E out of the ring. The Usos charged at Kingston, he ducked and The Usos went to the floor. Kingston hit a dive over the top onto one of the Usos on the floor. Miz and Morrison did their silly chant on the announce table, so Kingston tripped up Morrison on the table Jey hit a dive over the top onto Kingston on the floor. Big E hit a spear on Jey on the floor, so everybody was down on the floor. Miz and Morrison attacked Big E from behind and everybody else, so the referee called for the bell. It went about 15 minutes.
Match Result: Disqualification
Analysis: ***1/4 A good match as usual from these teams. They work so well together with an array of double team moves on both sides, some good nearfalls, they hit some big moves and I think it was one of the better matches in the empty Performance Center in the last three weeks of matches there. That finish didn't surprise me at all since I expected it when they set up this match.
Michael Cole interrupted the attack saying he had breaking news from management. Cole told Miz and Morrison that they will have to face both teams with the Tag Team Titles on the line in a Triple Threat Ladder Match. The Usos hit a double superkick on Miz and then New Day hit a double team Big Ending on Morrison. The champs were down while The Usos and New Day stood tall to end the show.
Analysis: A triple threat tag team Ladder Match sounds great in theory, but unfortunately something happened that ended up causing the match to be changed. I don't want to spoil the details because I'm unsure about some of it.
Three Stars of the Show
The Usos
The New Day
Alexa Bliss/Asuka
I would give this show about a 5 this week. I haven't been giving official scores out since the shows have been at the WWE PC.
Final Thoughts
It almost felt like a regular show with the number of matches they had along with a main event that was good even with the DQ ending. They set some stuff up for WrestleMania, which is nice to see with just over one week to go. With that said, it is weird watching this taped show knowing WrestleMania has already been taped and there are a few things promoted on this Smackdown that are not actually going to happen at WrestleMania. I think that just shows how weird this year's WrestleMania is going to be.
I don't think there was anything must-see on the show. It was just an average Smackdown for the most part that was also boring for much of it.
The next WWE PPV is WrestleMania on Saturday, April 4th and Sunday, April 5th. Rob Gronkowski will host WrestleMania. The lineup looks like this with official matches announced so far.
* WWE Championship: Brock Lesnar (c) vs. Drew McIntyre
* Universal Championship: Goldberg (c) vs. Roman Reigns – There's a change to this match. I'm not spoiling it, but I did write about it here.
* Last Man Standing: Edge vs. Randy Orton
* Firefly Fun House Match: John Cena vs. "The Fiend" Bray Wyatt
* Raw Women's Championship: Becky Lynch (c) vs. Shayna Baszler
* Boneyard Match: The Undertaker vs. AJ Styles
* NXT Women's Championship: Rhea Ripley (c) vs. Charlotte Flair
* Kevin Owens vs. Seth Rollins
* Intercontinental Championship: Sami Zayn vs. Daniel Bryan
* Ladder Match for the Smackdown Tag Team Championships: The Miz & John Morrison vs. The Usos vs. The New Day – There's a change to this match, but I'm not spoiling it.
* Smackdown Women's Title Elimination Match: Bayley (c) vs. Sasha Banks vs. Tamina vs. Lacey Evans vs. Naomi
* Raw Tag Team Championships: The Street Profits – Montez Ford and Angelo Dawkins (c) vs. Angel Garza and Andrade (w/Zelina Vega) – There's a change to this match, but I'm not spoiling it.
* Aleister Black vs. Bobby Lashley (w/Lana)
* Elias vs. King Corbin
* Dolph Ziggler vs. Otis
There's a Women's Tag Team Title match as well to make it 16 matches. That's not official yet, but it will be on the show.
—
Thanks for reading. My contact info is below.
John Canton
Email mrjohncanton@gmail.com
Twitter @johnreport
Personal Facebook and TJRWrestling on Facebook