The John Report: WWE NXT 03/15/22 Review
This week's WWE NXT featured a special Miz TV episode with new NXT Champion Dolph Ziggler while Cameron Grimes faced Santos Escobar and more action.
This episode is taking place at the WWE Performance Center in Orlando, Florida. Follow me on Twitter @johnreport. My WWE NXT Review archive is here. Let's get to it.
A recap aired from last week's show when Dolph Ziggler became NXT Champion in a triple threat match with former champion Bron Breakker and Tommaso Ciampa. Ziggler pinned Ciampa while Breakker was taken out by Ziggler's buddy Robert Roode. It was a great match.
Miz TV with Dolph Ziggler
The Miz, who is from Raw, made his entrance in NXT land for a rare NXT appearance for him. Miz did his usual speech bragging about his accomplishments while noting he's here on NXT 2.0 and there was even a "Miz" chant. That's rare. Miz talked about how at WrestleMania he'll team with Logan Paul against Rey & Dominik Mysterio. Miz said last week, one man turned WrestleMania week upside down, Miz added he's a good friend and a former rival, so he's here to talk to the new NXT Champion Dolph Ziggler.
The new NXT Champion Dolph Ziggler made his entrance with Robert Roode. The three heels sat in the ring together. Ziggler said that after 15 years plus, being NXT Champion just feels right. Ziggler welcomed Miz TV to Ziggler's must-see show NXT. Miz said you probably think Bron Breakker is going to break things on Miz TV, but that won't happen and here's why. They showed Bron Breakker arriving earlier in the day, he was looking for Dolph Ziggler and NXT coaches made Bron leave because he was so angry. Miz: "Rookies, am I right?" Roode said Bron was a sore loser. Roode said that everybody knows in a triple threat, there are no rules and Roode follows the rules, so that's why we have a new NXT Champion.
Ziggler said that Breakker was smart to leave there and not come back. Ziggler said that he is your NXT Champion, he is a fighting champion and he loves wrestling. Ziggler said he doesn't do it for the pat on the back, then they talked about how rich they were and…here comes an interruption from LA Knight. The fans popped for him.
Knight started his catchphrase: "Let me talk to ya." Knight congratulated Ziggler for being the new NXT Champion and said if Bron Breakker can't be there to challenge for the title, it should be Ziggler vs. LA Knight…yeah. Ziggler said that he is a fighting champion, but he only fights superstars, so maybe next time, kid. Miz said that Knight is a tremendous performer and everybody listens when he's on the microphone. Miz said Knight will be a major player, just not yet. Knight said he's not a superstar, he's a damn megastar and that means that any day of the week he can take the title off Ziggler. Knight said this is his show, so what that means is that Ziggler has something that belongs to Knight and Knight wanted him to show him. Ziggler said that the champion only wrestles in the main event and the day you figure out where that is, that's where you'll find him. Miz announced that the match is on with Ziggler defending the NXT Title against Knight in the main event and it will be awesome.
Analysis: Good promo work from everybody involved. Miz is a great talker, so is Knight and Ziggler is pretty solid too. It sets a up a fresh matchup for the main event with Knight as a viable challenger against Ziggler. I also like how they tried to explain why Bron Breakker wasn't there instead of saying something lame like how he was late or something like that.
Cameron Grimes and Santos Escobar were shown making their entrance in separate parts of the backstage area. Carmelo Hayes, the NXT North American Champion, entered with Trick Williams.
(Commercial)
Cora Jade was interviewed by Mckenzie Mitchell, who talked about Cora's issues with Toxic Attraction. Cora said that Raquel Gonzalez is out four to six weeks, so she said she knows Toxic Attraction will be looking for her. Jade looked up at the NXT Women's Tag Team Titles and the NXT Women's Title that were just hanging around nearby for some reasons. Jade stole them and left.
Carmelo Hayes and Trick Williams were on commentary for this match joining Vic Joseph and Wade Barrett.
Cameron Grimes vs. Santos Escobar (w/Elektra Lopez, Raul Mendoza & Joaquin Wilde)
The winner of this qualifies for the NXT North American Title Ladder match at Stand & Deliver on April 2nd.
Escobar with a shoulder tackle, a leap frog and Grimes did a cartwheel. Hayes talked about how he sent Pete Dunne packing, changed his name and moved to another brand. That was funny. Escobar hit a dropkick to take control. Grimes tried making a comeback, but Escobar hit another dropkick. Grimes with some kicks to the chest, Escobar hit a jumping kick to the head and another running dropkick complete with a leg slapping motion. Escobar with kicks to the chest, then a snapmare and a kick to the back. Grimes hit a running headscissors to send Escobar out of the ring. The Legado boys distracted Grimes on the apron, so Escobar tripped up Grimes on the apron.
(Commercial)
Escobar hit a jumping kick while on the apron and then a double axhandle off the top rope onto Grimes. Good job by Grimes with an arm drag followed by a headscissors. Grimes with a running forearm to the head along with Grimes hitting a clothesline over the top to the floor. Grimes jumped over the Legado guys on the floor and Grimes did a somersault onto Escobar on the floor. Grimes jumped off the top with Escobar getting his knees up to hit Grimes in the ribs leading to Escobar getting a two count. Escobar charged right into Grimes hitting the running cross body block into a pin attempt for two. That's such a cool spot. Grimes with a kick to the head followed by a superkick. Hayes said that they were fighting over a title shot with him. Grimes went for the Cave In, Escobar caught him and hit a Phantom Driver for the pinfall win after 12 minutes.
Winner by pinfall: Santos Escobar
Analysis: ***1/2 A very good match to start the show. I like both guys a lot, so they are both fine choices for the ladder match. The last few minutes were great with the nearfalls and a lot of action. I loved the finish with Grimes hitting a couple of kicks giving him the momentum, but then Escobar caught him on the shoulders and it was Phantom Driver time. An excellent ending to the match.
Io Shirai and Kay Lee Ray talked about how next week was the finals of the Women's Dusty Cup. They talked about wanting to destroy Toxic Attraction. They spoke about how they had a mutual dislike for Toxic Attraction and they think they are going to win.
Wendy Choo and Dakota Kai were in the locker room bonding as a team with Wendy saying they can win. Toxic Attraction's Mandy Rose, Jacy Jayne & Gigi Dolin wondered where Cora Jade was. Kai said that they didn't need Toxic Attraction's help. Rose said that they did it because they can. The Toxic trio left saying they had to look for Cora Jade.
A video aired about A-Kid making his NXT debut. He was a star on the NXT UK brand for a few years.
(Commercial)
A-Kid vs. Kushida (w/Ikemen Jiro)
They didn't show A-Kid's entrance, which is a bit of a surprise. I like A-Kid as a talent, but I don't think the name is good.
Kid used his speed with an armdrag followed by a dropkick. They battled over some submissions on the mat, Kid broke free and went for an armbar while pulling back on the body, but Kushida got his foot on the bottom rope. Kushida with chops, a body slam and he applied the Boston Crab submission with Kid getting out of that. Kushida with an arm drag leading to a dropkick for two. Kid avoided a charging Kushida leading to a German Suplex and a Northern Lights Suplex for two. When Kid went for a move off the ropes, Kushida kicked him in the arm and then an arm wrench. Kid wrenched the arm, then a jumping kick and Kid jumped off the ropes with a DDT for the pinfall win. It went about five minutes.
Winners by pinfall: A-Kid
Analysis: **3/4 This was a fun matchup between two talented athletes that used their speed well. They make everything look easy although I think the finishing DDT was a bit sloppy. Kid hit it well enough and Kushida sold it. I liked the match for the most part.
Santos Escobar and friends were interviewed by Mckenzie Mitchell. Escobar said he's the greatest Luchador of all time and the greatest that this company has ever seen. Rey and Dominik Mysterio walked up to them with Escobar shaking Rey's hands. Dominik said that his dad is the greatest Luchador of all time. Elektra Lopez said that Escobar will break all the records and Rey said Dominik will do that. There was some trash talk after that with Raul Mendoza telling Dominik he'll see him in a match. Escobar told Rey he made a big mistake.
Analysis: Rey and Dominik were not advertised, but if you're going to bring Raw people there then it's fine because it creates some new matchups.
(Commercial)
A video aired about Sarray's past issues with Tiffany Stratton.
Sarray was shown walking backstage for their match when Stratton attacked her from behind. The deal with Sarray is she's dressed like a schoolgirl, but when she appears in the arena, she is a warrior thanks her necklace. Stratton knocked down Sarray with punches and took the necklace from her. They went out to the ringside area with Vic noting that Sarray wasn't able to transform.
Tiffany Stratton vs. Sarray
They went into the ring, the referee rang the bell and Stratton worked her over with punches. Sarray tripped Stratton against the turnbuckle, then a running kick and Sarray missed a running attack. Stratton capitalized with a cartwheel into a corner splash. Stratton went up top and hit a spinning splash on Sarray for the pinfall win after one minute.
Winner by pinfall: Tiffany Stratton
Analysis: 3/4* A cheap attack by Stratton led to the easy win. It should lead to a rematch with Sarray getting a win in the future.
Gunther went up to LA Knight in the locker room saying he didn't respect him for using his voice to get a title shot instead of earning it. Gunther said that Knight was an embarrassment to this sport. Knight said he's got charisma and Gunther should try looking for it. Knight said it's sports entertainment – Gunther has the first half of that while Knight has both.
Analysis: It looks like this is a possible match for Stand & Deliver. With Knight likely going to Raw or Smackdown after WrestleMania, it makes sense to do this at S&D show while Gunther should be on the card. They should be building Gunther as an NXT Title contender in the coming months.
Tommaso Ciampa was shown walking backstage.
(Commercial)
Jacy Jayne was shown walking backstage where she saw one of the NXT Tag Team Titles that belongs to her Jayne pulled the title down and then she ended up being locked in a cage. Cora Jade showed up to lock the door.
Analysis: Goofy segment that is about as cheesy as it gets. It puts over the story of Jade wanting to fool the Toxic Attraction trio.
Let's Hear from Tommaso Ciampa
Tommaso Ciampa made his entrance doing a slow walk around the ring. I'm still getting used to the new theme song.
Ciampa sat on the turnbuckle saying he wanted to talk to us about gratitude. Ciampa said sometimes to this day he looks around and takes it all in. Ciampa said that this is his life, this has been his life and the fans chanted "Ciampa" for him. Ciampa said he's been doing this for 17 years and he remembered when he was in the independents, he wanted a place to call home. Ciampa talked about wanting to find a place where he could prove to be the guy. Ciampa knew that if he ever got a chance to run with the ball, he could do it and he did it in NXT for the largest freakin' company on the planet. Ciampa said that success wasn't immediate and it didn't come easy.
Ciampa said he's been there since 2015 while fans chanted "thank you Ciampa" for him. Ciampa said he went to D.I.Y. underdog to Glorious bombs to NXT Tag Team Champion to Blackheart to the single greatest NXT Champion of all-time. Ciampa said that he would love to call it a "do it yourself" story while adding that he always had the fans to do it with him. Ciampa noted he always had the fans to root him on and boo him at his best. Ciampa spoke about how at Takeover New Orleans he walked out with no music, he walked out to boos and profanities while knowing that they were creating a star and telling everybody that Tommaso Ciampa can be that guy. Ciampa said that one thing has remained the same during the changes in NXT and that's that he never left while the fans never left. Ciampa said that's gratitude. Ciampa spoke about how he doesn't know where he does go next. Ciampa talked about how over the last couple of months, he would love to know what his perfect fairytale ending is. Ciampa mentioned Stand & Deliver as NXT Champion would have been a fairytale ending, but he couldn't do it just like three years ago when he failed to do so because of neck injury. Ciampa talked about how he lost last week, so he wondered what is next? Ciampa asked if there was a perfect way to close this chapter out. The fans chanted "one more match" for him. Ciampa said not often in life do you get a chance to say thank you before it's too late. Ciampa said for the last seven years, to the fans in attendance and everybody watching at home… "Thank you." The fans stood, cheered and chanted: "Thank You Ciampa."
Tony D'Angelo appeared in the ring with a crowbar in hand. Tony said he could have hit him in the back of the head with a crowbar, but he respects Ciampa. Tony wondered who does he have to beat to put Tony D in the history books. Who can make Tony D the man in NXT? Tony said now he stands in front of that guy. Tony said it would be in an honor for the family if Ciampa would throw hands with Tony D at Stand & Deliver. The fans chanted "yes" for that idea. Ciampa shook Tony's hand. Tony delivered a cheap shot knee to the groin. Tony: "It was always you, Tommaso. It was you. And at NXT Stand & Deliver, I become the new don of NXT." Tony kissed Ciampa on the cheek like a kiss of death.
Analysis: The knee looked like it was to the ribs, but Ciampa sold it like it was to the groin as a cheap shot. I loved Ciampa's speech. Clearly, WWE is ready to move him to Raw or Smackdown in the future and that's a fine idea since he's done all you can do in NXT at this point. I think Ciampa will do well as a respect veteran on whatever brand he's on. You could also put him in a tag team if you find the right partner. Anyway, having Ciampa face Tony D at Stand & Deliver is a smart move as well because it could really elevate Tony if he wins and I think he should win if it is Ciampa's NXT farewell.
They showed Persia Pirotta and Indi Hartwell in the backstage area ahead of their match.
(Commercial)
Indi Hartwell and Persia Pirotta entered at the same time even though they are opponents. They are friends and tag team partners that have had issues with eachother of late.
Persia Pirotta vs. Indi Hartwell
They shook hands, then shoved eachother and the more powerful Pirotta knocked Hartwell on her butt. Hartwell ran the ropes right into a kick from Pirotta for two. Pirotta sent Hartwell into the turnbuckle followed by a running splash. Pirotta stomped on the left hand of Hartwell that had Indi's wedding ring on it. Hartwell with a corner clothesline and a bulldog for two. Duke Hudson, who is Pirotta's boyfriend, distracted Hartwell and Pirotta got a hold of Hartwell. Dexter Lumis, who is Indi's husband, was at ringside so Persia was distracted and Hartwell got a ROLLUP OF DEATH~! on Pirotta to win. It was about three minutes.
Winner by pinfall: Indi Hartwell
Analysis: 3/4* It was more of an angle than a match that was pushing the story involving the guys at ringside. Hartwell is a face compared to Pirotta as a heel, so it was done to piss off the heel Pirotta.
After the match, Hudson went into the ring and made out with Pirotta. They are aggressive with that smooching every week. Just saying. Indi kissed Dexter back with the fans cheering. Pirotta and Hudson kissed again wit the fans booing. Both couples went down to the mat and continued their kissing while there. Lumis with a thumbs up. Barrett: "This is a PG show." Well yeah.
Analysis: I assume they are building to mixed tag with Hudson/Pirotta as the heels against Hartwell/Lumis.
Gigi Dolin was shown looking for the NXT Women's Tag Team Title that belongs to her. Gigi found it by a dumpster that was open. Dolin grabbed the title, but then the dumpster closed and Cora Jade appeared. Jade: "I didn't know trash could speak." Jade said it was two down, one to go.
Analysis: I get what they are going for to have Jade outsmart the heel Toxic Attraction group, but it's not the most creative thing in the world.
Big pop for Dominik and Rey Mysterio making their NXT entrances. Some people might think that Dominik should be in NXT now, but he's not.
Dominik Mysterio (w/Rey Mysterio) vs. Raul Mendoza (w/Santos Escobar, Joaquin Wilde & Elektra Lopez)
They did some mat wrestling to start with Dominik doing a headscissors, then an armdrag across the ring and a dropkick. Dominik charged, Mendoza moved and Mendoza pulled Dom's leg to trip him up, which sent Dominik hard to the mat. Mendoza with a chinlock, Dominik with an armdrag and a headscissors across the ring. Dominik with a forearm, Lopez on the apron, Dominik was distracted and Mendoza hit a jumping kick to knock Dominik off the apron to the floor. Fallon Henley showed up at ringside and pulled Lopez off the apron. The tag team Briggs & Jensen appeared to support Henley. Rey decked Escobar with a forward. Dominik with a headscissors into the ropes, then a 619 kick and Dominik went up top and hit a Frog Splash on Mendoza for the pinfall win after about three minutes.
Winners by pinfall: Dominik Mysterio
Analysis: *3/4 A simple match to put over the Raw guy against the tag team wrestler Mendoza, who doesn't wrestle in singles matches that often. The crowd was into it, they got people involved outside the ring and Dominik was able to overcome the distractions to get the win. The crowd was into it.
The commentary team of Vic Joseph and Wade Barrett talked about Scott Hall passing away.
The Scott Hall tribute video aired reminding us that it's good to be The Bad Guy. I wrote an article about Scott's career and legacy on TJRWrestling on Monday night. The video by WWE is excellent and I'll share it again here just like I did in the Raw review.
The NXT fans chanted "Razor" in tribute to the man that brought us the character Razor Ramon for many years.
(Commercial)
Cora Jade was shown in the parking lot in the NXT Women's Title. She mentioned Mandy Rose's new white Range Rover in the parking lot. Jade said that this title is what she wants. Jade opened the car door, Mandy was in the back seat and they got into a fight. Mandy punched and kicked Jade. Mandy hit a running knee to knock down Jade. Rose said that if Jade wants to fight her for her title, she'll fight her and any other woman. Rose told Jade she is not on her level and never will be. Rose sprayed some of the spray paint on Jade's back. Rose's buddies Dolin & Jayne were with her with their titles. Rose: "Game over, bitch."
Analysis: That's certainly my favorite champion Mandy Rose. I don't know if she's going to keep the title when she faces Jade because I can see there being a title change. Anyway, it was nice to see the heels get some revenge on Jade after what happened earlier in the show.
Tag Team Promo Time
The Creed Brothers duo Julius & Brutus entered with the ring manager Malcolm Bivens. Julius said they didn't get their title shot because somebody attacked them last week. Brutus said it didn't matter who jumped them, so they wanted somebody to come out and fight them.
MSK made their entrance wearing NWO shirts in tribute to Scott Hall. Wes Lee: "Hey yo." Lee said that they didn't attack The Creed Brothers while saying they stood up for them. Nash Carter said that last week The Creed Brothers crashed the party last week. Malcolm Bivens reminded MSK that they cut the line and Creed Brothers deserve the next opportunity since they won the Dusty Cup.
The Imperium duo of Marcel Barthel & Fabian Aichner were on the platform in the back of the arena. They ripped on the other teams saying they know that they can't take the titles from the champions. Bivens wanted The Creed Brothers their title shot. Lee claimed MSK deserved the title shot. Lee said that Imperium knows they'd be bitch slapped by everybody in the ring. Aichner said that they want the world to see those teams fail to prove themselves. Aichner said they'll put their titles on the line in a triple threat match at Stand & Deliver – MSK vs. The Creed Brothers vs. NXT Tag Team Champions Imperium. Barthel said that perception is that putting them in a triple threat match is a disadvantage to them, but the reality is that Imperium fears no one. Barthel said that they will see them at Stand & Deliver.
Analysis: The original match was going to be Imperium vs. Creed Brothers for the Tag Team Titles. That was the right way to go because Creed Brothers won the Dusty Cup to earn the title shot. MSK only got the title shot last week because Creed Brothers were taken out. While I like MSK, from a logical point of view, the Creed Brothers & Bivens have a valid point that they should be the only team getting a title shot. Anyway, it should be an outstanding match. The Raw Tag Team Title match at WrestleMania is going to be a triple threat as well, so that will feel a bit repetitive, but I'm certainly okay with it.
Cameron Grimes was interviewed by Mckenzie Mitchell. Grimes said now he's disappointed that he's not in a match at Stand & Deliver. Grimes said that the last thing he got to tell his father was that he signed with NXT and was going to be a champion. Grimes said it's three years later, but all he's doing is disappointing.
Analysis: I assume there's some story in place for Grimes or maybe he's off to Raw/Smackdown soon. It is a bit weird that he hasn't held a title yet although he was Million Dollar Champion – that was more of a novelty title than an actual title.
Next week on NXT:
* NXT North American Championship Qualifying Match – Solo Sikoa vs. Roderick Strong
* NXT North American Championship Qualifying Match – A-Kid vs. Grayson Waller
LA Knight made his entrance for the main event match.
(Commercial)
The tag teams Grizzled Young Veterans and Edris Enofe & Malik Black were backstage with Malcolm Bivens, who tried to accuse the teams of attacking The Creed Brothers. Bivens suggested Grizzled Young Veterans vs. Creed Brothers next week on NXT and GYV accepted.
The lineup for NXT Stand & Deliver so far for Saturday, April 2 at 1pm E/12pm CT.
* NXT Tag Team Championships: Imperium (Fabian Aichner & Marcel Barthel) (c) vs. The Creed Brothers (Julius Creed & Brutus Creed) vs. MSK (Nash Carter & Wes Lee)
* Tommaso Ciampa vs. Tony D'Angelo
* NXT Women's Championship: Mandy Rose (c) vs. Cora Jade
They didn't mention the NXT North American Championship Ladder Match even though we know that's coming. There's more to come as well.
Dolph Ziggler made his entrance as the NXT Champion with his buddy Robert Roode by his side.
NXT Championship: Dolph Ziggler (w/Robert Roode) vs. LA Knight
Knight ran over Ziggler with a shoulder tackle. Ziggler drove Knight to the ropes leading to a kick to the ribs. Ziggler with a headlock, then a shoulder tackle of his own and he ran the ropes with Knight hitting an elbow to the head. Ziggler with a dreaded shin rake to the head. Knight avoided a Ziggler move, then a shove into the turnbuckle and Knight hit a neckbreaker. Ziggler countered Knight into a rollup for two, but then Knight came back with a clothesline over the top to the floor. Back in the ring, Knight hit a powerslam for two.
(Commercial)
Ziggler hit a dropkick followed by a chinlock with a body scissors around the waist. Knight got back up as he drove Ziggler back first into the turnbuckle. Ziggler went for a Fameasser, but Knight caught him and hit a belly to back slam. Knight worked over Ziggler with kicks along with a running knee attack. Knight caught Ziggler with a powerslam followed by the running elbow drop for two. They showed the parking lot where Bron Breakker was shown arriving at the building. Knight drove Ziggler back first into the turnbuckle. Knight wanted a superplex, Ziggler stopped him with a punch to the ribs and Knight came back with a leap to the top rope leading to a superplex for two. Knight lifted Ziggler, Roode with a distraction and Knight recovered with a slam off the shoulders for a two count as Ziggler got his foot on the bottom rope. Knight went for BFT, Ziggler countered by shoving him into the ropes, Zig Zag attempt blocked and Knight charged, but Ziggler moved leading to Knight hitting the turnbuckle. Ziggler hit a superkick for the pinfall win. It went 12 minutes.
Winner by pinfall: Dolph Ziggler
Analysis: ***1/4 It was a good match between two experienced guys that built up the big spots well and the fans were really into it. Ziggler is always going to have a match around three stars or higher if he's getting over ten minutes and Knight is more than capable as well. They set up the nearfalls towards the end of the match very well. I liked the finish with Knight going for his finish, Ziggler managed to get out of it and hit the superkick for the win.
Bron Breakker made his entrance as the former NXT Champion got in the ring with Ziggler. Bron said he's not going to wait because he wants his rematch for the championship at Stand & Deliver. Roode tried an attack, So Bron punched him on his ass. Ziggler told Bron: "Any time, any place, Stand & Deliver sounds damn good to me." It's on. Ziggler and Breakker did the staredown to end the show.
Analysis: I noted last week in the NXT review that I figured Breakker lost so that he could win the title back at Stand & Deliver. It looks like that will happen in the main event. It should lead to a happy ending at Stand & Deliver with Bron getting his title back.
Three Stars of the Show
Santos Escobar/Cameron Grimes
Dolph Ziggler/LA Knight
Tommaso Ciampa
The Scoreboard
This week: 7.5 out of 10
Last week: 7.5
Final Thoughts
That's back-to-back weeks where I can say it was a very good show from top to bottom. I think NXT 2.0 is finding its stride. There are still some silly things on the show, but they have cut back by a lot and it's mostly about matches on TV as building to bigger matches.
I think Escobar beating Grimes was the match of the night while Ziggler beating Knight was close to it. A couple of the other matches were okay while some of them were short. I also really liked the Tommaso Ciampa promo segment about moving on from NXT (to Raw or Smackdown) without actually saying it, but then he had to deal with a cheap shot from Tony D'Angelo. The fans are really into anything Ciampa does, so it's good for Tony D too.
I like where things are headed for Stand & Deliver on April 2. I think we'll see a few title changes that night especially Bron Breakker getting the NXT Title back from Ziggler. I think Stand & Deliver will be an excellent show.
Here is what has been announced for NXT Takeover Stand & Deliver on April 2nd at 1 pm ET/12 pm CT so far: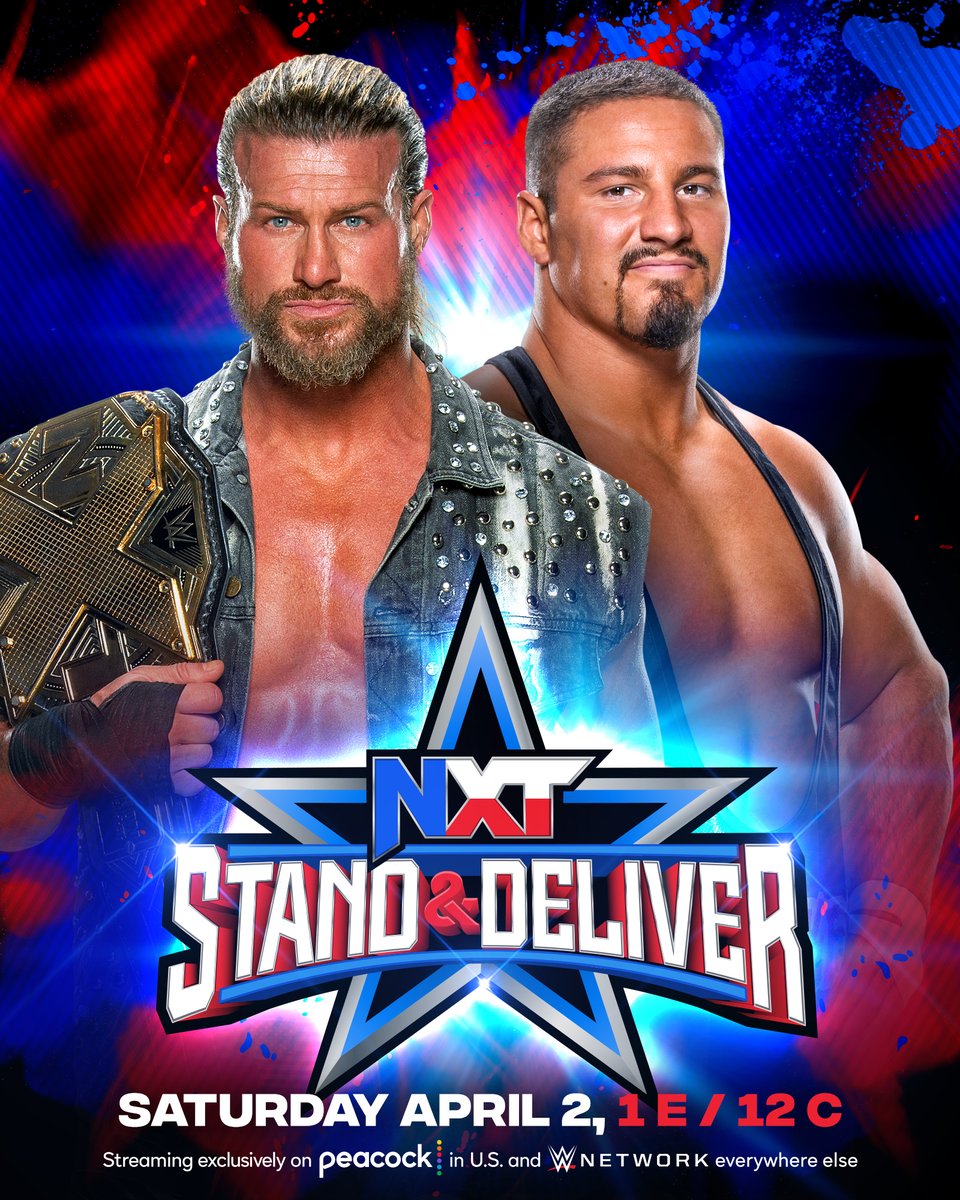 NXT Championship: Dolph Ziggler (c) vs. Bron Breakker
NXT Women's Championship: Mandy Rose (c) vs. Cora Jade
NXT North American Championship Ladder Match: Carmelo Hayes (c) vs. Santos Escobar vs. more names.
NXT Tag Team Championships: Imperium (Fabian Aichner & Marcel Barthel) (c) vs. The Creed Brothers (Julius Creed & Brutus Creed) vs. MSK (Nash Carter & Wes Lee)
Tommaso Ciampa vs. Tony D'Angelo
===
Thanks for reading. Go Toronto Raptors, Toronto Blue Jays and Toronto Maple Leafs. My contact info is below.
John Canton
Email mrjohncanton@gmail.com
Twitter @johnreport