The John Report: WWE NXT 01/13/21 Review
Welcome to the WWE NXT review here on TJRWrestling. I thought last week's New Year's Evil episode was outstanding and now they are building up to the next Takeover on Sunday, February 14. I'm going back to the format I usually do with summaries of the matches and then play by play for the main event.
This is episode #439 of WWE NXT. It took place at NXT's home called the Capitol Wrestling Center at the WWE Performance Center in Orlando. Check out my past WWE NXT reviews right here.
There was a video showing highlights of last week's New Year's Evil special. This week, the Dusty Rhodes Tag Team Classic tournament begins with the winners of the Dusty Cup getting a shot at the NXT Tag Team Champions.
The announce team for NXT is Vic Joseph and Wade Barrett at the arena along with Beth Phoenix at home in North Carolina. They are starting with a match right away.
Shotzi Blackheart vs. Candice LeRae (w/Indi Hartwell)
These two women have been feuding for a few months. Blackheart went for a splash against the ropes, LeRae moved, Blackheart got a kick and a cross body block off the top got a two count. When LeRae went for a move off the turnbuckle, Blackheart tripped her up and Candice took a bump on the turnbuckle. Blackheart drove Candice's shoulder into the turnbuckle and Blackheart jumped onto Candice on the floor. After a distraction from Hartwell, LeRae hit a dive onto Blackheart on the floor leading to a break.
Blackheart was back in control with a running enziguri kick along with a splash onto the back of LeRae for two. Blackheart hit a DDT on the apron. Blackheart hit a suicide dive onto LeRae and Hartwell for two. LeRae with a dropkick into the turnbuckle and a superkick for a two count. LeRae with the Gargano Escape submission, Blackheart got out of it and hit a knee to the face. Blackheart with a DDT out of the corner. Blackheart knocked Hartwell off the apron, so that allowed LeRae to hit a twisting neckbreaker off the middle ropes for the pinfall win after 11 minutes.
Winner by pinfall: Candice LeRae
Analysis: *** Good match with Blackheart getting a lot of offense through the whole match until LeRae managed to take advantage after Hartwell's distraction. Blackheart is a likable babyface that keeps fighting and has improved a lot in terms of her offense, but the crafty heel LeRae found a way to win again. I think both women have the potential to be NXT Women's Champion this year.
Let's Hear from Finn Balor
The NXT Champion Finn Balor was in the ring with the NXT Title for a promo. Balor said that he is still the NXT Champion. Balor gave Kyle O'Reilly credit for being great, but he is not on Finn's level because Finn put him down. Balor said this time, Kyle is the one eating his meals through a straw. Balor knows he is the target while adding that they stopped manufacturing the cloth that he is made from.
Pete Dunne entered with his buddies Oney Lorcan and Danny Burch, who are the NXT Tag Team Champions. Dunne told Balor that he watched last week and he has been watching Balor his whole career while knowing that he would face him one day. Dunne told Balor that he may be thought of as the poster boy for European wrestlers, but Dunne said that he'll take that crown from him and he's not waiting anymore.
Balor got into a fight with Dunne, Balor and Burch. Balor tried to fight them off, but then Dunne hit him with an armbreaker on the left arm. That led to Kyle O'Reilly making the save along with Adam Cole and Roderick Strong, so the heels escaped. After the heels left, Balor was in the ring with Undisputed Era and they had a staredown with Balor leaving out of the other side of the ring.
Analysis: This was okay to show that Pete Dunne is coming for Balor's NXT Title. Dunne lost to Kyle O'Reilly in a match to earn an NXT Title shot. That looks like a future six-man tag team match with Dunne, Burch and Lorcan facing off against Undisputed Era soon.
Johnny Gargano was interviewed backstage by Mckenzie Mitchell with Johnny talking about beating that "mute" Dexter Lumis. Austin Theory showed up with an envelope. Gargano opened it up with drawings of Gargano and Theory that angered Gargano although Theory thought the Gargano picture was funny because Theory does a dumb gimmick.
The Grizzled Young Veterans duo of Zack Gibson and James Drake doing a pre-match promo. Gibson noted how last year they were in the Finals and this year they will win the Dusty Cup on their way to becoming the NXT Tag Team Champions.
Analysis: I think they are threats to win the whole thing. No doubt about it.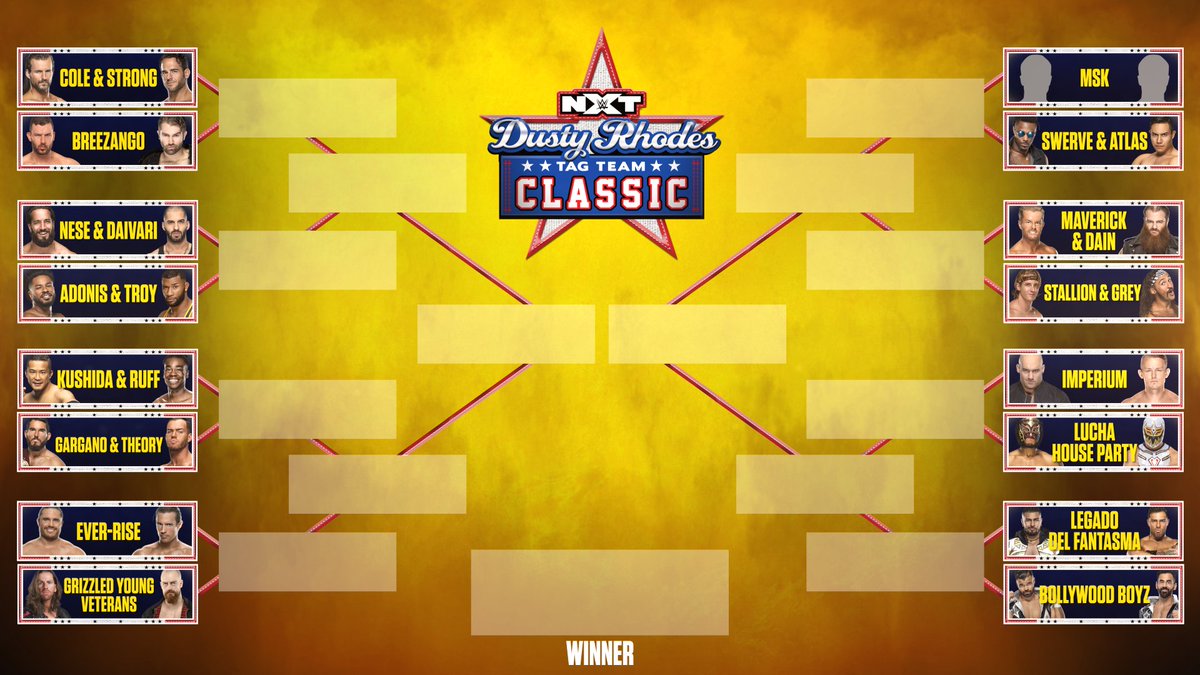 There was a video from NXT GM William Regal talking about how this is the beginning of the Dusty Rhodes Tag Team Classic and they are two of the 16 teams in the tournament.
Dusty Rhodes Tag Team Classic First Round: Grizzled Young Veterans (Zack Gibson and James Drake) vs. Ever-Rise (Matt Martel and Chase Parker)
They are both heel tag teams that have had some issues in the past. Barrett talked about how Dusty Rhodes helped him early in his WWE career and he meant a lot to him. Drake took down Parker with a hiptoss. Parker sent Drake out of the ring, so Gibson told his partner to calm down with Gibson tagging in. GYV did some tag team moves to take out both opponents as they took over the match. Drake hit an impressive spin kick to the face. Martel got the hot tag with strikes to Drake and Gibson, then an overhead belly to belly suplex on Drake and a clothesline. Parker lifted up Drake into a Spear by Martel for two as Gibson made the save. Parker hit an elbow to the back of Gibson to take care of him. Drake came back with a dropkick to the back of Martel. Gibson tagged in leading to the Ticket to Mayhem double team move (a slam into double knees by Gibson) for the pinfall after eight minutes.
Winners by pinfall: Grizzled Young Veterans (Zack Gibson and James Drake)
Analysis: **3/4 It was a solid tag team match with the Grizzled Young Veterans working so well together to find a way to win. I like Ever-Rise as a team and think they can do well in NXT, but they just aren't booked to win that often at this point. Gibson and Drake are one of the best teams in NXT, so they are definitely threats to win it all.
A video aired about last week's show when Raquel Gonzalez beat Rhea Ripley in a Last Woman Standing match. Gonzalez said she's looking ahead at Io Shirai and the NXT Women's Championship. Gonzalez said they all know there's a new baddest bitch in town and her name is Raquel Gonzalez.
Shotzi Blackheart said that her match earlier was not the outcome she was hoping for. Shotzi said she needs a partner in the Women's Dusty Cup, so she found that partner and it was Ember Moon, who walked into the screen. Moon said it's their opportunity to make history as the first ever Women's Dusty Cup winners.
Analysis: I like that team. They are two likable babyfaces. Moon hasn't done much in the last few weeks either, so maybe this team will have a long run in the Women's Dusty Cup tournament.
Dexter Lumis vs. Johnny Gargano (w/Austin Theory)
This is not for Gargano's NXT North American Title. Gargano was mad about the drawing that Lumis did, so Lumis punched him to start the match.
After Lumis avoided a kick, he scared Gargano causing Johnny to leave the ring and Lumis punched Gargano from the apron into the ring. Gargano tried a suplex, Lumis blocked it with repeated headbutts and Lumis missed a Senton Bomb when Johnny moved. That led to a break.
Gargano was in control with forearms to the back as the announcers talked about Theory interfering during the break. Lumis hit a good spinebuster, clothesline, bulldog and slingshot suplex. Lumis continued the attack with a belly to back suplex and a leg drop for two. Gargano hooked the arms for a pin attempt for two. Lumis no sold a kick, Gargano with another kick and that got a two count. Theory grabbed the foot of Lumis (the referee didn't see that), but Lumis rocked Johnny with a punch. Lumis blocked a DDT attempt, Lumis punched Theory on the apron and Gargano got a rollup while Lumis grabbed Theory, so Gargano got the pinfall win after 11 minutes.
Winner by pinfall: Johnny Gargano
Analysis: **1/2 It's rare to have a Gargano match going over ten minutes that didn't hit three stars, but this just felt off a bit. Cheap ending with Lumis getting involved. That's partly because of the style of Lumis, which is not that of a traditional babyface. It's nice to see the champion Gargano getting the win here.
Post match, Lumis slapped on the Silence submission hold on Theory and Gargano stomped on Lumis. Gargano went for a steel chair attack, but Kushida was there to attack Gargano. Kushida slapped on a Hoverboard Lock submission on Gargano, who tapped and Lumis slapped on the Silence submission on Theory. Kushida grabbed the North American Title and posed over Gargano.
Analysis: Gargano and Theory are wrestling in the Dusty Cup tournament next week. I can see Lumis getting involved to cost them the match. I'm all for a Kushida vs. Gargano feud as well. That makes sense on Takeover in one month.
The trio of Danny Burch, Oney Lorcan and Pete Dunne were interviewed backstage. They threatened to take out the Undisputed Era.
Tommaso Ciampa and Timothy Thatcher Talk About "Fight Pit" Match
Wade Barrett sat between Tommaso Ciampa and Timothy Thatcher for an interview about their "Fight Pit" Match next week. Barrett asked Thatcher about his injury, Thatcher said he's cleared now and he wouldn't tell Ciampa what the injury was. Ciampa spoke about how sometimes you need to go into enemy territory because he knows how brutal the Fight Pit is going to be. Thatcher said he knows what it feels like because he's been in it. Ciampa told Thatcher he would have no fear in his eyes. Thatcher said he had no problem with Ciampa, he agreed with a lot of what Ciampa has, but Ciampa came after him. Ciampa said that Thatcher took liberties with people and said that Thatcher was a piece of garbage as a coach. Thatcher said Ciampa looks like a man who is questioning if he's still got it. Ciampa made it clear that Thatcher doesn't know what kind of man Ciampa is. Ciampa said that next week in the Fight Pit, Thatcher will know what kind of man that Ciampa is.
Analysis: This was really well done and I look forward to the Fight Pit match next week. I think the feud has been beneficial for both guys, especially Thatcher because as a character he needed to evolve more. Working with Ciampa has been good for Thatcher.
The Undisputed Era's Adam Cole, Roderick Strong and Kyle O'Reilly were interviewed. They didn't seem concerned about Dunne, Burch and Lorcan. Cole said that they respect Breezango, but they are going to advance in the Dusty Cup.
There was a mystery about who the MSK team is. They are Nash Carter and Wes Lee. They are the former Rascalz from Impact Wrestling and they're a very good tag team.
Analysis: I have seen enough of these guys to know they are a talented tag team. They're not big guys, but they can go in the ring. I think the name Wes Lee is cheesy a bit although that's wrestling sometimes.
Dusty Rhodes Tag Team Classic First Round: Jake Atlas and Isaiah "Swerve" Scott vs. MSK (Wes Lee and Nash Carter)
Atlas hit an impressive jumping forearm on Carter. When Scott tagged in, Carter showed off his aerial skills with a twisting splash off the middle ropes. When Lee tagged in, Scott grabbed him and sent him to the floor. Atlas took advantage with a suicide dive onto Lee on the floor. Carter sent Atlas into the steel steps, Scott kicked Carter and Lee hit a somersault dive onto the opponents on the floor. Joseph had a good line: "These Rascalz are high-flying!" Well played as the show went to break.
Carter was the face in peril, Lee got the tag and hit a snapmare into a dropkick on Atlas. Carter hit a flipping moonsault splash on Atlas where Lee pushed him into it! That was incredible for a two count. Scott sent Carter over the top to the floor, Atlas hit a German Suplex on Lee and a brainbuster by Scott on Lee. Atlas with a powerslam followed by Scott hitting a 450 Splash for a two count as Carter saved his partner. Lee knocked Scott off the top rope to prevent a move. Carter tagged in, Lee with a reverse rana to Scott and Carter picked up Scott as Lee did a Blockbuster neckbreaker for the pinfall win by Carter on Scott after 12 minutes.
Winners by pinfall: MSK (Wes Lee and Nash Carter)
Analysis: ***1/2 A very good tag team match that allowed MSK to show off what they can do against two cruiserweights like Atlas and Scott that can really go in the ring as well. There were a lot of nearfalls for both teams in this match. That was one of the most exciting tag team matches I have seen in NXT in a while. A lot of matches in NXT are technically sound and this one was too, but there were also a lot of cool moves by MSK that made me say "wow" when they did them. I think MSK are going to make a lot of noise in NXT as an exciting, fresh, babyface tag team. They might even win the Dusty Cup too.
MSK celebrated the win while Atlas/Scott argued because they're guys that have had issues in the past.
There was a video about teams in the Women's Dusty Rhodes Tag Team Classic: Candice LeRae & Indi Hartwell, Kacy Catanzaro & Kayden Carter, Mercedes Martinez & Toni Storm and Shotzi Blackheart & Ember Moon. I assume there will be more teams.
Next week on NXT: Kacy Catanzaro & Kayden Carter vs. Mercedes Martinez & Toni Storm in the Women's Dusty Rhodes Tag Team Classic.
There was a video with the lovely Scarlett reading Tarot cards. She talked about how they cleared the land of the holy man (Damian Priest). Scarlett said that they will dance to the tune of The Prince meaning Finn Balor. The video ended with Karrion Kross saying: "Tick, Tock."
Analysis: That means that it will likely be Karrion Kross challenging Finn Balor for the NXT Title at Takeover on February 14. That would make sense since Kross never lost the title last summer. He gave it up due to injury.
Xia Li (w/Boa) vs. No Chance
They did not name Li's opponent, so I did. Li with a punch to the jaw and then a spinning kick to the face for the pinfall win after about 20 seconds.
Winner by pinfall: Xia Li
Analysis: No point in rating that. Just a quick match to put over Li.
Post match, Li walked up the aisle where her mysterious leader was sitting. Li wanted to leave, but she was instructed to do more. Li with punches to her opponent and then a jumping knee to the body. The announcers wondered who the mysterious figure is. I have no guess.
Kacy Catanzaro and Kayden Carter did a promo about how they are going to make history. Carter talked trash about Mercedes Martinez and Toni Storm as their opponents next week. Catanzaro said that they'll shock the world as the first-ever Women's Dusty Cup winners.
Analysis: Every promo by the women in this tournament sounds the same as they make sure to say "making history" every time. It's so repetitive.
There was a backstage scene with Isaiah Scott and Jake Atlas getting into a shoving match during the break. They were broken up by officials when Bronson Reed showed up to break it up and told Scott to cool it. Scott left.
Next week on NXT:
* Lucha House Party vs. Imperium in the Dusty Rhodes Tag Team Classic
* Kushida & Leon Ruff vs. Johnny Gargano & Austin Theory
* Tommaso Ciampa vs. Timothy Thatcher inside the Fight Pit where you can only win by knockout or submission.
It's main event time with the Breezango team of Tyler Breeze and Fandango making their entrance as former NXT Tag Team Champions. The Undisputed Era's Adam Cole and Roderick Strong were next with Kyle O'Reilly joining them. Bobby Fish is out with an injury. The announcers noted that O'Reilly was not medically cleared to be out there due to a jaw injury, but it is not a dislocated or broken jaw.
Dusty Rhodes Classic Tag Team Classic First Round: The Undisputed Era (Adam Cole and Roderick Strong) w/Kyle O'Reilly vs. Breezango (Tyler Breeze and Fandango)
They are both babyface teams. Breeze with a shoulder tackle on Cole, then Cole ran the ropes and they each wanted a superkick, but they both avoided it. They did a sequence of mat wrestling with neither guy getting the advantage. Strong faced off with Fandango with Strong applying an armbar, then Fandango turning it into an armbar of his own. Fandango hit a spin kick on Strong leading to a break.
Breezango were in control as they hit a double team kick on Cole for a two count. Cole with a kick to the head of Breeze, who managed to send Cole out of the ring. Breeze charged in right into a kick to the head by Cole. Strong got the tag against Fandango with a dropkick and backbreaker. Strong with running elbows to Breeze and Strong slammed Breeze onto Fandango for a two count. Strong with double knees to Fandango and Cole was back in with a running kick to the head on Fandango for a two count. Fandango ducked the Last Shot knee, Breeze tagged in and Cole greeted him with a pump kick. Breeze with the double knees to the back for a two count. The match broke down at that point with all four guys getting involved and doing big moves leading to all four guys down on the mat. That led to Burch, Lorcan and Dunne attacking O'Reilly at ringside. O'Reilly was held against the metal part of the set, but then Finn Balor ran out for the save. Dunne shoved Balor's left arm into a steel part of the set and Dunne hit a running knee to the jaw of O'Reilly against the barricade. Cole saw this from inside the ring and Breeze hit a superkick on Cole. Strong with a running knee on Breeze. Fandango with a back body drop on Cole. Fandango went for a leaping attack off the top, Cole was back on his kick and Cole hit a superkick for the pinfall win after 12 minutes.
Winners by pinfall: The Undisputed Era (Adam Cole and Roderick Strong)
Analysis: ***1/4 This was a competitive tag team match between two babyface teams where there wasn't any cheating or anything like that. It was a regular tag team match between two experienced teams. I thought the finish could have been better because Fandango was jumping off the top, Cole wasn't even on the mat and it made Fandango look stupid for even trying that kind of move. Cole and Strong are the bigger names, so it's not a surprise that they won. I think Breezango could be utilized on Raw or Smackdown since they need babyface teams there, but I guess they're NXT only at this point.
After the match was over, the babyface Undisputed Era guys were at ringside checking on O'Reilly and Balor while the heels Dunne, Lorcan and Burch stood on the stage with serious looks on their faces. End show.
Analysis: This should lead to a tag team match soon and perhaps Dunne will get an NXT Title shot at Balor although I think Karrion Kross is more likely for the next Takeover show.
Three Stars of the Show
MSK – Welcome to NXT!
Adam Cole and Roderick Strong
Candice LeRae/Shotzi Blackheart
The Scoreboard
This week: 6.75 out of 10
Last week: 8.75
2021 Average: 7.75
Final Thoughts
This was a solid episode of NXT, but not nearly at the level of last week's outstanding show. I really liked seeing MSK (former Rascalz of Impact Wrestling) in the Dusty Cup and they were impressive picking up a win. The Undisputed Era match with Breezango in the main event was pretty good. I like Candice LeRae beating Shotzi Blackheart in an entertaining match in the opener. NXT always has good matches. There wasn't one match that really stood out this week, though.
The men's tag team division hasn't been featured that much in NXT of late, so now that they're dedicating a lot of time to Dusty Cup matches, it's going to help the tag team division long term. You can't have huge matches every single week. Nothing has been announced for the next Takeover on February 14, but we can tell the seeds have been planted for some matches at least.
===
Thanks for reading. My contact info is below.
John Canton
Email mrjohncanton@gmail.com
Twitter @johnreport
Personal Facebook and TJRWrestling on Facebook